Last Updated on
A delicious, quick and easy to make cabbage stew with turmeric and lots of other spices, a perfect vegan/vegetarian meal or a wonderful side dish for many other dishes.
I am sure I did mention it before how much I like cabbage. Any recipe made with cabbage is a winner in my book, I don't think I have ever had anything with cabbage I didn't like. One of my favorite and most common ways of eating cabbage is to stew it, Romanian style so to say, the way my grandmother used to do it. Have a look at this recipe, this is exactly what I mean: Healthy Romanian Stewed Cabbage or Varza calita.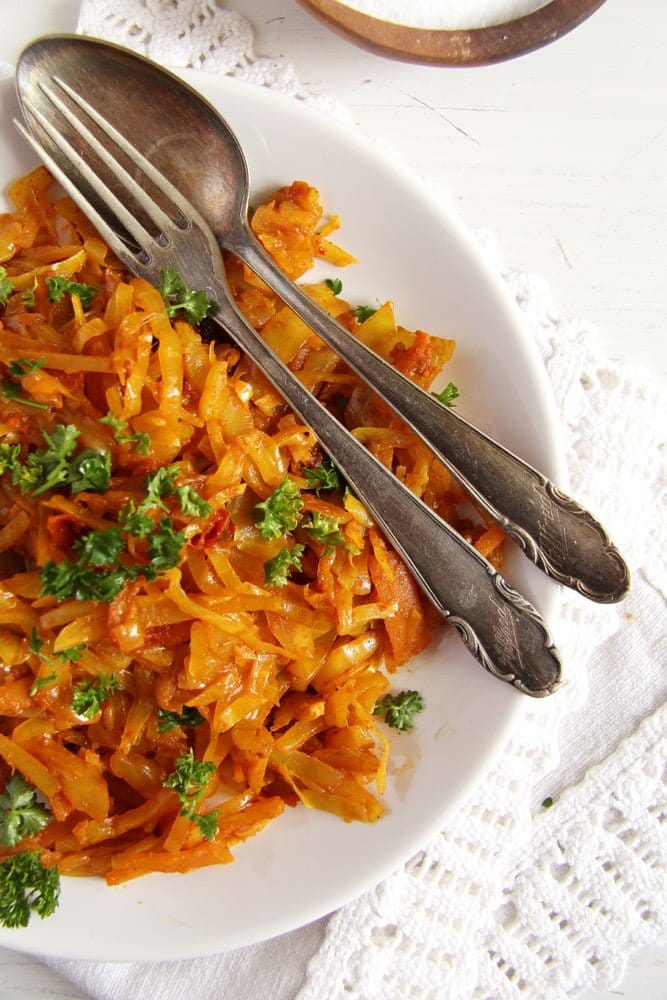 So when I started experimenting with the Turmeric Paste for Golden Milk it was only natural that I would think about making a spicier, kind of Indian style cabbage stew where I could add a generous amount of turmeric paste. So I did cook such a recipe, what could be easier? And I have to say I loved every bit of it and, most importantly, I was even able to convince the kids to give it a try, and after trying it, they did polish off their plates without any further complaint. (Their main complaint during me cooking this entire Turmeric Paste series was: "Why is our food always yellow?")
Even the fact that I was very generous with the spices in this dish, especially with the dried chili, that didn't stop them eating the cabbage. My son added a bit of yogurt to make it more palatable and my daughter a bit of cooking cream and they were happy, a slice of bread (or some spicy potatoes) on the side and you hardly need anything more.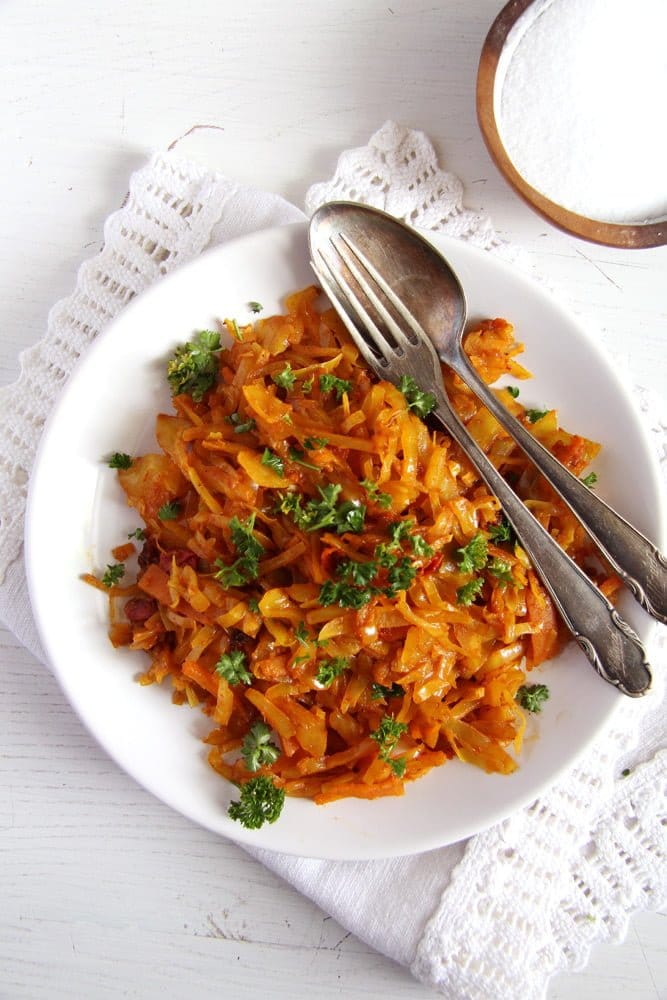 But just in case you want to serve the cabbage as a side dish, think about pairing it with a nice filet of fish or some oven Baked Chicken Thighs, I do love the way cabbage goes with fish or chicken. Of course, beef or pork would be just as fitting, anything actually, I cannot think of anything that wouldn't go well with cabbage right now. If you want to keep the meal vegan, try these Crispy Baked Cornmeal Potatoes with Paprika or these Potato Wedges with Sweet Chili Sauce.
I used my turmeric paste to make this vegan cabbage stew, but if you don't want to make that, do feel free to substitute it with 1 or 2 teaspoons ground turmeric, about 1 teaspoon grated ginger and some freshly ground black pepper.
And if you would like to know more about turmeric, turmeric paste and its health benefits, make sure to read this article: 10 Health Benefits and Uses for Turmeric Paste.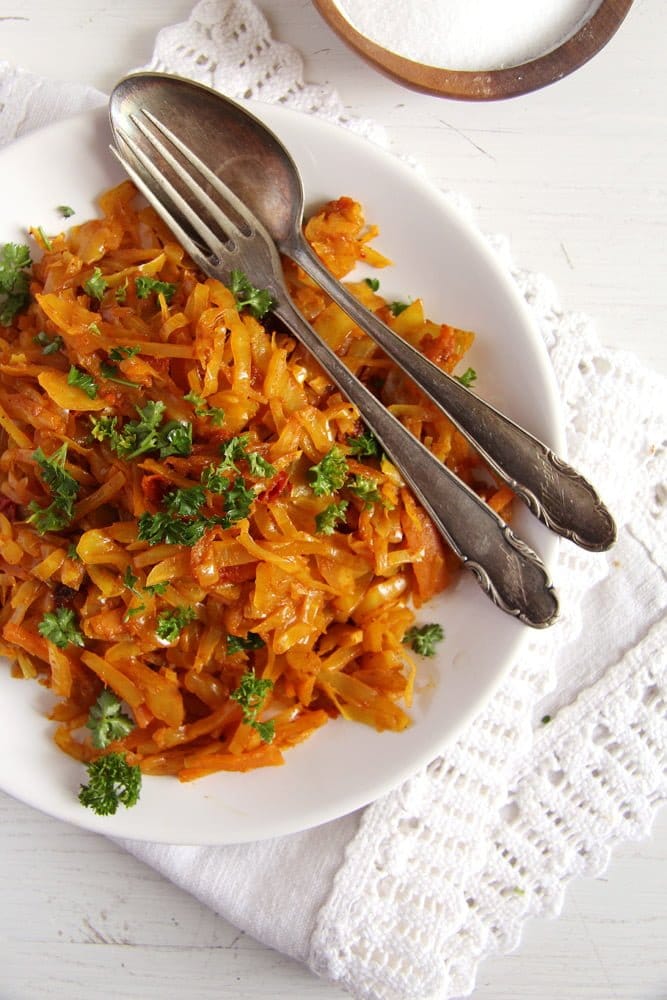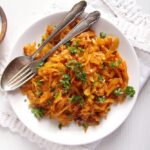 Ingredients
700 g/ 25 oz white cabbage

1 large carrot

1 onion

2 garlic cloves

1 tablespoon coconut oil

1 large tomato

½ teaspoon ground coriander

½ teaspoon ground cumin

¾ – 1 teaspoon dried chili flakes (more or less to taste)

1 tablespoon turmeric paste for golden milk

3 teaspoon tomato paste

1 ½ teaspoon honey, divided

125 ml/ 1/8 cup water

1 teaspoon salt

3 teaspoons cider vinegar
Instructions
Core the cabbage and slice it thinly. Slice the carrot rather finely as well. Chop the onion and the garlic finely.
Heat the coconut oil in a large stewing pan. Add the chopped onion and garlic and cook shortly until translucent. Add the cabbage and the carrot and cook, stirring quite a few times in between, for about 5 minutes until it begins to get soft.
In the meantime chop the tomato into fine cubes. Add the tomato to the cabbage stew together with the coriander, cumin, chili flakes, turmeric paste, tomato paste and 1 teaspoon of honey. Stir well to coat the cabbage with the spices and let cook stirring for another 3 or 4 minutes.
Add the water and the salt, cover the pan, turn down the heat and simmer the stew for about 30-35 minutes or more until the cabbage is cooked to your liking, I prefer it rather soft but not mushy. Add the cider vinegar, stir well again and taste. If necessary add the remaining honey, some black pepper and a bit more salt.
Serve immediately or reheat again later.
This post contains affiliate links. The price you pay as a consumer does not change, but if you make a purchase we will receive a commission which helps support the blog.