Make this fried cabbage with sausage recipe tonight! A classic, simple recipe made with just two main ingredients and ready in no time.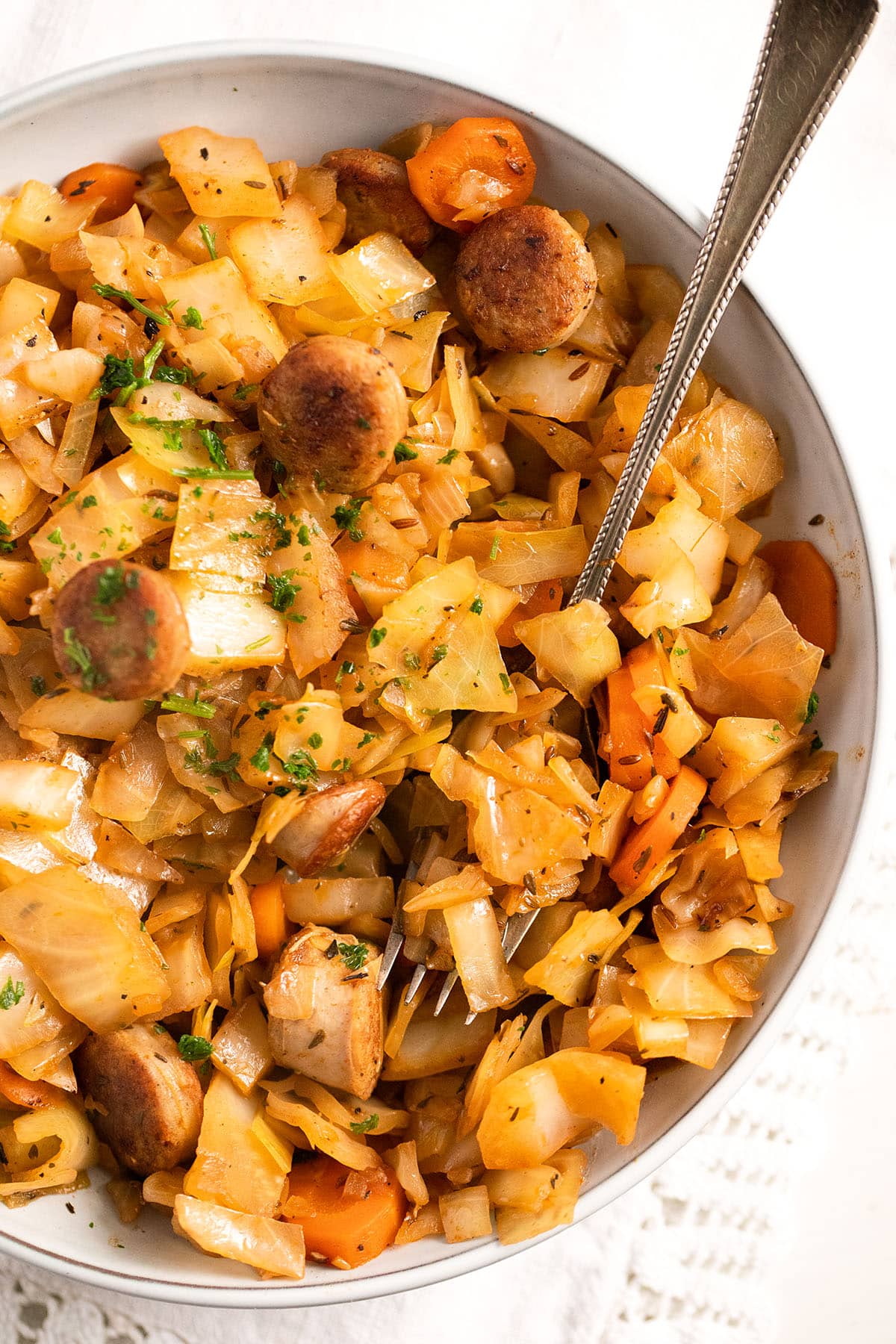 The simplest meals are sometimes the best. Just some cabbage and a few sausages, and there you have it: a hearty and filling meal for a busy weeknight dinner. No fuss, no fancy methods, just a few simple ingredients and a skillet.
Fried cabbage with sausage is a classic meal in many parts of the world, from the Southern parts of the US to Western and especially Eastern Europe. The recipe is always the same; the sort of sausage used might differ from region to region, but otherwise, just fry the sausages and chopped cabbage, simmer them shortly, and serve.
And if you like combining these two ingredients, check out Slow Cooker Cabbage and Sausage, Sauerkraut Stew – Polish Bigos Recipe, or Brats with Sauerkraut. Or try this easy Fried Cabbage with Bacon or German Savoy Cabbage Soup with Ground Meat; all comforting and delicious recipes your whole family will enjoy.
Recipe ingredients
White cabbage: About 2.5 lbs (1.2 kg); a bit more or less is OK (about one small head or ½ a large one). You can substitute it with a sweetheart or green cabbage.
Sausages: I use Polish cabanossi or kielbasa sausage most of the time. However, you can use any other smoked sausage or with bratwurst, andouille sausage, Spanish chorizo, Frankfurters of wiener sausages, Italian sausage, or whatever it's common where you live. You can also cook this hearty dish with ground sausage, ground beef, or pork.
Stock: Homemade or store-bought chicken broth or stock.
Other vegetables: Onions, garlic, carrots.
Spices: Fine sea salt, black pepper, dried thyme, and smoked sweet paprika. If you like caraway seeds, add one teaspoon to the pot; they fit cabbage perfectly and help digest it better.
Other ingredients: Vegetable or olive oil, butter, balsamic or apple cider vinegar, and a little sugar.
Additions: A little garlic or garlic powder, red or green bell peppers, red pepper flakes, or cayenne pepper to add some heat, and Cajun seasoning.
How to fry cabbage with sausages?
Prepare: Chop all the vegetables and the sausage but keep them separated as they have different cooking times.
Fry the sliced sausage on medium-high heat in a large skillet or Dutch oven until nicely browned (1).
Fry the onions (2), then add cabbage, carrots, butter, paprika, thyme, sugar, and salt (3,4). Stir and cook for about 5 minutes until slightly softer.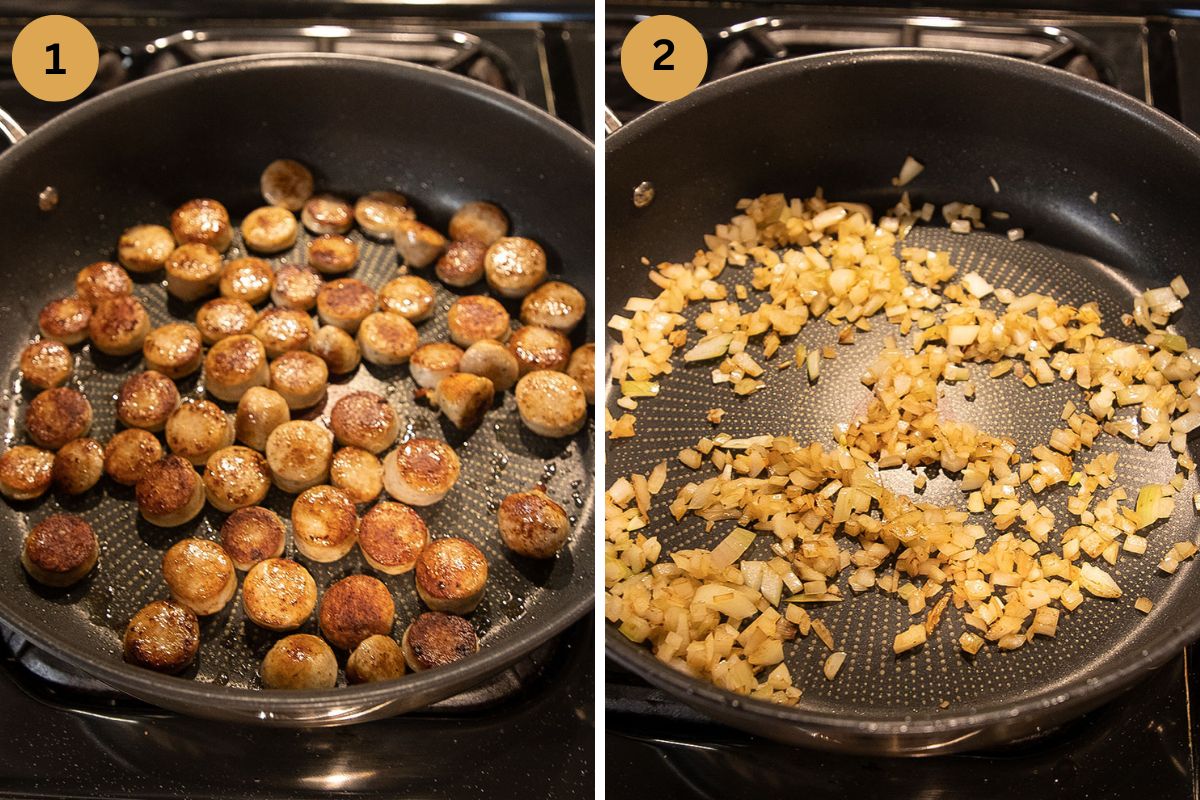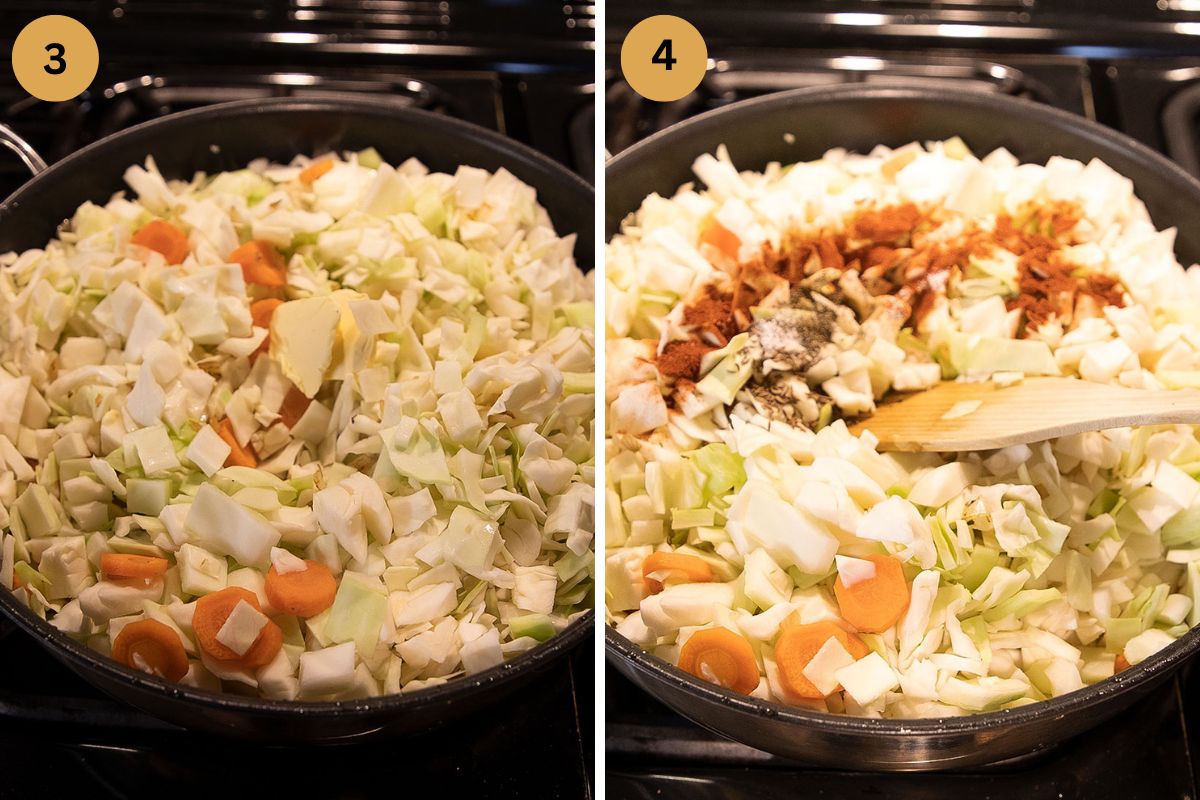 Simmer: Add the stock and simmer the cabbage mixture for about 5 minutes, occasionally stirring (5)
Finish: Add sausages, salt, and pepper to taste and simmer uncovered for about 5 minutes until the stock is reduced.
Adjust the taste with a tiny splash of vinegar, salt, pepper, and a pinch of sugar if required. You can also add a little extra butter if you like (6).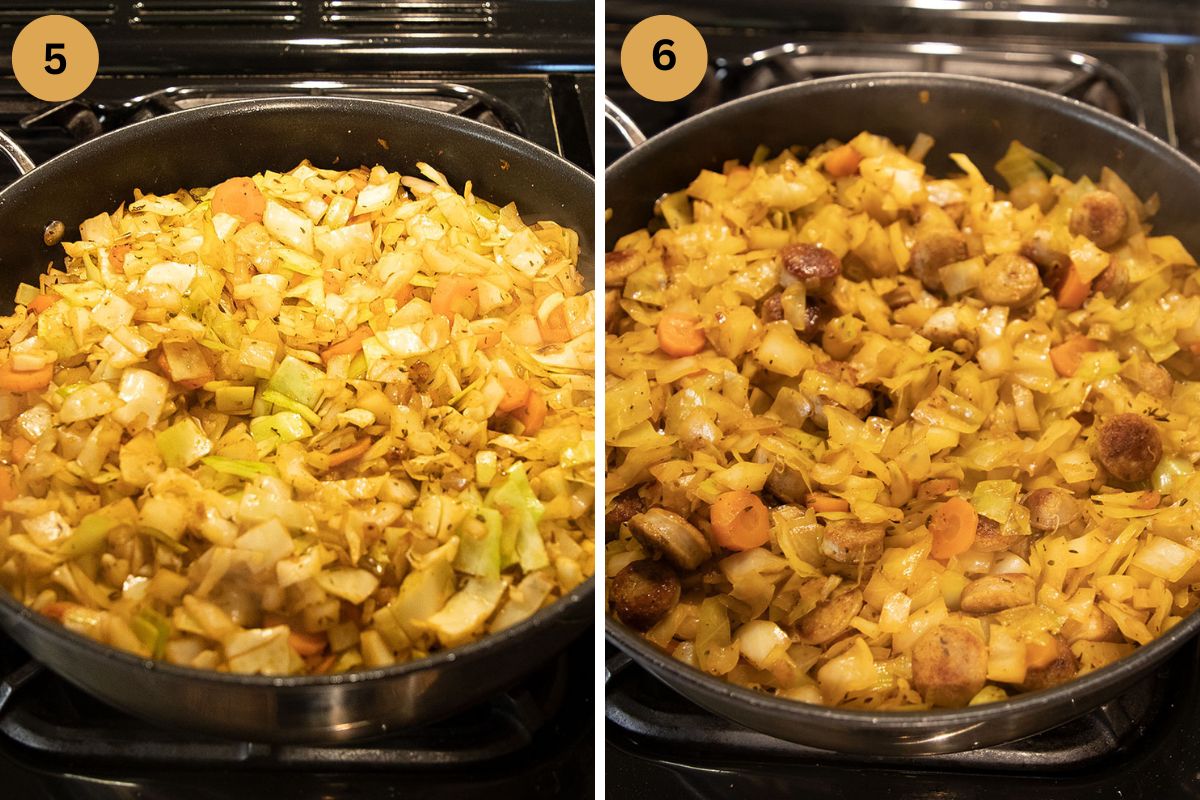 Expert Tips
How to chop cabbage?
You will need a large chopping board and a large sharp knife.
Cut the cabbage into halves down the middle. Then cut the halves to have 4 quarters.
Remove the core.
Place a quarter on the cutting board flat side down. Cut it into finger-thick slices.
Now cut the sliced cabbage into squares.
Fat:
The amount of fat left in the pan after frying the sausages will depend on the type of sausage you use. Chorizo will release loads of fat; if you feel that's too much, spoon some of it out of the pan, leaving just about 1-2 tablespoons for frying the vegetables.
Other sausages, like Frankfurters or wieners, will not release much fat. In this case, add 1 tablespoon of vegetable oil to the pan before adding the onions.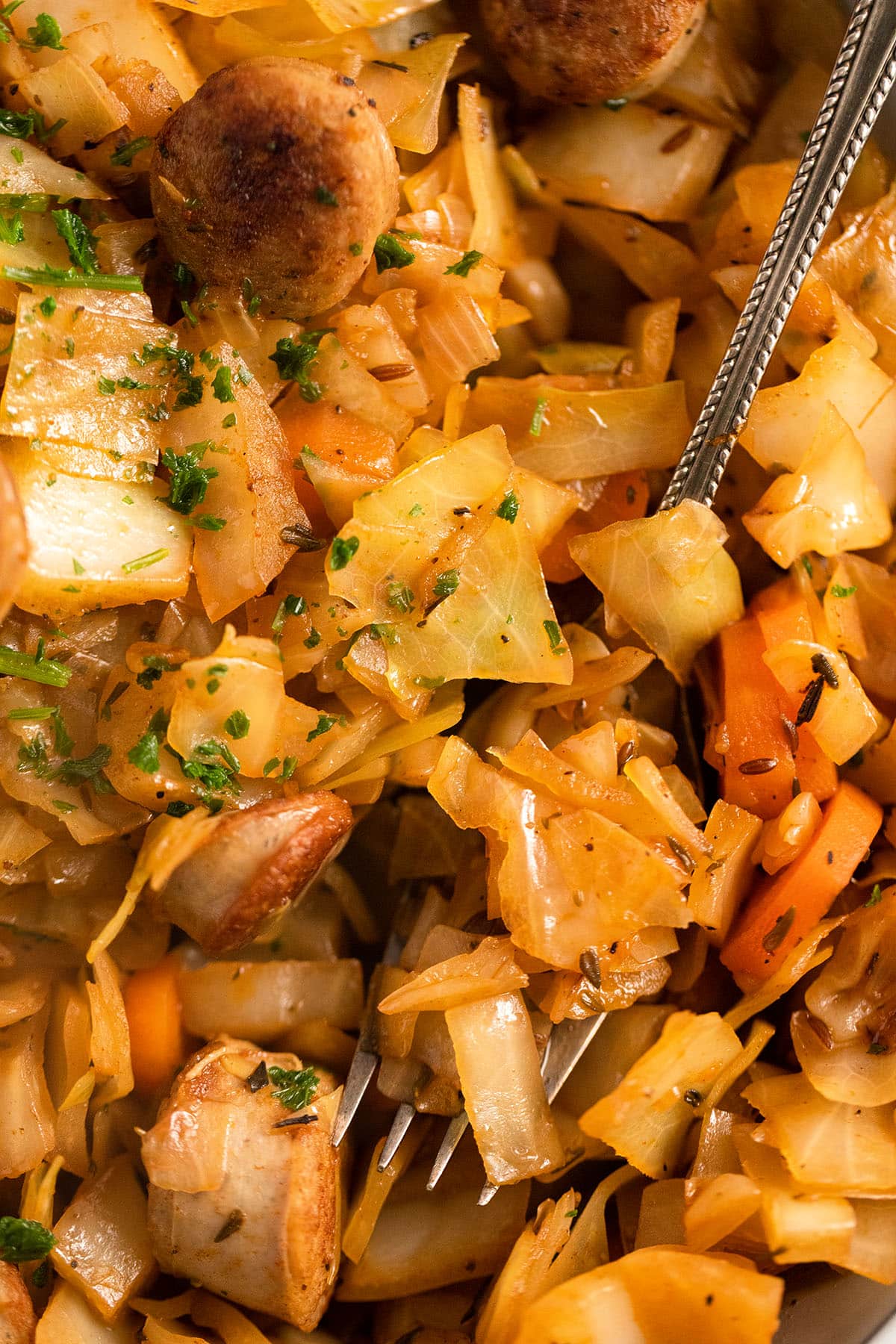 Recipe FAQ
What's the best pan for frying cabbage with sausages?
A large skillet (12 inch/ 30 cm) or a large shallow Dutch oven with a lid. Otherwise, any other large and relatively shallow heavy-bottomed pan that has a lid.
How to store and reheat?
Refrigerate leftovers in an airtight container for 3-4 days. The flavor will improve each time you reheat the food.
Reheat in a saucepan on the stovetop. Add a splash of stock or water, and often stir to prevent the cabbage from catching. You can also reheat the leftovers in the microwave.
Freeze in a freezer-safe container for 2-3 months. Defrost in the fridge and reheat before serving.
What to serve with cabbage and sausages?
Bread: My first choice is always a good loaf of crusty bread, like a French baguette, sourdough, Spelt Bread - No-Rise No-Knead Bread, Easy Yogurt Soda Bread, or Buckwheat Bread.
Potatoes: Boiled or mashed potatoes are a great choice. Try the dish with Roasted Garlic Parmesan Mashed Potatoes (a family favorite), Cauliflower and Potato Mash, or Creamy Carrot and Swede Mash for a low-carb meal.
We often serve this easy meal with a bowl of Creme fraiche or sour cream mixed with a bit of salt, pepper, sweet paprika, and finely chopped herbs like parsley or chives.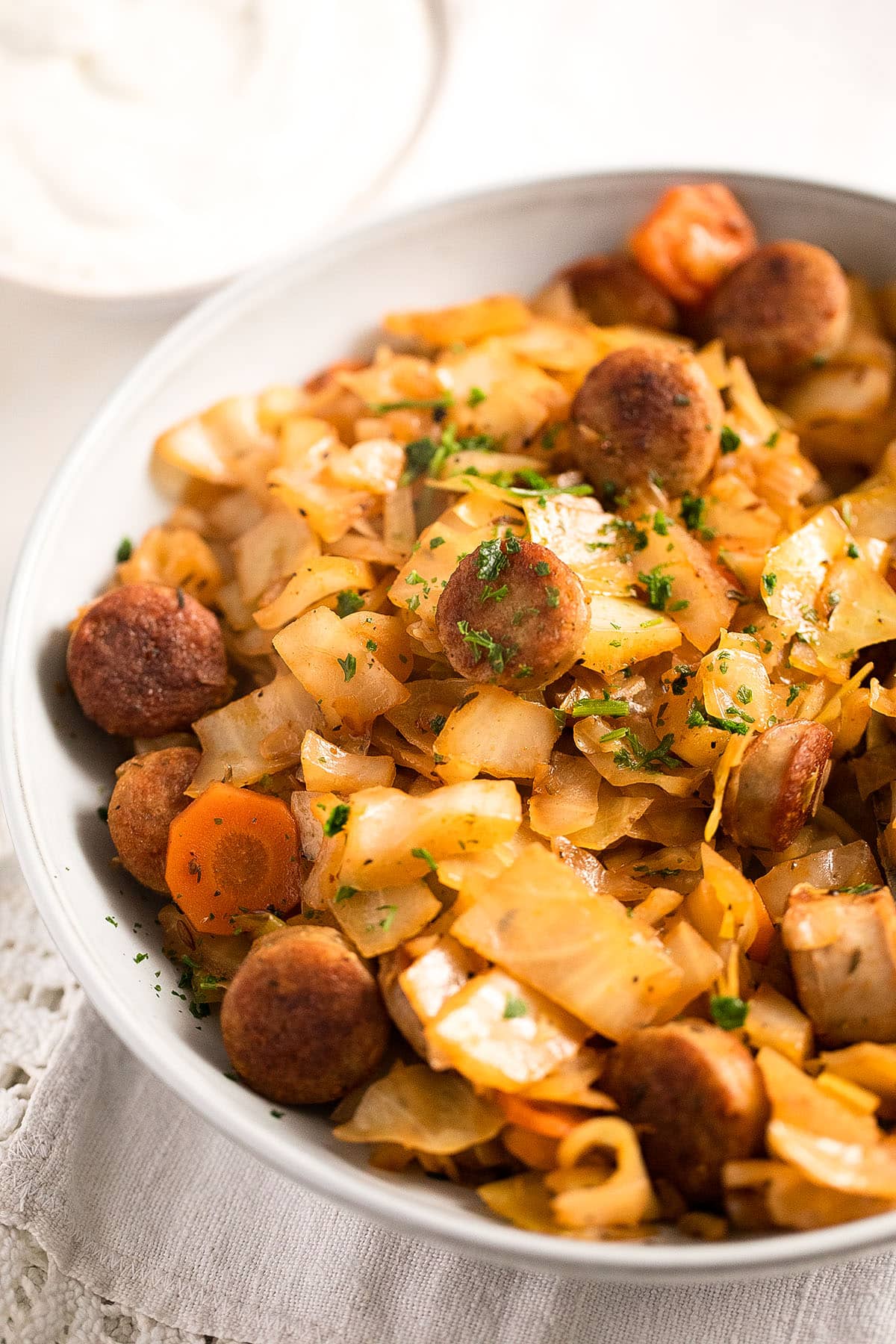 A delicious collection of cabbage recipes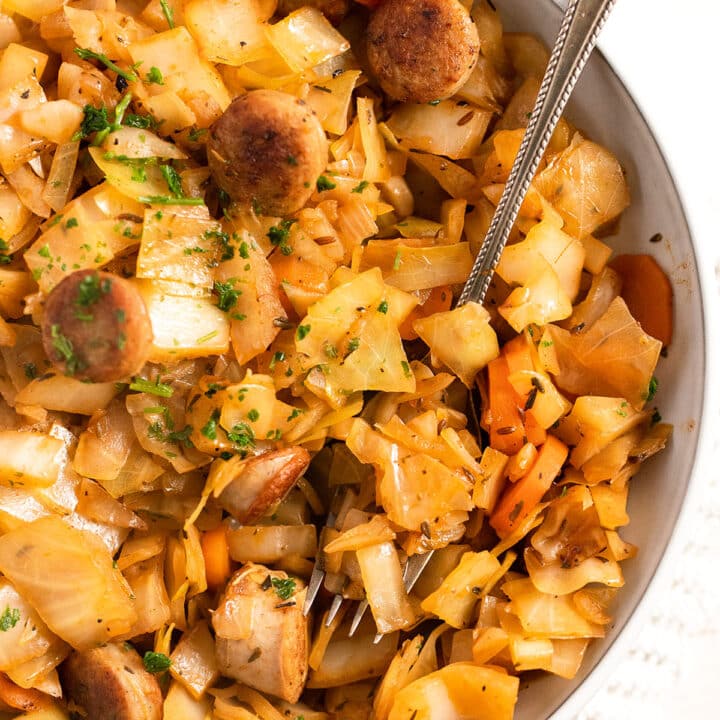 Simple Fried Cabbage with Sausage
Make fried cabbage with sausage tonight! A classic, simple recipe made with just two main ingredients and ready in no time.
Print
Pin
Share
Grow
Saved!
Rate
Equipment
Large skillet or shallow Dutch oven with a lid

(12 inch/ 30 cm)
Ingredients
2.5

lbs

white cabbage

chopped 1.2 kg, Note 1

2

medium

carrots

sliced

1

medium

onion

finely chopped

1

lb

sausage

thickly sliced, 450 g, Note 2

1

tablespoon

vegetable oil

2

tablespoons

butter

1

teaspoon

smoked sweet paprika

1

tablespoon

thyme

1

teaspoon

granulated sugar

more to taste

1

teaspoon

caraway seeds

optional but great

¼

teaspoon

fine sea salt

or Kosher, more to taste, Note 3

¾

cup

chicken stock

180 ml

1

teaspoon

balsamic vinegar

fine sea salt and ground black pepper
Instructions
Prepare: Chop the cabbage, slice the carrots into thin rounds, and set them aside in a bowl. Finely chop the onions and set them aside separately from the other vegetables. Slice the sausages thickly and set them aside.2.5 lbs white cabbage (1.2 kg), 2 medium carrots, 1 medium onion, 1 lb sausages (450 g)

Fry sausages: Heat 1 tablespoon of oil in the pan. Cook the sausage slices on medium-high heat until nicely browned on all sides. Remove them from the pan.

Fry cabbage: Turn the heat down to medium-low, add the onions to the pan, and fry them in the sausage fat for about 5 minutes or until softer (Note 4). Add carrots, cabbage, butter, paprika, thyme, sugar, and salt. Stir well to combine and fry the mixture for 5 minutes.2 tablespoon butter, 1 teaspoon smoked sweet paprika, 1 teaspoon thyme, 1 teaspoon sugar, ¼ teaspoon fine sea salt

Simmer: Pour in ¾ cup stock (180 ml), bring to a boil, cover, turn the heat down to low, and simmer the cabbage for about 5 minutes or until softer, stirring occasionally.

Add sausages, some salt, and pepper to taste and simmer without the lid for about 5 minutes until the stock is reduced.

Adjust the taste: Stir again and adjust the taste with more salt, pepper, 1 teaspoon of balsamic vinegar, and a bit more sugar if required.
Notes
Green or sweetheart cabbage is also great.
Other sausages: Kielbasa, cabanossi, andouille, chorizo, bratwurst, Frankfurters or Wieners, Italian sausage, etc.
The salt you need depends on the saltiness of the stock you use. Start with just a little salt and add more later to taste.
Fat: Depending on the sort of sausage you use, there might be much fat or little fat left in the skillet. Chorizo, for instance, will release a lot of fat; if you feel it's too much, you can scoop some out and only leave about 1-2 tablespoons in the pan. On the other hand, Frankfurters or wieners will not release much fat; in this case, add 1 extra tablespoon of oil to the pan when cooking the onions.
Nutrition
Serving:
1
portion from 4
|
Calories:
547
kcal
|
Carbohydrates:
26
g
|
Protein:
23
g
|
Fat:
40
g
|
Saturated Fat:
14
g
|
Polyunsaturated Fat:
6
g
|
Monounsaturated Fat:
16
g
|
Trans Fat:
0.5
g
|
Cholesterol:
98
mg
|
Sodium:
1643
mg
|
Potassium:
981
mg
|
Fiber:
9
g
|
Sugar:
14
g
|
Vitamin A:
5974
IU
|
Vitamin C:
111
mg
|
Calcium:
156
mg
|
Iron:
3
mg