Learn how to cook sweetheart cabbage (pointed or hispi cabbage). This is the simplest and probably most delicious way of cooking it.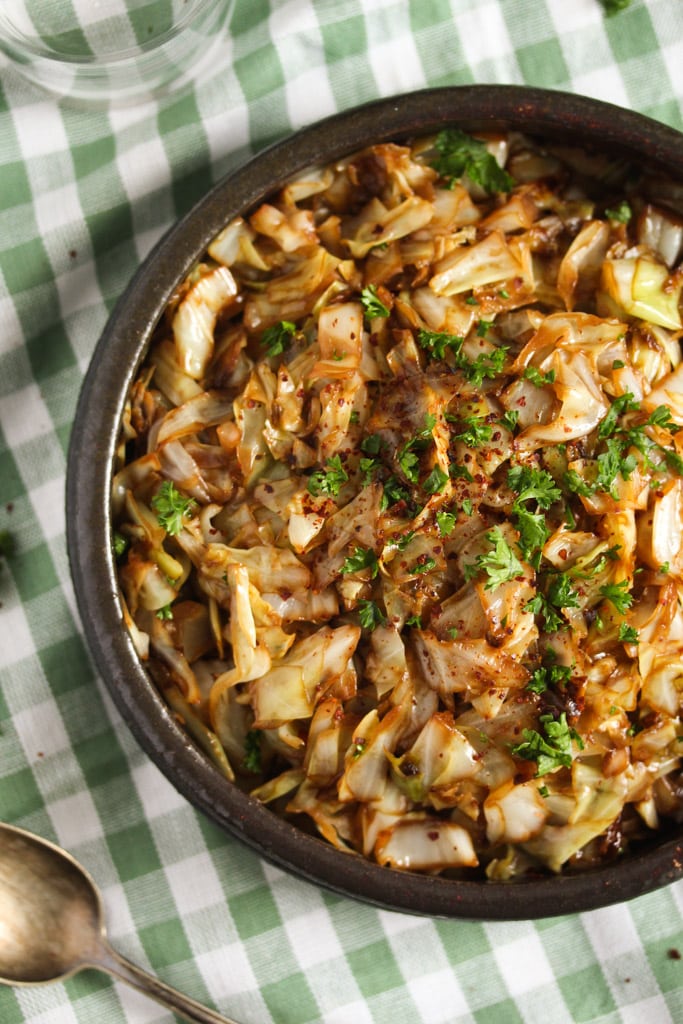 Cabbage is one of the best-tasting vegetables. I loved it as a child, and I love it now even more. And this sweetheart cabbage recipe is one of the simplest and best ways of cooking this vegetable. And if you are looking for more tasty recipes, try the Simple White Cabbage Salad, Fried Cabbage with Bacon, or Stewed Cabbage; they are all delicious.
Or try more delicious vegetable side dishes. Learn How to Cook Jerusalem Artichokes (or Sunchokes), and make some Buttered Vegetables or Green Peas with Butter.
What is sweetheart cabbage?
Also known as pointed or hispi cabbage or sugarloaf, this particular sort is green and has a pointed head. The heads are not particularly large; they will weigh between 800 and 1500 g/ 1.7 and 3.3 lbs most of the time.
This brassica type is softer and has a sweeter taste than green or white cabbage; it's more robust than napa cabbage, making it perfect for salads and quick cooking generally. Try the green leaves fried, steamed, stir-fried, grilled, or roasted; you will love it!
Another bonus is that it's one of the most easily digestible sorts of brassica. It's also low in calories and fat, containing nutrients like vitamin C, K, B6, folate, manganese, and calcium.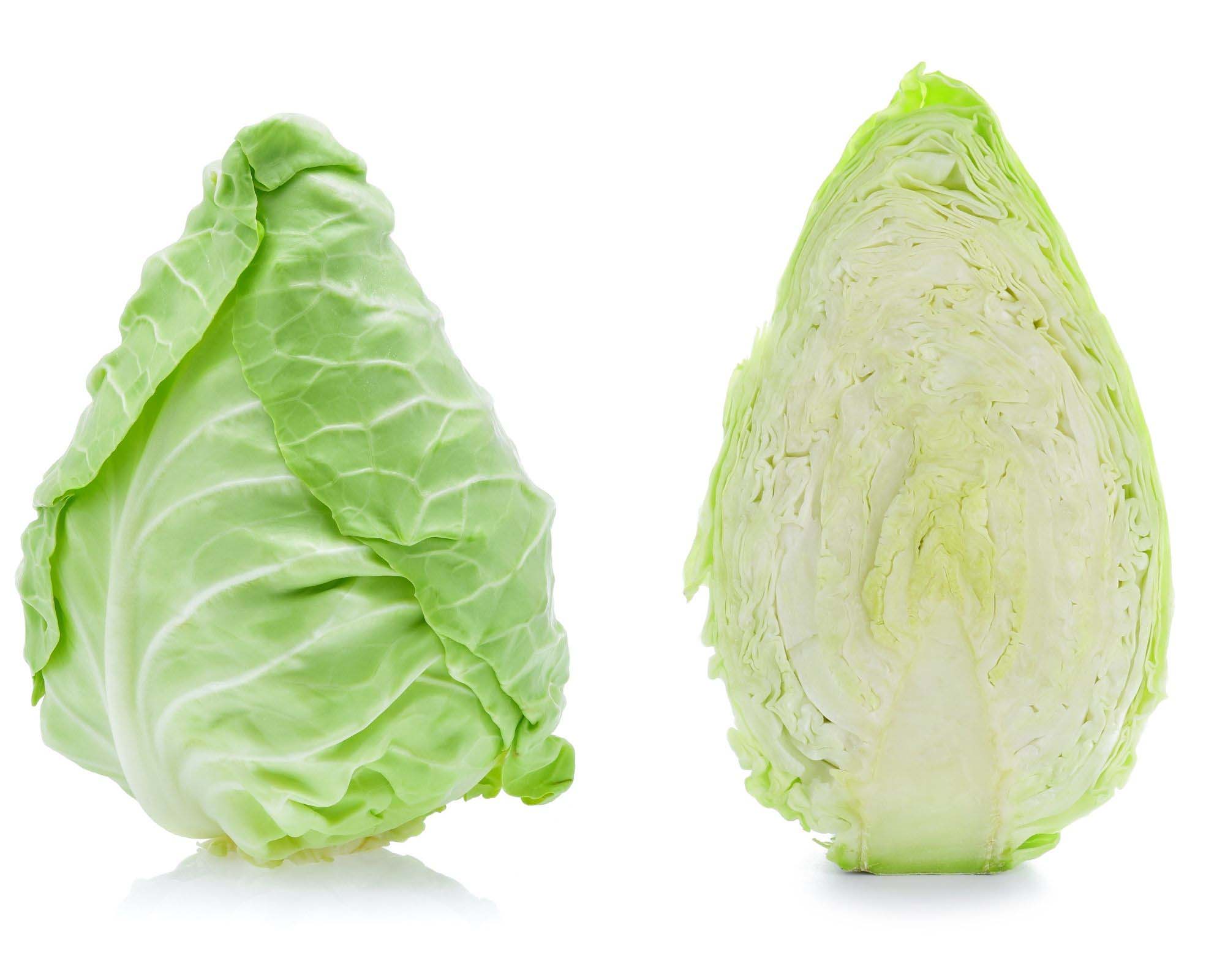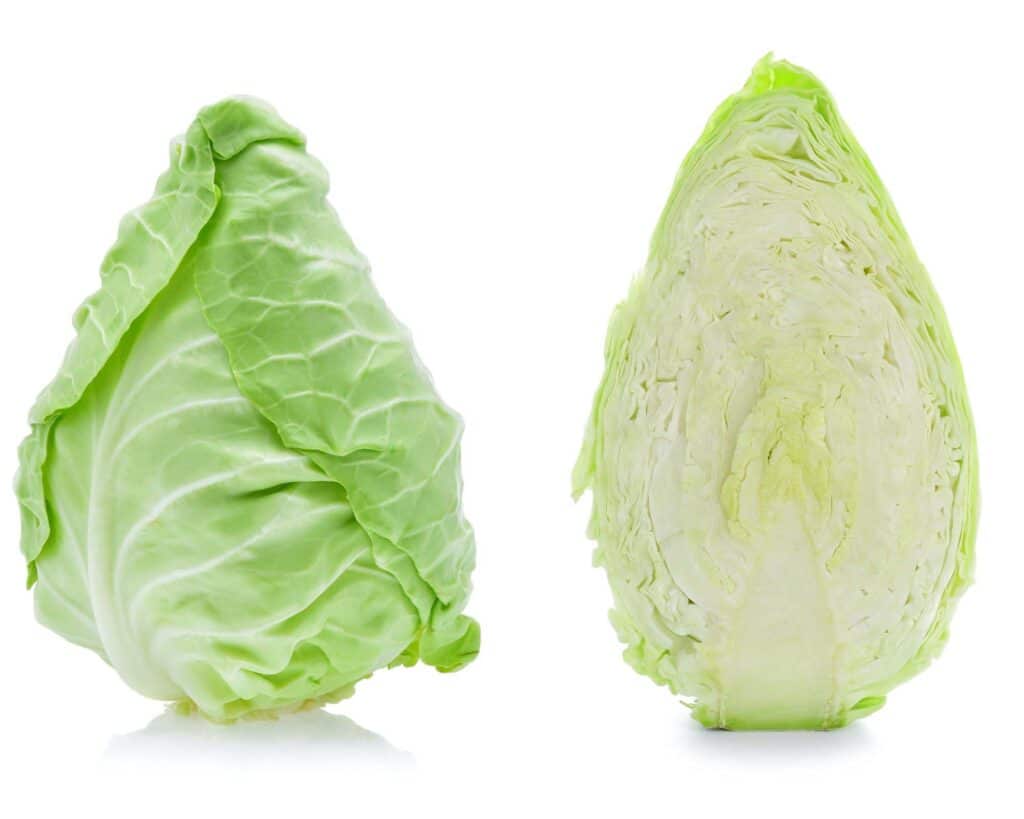 How to buy it?
Look for fresh and crisp-looking heads. They should have a bright green color and should feel firm when touched. The outside leaves might be slightly damaged (due to transport and storing), don't mind those, just remove them before cooking. What you should avoid are wilted-looking cabbage heads; they have been lying around for too long.
How to store it?
Whole head: Sweetheart cabbage has a softer texture than the white sort, and it doesn't keep that long. While you can store a white one for weeks in the fridge, the pointed should only be stored for about one week. Place it in the refrigerator's vegetable compartment and check it every day or so to make sure it still looks ok.
Wedges: Once you've cut it, wrap the leftover wedges/pieces in cling film and refrigerate for up to 3 days or so.
Freeze: Chop and blanch it for 3 minutes in boiling water. Drain well, let cool, and place into freezer bags. Freeze for up to 6 months.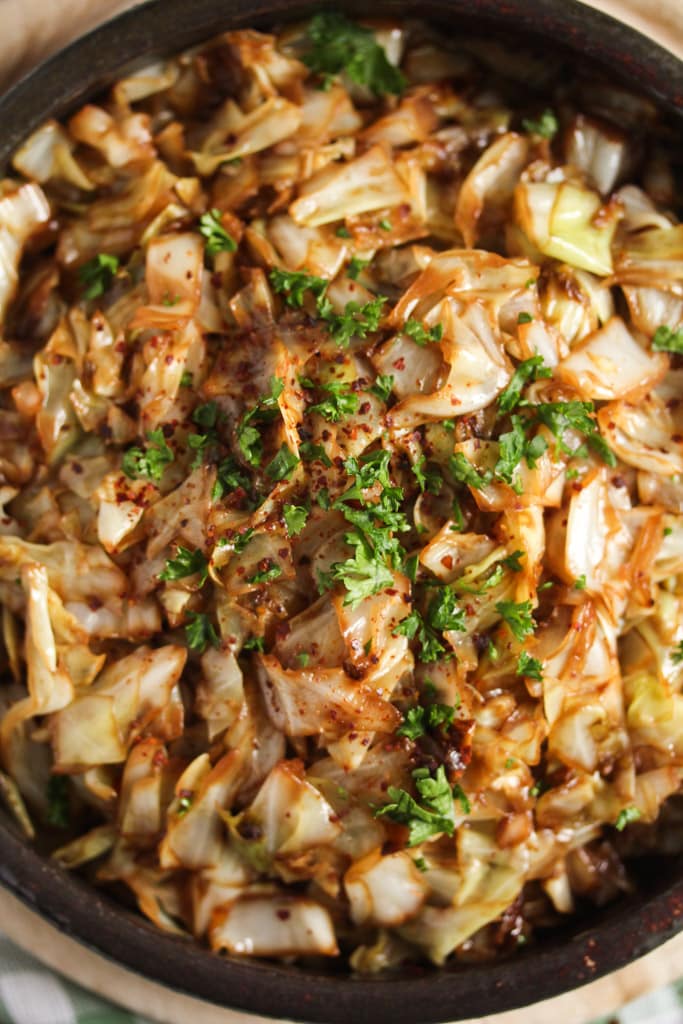 How to prepare pointed cabbage for cooking?
Use a large, sharp chef's knife.
Remove and discard the outer leaves. Rinse the head with cold water, and dry it.
Halve the head (1).
Next, remove the core, making a V-shaped cut around it. As kids, we used to love eating this fresh sweet core. But otherwise, discard it (2).
Cut the halves into quarters (3).
Shred by cutting diagonally across the cabbage wedges into thin slices (4).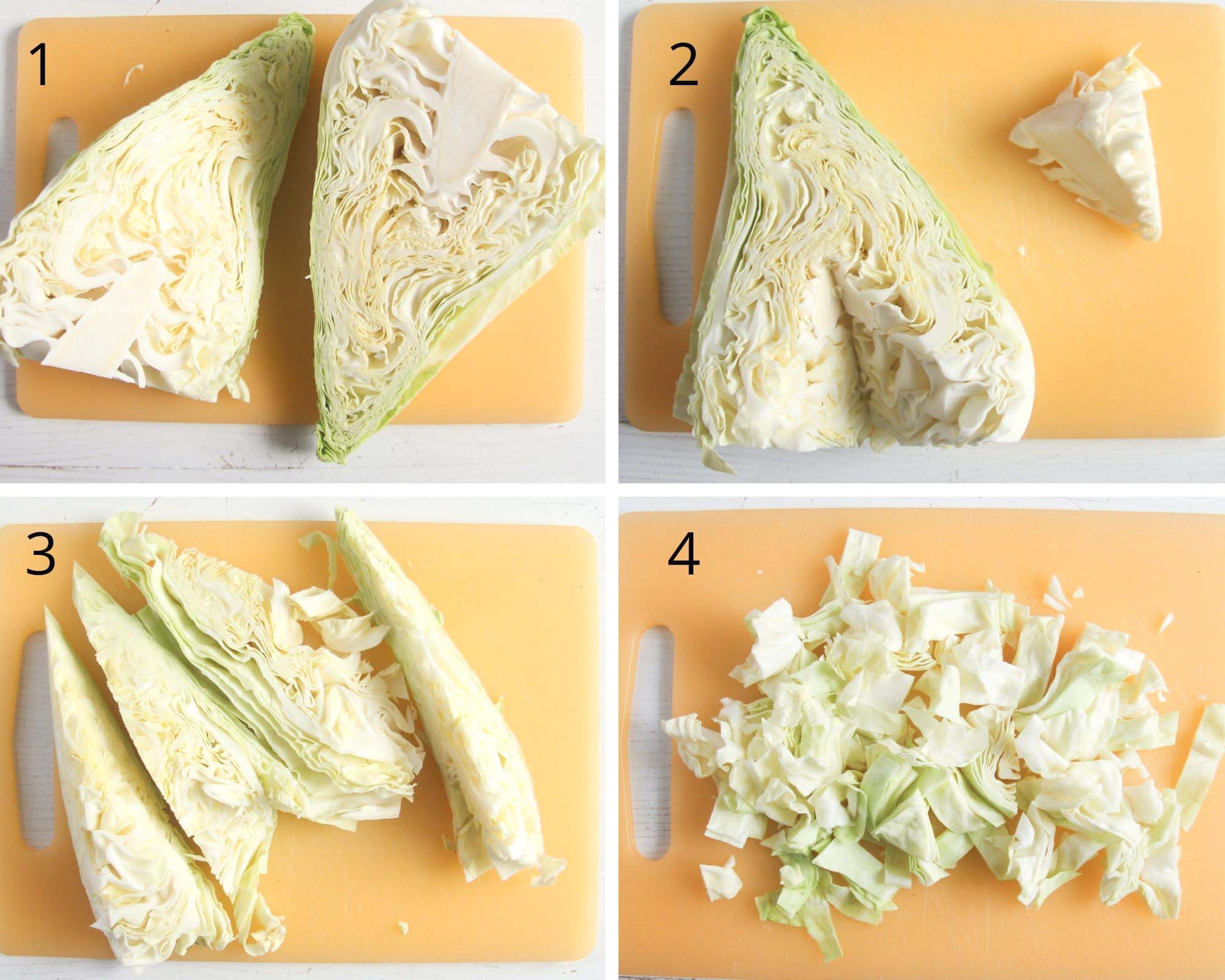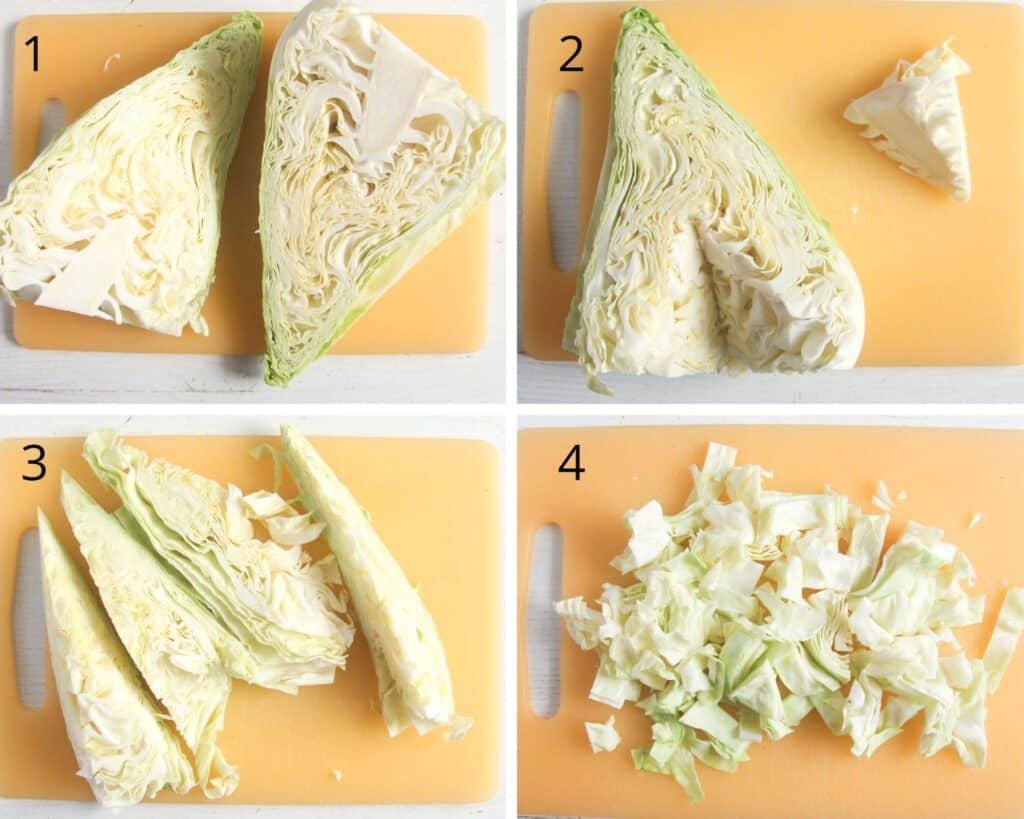 What do you need for this recipe?
Cabbage: one small head; mine weighed about 900 g/ 2 lb. If the head you have is large, store the rest of the cabbage in the fridge as instructed above and use the crunchy leaves to make salads, add to soups, or a vegetable stir fry.
Butter: preferably unsalted.
Olive oil
Soy sauce: that's the reason you should use unsalted butter; soy sauce is pretty salty.
Other ingredients: black pepper, salt if necessary, and parsley if desired.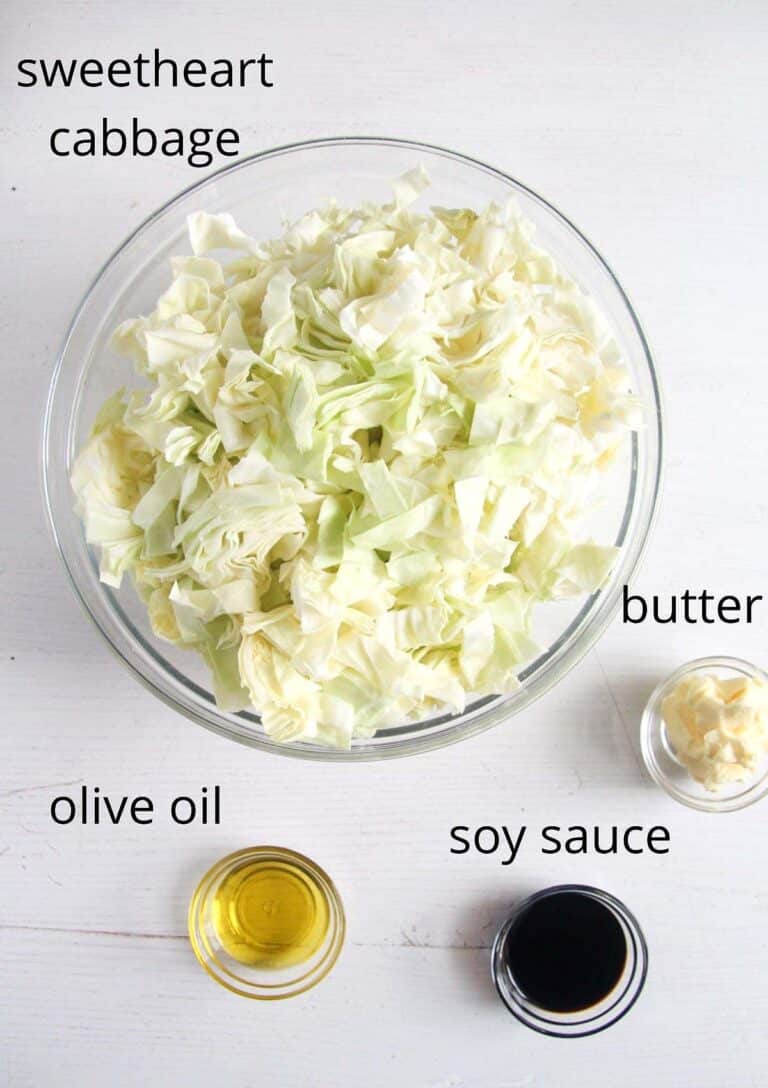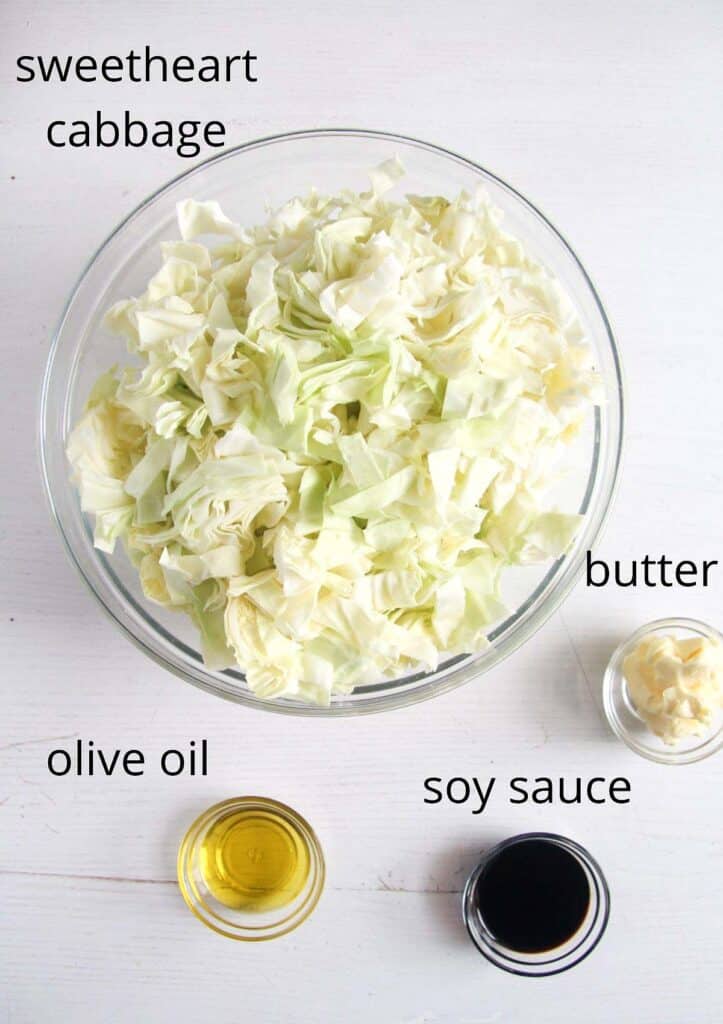 How to cook sweetheart cabbage?
Shred the vegetable as instructed above.
Place butter and olive oil in a very large pan, preferably a cast-iron or nonstick pan. Let the butter foam shortly (1).
Add cabbage and stir well to coat (2).
Cook on medium heat for 8 minutes. Reduce the heat to medium-low if the veggie slices stick too much to the bottom of the pan. Cook until lightly browned; it should be crispy-tender and not too soft or mushy (3).
Add the soy sauce. Stir well and cook for another 2 minutes (4).
Taste and add a pinch of salt; if necessary, it probably won't be. Sprinkle with freshly ground black pepper and chopped parsley if desired.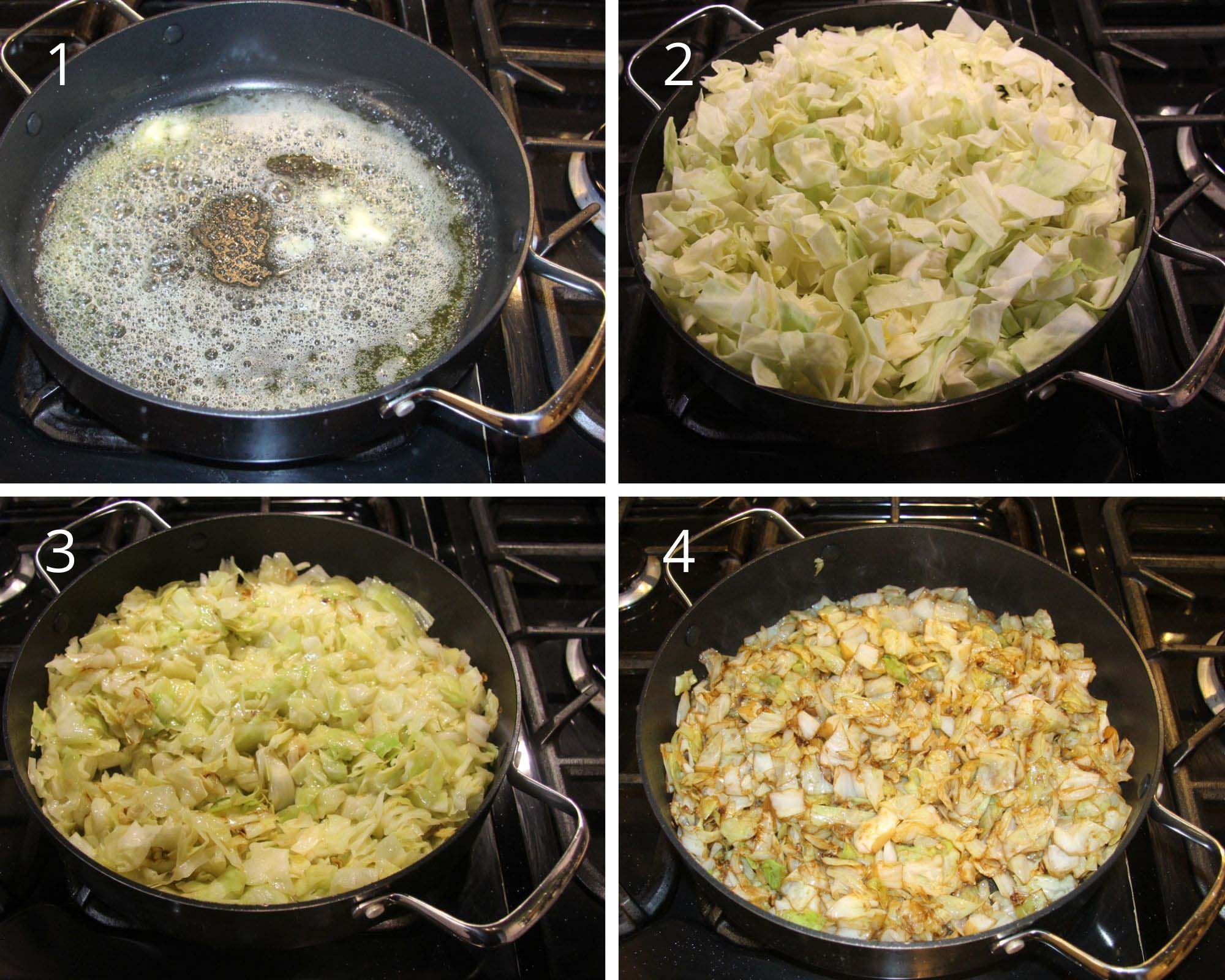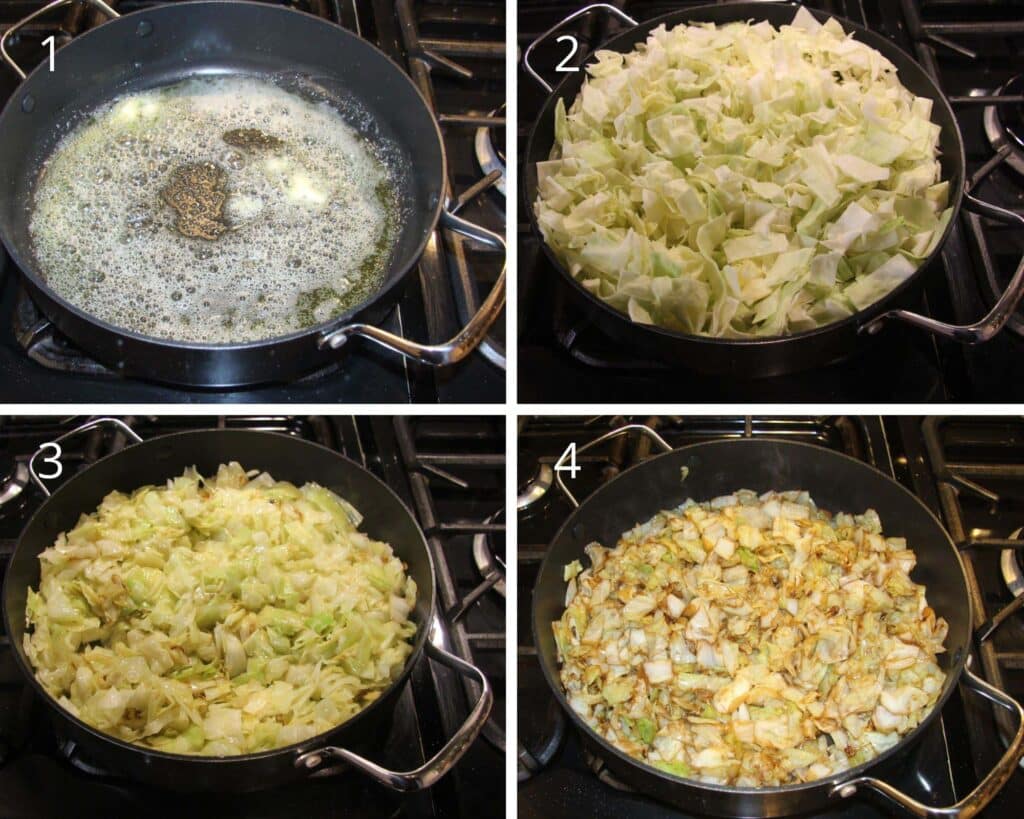 How to change the recipe?
This is the basic recipe, the one I cook most often. It tastes fantastic; despite being so simple, I don't need anything else. The simplicity also makes it very suitable as a side dish for lots of other dishes. However, if you wish, you can add other ingredients as well.
Fried cabbage with bacon is super popular and super tasty. Chop one small onion and 3-4 slices of bacon. Cook them in a large frying pan until the bacon fat renders and the onions are golden. Add 2 finely chopped garlic cloves and stir for one minute. Add the cabbage and proceed with the recipe.
Make it spicy by adding red chili flakes or cayenne pepper to taste. I often add a pinch of caraway seeds.
Leave the soy sauce and use other spices; I like dried thyme, summer savory, or fresh dill or parsley. And consider adding 1-2 teaspoons of good balsamic vinegar at the end (to taste); I love using it!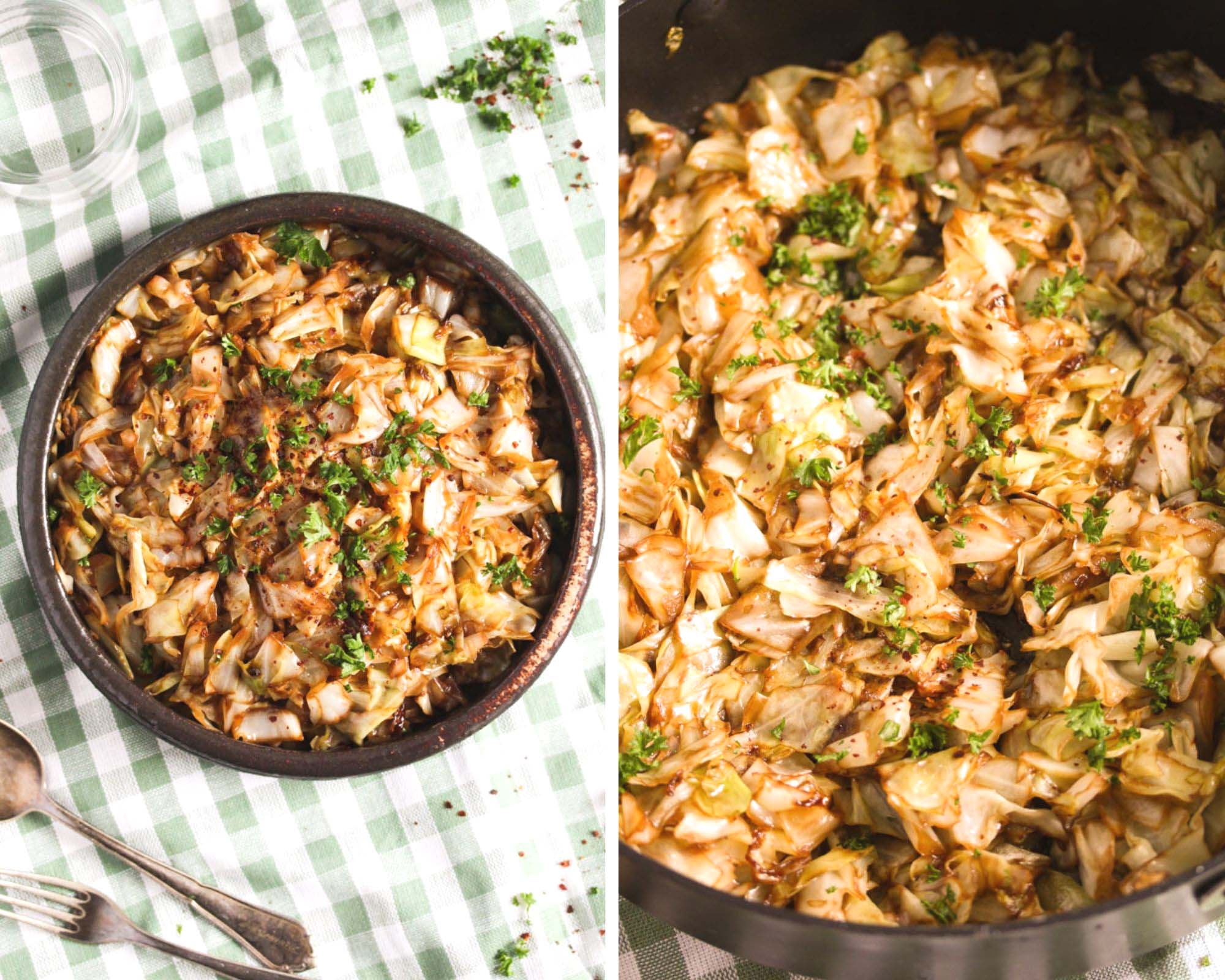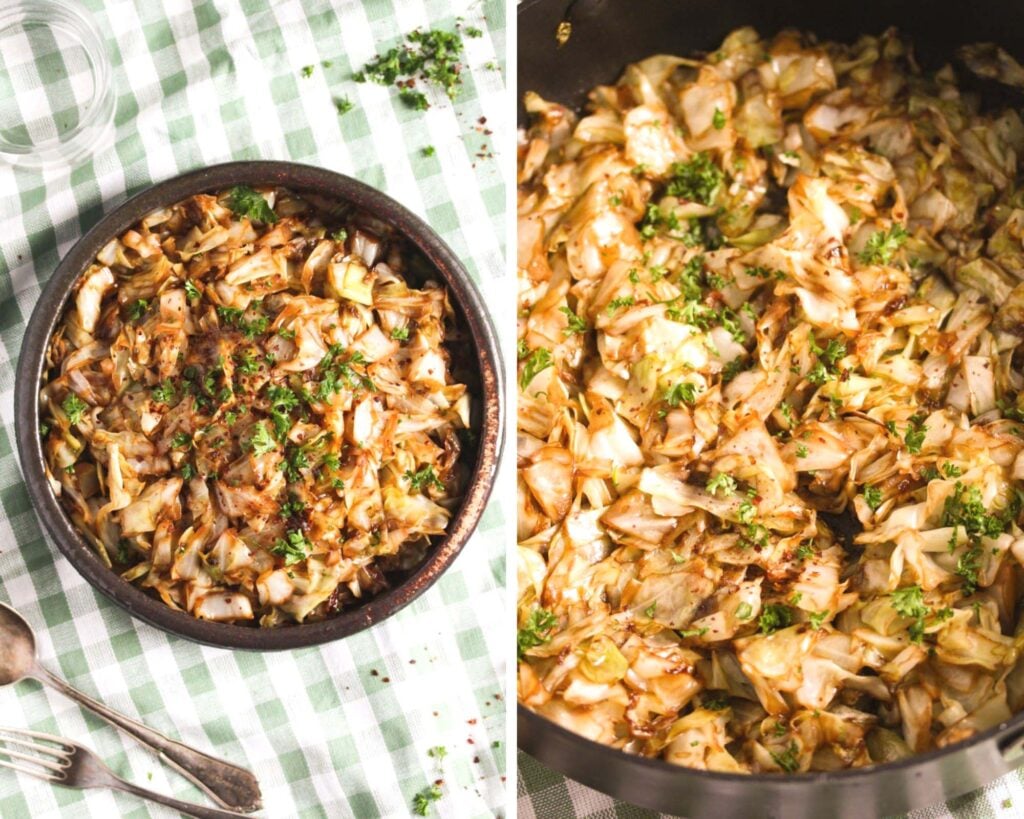 What to serve with fried sweetheart cabbage?
Serve as it is with mashed potatoes, boiled potatoes, rice, or pasta. Simple, vegan, healthy, and delicious!
Pork: A match made in heaven. Try it with Pork Belly Slices, Cast-Iron Pork Tenderloin, Pork Chops in Milk Marinade, or Meatballs and Rice.
Sausages: Another fantastic combination. The pointed cabbage is perfect with any kind of sausage dish, for instance, Brats in the Oven.
Chicken or turkey: How about pairing it with Tender Pan-Fried Chicken Thighs, Cast-Iron Chicken Breast, Whole Roasted Chicken, Roasted Chicken Thighs, or Chicken Breast Patties. It also goes well with Turkey Legs in the Oven or Roasted Turkey Drumsticks.
Lamb or beef: The sauteed veggies make a great side dish for Slow Cooked Lamb Shoulder, Baked Lamb Chops, or Beef Ribs in the Oven.
Keep it vegetarian: Serve it with Chickpea Meatballs, Broccoli and Cauliflower Balls, or Baked Cauliflower Potato Patties.
How to store and reheat?
Fridge: The sauteed hispi cabbage keeps well in an airtight container for 3-4 days.
Freezer: Let cool at room temperature. Place in freezer bags or airtight containers and freeze for up to 3 months. Defrost in the fridge or on the counter.
Reheat in a (nonstick) pan on the stovetop. Add a splash of water and often stir until the food is hot.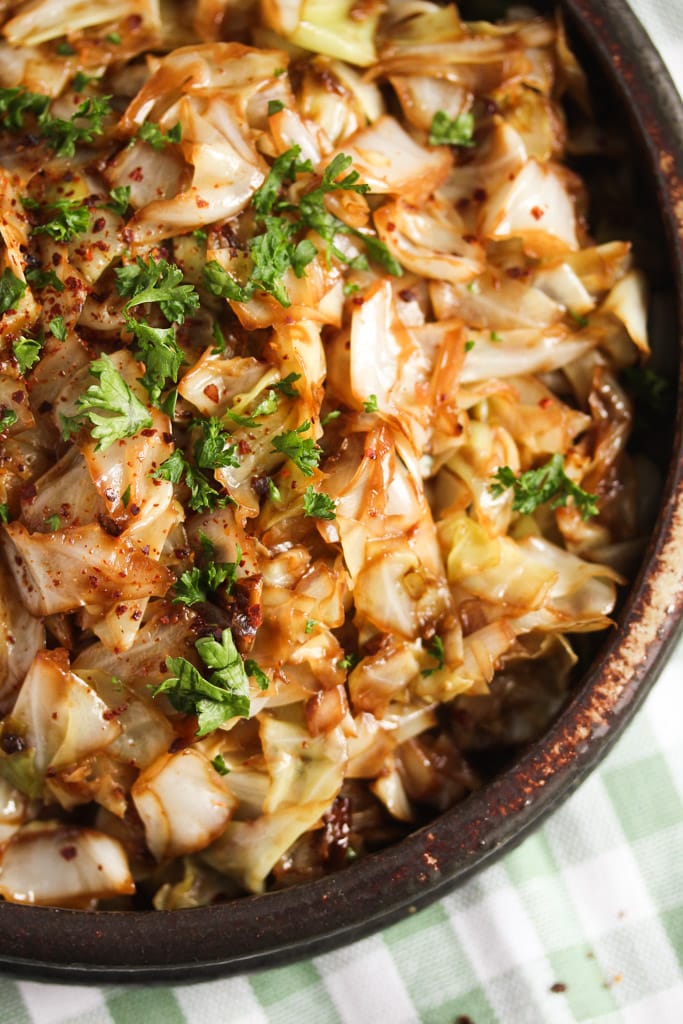 More cabbage recipes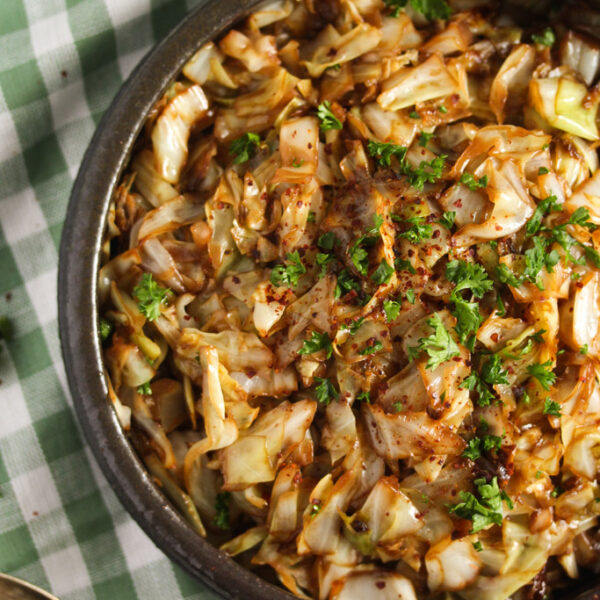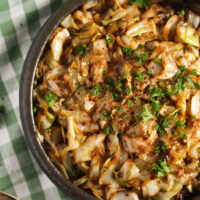 How to Cook Sweetheart Cabbage
The simplest and most delicious way of cooking sweetheart cabbage, also known as pointed or hispi cabbage.
Print
Pin
Share
Grow
Saved!
Rate
Equipment
Large nonstick or cast-iron pan
Ingredients
1

small sweetheart cabbage

about 2 lbs/ 900 g

2

tablespoons

unsalted butter

2

tablespoons

olive oil

3

tablespoons

soy sauce

pinch

of fine sea salt

optional

freshly ground black pepper

1-2

tablespoons

chopped parsley

optional
Instructions
Prepare cabbage: Remove the outer leaves, rinse, and dry the vegetable. Halve the head, then cut it into quarters. Remove the core, making a V-shaped cut around it. Discard it. Shred the wedges into thin slices by cutting diagonally across them.

Cook: Heat butter and olive oil in a large pan (preferably nonstick or cast-iron). Let the butter foam just for a few seconds. Add the cabbage and stir well. Cook for 8 minutes on medium heat. Reduce heat to medium-low if the cabbage starts to stick or colors too quickly. Cook until lightly browned, crispy tender, but not too soft or mushy.

Add soy sauce and stir for another 2 minutes. Remove from the heat.

Adjust the taste with a pinch of salt (it might not be necessary, soy sauce is salty) and some black pepper. Sprinkle with chopped parsley before serving.
Nutrition
Calories:
176
kcal
|
Carbohydrates:
13
g
|
Protein:
4
g
|
Fat:
13
g
|
Saturated Fat:
5
g
|
Polyunsaturated Fat:
1
g
|
Monounsaturated Fat:
7
g
|
Trans Fat:
1
g
|
Cholesterol:
15
mg
|
Sodium:
806
mg
|
Potassium:
584
mg
|
Fiber:
5
g
|
Sugar:
1
g
|
Vitamin A:
461
IU
|
Vitamin C:
95
mg
|
Calcium:
110
mg
|
Iron:
2
mg