My favorite white cabbage salad: only a few ingredients and so easy to make. The perfect side dish for almost any kind of meal.
This Simple Romanian White Cabbage Salad is one of the best salad side dishes you can imagine. I think it has been my favorite salad all through my childhood and youth and I still love it dearly. I make it often because I think it fits just about anything and I change it slightly sometimes adding more ingredients if I feel like having something a bit different.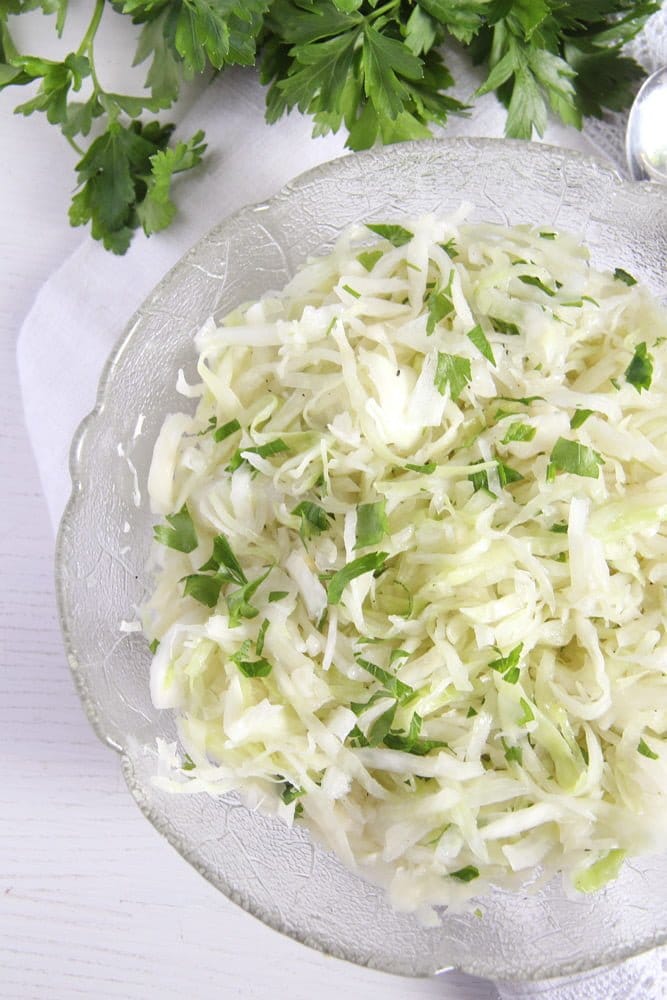 I know I am in the middle of the Gypsy Recipes Series and this salad is not really a Gypsy recipe. It is something typical Romanian, but I am so sure that either the Gypsies, the Hungarians or the Germans living in Romania, they all make this white cabbage salad very often, it is a staple in our kitchen, if I may say so.
I chose to post it now because I think it fits this Gypsy Recipe series very well, you could have it as a side dish for every single Gypsy dish I've posted, either the Pork, Rice and Cabbage Stew (yeah, I know double cabbage, but it still fits), the Pork Burgers, the Skillet Chicken in Garlic and Roasted Pepper Sauce, the Gypsy Potatoes with Vegetable Sauce or the Gypsy Pork Chops that are still to come. So, no matter what you choose to cook, be sure that this Simple Romanian White Cabbage Salad it will be a very suitable side dish.
I strongly recommend you trying this salad at least once, I think it is quite different from the American Coleslaw or the German Creme Fraiche Salad, all of them absolutely great (I actually love any kind of cabbage salad), but quite different.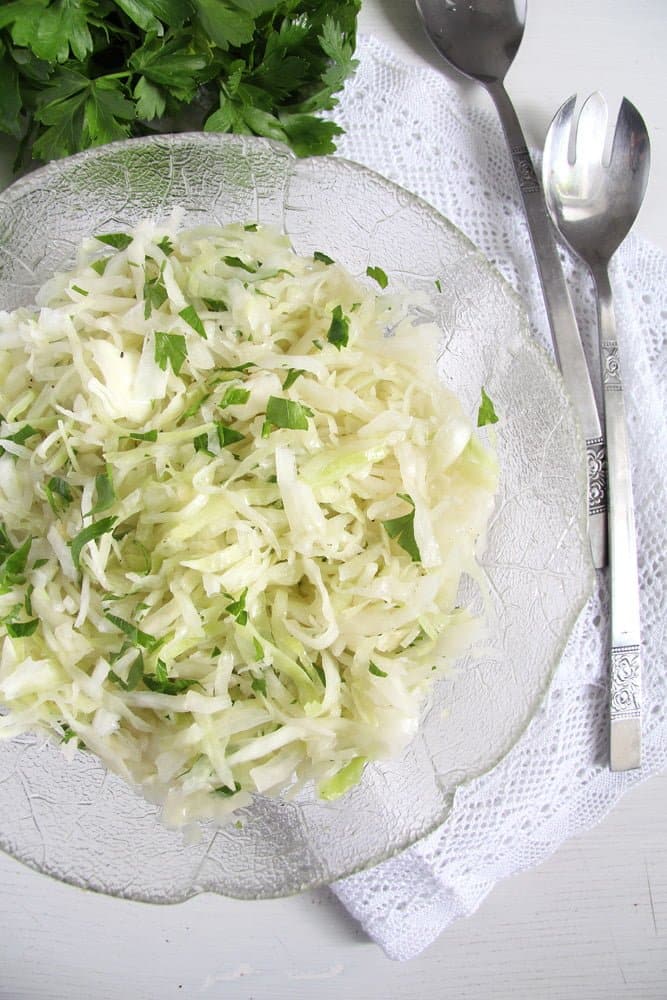 Like I've mentioned above this Romanian White Cabbage Salad used to be my favorite salad when I was young and I remember that my preferred way of eating it was as a side dish for plain boiled potatoes. My grandma would just boil some potatoes in the skin and we would have those with white cabbage salad, which was always slightly sour due to the vinegar and a bit salty. She was always very generous with the oil (I am not that generous nowadays), which gave the cabbage that glistening look… I would crush the potatoes with the fork, pile lots of cabbage salad on top and enjoy! Delicious!
I think what makes this salad different from other cabbage salads is its consistency. It is softer than the usual crisp cabbage salad due to the kneading of the cabbage. That might seem strange to you, but it is really not hard to do it and the result is really well worth it. So, after slicing the cabbage as finely as you can, sprinkle it with the salt and leave it for about half an hour (sometimes I leave even a bit longer, it's OK). Then start taking handfuls from the salted cabbage and squeeze it as well as you can. That will help release the extra moisture and make the salad really really tender and somehow comforting, an unusual word to use when talking about a salad.
This is my grandmother's White Cabbage Salad recipe, the way she always made it. My only change is to use less oil, only about 2 tablespoons while she would just pour the oil from the bottle until she felt it was right. You can add more oil than I do if you wish, just taste and decide for yourself. Do not use olive oil though, that will not fit a Romanian cabbage salad at all, olive oil was never used much in Romania, I don't think my grandmother ever even tasted it. For a genuine taste use a mild sunflower oil or another rather neutral tasting vegetable oil.
When buying sunflower oil in Germany I usually go for an organic brand, which has quite a dominant sunflower seed taste. However, for this particular salad, I prefer the cheaper and milder sunflower oil variety.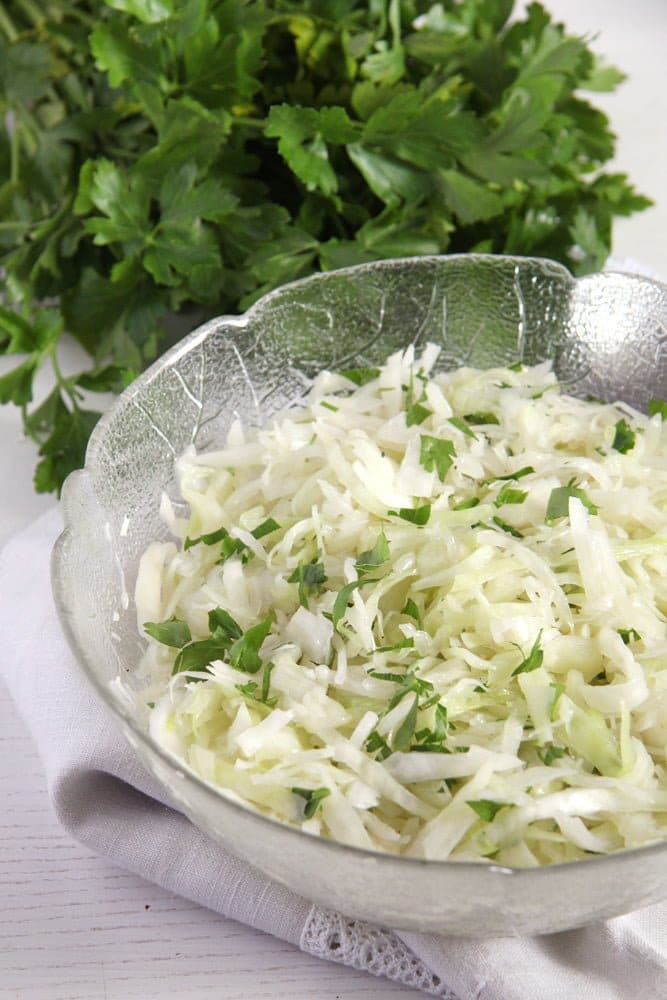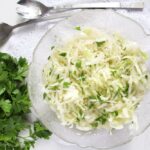 Ingredients
500 g/ 1.1 lbs white cabbage

½ teaspoon fine sea salt

2 tablespoons vegetable oil or more to taste (preferably a mild tasting sunflower oil)

2 tablespoons white wine vinegar

freshly ground black pepper

some parsley
Instructions
Slice the white cabbage as finely as possible. Give it to a bowl, mix it well with the salt and leave for half an hour.
Give the cabbage to a colander and wipe the bowl clean to remove the moisture and extra salt.
Take handfuls of the cabbage and squeeze them in your hand to release the extra moisture. Give the cabbage back to the bowl.
Add the oil and the vinegar and some freshly ground black pepper. Stir well, until the cabbage salad starts to glisten. Taste and adjust (if necessary) with more salt, pepper, vinegar and oil. Sprinkle with the chopped parsley.
It will keep well for several days in the fridge. Covered, of course.