Last Updated on
Tender cauliflower florets in a mayonnaise mustard and garlic dressing, this is a typical Romanian salad recipe.
This used to be one of my favorite salads as a teenager. Just some cauliflower with garlic mayonnaise – simple but so tasty. We did not have this often, I think it was my mother that used to make it from time to time, especially at Christmas or New Year's Eve as a part of a festive meal. Or was that the mushroom mayonnaise salad? I don't really remember, but never mind, I loved both these salads. Anything with mayonnaise actually…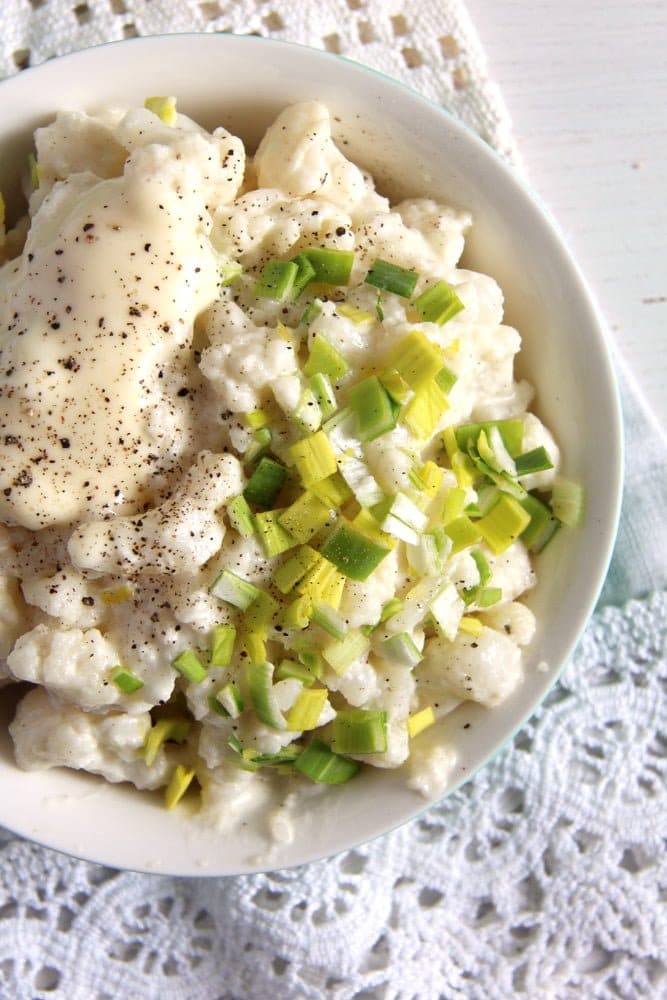 But when speaking about the mushroom mayonnaise salad, another staple in the Romanian kitchen, if you would like to make that instead, just swap the cauliflower for two well drained cans of sliced mushrooms.
I haven't had the cauliflower salad with mayonnaise in ages until just recently, but it only took one bite to be transported back to those teenage days. And I could not believe it that it took me so many years to finally make this salad myself, it is so good and so easy to make it should really become a more frequent affair.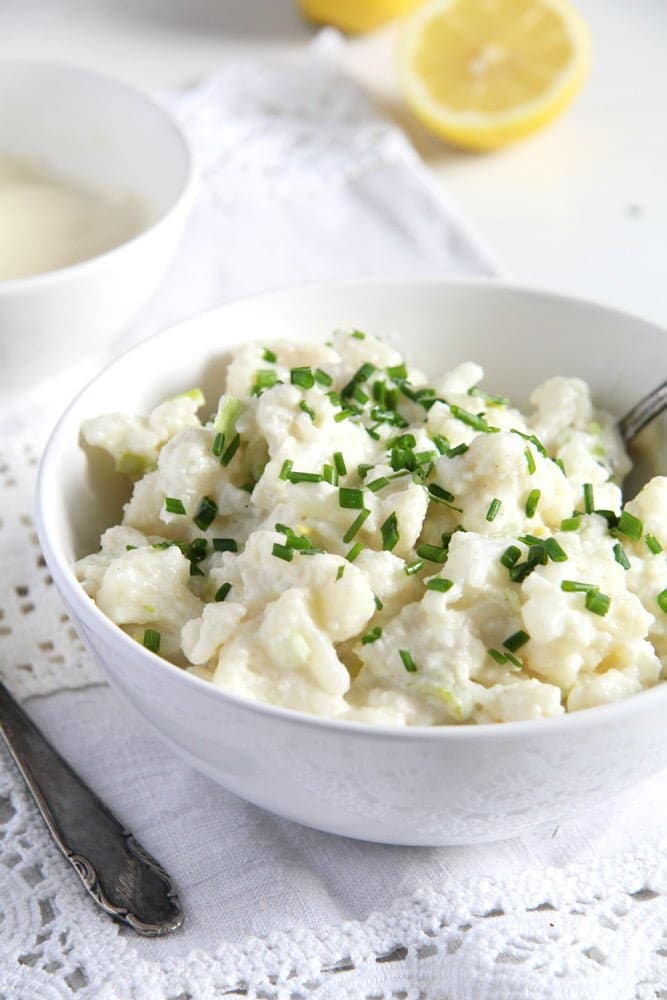 And don't worry about the mayonnaise it contains, there are only two or three tablespoons of it in the salad and those divided into several servings. I always use homemade mayonnaise for this kind of salads, it is easy to make and it tastes much better than any brand I know, but you can use your favorite brand and even low-fat mayonnaise if you wish. If you do decide to make your own mayonnaise, which I strongly recommend, you could mix that with some yogurt in order to get a lighter mayonnaise. I do that especially when I need a larger quantity of mayonnaise for a dish. Like for example when making the Salad a la Russe or the Romanian Boeuf Salad. You could make both of them using plain homemade mayonnaise or thin that mayonnaise with some yogurt for a lighter taste and less calories.
Oh, and I only use the cauliflower florets for this Cauliflower and Mayonnaise Salad. But do not discard the stem, you could use it to make these wonderful Mashed Cauliflower and Potatoes or a creamy cauliflower soup.
Otherwise I hope the weather is treating you well. We had the most amazing summer weather during this past week and according to the weather forecast this wonder should go on for another week. We spend most of our free time in the garden or at the lake in the next village, the kids are beyond happy to be able to spend so much time in the sun and in the water.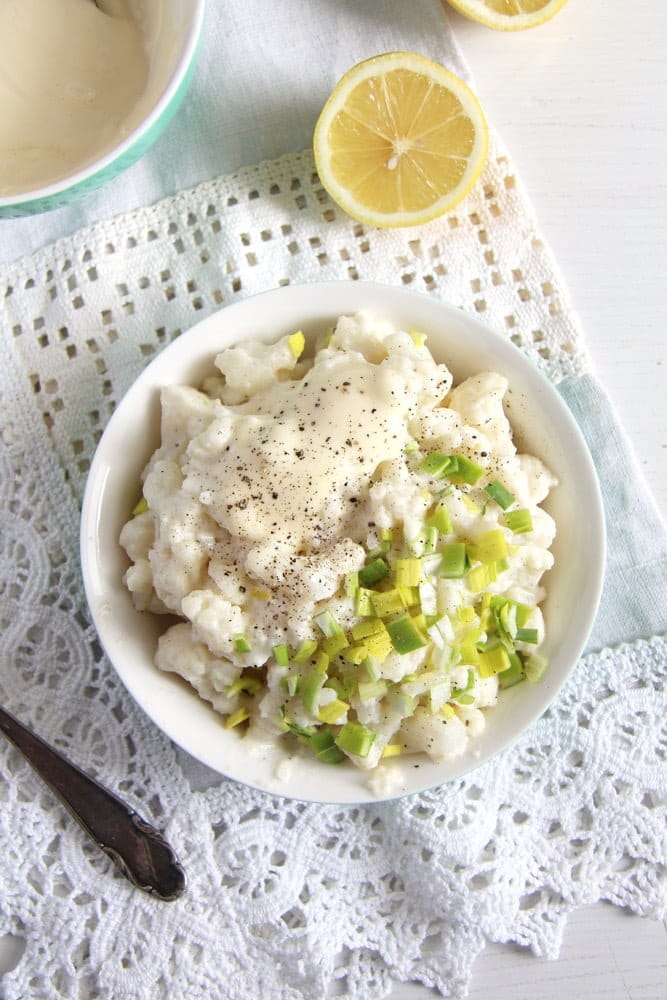 Ingredients
500 g/ 1.1 lbs cauliflower

2-3 tablespoons homemade mayonnaise or your favorite brand

1 teaspoon mustard

2-3 teaspoons fresh lemon juice, to taste

1 large garlic clove

salt and pepper

scallions, leeks or chives to garnish
Instructions
Divide the cauliflower into small florets. Bring a large pot of water to a boil, add some salt and the cauliflower and cook the cauliflower florets until soft but not mushy. About 5 minutes from the moment when the water comes to a boil again, but keep checking. Drain the cauliflower thoroughly and let cool.
Place the cauliflower florets into a bowl. In a small bowl mix together the mayonnaise, mustard, lemon juice, grated garlic and salt and pepper to taste. Give the dressing to the cauliflower and mix carefully.
Garnish with finely chopped scallions, leeks or chives and serve chilled with bread, crackers or as a side dish.
This post contains affiliate links. The price you pay as a consumer does not change, but if you make a purchase we will receive a commission which helps support the blog.
Some of my favorite cauliflower recipes:
Cauliflower Soup with Almonds
Broccoli Cauliflower "Meatballs"
Vegan Cauliflower Mac and Cheese