My favorite creamy carrot soup or cream of carrot soup made with milk, only a few ingredients, but so much flavor.

CREAMY CARROT MILK SOUP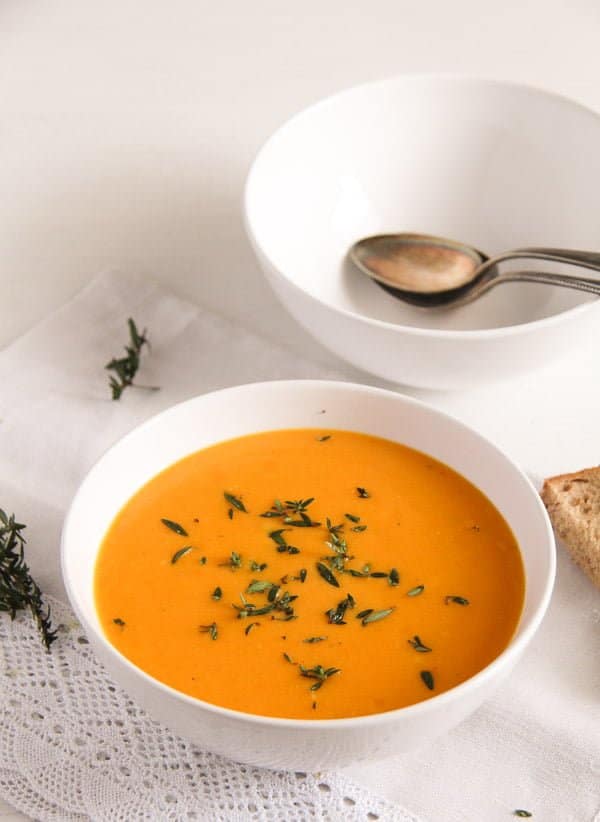 I have been making this carrot soup with milk for years now, about 14.
The recipe was one of the first I have ever cooked, following a recipe I found in an old Romanian cookbook, which I actually don't have anymore. I scribbled down the recipe when on holiday back there and cooked it myself as soon as I got home again.
It was delicious! So good that I have kept making it for so many years. I've cooked it for my husband and I before we had kids, I've cooked for my own kids and other people's kids, I've cooked it to serve as an appetizer for dinner parties, I've cooked it on holiday in a holiday home… so many times.
A comforting soup using just a few ingredients, this carrot soup with milk recipe could not be any simpler. You do need a blender though, a sieve and a couple of pots, but that shouldn't be a problem, should it? 🙂
And an extra bonus, this creamy carrot soup or cream of carrot soup contains no cream, just milk, even low-fat milk, if you care about that!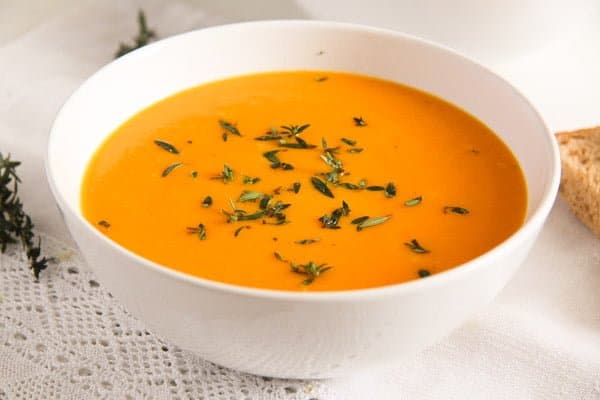 HEALTHY CARROTS:
The carrot is the vegetable with the highest content of carotin, which occurs both in the form of Alpha and Beta-carotin, which is a precursor of vitamin A, which is very important for our eyesight, especially our ability to see in dim light. It is believed that the consumption of carrots can prevent us from developing night blindness as we get older.
Carrots are also high in fiber, are a good source of antioxidants and are rich in other vitamins like C, K and B8. They also contain pantothenic acid, folate, potassium, iron, copper and manganese.
It is assumed that carrots can help decrease the probability of heart disease, as their regular consumption can reduce cholesterol levels and lower the blood pressure.
They can boost the immune system, improve digestion through their high fiber content and "beta-carotin consumption has even been linked to a reduced risk of several cancers, notably lung cancer".
According to the same source, carrots are also "good for blood sugar regulation due to the presence of carotenoids in them. Carotenoids inversely affect insulin resistance and thus lower blood sugar."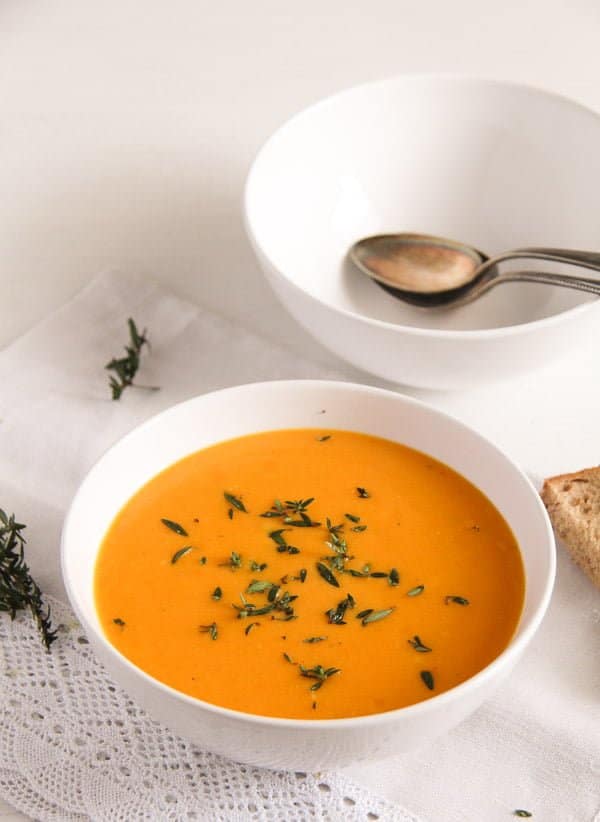 HOW TO STORE CARROTS
Carrots are readily available all through the year nowadays, so storing them the way our grandmothers used to do is not necessary anymore, not unless you cultivate your own carrots and have large crops of them. In this case, carrots are best kept in the cellar, buried in sand.
I've tried that several years ago, when I was still thinking I would like to grow my own veggies (I would like to have the fresh veggies from my own garden, but I must admit that I totally hate garden work, so it doesn't really make any sense for me).
This way of storing the carrots worked perfectly, we were able to eat all those carrots even a few months later.
When you buy carrots and store them in the fridge, the first thing you should do is to unpack them. If you leave them in their plastic packaging, they will start to spoil pretty quickly. Left in the vegetable drawer without the packaging, they will keep well for at least one week.
If you buy carrots that still have their greens on, make sure you remove the leaves as soon as you get home, because the leafage will extract the nutrients and water out of the carrots, which will make them limp and wrinkly.
And how about making a carrot top pesto with those greens? It is amazing, we eat it on bread with cheese almost daily. I made a larger batch using the greens from a large bunch of carrots and I put the little jars in the freezer. Now we have it all the time, freezer carrot green pesto and wild garlic pesto.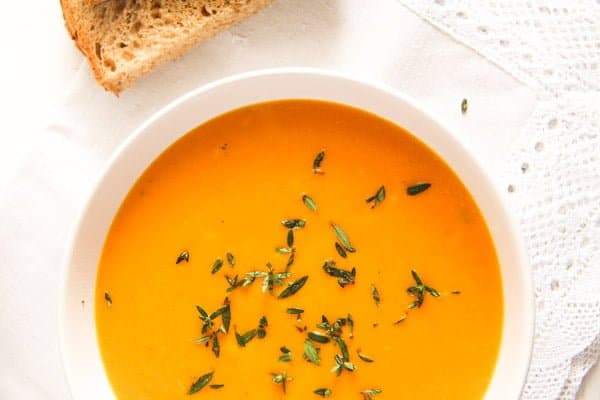 HOW TO MAKE CARROT MILK SOUP?
Well, making a creamy soup, either with carrots or any other vegetables is very easy. Basically you will only have to cook the vegetables in broth, blend them and add either milk, cream or any nut milk you like, in case you want to keep the recipe vegan.
In this case I would stick to a more neutral tasting nut milk, something like almond milk, coconut milk tastes great, but it will change the taste of the soup considerably.
What makes this particular carrot soup so creamy is not any cream, but a quick white roux with flour and milk.
The roux makes the soup not only creamy, but velvety as well, it allows you to make a cream of carrot soup that is a bit thinner than the usual cream of carrot, more soup than puree. I absolutely love it! Better than any other cream of carrot soup I have ever made, and mind you, they were all good.
Chop the carrots and cook them in a little butter for about 5 minutes or until slightly softer. Cooking them in a little butter is quite an important step, beta-carotin is fat-soluble and it can be absorbed better by the body this way.
Pour some good quality vegetable broth in the pot and cook the carrots until soft. Strain the carrots and reserve the broth. Puree the carrots, adding a little of the liquid (that makes blending easier), with a hand-blender.
Make the roux. Melt the butter and stir in the flour. Slowly add the vegetable broth while whisking continuously to avoid the formation of clumps.
Add the milk and the pureed carrots as well. Stir well, cook for a couple of minutes more, adjust the taste with salt and pepper. That's it!
And the result: the best creamy carrot soup you have ever had! 🙂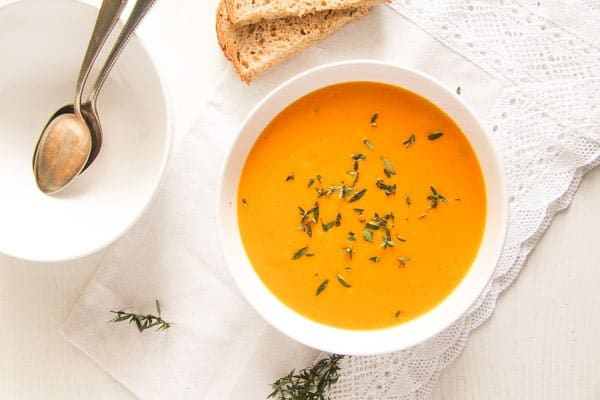 WHAT TO SERVE WITH MILK CARROT SOUP?
The creamy carrot soup with milk makes a good and light starter for the Easter lunch, served before the Slow-Cooked Shoulder of Lamb with Mint Pomegranate Yogurt, the Vegan Bulgur Wheat Salad with Chickpeas and Herbs and the Simple and Spicy Whole Roasted Cauliflower.
PIN IT FOR LATER!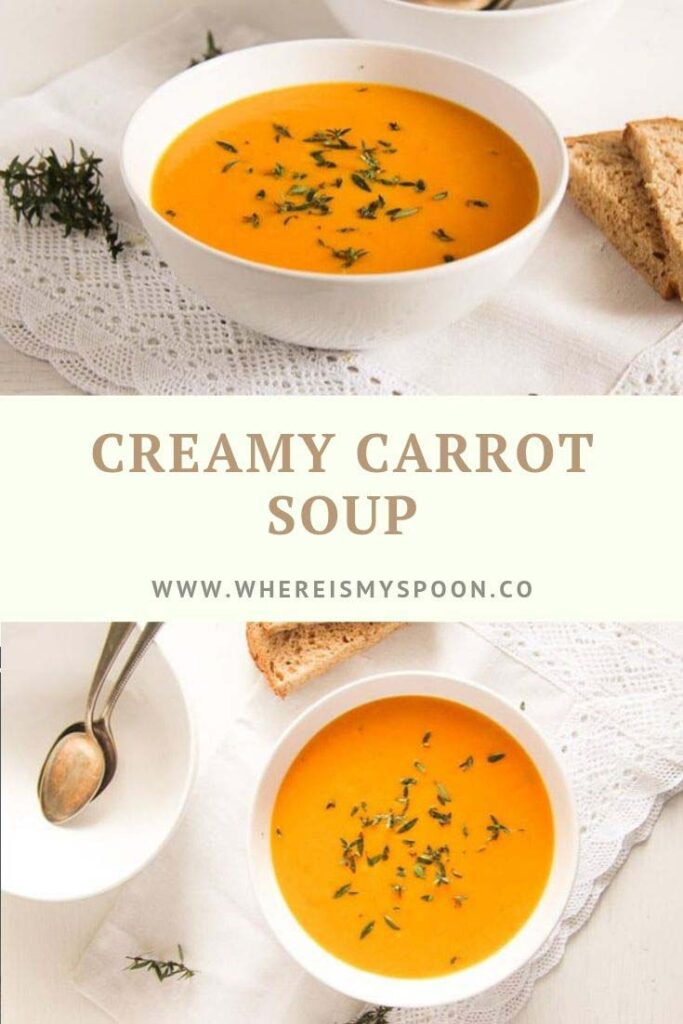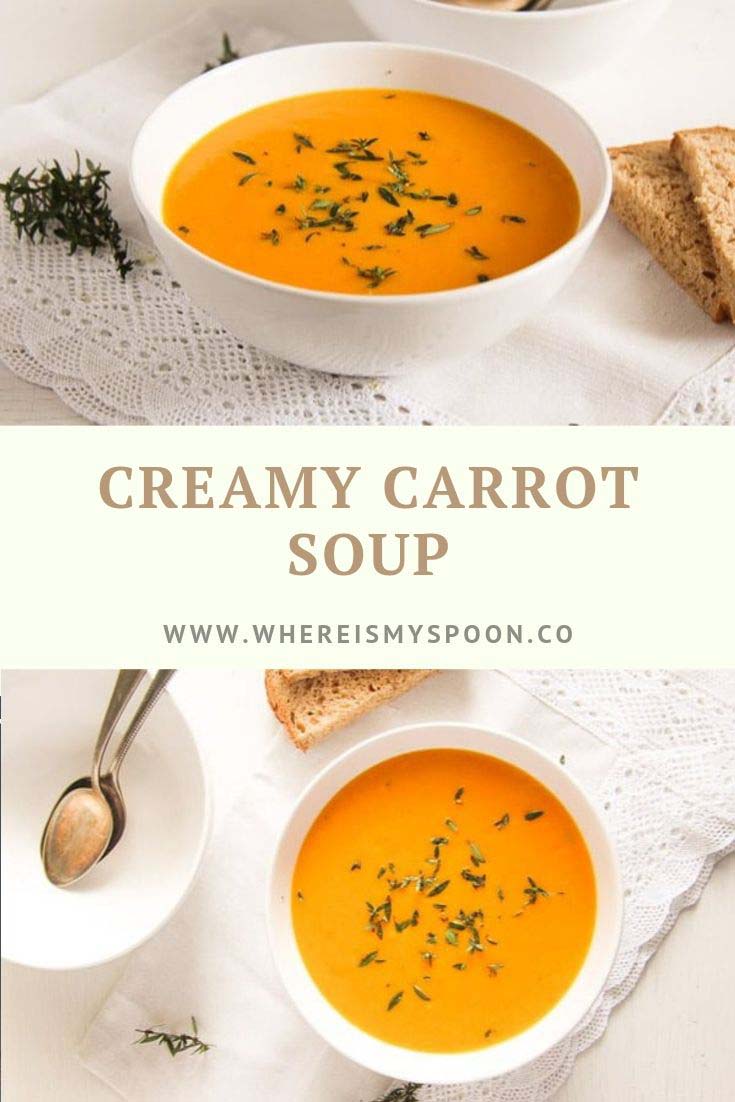 Creamy Carrot Soup with Milk
My favorite creamy carrot soup with milk, only a few ingredients, but so much flavor.
Print
Pin
Share
Grow
Saved!
Rate
Ingredients
1

kg/ 2.2 lbs carrots

2

tablespoons

butter

divided

1,2

liter/ 2.5 pints/ 5 cups good quality vegetable broth

2

tablespoons

all-purpose flour

250

ml/ 8.5 fl.oz/ 1 cup milk

fine sea salt and pepper

some parsley
Instructions
Peel and chop the carrots.

Melt 1 tablespoon butter in a soup pan and cook the carrots in butter, for about 5 minutes, stirring several times in between. The carrots should be glossy and slightly softer.

Add the vegetable broth, cover, bring to a boil and cook on medium low heat for about 15-20 minutes or until the carrots are soft.

Strain the soup and reserve the liquid. Puree the carrots with a hand-blender. Add a little of the cooking liquid when you blend the soup, it makes things easier. Melt the remaining butter in the pot.

Sprinkle the flour on top and stir well, do not let it get colored.

Slowly start adding the vegetable broth while whisking continuously to avoid the formation of clumps. If that is still happening, you can blend the soup again after you give the pureed carrots back to the pot.

Add the milk and the carrots to the pot, stir well and let bubble for another couple of minutes.

If you like a thinner soup, you can add a bit more milk, broth or even water.

Adjust the taste with salt and pepper.

Serve sprinkled with parsley/ thyme/lovage/cayenne pepper and buttered toast, for instance.
Nutrition
Serving:
1
/6 of the dish
|
Calories:
135
kcal
|
Carbohydrates:
20
g
|
Protein:
4
g
|
Fat:
5
g
|
Saturated Fat:
3
g
|
Polyunsaturated Fat:
2
g
|
Cholesterol:
14
mg
|
Sodium:
803
mg
|
Fiber:
5
g
|
Sugar:
7
g