Last Updated on 24/03/2020 by Adina
Super easy and quick recipe for ham and cheese croissants made with puff pastry, a perfect breakfast for Valentine's Day.
After the Easy Multi-Seed Crispbread with Oats and Spelt Flour and the Best Camembert Cream Cheese and Scallion Bread Spread, I have another quick and delicious breakfast recipe for you today: the Easy Ham and Cheese Puff Pastry Croissants with Sesame Seeds.
So easy and quick you will be able to put them together in the morning before your loved one even has the time to take a shower. All the other recipes from this short breakfast series are things you can make a day ahead, not only the two recipes I have already mentioned, but also the two remaining ones, the ones that I will post during the next days.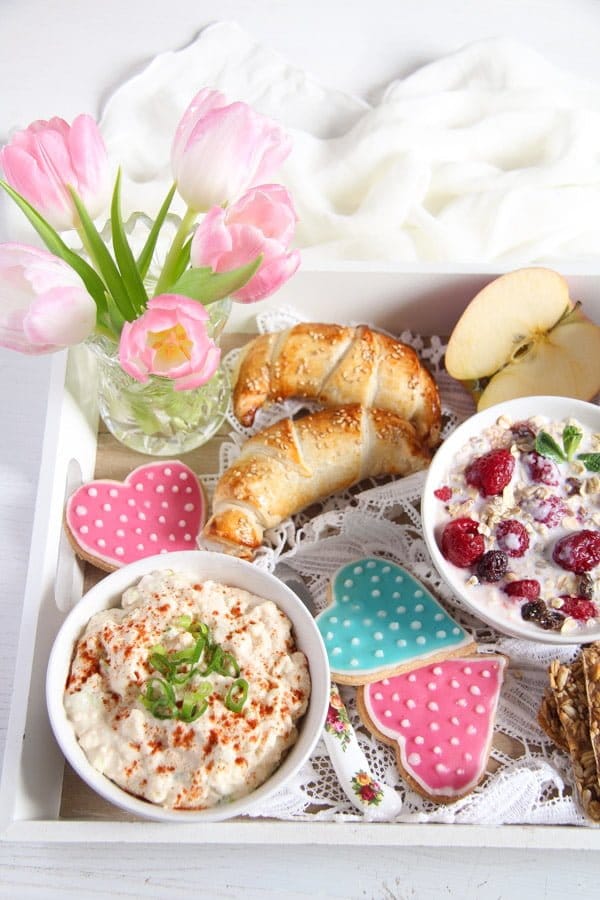 And if you decide you want to surprise your husband/wife, girlfriend/boyfriend with a nice breakfast in bed (or in the kitchen), you can prepare almost everything in advance. You will only need to make these Easy Ham and Cheese Puff Pastry Croissants with Sesame Seeds and brew some nice coffee in the morning.
I make something with puff pastry relatively often, not necessarily for breakfast, mostly as nibbles for a party, anything made with puff pastry is suitable when you are invited somewhere where you are supposed to bring something. Well, not supposed to, that sounds like an obligation, it is not really, at least for me it is a pleasure most of the times.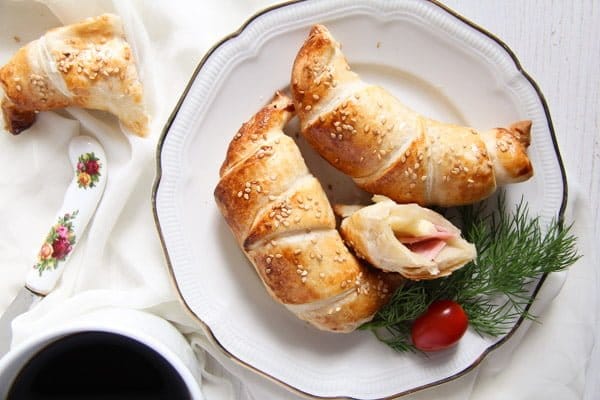 It is almost a tradition in Germany or at least in our region, to ask if you should bring anything when invited to a party or brunch or barbecue. When it comes to barbecue or larger party invitations, people usually brings salads, but when it comes to breakfast, puff pastry nibbles are a common thing to bring. At least for me, some of our friends already have their favorites that they require from me most of the times.
For example, these other wonderful Puff Pastry Nibbles with Homemade Mint Pistachio Pesto or these Baked Albanian Spinach Rolls with Feta. Not to mention the Camembert Cream Cheese Bread Spread from last week, I have brought that to brunches and parties countless times.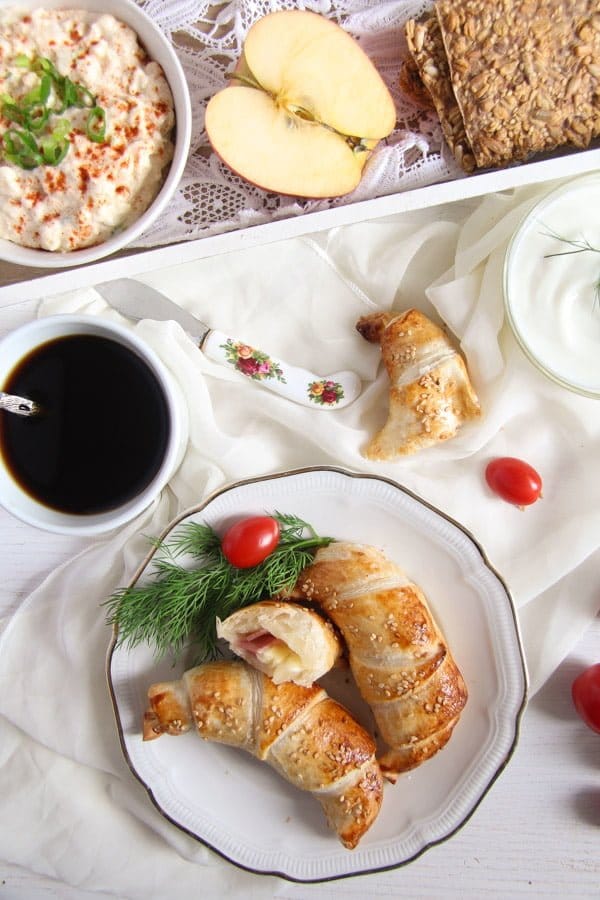 But let's get back to today's recipe for Easy Ham and Cheese Puff Pastry Croissants with Sesame Seeds. All you need is a packet of refrigerated puff pastry, a few thin slices of ham and cheese, an egg yolk and some sesame seeds. Cut, fill and roll the croissants, pop them in the oven for about 20 minutes and you're done, it really couldn't get any easier, isn't it? And the result is bound to please anybody.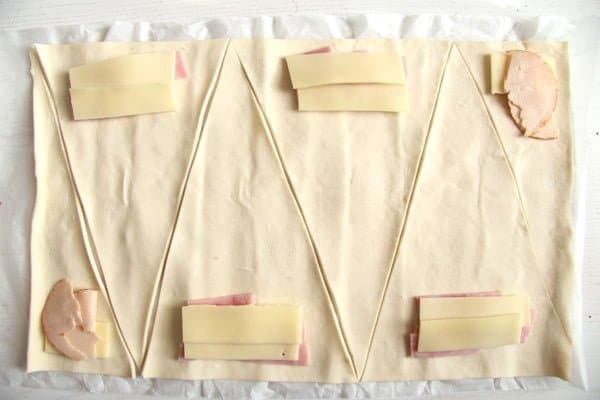 I used regular ham and Gouda cheese, but you could use whatever ham you like, pork or poultry, you can even use salami or other cold meats you like. The Gouda can be easily replaced with Parmesan or Cheddar or my favorite version (which my kids hate) a really nice and strong Bergkäse, which is a German cheese sort, a bit like Gruyere.
If you want to make these puff pastry croissants vegetarian, leave out the ham and use a bit more cheese. Or replace the ham with some very thinly sliced sun-dried tomatoes in oil, some chopped herbs or a bit of pesto. And make sure that the cheese you use is vegetarian.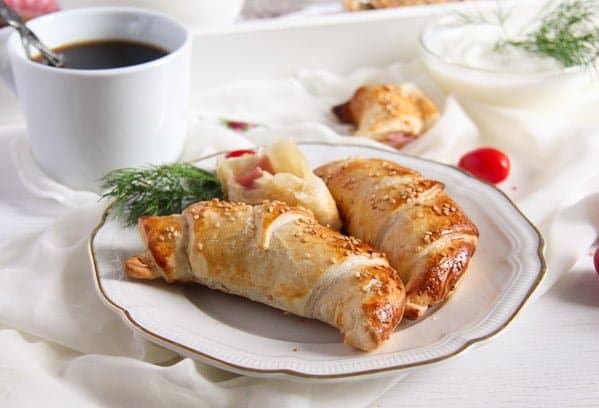 More ham and cheese ideas: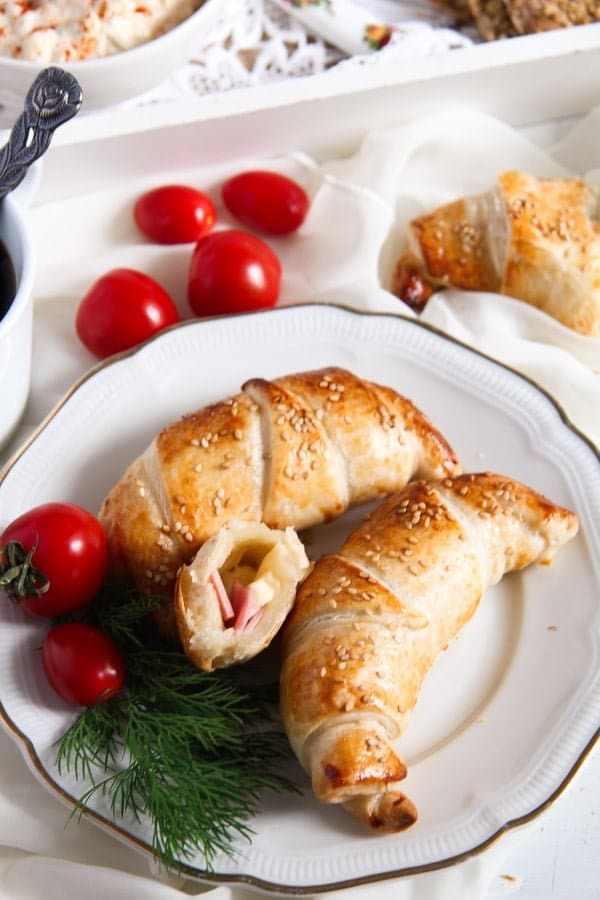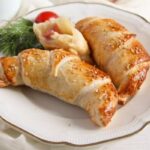 Ingredients
1 packet puff pastry, refrigerated (See note)

1-2 slices ham, depending on their size

1-2 slices Gouda/Cheddar/ Bergkäse/ Gruyere cheese, depending on their size

1 egg yolk

1 tablespoon milk

some sesame seeds
Instructions
Preheat the oven to 220 degrees Celsius/ 430 degrees Fahrenheit. Line a baking tray with baking paper.
Unroll the puff pastry on the working surface and cut it into large triangles.
Cut the ham and cheese into strips. Lay a few strips of ham and a few of cheese at the broad side of the triangle. Start rolling the triangle starting at the base.
Lay the croissants on the prepared baking tray with the seam facing down. Bend in the edges to create a crescent shape.
Beat the egg yolk and the milk together in a small bowl. Brush the croissants with this mixture and sprinkle them with sesame seeds (or nigella seeds for a change).
Bake for about 25 minutes or until deeply golden and baked through. Serve immediately.
Notes
Frozen puff pastry can be used as well. Work with it according to the packet's instructions.
This post contains affiliate links. The price you pay as a consumer does not change, but if you make a purchase we will receive a commission which helps support the blog.