Juicy, tender and delicious beef meatballs with zucchini and Parmesan.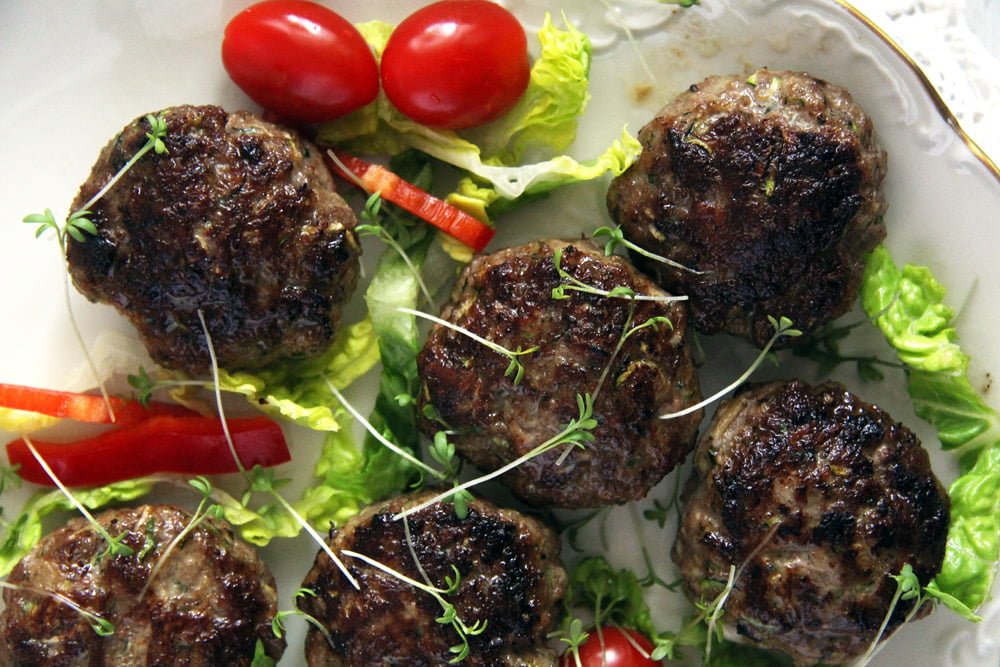 I am starting with a big statement today: these are the juiciest, most delicious meatballs I have made in a long time!!! No kidding!!!
I make lots of meatballs: beef, pork, chicken, turkey, fish, then vegetarian with different grains, nuts, chickpeas, vegetables and so on. And to tell you the truth, I can get pretty enthusiastic with most of them and I would praise them as well, but these ones… ahhhh, they were so good, I don't even find the words anymore…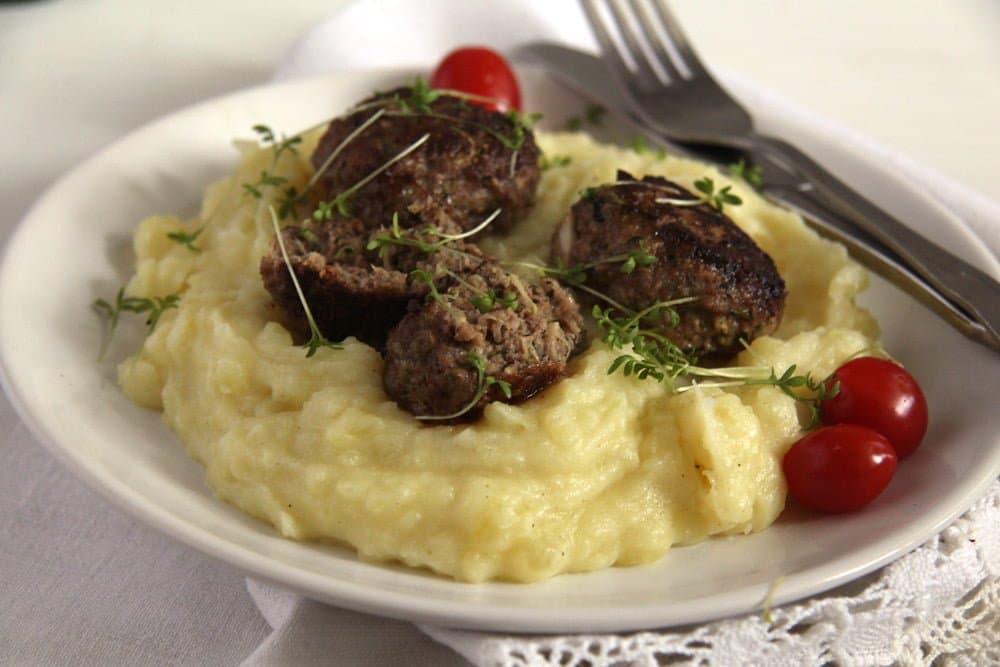 Juicy Zucchini Beef Meatballs with Parmesan
The flavor of these Juicy Zucchini Beef Meatballs with Parmesan was just amazing, I used the best ground meat I can buy from Angus beef grazing on wide fields around our village, a zucchini and dill from my friend's garden, eggs from the neighbor's hens and fresh breadcrumbs from homemade bread. If there was ever an overly organic meatball, this was it! 🙂
And even better than the taste was the consistency of these zucchini meatballs. Perfectly tender and delicate and more succulent than any other meatball I have ever tasted. It must be the zucchini in it, you cannot really taste them, they are so mild and their taste gets easily covered by the beef, dill and Parmesan taste, but you can feel those zucchini, that is the juiciness they give to the meatball.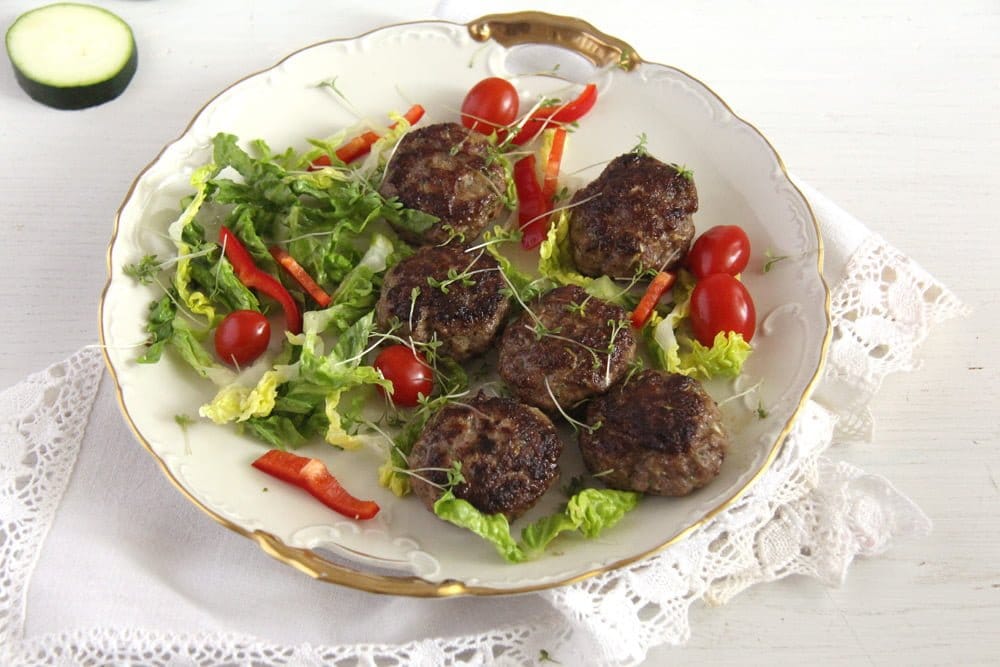 Another great thing about these Juicy Zucchini Beef Meatballs with Parmesan is that you can get fussy eaters into eating zucchini without them even realizing it. I chose not to tell my kids what exactly they were eating, I just said we have meatballs and that was it. They ate lots of them and loved them and wished me to make them again soon and they didn't even change their minds after I revealed to them what exactly was inside. They just didn't care anymore. 🙂
So, I loved all the zucchini recipes in this series and there are still some to come, but if there was only one you would choose to make, I can strongly recommend these Juicy Zucchini Beef Meatballs with Parmesan, you will love them.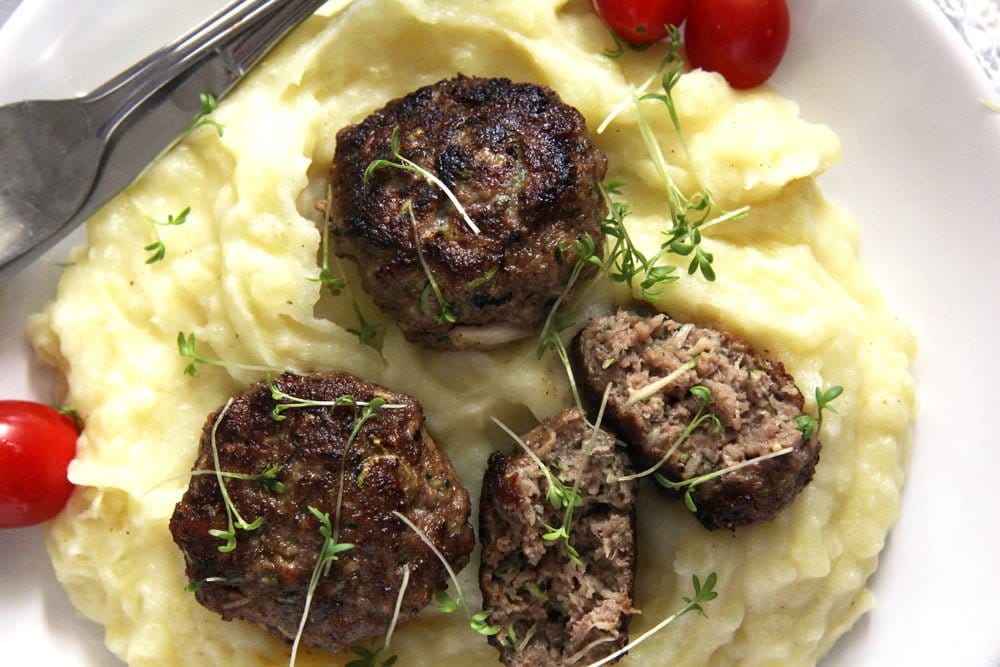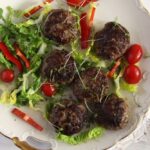 Ingredients
1 kg/ 2.2 lbs ground beef
200 g/ 7 oz (1 not too large) zucchini
1 onion
2 garlic cloves
a handful fresh dill
40 g/ 1.4 oz/ ¾ cup fresh wholemeal breadcrumbs
40 g/ 1.4 oz/ 3.8 cup freshly grated Parmesan
2 eggs
salt and pepper
some vegetable oil for frying
Instructions
Preheat the oven to 200 degrees Celsius/ 390 degrees Fahrenheit.

Grate the zucchini finely and squeeze out excess liquid. Don't overdo it, you still want to have some moisture, just squeeze lightly to remove what is too much.

Grate the onion and the garlic cloves finely as well. Grate the Parmesan. Chop the dill finely. Remove the crust from the bread slice and crumble the bread with your fingers to obtain crumbs. Beat the eggs lightly.

Place the beef, zucchini, onion, garlic, Parmesan, dill, breadcrumbs and eggs in a bowl. Add salt and pepper generously and mix everything with your hand. Add some more salt and pepper to taste.

Form the meatballs, I had 35 medium ones. Press them a little flat with your hand.

Heat one tablespoon vegetable oil in a large skillet and start frying the meatballs, about 2 minutes each side, in batches. As they are ready, transfer them to a baking tray lined with baking paper. Add another tablespoon oil in the skillet, if necessary, and continue the process with the rest of the meatballs.

Bake the meatballs for 7 or 8 minutes.

Serve immediately with mashed potatoes and salad (or vegetables) or serve cold as part of a cold buffet. You can slice the cold meatballs and pack them in a sandwich with some good mustard and some sliced tomatoes and a couple of salad leaves.
Other meatball recipes you might like:
Broccoli Cauliflower "Meatballs"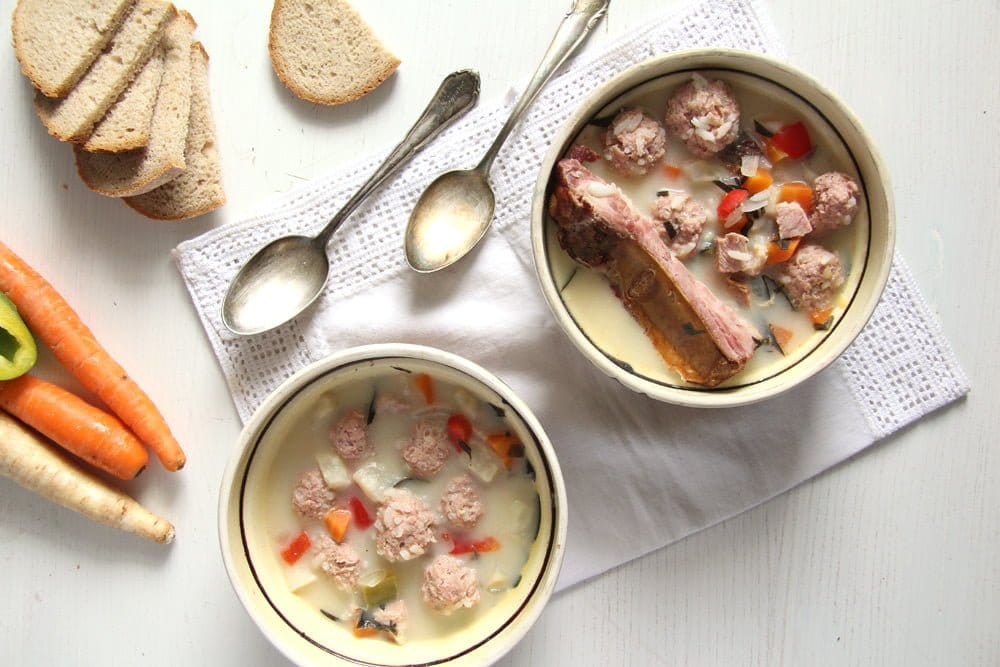 Romanian Meatball Soup – Ciorba de perisoare