Juicy, tender, and delicious beef meatballs with zucchini and Parmesan, this is one of our favorite meatball recipes.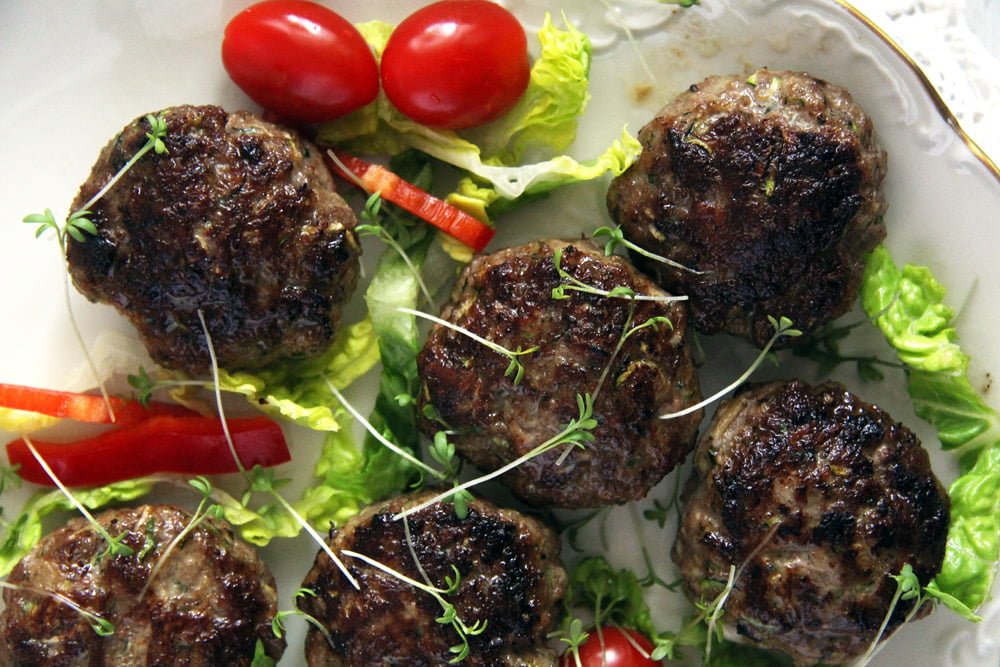 I am starting with a big statement today: these beef meatballs with zucchini are the juiciest, most delicious meatballs I have made in a long time!!! No kidding!!!
I make lots of meatballs: beef, pork, chicken, turkey, then vegetarian with different grains, chickpeas, vegetables, and so on.
And to tell you the truth, I can get pretty enthusiastic with most of them, and I would praise them as well, but these ones... ahhhh, they were so good, I don't even find the words anymore...
The flavors were just amazing; I used the best ground meat I could buy from Angus beef grazing on wide fields around our village, zucchini, and dill from my friend's garden, eggs from the neighbor's hens, and fresh breadcrumbs from homemade bread. If there was ever an overly organic meatball, this was it! 🙂
And even better than the taste was the consistency of these meatballs. Perfectly tender and delicate and juicier than any meatball I have ever tasted.
Why should I put zucchini in meatballs?
They make the meatballs super juicy! You cannot really taste them, they are so mild, and their taste gets easily covered by the beef, dill, and Parmesan taste, but you can feel those zucchini; that is the juiciness they add to the meatballs.
Another great thing about these particular balls is that you can get fussy eaters into eating zucchini without them even realizing it. I chose not to tell my kids what exactly they were eating; I just said we have meatballs, and that was it.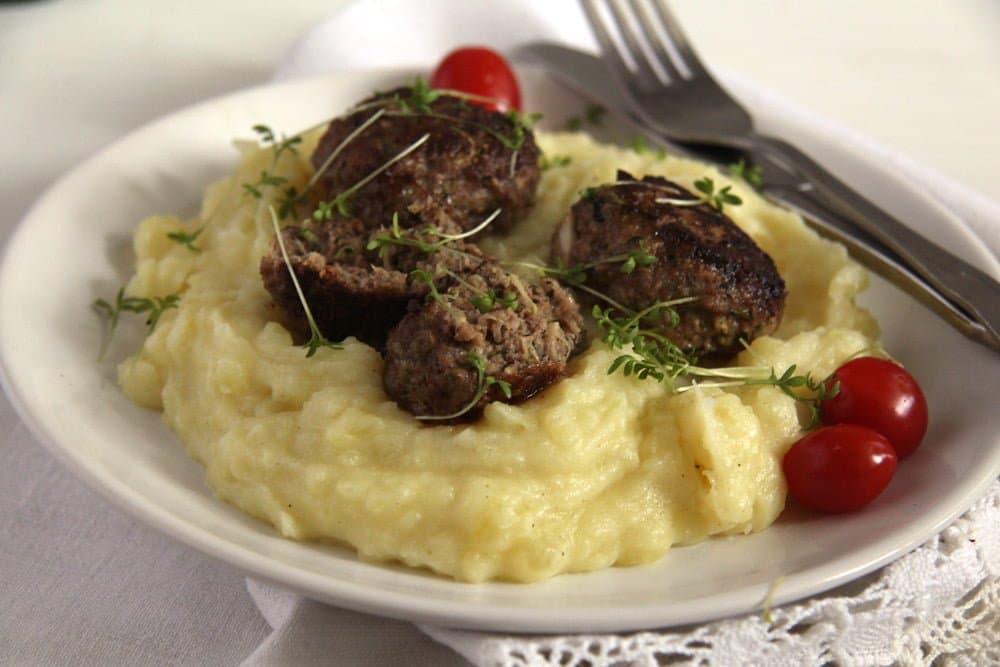 Tips for making good meatballs
Fat content: Choose meat that contains some fat, about 15-20 %. Regular ground beef usually has 20% fat, while ground pork has about 35%. My favorite meatballs are made with a mixture of beef and pork. However, these meatballs with zucchini are made with ground beef only.
Moisture: In order to impart the meatballs extra juiciness, we add the grated zucchini, eggs, some fresh breadcrumbs, and grated Parmesan. These ingredients add moisture, and that helps loosen the meat.

Shred the zucchini on a box grater and squeeze it in your hand (in batches) to remove the excess moisture. However, don't squeeze them completely dry; just enough to remove the extra water.
Chop the onion as finely as possible; you don't want to bite on large bits of onion in the meatballs. Grate them (if you can stand it), and definitely grate the garlic.
Use fresh or frozen dill, dried dill won't do in this dish. Fresh dill is bursting with flavor, while dried dill tastes dusty.
Flatten the meatballs lightly after forming them; that helps them cook more regularly. It is not mandatory, though; you can give the meatballs a round form, especially if you want to serve them as part of a cold buffet.
Use a good non-stick or cast-iron pan to reduce the amount of oil needed for browning the zucchini meatballs (Amazon affiliate link).
Brown the meatballs shortly in the pan and finish cooking them in the hot oven. Don't overcook them; check after 5-6 minutes in the oven already. They should not be red in the middle anymore, yet still moist and juicy.
How to serve?
You can serve the meatballs with zucchini immediately with Roasted Garlic Parmesan Mashed Potatoes and salad with Yogurt Dressing or vinaigrette. Sauteed, roasted, or steamed vegetables are also great, anything you like.
Or you can serve them with a Spicy Marinara Sauce over noodles.
You can serve them cold as part of a cold buffet.
And if you have leftovers, you can slice the cold meatballs and pack them in a sandwich with some good mustard, some sliced tomatoes and a couple of salad leaves.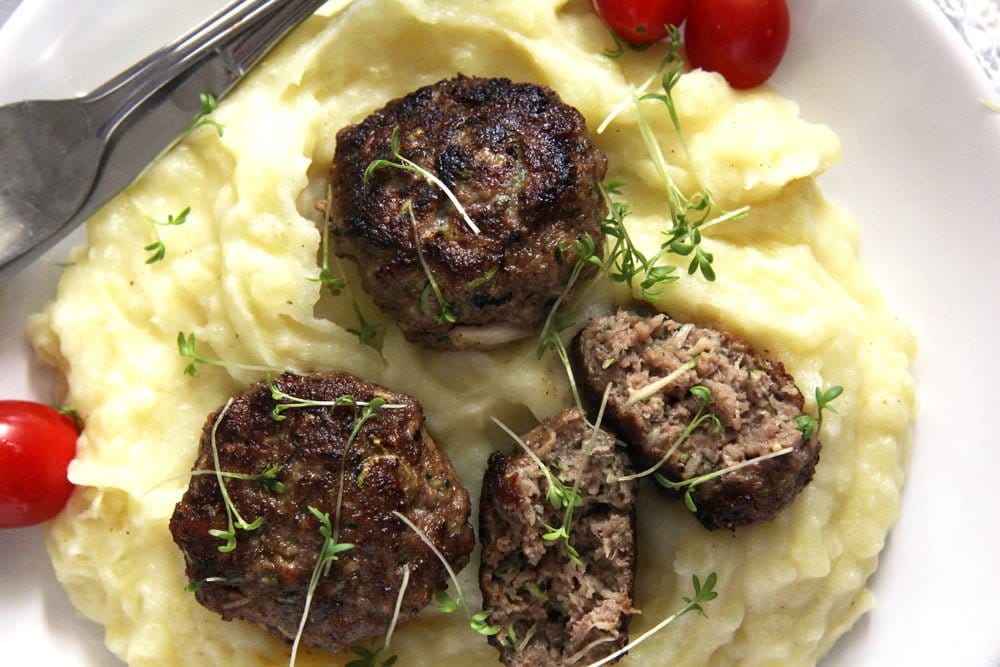 More meatball recipes
PIN IT FOR LATER!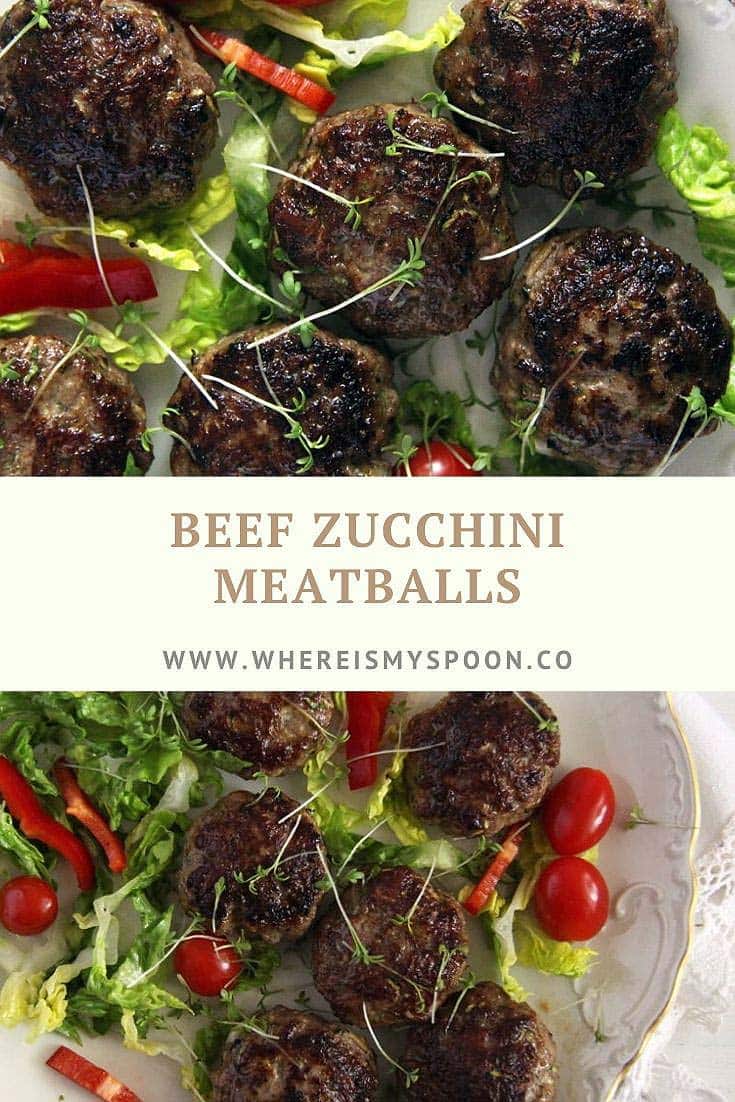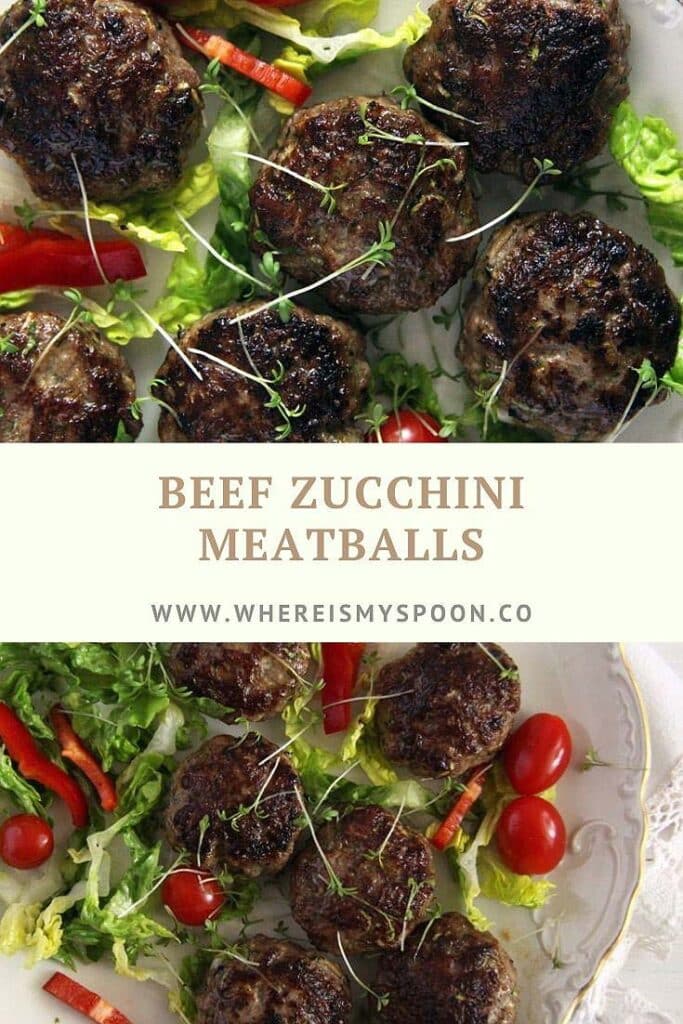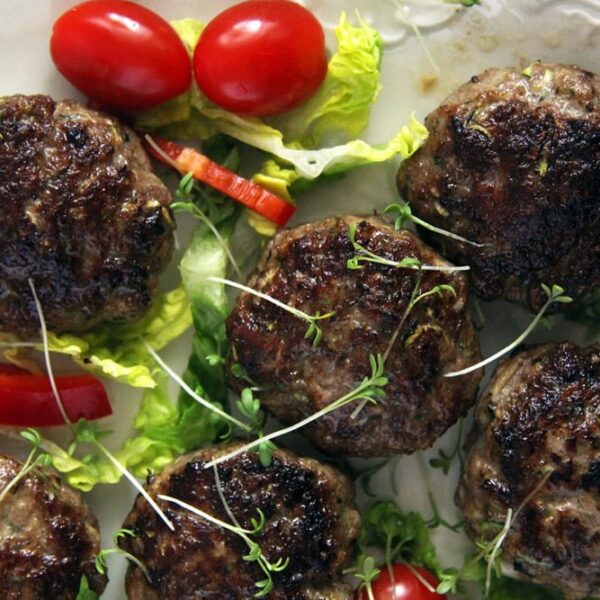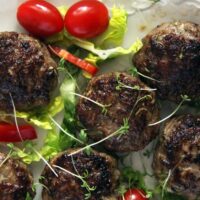 Beef Meatballs with Zucchini
Juicy, tender and delicious beef meatballs with zucchini and Parmesan, this is one of our favorite meatball recipes.
Print
Pin
Share
Grow
Saved!
Rate
Ingredients
1

kg/ 2.2 lbs ground beef

200

g/ 7 oz/ 1 not too large zucchini

1

onion

2

garlic cloves

a handful fresh dill

40

g/ 1.4 oz bread

40

g/ 1.4 oz/ 3.8 cup freshly grated Parmesan

2

eggs

fine sea salt and pepper

2

tablespoons

vegetable oil

or more as needed
Instructions
Preheat the oven to 200 degrees Celsius/ 400 degrees Fahrenheit. Line one or two baking trays with parchment paper.

Grate the zucchini finely and squeeze out excess liquid. Don't overdo it, you still want to have some moisture, just squeeze lightly to remove what is too much.

Grate the onion and the garlic cloves finely as well. Grate the Parmesan. Chop the dill finely. Remove the crust from the bread slice and crumble the bread with your fingers to obtain crumbs. Beat the eggs lightly.

Place the beef, zucchini, onion, garlic, Parmesan, dill, breadcrumbs, and eggs in a bowl. Add salt and pepper generously and mix everything with your hand. Add some more salt and pepper to taste.

Form the meatballs, I had 35 medium ones. Press them a little flat with your hand.

Heat one tablespoon vegetable oil in a large skillet and start frying the meatballs, about 2 minutes on each side, in batches. As they are ready, transfer them to the prepared trays. Add another tablespoon oil in the skillet, if necessary, and continue the process with the rest of the meatballs.

Bake the meatballs for 7 or 8 minutes. Serve as suggested above.
Nutrition
Serving:
1
g
|
Calories:
100
kcal
|
Carbohydrates:
1
g
|
Protein:
9
g
|
Fat:
6
g
|
Saturated Fat:
2
g
|
Polyunsaturated Fat:
3
g
|
Cholesterol:
37
mg
|
Sodium:
91
mg