Smooth and spicy marinara sauce, easy to make with only pantry ingredients. Perfect for pasta, pizza, and many other dishes.
Making your own spicy marinara sauce is easy, cheap, and delicious, nothing you can buy comes close to the homemade version. And the best of it, you can make a large batch, and either freeze or can it. I used to can it, but lately, I prefer to freeze the one or two extra jars, it means less work for me...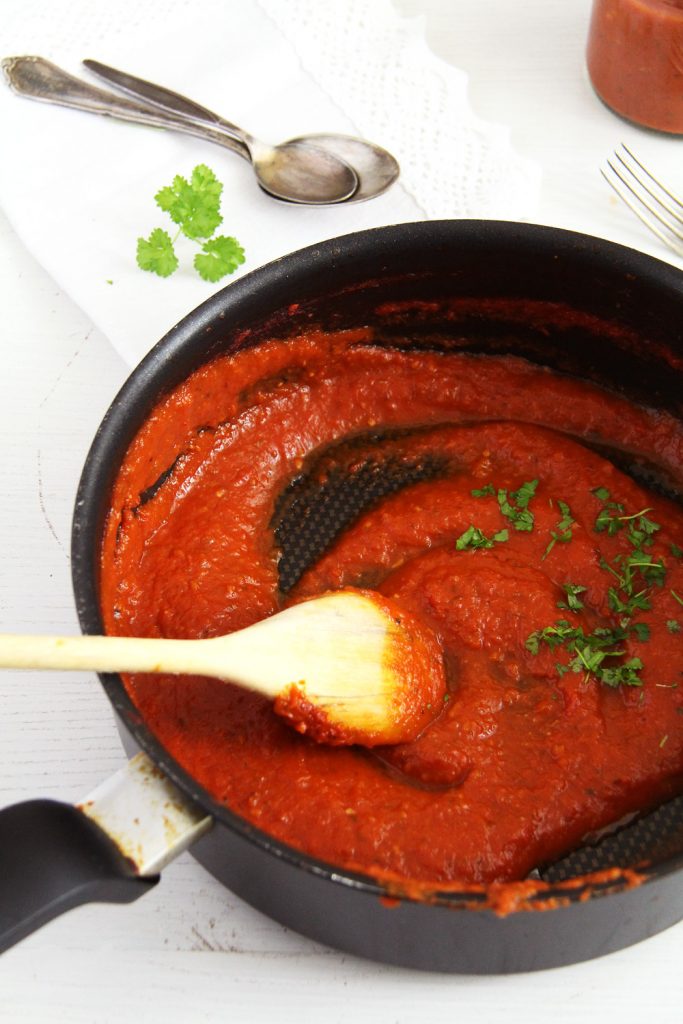 What do you need?
Canned tomatoes, 3 can of about 400 g/ 14 oz each
Olive oil. Not traditionally Italian, but very delicious is to add one tablespoon butter. The buttery flavor is just amazing!
Tomato paste - it helps thicken the sauce and add extra tomato flavor.
Onions and garlic
Spices: dried chili flakes, bay leaves, dried herbs, salt and pepper. When it comes to herbs I love using summer savory, but if that is not available thyme adds great flavor as well.
When cooking the spicy marinara for topping pizza, I always use dried oregano or a mixture of oregano, rosemary, and thyme.
The amount of chili flakes is according to taste. If you don't have any dried chili flakes, you can substitute them with chopped dried chilies (with or without seeds), fresh chilies, pure chili powder or cayenne pepper. The amount is always to taste.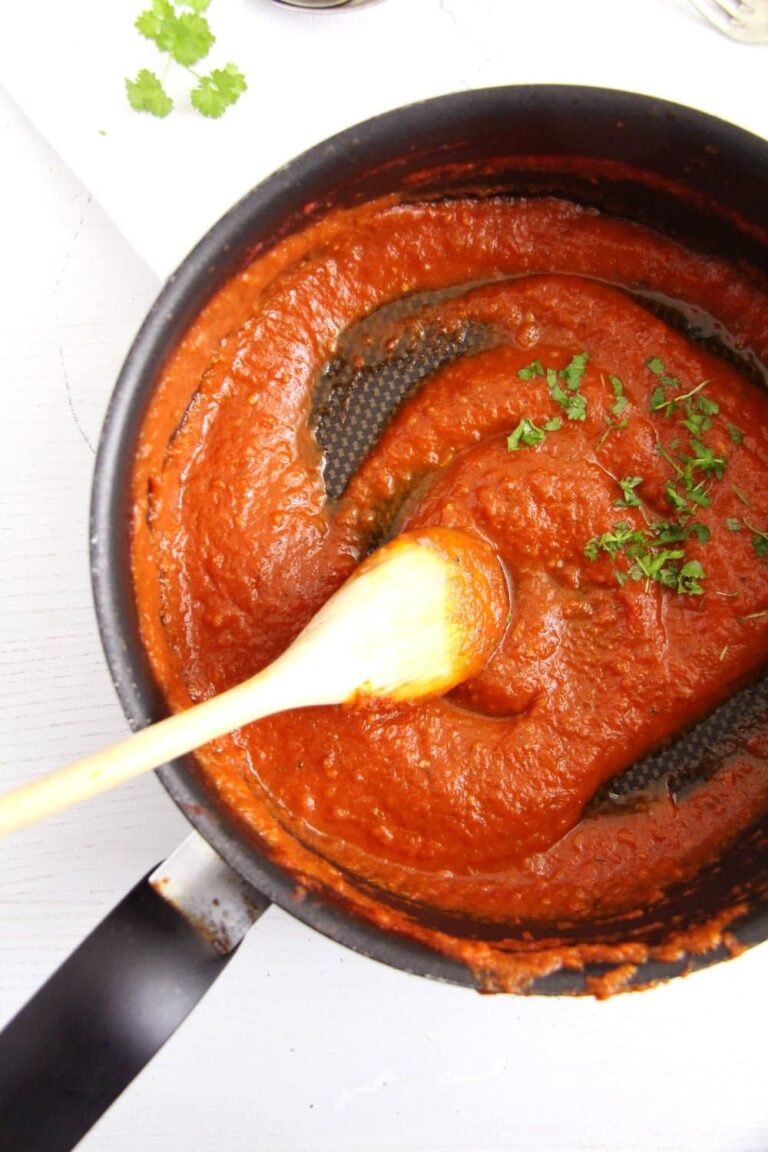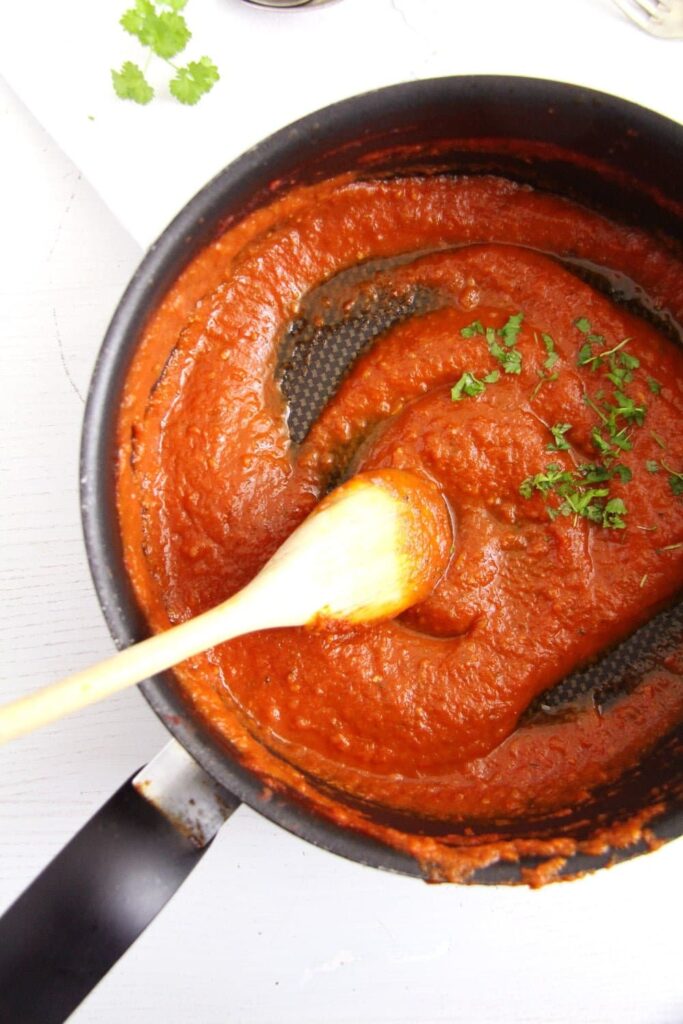 Tips for making marinara sauce
You can use the same amount of already pureed tomatoes. Plain pureed tomatoes, not tomato sauce or paste. This way, you will not have to blend the sauce anymore.
Don't bother chopping the whole tomatoes, crush them roughly with your hand, it is much quicker. Just be careful, some tomatoes might burst in your hand and distribute their insides all over the place. I usually do this over the sink.
The sauce might bubble too much when it starts to cook. If so, keep it covered leaving a crack open, turn the heat down a bit, and stir often. Adding a small splash of water might help as well. After the initial splattering, it will calm down a little.
For extra flavor, stir in 1 tablespoon olive oil, 1grated/crushed garlic clove, and 4-5 torn basil leaves at the end of the cooking time.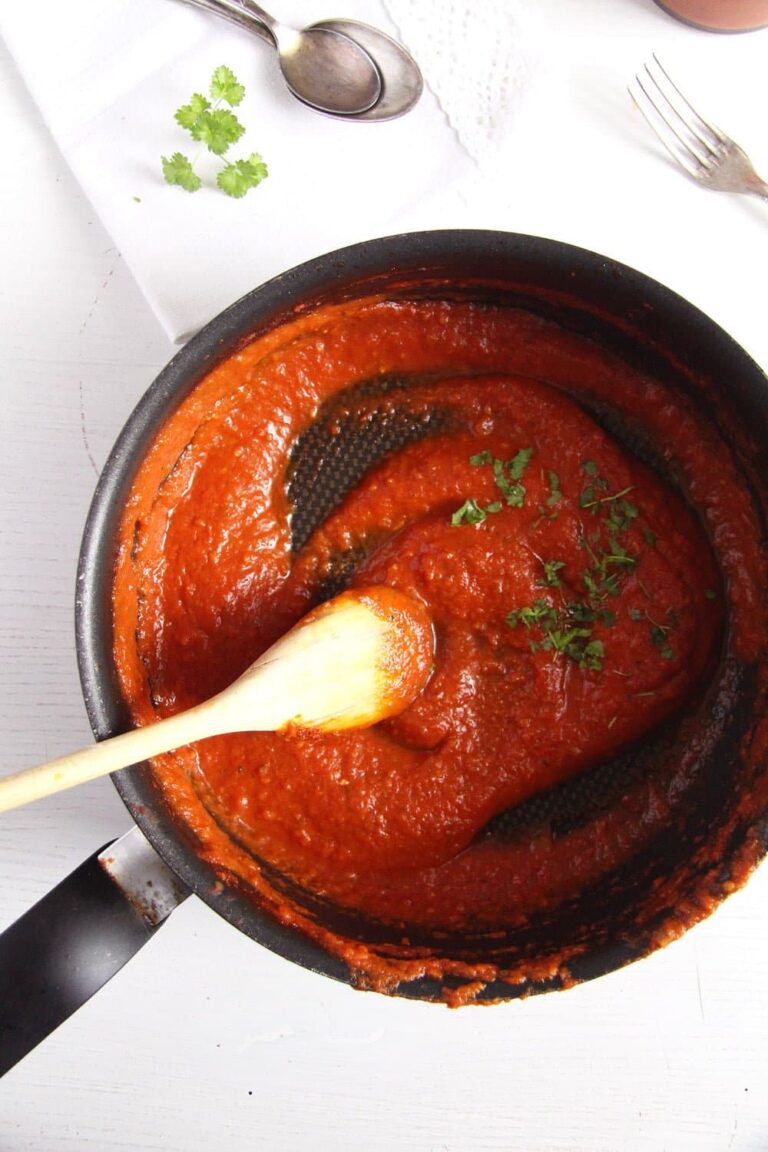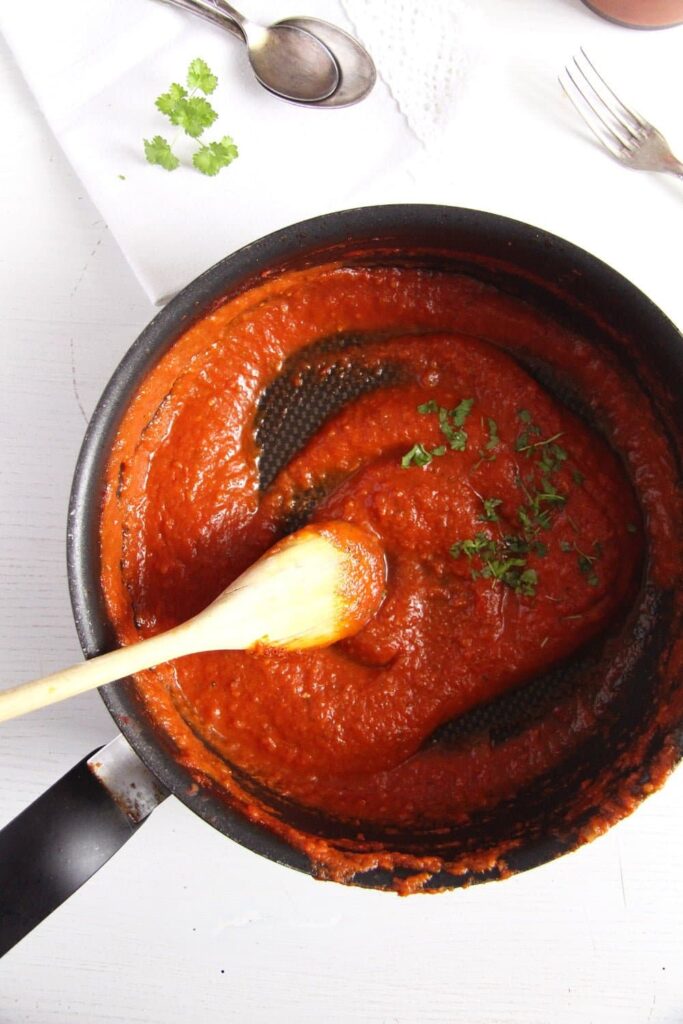 How to use marinara?
Pasta: the first thing that comes to mind is pasta with marinara sauce. Keep the dish vegan by serving it as it is or sprinkle with Parmesan.
You can also fry some bacon cubes with the onions and continue with the recipe.
For a super healthy, super skinny dish try some zucchini noodles with marinara sauce.
Pizza: this is the sauce I always use when making pizza. In this case, I make it with about the double amount of dried oregano and I might cut slightly on the chili, especially if children, other than mine, are eating. My kids eat the spicy version like there is no tomorrow.
If I know I need the marinara specifically for pizza, I usually make the recipe using only one can of tomatoes and adjusting the remaining ingredients accordingly.
How to store or can?
You can store the spicy marinara in the fridge for up to one week. I usually keep it in jars.
Freeze it for at least 6 months. If freezing it in jars, leave enough headspace and don't screw the lids very tightly, they should only cover the jar.
The sauce will expand slightly when frozen and the jars might break if there is not enough space. Once the sauce is completely frozen, you can screw the jars properly. Defrost in the fridge or on the counter.
Can the jars in a water bath canner. Check the seals and let cool completely before moving. Canned marinara sauce keeps well for at least six months in a dark cool place.
More sauces: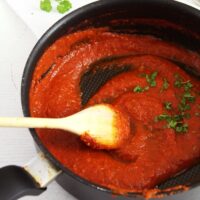 Spicy Marinara Sauce
Smooth and spicy marinara sauce, easy to make with only pantry ingredients. Perfect for pasta, pizza, and many other dishes.
Print
Pin
Share
Grow
Saved!
Rate
Ingredients
1

medium onion

4

large garlic cloves

2

tablespoons

olive oil

Note 3

3

cans whole or chopped tomatoes

400 g/ 14 oz each

2

tablespoons

tomato paste

½

teaspoon

red chili flakes

more or less to taste

1

tablespoon

dried herbs

Note 4

2

bay leaves

1

teaspoon

sugar

½

teaspoon

fine sea salt + more to taste

¼

teaspoon

ground black pepper

extras: 1-2 garlic cloves

1 tablespoon olive oil, 3-4 torn basil leaves
Instructions
Chop the onion and the garlic cloves finely, but keep separate.

Saute: Heat the oil in a large pan and cook the onions until translucent. Add the garlic, stir it shortly in the pan.

Add the canned tomatoes and if they are whole, crush them roughly. I do that with my hand, take them in the hand, squeeze and break them taking care that the juices inside them won't splatter all over the place.

Cook: Add tomato paste, herbs, bay leaves, sugar, salt, and pepper. Bring to a boil and cook on a medium-high flame for about 20 minutes.

Thicken: Turn the heat down and continue cooking for about 15 minutes until the sauce thickens slightly.

Adjust the taste with salt, pepper, or a bit more sugar, if necessary.

Blend: Remove the bay leaves and puree the sauce with a blender; according to your preference, you can make it as smooth as you like it.

For extra flavor, add 1-2 grated garlic cloves, 1 additional tablespoon olive oil, and some torn basil leaves.
Notes
The recipe makes about 2 jars, depending on their size. They will keep it in the fridge for about one week. To keep longer, freeze the jars.
For instance, you can serve marinara with spaghetti or use it in other recipes requiring tomato sauce.
You can add 1 tablespoon butter. It is less Italian, but it adds extra flavor.
You can use dried summer savory, thyme, oregano, Italian herbs, Herbs de Provence, and so on.
Nutrition
Serving:
1
/10 of the sauce
|
Calories:
56
kcal
|
Carbohydrates:
5
g
|
Protein:
1
g
|
Fat:
4
g
|
Saturated Fat:
1
g
|
Polyunsaturated Fat:
3
g
|
Sodium:
111
mg
|
Fiber:
1
g
|
Sugar:
2
g