I have to say that we do have a soft spot for meatballs in our family. We love our real meatballs, made mostly with turkey or beef, sometimes with pork or fish, but not only those. I am happy to say that we love our vegetarian meatballs just as much.
I think I am trying a new meatball recipe, either vegetarian or not, at least once a month, probably more frequently, and we love most of them. This one is a new variation that my kids totally loved. We had them two days in a row, stuffed in homemade spelt rolls, smothered in a tangy tomato-bell pepper sauce , topped with mozzarella and grilled in the oven. So filling and satisfying, yet completely wholesome and healthy.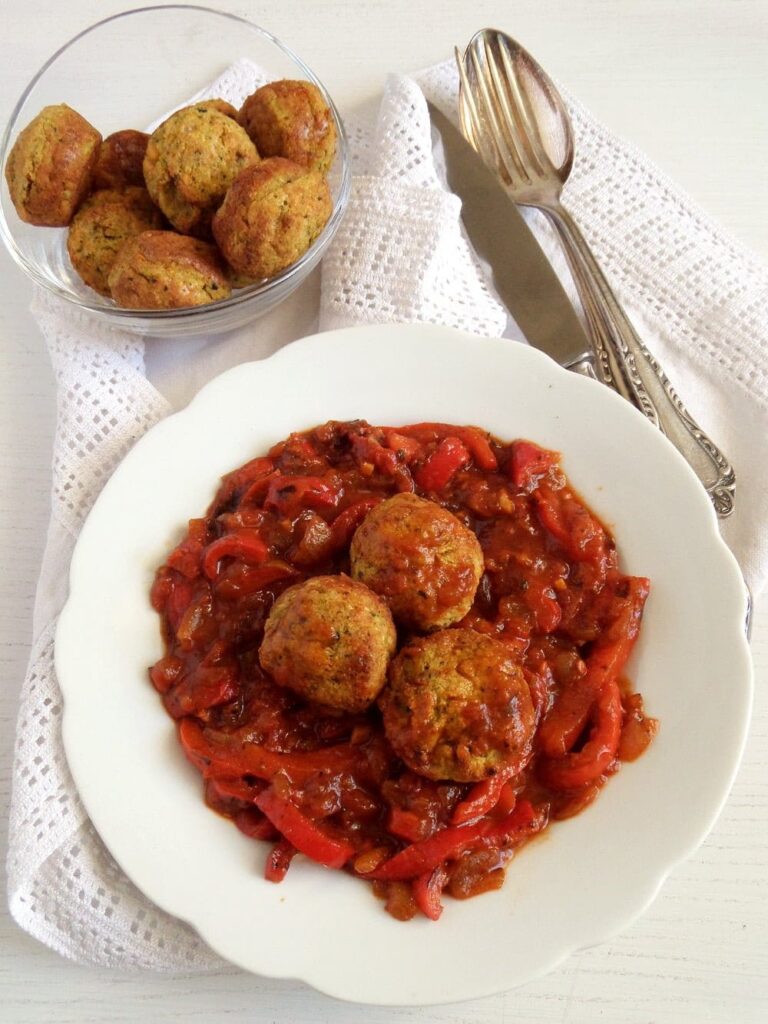 You can have these meatballs with their sauce over a plate of whole wheat or spelt pasta as well, you can put them in a wrap and add some grated cheese or avocado or you can eat them just like that as a small snack in between. I found them delicious either warm or cold. If you have leftover sauce you can have that over pasta or rice or you can smear it on your sandwiches and top it with cheese. DELICIOUS!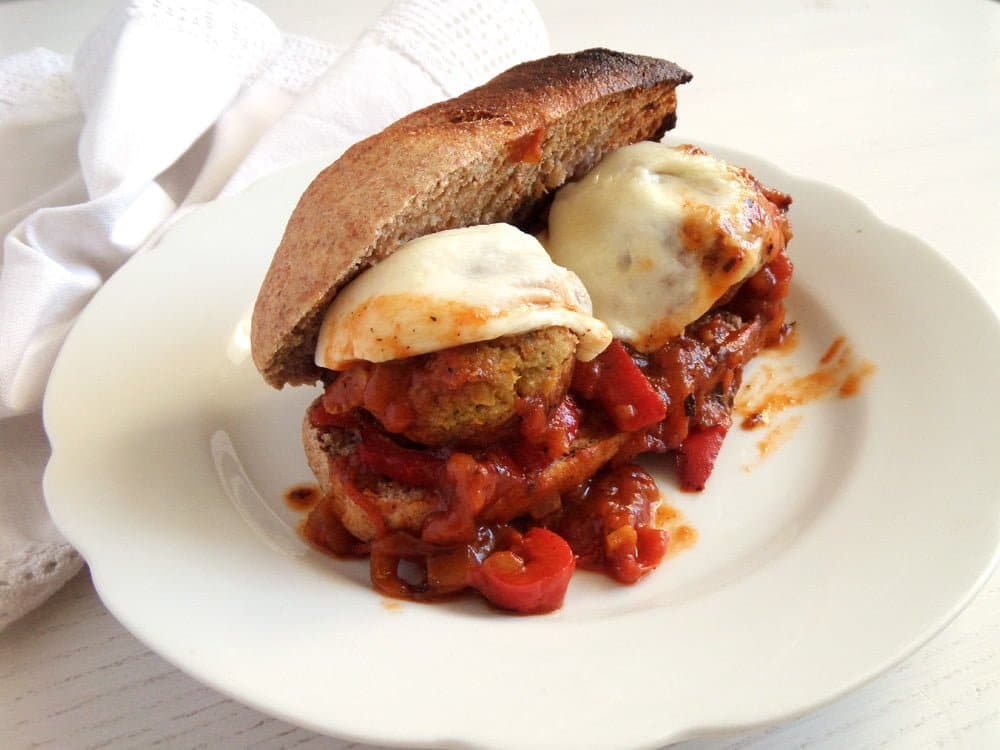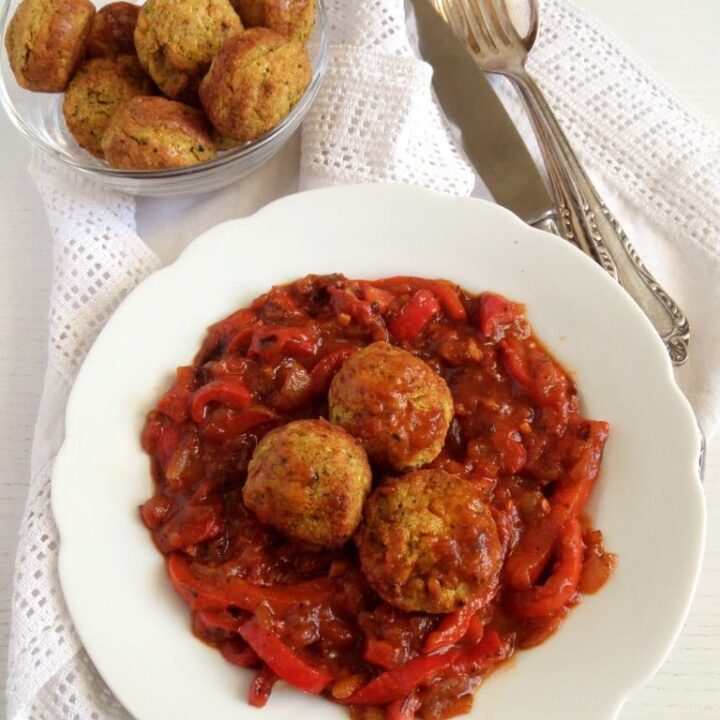 Veggie and Chickpea Meatballs
Vegetarian chickpea meatballs served with vegetable sauce or in a bun topped with mozzarella. Absolutely delicious!
Ingredients
Meatballs:
1 slice of whole wheat bread, about 30 g/ 1 oz
30 g/ 1/3 cup parmesan
30 g/ ¼ cup gouda or cheddar cheese
3 tablespoons dry breadcrumbs
1 zucchini, about 200 g/ 7 oz
1 carrot, about 50 g/ 1.7 oz
1 can chickpeas
1 large egg
1 teaspoon Herbs de Provence (or some other dried herbs)
fine sea salt and black pepper
Sauce:
1 onion
2 garlic cloves
2 small red bell peppers
1 tablespoon olive oil
300 g/ 1½ cups tomato sauce (marinara sauce)
To serve:
pasta and Parmesan OR
rolls and mozzarella
Instructions
Preheat the oven to 200 degrees Celsius/ 390 degrees Fahrenheit.
Cut the slice of bread into cubes, place it in the food processor, and pulse until you obtain breadcrumbs. Remove and use the food processor to grate the Parmesan and the gouda/cheddar cheese and the vegetables as well. Alternatively, you can grate them by hand.
Place the fresh breadcrumbs back, add the drained chickpeas, dry breadcrumbs, egg, herbs, salt, and pepper, and blitz until everything is well mixed. Adjust the taste again, be generous with the salt and pepper and add just a few drops of water if the mixture appears to be too dry. If the mixture is too wet and you cannot form the balls easily, add 1 or 2 extra tablespoons of breadcrumbs until you are able to form the balls. Do not add too many extra breadcrumbs, the mixture should be pretty wet.
Form the balls, they should be about the size of a golf ball and fit in the mini-muffin pan holes easily. I had 22 balls.
Brush the mini-muffin pan with some olive oil, place the balls inside and bake for about 20 to 25 minutes, until golden brown.
In the meantime make the sauce.
Chop the onion and the garlic cloves finely. Slice the bell peppers thinly.
Heat the olive oil in a pan, add the onions and cook until lightly golden. Add the garlic and the sliced peppers and cook for about 10 minutes or until soft. Add the sauce, turn the heat down and simmer for about 5 minutes.
If you serve this over pasta, add the meatballs to the sauce.
If you serve this in a roll, cut the rolls in two, add some sauce on the lower side of the roll and two or three meatballs, top with some mozzarella slices, and put under the hot grill until the cheese starts to melt. Place the upper slice of the roll under the grill as well, so that it gets hot too.
Nutrition Information:
Yield:

22
Serving Size:

1 ball
Amount Per Serving:
Calories:

54
Total Fat:

2g
Saturated Fat:

1g
Trans Fat:

0g
Unsaturated Fat:

1g
Cholesterol:

11mg
Sodium:

241mg
Carbohydrates:

6g
Fiber:

1g
Sugar:

2g
Protein:

3g
Nutritional information is not always accurate.