An easy and quick recipe forpork meatballs in tomato sauce, it can be made with leftover meatballs as well.
These meatballs in tomato sauce are a very quick meal to get on your table especially when you are using leftovers meatballs. And if you want to be really quick, then grab a jar of previously made tomato or marinara sauce as well. Or a bought tomato sauce jar, of course, you could use that too, although I always say that homemade tastes better. But exceptions can be made.
The meatballs in tomato sauce or chiftelute marinate are another classic Romanian recipe, I think everybody in Romania knows them. My grandmother used to cook them often as well and the dish was always made with leftover meatballs, I honestly believe she never cooked fresh meatballs for this dish.
So, if you do have the leftover meatballs from the previous meal and a jar of tomato sauce, this dish can be put together in 2 minutes. Heat it well, some white bread on the side and you're done. But, if you do want to make it from scratch, it will not get much more difficult either, this is an easy dish that anyone can make a success of.
My grandmother would always make her meatballs using a recipe very similar to this recipe for  Pork and Beef Meatballs with Herbs – Parjoale, I think the only major difference between her recipe and my usual meatballs is that she only used pork, never beef.
She never ate beef, beef was another one of those major phobias she had when it came to food (like never eating anything white). I've barely ever ate beef in Romania because of that, not even in my aunt's house, she and her daughter Georgi inherited this phobia as well…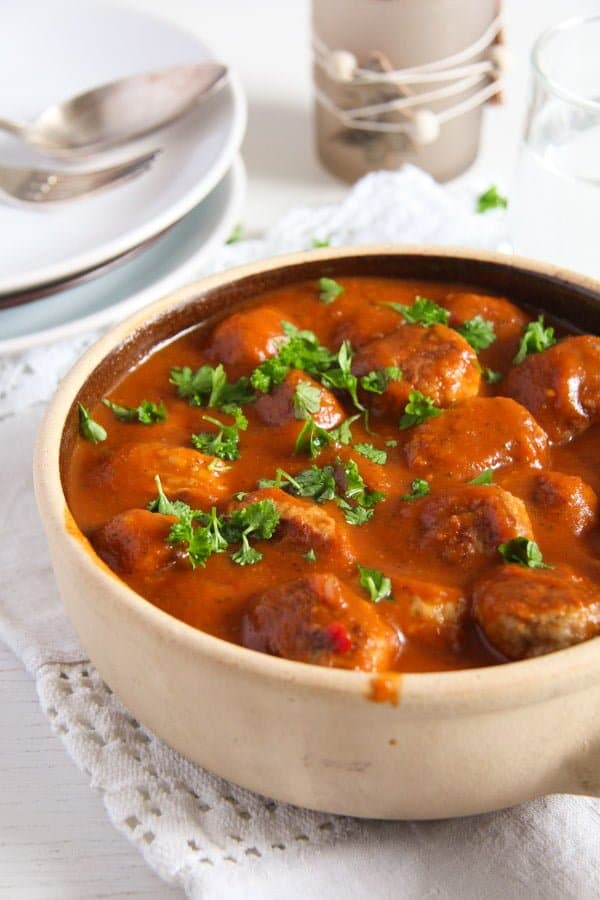 But, I have drifted away again… So, when making meatballs my grandmother always made a lot of them, she always said that if the house had to smell of fried meatballs than it should be well worth it (same logic when making crepes, we would eat cold and rather dry crepes for 3 days in a row).
As it was only the two of us, those many meatballs would last for days and we would eat the leftover meatballs mostly cold with bread, mustard and tomatoes. I still love to eat them like that today, so I always make more meatballs than we could eat at once as well.
But on the third day or so, she would often make meatballs in tomato sauce or chiftelute marinate. She would make a quick tomato sauce, warm the meatballs in it and always serve the dish with mashed potatoes on the side. A real childhood favorite, suitable for this year's last Where Is My Spoon series. I hope you enjoy it!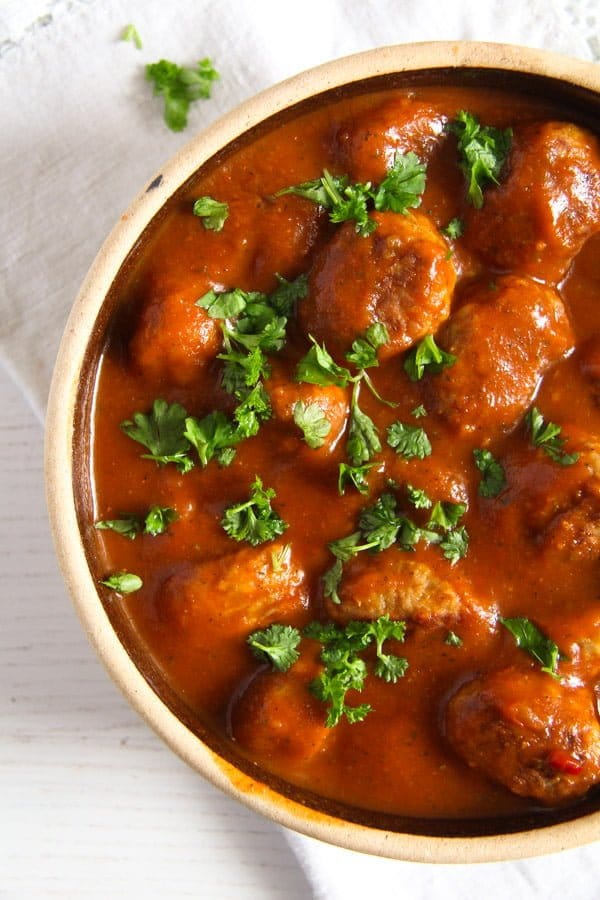 More meatballs?