Wine sauerkraut with soft meat dumplings make a delicious and comforting winter stew.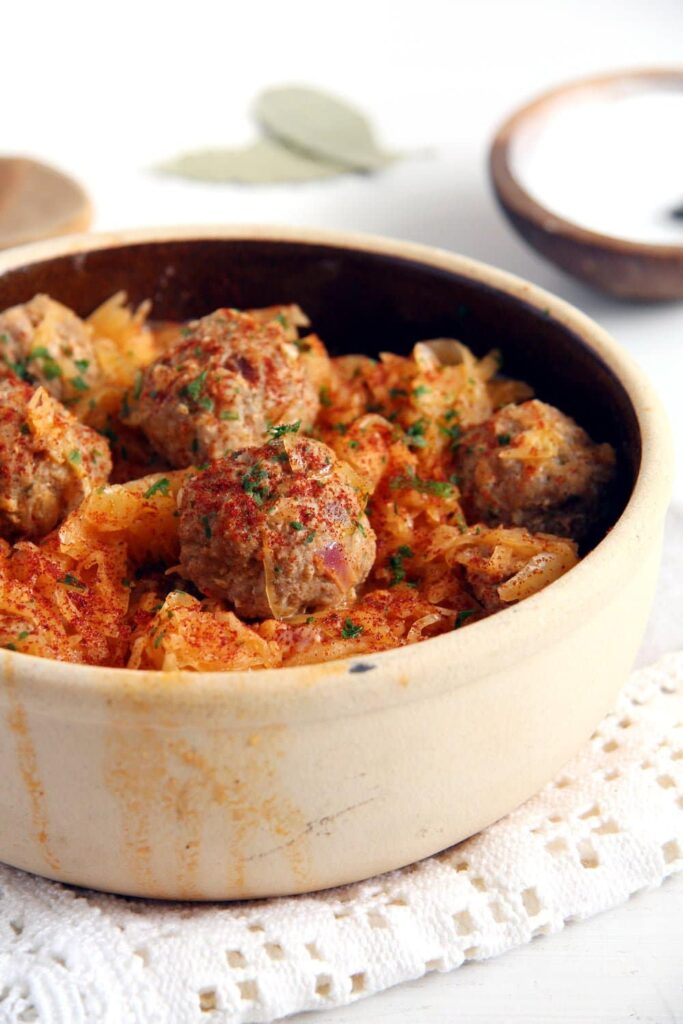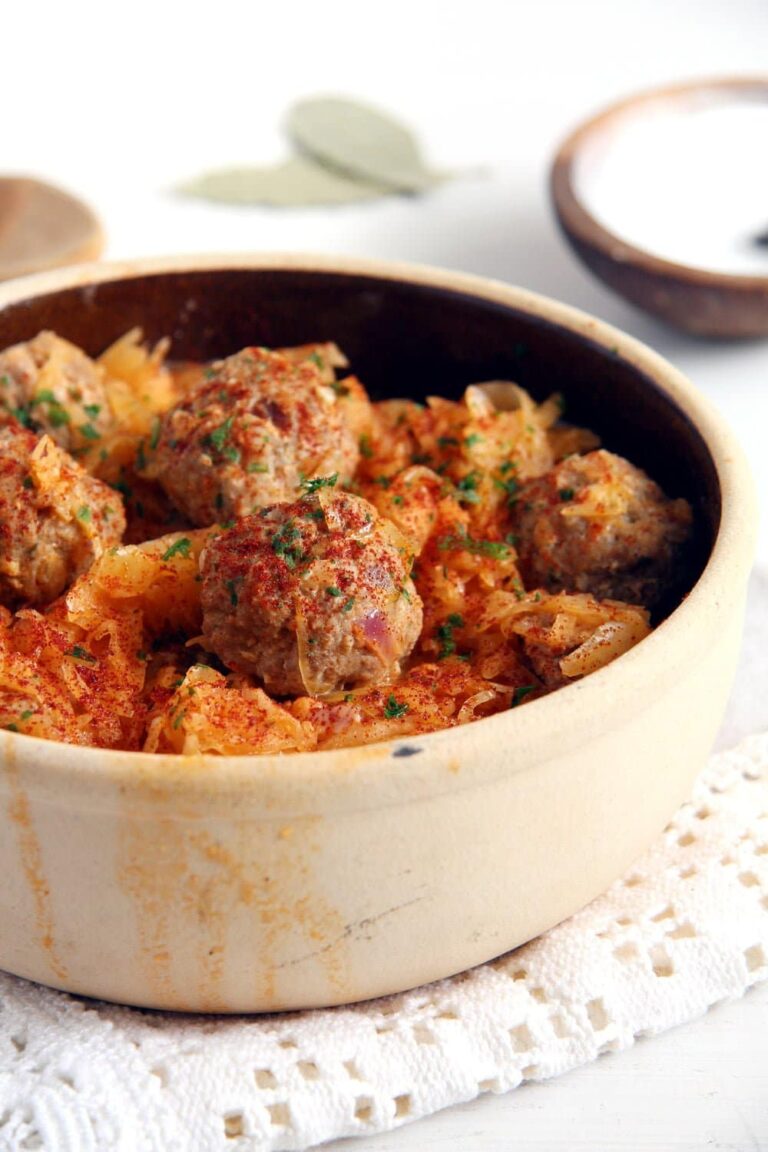 This is a Romanian recipe with a German touch. And the German touch doesn't come from my living in Germany right now, but from the Transylvanian Saxons who have been living in Romania for centuries. The first colonists of German origin started arriving in Transylvania about 850 years ago. Many of them were searching for a better life than the one they had in their homeland and were hoping for more freedom and rights in the new territories. In a relatively short period of time they grounded a number of communities, which developed to towns over the years, towns that still exist today, for instance Sibiu – Hermannstadt (my hometown), Sighisoara – Schessburg, Brasov – Kronstadt, Cluj-Napoca – Klausenburg and so on. All of these are absolutely wonderful medieval towns and if you ever visit Romania make sure to visit some of them. My special recommendation is, of course, my hometown Sibiu, one of the most beautiful towns you can imagine, bursting with life and culture.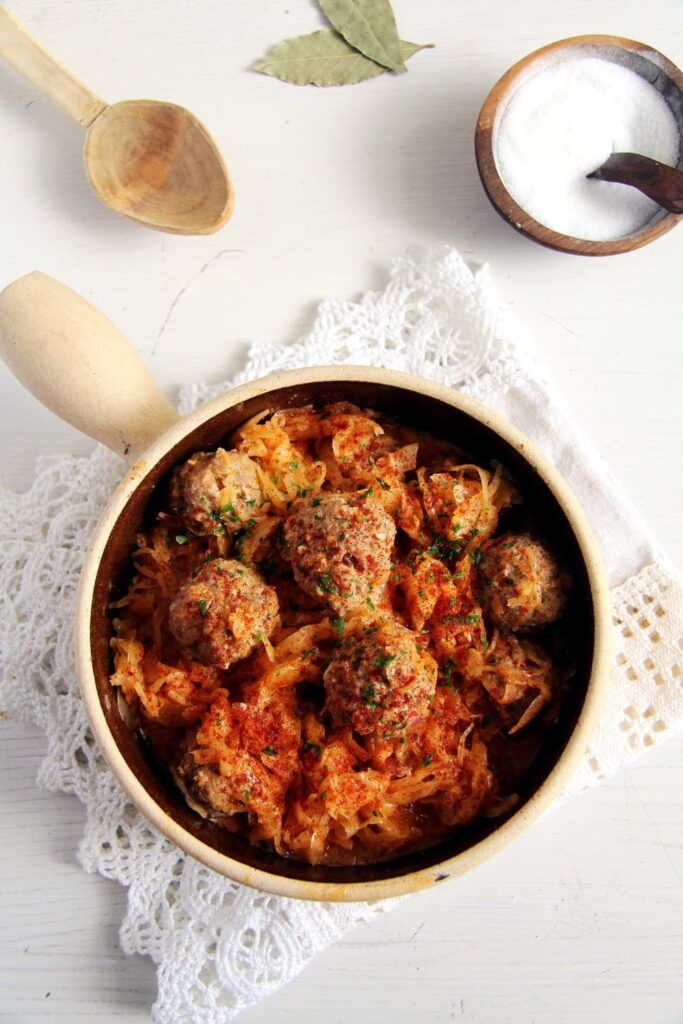 Sibiu was also the home of the largest number of German ethnics – Saxons in Romania. Unfortunately most of them decided to leave Romania for Germany again after the fall of communism, but their cultural influence on the town and life style will never be really gone.
This dish – Stewed Sauerkraut with Meat Dumplings – is a dish of Saxon origin. What sets it apart from a traditional Romanian recipe is the use of the wine sauerkraut, which is different from the typical Romanian sauerkraut. Romanian-style sauerkraut is not so easy to come by here in Germany, but good quality wine sauerkraut is more than available.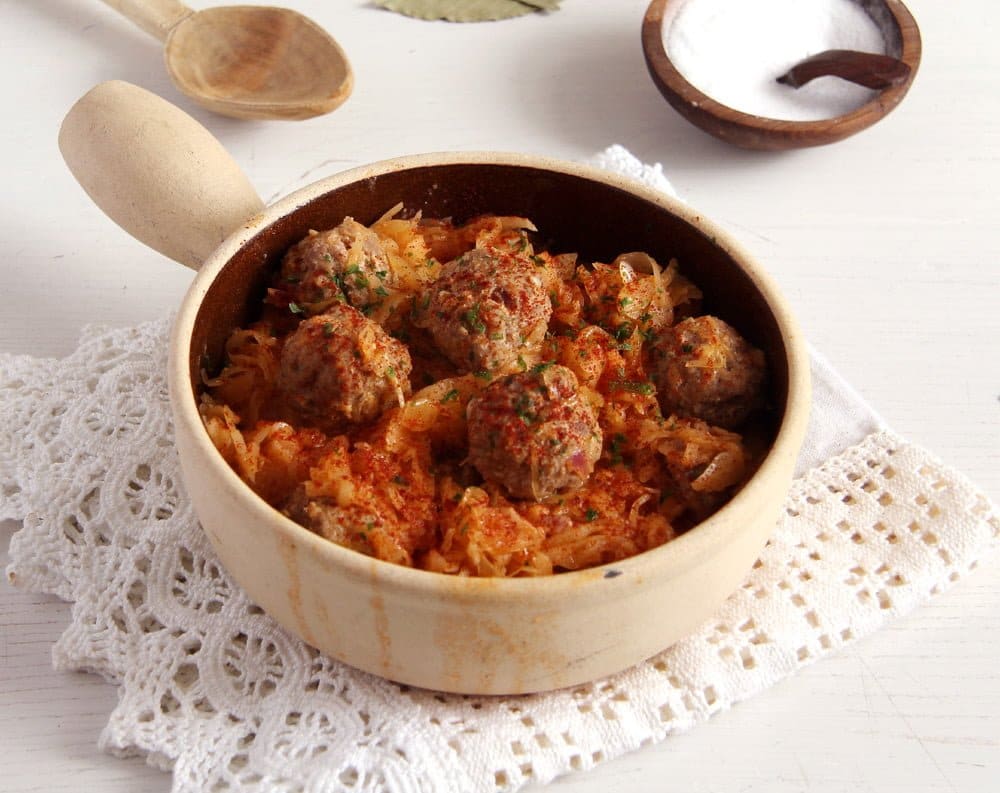 I used to dislike German-style sauerkraut during the first years I spent in Germany. The main reason for this was that I liked Romanian-style sauerkraut way too much and I was so disappointed in discovering that the taste of the German sauerkraut didn't have much in common with the taste I was used to. Romanian sauerkraut is more sour, robuster, has a stronger taste and comes in rougher pieces and I had found German sauerkraut to be too delicate, too soft, tasting of wine and sweeter that I was expecting it to be. However, over the years I've learned to appreciate exactly these qualities of the German sauerkraut, its delicacy, its sweet and sour taste, which makes it perfect not only as a side dish for many meat main courses but also for salads. I really have to give you the recipe for one of my favorite salads made with wine sauerkraut and mandarins one day. Sooo good!
But until then, I hope you will enjoy this Stewed Sauerkraut with Meat Dumplings, a dish that I can only imagine eating in winter, something so full of taste and comforting, you will want to make it over and over again.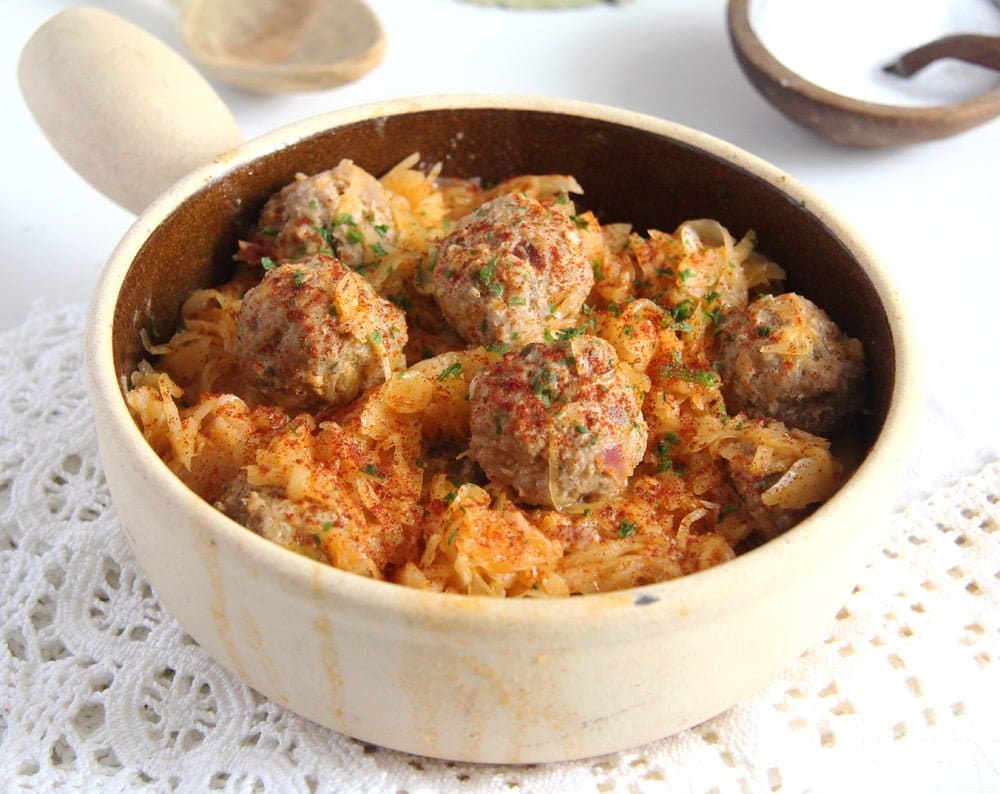 I usually buy fresh sauerkraut at the butcher's, it tastes amazing and 1 kg costs only about 1 Euro. However, canned is good as well, I use 1 large can of Mildessa sauerkraut.

This post contains affiliate links. The price you pay as a consumer does not change, but if you make a purchase we will receive a commission which helps support the blog.
Others you might like: