Learn how to cook sauerkraut. A simple, quick way of preparing German sauerkraut, the perfect side dish for bratwurst and many other dishes.
German Sauerkraut Recipe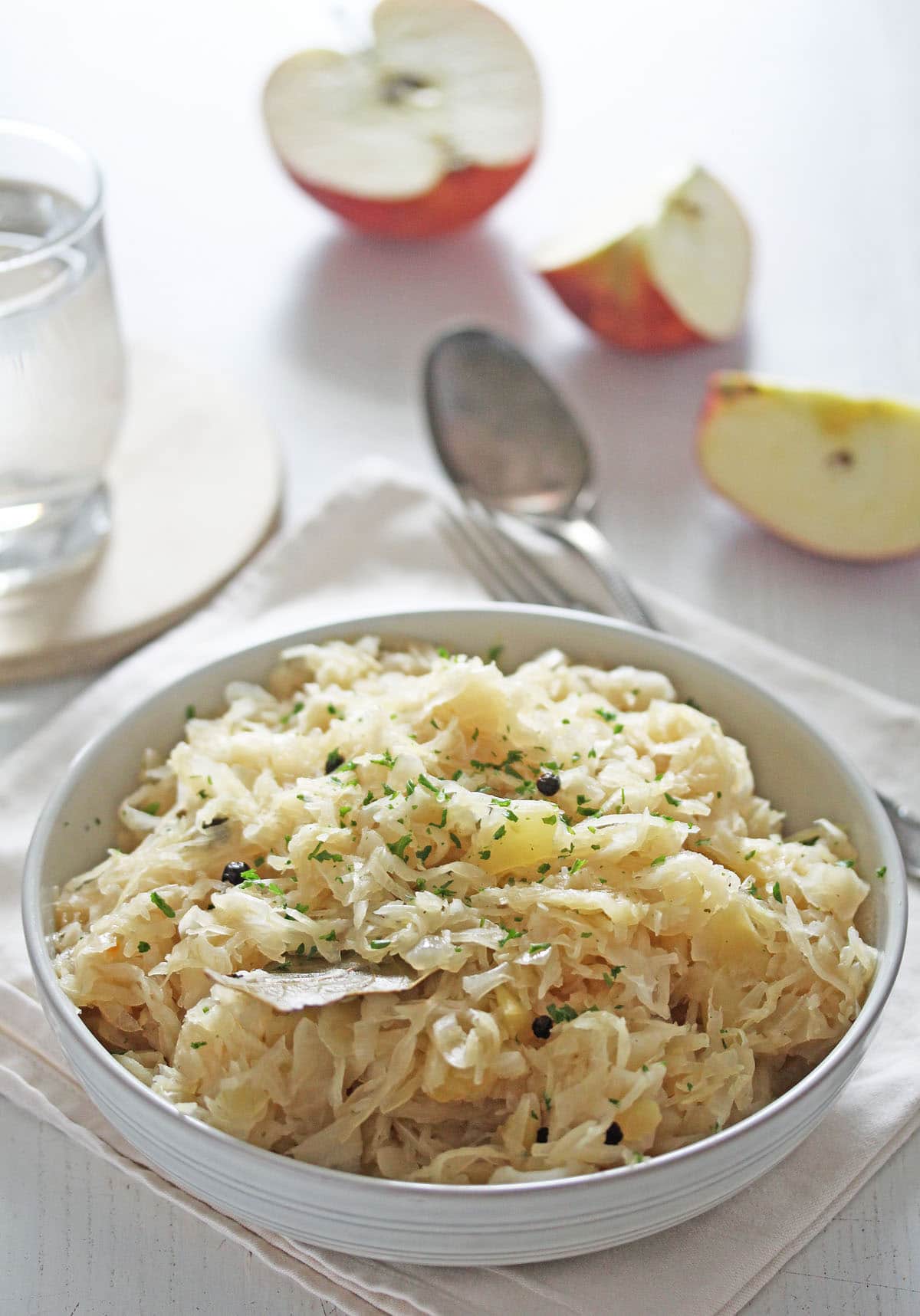 Sauerkraut is one dish that many people associate with Germany. And they are not wrong there, sauerkraut is such a typical German product or dish, it is hard not to think about it when you think about German food. So German that the original name was kept in English and other languages.
There are different ways of cooking and serving sauerkraut. Try the Bavarian Sauerkraut, for instance. Combine that kraut or today's recipe with sausages and enjoy Brats with Sauerkraut, another typical German dish.
Jump to recipe
What is sauerkraut?
Finely sliced cabbage mixed with salt and fermented by lactic acid bacteria. During the fermentation or pickling process, microorganisms digest the cabbage's natural sugars, which are converted into carbon dioxide and organic acids.
This super popular dish has a strong sour flavor, and it is not only extensively prepared and eaten in Germany but in many other European countries as well, for instance, Poland, Ukraine, Russia, the Baltic states, France, and so on. Not to forget the Korean kimchi, which is fermented cabbage as well.
In my native country, Romania, we ferment whole cabbage heads. They are placed in huge barrels, where you could probably fit 10-15 huge cabbages, and are fermented whole. The resulting cabbage has a rather different flavor than the German sauerkraut, but it is just as delicious.
The whole cabbage leaves are then used to make sarmale, vegetarian, or vegan cabbage rolls. Otherwise, you can make stewed cabbage with sausages, kraut salads, soups, and so on.
And one of the best things about it, I love to drink the sauerkraut liquid. In my childhood, sauerkraut juice used to be part of a regular meal: some potatoes, maybe some meat or sausage, and a glass of sauerkraut pickling liquid.
An interesting fact about this wonderful kraut: Captain Cook used it to prevent scurvy among his sailors during long sea voyages when fresh vegetables were unavailable.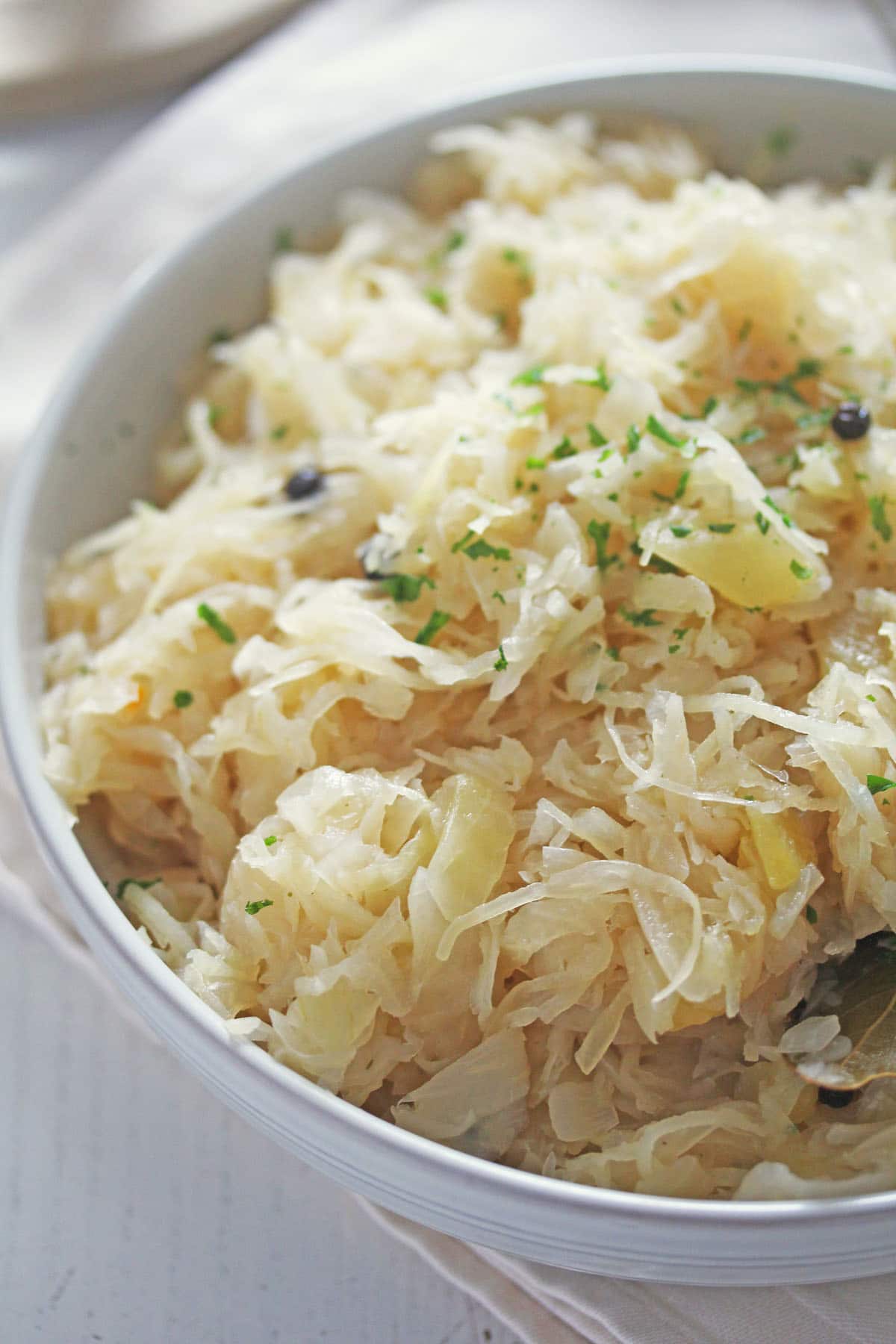 How to cook canned or sauerkraut from a jar?
In Germany, you can buy fresh sauerkraut at the butcher's or, more conveniently, sauerkraut in a bag (refrigerated), canned sauerkraut or in a jar (Amazon affiliate link). I've used all of them, and they are all great!
I would rather choose the butcher's sort because it is fresher and uses a minimum of packaging, but otherwise, I always have a can or a jar in the pantry.
You don't actually have to cook canned sauerkraut in order to eat it; you can have it as it is in a salad, for instance. However, cooking makes it not only warm and thus more suitable as a side dish, but the seasoning also enhances the flavors.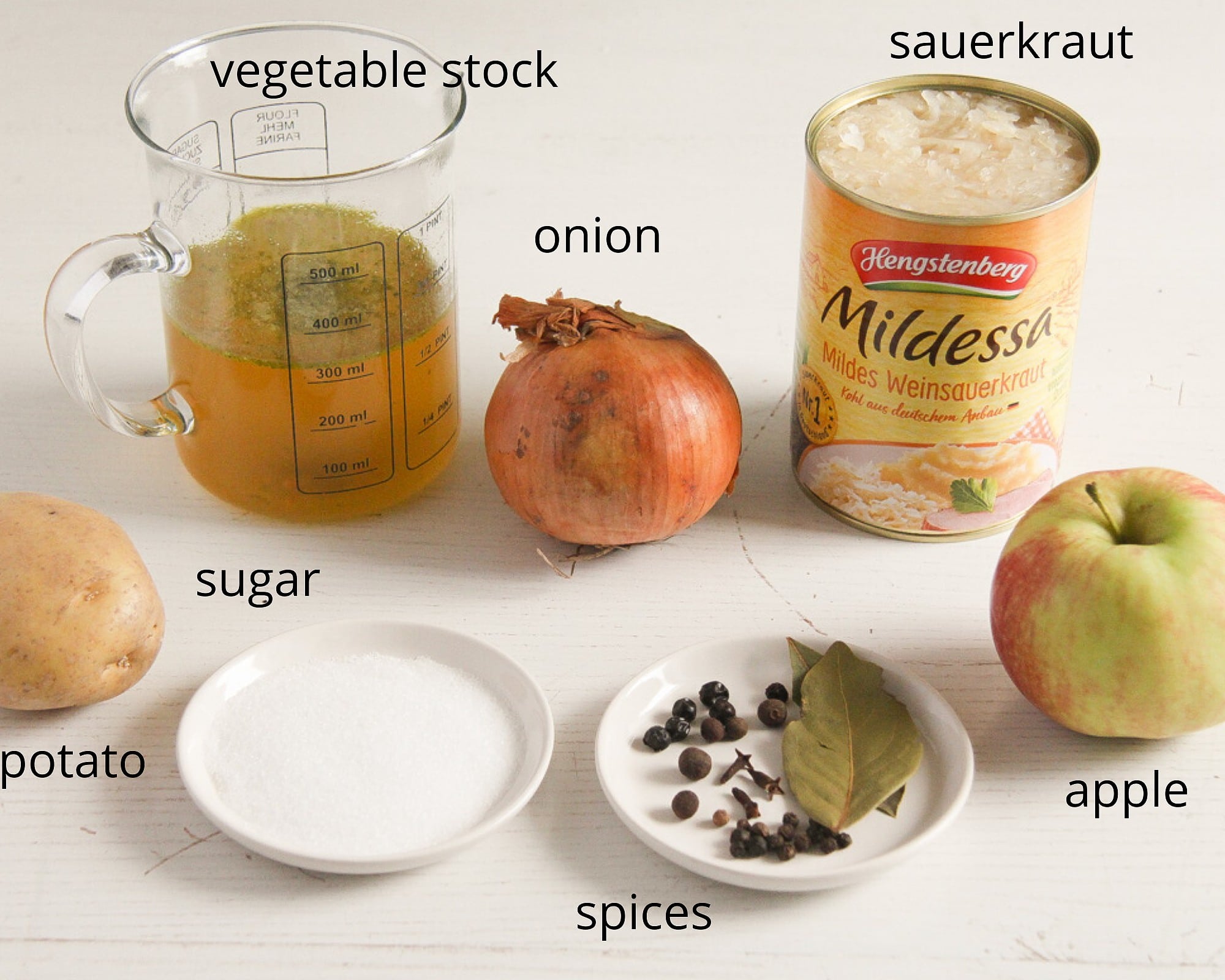 Ingredients and seasoning:
When cooking sauerkraut, you will add onions and apples and some spices like black peppercorns, cloves, juniper berries, and bay leaves. You will not need any salt, or at least only very little.
I often add a grated potato as well. You cannot taste it in the finished dish, but it helps bind the dish nicely.
You will also need some stock, either vegetable, beef, or chicken stock. I use homemade chicken stock most of the time, and if I don't have it, I use vegetable or chicken stock from a cube.
How long to cook sauerkraut?
Drain the sauerkraut.
Finely slice the onion and the apple.
Cook until the onions are translucent for about 4-5 minutes.
Add the sugar, stir, and let the sugar caramelize lightly. Pay attention that the sugar doesn't turn too dark.
Don't skip the caramelization step; it really enhances the flavor of the dish, and you will need something sweet to balance the sourness of the cabbage.
Add the kraut, spices, grated potato, and stock. Stir to mix.
Bring to a boil, turn the heat down to medium-low and simmer for 30 minutes.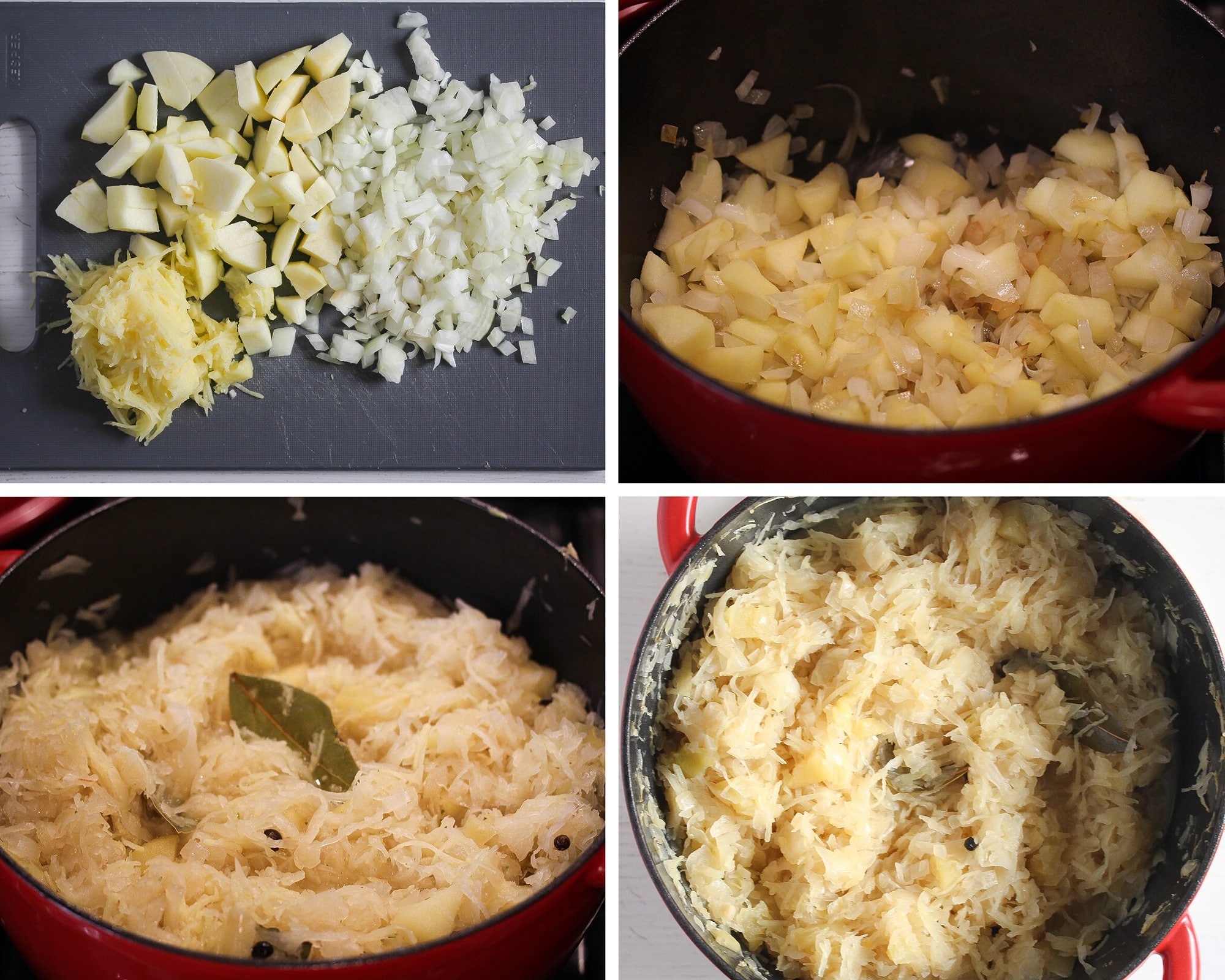 How to keep cooked sauerkraut?
Keep it refrigerated in an airtight container; it will keep for at least 4-5 days, and you can reheat it several times. You can also eat it without reheating it again.
If I make way too much, I also freeze it packed in freezer bags or small containers. It will be fine for at least 3 months, probably longer.
A great thing to have in the freezer for a quick meal. It defrosts very quickly on the counter, or you can defrost it in the microwave.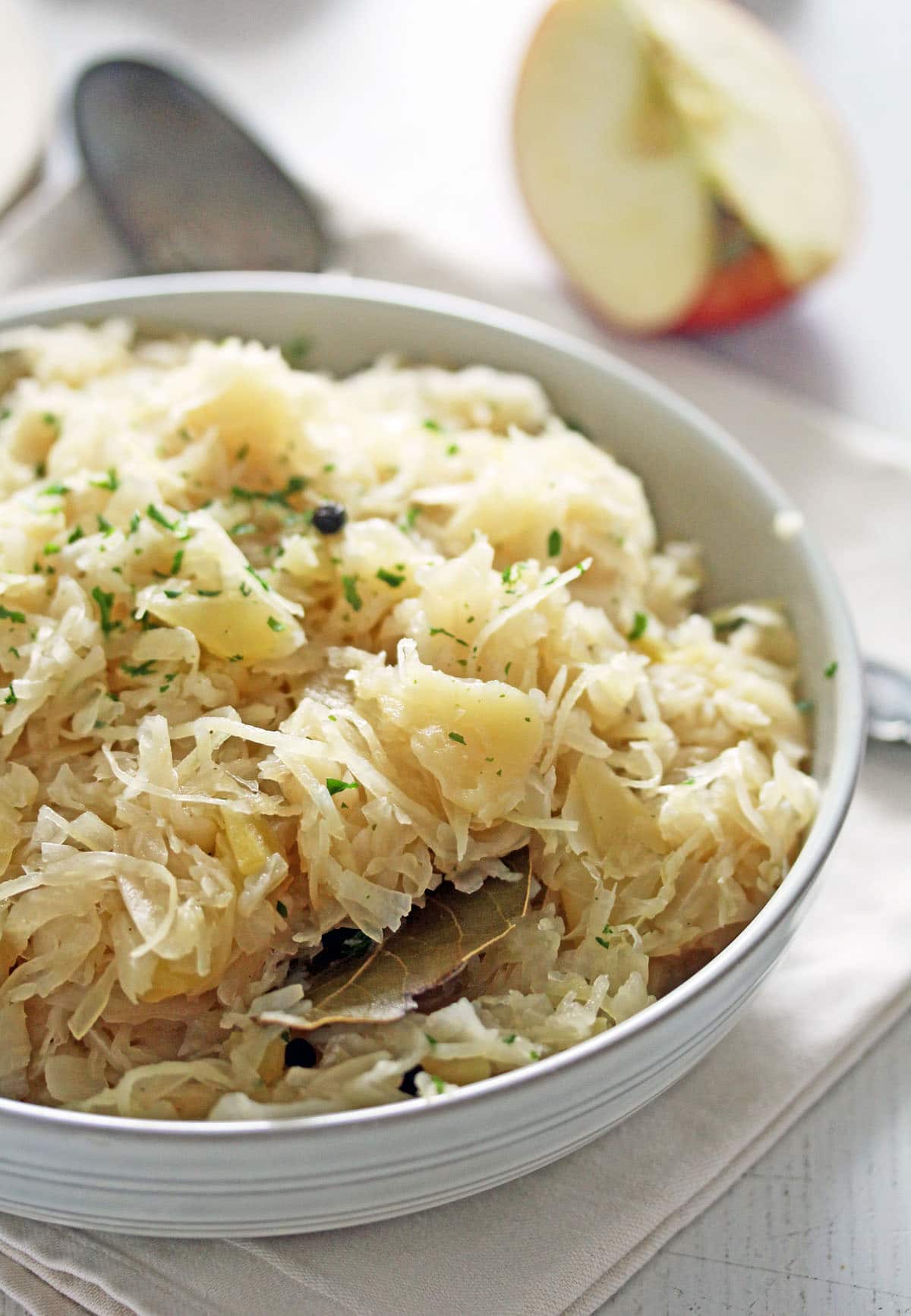 How to eat sauerkraut?
Uncooked in a salad. Drain well, taste, and rinse if you feel that the kraut is too sour. Drain well again. Add other ingredients like grated carrots, finely chopped apples, chives, or parsley, and a salad dressing, preferably made with sunflower oil; olive oil is not the best fit. Don't add vinegar.
Sauerkraut soup is always delicious and super healthy. Add some other vegetables like bell peppers and potatoes, some tomato puree or passata, and some sausage slices if you don't want to leave the soup vegetarian.
Slow Cooked Pork Hocks with sauerkraut, a traditional way of cooking and serving pork hocks in the North of Germany.
Or try the Bavarian way of cooking Crispy Pork Hocks. Serve them with a hot plate of kraut as well.
Bratwurst or brats with sauerkraut is a typical German dish; I think that is how I serve it most of the time; it is a comforting, flavorful dish that everybody loves.
Kasseler with sauerkraut and boiled potatoes, another very typical German sauerkraut dish. Kasseler is a cured and slightly smoked cut of pork. So good! So very German!
Or you can add a piece of smoked pork belly on top of the sauerkraut and cook them together.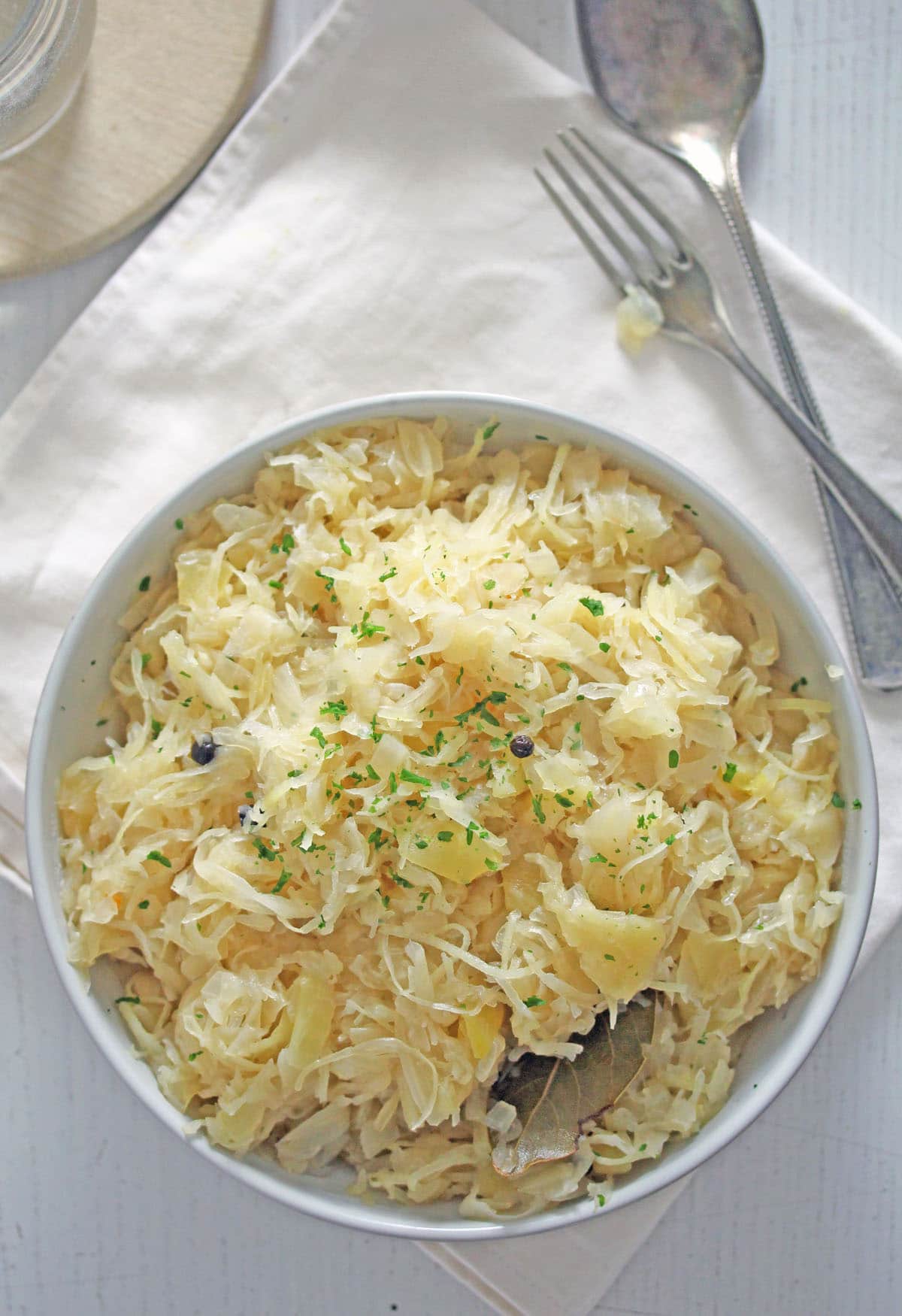 More sauerkraut recipes?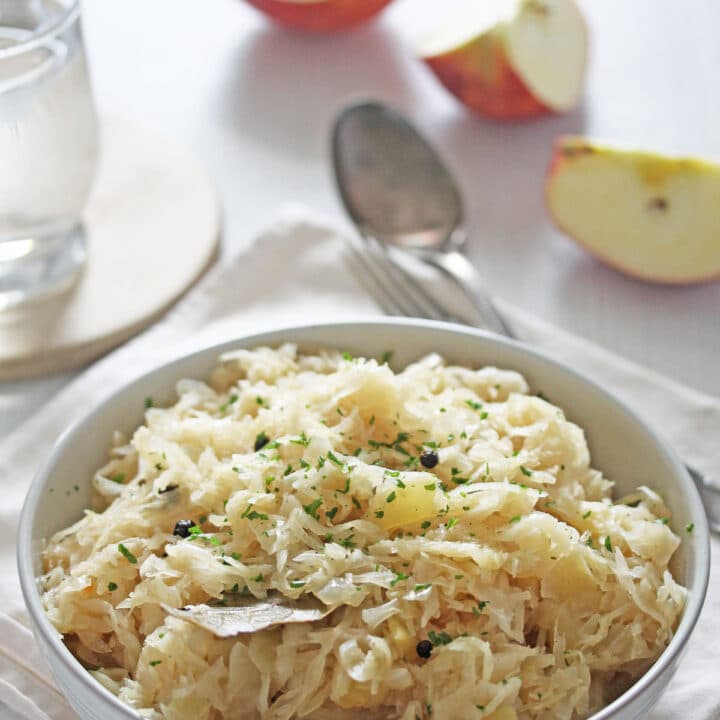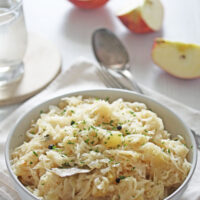 How to Cook Sauerkraut
Learn how to cook sauerkraut. A simple, quick German sauerkraut recipe, the perfect side dish for bratwurst or other sausages.
Print
Pin
Share
Grow
Saved!
Rate
Ingredients
1

lb

sauerkraut

500 g, See note 1

1

medium onion

1

large apple

1

tablespoon

sunflower oil

1

tablespoon

granulated sugar

1

teaspoon

black peppercorns

6

cloves

1

teaspoon

juniper berries

3

bay leaves

1

large potato

about 200 - 250 g/ 7 - 9 oz

1

cup

chicken stock

8.5 fl.oz/ 250 ml, See note 2
Instructions
Drain the sauerkraut. Finely slice the onion and the apple. Set aside.

Heat the oil in a saucepan and cook the apple and onions for about 3-4 minutes, until the onions are translucent.

In the meantime, finely grate the potato. Set aside.

Sprinkle the sugar on top of the onion and apple slices, stir lightly and let the sugar caramelize for a couple of minutes. Keep an eye on it and don't let it become too dark, it should be only lightly caramelized.

Add the peppercorns, cloves, juniper berries, bay leaves, sauerkraut, grated potato, and stock. Stir well.

Simmer: Bring to a boil, turn the heat down to medium-low, cover and simmer for 30 minutes.
Notes
Either sauerkraut from a bag, jar or can.
Beef or vegetable stock can be used instead.
Nutrition
Serving:
1
/4 of the dish
|
Calories:
186
kcal
|
Carbohydrates:
34
g
|
Protein:
5
g
|
Fat:
5
g
|
Saturated Fat:
1
g
|
Polyunsaturated Fat:
4
g
|
Cholesterol:
2
mg
|
Sodium:
932
mg
|
Fiber:
8
g
|
Sugar:
14
g