Sauerkraut leaves filled with rice and vegetables, Romanian comfort food at its best.
"I've got the power!" – Snap! Do you remember that? From the 90's? Or "Everybody, rock your body. Am I original, am I the only one?" from Backstreet Boys? Well, you might remember that, if you like me are in your 30's, live in Europe and have been a music obsessed teenager in the 1990's.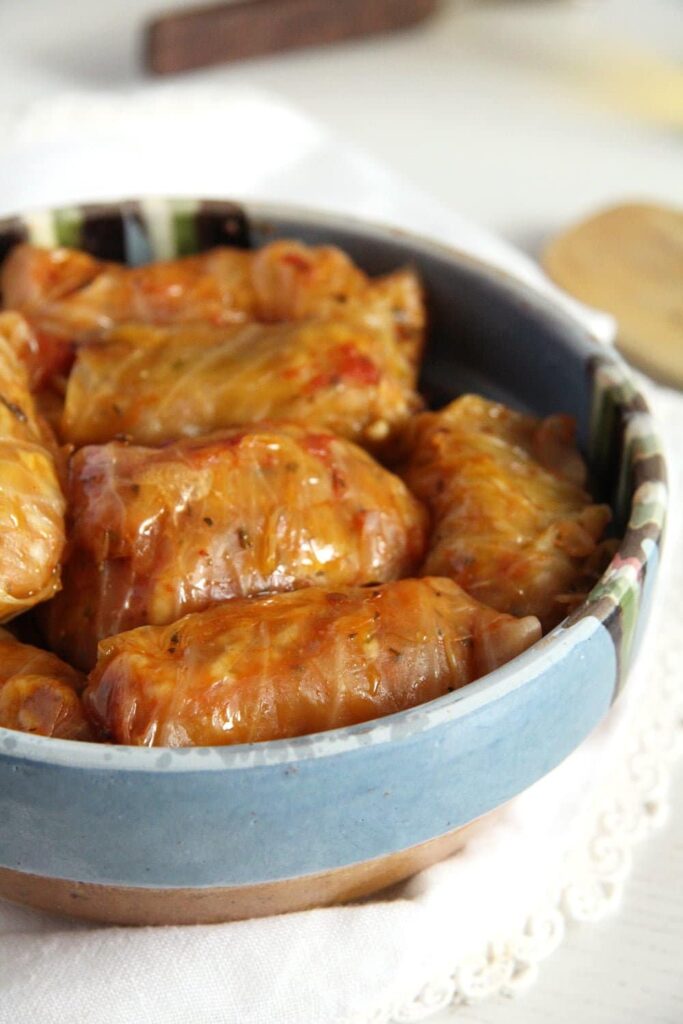 Today is 90's Day on our local radio, so I turned the radio on the first thing in the morning and have been singing along incessantly all day long. I can sing along almost every song, either in English, German, Italian or Spanish, amazing! If I was to sing one of today's biggest hits, I would not be able to sing along more than the chorus… I even remember every line of songs I used to totally hate during those days like the Backstreet Boys song from above, I like it now just as much as I hated it then. 🙂 Oh, those were the times, no other responsibility except your homework, music was one of the most important things in life, otherwise just hanging around with the friends, laughing and dreaming about hot looking superstars. 🙂 🙂 And everything without internet, mobile phones and social media.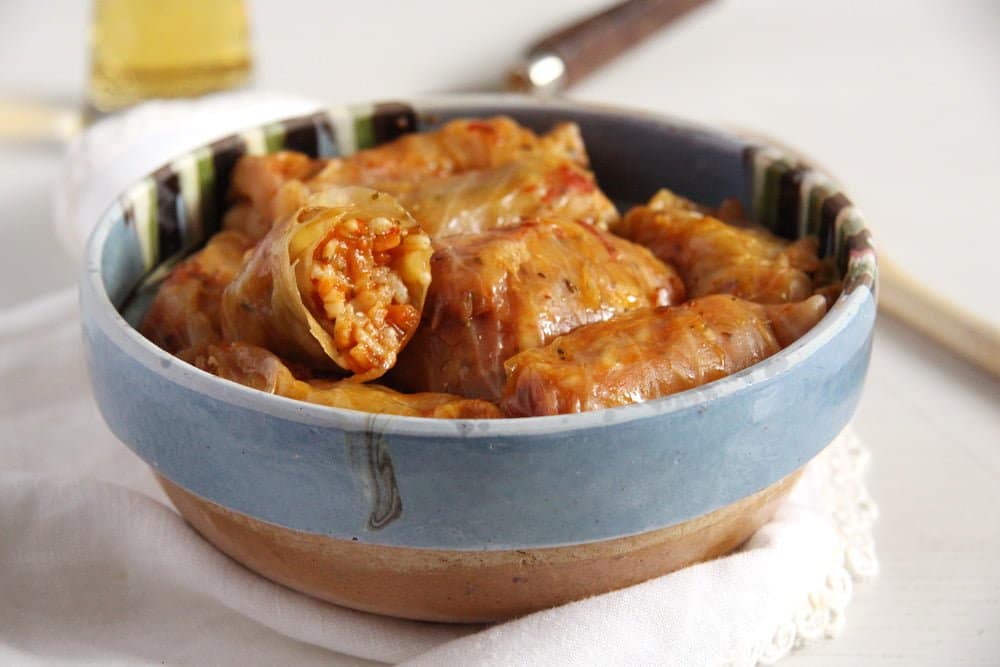 It has been a roller coaster of emotions for me today. Almost every single song I hear holds a different memory, an afternoon with my two best friends from those days (both called Cristina) or a winter evening making my homework in the warm kitchen or trying to decipher an article about our favorite band Take That in a foreign (mostly German) magazine. We didn't have any teen magazines in the early 90's in Romanian, so I used to translate the German editions I would sometimes find with the help of a huge, 50 years old dictionary that an my aunt had given to me. It was not easy, but I was patient. 🙂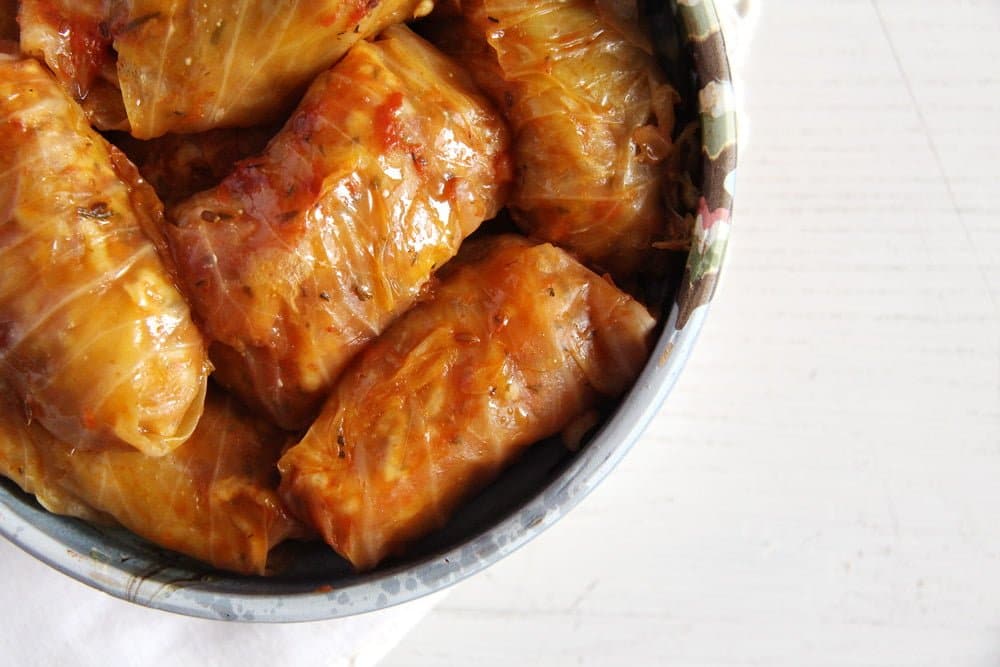 But back to food before I start weeping… These Vegan Rice Cabbage Rolls with Sauerkraut are the fasting time version of the famous Sarmale – Traditional Romanian Cabbage Rolls with Pork and Rice, which is probably my favorite dish in the world, something I grew up with, something I make myself today for my family. It is the first time I've made a vegan version of them, I used to think that if I make myself the trouble of making sarmale then I have to make the original. But now that I have finally made their vegan version, I know for sure I will make these again and again as well. And not only this version, I found a few other fillings that I would definitely love to try as well.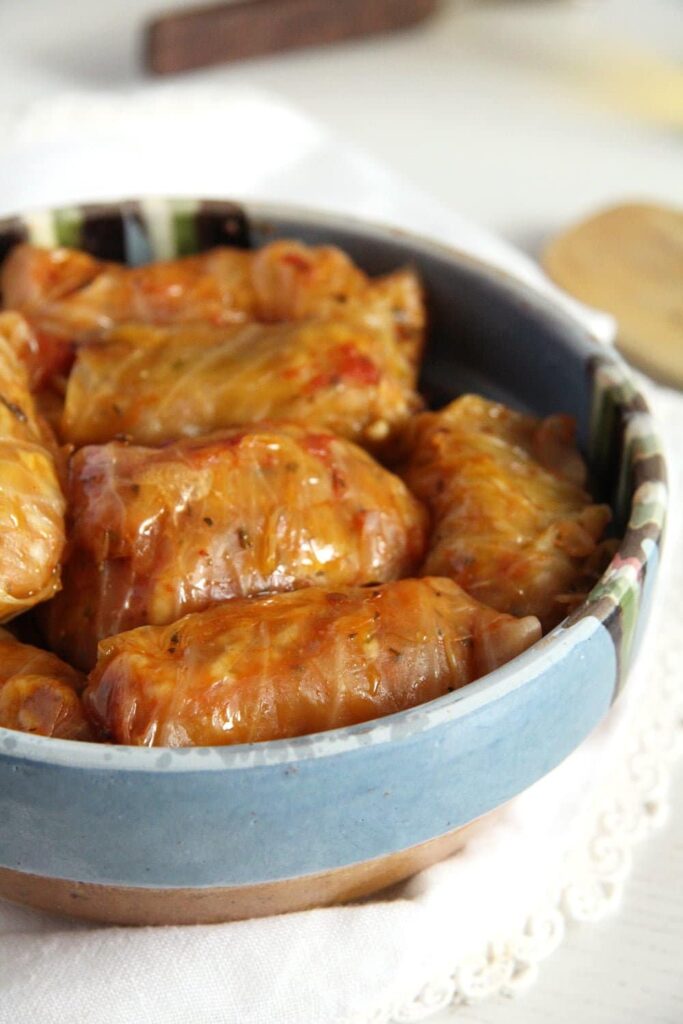 But until then enjoy these delicious Vegan Rice Cabbage Rolls with Sauerkraut. I bought a whole head of fermented cabbage in the Russian food store, but if you live in Germany you might be able to find it in larger supermarkets as well. Otherwise, I suppose any Eastern European food store will have some. The cabbage weighed about 2 kg/ 4.4 oz and I was able to make about 50 rolls out of it. Don't think that 50 are way too many, they are quite small, so you will be able to eat quite a few in one go and this kind of dish tastes even better when reheated a couple of times. We had enough for 3 days and I was not tired of them in the end, I loved eating them every day.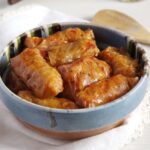 Ingredients
1 fermented whole head of white cabbage, about 2 kg/ 4.4 lbs

3 onions

4 medium carrots, about 200 g/ 7 oz

1 potato, about 150 g/ 5.3 oz

1 red bell pepper, about 100 g/ 3.5 oz

2 tablespoons (sunflower) oil

1 heaped teaspoon organic vegetable broth powder.

250 g/ 8.8 oz rice

50 g/ 1.7 oz hot or mild pepper paste

450 g/ 2 cups water

350 g/ 12.3 oz tomato puree

1 teaspoon sugar

1 tablespoon chopped fresh parsley

1 tablespoon chopped fresh dill

4-5 bay leaves

dry savory

dill seeds

salt and pepper
Instructions
Separate the cabbage leaves very carefully, trying not to break them too much. If you do break them here and there, don't throw them away, you will need them later as well. Only throw away the hard core of the cabbage. Cut the lower part of the leaves, where the stem is very thick (see pictures). Cut the larger leaves into halves, in the middle where the thick stem is. Discard the thick stem but only in the case of the larger leaves that you split in half. Leave the smaller leaves whole, but cut the thick stem as good as possible so that the leaves will be easy to roll. Wash and soak the leaves in cold water for about 1 hour.
[gallery ids="4690,4685"]
In the meantime prepare the filling. Chop the onions very very finely. Clean and roughly grate the potato, carrot and pepper.
Heat the oil in a large pan and cook the onions until translucent and slightly golden, about 5 minutes. Do not brown. Add the vegetables and continue cooking for 5 minutes, stirring often. Add the vegetable broth powder, paprika paste, rice, 3 tablespoons of the water and 2 tablespoons of the pureed tomatoes.
Stir well and transfer to a large bowl. Add the chopped parsley and dill and salt and pepper to taste. Stir very well.
To make the rolls, drain the cabbage leaves well. Place one on the working surface, place a little filling more or less in the middle of the leaf. Fold one side of the leaf over the filling, then fold the lower part of the leaf over, than the other side of the leaf over. Roll the leaf to form the cabbage roll and tuck in the open ends of the leave. If some of the leaves are too small you can build a cabbage roll from two leaves, nicely arranged on top of each other. Don't make the rolls too full or too tight, the rice needs place to swell.
[gallery ids="4684,4691,4692,4683,4682"]
Chop the middle of the cabbage (where the leaves are too small to use) and all leftover pieces of cabbage into fine stripes. Take a large oven-proof pot and place about half of the cabbage stripes on its bottom in an even layer. Add one or two bay leaves and a generous sprinkle of dry savory and dill seeds on top. Arrange the cabbage rolls in the pot (I had two layers of cabbage rolls) and add more bay leaves, savory and dill seeds between the layers. Top with the remaining chopped cabbage.
Mix the remaining water, pureed tomatoes, sugar, salt and pepper in a jug. Pour enough of this liquid in the pot to barely cover the cabbage rolls. Keep the rest, which you might need to add from time to time during the cooking process if the liquid cooks down too much. Bring to a boil, then turn the heat down to low and simmer, covered, for about 2 hours or until the cabbage and the rice are soft.
Preheat the oven during the last half hour of the cooking time to 180 degrees Celsius/ 360 degrees Fahrenheit. Place the pot in the oven and cook for another 20 minutes or so or until the cabbage is nicely colored on top and the liquid has cooked down a bit more.
Serve with bread or even potatoes and if you are not eating vegan with a dollop of Smetana, crème fraiche or thick yogurt on top.
This post contains affiliate links. The price you pay as a consumer does not change, but if you make a purchase we will receive a commission which helps support the blog.
Others you might like: