Aromatic mushroom stew in a delicious sauce with lots of herbs, the best mushroom main dish there is. Serve over polenta or mashed potatoes.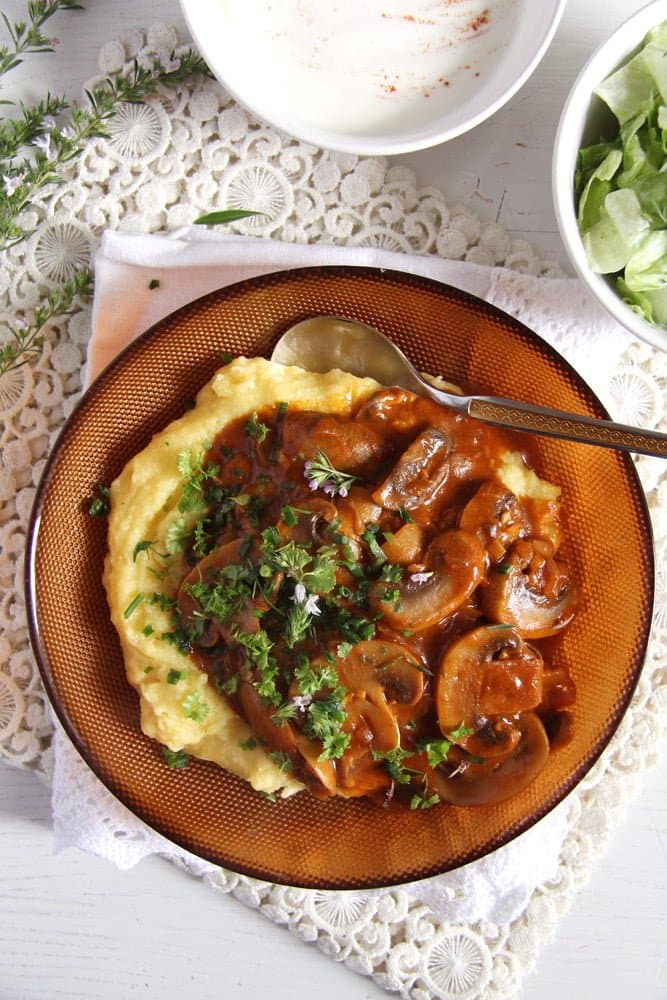 This mushroom stew is my favorite mushroom main dish.
I love mushrooms and I eat them in many delicious ways, but this stew is special. I have been making it for so many years, it was one of the first really good recipes I've learned how to cook and it is a delight every time I make it.
A really perfect dish, if you ask me. I've cooked this so many times and there is not one thing I could think of changing, I think it has reached the superlative just the way it is.
I have some other recipes on Where Is My Spoon, which awake the same feelings in me: of them being so perfect that there is nothing I could imagine improving, dishes that were found to be wonderful by every single person who ever tasted them. Here are some of them, if you would like to give them a try: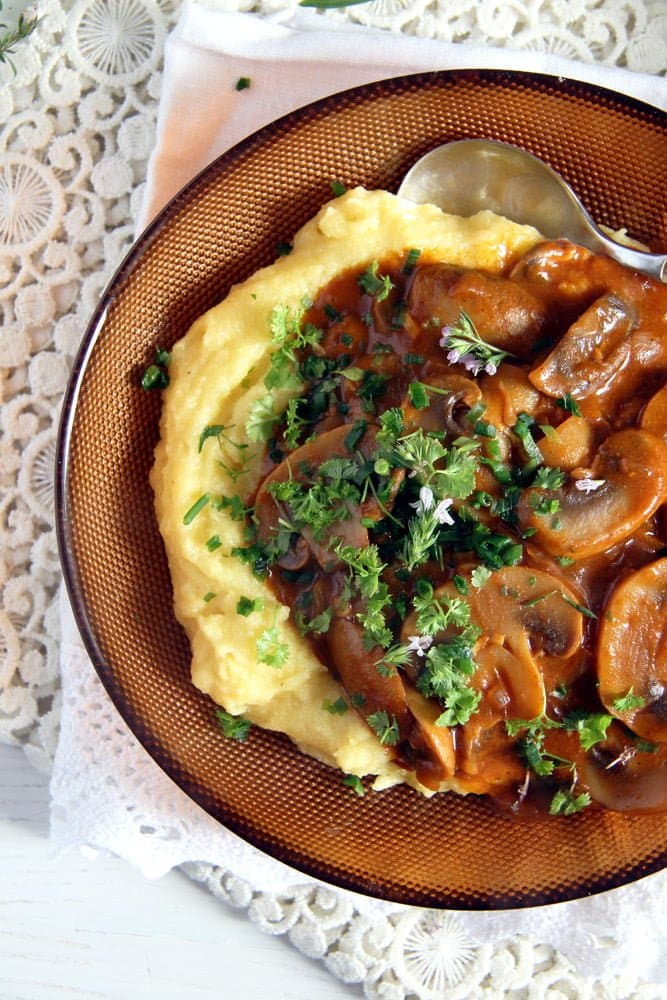 Are mushrooms vegetables?
Mushrooms are not vegetables, they have no leaves, roots, or seeds and they don't contain the chlorophyll needed to convert the sunlight's energy into carbohydrates. So, actually, they are not even plants.
Botanically, they are classified as fungi, but nutritionally, they are considered to be vegetables, as they have many of the nutritional attributes of vegetables.
There are many sorts of mushrooms, some are edible and some can be lethal.
The most common sorts are the plain mushrooms, which can be either white or brown, small like the button mushrooms or large as the portobello mushrooms.
Other very well-known types of mushrooms are oyster mushrooms, shiitake, enoki, or the more expensive ones like chanterelle, porcini, or morel.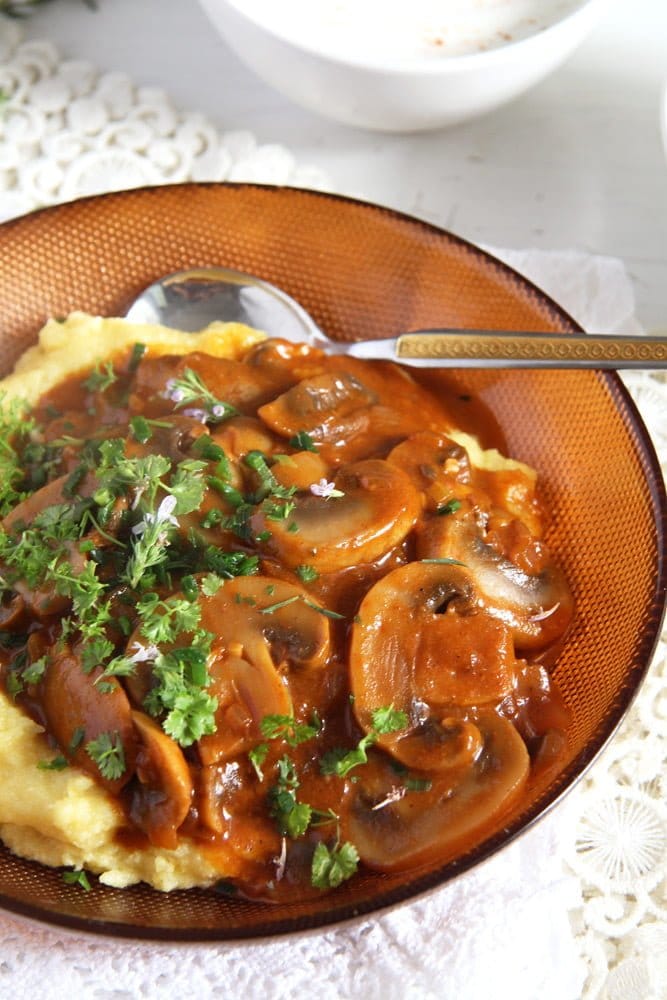 Recipe steps
Mushrooms:
I have only ever made this dish with plain mushrooms (champignons ) either white or brown or a mixture of the two. You could probably make it with fancier wild mushrooms if you wish, but they are rather expensive and very seasonal. The plain mushrooms are something you can get anywhere anytime and they fit this stew perfectly.
I never wash mushrooms, I think they tend to soak the water and lose their flavor in the process. But I do take my time to wipe them very thoroughly with kitchen paper.
And do not throw away the stems, I know many people who do and I cannot understand them. Chop them and add them to the dish as well.
The rest of the ingredients are very cheap and easily available:
Olive oil
Some herbs
Good sweet paprika powder
White wine. I make the stew with white wine most of the time, but red wine can be used instead. You can leave out the wine entirely if you wish.
Milk to round up the taste of the stew at the end of the cooking process, but if you don't care too much about the calories, you can use heavy cream instead.
I almost always use low-fat milk to make the stew. And when using it, I prefer to take a bit of cornstarch to thicken the sauce.
It is an optional step, it makes the sauce a bit thicker and I like it like that, but if you prefer a thinner sauce, you can leave it the way it is.
The thickening of the sauce is not necessary if you use heavy cream instead of milk, which will give the stew its right consistency.

Tips and Recipe FAQ
Can I make the mushroom stew vegan?
Definitely. Replace the dairy with their vegan alternative, like soy milk or soy cream, almond milk, or whatever you like to use in this kind of dish.
How to store and reheat?
Store in the fridge for 1-2 days.
Reheat on the stove and add a splash of milk when you do it. Stir frequently.
Can I freeze it?
Cool the dish completely, place it in freezer bags. Make the portions as large as you think necessary.
Freeze for up to 3 months.
Defrost in the refrigerator and heat thoroughly before serving.
How to serve?
Preferably immediately after cooking. It can be reheated like any other stew, but I find it best when served immediately.
And you can be very creative when it comes to the side dish for the stew.
Our first choice is always polenta. It fits the stew perfectly and the best about it is that while the husband and I are enjoying the mushroom stew over polenta, the kids can have their polenta with cheese and yogurt and then there will be no complaints at all at the table.
But other delicious alternatives are Semmelknödel – German bread dumplings, Spätzle – Swabian noodles or any kind of noodles or rice.
A nice green salad and maybe a dollop of Greek yogurt and you will have a complete, healthy, and utterly delicious meal in no time.
And although this recipe is so cheap and easy to make, it is definitely something to serve to guests as well, you can be sure that unless they have a mushroom phobia like my kids, they will adore it.
Just don't do it like I did the last time I served this to guests: I prepared the dish for a small crowd and I mistook the paprika powder jar with the cayenne pepper jar, so I put 3 tablespoons cayenne pepper in the food.
It was the hottest dish I have ever tasted. I tried to save it a bit by pouring almost two cups of heavy cream and more broth in the stew, but it didn't really help, it was soooo hot. We still ate it though, with tears in our eyes and lots and lots of noodles, it still tasted good! 🙂
More mushroom recipes: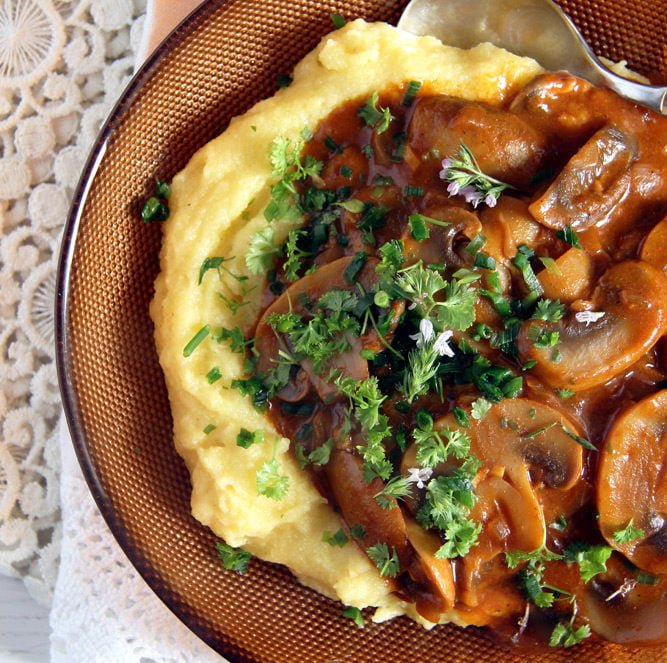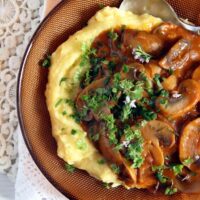 Easy Mushroom Stew Recipe (Mushroom Main Dish)
Aromatic mushroom stew in a delicious sauce with lots of herbs, a perfect vegetarian stew for these cold autumn days.
Print
Pin
Share
Grow
Saved!
Rate
Ingredients
2.2

lbs

white or brown mushrooms

1 kg

2

onions

4

garlic cloves

1

tablespoon

olive oil

1

tablespoon

butter

2

teaspoons

tomato paste

1

tablespoon

sweet paprika powder

⅔

cup

white wine

150 ml

⅔

cup

good-quality vegetable broth

150 ml

⅔

cup

milk or heavy cream

See note

½

tablespoon

cornstarch

optional, not necessary if using heavy cream

1

bunch parsley or chives

1-2

teaspoons

lemon juice or to taste

fine sea salt and pepper
Instructions
Mushrooms: Clean the mushrooms by wiping them carefully with kitchen paper to remove any dirt that might stick to them. Halve or quarter the mushrooms, depending on their size. If they are very small, you can leave them whole. Chop the stems in 2 or 3 pieces as well. Set aside.

Saute: Finely chop the onions and the garlic cloves. Heat the oil and the butter in a stew pot and cook the onions and the garlic until the onions are translucent.

Cook: Add the mushrooms, cover the pot and leave to cook for about 5 minutes.

Simmer: Add the tomato paste, sweet paprika powder, and some salt and pepper. Stir to coat the mushrooms with the spices. Add the white wine and let it bubble off completely. Add the vegetable broth, cover, and cook for about 15-20 minutes.

Thicken: Shortly before the end of the cooking time, whisk the milk and the cornstarch together in a small bowl. Slowly pour the mixture into the pot while whisking all the time. Stir well and let cook for another two minutes or so until the sauce thickens slightly.If you are using heavy cream, the cornstarch will not be necessary. Just stir the cream into the dish and let cook for a couple of minutes or until the sauce thickens slightly.

Adjust the taste with lemon juice and more salt and pepper. Chop the herbs and add to the stew.

Serve immediately with one of the sides mentioned above.
Notes
The nutrition is calculated considering that you have used milk and cornstarch. If using heavy cream, one portion of the mushroom stew will have about 350 calories.
Nutrition
Serving:
1
/4 of the dish
|
Calories:
242
kcal
|
Carbohydrates:
25
g
|
Protein:
8
g
|
Fat:
11
g
|
Saturated Fat:
4
g
|
Polyunsaturated Fat:
6
g
|
Cholesterol:
19
mg
|
Sodium:
459
mg
|
Fiber:
7
g
|
Sugar:
9
g