Welcome to another Where Is My Spoon little series, this time featuring Schnitzel, a staple in German cooking, something you would find in every restaurant in Germany, well maybe not in an Asian or vegetarian restaurant, but otherwise pretty much everywhere.
And the first recipe is a German classic: Jägerschnitzel or Hunter Schnitzel, which is a pork schnitzel cooked in the typical way and eaten with a particularly delicious mushroom sauce. And fries, never forget the fries!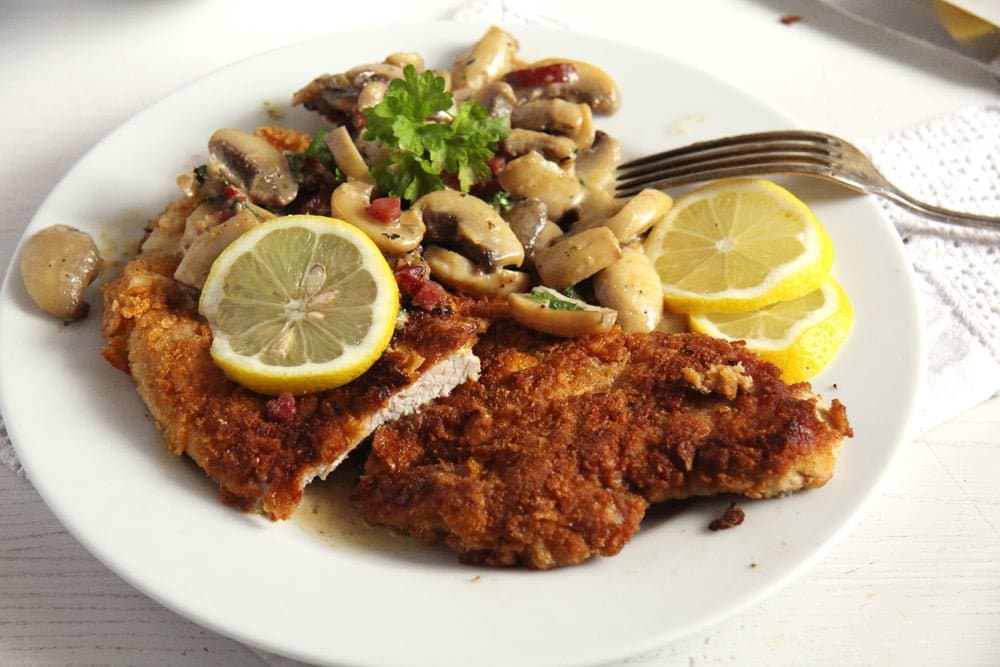 I do like a good schnitzel, but to tell you the truth, I've never made schnitzel myself very often before. I eat it every now and then in a restaurant or at a party, but have always thought it to be too much trouble to make at home. So many different pots that get dirty and then the stove cleaning after cooking… And I am also not a big fan of frying things.
But my son said one day he would like to eat schnitzel, so I thought, why not? Let's do schnitzel. While looking for a recipe for this sauce, I found so many related recipes that I thought I'd love to try and I knew this could turn into a series. And it did. We did overdid it with eating schnitzel during the past 6 weeks, but trust me, nobody complained. Actually I am pretty much sure they were all happy with me cooking something "normal" and meaty for a change….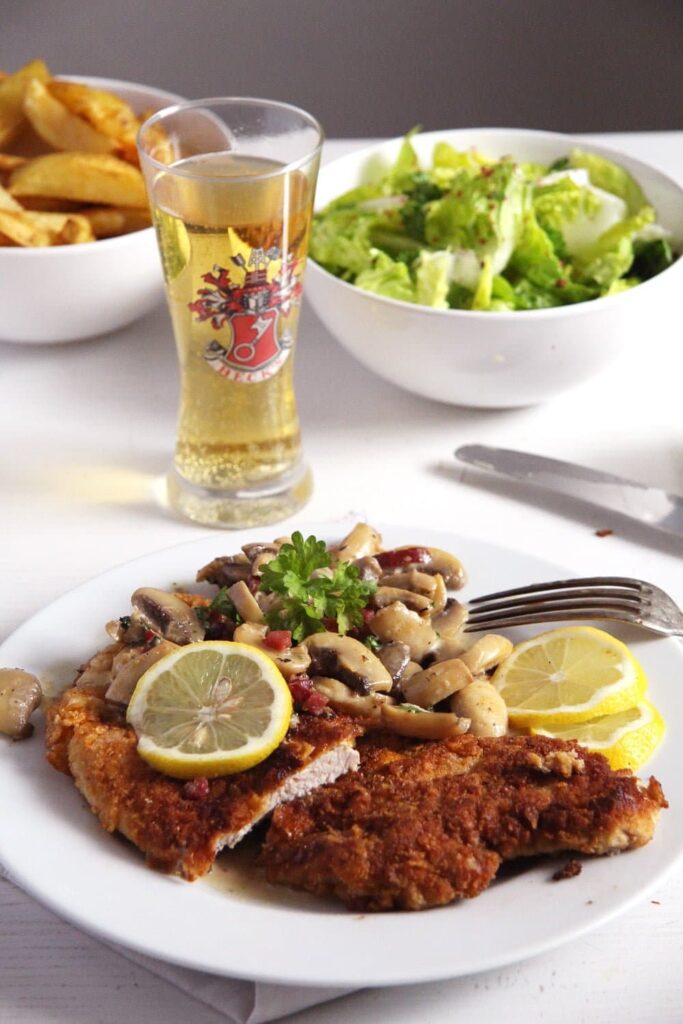 What I personally liked most about this recipe was the sauce, absolutely my thing. I could imagine eating it not only with schnitzel but as a ragout with boiled potatoes or on top of rice or pasta. You might want to at least double the ingredients in that case. And after frying the schnitzel, I had no intention whatsoever in frying potatoes as well (I never do anyway), so we served this with oven potatoes. And some salad.
The meat used to make schnitzel is actually called schnitzel in Germany. I made some research and found out that the meat necessary to make schnitzel is called boneless pork chops in America. I used clarified butter (Butterschmalz) to fry the schnitzel, but you can use vegetable oil instead.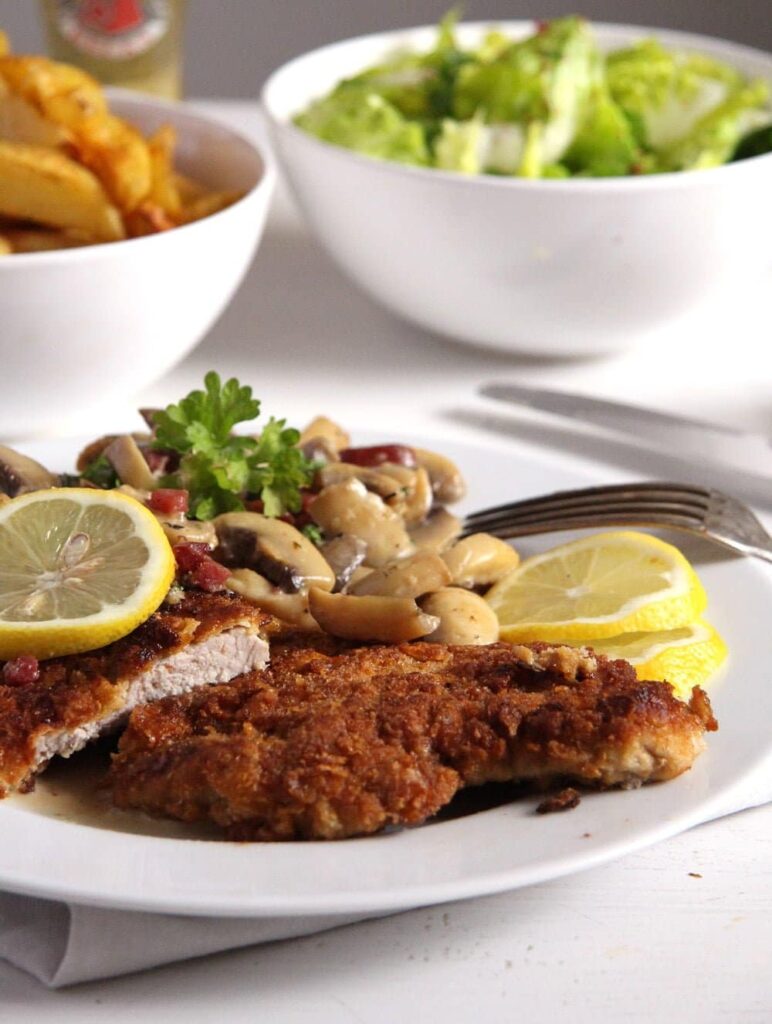 Rating 5.0 from 2 reviews
Prep time:
Cook time:
Total time:
Ingredients
4 pork

schnitzel

(boneless pork chops)
2-3 tablespoons all-purpose flour
2 eggs
4-5 tablespoons dry breadcrumbs (more if necessary)
500 g/ about 1 pound mushrooms
1 tablespoon butter
1 tablespoon olive oil
30 g/ 1 oz bacon, small cubes
1 small onion
125 ml/ ½ cup vegetable broth

125 ml

/ ½ cup single or double cream
3 sprigs

thyme

a small bunch parsley
vegetable oil
salt and pepper
lemon slices to serve
oven fries to serve
green salad to serve
Instructions
Wash and dry the

schnitzel

. Pound between two sheet of plastic foil using a meat

tenderizer

or (as I did) a not very large but heavy pan. The

schnitzel

should be

about 6 mm/ ¼ inch thick after pounding.
Sprinkle them generously with salt and pepper on both sides. Place the flour and the dry breadcrumbs in two separate, rather large plates. Beat the eggs lightly in a shallow, wide bowl.
Start making the sauce now. Clean and cut the mushrooms in halves or quarters, depending on size.
Heat the butter in a pan and fry the mushrooms on medium-high heat for about 3 minutes or until they start releasing their juices. Remove from the pan.
Heat the oil in the same pan and cook the bacon cubes and the chopped onion until the onions are soft and golden. Return the mushrooms to the pan, add the vegetable broth, the cream and the

thyme

leaves.
Add salt and pepper to taste, bring to a simmer and cook for about 10 -15 minutes or until the sauce has thickened. Adjust the taste with salt and pepper and sprinkle the chopped parsley on top.
In the meantime continue with the

schnitzel

. Dip the meat pieces into the flour, coat on both sides and shake off excess flour. Dip them in the beaten eggs, coating on both sides and then coat them with the breadcrumbs. Press the breadcrumbs very lightly, shake off the excess and fry the

schnitzel

immediately.
Heat enough clarified butter or vegetable oil in a large pan. The

schnitzel

should be

able to swim lightly in it. The oil or clarified butter

should be

hot but not smoking or anything. Carefully place the

schnitzel

in the hot oil and fry them about 2-3 minutes on each side or until the coating is deep golden brown.
Remove from the pan and place on paper kitchen towels, which will help remove the excess fat.
Serve immediately with lemon slices, fries and salad.
Others you might like: