German coleslaw with crème fraiche and lots of chives, this is a typical recipe for a German cabbage salad.
GERMAN COLESLAW RECIPE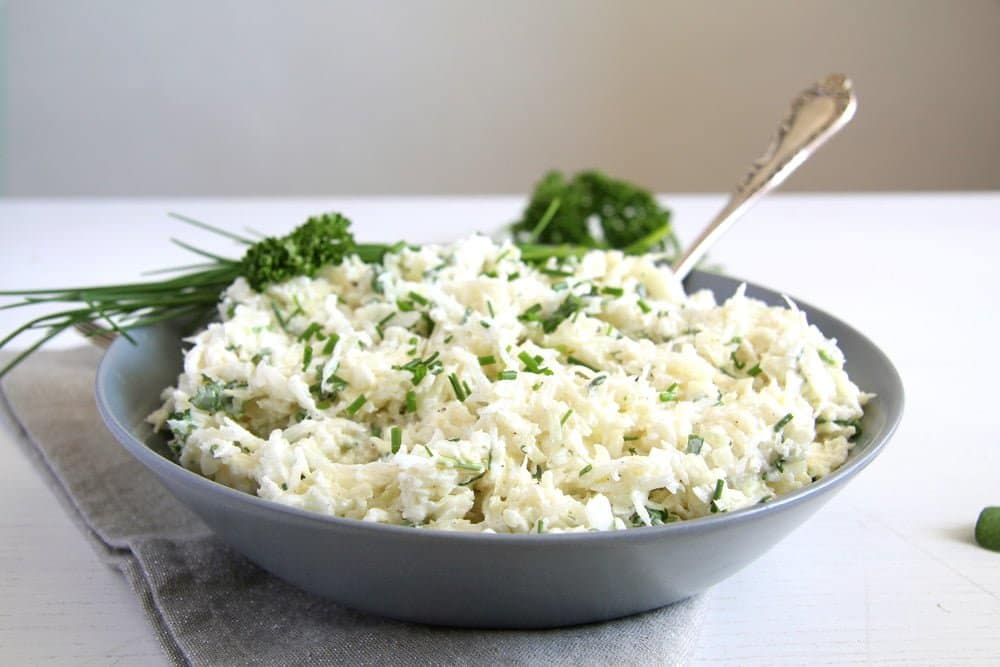 This cabbage salad is my husband's favorite grill salad, I would say. A typical German salad or German coleslaw recipe, just the way his mother and grandmother have been making it their whole lives and considering that his grandmother lived to be 96, you could call this a vintage recipe :).
It is not a recipe I've often made myself, the main reason for it is that this is one of those recipes that my mother-in-law usually makes, just like her Beef Roulades, Jägerschnitzel or chocolate cornflake cakes.
Everything easy and delicious, but somehow belonging to her, the way the Chicken Dumpling Soup or birthday cakes belong to me.
So usually, when my husband or my brother-in-law feel like eating this particular cabbage salad, they don't ask me, they call their mama... 🙂
And this is not the only traditional German recipe I never have to bother making, there are quite a few more... maybe I should make a "Mother-in-law recipes" series one day! Not a bad idea, she has some really good ones...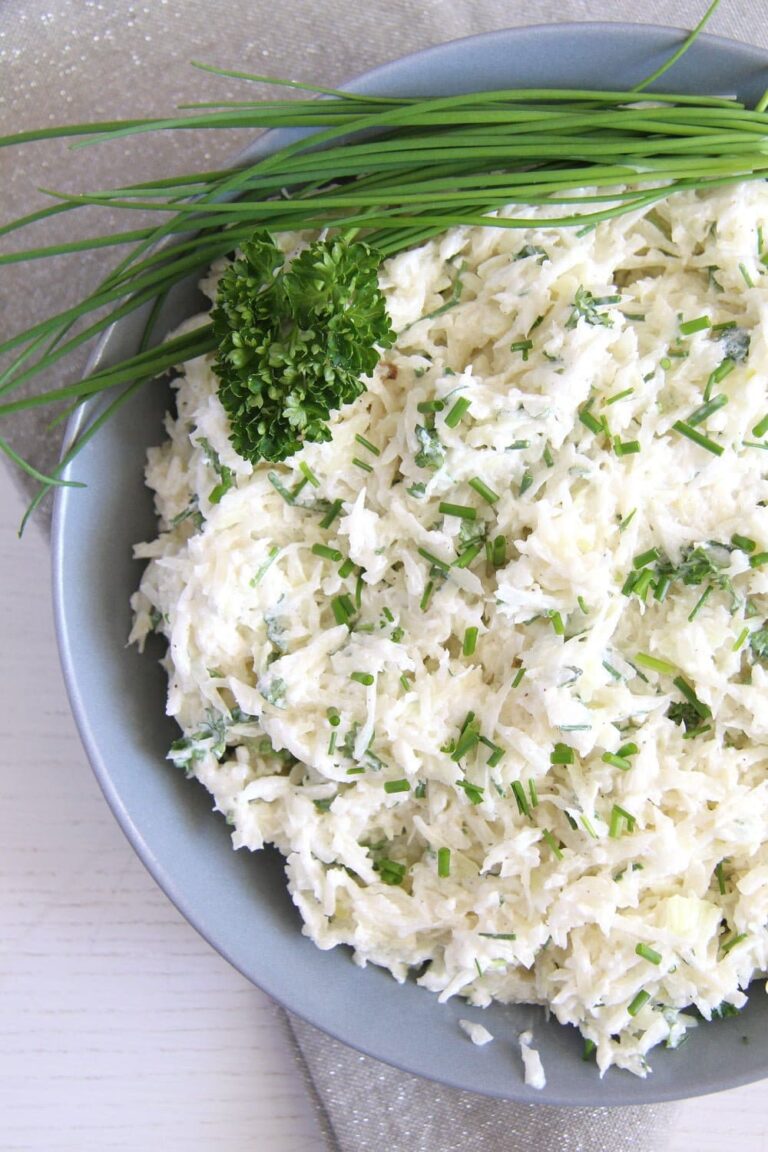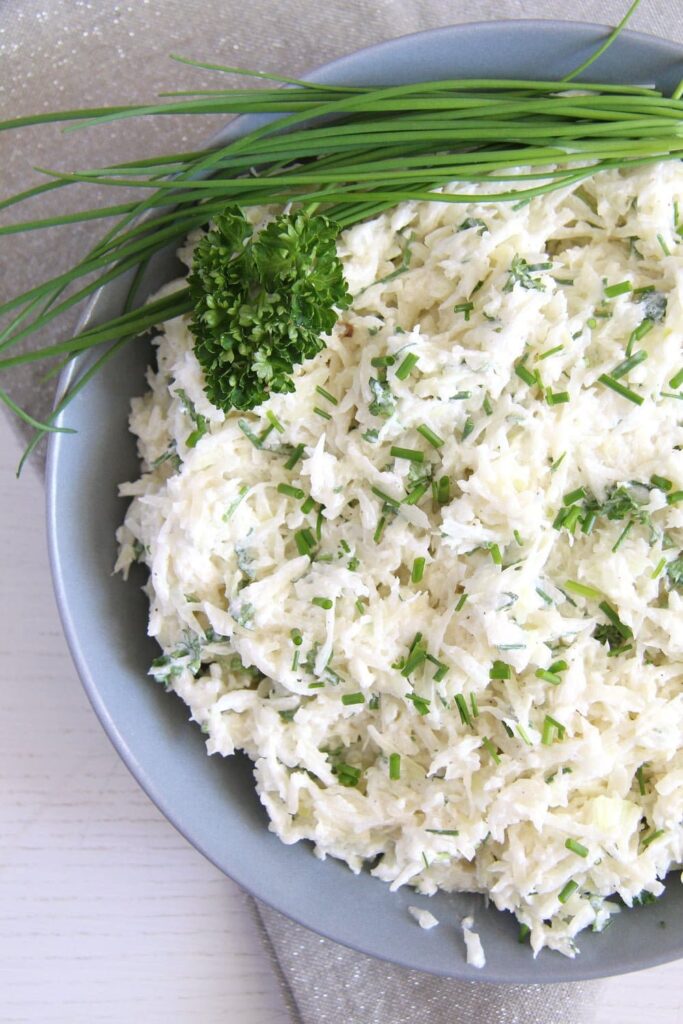 INGREDIENTS
Cabbage:
This is a very cheap and easy recipe, just like most cabbage recipes.
Cabbage is a wonderful vegetable, with just one head of cabbage, which is always economical, you can make food for an entire family and probably always have some leftovers.
I used a small head of white cabbage, which weighs about 750 g/ 1.7 lb, a little more or less is fine.
If you can only get a large cabbage (like I often do), use the leftovers to make other cabbage recipes.
Dairy:
I use German sour cream – Schmand or crème fraiche. They are very similar in taste and texture, crème fraiche is just a little less stiff than Schmand.
You could use sour cream as well, the taste might differ slightly, but if you like sour cream that should not be a problem.
You will also need a splash or two of milk to loosen the salad dressing. About 2 splashes when using Schmand and 1 when using crème fraiche.
Herbs:
Fresh parsley and chives are best, but frozen herbs make a very good substitute.
Whatever you do, don't use dried parsley or chives for the German coleslaw.
When it comes to dried herbs, there are some that are really good when dried: thyme, rosemary, oregano, for instance.
Parsley, chives, basil and many times dill make no sense in dried form, they only taste of dust.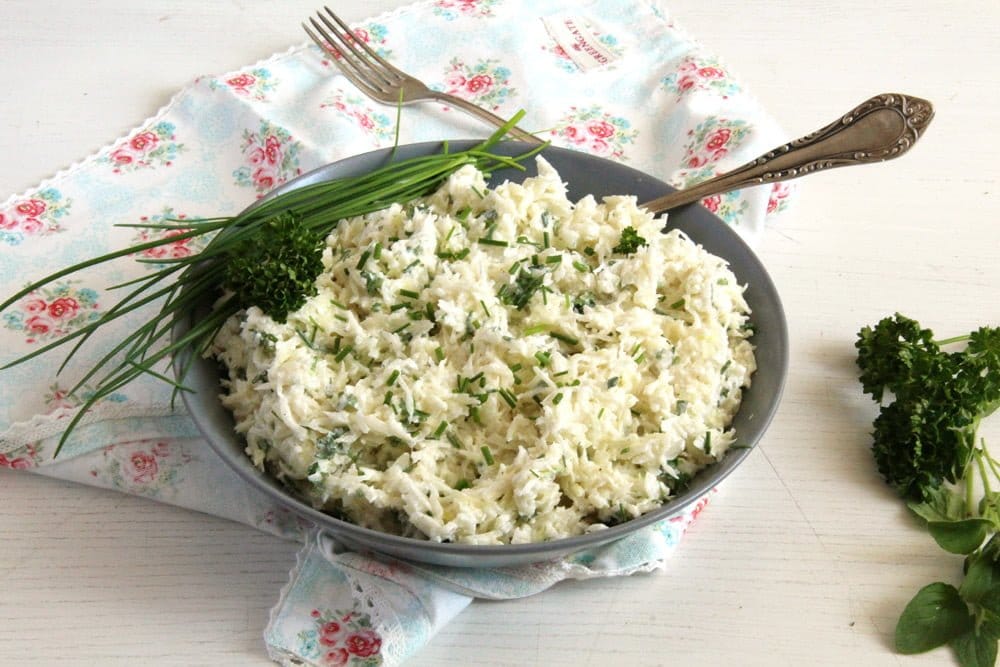 TIPS FOR MAKING GERMAN CABBAGE SALAD
Think that you have to make the coleslaw in advance.
The shredded salad has to be mixed with salt and it has to spend at least 6 and up to 12 hours in the fridge.
Kneading the cabbage with salt and letting it rest, will tenderize it and make it more easily digestible.
When adjusting the taste with salt and pepper, go easy on the salt at first. The cabbage is already salted and you should not overdo it.
Chop the onion very finely, my mother-in-law always crushes it with a fork after chopping it.
Use fresh or frozen herbs, not dried.
If you make the cabbage salad a few hours in advance, keep it in the fridge and bring it to room temperature before serving. Don't forget to adjust the taste again. Add more salt, pepper, sugar, and vinegar as needed.
How to keep the cabbage salad?
The German coleslaw can be made in advance and be kept in the fridge.
Leftovers keep very well for several days in the refrigerator.
How to serve German coleslaw?
I've always loved eating any kind of cabbage salad with only boiled or roast potatoes. It is such a great combination, I don't really need any meat anymore.
Otherwise, the German cabbage salad makes a great side dish for any kind of meats or sausages.
It is a great potluck salad as it can be made in advance, it can be easily transported and it goes well with just about anything.
MORE CABBAGE RECIPES?
VEGAN CABBAGE ROLLS WITH SAUERKRAUT - Cabbage rolls with sauerkraut, rice, and vegetables, these vegan stuffed cabbage rolls will melt in your mouth.
FRIED CABBAGE WITH BACON - Easy to make, healthy recipe for fried cabbage with bacon, the perfect cabbage side dish or a delightful light meal on its own.
IRISH CABBAGE AND POTATO DISH - Creamy and comforting recipe for the famous Irish colcannon.
MEATBALL SOUP WITH CABBAGE AND BEANS - A hearty meatball soup recipe with lots of vegetables, bacon, and beans – the perfect autumn or winter soup.
PIN IT FOR LATER!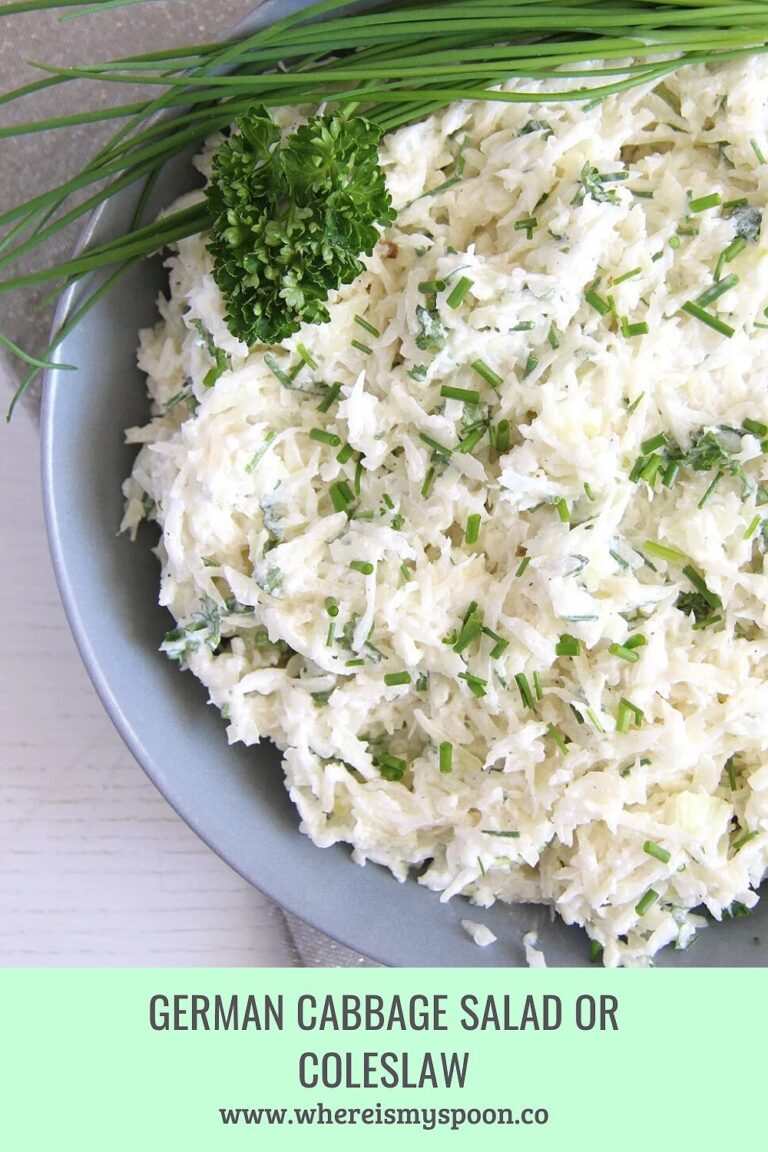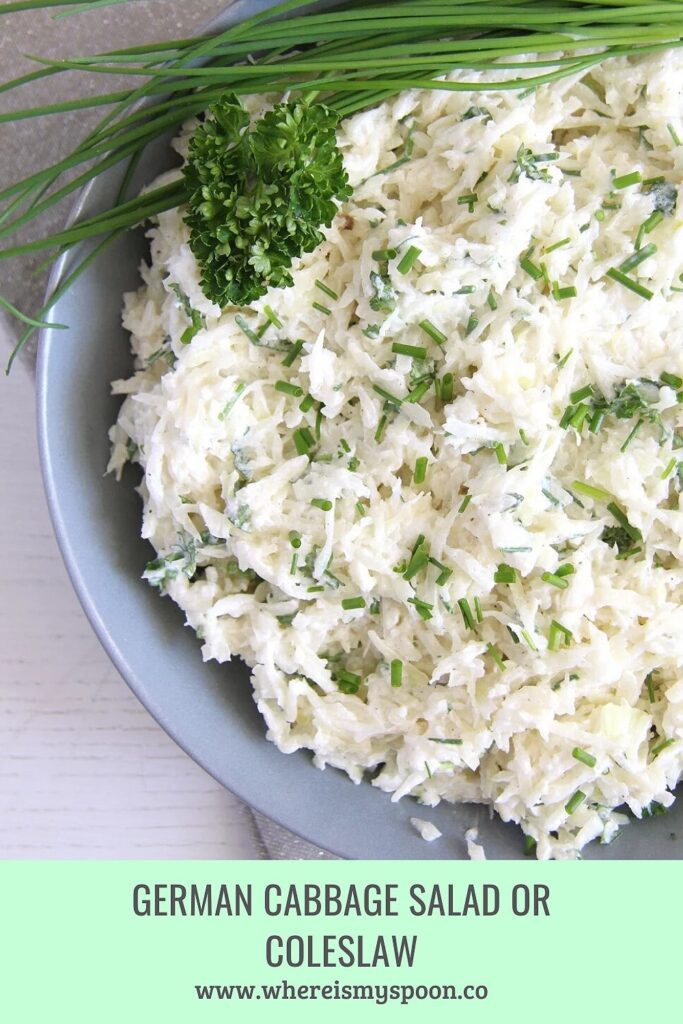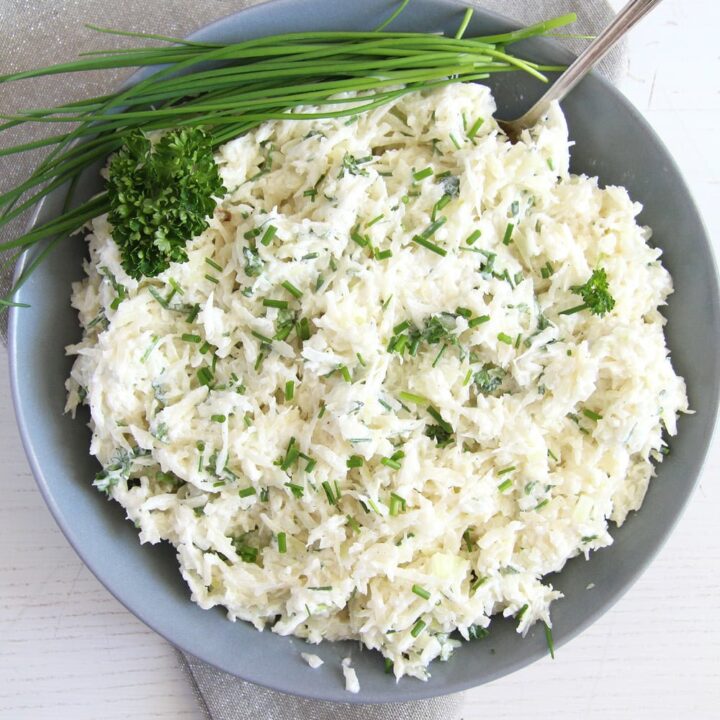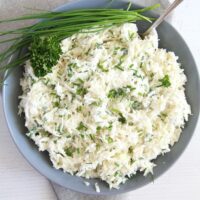 German Cabbage Salad
German coleslaw with crème Fraiche and lots of chives is a typical German cabbage salad recipe.
Print
Pin
Share
Grow
Saved!
Rate
Ingredients
1

small cabbage

about 750 g/ 1.7 lb

1

medium onion

1

cup

crème fraiche

250 g

2-3

tablespoons

white wine vinegar

to taste

1

teaspoon

sugar

1-2

splashes of milk

small bunch of parsley

small bunch of chives

fine sea salt and freshly ground black pepper
Instructions
Slice the cabbage very finely; you could use a mandolin. Place it in a large bowl, add some salt, starting with 2 teaspoons. Knead the cabbage thoroughly with your hands, taste, and add more salt if not salty enough. Don't overdo it, though, with the salt. Cover and let it stand in the fridge for at least 6 hours and up to 24.

Chop the onion very finely.

Dressing: Mix the crème Fraiche with the onions, add the vinegar and add everything to the cabbage. Mix well and adjust the seasoning with salt (if still necessary), pepper, sugar, and more vinegar if necessary; the salad should be on the sour side. Finally, add a splash or two of milk to loosen the dressing.

Chop the herbs very finely and add them to the salad.

Refrigerate: Stir well and keep refrigerated until ready to serve. It keeps for several days in the fridge.
Nutrition
Serving:
1
/8 of the dish
|
Calories:
147
kcal
|
Carbohydrates:
8
g
|
Protein:
2
g
|
Fat:
13
g
|
Saturated Fat:
8
g
|
Polyunsaturated Fat:
4
g
|
Cholesterol:
37
mg
|
Sodium:
204
mg
|
Fiber:
2
g
|
Sugar:
4
g