Last Updated on 24/03/2020 by Adina
A hearty meatball soup recipe with lots of vegetables, bacon and beans – the perfect autumn or winter soup.
I think I have mentioned it before, once or twice (or 50 times probably), that we are soup fanatics in this house. We all love soup, any kind of soup, soup is the kind of dish I cook most often. Chicken soups, creamy soups, meatball soups, vegetarian soups, fish soups, you name it, I have probably already cooked a version of it.
Not all of them make it on the blog, there are just too many and I already have tons of soup recipes on Where Is My Spoon, but those I love best and cook repeatedly tend to make it here at one point or another.
Meatball soup with vegetables and black beans
That is also the case with this wonderful meatball soup recipe. Actually I did not plan to post it at all, not even take pictures, I just thought this to be just another meatball soup that I put together by adding whatever ingredients I happened to have. I already had so many soups on the blog, including meatball soups.
But after having lunch and still having lots of leftovers (the easy black bean soup was meant to feed us for two days), I couldn't help myself but taking pictures. The meatball soup recipe was just too good to keep it for myself.
Ingredients for the meatball soup recipe
The ingredient list might seem rather long, but don't let that put you off from cooking this meatball soup recipe. All the ingredients are easy to get, very cheap and you probably already have lots of them in the fridge and the pantry.
I have actually made this soup because I happened to have leftover cabbage, not enough to make a cabbage stew or a cabbage salad, but enough to make a soup.
All I had to buy fresh was the ground beef to make the meatballs, but many times I already have frozen ground beef in the freezer as well.
Other vegetables you will need to cook this meatball soup recipe are the typical "soup vegetables": onion, carrot, celery, leek and red bell pepper. Otherwise you will need a can of tomatoes and a can of black beans, which you probably already have in the house.
If you don't happen to have black beans, feel free to use white beans or any other sort of canned beans you have, the meatball soup recipe will be equally delicious no matter what kind of beans you use.
I have made the easy black bean soup recipe with lean ground beef. Ground turkey will also be good instead. You can even use pork or rather a mixture of ground pork and beef, however keep in mind that the soup will be fattier that way.
I do like pork meatballs in a soup like this typical Romanian meatball soup that my grandmother used to make so often, but I would rather use lean beef or turkey nowadays. I actually make pure pork meatballs in a soup only when cooking that particular Romanian soup.
I use homemade chicken or beef stock to make this meatball soup or any other non-vegetarian soup (most of the time chicken actually), but use your favorite brand if you don't wish to make your own stock.
When it comes to stock I always make a huge pot (almost every week, I would say), use about half to make a soup immediately and keep the rest in the fridge (if I plan to use it during the next few days) or freezer for later use.
I almost always use vinegar to sour this kind of hearty soup, almost any soup containing meat and/or beans. It is the typical way of cooking a Romanian soup, they are almost always soured with vinegar, lemon juice or borscht, which are fermented grains.
I don't use borscht because, although very typical in Romania, it was something my grandmother never used and because borscht is not something I could easily find in Germany. But I do use vinegar all the time, pickled tarragon (mostly for bean soups) or lemon juice (mostly for vegetable or fish soups).
How to make the easy black bean soup with meatballs
I start by chopping the bacon and all the vegetables. I keep them in separate bowl: bacon and onion together. In another bowl the carrot, celery, leek and pepper and in another bowl the cabbage.
Make the meatballs as well, as you will need a little time to form the balls. Set aside.
First saute the onion and bacon. Add the vegetables in the second bowl and saute for about 5 minutes more. Stir in the sweet paprika for about 1 minute.
Now add the tomatoes, the rest of the spices and stock to the pot. Bring to a boil and simmer for about 10 minutes.
Give the cabbage to the soup as well, cook for about 5 minutes or until the vegetables are almost done, add the meatballs and the drained beans and simmer for about 15 minutes more until the vegetables are soft and the meatballs cooked through.
Adjust the taste with the red wine vinegar, more salt and pepper and serve.
The easy black bean soup recipe with meatballs can be served immediately, but it reheats very well. Serve it either as it is or with a slice of crusty bread.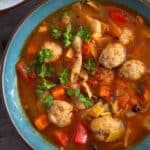 Ingredients
Soup:
1 tablespoon olive oil
100 g/ 3.5 oz bacon
1 medium onion
1 large carrot
2-3 celery stalks, depending on size (or about 50 g/ 1.7 oz celeriac)
1 small leek
1 small red bell pepper
½ tablespoon sweet paprika powder
1.5 liter/ 50.7 fl.oz/ 6 ½ cups chicken stock (or beef stock)
1 can diced tomatoes (400 g/ 14 oz)
1 teaspoon sugar
1 tablespoon dried thyme
250 g/ 8.8 oz white cabbage (green or pointed cabbage can be used instead)
1 can black beans (400 g/ 14 oz) (or another sort of canned beans)
1-2 teaspoons red wine vinegar
salt and pepper
Meatballs:
500 g/ 1.1 lbs lean ground beef
1 small onion
1 large garlic clove
1 egg
4 tablespoons dried breadcrumbs
2 tablespoons fresh chopped parsley (or frozen parsley)
1 teaspoon salt
generously freshly ground black pepper
Instructions
Cut the bacon into small cubes. Chop the onion finely. Set both aside in one small bowl.
Chop the carrot, celery stalks or celeriac, leek and pepper into small cubes. Set aside in another bowl.
Slice the cabbage very finely or chop it into small pieces. Set aside in another bowl.
To make the meatballs, chop the onion very finely. Give the ground beef to a bowl, add the onion, grated garlic clove, egg, breadcrumbs, parsley, salt and pepper. Mix very well with your hands. Form the balls, about 30-35 walnut sized meatballs. Set aside.
Heat the olive oil in a large heavy bottomed soup pot. Add the bacon and the onion and saute for about 3 minutes. Add the carrot, celery, leek and pepper, stir well and saute, stirring often, for about 5 more minutes.
Add sweet paprika to the vegetables, stir well for one minute. Add the stock, tomatoes, sugar, thyme, one teaspoon salt and ½ teaspoon freshly ground black pepper. Stir well and bring to a boil. Turn the heat down to medium low and simmer, covered, for about 10 minutes.
Add the finely sliced cabbage and bring to a boil again. Simmer for 5 minutes, add the meatballs and the drained black beans and simmer for another 15 minutes or until the vegetables are tender and the meatballs cooked through.
Add 1 teaspoon red wine vinegar and more salt and pepper to taste. Add the remaining red wine vinegar according to your taste.
Serve immediately or reheated.
[nutrition-label id=10865]