How to make chicken stock and  semolina dumpling soup – Romanian supa de galusti.
Post three in the Broths and Stocks Series is the chicken stock, probably the most popular stock there is. It is definitely my favorite stock, nothing can ever be so good and comforting as a good chicken soup made with homemade chicken stock. And the best things you can eat with your chicken stock are the Romanian semolina dumplings.
Everyone, who ever had anything to do with Romania, must know the famous Supa de galusti. I can imagine it to be the most commonly cooked dish everywhere in Romania, every child grew up eating this on a regular basis. A really simple and good chicken stock, a few carrots and the semolina dumplings, it doesn't get any better when it comes to soup.
Few and cheap ingredients and lots and lots of flavor and goodness. One of those chicken soups for the soul, I would say, definitely for any Romanian soul on this planet.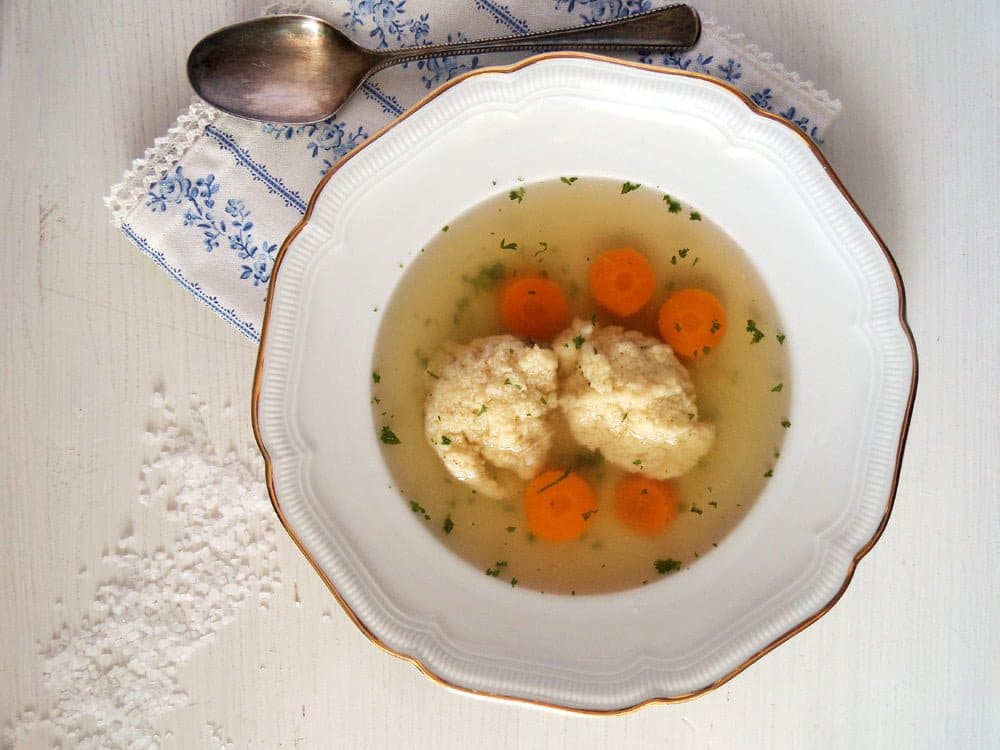 How to make chicken stock from scratch
The way I make this chicken stock is very similar to the way I made the beef broth before. This time I use chicken and the cooking time is longer. You can, of course, make this stock using beef just the way you can make the broth from a few days ago using chicken. But there is quite a difference between the broth and the stock when it comes to taste.
The broth is a very light liquid, which needs a bit of prepping when making the soup, while the stock is pretty much done after adding some salt and pepper. I make broth mostly to serve it as a light soup before a main course, for guests most of the time.
The stock – I use for making really nourishing soups, which can definitely be eaten as a main dish. The depth of the stock's taste cannot be achieved by the shortly cooked broth and that is why I much rather prefer to make stocks instead of broths. The preparation time and work is exactly the same, the cooking time is much longer, but you don't have to stay beside the pot and stir all the time. Just turn the heat down and stop thinking about it for the next six hours or longer.
And I cannot even begin to tell you how good this homemade chicken stock tastes. Nothing you could ever buy in a glass could compare to it, and trust me, I've tried almost all there is. I gave up trying to find something after I've made my own stock for the first time. Finally the semolina dumpling soup tasted the way my grandmother's used to do. To tell you the truth I'd rather not eat chicken soup for months if I don't have the time to make the stock, than make chicken soup with bought stock.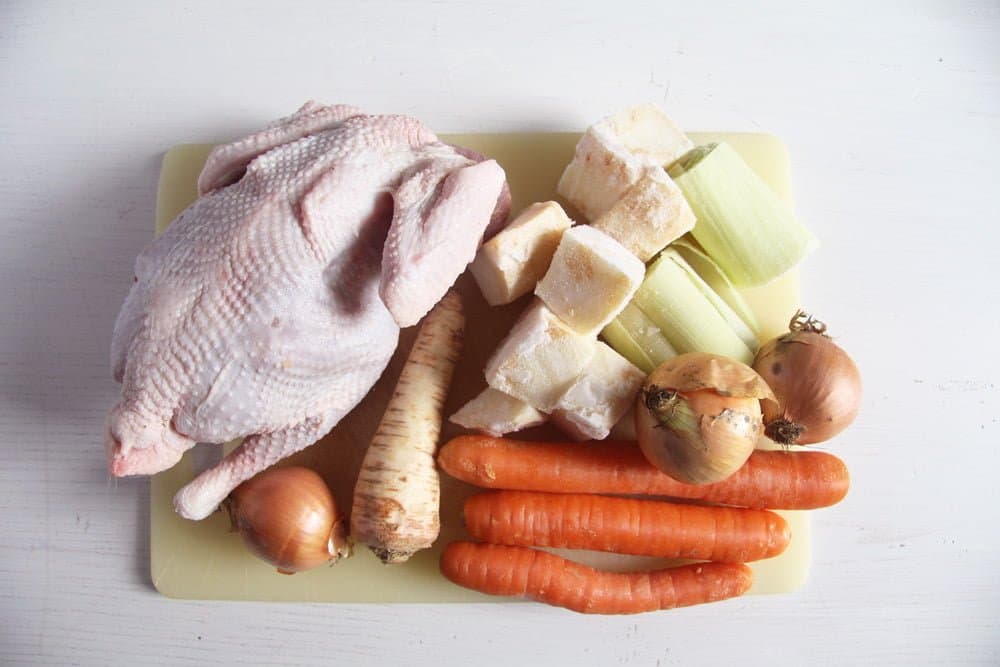 (Not the prettiest chicken, I know)
You can make this stock using a whole chicken or several chicken legs or the carcasses of roast chicken or roast chicken legs. You can also buy a bag of chicken giblets and add it to the pot.
I only spend the money on a whole chicken, if I plan on making something special with the meat after cooking the soup something like chicken fricassee or Romanian boeuf salad (beef salad which I only make with chicken). Otherwise I use the carcasses that I normally freeze after having roast chicken or roast chicken legs and add a bag of chicken giblets or 2-3 whole chicken legs.
The vegetables and spices I use are pretty much the same I use when making beef broth or stock, without the green bell peppers, I find they don't fit so much when making chicken stock.
How to make semolina dumplings for chicken soup (Galusti)
And a few more words about the semolina dumplings. They are the best dumplings in the world if you ask me, but they can be a bit tricky to make for a beginner. The problem is recognizing when the egg semolina mixture has the right consistency. If you have too little semolina then the dumplings will disintegrate a bit around the edges and the soup will not be very clear anymore.
If you add too much semolina, your dumplings will be stony. After making them a few times, you will learn when the batter has reached the right consistency. And in doubt, trust me, it is better to have a cloudy soup and soft dumplings than to have a clear soup with stones in it. 🙂
I have been making the dumplings without measuring the ingredients for years. After the initial few times of eating stones, everything worked perfectly. Now I have been experimenting with the quantities in order to be able to give you a more exact recipe.
Use a scale and weigh you eggs before breaking them, then add the semolina 2 tablespoons at a time and only add the last tablespoon if absolutely necessary. Try making a dumpling first and only add more semolina if it disintegrates too much in the soup.
Semolina dumplings made with one egg will give you about 12 dumplings, enough for about 1 ½ liter/ 6 ¼ cups soup. I always make the double amount, we do love our dumplings. And just one sentence more: this is both my kids' favorite meal.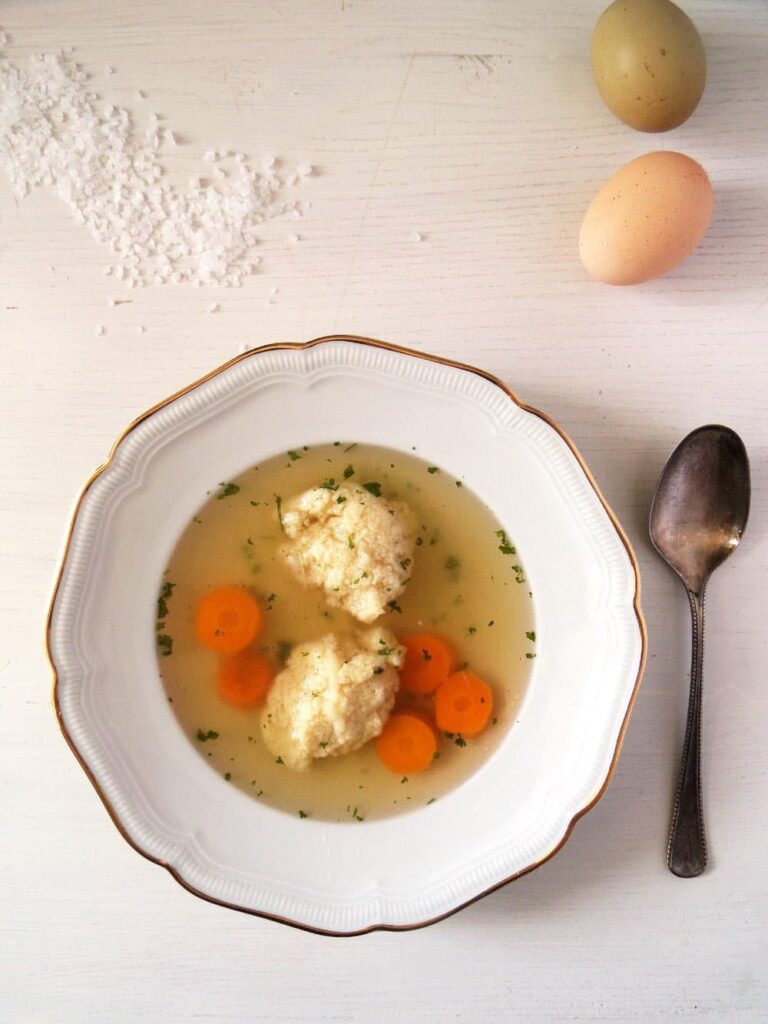 You might also like: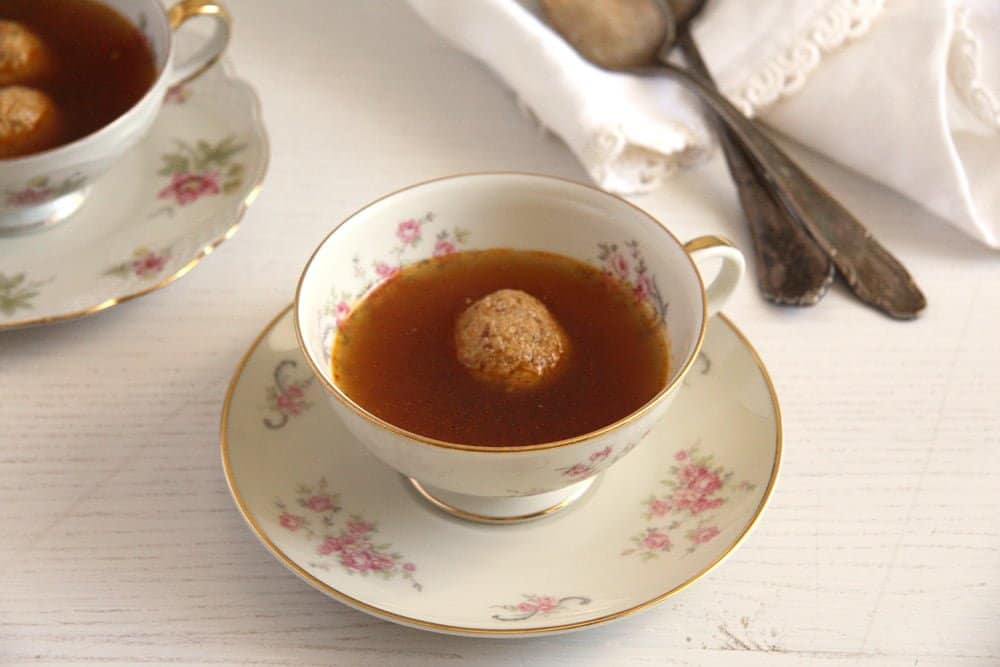 Roasted Vegetable Broth and Hazelnut Dumplings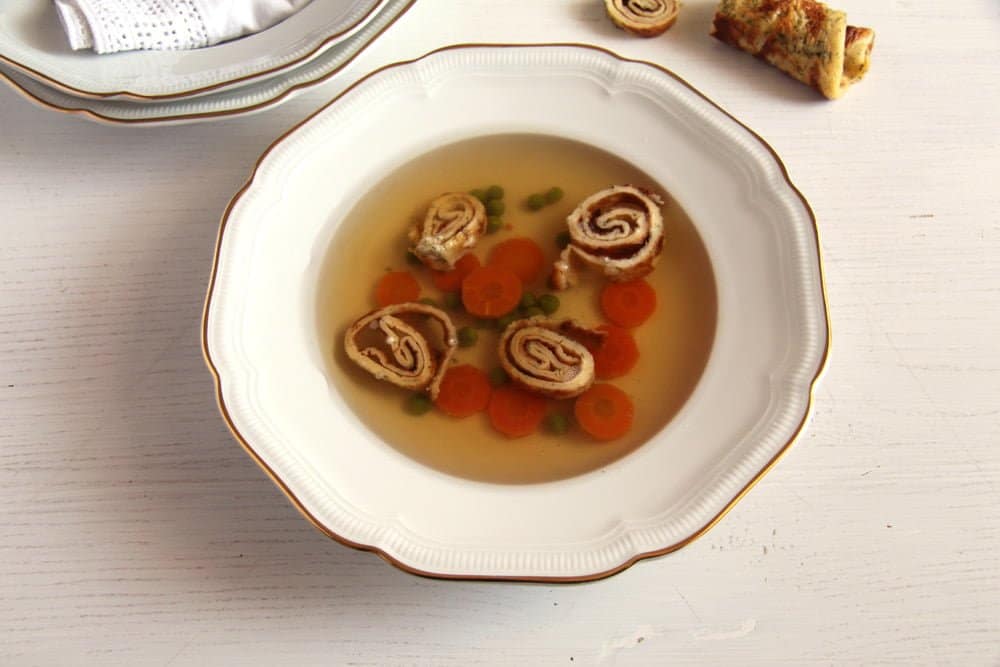 Beef Broth and Dill Pancakes