Tender ricotta dumplings or gnudi in a velvety tomato sauce with lots of olive oil and garlic – Italian food at its best.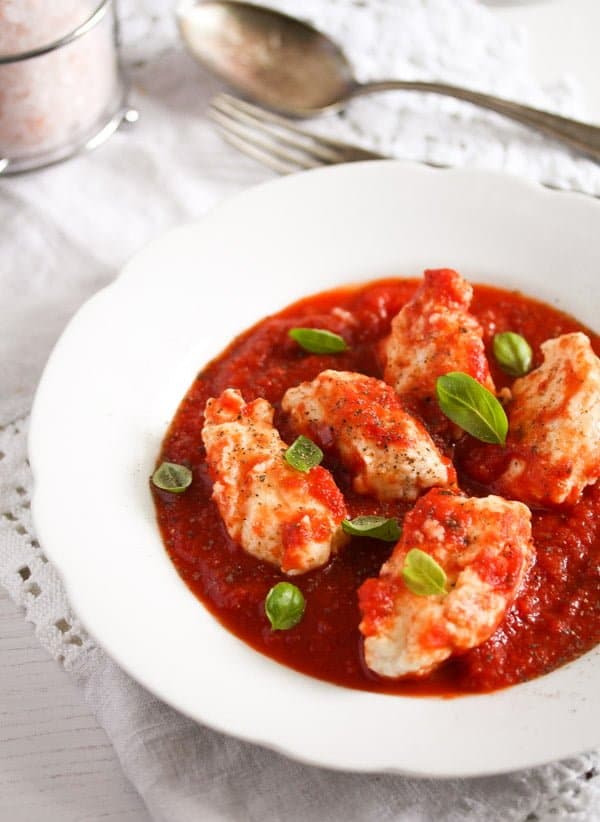 This ricotta dumplings in tomato sauce are another amazing Italian recipe from Rosa's beautiful blog For the Love of Italian Cooking. This recipe is the fourth recipe I've cooked following Rosa's recipes. The first one I have ever made was her glorious Tiramisu, I've made that dessert lots of times while Rosa was still alive…
The other two I have cooked, after Rosa passed away in March, were Rosa's Ultimate Homemade Meat Sauce for Pasta or Macerated Strawberries with Sugar and Whipped Cream. If you had a chance to read these last two blog posts, you might know that Rosa, who was a mother of three small children was killed in an act of domestic violence by her own husband. So sad! And even sadder is that this kind of things happen every day somewhere in the world.
According to the World Health Organisation, "almost one third (30%) of women who have been in a relationship report that they have experienced some form of physical and/or sexual violence by their intimate partner in their lifetime". And "globally, as many as 38% of murders of women are committed by a male intimate partner".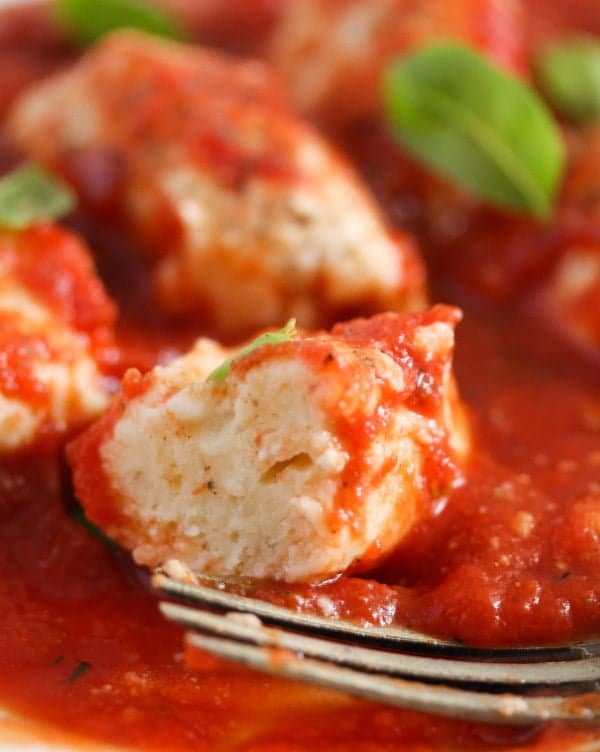 What are gnudi?
Simply put, gnudi are gnocchi made with ricotta instead of potatoes.
Rosa said that this recipe for gnudi reminded her of her mother's and grandmother's ricotta dumplings in tomato sauce, a typical recipe from Calabria.
However, the gnudi are a typical peasant recipe from Tuscany and according to Rosa "the story goes that many moons ago, someone didn't feel like making the pasta dough for ravioli, so they simply rolled the filling between two spoons and called them naked ravioli."
Usually, the ricotta gnudi are also made with spinach and are rolled into small balls similar to gnocchi. This particular recipe requires to form the gnudi with the help of two tablespoons.
The tomato sauce served with the gnudi is a genuine recipe from Rosa's nonna, using lots of garlic and olive oil. I don't usually take that much oil when cooking, but I've made an exception in this case because I wanted the sauce to taste exactly like Rosa's. And what can I say? It was amazing!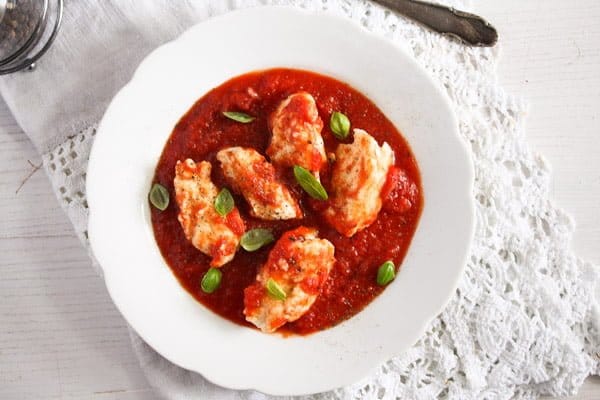 How to make ricotta dumplings?
There was a time when I used to think that making dumplings was difficult… so I avoided making any kind of dumplings for a long time, the only ones I was making were the semolina dumplings from our favorite Romanian chicken soup.
But after once making dumplings following a good recipe, I stopped thinking that making dumplings was difficult or too much trouble. Actually, they are not difficult at all and not much trouble either, most dumplings I make are stirred in a few minutes and cooked in just a few minutes more.
Flour amount:
The only challenge when making dumplings is finding exactly the right amount of flour that comes into the dough.
Too much flour will cause your dumplings to be too sturdy and too little flour will cause them to disintegrate in the cooking water.
Usually, knowing exactly how much you need comes with a little experience, if you have made the dumplings a couple of times, you will be able to see how much more flour you need.
The quantity greatly depends on the size of the eggs, on the amount of moisture in the ricotta, and even on the type of flour you use.
I drained the ricotta for two hours prior to making the gnudi. I think this was the reason I needed slightly less flour than Rosa needed for her gnudi.
I measured the flour exactly like indicated and added the last tablespoons little by little, in the end, I was left with two tablespoons unused flour.
However, if you do not drain the ricotta at all, which is fine as well, you will probably need the entire quantity of extra flour indicated.
How should the dough look like?
The mixture should be a bit dense and should hold its shape when trying to form a dumpling. If it doesn't hold its shape, add a little bit more flour, just a little at a time, stirring and trying again.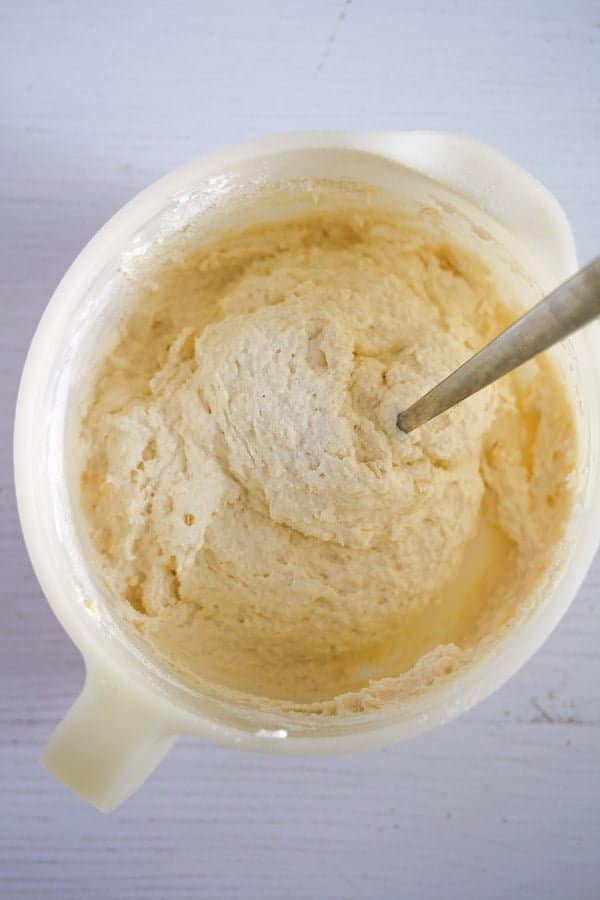 How to form gnudi?
Take about ¾ tablespoon dough and remove it from the first spoon with the help of the second spoon.
Repeat 2 or 3 times more until you have a nicely formed gnudi.
Place the ricotta dumplings on a generously floured surface or into a floured baking dish. They should not touch each other.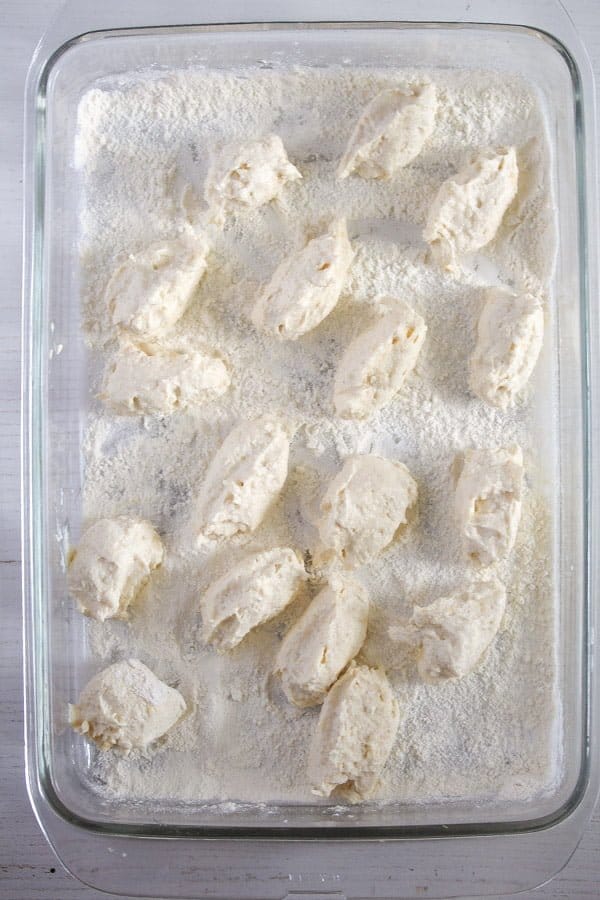 Tips for cooking dumplings
An important thing when cooking gnudi (or gnocchi) is to have the water only simmering. If the water boils, the dumplings will probably fall apart.
Bring a large pot of water to a boil, add salt, turn down the heat and let the water get to a simmer before adding the gnudi to the water. If the water boils too hard, add a little cold water to calm it down a little.
Cook the gnudi in two or more batches depending on the size of your pot. Mine is pretty large, so two batches were enough.
How long to cook gnudi?
The gnudi will rise to the top of the pot quite soon, but that doesn't mean they are done yet.
Don't take them out too soon or they will be too doughy.
It took my gnudi about five minutes to be ready, but check after 4 minutes or so, the cooking time depends on their size as well.
When ready, they should be cooked through yet very tender.
Cut one in the middle, the inside should be fluffy and not doughy.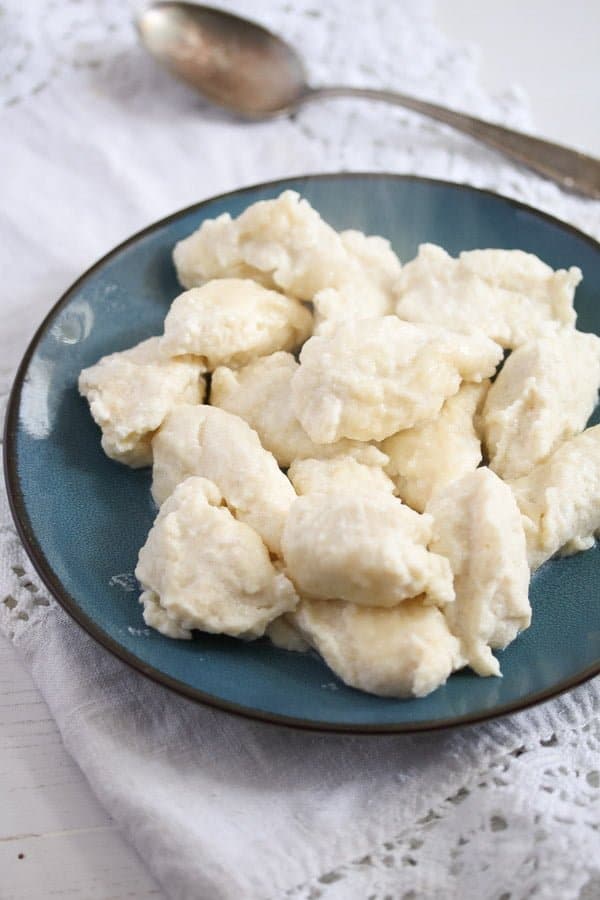 Can you make them in advance?
Ricotta dumplings can be made in advance and reheated either in hot water or directly in the tomato sauce.
You can freeze cooked gnudi as well.
Add them still frozen to the hot water and let simmer until heated through.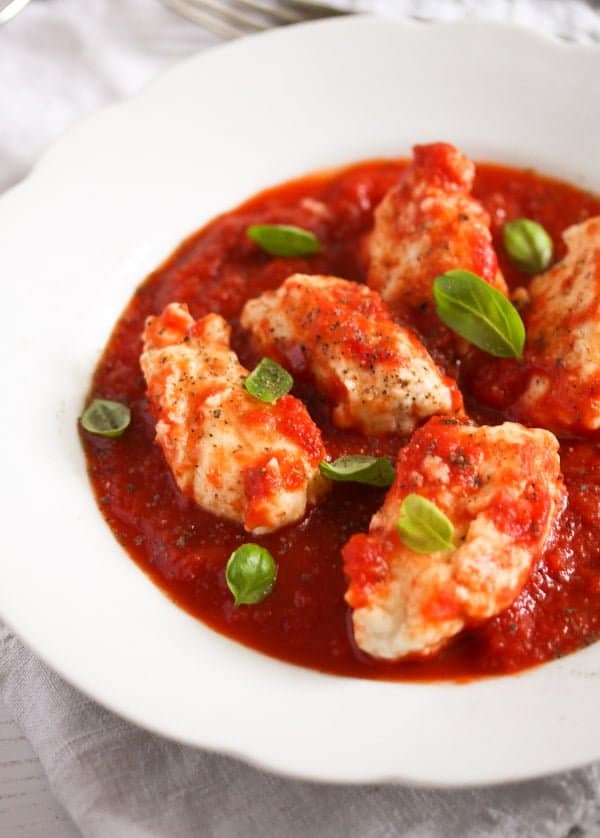 Other dumpling recipes: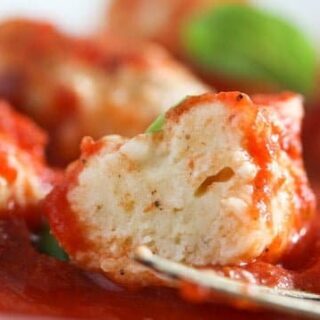 Gnudi – Ricotta Dumplings in Tomato Sauce
Tender gnudi or ricotta dumplings in tomato sauce with lots of olive oil and garlic – Italian food at its best.
Ingredients
Tomato sauce:
125 ml/ 4.2 fl.oz/ ½ cup extra virgin olive oil
2 large garlic cloves
800 g/ 28 oz tomato puree (pomodoro passato) or 2 cans of tomatoes (400 g / 14 oz each)
½ to 1 teaspoon sugar
salt to taste
Gnudi, about 30:
500 g/ 17.6 oz/ 2 cups ricotta
1 large egg
1 large egg yolk
65 g/ 2.3 oz/ 5/8 cup Parmesan, freshly grated
70 g/ 2.4 oz/ ½ cup + 1 tablespoon all-purpose flour + approximately the same amount extra flour
about ½ teaspoon salt or to taste
½ teaspoon black pepper, freshly ground
Instructions
If you have the time, drain the ricotta for several hours. I drained mine for 2 hours.
Tomato sauce:
Heat the oil in a medium saucepan. Finely chop the garlic and cook it in the oil until it starts to change its color and becomes fragrant.
If using canned tomatoes, puree them first. If using already pureed tomatoes, carefully pour them into the saucepan. Add about ½ teaspoon sugar, bring to a boil, reduce the heat, cover, and simmer the sauce for about 10-15 minutes. Add more sugar, if necessary, and salt to taste.


Gnudi:
Bring a large pot of water to a boil and prepare the gnudi during the time the water needs to come to a boil.
Place the ricotta, the lightly beaten egg and egg yolk, Parmesan, 70 g/ ½ cup + 1 tablespoon all-purpose flour, salt, and pepper in a bowl. Stir very well until some kind of ball is formed. Gradually add some of the extra flour, one tablespoon at a time.
I measured the extra 70 g/ ½ cup + 1 tablespoon all-purpose flour in a separate bowl and I was left with 2 tablespoons extra flour. If you didn't drain the ricotta at all, you might need all the extra flour. If you drained the ricotta for longer than two hours, you might need even less than I did. The dough should feel a little resistant and should hold its shape when you try to form a gnudi.
Dust a large baking tin generously with flour. Form the gnudi with the help of two tablespoons. Scoop about ¾ tablespoon dough and remove it from the first spoon with the help of the second spoon. Repeat 2 or 3 times more until you have a nicely formed gnudi. Place the formed gnudi into the floured baking dish.


Cook:
When the water boils, add some salt and turn the heat down to allow the water to come to a simmer. Do not let the water boil at any time while the gnudi are in the water.
Cook the gnudi in two batches. The gnudi will rise to the top rather quickly, but they need about 5-6 minutes of cooking time. They are ready when they are cooked through, don't look doughy anymore and the inside is soft and fluffy. Remove the gnudi from the water with a slotted spoon and let them drain well in a sieve. Cook the second batch.
Serve the gnudi with the sauce and more Parmesan.
The gnudi can be made in advance and reheated in simmering water or in the sauce. They can also be frozen and added (still frozen) directly to the hot water. Leave in the hot water until fully reheated.
Nutrition Information:
Yield:

4
Serving Size:

1/4 of the dish
Amount Per Serving:
Calories:

734
Total Fat:

47g
Saturated Fat:

14g
Trans Fat:

0g
Unsaturated Fat:

31g
Cholesterol:

192mg
Sodium:

1040mg
Carbohydrates:

51g
Fiber:

5g
Sugar:

11g
Protein:

29g
Nutrition information isn't always accurate.