Incredible Italian meat sauce for pasta with ground meat and tomatoes. Rosa's classic recipe for one of the most popular Italian recipes ever!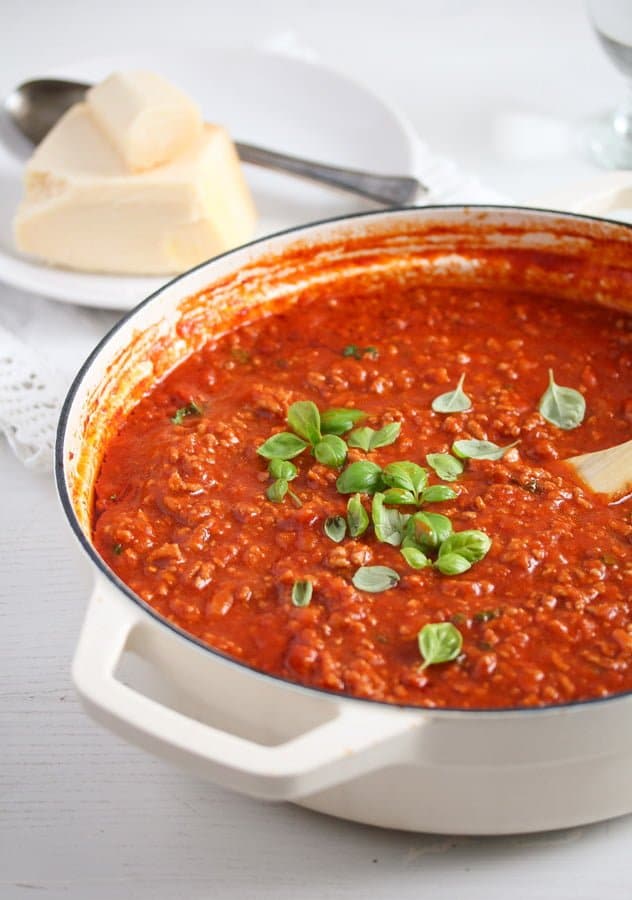 This is a repost from March 2018. A post dedicated to Rosa, who used to write the blog For the Love of Italian Cooking, who passed away in 2018, leaving three small children behind and a lot of people who will miss her dearly.
Rosa's Ultimate Homemade Meat Sauce for Pasta
This recipe was posted by Rosa in September 2016 under the name of Ultimate Southern-Style Italian Meat Sauce. I followed the recipe for her calabrese sauce to the letter, I did not change a single thing, I wanted it to taste exactly as if Rosa has cooked it for us. And it was perfect, by far the best meat pasta sauce recipe I have ever made.
And if you'd like to taste some more of Rosa's recipes, try these Macerated Strawberries or the Gnuddi or Ricotta Dumplings.
Rosa had the recipe from her nonna Rosa, who lived in Calabria, Italy. This is what Rosa said about this sauce: "What makes this sauce Southern style is that in Calabria, meat is always simmered in an abundance of pureed tomato. This is how I remember my mom and nonna Rosa preparing their sauces. A typical Northern sauce starts with a soffrito (a mixture of finely chopped/grated onion, carrot, and celery), but in this recipe, finely diced onion is gently sauteed in olive oil. In my parents' village, it was custom not to mix onions and garlic together in a tomato sauce (for some unknown reason), but I broke that tradition by adding both in mine."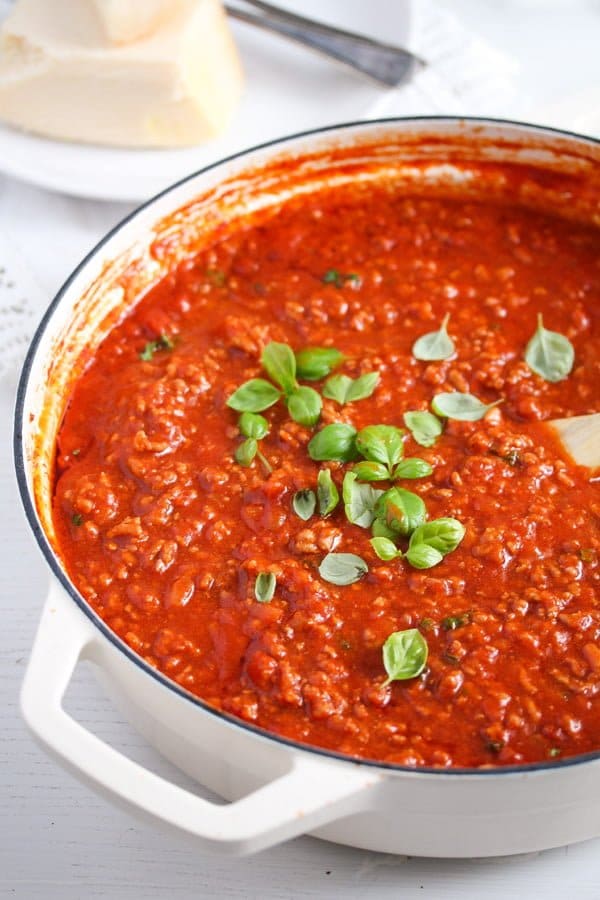 Ingredients
Meat:
A mixture of ground beef and ground pork.
If desired, use only ground beef.
Tomatoes:
Passata di Pomodoro, which is Italian rustic strained tomato sauce. (Amazon affiliate link).
Rosa recommends Cirio, but I have great experience with other brands as well.
The linked product is supposed to show you what exactly I mean with passata, I really can't believe the listed priced, I am sure you will find much better deals in a regular supermarket.
A bottle of passata only costs 1-2 Euro in Germany.
Milk:
This is the secret ingredient.
According to Rosa, milk helps break down and tenderizes the meat as it cooks.
And the most important thing for me it helps neutralise the acidity of the tomato sauce.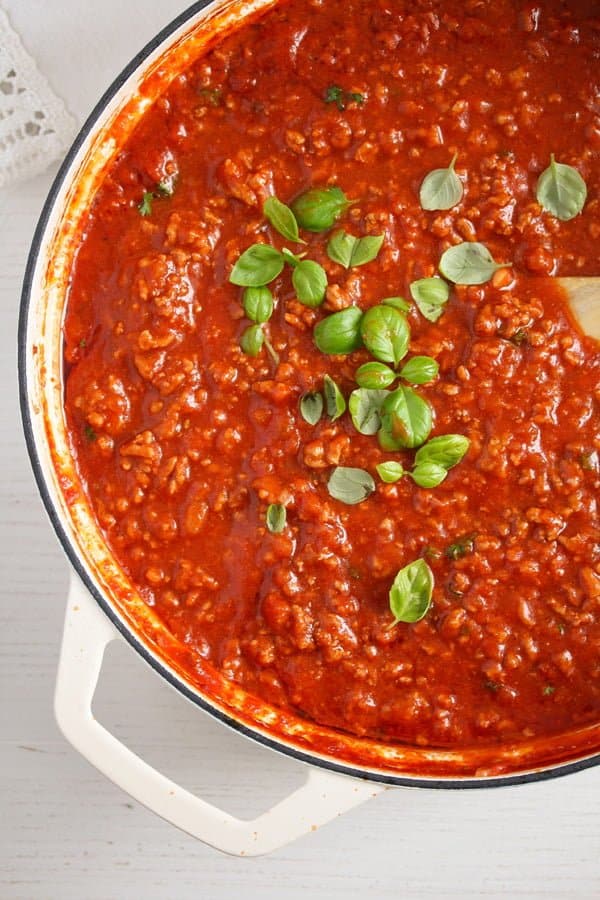 Tips
Don't leave out the milk, it really makes a difference, I love the fact that the sauce is not that acidic anymore and I don't need the pinch of sugar I often add to tomato sauces.
Don't waste any of the good tomato sauce that will still cling to the bottle once you
've emptied it. Add a small splash of water, shake the bottle well and pour the rests into the sauce.
Flavoring the sauce at the end with fresh basil leaves, freshly grated garlic, and a little olive oil is a genius idea! It really adds lots of extra flavor! As Rosa says: "They will take your sauce from good to ultimate".
The Italian meat sauce needs about 30 minutes of cooking time, however, you can cook it a bit longer, especially if you want to have a thicker sauce.
Make in advance
This is a great recipe to make in advance or to make in larger batches.
I often cook this to serve to parties with lots of guests. I make the sauce the day before and only have to reheat it and cook spaghetti before dinner. Everybody just loves it, I can't even remember how often I had to scribble down the recipe.
It is actually even better if you cook it one day in advance and reheat it before serving. This way the flavors will have time to mingle.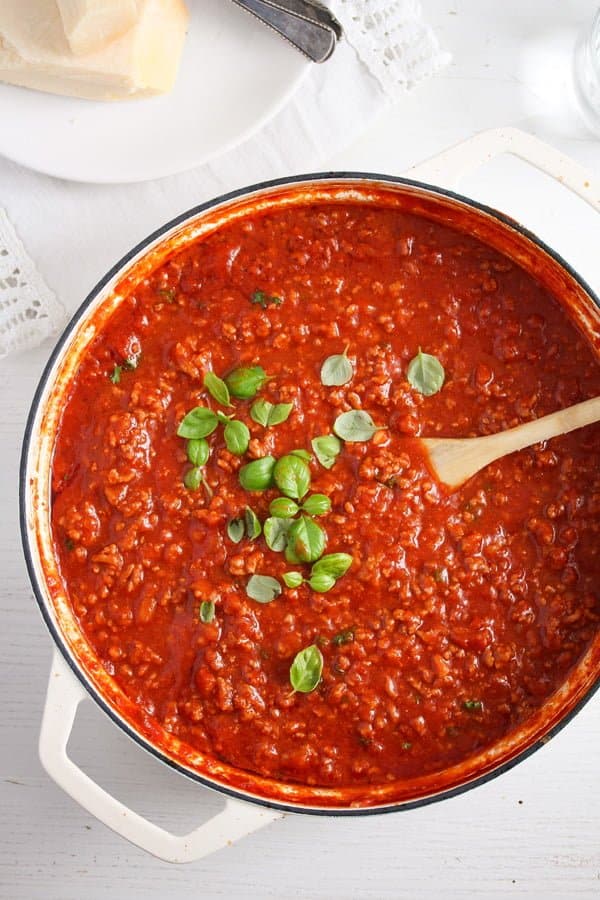 About Rosa
As mentioned above, Rosa passed away in 2018. She was killed in an act of domestic violence by her own husband.
I did not know her long, but I knew so much about her family, about her work, about the troubles in her life, about the difficulties she had with her husband. We talked about it and I did my best to support her with words, but I have never realized that things were quite as bad.
I suppose one never does until it is too late. I am left with the feeling that maybe I could have done something more to help, even if I have no idea what I could have done, we were both in Germany, but so far away that an actual meeting had to be carefully planned.
Domestic violence, which occurs mostly as violence against women or children is still an issue even in the 21st century, even in countries like Germany, the UK, or the USA, countries which put a lot of emphasis on gender equality, on human rights, children and women rights.
According to the World Health Organization, "almost one third (30%) of women who have been in a relationship report that they have experienced some form of physical and/or sexual violence by their intimate partner in their lifetime". And "globally, as many as 38% of murders of women are committed by a male intimate partner".
Terrible facts and the most terrible thing is that although things are happening, things are not happening fast enough, each day there are more women, girls, boys suffering in an abusive family environment, everywhere in this world.
More Italian recipes: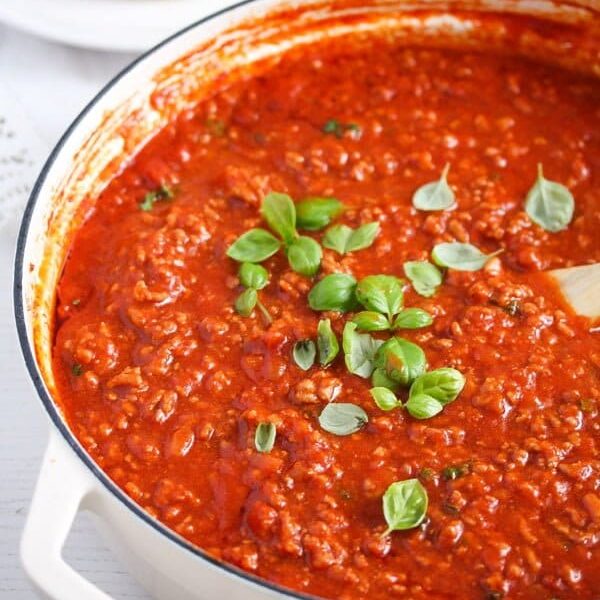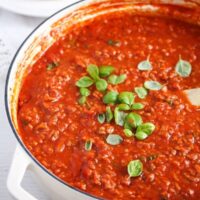 Italian Meat Sauce
Incredible Italian meat sauce for pasta with ground meat and tomatoes. Rosa's classic recipe for one of the most popular Italian recipes ever!
Print
Pin
Share
Grow
Saved!
Rate
Ingredients
Sauce:

2

tablespoons

olive oil

1

onion

500

g/ 1.1 lbs ground meat

half beef, half pork

125

ml/ 4.3 fl.oz/ ½ cup milk

1

jar tomato puree

pasatta di pomodoro 700-800 g/ 24 oz (Note)

2

whole basil leaves

2

garlic cloves

1

tablespoon

tomato paste

fine sea salt and pepper

Flavoring:

1-2

tablespoons

olive oil

2

basil leaves

1

garlic clove

pasta and Parmesan for serving
Instructions
Heat the oil in a large skillet. Fry the finely chopped onion until translucent, about 5 minutes.

Add the ground meat and break the lumps with a wooden spoon. Turn the heat high, add the milk and stir until most of the liquid has evaporated.

Add the tomato puree. Pour about 125 ml/ ½ cup water into the bottle of passata, shake to clean the tomato sauce from the walls of the jar, and pour the water into the pot. Add the whole basil leaves, grated garlic, tomato paste, and some salt and pepper.

Bring the sauce to a boil, turn the heat down to medium-low, cover with a lid leaving it a bit ajar and simmer for 20 minutes, stirring occasionally. Remove the lid and continue simmering for about 10 minutes, until the sauce thickens slightly.

Add the remaining olive oil, minced garlic and torn basil leaves to the dish while the sauce is still hot and stir well. Cover and let stand for a few minutes to allow the flavors to mingle.

If making the sauce in advance, only add the flavorings after reheating, just before serving.

Serve with pasta or gnocchi and sprinkle with Parmesan before serving.

Notes
It can be replaced with the same amount of tomatoes from a can (without any flavorings or additions) blended with an immersion blender or in a food processor.
Nutrition
Serving:
1
/4 of the dish
|
Calories:
585
kcal
|
Carbohydrates:
24
g
|
Protein:
38
g
|
Fat:
38
g
|
Saturated Fat:
11
g
|
Polyunsaturated Fat:
24
g
|
Cholesterol:
117
mg
|
Sodium:
474
mg
|
Fiber:
4
g
|
Sugar:
11
g