Welcome to my Romanian Easter Recipes Series! Easter is less than two weeks away and I thought it a good idea to present you with a few Romanian Easter recipes. I will start with a beloved appetizer – the Romanian boeuf salad, continue with soup, than the entrée and side dish, followed by the traditional sweet bread and cheese cake. To finish, a recipe containing cooked eggs, so an idea of using up the leftover Easter eggs.
Easter is big in Romania, and I mean really BIG! I could almost dare saying that Easter is quite a bigger deal than Christmas there. Or at least that's the way I feel about it, especially since living in Germany, where Easter celebrations go quite unnoticed compared to Christmas.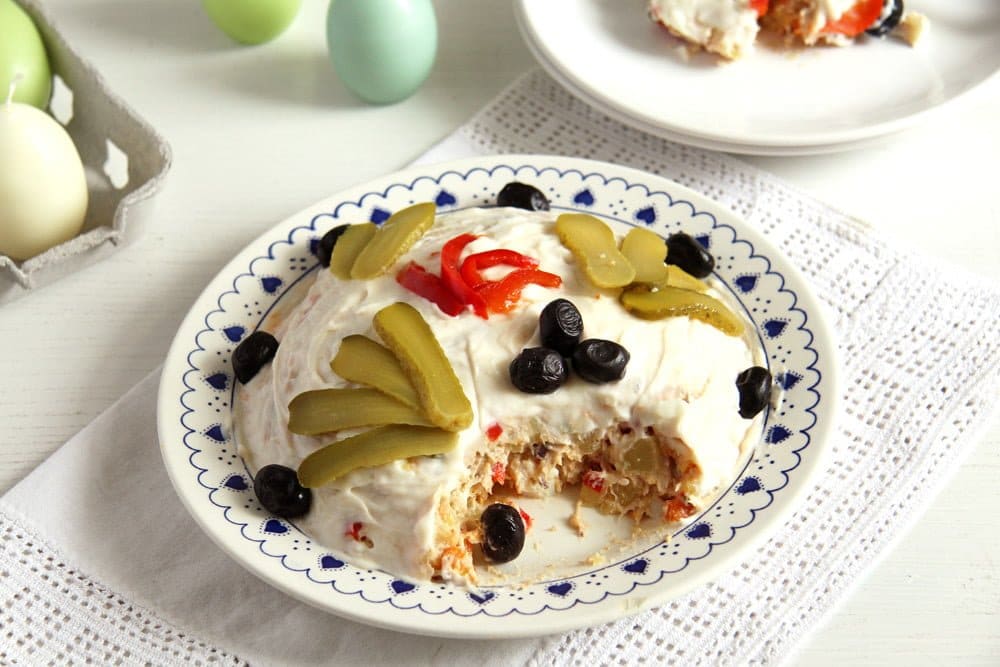 I am not a religious person, my upbringing was not very much influenced by religion, my family never went to church except for attending a Christening, a wedding or a funeral but still they did place a lot of meaning on the proper celebration of Easter. Christmas was always a nicer celebration for us kids, but I really cannot remember any special thing we did for Christmas except for getting some presents from Santa Claus when we were very little (that stopped way too soon!) and eating the same festive food every year. But Easter – that was a big deal!
It would all start six weeks before Easter with the fasting time. My grandmother didn't fast for 6 weeks through, but she did it every Wednesday and Friday during this time. I did not consciously fasted as a child (I did it a few times as a teenager), but as my grandmother used to fast on these two days of the week, I did it as well as I only ate what she put in front of me. The tradition says that during these 6 weeks we were not supposed to eat any meat or animal products at all (so vegan food it was) and also no alcohol. There might be some other requirements there, but I was never an expert, I'm telling you what my grandma used to tell me. I think in the Orthodox church Wednesday and Friday are fasting days throughout the entire year, my grandmother didn't keep that, but she tried to keep it during the Easter lenting time. At the end of these 6 weeks there is the Big Friday, the Friday before Easter, when you weren't supposed to eat anything all day long.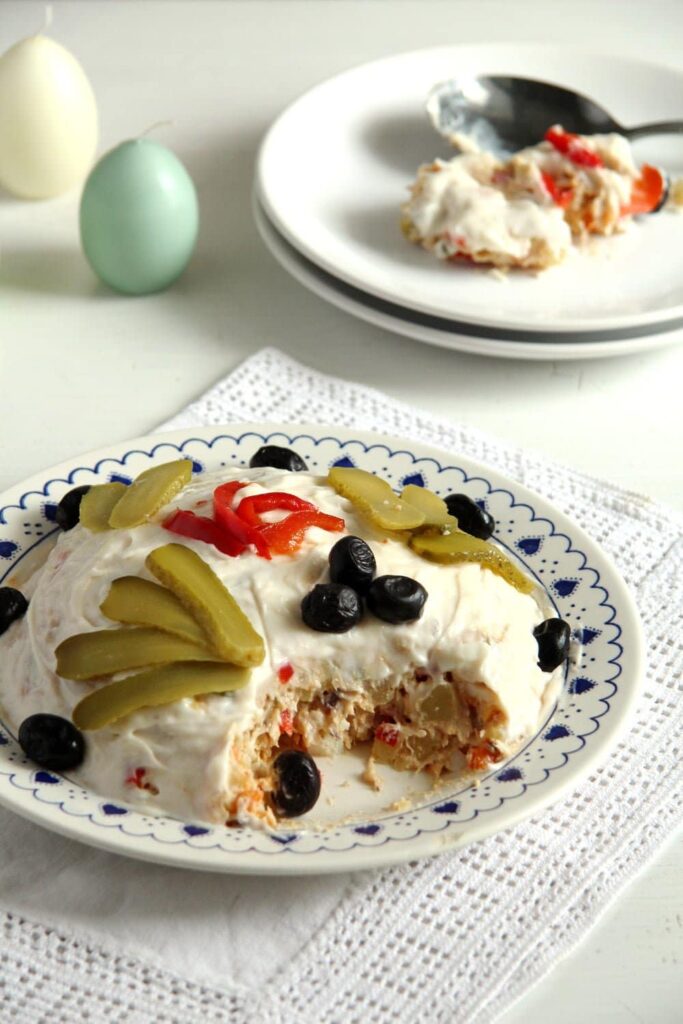 And then comes Easter with all its overindulgence. My grandmother used to cook quite a lot although there was only just the two of us. But you should have seen what my step-grandmother used to cook. She had, most of the times, three of her sons coming over, sometimes all four of them, two of them with their families as well, so there were a lot of people there. And there was no ending with the food and, in her case, no ending with the sweets and the cakes. Boeuf salad, different soups, meat, cabbage rolls, eggs, spring veggies, sweet bread filled with walnuts and cakes over cakes.
I will start with this beouf salad, which is something you will get for both Easter and Christmas in every Romanian family on this planet probably. I call it by its untranslated name Beouf (French for beef) salad. I don't use the English term "beef" because that would obviously make people think that there is beef in this salad. There isn't any! That might have been the original idea, but as far as I'm concerned, I have never eaten this salad made with beef. Beef is not very popular in Romania (or at least not there where I grew up), we prefer pork or chicken. So I ever only ate this salad made with chicken.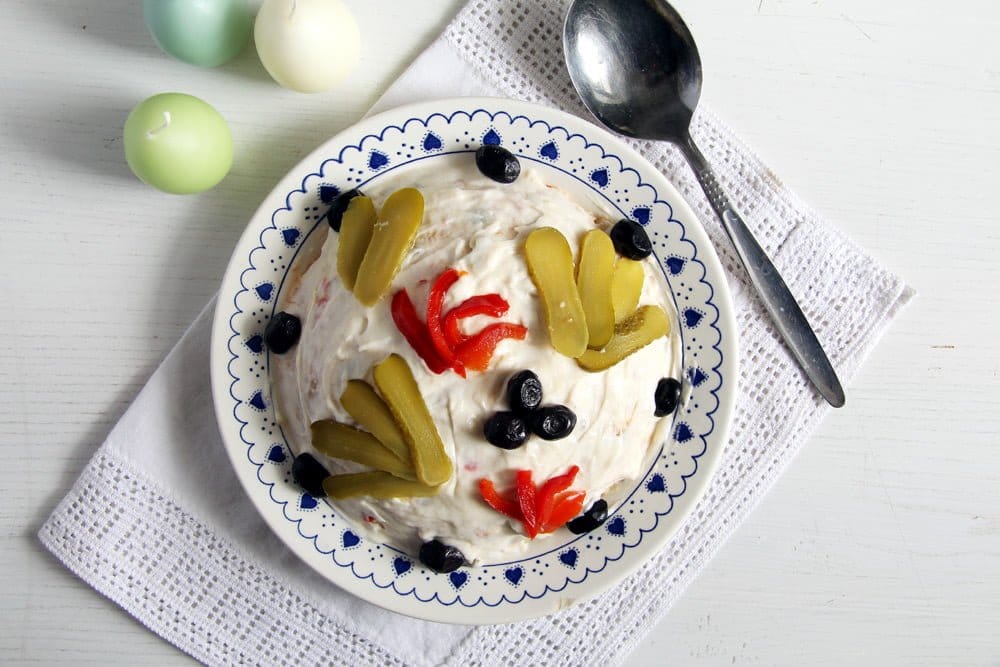 It is a wonderful and comforting salad. Not exactly diet friendly as it contains lots of homemade mayonnaise, but we only have it for Easter or Christmas, so it's OK, I think. There are lots of things in it, like potatoes, gherkins, pickled tomato peppers, cooked eggs, carrots and, of course, chicken and all these ingredients are very kid-friendly, so have no worries in that area. It takes some time to chop everything well, but the result it's worth it. Some people use other vegetables as well, like peas or cooked celeriac or parsley, leftover from making soup. Actually the chicken is normally also leftover from making the chicken stock necessary to make the Semolina Dumpling Soup, which is usually a part of every Easter or Christmas meal in Romania. I like the peas, but never use them myself for this salad (because my grandmother never did) and don't really like the celeriac and parsley taste in this case, so I just leave it out. Homemade mayonnaise is a must for me, but if you have a favorite mayonnaise brand, you could use that as well. I don't really like bought mayonnaise, I am yet to find a sort that tastes half as good as the homemade version.
I don't usually weigh the ingredients when making this salad, but I did it this time for the post. You can use more or less of each according to your taste. Same goes for the mayonnaise, use as much as you like, and leave out the mayonnaise on top, if you feel that that is too much. If you cannot find the pickled tomato peppers, you can leave them out and use more gherkins instead. And don't forget to decorate this salad in a really kitschy, Romanian style :). It is just not authentic enough if you don't decorate it as kitschy as possible.
Rating 5.0 from 1 reviews
Prep time:
Cook time:
Total time:
Ingredients
250 g/ 8.8 oz potatoes
125 g/ 4.4 oz carrots
200 g/ 7 oz cooked chicken meat
2-3 hard-boiled eggs
75 g/ 2.6 oz gherkins
75 g/ 2.6 oz pickled tomato paprika, sweet-sour (or pickled red peppers)
250 g/ 8.8 oz homemade mayonnaise
salt and pepper
olives for decorating
some more gherkins and pickled peppers for decorating
For the mayonnaise:
2 fresh egg yolks
1 teaspoon mustard
a squeeze of lemon juice
250 ml/ 1 cup neutral tasting vegetable oil (no olive oil)
salt and pepper
Instructions
Cook the potatoes, peel them and let them get cold. Cook the carrots (and the chicken and the eggs if necessary). Everything should be cold before chopping.
To make the mayonnaise, place the egg yolks, mustard and lemon juice in a clean, medium bowl. Stir to mix everything together. I use a wooden spoon for making mayonnaise. Slowly start adding the vegetable oil, pour it in a very thin stream while stirring all the time (and my grandma thought me to only stir in one direction, otherwise the mayonnaise would separate – I was never courageous enough to experiment and see if it's true). Always incorporate all the oil before adding some more. Continue this process until the mixture emulsifies and you have added all (or almost all) the oil. Keep pouring oil until the mayonnaise reaches the desired consistency, you might even stop before using all the oil. Add salt and pepper to taste.
I make my mayonnaise in my Thermomix nowadays. In this case or the case of another food processor, place all the ingredients in the food processor's bowl, mix well, turn on the food processor and start pouring the oil in a slow, thin stream while the motor is running. For the Thermomix I use a whole egg instead of two egg yolks and keep the motor running on level 3.5. It takes about 2 minutes and you have perfect, incredibly tasty mayonnaise.
Chop all the ingredients into very small cubes. Mix with ⅔ of the mayonnaise and add salt and pepper to taste (be generous here). Arrange on a plate, cover with the rest of the mayonnaise and decorate in a nicely kitschy fashion.
Other you may like:
Romanian Eggplant Salad, Vinete
Zacusca, The Best Vegetable Spread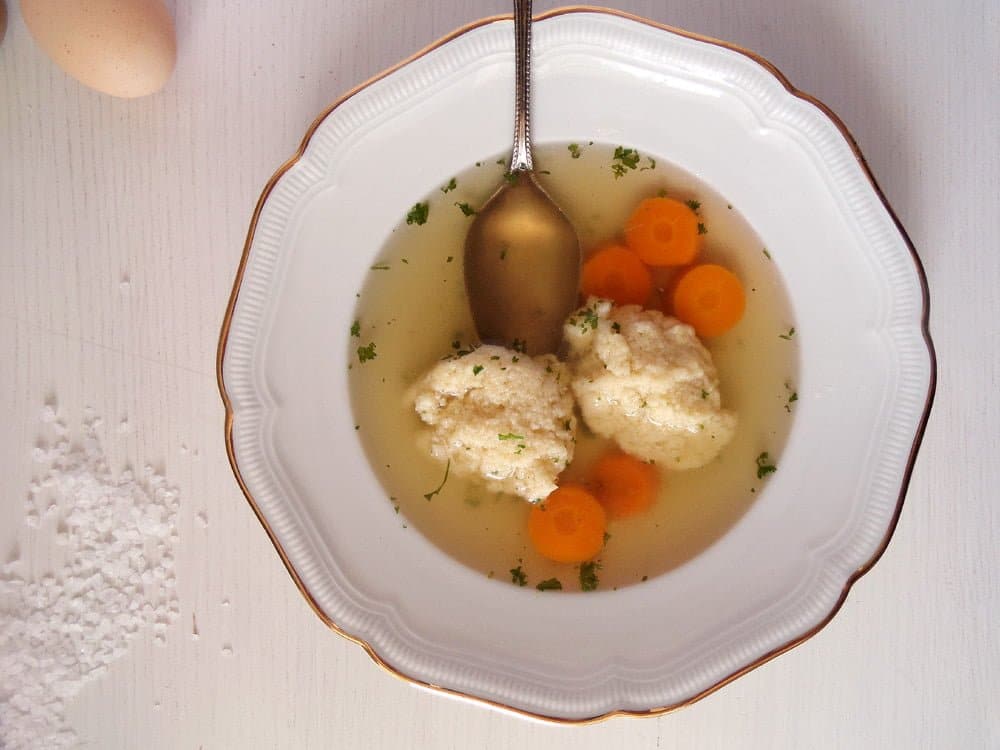 Supa de galusti, Semolina Dumpling Soup
Rate this recipe!
Click on a star to rate it!
Average rating / 5. Vote count:
We are sorry that this post was not useful for you!
Let us improve this post!
Thanks for your feedback!