Drob de pui – a delicious chicken appetizer for the Easter brunch, a twist on the traditional Romanian lamb drob.
Romanian Easter Chicken Drob or Pastete or how to get liver haters into actually eating and thoroughly enjoying something made with liver. Like my husband, who really doesn't like liver at all, but who ate this chicken drob every day until it was all gone. And coincidentally, we had several people having breakfast or a late snack with us during the weekend and they all particularly enjoyed the drob and wanted to know what is was and especially what is was made with. This kind of food is very unfamiliar to the Germans, but I am glad to say that all of them, who got to taste it, absolutely loved it.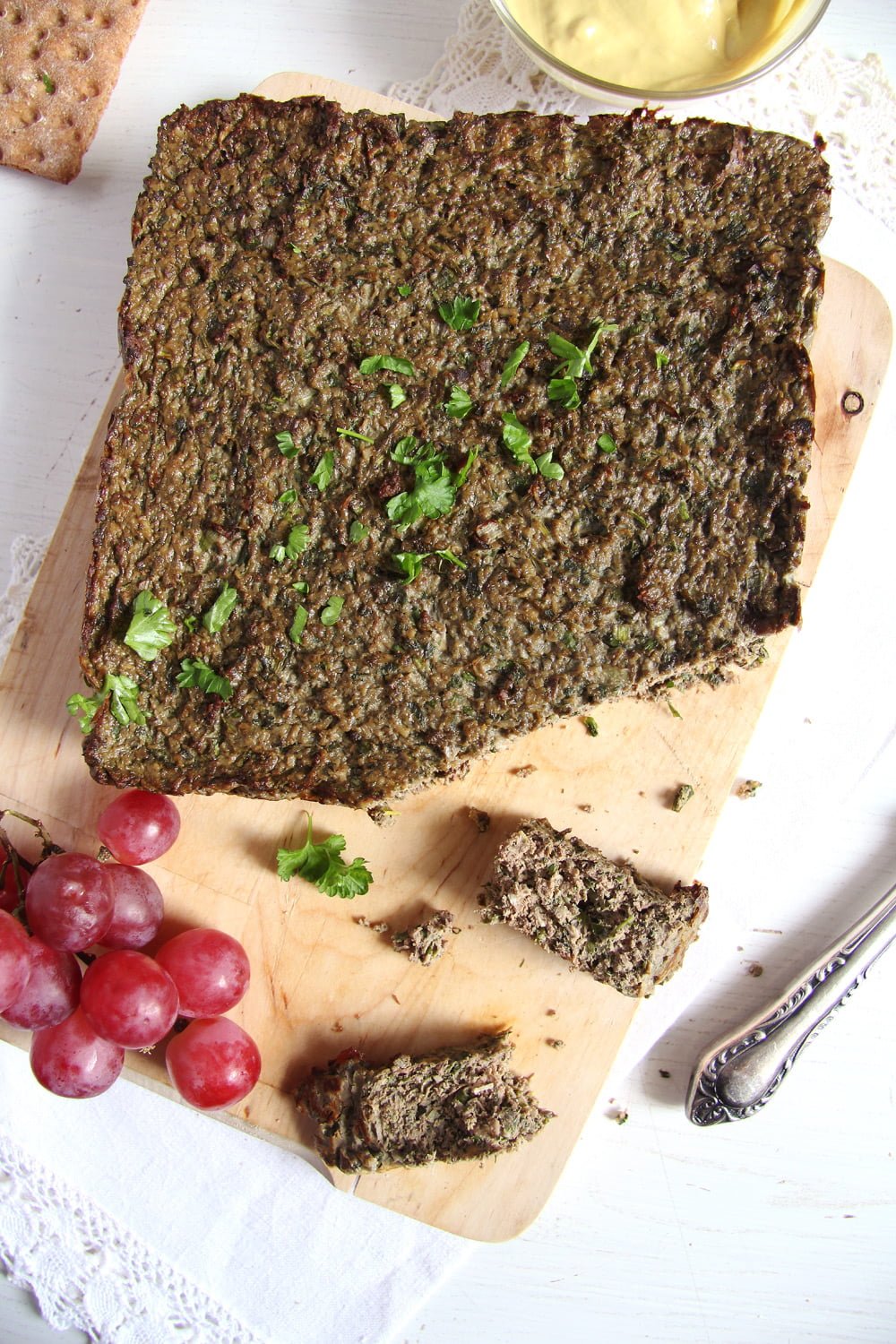 The traditional Romanian Easter drob it is actually made with lamb. For the orthodox Christians the lamb symbolizes Jesus' sacrifice for the mankind, so traditionally each family would butcher a lamb for Easter. Or at least they used to do, I think nowadays butchering your own animals is not as popular as it used to be, well, at least not in the cities anyway. And of course, when having a whole lamb to work with, you also have the offal. So the drob is actually a mixture made from the lamb offal like heart, kidney, liver, spleen and spring onions, green garlic and lots of herbs like dill and parsley.
There are lots of variations of this very popular Romanian Easter dish, but the one I am most familiar with is this chicken drob made with chicken liver and chicken breast. My grandmother used to make the traditional lamb drob as well and I used to like it a lot (unlike many of my friends), but more often she would make the chicken drob. Why? Simply because it was a lot easier to buy the ingredients, not only in spring/at Easter but throughout the year.
I would like to make the traditional lamb drob myself one day, the main problem is that it is very difficult to buy lamb offal in Germany, actually getting lamb is not as easy here as it is in most other countries, it normally involves a bit of luck and a longer trip to a Turkish food store or a very large supermarket, which would sell frozen lamb. And I have never ever seen lamb offal sold anywhere. So I stick to chicken, which is quite OK, because I like anything made with chicken and chicken liver is my favorite kind of liver anyway.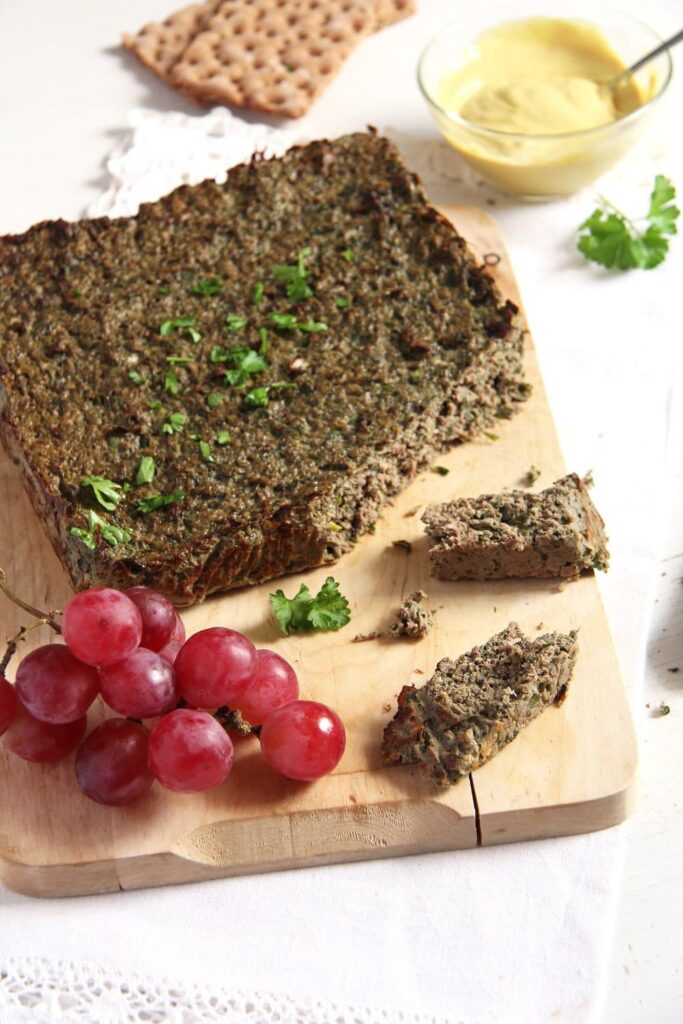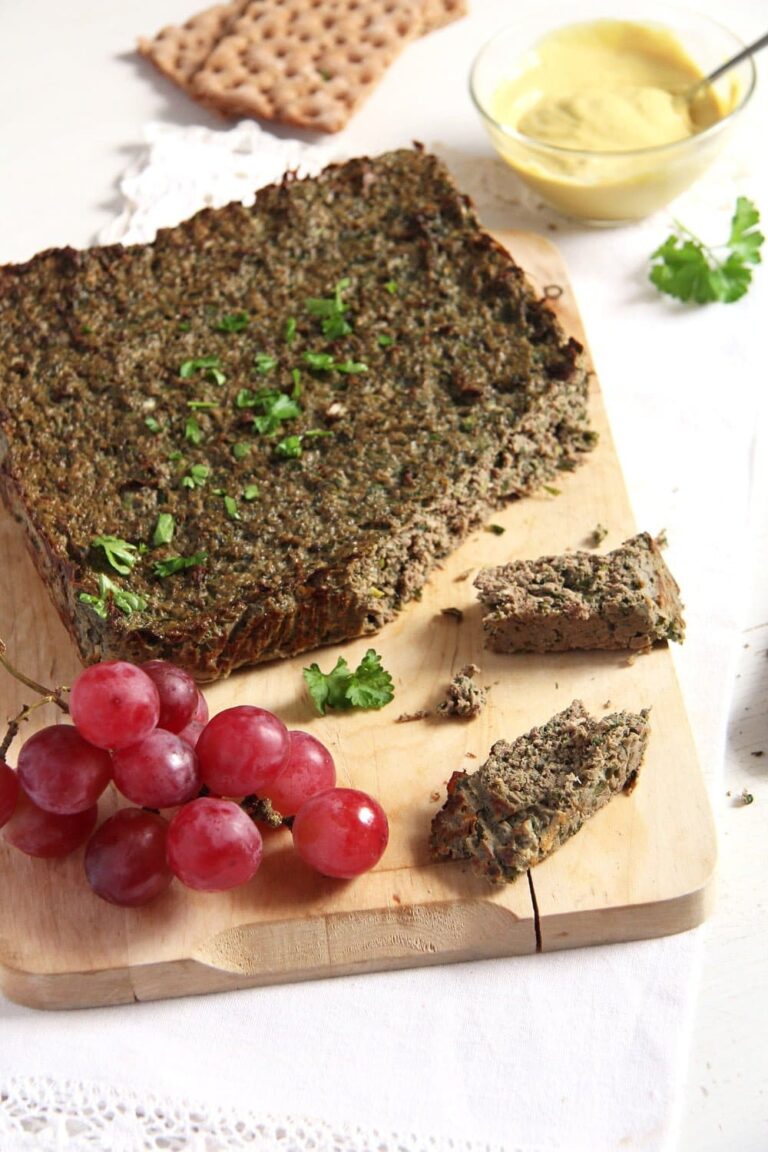 Another ingredient I have never seen in Germany and which is an important part of the drob is the green garlic. In case you don't know it, it looks like green onions only the leaves are formed a bit differently and I think one can only get in spring. We used to eat it a lot in Romania, raw, just like we would eat spring/green onions with bread and cheese, but only for a very short time in spring. Because I cannot get that here in Germany, I accidentally came to the idea of using wild garlic instead, the wild garlic season has just begun, so I thought why not? It was a brilliant idea, I have to say. 🙂 The wild garlic gave the drob that subtle herby garlic flavor and contributed to obtaining the right color and texture of the Easter Chicken Drob. However, if you cannot get either green garlic nor wild garlic, increase the quantity of spring onions used and add about 4 grated garlic cloves to the mixture.
You can serve the Easter Chicken Drob as part of the Easter brunch with bread or crackers and accompanied by vegetables like radishes, more green onions, olives, cherry tomatoes and a good medium or hot mustard. It makes a good appetizer before any other more substantial meal (it is really a low-calorie dish), you can take it on a picnic or make sandwiches with it.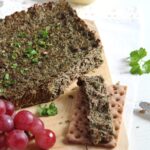 Ingredients
500 g/ 1.1 lbs chicken liver

250 g/ 8.8 oz chicken breast

100 g/ 3.5 oz green or spring onions

50 g/ 1.7 oz wild garlic/ 1 bunch green garlic (see note)

1 can sliced mushrooms

3 large eggs

1 bunch parsley (about 30 g/ 1.05 worth of chopped parsley leaves)

1 bunch dill (about 30 g/ 1.05 worth of chopped dill)

1 teaspoon salt or more to taste

½ teaspoon ground black pepper
Instructions
Place the chicken liver in a medium pot, cover with water and bring to a boil. Boil for 3-4 minutes and drain well. It should be cooked through but still slightly pink in the middle. In another pot cook the chicken breast as well, it should be cooked through.
In the meantime roughly chop the onions and wild garlic. Drain the mushrooms and roughly chop the herbs. Lightly beat the eggs in a small bowl.
Preheat the oven to 180 degrees Celsius/ 360 degrees Fahrenheit. Line a small baking dish 20x20 cm/ 8x8 inches with baking paper.
When the chicken liver and breast are cool enough to handle, chop them both into pieces. Place all the prepared ingredients in the food processor, add the salt and the pepper and process until you obtain a rough paste. I never make it too fine, I like to have some bits of meat and greens left. Taste and add more salt and pepper if necessary.
Transfer the mixture to the prepared pan and level. Bake for about 30-35 minutes until a nice crust is formed. Let cool completely, remove from the baking dish and cut into squares.
Serve with bread/crackers, mustard and raw vegetables like radishes, tomatoes, carrots, green onions, olives etc.
Notes
If you cannot get either green garlic nor wild garlic, increase the quantity of spring onions used and add about 4 grated garlic cloves to the mixture.
This post contains affiliate links. The price you pay as a consumer does not change, but if you make a purchase we will receive a commission which helps support the blog.
You might also like: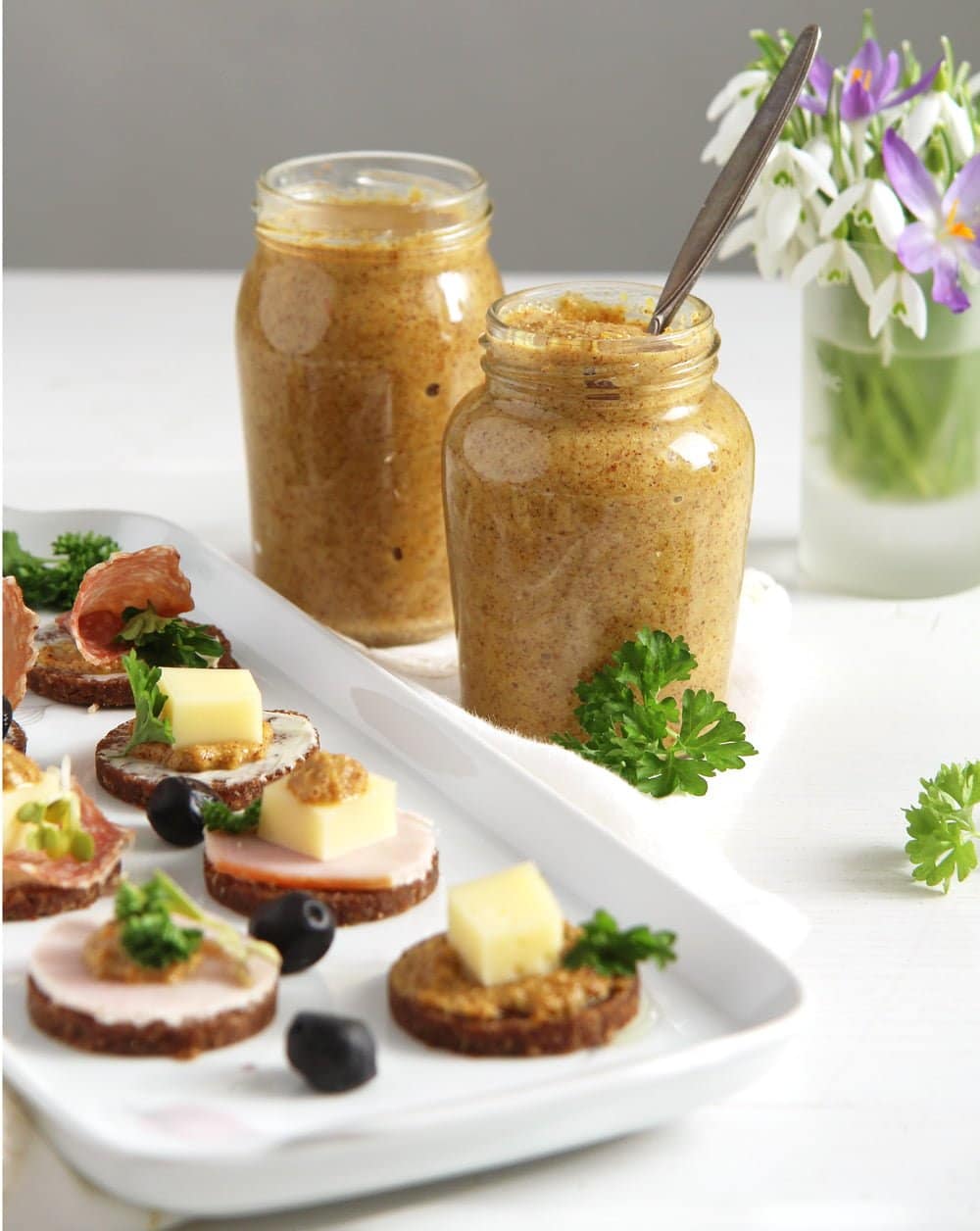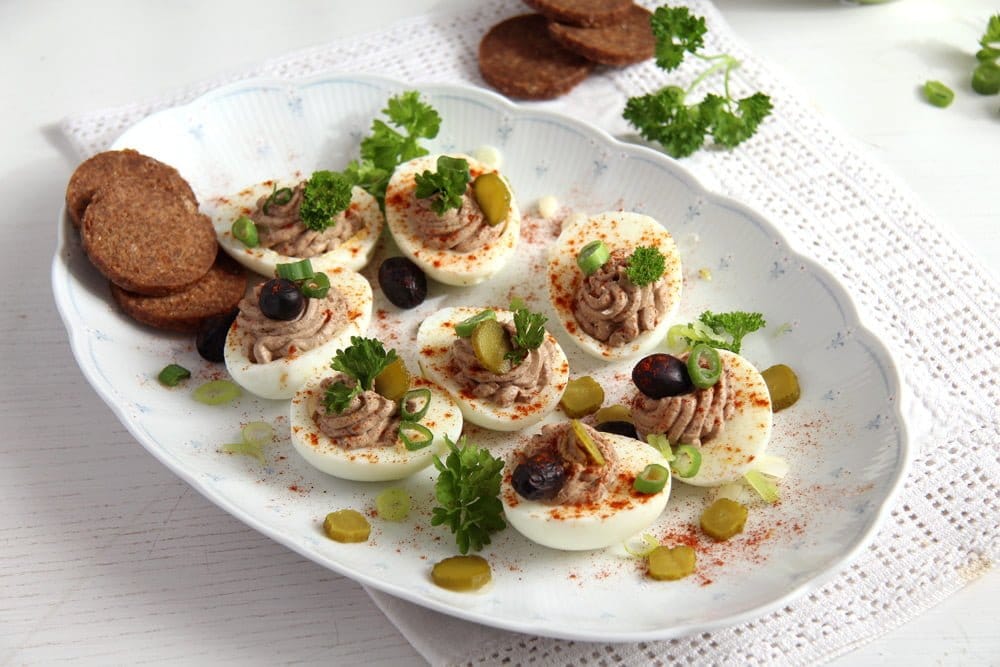 Devilled Eggs with Homemade Liver Pate