Romanian lamb stew or tocanita de miel - incredibly tender lamb pieces stewed in an aromatic sauce.
Romanian Stew - Tocana
This Romanian lamb stew is one of the best dishes I know. So good, you will keep making it again and again.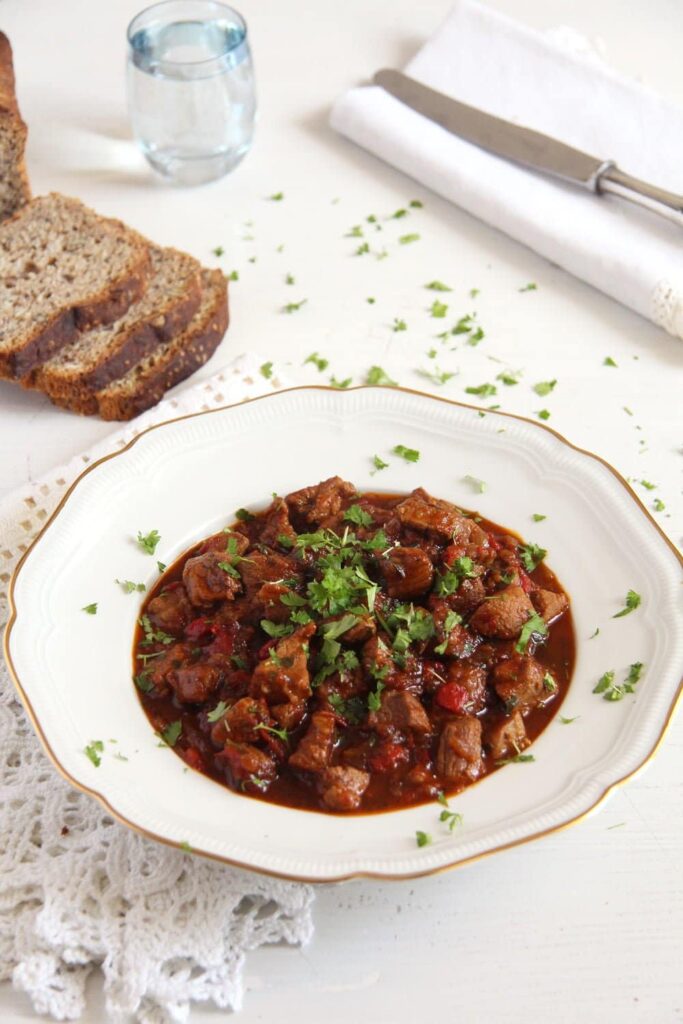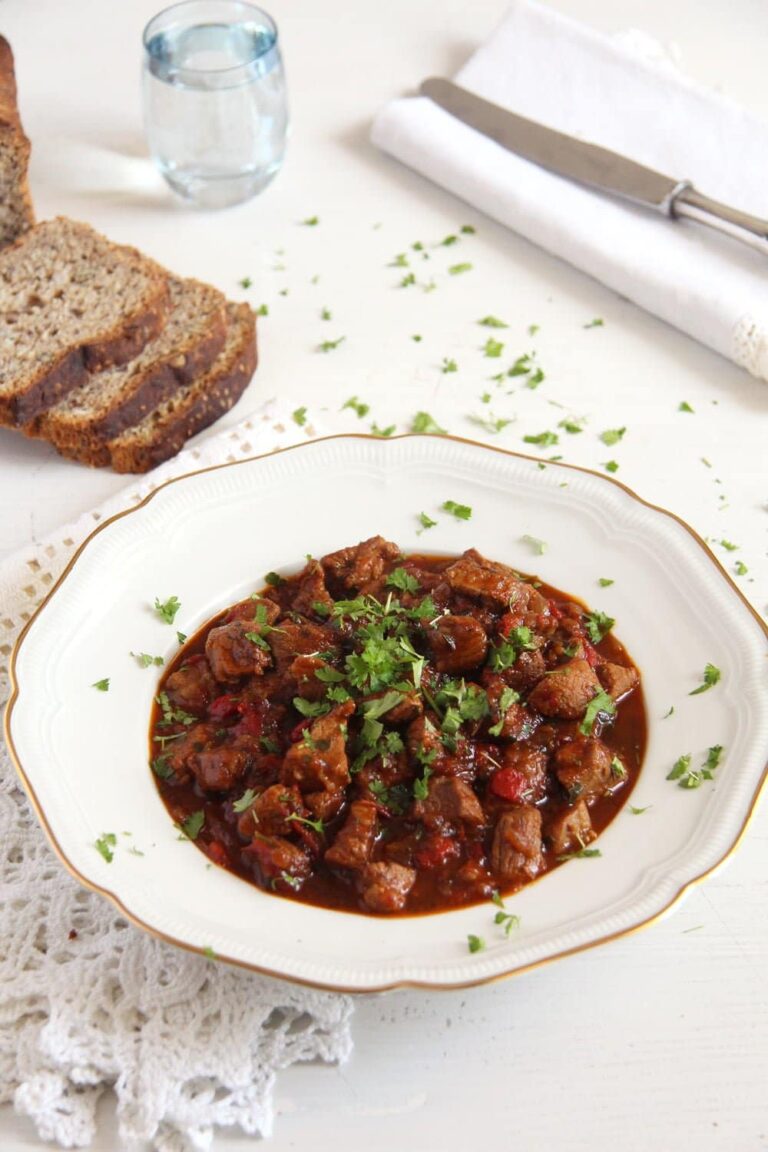 How about trying lamb this Easter? I know lots of people like lamb, but I know really lots of other people who don't. I don't think I know any other kind of meat that is so controversial (well, at least here in my part of the world).
The main reason people mention when saying that they don't like lamb is the sheep taste of the meat. First of all, most of these people have never tasted sheep (I think few people actually did eat sheep) and some of them have never tasted lamb either, they refuse it just because it might taste of sheep (which for me it doesn't make any sense).
My dear mother-in-law has a really nice story: she would not taste lamb because her husband ate sheep about 30 years ago and he said it wasn't good, it tasted too much like sheep... Go figure! Anyway, I have never had this problem; I've always enjoyed eating lamb. It was not often that we ate lamb, just once a year at Easter, but I loved it!
This lamb stew or tocanita de miel is the perfect dish to get anybody into liking lamb, actually. The meat is so tender and the taste so delicate, not as lamby as it is when you cook a whole leg or shoulder of lamb.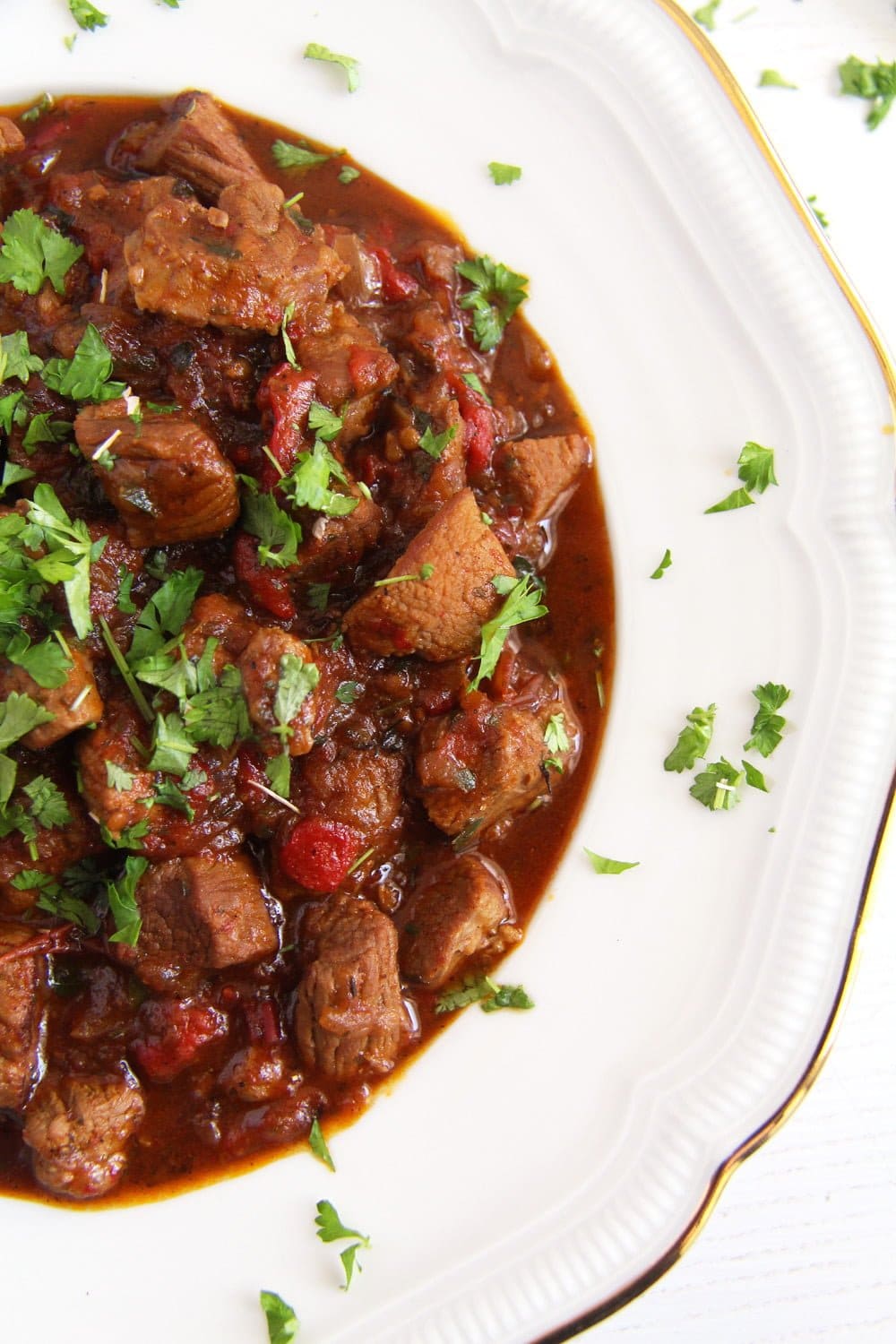 What is tocana or tocanita?
First of all, tocanita is just the diminutive form of tocana, so they are the same dish, probably the most cooked and eaten kind of dish in Romania.
You can make a tocana with just about anything, any kind of meat you want, any kind of vegetables.
There are vegetarian and vegan tocanita recipes eaten in summer when the veggies are plentiful or during the fasting times before Easter and Christmas. For instance, this eggplant stew or this leek and olive stew – they really are some of my favorite vegan stews.
Or the always present tocana de cartofi – potato stew, which I probably have been eating at least every two weeks when I was growing up. It was cheap, filling, and super delicious. And really a recipe that any child would love.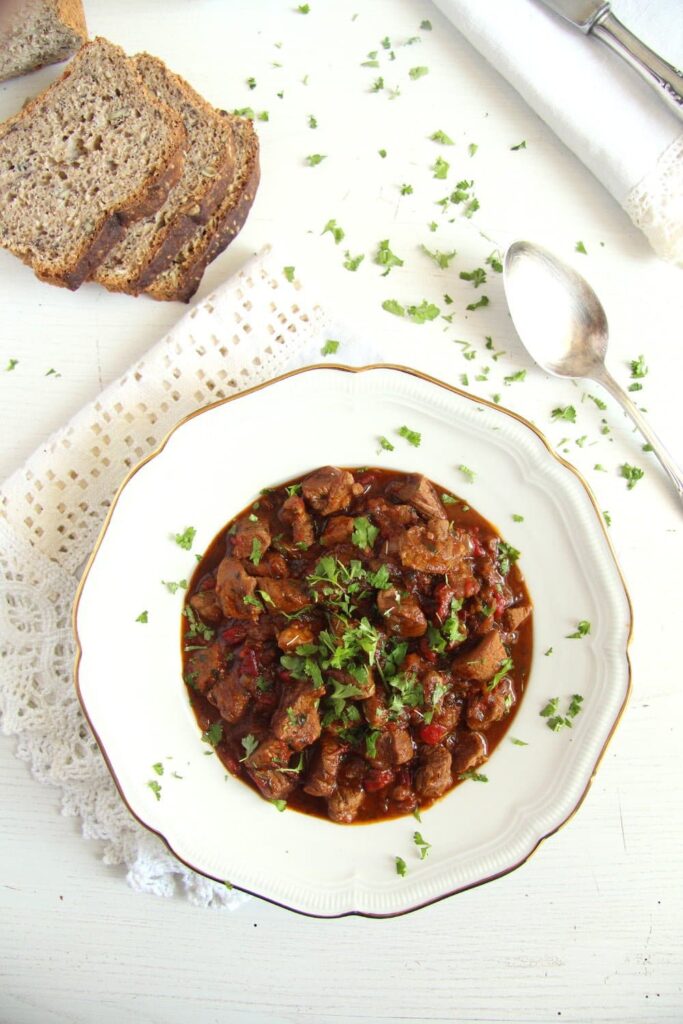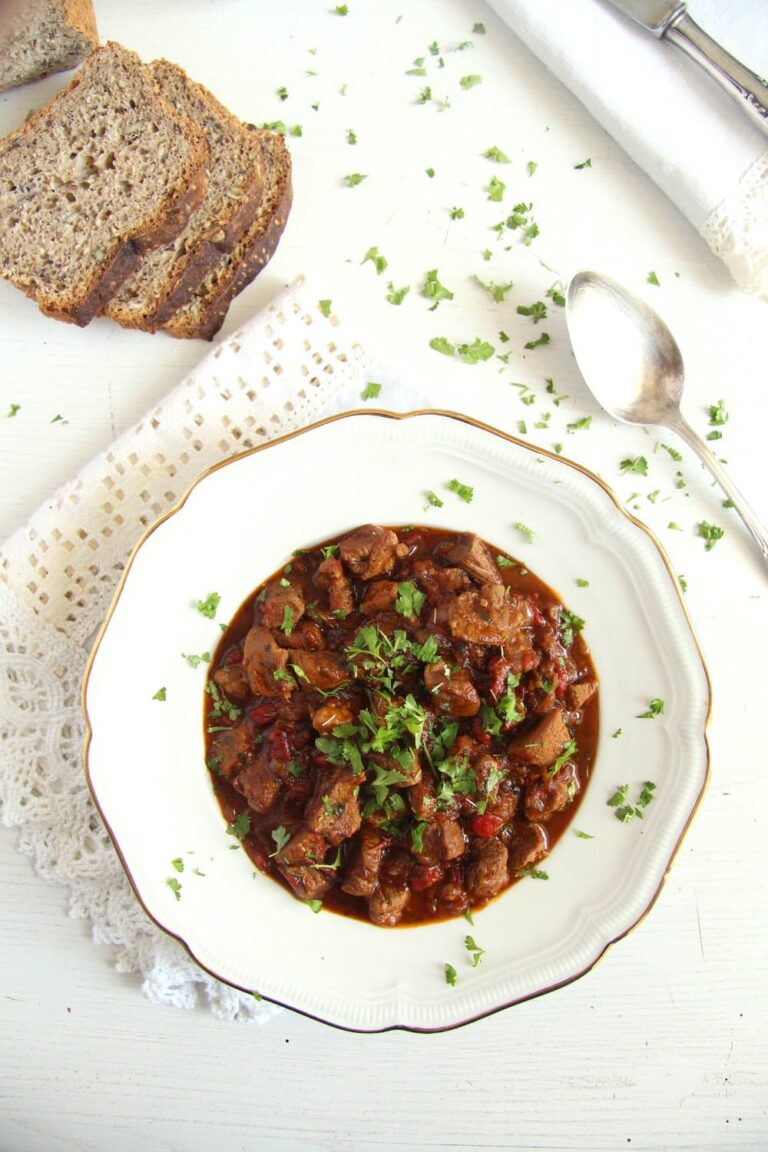 Ingredients
Lamb:
I always make this stew with cubed meat from the leg. I normally don't manage to find a boneless leg, but I ask the butcher to remove the bone. Of course, you could do it yourself, but the butcher always makes it better.
Don't leave the bone behind. Instead, take it with you and make lamb stock or freeze it to make stock at a later time.
Wine:
You will need a small amount of white wine for this Romanian stew.
Red wine would work as well if you happen to have an open bottle just standing there.
You can also cook the stew without any wine, but I like to use it; it adds flavor.
Vegetables:
Onions, red bell pepper and tomatoes.
Spices:
Very good quality sweet paprika powder (Amazon affiliate link).
When it comes to paprika powder, I always advise buying the best quality you can get; cheap paprika only tastes of dust.
And the good paprika powder is not that expensive either; it is really worth buying.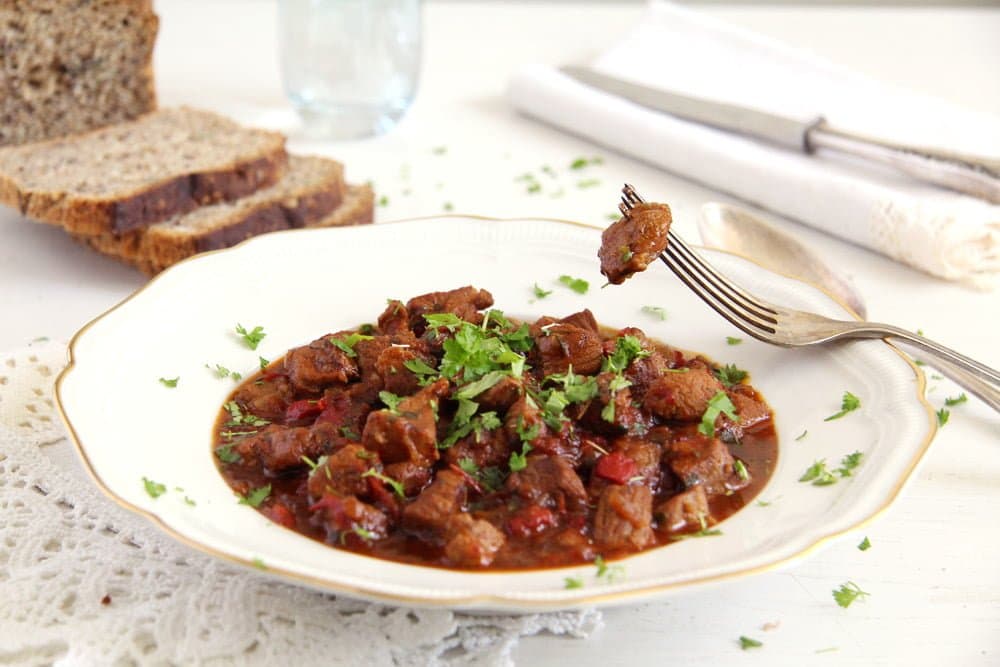 How to serve any Romanian stew?
You can serve tocana with bread; the traditional Romanian fluffy white bread is perfect for mopping up the sauce from any Romanian stew. But any other kind of bread would be fine as well.
Mamaliga or polenta are also perfect with many stews (not with potato stew, though). Try polenta with pork stew, meatball stew with sauerkraut, or any vegetable stew.
Mashed potatoes can be served with any meat stew as well and with many of the veggie stews as well.
And don't forget the pickled vegetables, like green tomato pickles, pickles are the best match for tocana. Or a nice white cabbage salad.
More Romanian stews?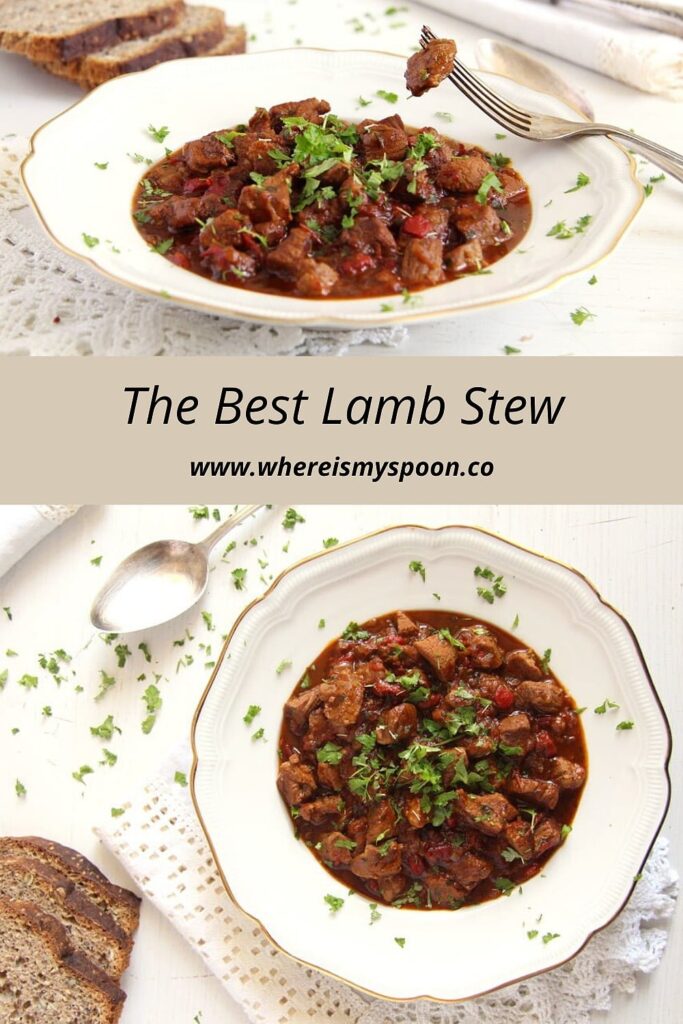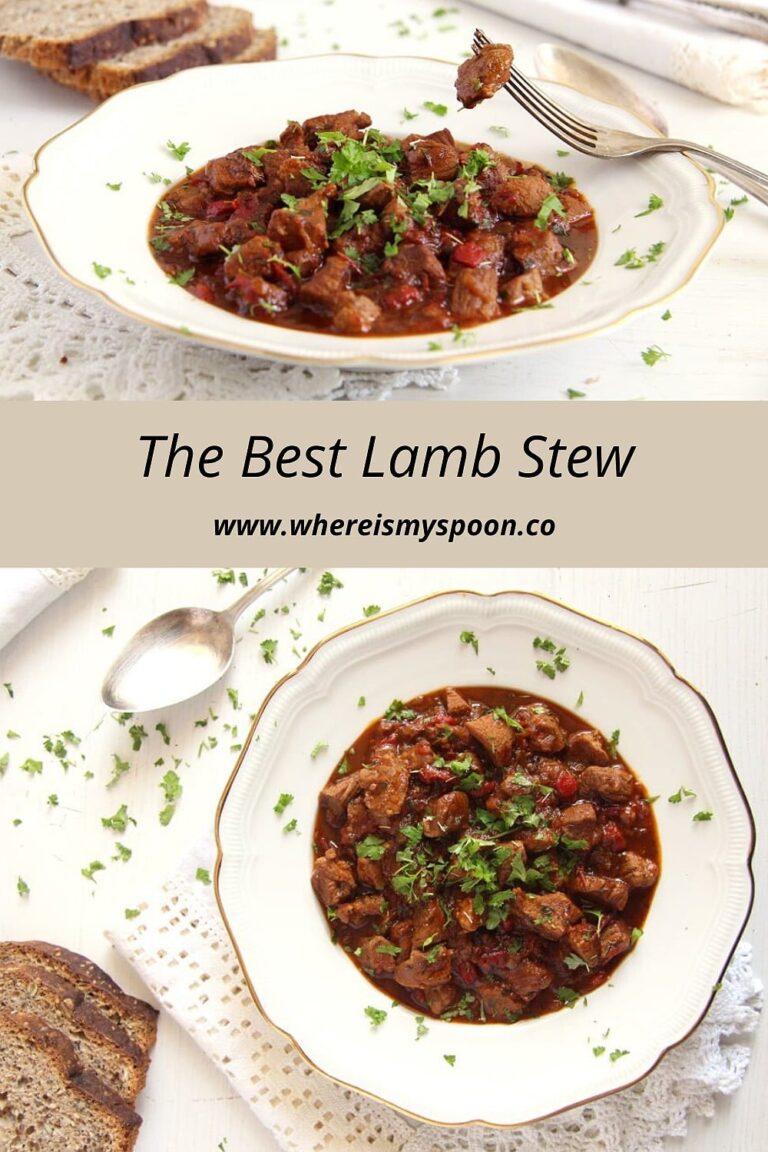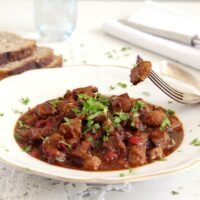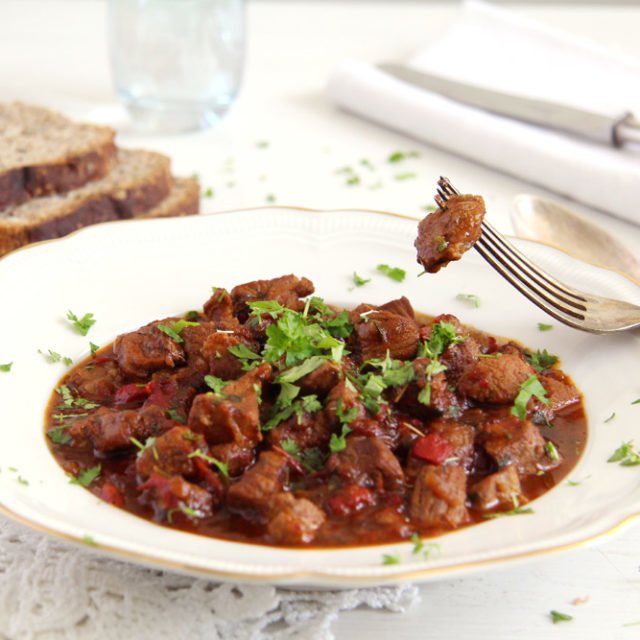 Romanian Lamb Stew – Tocanita de miel
Romanian lamb stew or tocanita de miel - incredibly tender lamb pieces stewed in an aromatic sauce.
Print
Pin
Share
Grow
Saved!
Rate
Ingredients
800

g/ 1.8 lb lamb meat

from the leg

1

tablespoon

olive oil

2

medium onions

1

large red bell pepper

½

teaspoon

fine sea salt

100

ml/ 3.4 fl.oz/ scant ½ cup white wine

200

g/ 7 oz tomatoes

1

teaspoon

sweet paprika powder

1

teaspoon

tomato paste

fine sea salt and freshly ground black pepper

a small bunch of parsley
Instructions
Chop the meat into small cubes. Pat dry with kitchen paper. Heat the oil in a Dutch oven or cast iron pot and fry the meat in two or three batches until nicely browned. Transfer each batch to a bowl or plate.

In the meantime, chop the onions very finely and the bell pepper into small and thin strips. After removing the meat, place the onions and the pepper in the pot, add the salt, mix well and cook on medium heat for about 10 minutes or until softened.

Return the lamb pieces to the pot, add the wine and the finely chopped tomatoes, paprika powder, and tomato paste. Mix well, cover tightly, and cook for one hour.

Check every 15-20 minutes and stir well. Add a bit more water if the stew threatens to catch. However, if you have a tight lid for your pot, that should not be necessary; it wasn't in my case.

Add about half of the chopped parsley, adjust the taste with salt and pepper, and simmer for another 5 minutes. The meat should be really, really tender. Serve as suggested above.
Nutrition
Serving:
1
g
|
Calories:
680
kcal
|
Carbohydrates:
10
g
|
Protein:
51
g
|
Fat:
46
g
|
Saturated Fat:
18
g
|
Polyunsaturated Fat:
24
g
|
Cholesterol:
194
mg
|
Sodium:
416
mg
|
Fiber:
2
g
|
Sugar:
5
g