Deliciously tangy green tomatoes pickles, a staple in the Romanian pickling repertoire.
So after preserving horseradish and making watermelon rind jam, pickling zucchini and making zacusca, I thought I would go a step further and make something I have been craving for years now: Green (Unripe) Tomato Pickles.
How about all those green tomatoes, which will not manage to ripe anymore this summer? If you ever kept your own tomato plants in the garden, balcony or green house you know what I am talking about. End of August, start of September, the leaves of the tomato plants starting to get yellow and fall and you just know that those tomatoes will not get red anymore.
And they are always so many of them. Nice and round, bursting with life, but with no chance of ever getting ready to eat. So what to do with them? Pickles, of course, it would be such a shame to just throw them away. Some people like to pick those green tomatoes, put them on a shelf and wait for them to get red in the house. Been there, done that, not impressed! They are red, but taste no better than those weird, watery and super tasteless tomatoes you can buy in the supermarket all winter long.
So, I prefer to pickle. I don't do it every year, because I don't plant tomatoes every summer, I always think about how long we are on vacation and if there is somebody I can get to water and take care of my tomato plants while we are gone. It worked this year, we were not gone too long and I had a few people available for taking care of my tomatoes. And unlike other years before, I did manage to get some nice tomatoes out of my plants this summer, that is not always the case… Maybe the fact that I was gone and somebody else took care of them for a while did the trick, I am afraid I am terrible with plants, no green thumb at all, you should see my flowers at the moment, a catastrophe…
So I gathered my green tomatoes a few weeks ago (maybe a few of them still would have managed to get red, but I wanted the pickles so badly) and preserved a few large jars of green or unripe tomatoes. And after leaving them for about two weeks to allow them to develop the taste, I opened the first jar last week and finally got to enjoy their juiciness and tanginess and exquisite flavor.
How to serve Green Tomato Pickles
Like I have mentioned in my last post about the Sweet-and-Sour Zucchini, Pepper and Onion Pickles, I have always been a sucker for pickles and green tomato pickles have always been my favorite, I could eat them everyday, either at breakfast with bread and cheese or as a side dish for several kind of dishes, of which my favorite matches would be the Moldavian Pork and Beef Meatballs or the Juicy Zucchini Beef Meatballs with mashed potatoes, sausages or roasts of all kinds with potatoes or polenta, stews like this Moldavian Pork Stew with Cheese and Polenta, the Romanian Lamb Stew or this Vegan Soy Granules Stew with Wine. Winter food, I would say, but winter is coming! 🙂
Worrying about eating green/unripe tomatoes
I grew up on green or unripe tomatoes pickles in Romania, we had them in winter at least every few days, but when coming to Germany I discovered that many people could not even understand how I can actually eat unripe tomatoes. You see, they all keep thinking that unripe tomatoes are poisonous. Just as that small green stem part of a ripe tomato as well, they are all patiently cutting that away from every cherry tomato they put into their mouth for fear of getting poisoned. Well, like my cousin Adi bluntly said: "Considering that I have never removed that green thing from the tomatoes and with all the green tomatoes pickles I have been eating all my life, I should be long dead! But I am not!"
So, just in case you are still worrying about eating green tomatoes pickles. Tomatoes are a member of the nightshade family, like eggplants and potatoes for instance, which all produce a toxic substance called solanine, which is part of their defense mechanism against animals. Tomatoes produce a similar, yet less toxic substance called tomatine. Both these substances can sometimes cause an upset stomach. BUT, that will only happen if you eat kilograms of green tomatoes, green potatoes or raw eggplants every day, which I am sure you will not, nobody does.
So get pickling your unripe green tomatoes and enjoy them. And in case you are looking for another way of enjoying green/ unripe tomatoes have a look at this recipe for Fried Green Tomatoes. I found this recipe a few years ago and I have made it several times, it is delicious.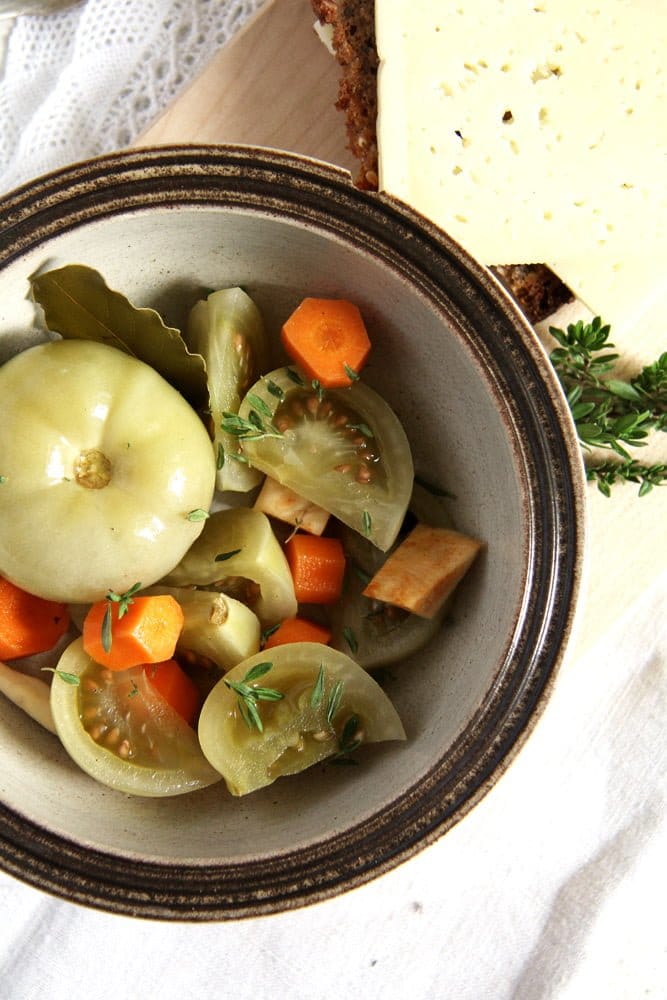 How to make the Green Tomato Pickles
I mixed some celeriac and carrots among the green tomatoes, I love their sour crunchiness, you could do that as well or choose other vegetables like small cauliflower florets for instance. I should imagine radishes or kohlrabi would make a nice change as well. Do try to get the fresh horseradish root though, I really feel it makes a difference, the taste of the tomatoes would just not be genuine enough without it.
You will need rather large canning jars, large enough to hold at least five or six tomatoes per jar, preferably more. I tend to pickle small to medium sized tomatoes and slice and fry their larger companions. For more on sterilizing jars, have a look at this post.
I had about 2 kg/ 4.4 lbs green tomatoes. However, you can use how many you happen to have. Make enough pickling liquid (calculating the water-salt ratio) and discard the rest if it is too much, it is just water with salt.
The inspiration for this recipe came from the memories of my grandmother's green tomato pickles and more details about the pickling procedure I found here (in Romanian).
Others you might like:
How to Make Preserved Horseradish in Vinegar
Sweet-and-Sour Zucchini Pepper and Onion Pickles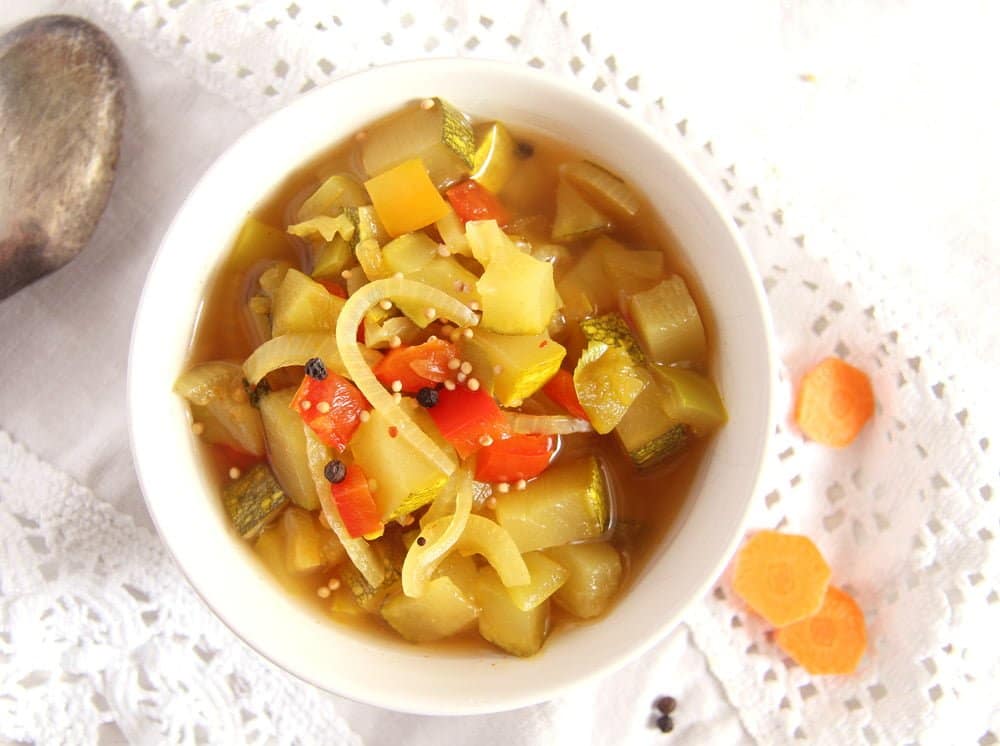 Watermelon Rind Jam or Candied Watermelon Rind in Syrup