Delicious, bittersweet orange jam without pectin. Flavorful and easy to make low-sugar jam to enjoy for breakfast.
ORANGE JAM
I have been making this orange jam for years now. And only in winter. There is something about oranges and winter, I don't really think I ever buy oranges or mandarins in spring or summer. But as soon as the weather turns cold, we always have them in the house.
There is no smell that makes me think more of Christmas than the smell of oranges.
This is a repost from 2016. The recipe hasn't changed much since then. Originally, I have made this jam using blood oranges, but nowadays I make it just as often with regular oranges. Whatever I happen to have in the house.
Not to mention that using blood oranges to make jam around here doesn't make much sense. The blood oranges that I get to buy in Germany never seem to be red at all... So, it makes no sense to pay the double amount of money for so-called blood oranges that are just as orange as plain oranges...
Oranges are my second theme this month, a fruit in season at the moment here. Here are some more orange recipes:
Polenta Orange Cake - it might sound unusual to make a cake with polenta, but you should definitely give this one a try, it is one of our favorite cakes.
Homemade Orange Mustard - another unusual orange recipes, but so good. This mustard is great with most anything and it makes a wonderful homemade gift.
Orange Tiramisu - a twist on the tiramisu, which you will probably like better than the original.
Moist Orange Bundt Cake - a super tender bundt cake made with orange juice, perfect for any occasion.
HOW TO MAKE LOW SUGAR JAM?
The inspiration for this recipe came from The View From Great Island, where Sue shared this wonderful Clementine Jam recipe.
After making the clementine jam twice, I thought about using blood oranges instead. In choosing blood oranges I was hoping to get a more vivid color, it didn't quite work, the jam is more orange than red but it is still beautiful to look at and so delicious, you will not believe it.
But that is the main reason why nowadays I use regular oranges instead of blood orange, it tastes just as good and it looks the same. Using pricy blood oranges that are not red is not really worth it for me.
But please do try this jam if you can get hold of really good and red blood oranges. The jam will probably look amazing!!!
This orange jam is my husband's favorite jam at the moment, mine too actually. Sweet, yet slightly bitter, soft and somehow refreshing. You will love it, just give it a try, it is something so different from the everyday jam.
PREPARING ORANGES FOR ORANGE JAM
Peel all the oranges. Remove as much of the white pit surrounding the oranges as you can. I try to completely remove the white pit from about half of the oranges using a small sharp knife and cutting away the pit around the orange revealing its segments partially.
I leave most of the pit on the other half of the oranges. The pit is bitter, so if I leave the pit on all the oranges the jam might be too bitter. Removing the pit from half of the oranges balances the taste of the jam, making it slightly bitter (like any good orange jam or marmalade should be), yet not overwhelmingly so.
I leave the white membranes from between the orange slices on.
Make sure to remove all the seeds.
Place the prepared oranges to the food processor. Depending on the capacity of your food processor, you might have to process the oranges in batches.
PREPARING THE ORANGE JAM
Pour the orange puree into a large pot.
Add the sugar and the lemon juice.
Bring everything to a boil and cook the blood orange jam for about 30 - 40 minutes or until the jam thickens slightly.
As this orange jam recipe is not made using extra pectic the resulting jam will not be as stiff as you might be used to in a jam. However, this soft velvety consistency is part of what makes this orange jam special, so don't worry, if you think that the jam is not as thick as you are used to, it is not supposed to be.
ALTERNATIVES TO REGULAR ORANGE JAM
You can make this low sugar jam recipe using clementines, mandarins, tangerins or blood oranges.
There is no need to remove any of the white pit when using clementines/mandarins/tangerins. Just peel the skin as you would normally do when eating a mandarin.
I am very tempted of making this jam using grapefruit as well, I am curious how that would be.
HOW TO KEEP LOW SUGAR JAM?
The best part about this orange jam recipe, if you ask me, is that it doesn't use as much sugar as a regular jam recipe would do.
The lack of huge quantities of sugar does not affect the taste of the jam, the orange jam is just as sweet as it should be in my opinion, I love it this way.
But you cannot keep a low sugar jam as long as you would keep a regular jam.
The orange jam should be kept in the fridge and consumed as quickly as possible, that is within 10-14 days. The batch is not large, so eating this jam within the 2 weeks will not be difficult.
P.S. This is the jam I used to fill half of the Orange and Jam Swirl Cookies.
MORE JAMS?
Strawberry Rhubarb Jam - another one of our favorite jams, but this a spring jam. Make it when the rhubarb is in season and the strawberries are ripe and juicy.
Simple Apricot Jam - a summer jam made without pectin as well, perfect to fill crepes and to have on toast.
Rhubarb Raspberry Jam - another flavorul low sugar jam with a beautiful color.
Lemon Jelly - this one is just bursting with flavor.
PIN IT FOR LATER!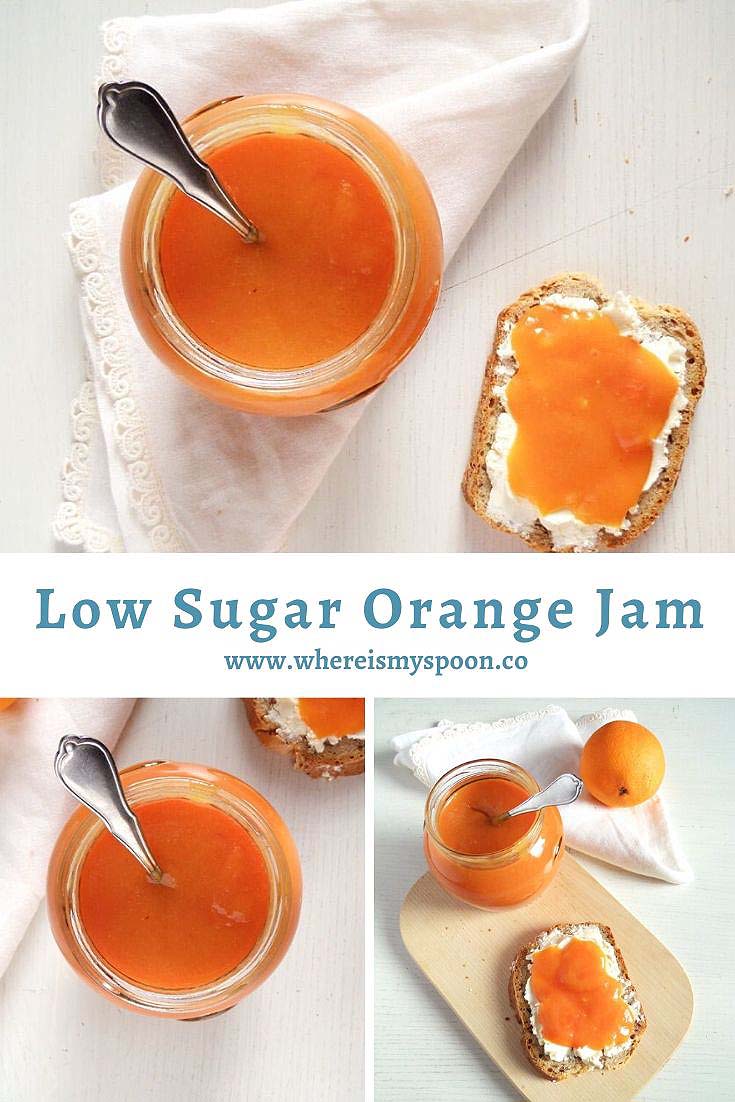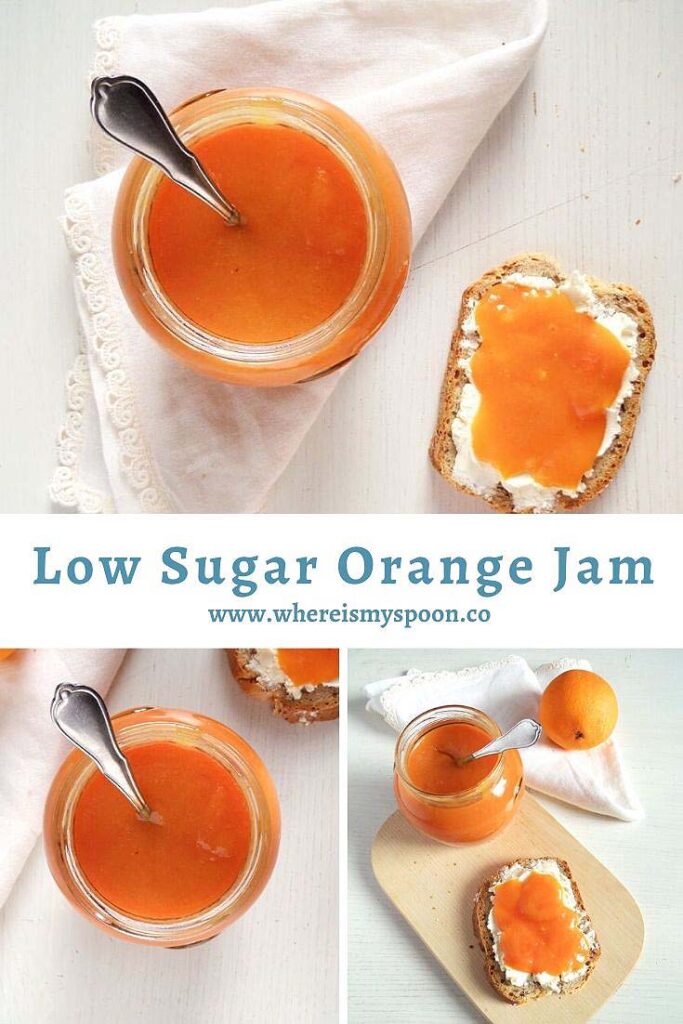 Orange Jam - Low Sugar Jam
Flavorful and easy to make orange jam, a low-sugar jam to enjoy for breakfast.
Print
Pin
Share
Grow
Saved!
Rate
Ingredients
3

lbs

oranges

See note

1

cup

granulated sugar

2

lemons
Instructions
Peel ½ of the oranges in the usual manner. Remove the peel of the other half of the oranges with a knife, removing the white pith as well. (I find it too bitter if I leave the white pith on all the oranges. This is not necessary when making the jam with clementines; they are not so bitter).

Remove seeds: Halve the oranges and carefully remove all the seeds.

Process the oranges in the food processor until smooth. You might have to do that in batches.

Cook: Pour the puree into a large pot, add the sugar and the lemon juice and bring everything to a boil. Cook for about 30 – 40 minutes, uncovered, stirring regularly. Stop the cooking when the jam has thickened and reached the desired consistency. If not thick enough, you can cook it for a little bit longer. It will not jelly as much as a jam made with pectin, but it is OK so, the soft consistency is lovely.

Store: Pour the jam into clean jars, leave to cool, and refrigerate. It will keep for about 10 – 14 days in the fridge.
Notes
You can use regular or blood orange or clementines. It is preferable to use organic oranges, as you will also need some of the orange peel.
Nutrition
Serving:
1
small jar
|
Calories:
745
kcal
|
Carbohydrates:
193
g
|
Protein:
7
g
|
Fat:
1
g
|
Polyunsaturated Fat:
1
g
|
Sodium:
9
mg
|
Fiber:
17
g
|
Sugar:
160
g