Rhubarb and raspberries jam – an aromatic, fruity and lower sugar  jam/preserve to celebrate the short rhubarb season. An easy to make jam, this has the potential of becoming a favorite in your house.
This is a variation of another favorite jam – the rhubarb strawberry jam – which I have been making every spring for years now. This time I wanted to try it with raspberries, I usually find them to have more flavor than the strawberries and after tasting a raspberry jam made by a friend, I was really in the mood of using raspberries in a jam as well.
I never did that before, I always thought that the little raspberry seeds would be annoying in the jam, but now that I finally made it, I realize I have been missing out on it for years. The jam is unbelievably fruity and delicious and the seeds don't bother me one bit.
Simple Rhubarb Raspberry Jam, Lower Sugar
How to remove the seeds from the raspberries
As mentioned above I don't remove the seeds from the raspberries, they really do not bother me at all. But in case, you will want to remove them, here are a few words on that.
Step 1: Quickly wash the raspberries, don't keep them long under water or they will become watery. Gently pat them dry with kitchen paper.
Step 2: Give the raspberries to a bowl and puree them with an immersion blender. You can also mash them with a potato masher or with a fork, but a blender is quicker.
Step 3: Place a fine sieve over another bowl and give some of the mashed raspberries to the sieve. Force them through the sieve by pressing them with a tablespoon and scrape the back of the sieve from time to time to make sure that the "clean" raspberry puree hanging there will not obstruct the way.
Step 4: Continue this way, straining small amounts of raspberry puree at a time.
Step 5: Discard the seeds and proceed with the recipe. It will not be necessary to adjust the quantities of sugar and pectin needed.

How to make Simple Rhubarb Raspberry Jam, Lower Sugar
When making this rhubarb raspberry jam, I was quite bold with the use of sugar, meaning that I only took one part sugar for three parts fruit, which is really not a lot considering that this is a rhubarb jam we are talking about and rhubarb is sour. But I love it this way, just give it a try and you will see.
The jam is not as sweet as most jams are, but it tastes better than most jams I ever had. You can really taste the raspberries and the rhubarb and not eat something undefinable, which is only sweet and nothing else. I love to eat this jam on crisp bread over a thick layer of cream cheese.
I made enough jam to fill 4 large jars, you would probably need about 7 or 8 normal sized jars. If you are not sure about the right way of sterilizing your jars, have a look at this post Simple Apricot Jam and How to Sterilize Jars.
When working with powdered pectin, I follow the instructions on the pectin package, so for 1,5 kg fruit I take about 30 g pectin. Make sure to read the instructions on your pectin package and follow them if they differ from mine.
Otherwise I hope you are having a great weekend!
Ingredients
750 g/ 26.5 oz rhubarb
750 g/ 26.5 oz raspberries
500 g/ 17.6 oz sugar
30 g/ 1 oz apple pectin, powdered
Instructions
Start by preparing your jars. I had enough jam to fill 4 large jars, if your using smaller you will probably need about 8. Wash and sterilize them, including the lids, and place them on a clean kitchen towel until ready to fill. For more information on sterilizing jars have a look at this post.
If you would like to remove the seeds from the raspberries, follow the instructions in the blog post.
Clean and chop the rhubarb into small pieces. Place the rhubarb pieces in a very large pot, bring to a boil and cook for about 5 minutes or until soft, stirring from time to time.
In the meantime mix 100 g/ 3.5 oz of the sugar with the pectin in a jar. Place the lid on and shake very well to insure that everything is mixed well.
Add the raspberries to the rhubarb pot and puree the mixture with an immersion blender. If you've chosen to remove the seeds from the raspberries and they are already pureed, add the puree to the pot after you have blended the rhubarb.
Add the sugar-pectin mixture, mix very very well and bring to a boil while stirring continuously. When it starts to boil, set the timer and cook for 3 minutes while stirring all the time. Add the rest of the sugar, bring to a boil again and continue boiling for another 2 minutes while stirring all the time.
Transfer immediately to the prepared jars and let cool.
Others you might like: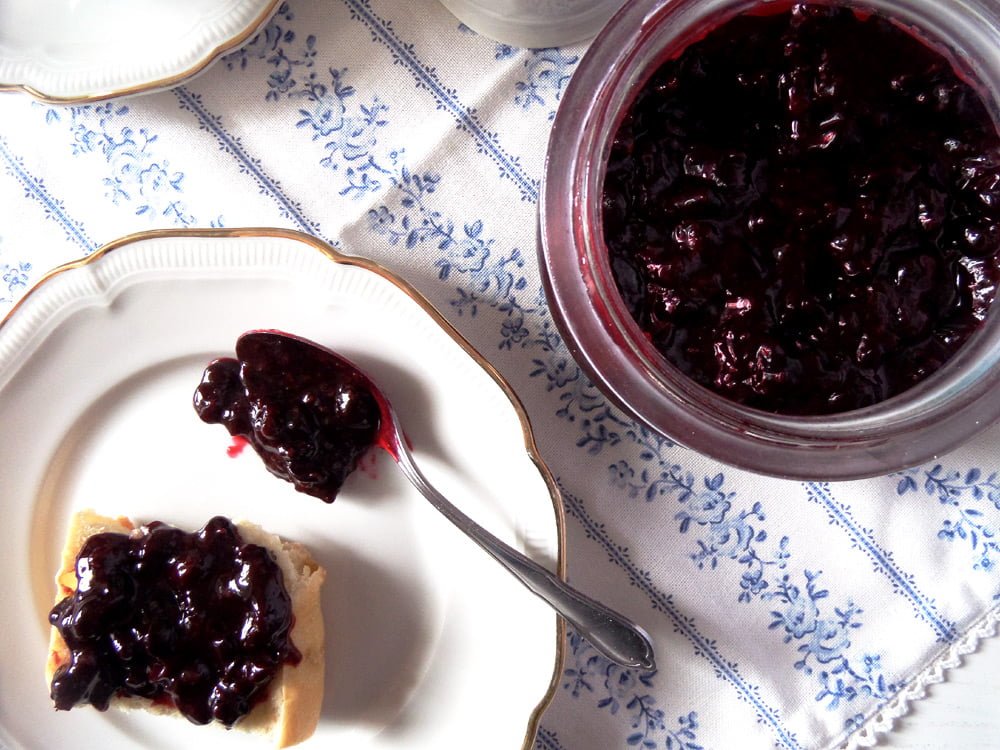 Black Currant Refrigerator Jam