Rhubarb butter – a simple way of preserving rhubarb or any other fruit. Tangy and delicious, containing less sugar than the typical jams.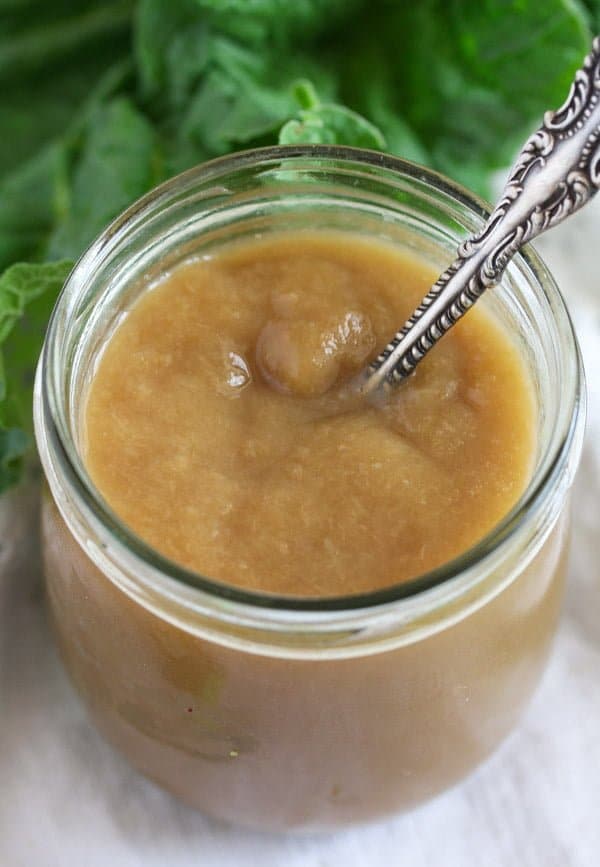 Easy to make, low in sugar rhubarb butter, so delicious and aromatic. A simple fruit butter, actually you can make this recipe with other fruit or berries as well.
OK, so rhubarb is not a fruit. Although I've just called this a fruit butter. But if I was to call this recipe "vegetable butter", that would just confuse everybody, wouldn't it? Rhubarb is a veggie and not a fruit, but we treat it as a fruit most of the time, so I guess, at least when I am talking about rhubarb butter or rhubarb jam I should stick to calling it a fruit.
But I do treat rhubarb as a vegetable quite often as well, for instance in savory recipes containing rhubarb, something like this Chicken Curry or this Chicken with Rhubarb Sauce, which is so good it can become an obsession.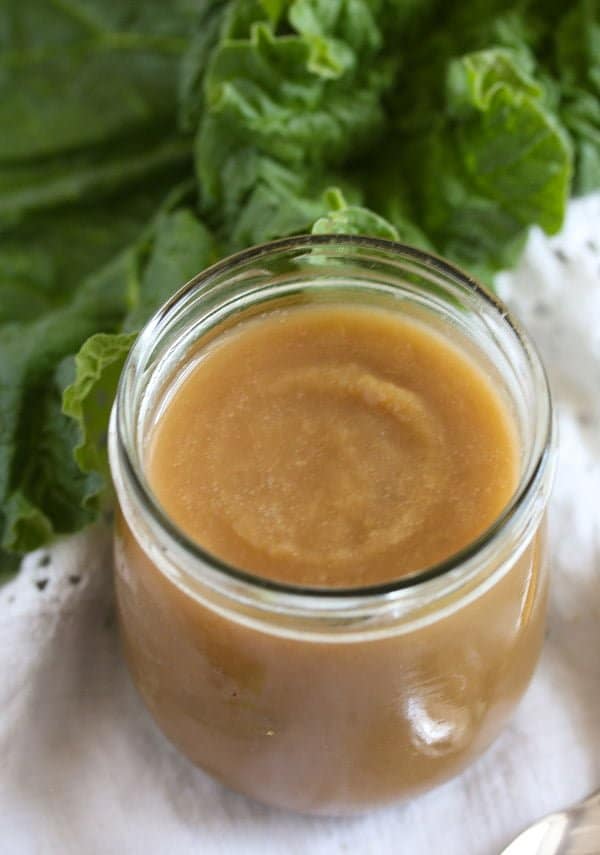 What is fruit butter?
Fruit butter is a thick and smooth puree made by slowly cooking fruit with some sugar, usually less sugar than you would use when making jam or jelly.
To make fruit butter is a particularly good idea when having access to large quantities of fruit if you have your own fruit trees or are able to pick large quantities of fruit somewhere.
That is why I make lots of cherry butter in the years when our old and huge cherry tree carries some fruit, lots of plum butter with all the plums I get from friends and neighbors, and tones of rhubarb butter with the rhubarb I pick in my friend's garden.
What fruit to use?
Most any fruit. I have made fruit butter with cherries, apples, plums, nectarines, peaches, rhubarb, or a mixture of different fruit.
The most common kind of fruit butter in Germany is the so-called Pflaumenmus. I don't think that anybody ever called that "plum butter" in German, but that's what it is: a delicious fruit puree, cooked for a long time with less sugar than you would normally use when making jam and spiced with cinnamon, anise, cloves, cardamom, etc.
Fruit butter is the kind of jam-like preserve that manages to retain the natural flavor of the fruit, unlike regular jams or jellies, which contain much more sugar, the amount of fruit you use is much larger than the sugar amount needed, and that will result in a more defined fruit taste.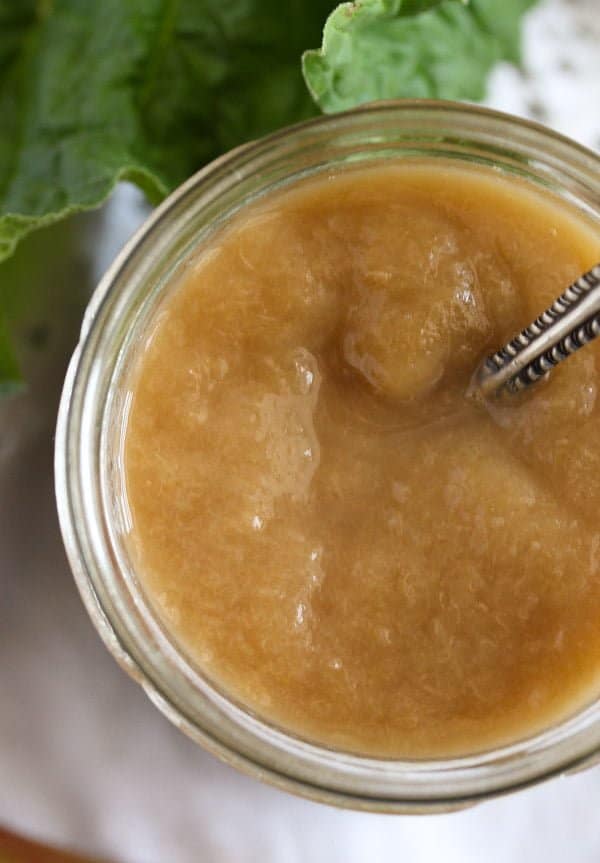 How to make it?
Step 1: Make sure you have enough fruit. It is really not worth the trouble to make fruit butter in small quantities. It cooks down quite a lot, so there will be less jam in the end than you might think while you chop the fruit.
Step 2: Wash the fruit and cut it into chunks. If using stone fruit remove the stone as well.
Step 3: Place the rhubarb/fruit into a large wide pot, together with the sugar and a small amount of water. Cook until very soft, about 20 minutes in the case of this rhubarb version. If using other fruit, just try it, when it is very soft, you can proceed to the next step. Don't forget to stir every few minutes or so, making sure you scrape the bottom and the edges of the pot well while stirring.
Step 4: Puree the fruit with an immersion blender. Make sure to wear something with long sleeves and maybe even gloves. The butter might splatter and that can be really painful, I talk from experience…
Step 5: Taste and add a bit more sugar, if you wish. I prefer mine to be on the sour side, I have enough sweetness when eating jam and I enjoy the fruitiness of good fruit butter. If using spices, you can add them now.
Step 6: Cook for about 30 minutes more or until thicker. The cooking time depends on the quantity of fruit you are turning into butter and on the size of your cooking pot. A large, wide cooking pot will accelerate things a little bit. If you like a thicker rhubarb butter, you can cook it for more than 30 minutes, until the butter reaches the desired consistency.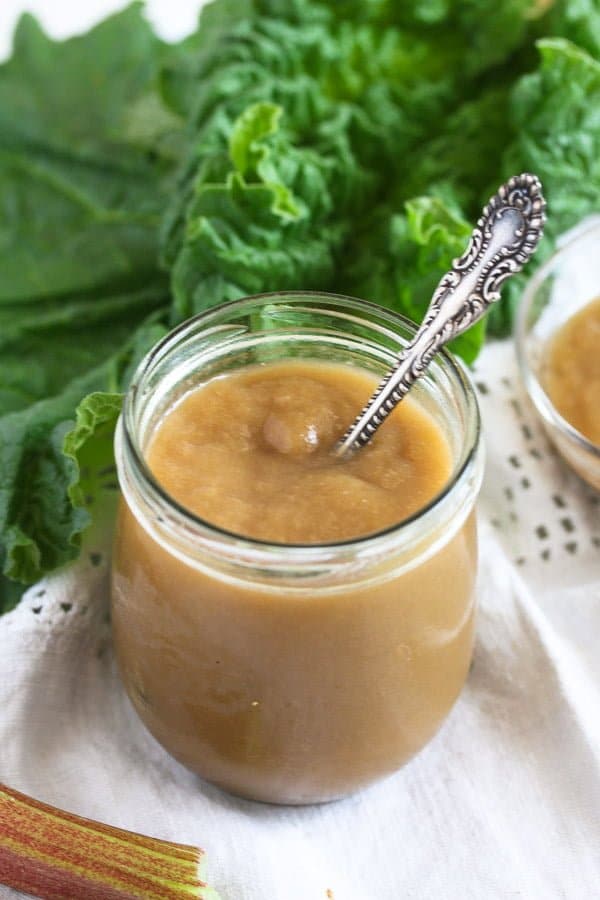 Step 7: Carefully pour into sterilized jars.
Step 8: Preserve the jars of rhubarb butter by boiling the jars in a large pot for about 20 minutes in water bath or a canner.
Place the closed, hot jars in a large pot lined with a textile kitchen cloth and fill the pot with hot water. The jars should not touch each other, neither should they touch the bottom of the pot, they should all fit snugly into the pot. Boil for about 20-25 minutes. Carefully lift them out of the water, place them on another kitchen towel on the counter, and let get cool.
Step 9: Store in a cool, dark place.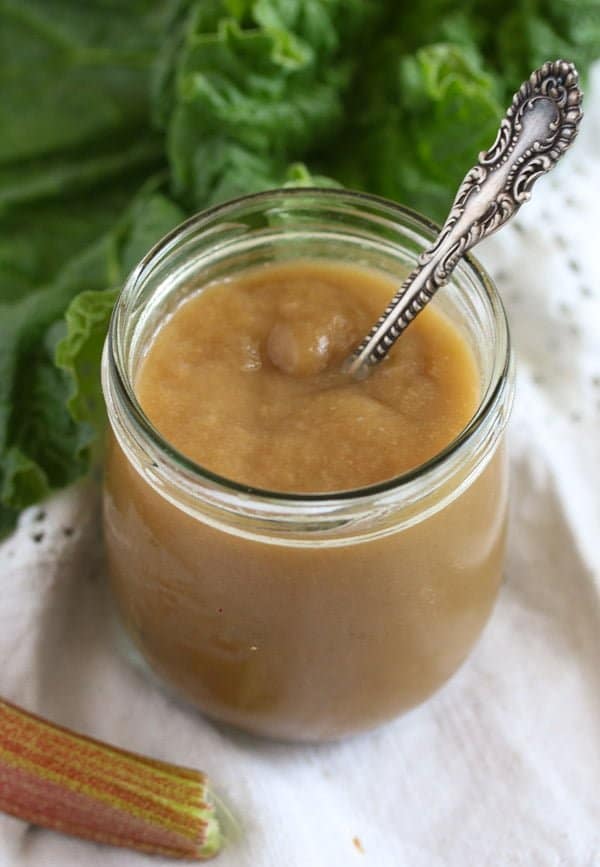 More rhubarb preserves:
Canning Rhubarb (How to Preserve Rhubarb)
Rhubarb Simple Syrup (with Leftover Peel)
Strawberry Rhubarb Jam without Pectin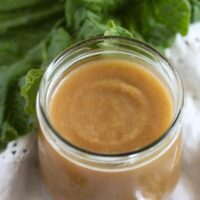 Rhubarb Butter
Rhubarb butter – a simple way of preserving rhubarb or any other fruit. Tangy and delicious, containing less sugar than the typical jams.
Print
Pin
Share
Grow
Saved!
Rate
Ingredients
2

kg/ 4.4 lbs rhubarb

400

g/ 14.1 oz/ 2 cups sugar

75

ml/ 2.5 fl.oz/ 1/3 cup + 2 tablespoons water

juice of 1 lemon
Instructions
Remove the rhubarb leaves, they are poisonous.Wash the rhubarb and cut it into slices, about 2,5 cm/ 1 inch thick. Place into a large, wide pot. Add the sugar, water, and lemon juice. Stir well. Bring to a boil and cook the rhubarb, stirring often, about 20 minutes or until very soft.

Puree the mixture with an immersion blender, making sure you wear something with long sleeves and gloves, the butter is very likely to splatter and that can cause painful burns.

Taste and add more sugar, if desired. You might also want to add some spices, likes cinnamon or vanilla, but that is optional, I prefer my rhubarb butter to be pure and not too sweet.

Place the pot back on the hob and continue cooking for about 30 minutes or until slightly thickened. Stir often, making sure to scrape the bottom and sides of the pot while you stir. Don't let the rhubarb butter scorch. If you like a thicker rhubarb butter, you can cook it for more than 30 minutes, until the butter reaches the desired consistency.

Ladle the rhubarb butter into sterilized jars and can it in a water bath or in a canner. If canning in a pot, choose a very large one. Line it with a folded textile kitchen cloth. Place the jars into the pot making sure that they don't touch each other. If there isn't enough place in the pot for all the jars, use two pots or preserve the jars in two batches. Don't squeeze them inside, they are definitely not allowed to touch each other.

Cover with hot water. It helps if the jars are of a more or less similar size. Bring the water to a boil and boil the jars for 20-25 minutes.

If using a canner, follow its instructions.

Carefully lift the jars out of the hot water and let them cool down on another folded textile kitchen towel on the counter. Store in a dark cool place. It will keep for about one year.
Nutrition
Serving:
1
jar
|
Calories:
396
kcal
|
Carbohydrates:
99
g
|
Protein:
4
g
|
Fat:
1
g
|
Polyunsaturated Fat:
1
g
|
Sodium:
18
mg
|
Fiber:
7
g
|
Sugar:
84
g