Learn how to use rhubarb: how to clean it, store it, preserve it. And how to use it in cooking and baking. Lots of rhubarb recipes, either sweet or savory, this plant is incredibly delicious and versatile.
Did you ever wonder what to do with a glut of rhubarb? Are you stuck with baking the exact cake over and over again? Here you will learn everything there is to know about cooking, baking, or preserving rhubarb. And just in case you are wondering what kind of cake I bake repeatedly, it's this simple and comforting Rhubarb Crumb Cake.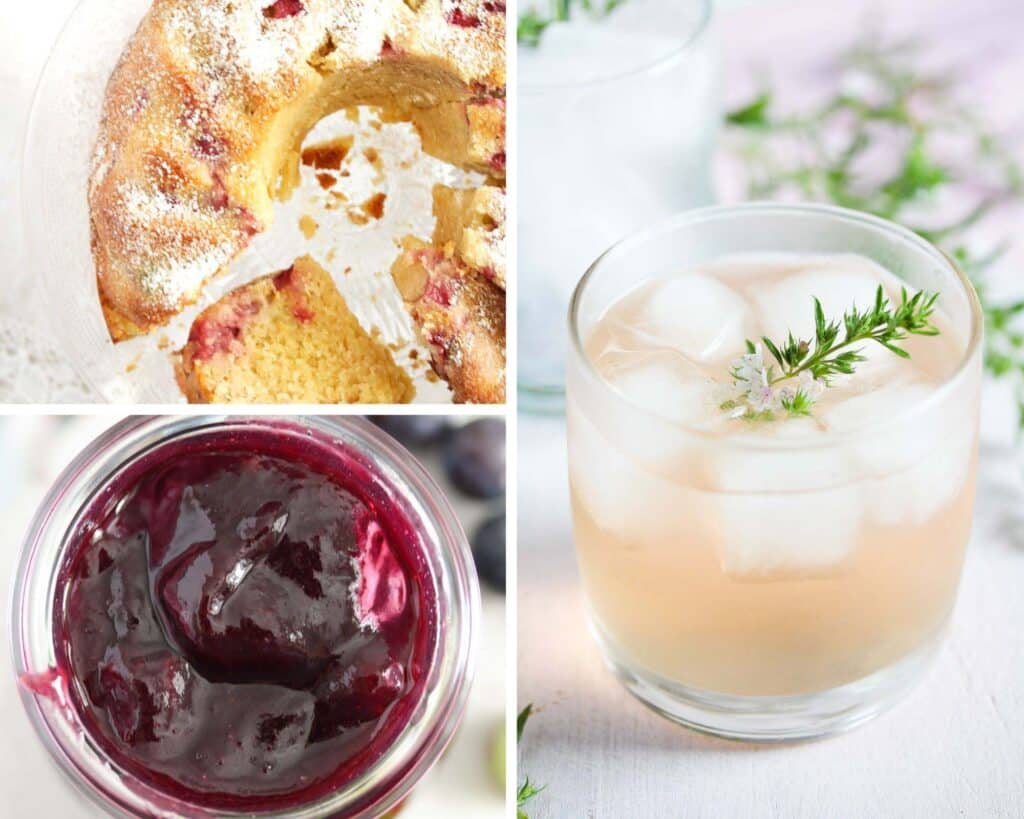 What is rhubarb?
A herbaceous perennial plant growing in cooler climates. Its origins are unknown, but what is know is that the plant was primarily grown for medicinal purposes before the 18th century. Then, during the early 18th century, people started growing it as a vegetable, mainly in England and Scandinavia.
It can be pink, green streaked with pink, or completely green. When searching for a recipe, you will see pink images of jam or desserts, while those on this blog are primarily green.
The reason for that is that I use the stalks of a standard green (slightly streaked with pink) plant growing in my neighbor's garden. I would never dream about buying the pink supermarket stalks just for the color when there is so much growing wildly next door.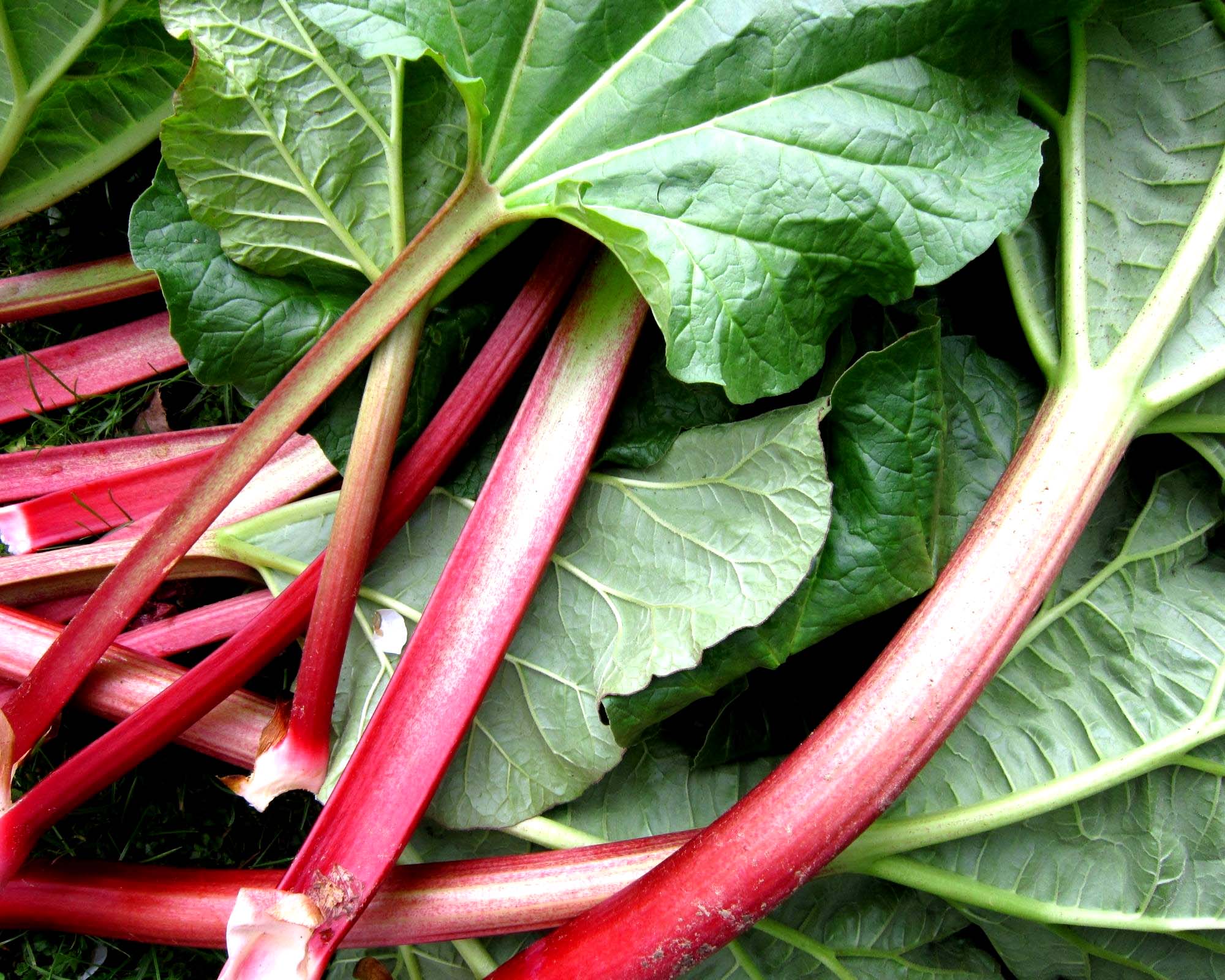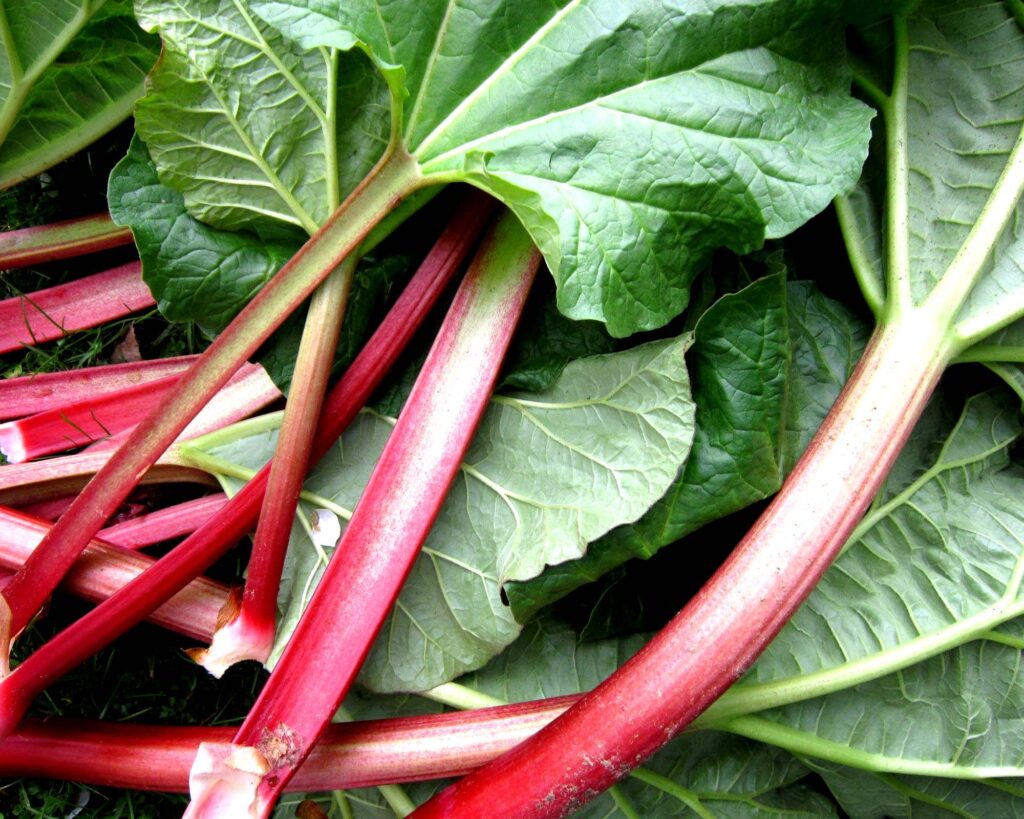 Vegetable or fruit?
Botanically, rhubarb is a vegetable, meaning it consists of roots, stalks, and leaves (while fruit is supposed to have seeds).
However, legally (in the US), the plant was classified as a fruit in 1947. The reasoning behind it was that people use it mainly to make cakes, desserts, and jams. This way, importers would pay fewer taxes when dealing with rhubarb than they would pay if the plant would have been classified as a vegetable.
Is rhubarb poisonous?
The stalks are edible, but the leaves are poisonous. They contain oxalic acid, which is toxic to both humans and animals. Eating several pounds of leaves (!!!!!) will cause stomach pain, nausea, diarrhea, and vomiting. But who would eat that?
Season
The plant has a short season in spring; try to make the most of it! Depending on where you live, you can pick it between April and the end of June.
How to pick rhubarb?
Pick firm, upright, glossy stalks. The leaves should also look fresh and not be wilted.
Grab the stalk near the bottom, twist it gently to the side and pull it up; it will easily separate from the rest of the plant. Discard the leaves.
The best time to pick it is when the stalks are about 25-30 cm/ 10-12 inches long. But I don't bother if the stalks are larger than that; if they look crisp and fresh, they will still taste great.
Although technically, you can harvest it until the fall, it is better to stop at the end of June/ beginning of July to allow the plant to store enough energy to make it through the winter and grow again in spring.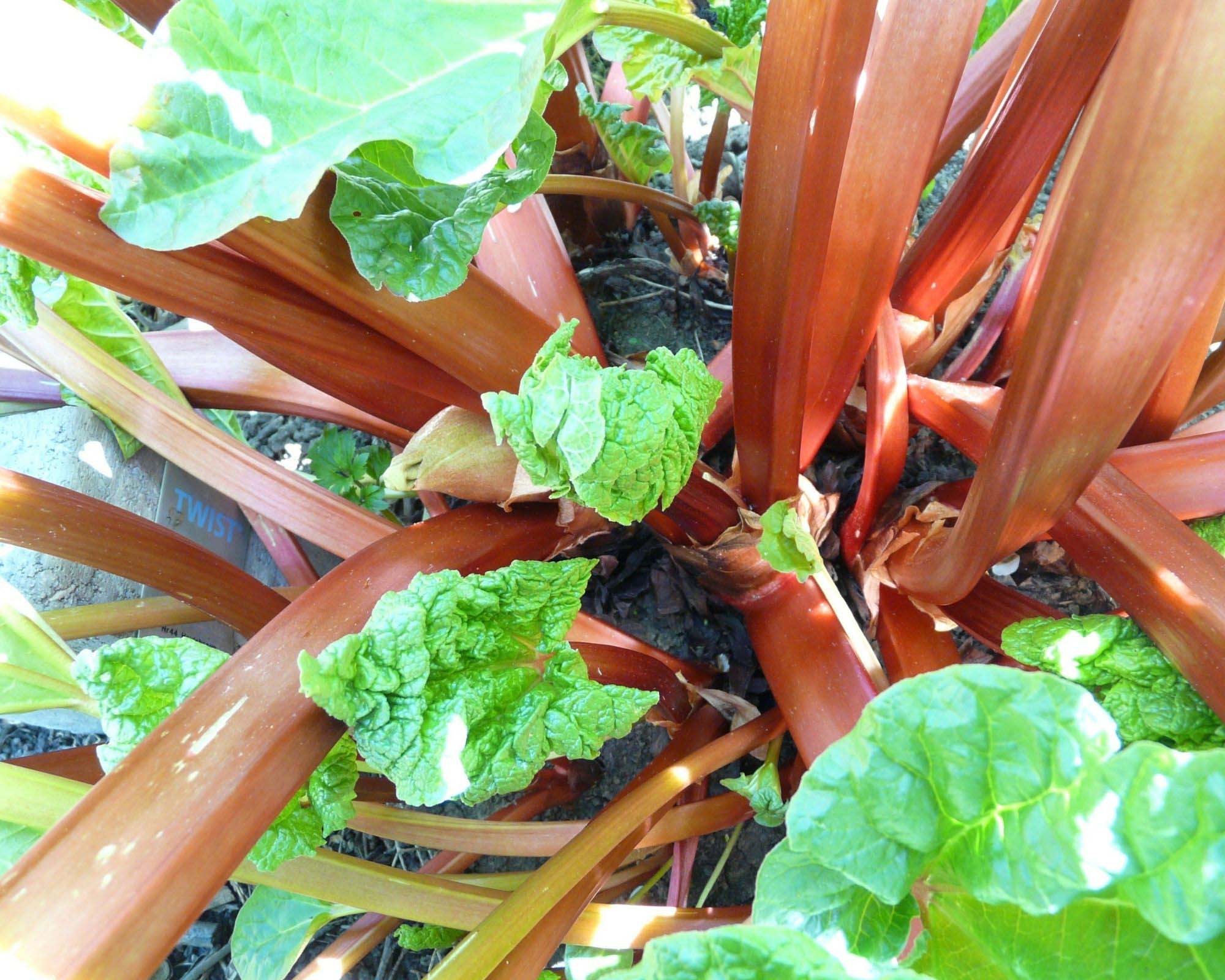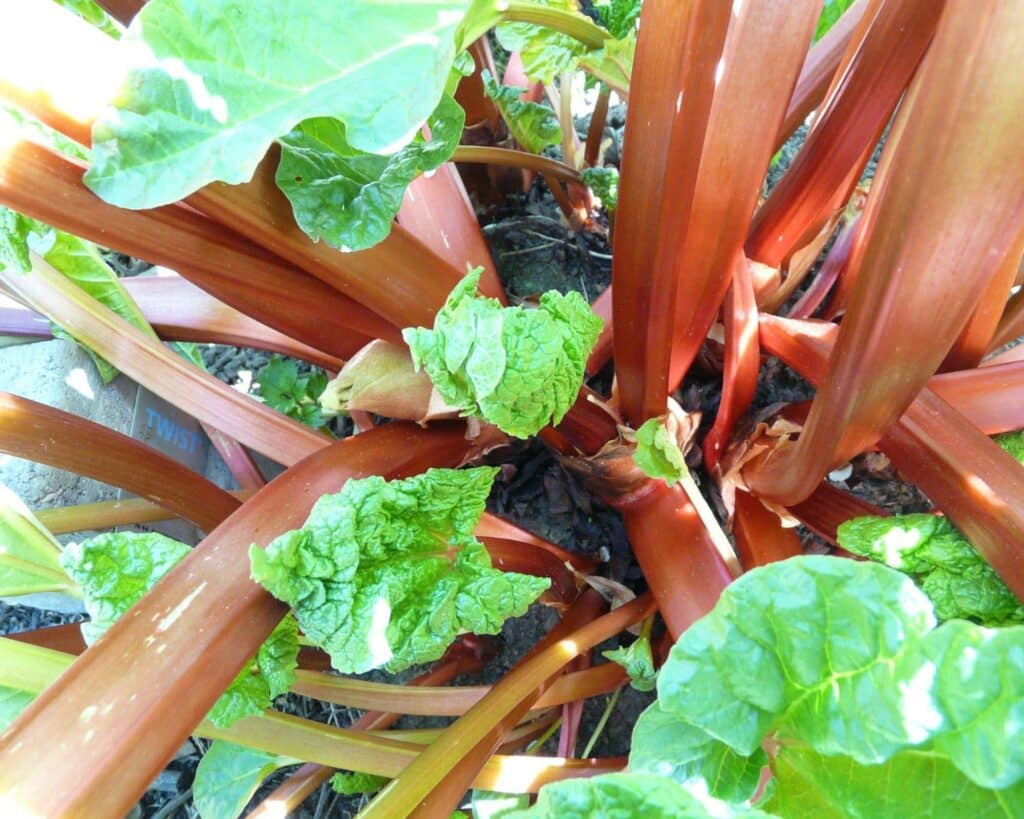 How to prepare it?
Discard the leaves, they are poisonous!
Snap off the root ends; they might feel slightly slimy, but that's ok; you will discard them anyway.
Wash the stems thoroughly under running water. Dry with kitchen towels.
Chop the stalks as instructed in the recipe you are following. If they are too wide, you can half them lengthwise before chopping them into smaller pieces.
Peeling is unnecessary unless the peel is damaged in places or the stalks are very large (older). If the peel is blemished, remove those spots with a small knife.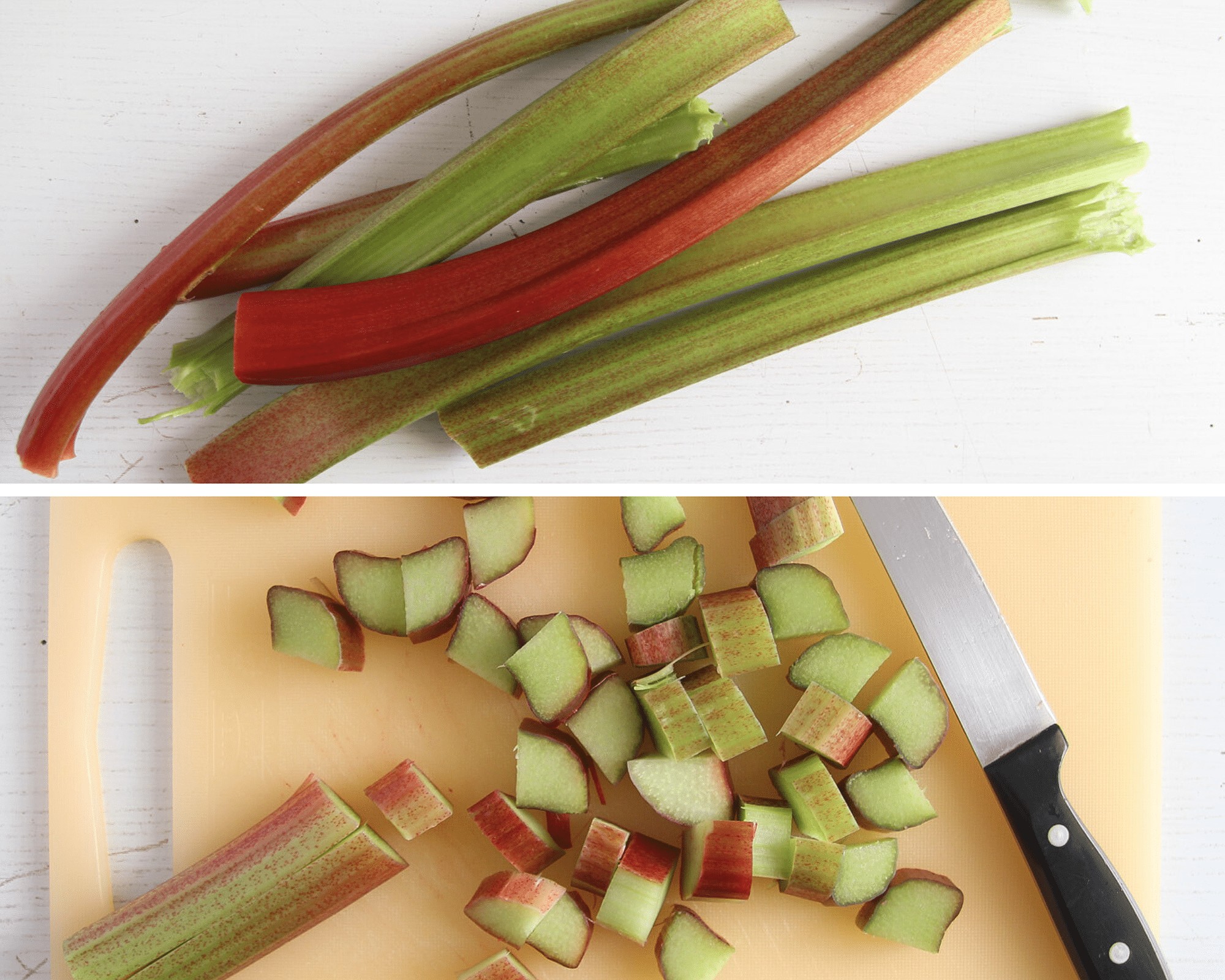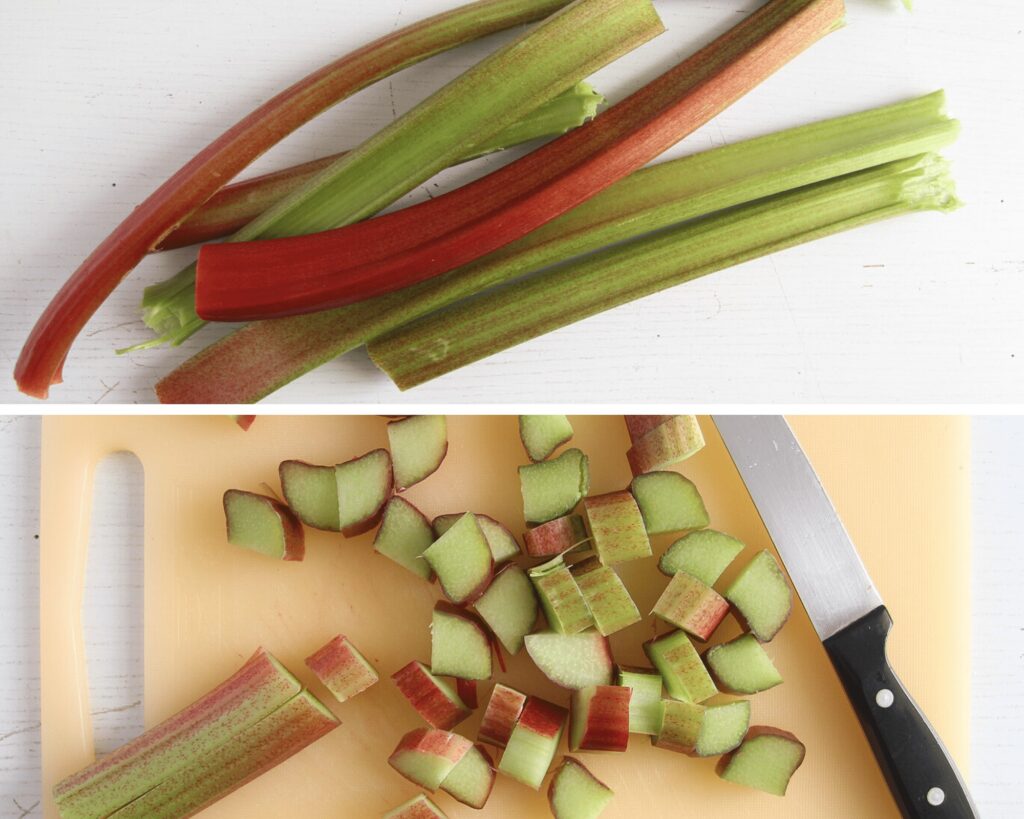 How to store rhubarb?
You can store the whole stems in the crisp drawer of the refrigerator. Or chop the plant first and store it in airtight containers in the fridge. It will keep for up to 4 days.
How to preserve rhubarb?
Freeze:
Clean and chop it into small pieces. Place in freezer bags and freeze. It will keep for about one year. For detailed instructions, see How to Freeze Rhubarb.
Frozen rhubarb can be used in most recipes. Defrost and drain thoroughly before using. If you find you still have lots of frozen pieces in the freezer shortly before the new season, you can even use them to make jam.
Can:
Canning or Preserving Rhubarb in jars is quick and easy. And incredibly delicious, so good, you can eat it as it is, instead of dessert.
Or you can use it to top other desserts, for instance, custards or puddings. You can use it to make a trifle, mix it with yogurt or quark, or serve it with a dollop of whipped cream or sweetened crème Fraiche.
Delicious for filling crepes or for topping pancakes, semolina, or rice pudding.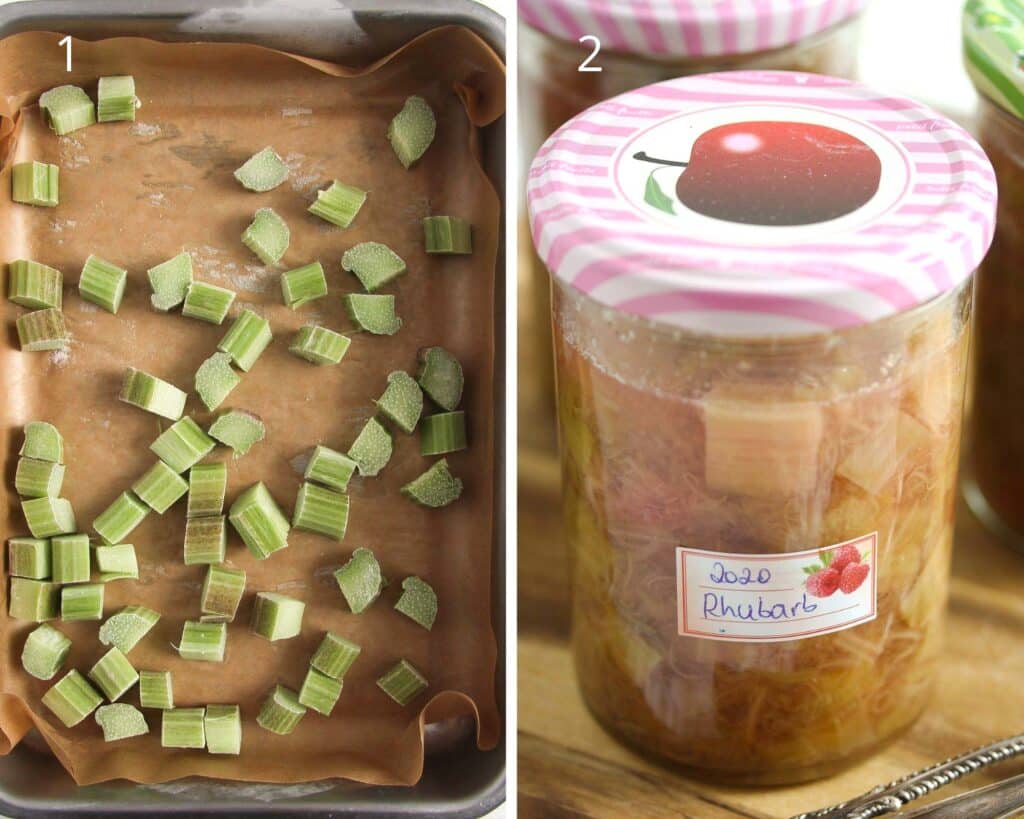 Jam: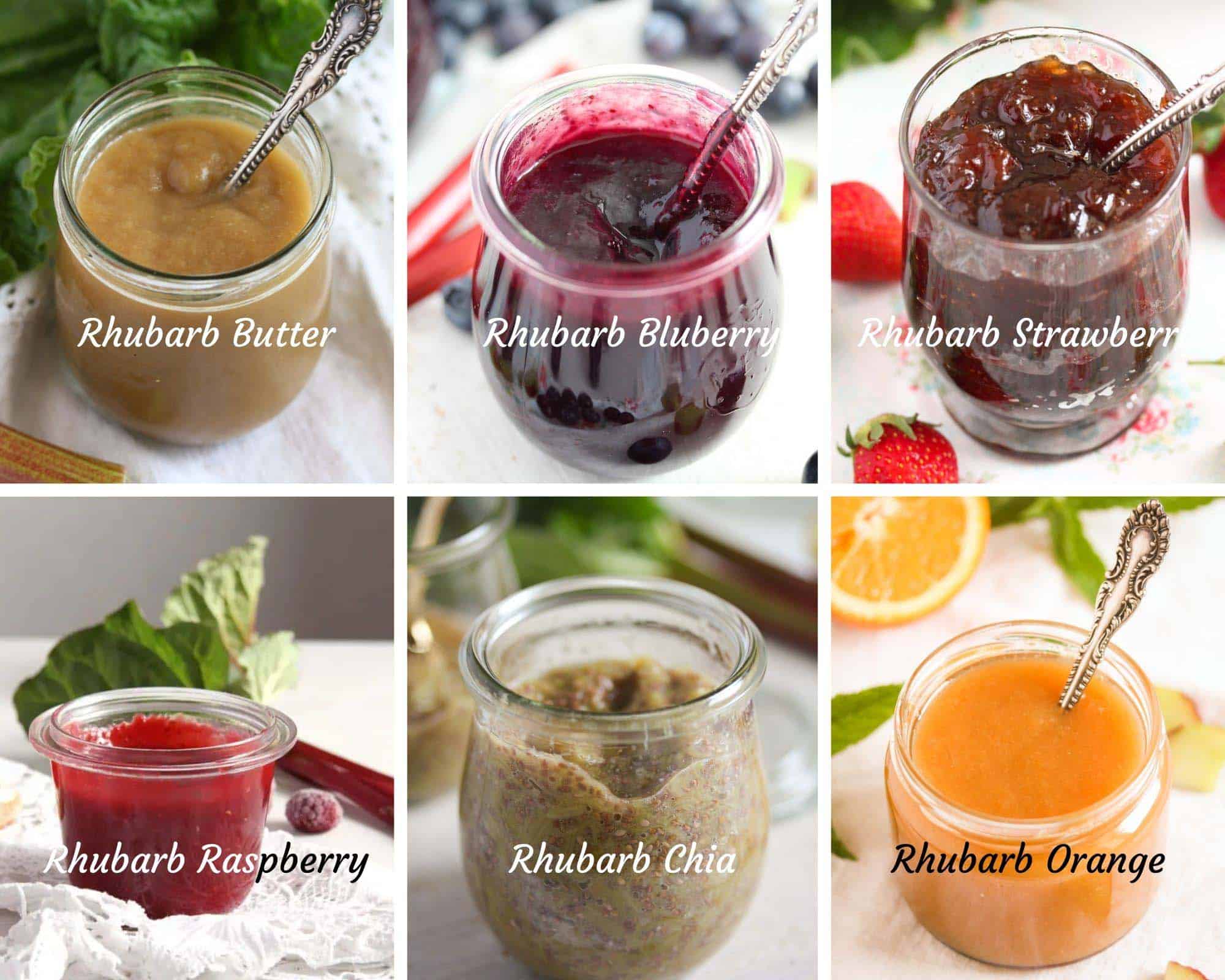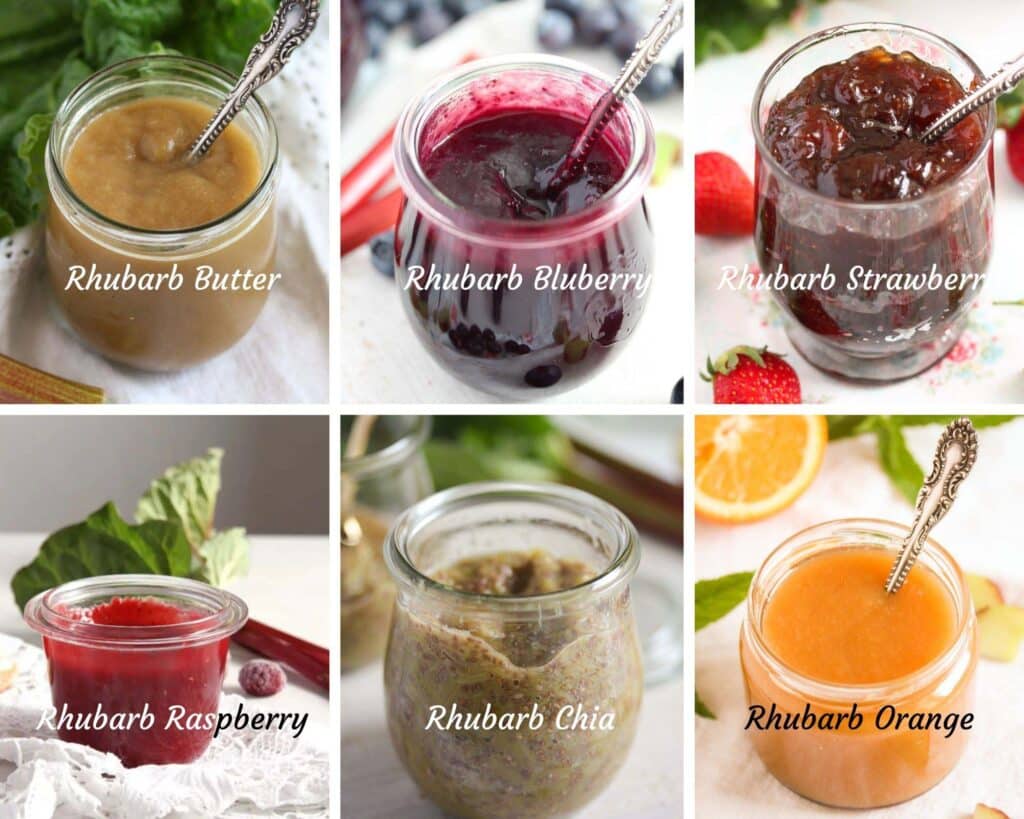 Drinks:
I make this incredibly aromatic Rhubarb Syrup every spring. Serve with sparkling water and ice cubes. Add to other drinks, like sparkling wine, gin, vodka, and so on.
You can also try this Rhubarb and Ginger Gin; it's fantastic!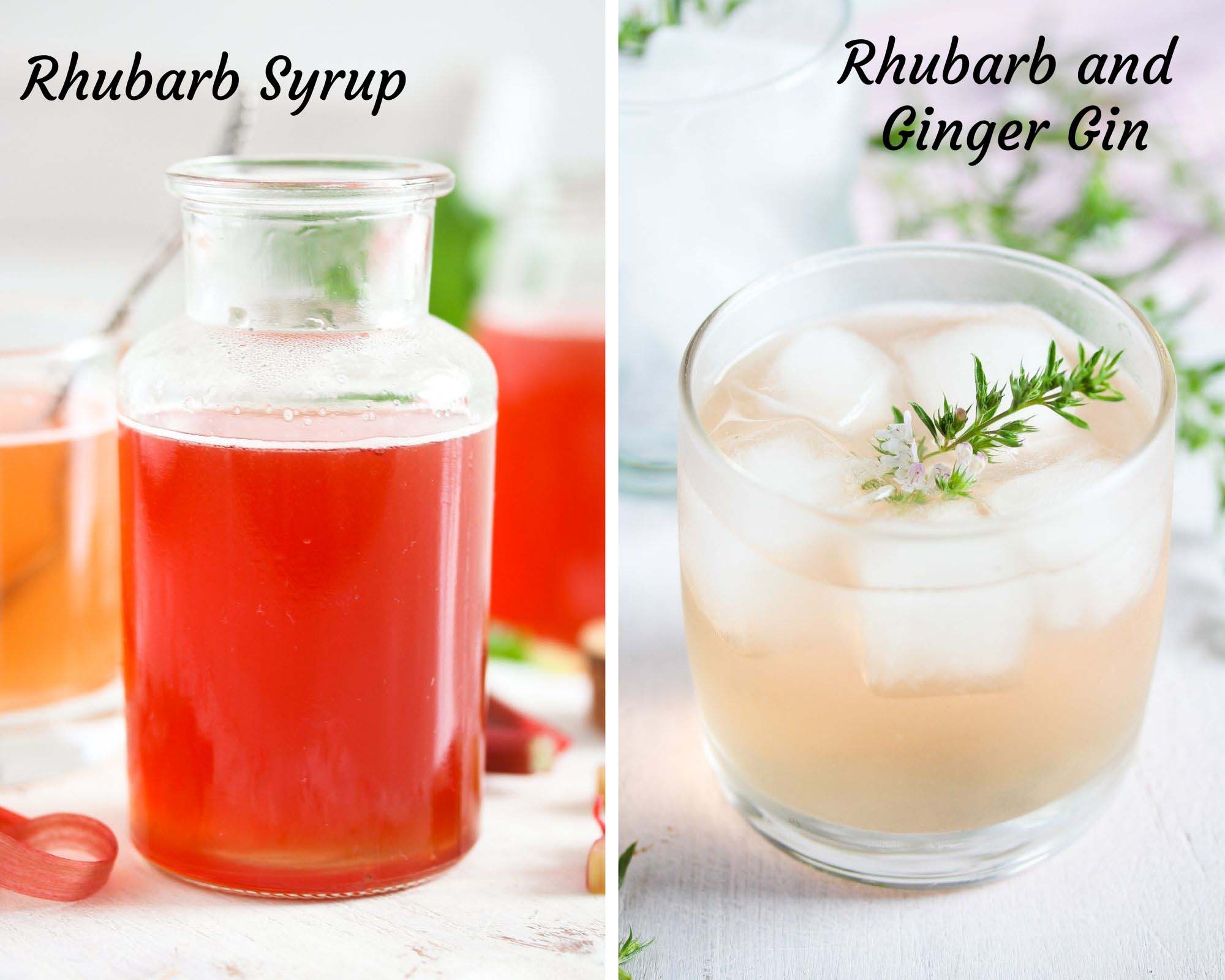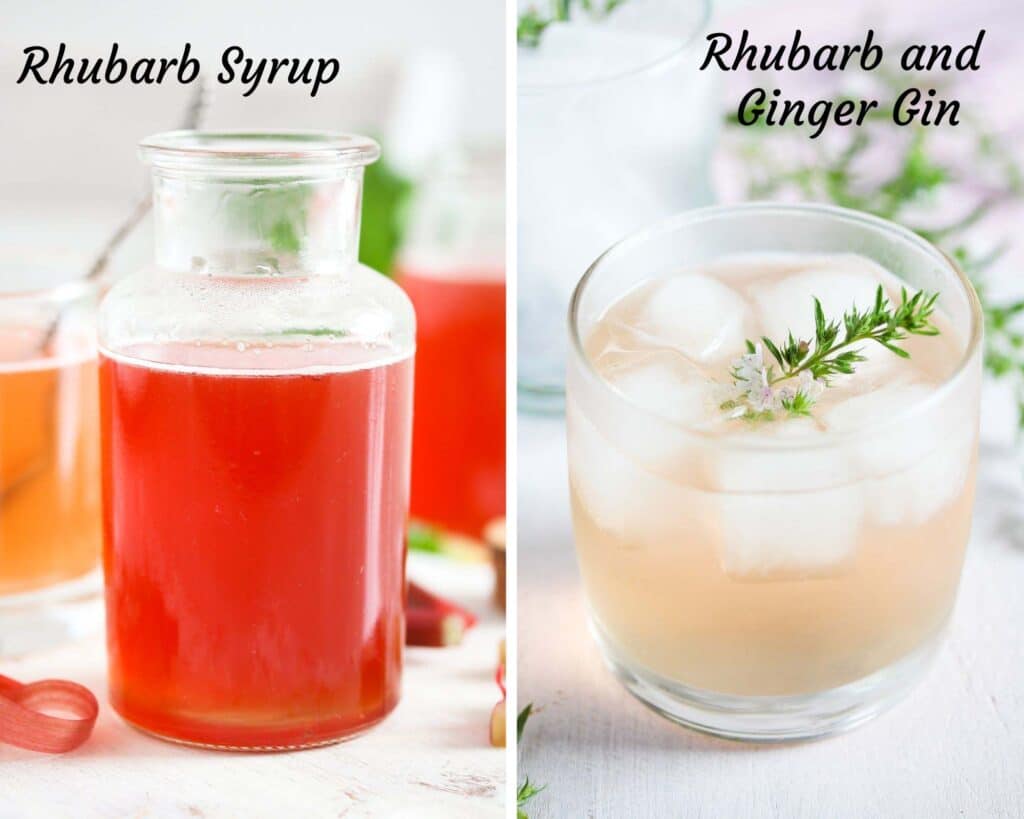 How to Cook with Rhubarb?
Rhubarb is an incredibly versatile plant when it comes to cooking. You can use it like you would any other fruit and make desserts and cakes. Or you can cook savory rhubarb dishes.
Cooking rhubarb in a savory way: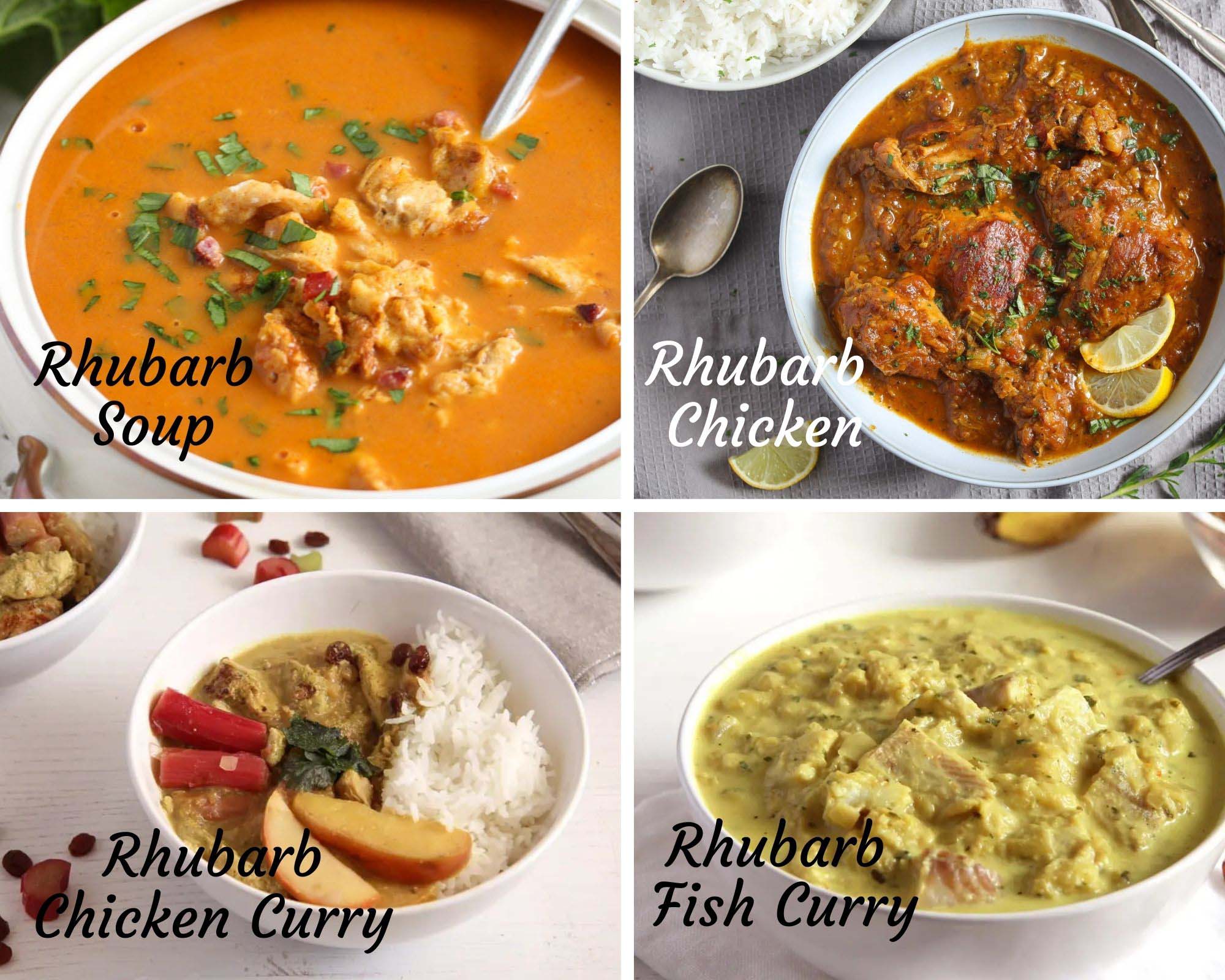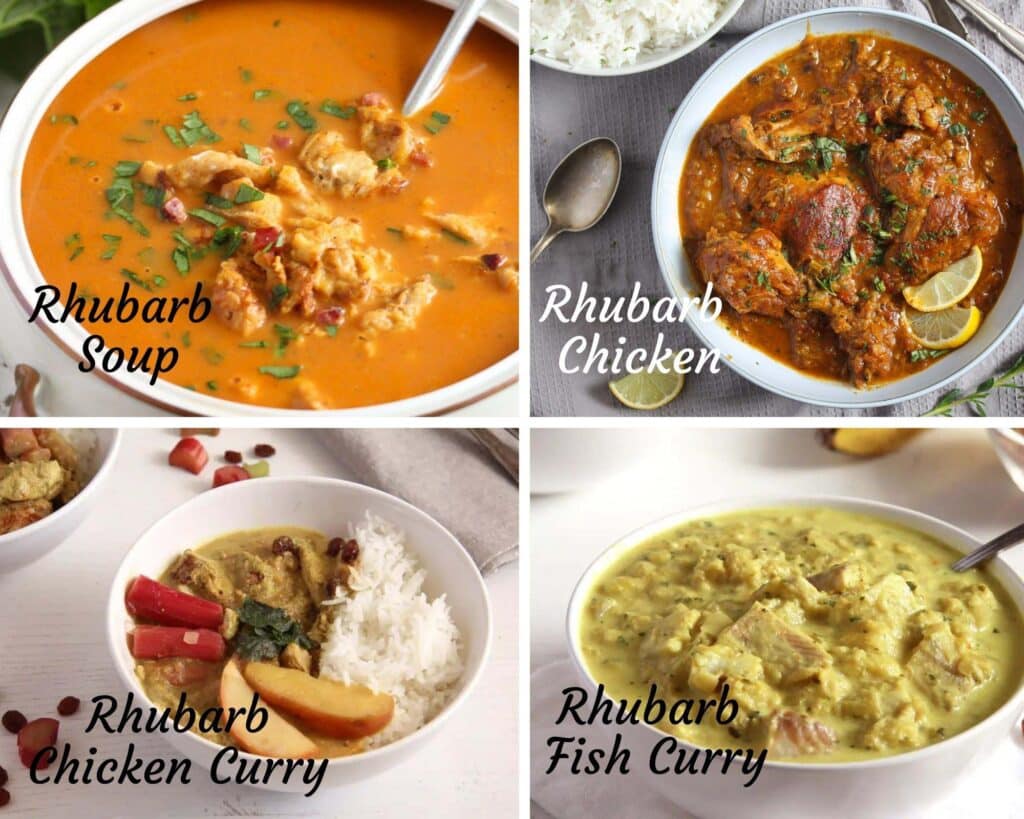 Rhubarb desserts: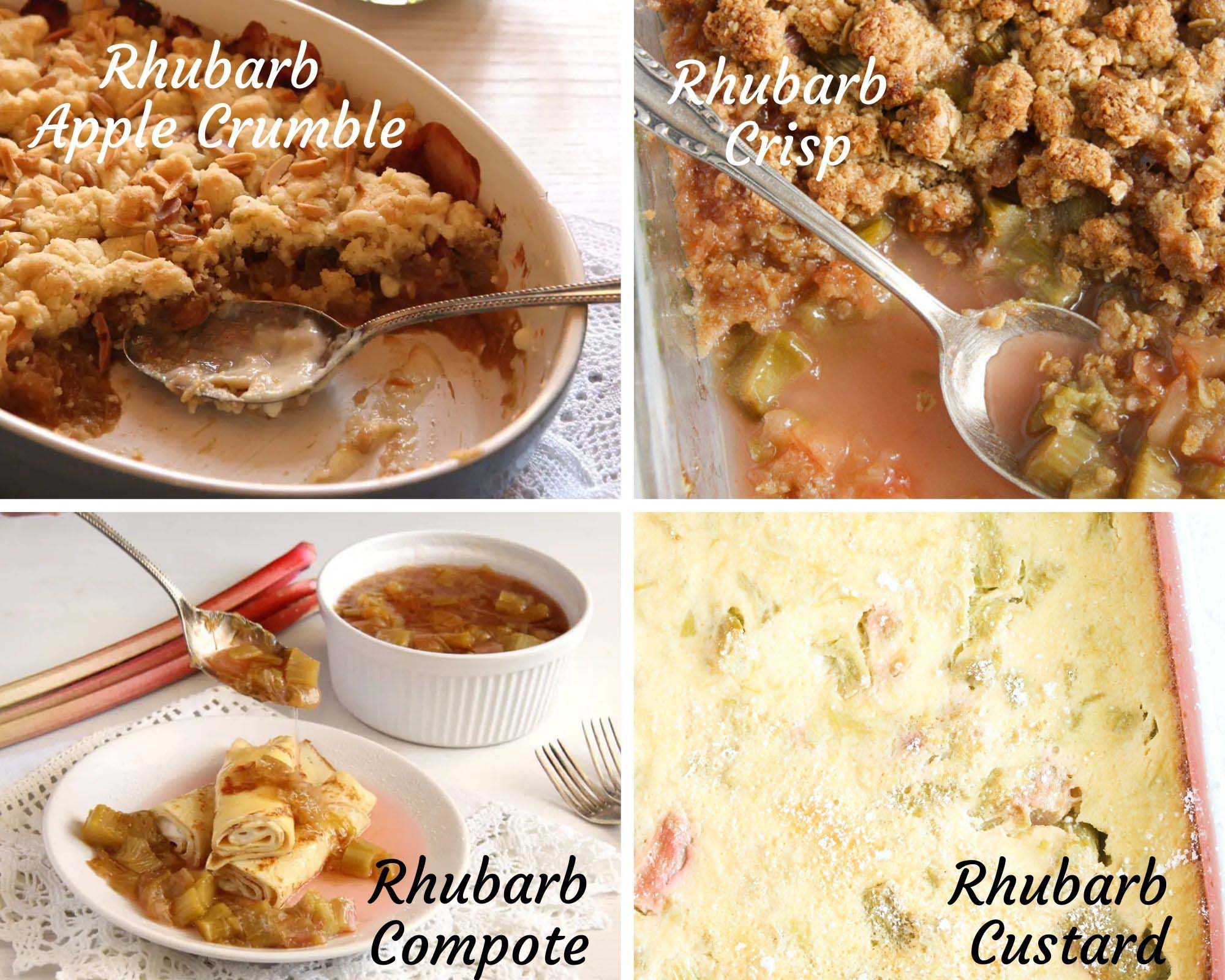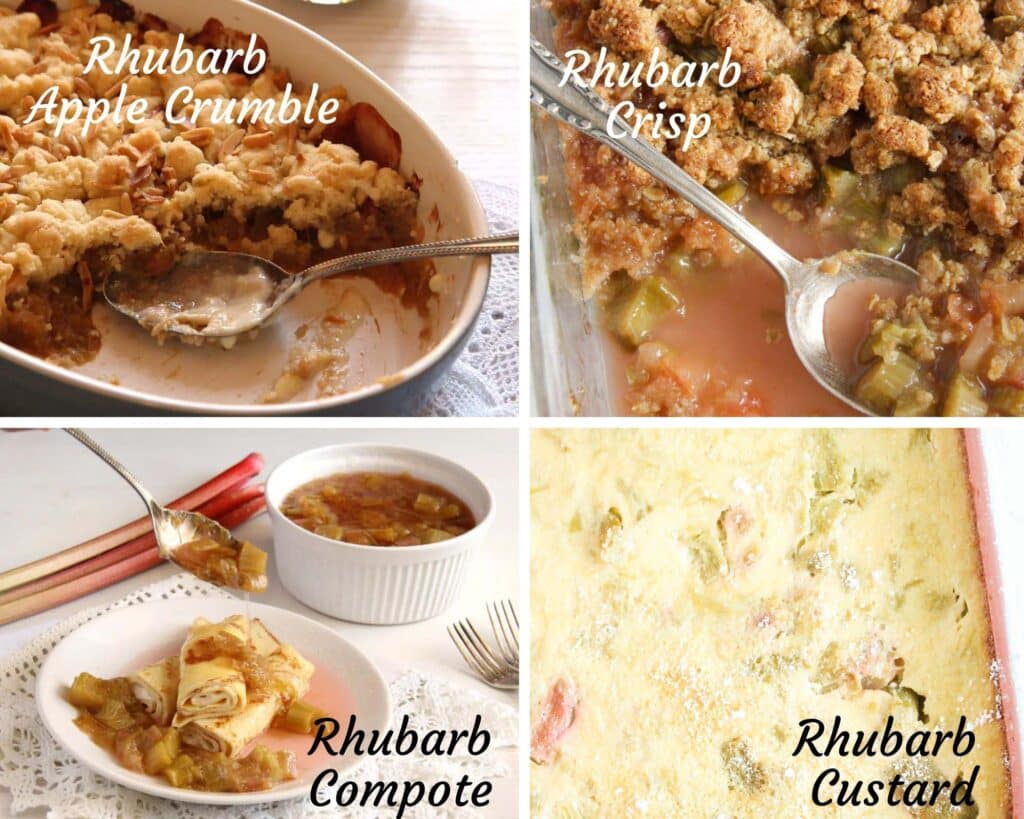 Baking with rhubarb: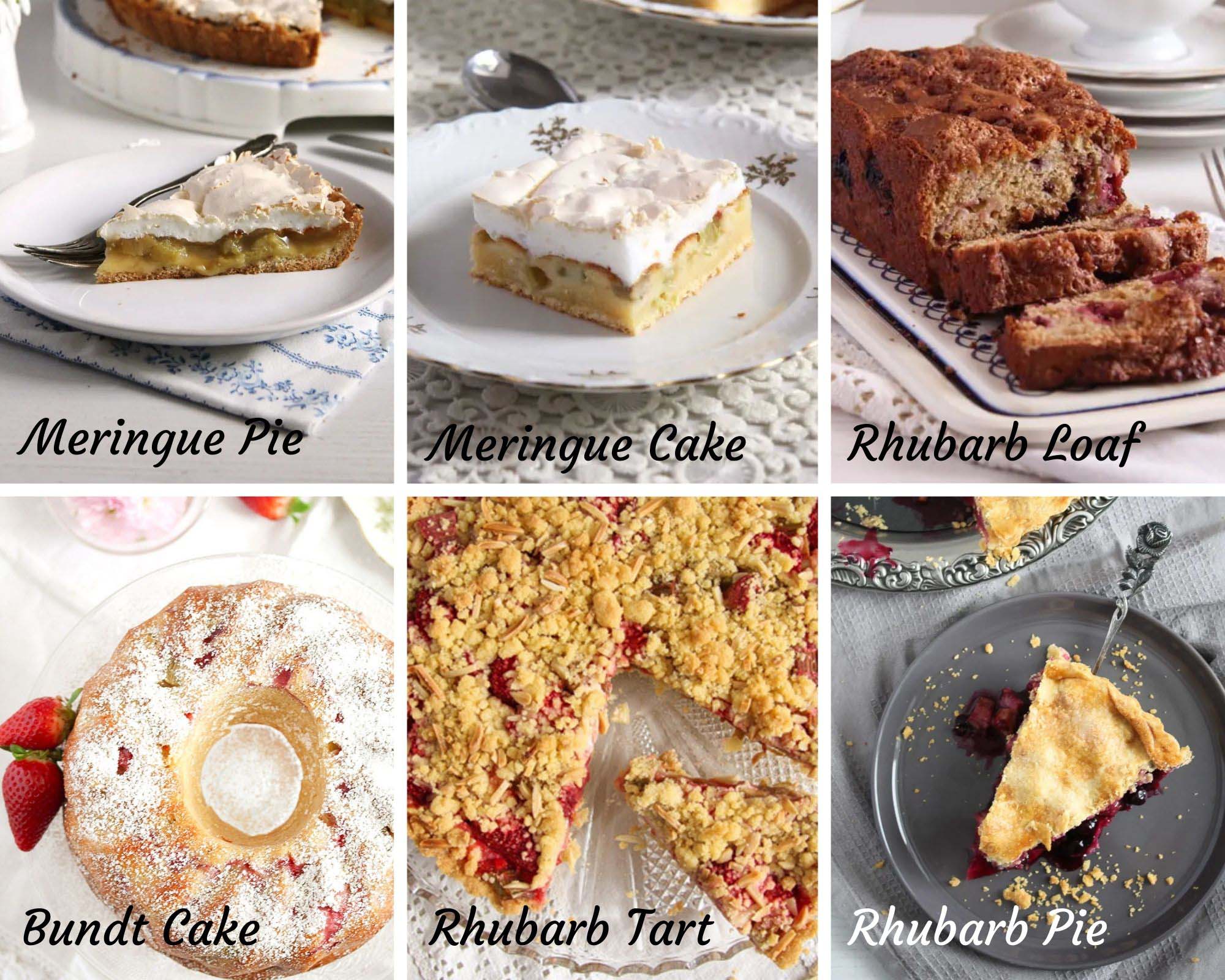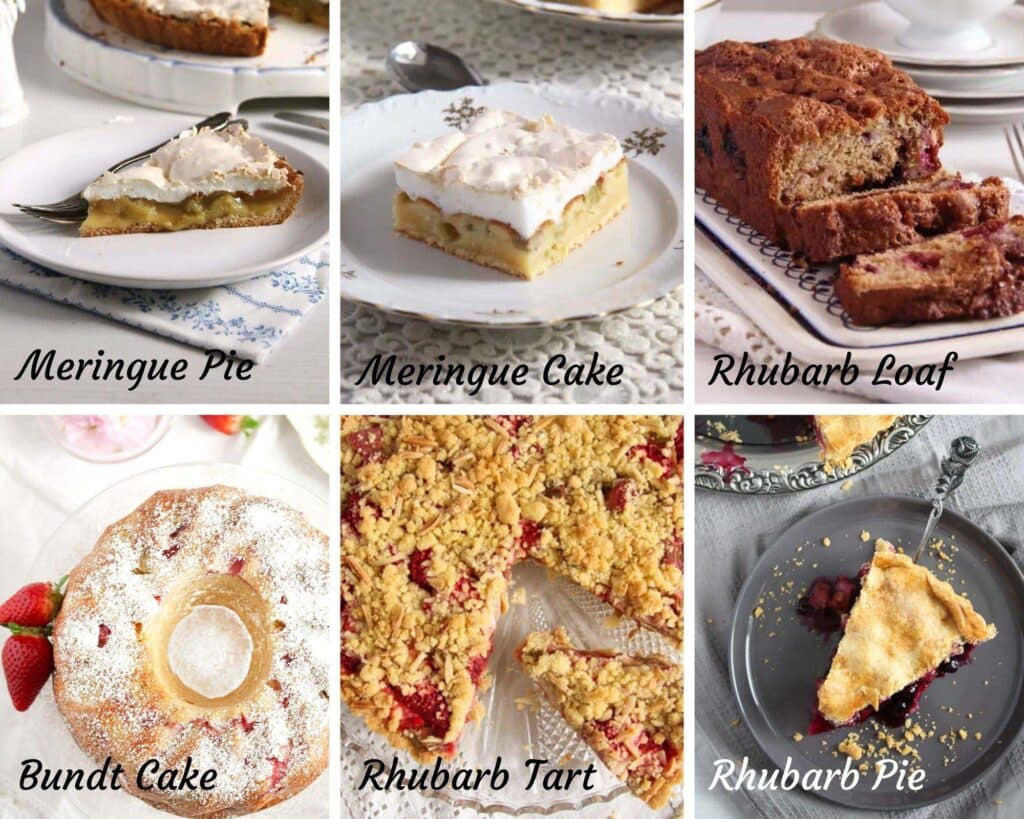 The rhubarb season is almost to an end, but I will keep adding a couple of recipes now and, for sure, quite a few of them next year as well. So, if you love rhubarb as much as we do, do give some of these recipes a try; you will not be disappointed. And I would love to hear some feedback!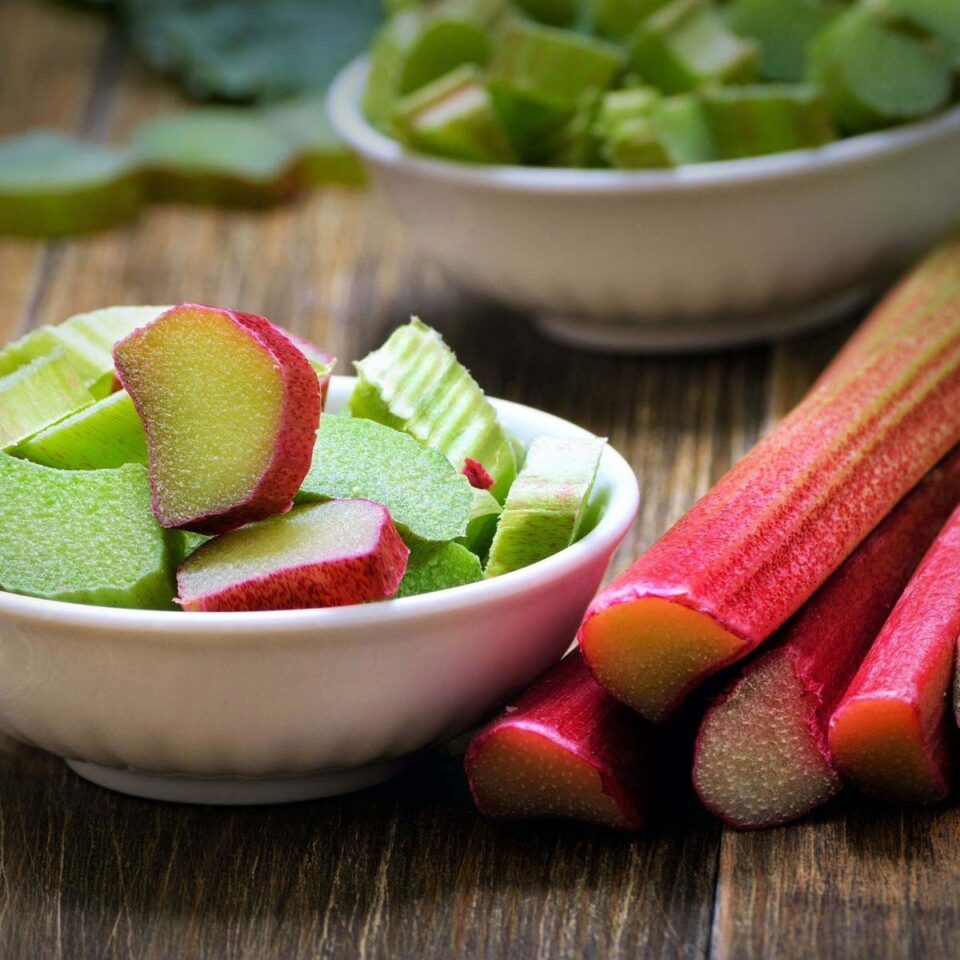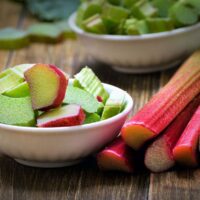 Rhubarb and Ginger Jam (Bonus Recipe)
Now that you've learned about preserving, cooking, and baking with rhubarb, make this flavorful rhubarb and ginger jam!
Print
Pin
Share
Grow
Saved!
Rate
Ingredients
2

lbs

chopped rhubarb

1 kg

2

lbs

granulated sugar

1 kg

2

tablespoons

fresh grated ginger

2

tablespoons

chopped crystallized ginger

Note

2

tablespoons

fresh lemon juice
Instructions
Macerate: Clean and chop the rhubarb. Place in a bowl, add sugar, both types of ginger and lemon juice. Cover with a towel and let stand for about 2 hours.

Preparations: Sterilize the jars, set aside, upside-down on a clean kitchen towel. Place a saucer in the freezer; you will need it to see if the jam is set.

Cook: Pour the contents of the bowl in a large pot and bring to a boil while often stirring to help dissolve the sugar. Once the mixture comes to a full boil, continue cooking while stirring until the rhubarb is tender and the jam is set. It should take between 12 and 20 minutes, depending mainly on the size of the pot and the heat. The wider the pot, the faster the jam will set.

Check: Remove from the heat. Drop a few drops of the jam on the saucer you had in the freezer. Leave them for about 20-30 seconds, then push with your finger; the jam should wrinkle. If it doesn't, cook it for about 2 more minutes than check again.

Store: Pour the jam into the sterilized jars through a jam funnel and seal. Leave to cool entirely without moving.
Notes
It's nice, but leave it out if you don't have it.
Nutrition
Serving:
1
jar
|
Calories:
696
kcal
|
Carbohydrates:
178
g
|
Protein:
2
g
|
Sodium:
9
mg
|
Fiber:
3
g
|
Sugar:
171
g