Ruby rhubarb simple syrup made with the leftover peel. An easy and delicious way of preserving rhubarb.
Rhubarb Syrup Recipe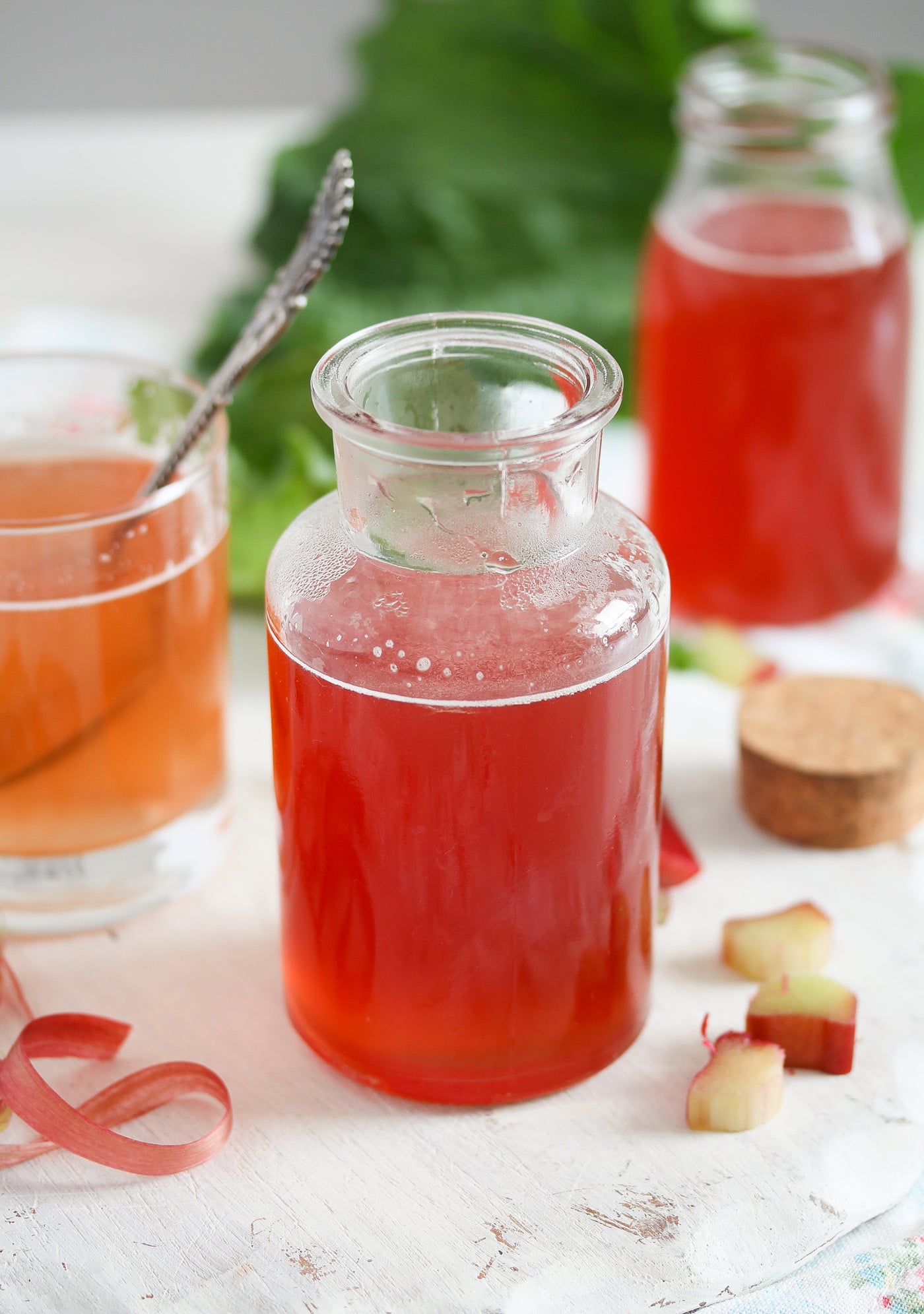 We love rhubarb. Everything about it. From this rhubarb simple syrup recipe to rhubarb jams, cakes or pies, rhubarb with fish or chicken. Or how about canning rhubarb?
Several years ago, while searching for a new way to preserve rhubarb I came to the idea of making syrup. And there there was, this simple recipe, which for me was close to genius.
Why? Because it is using the peel of the rhubarb. The result is a wonderfully colored syrup, with a tart and lemony taste, refreshing and bursting with flavor.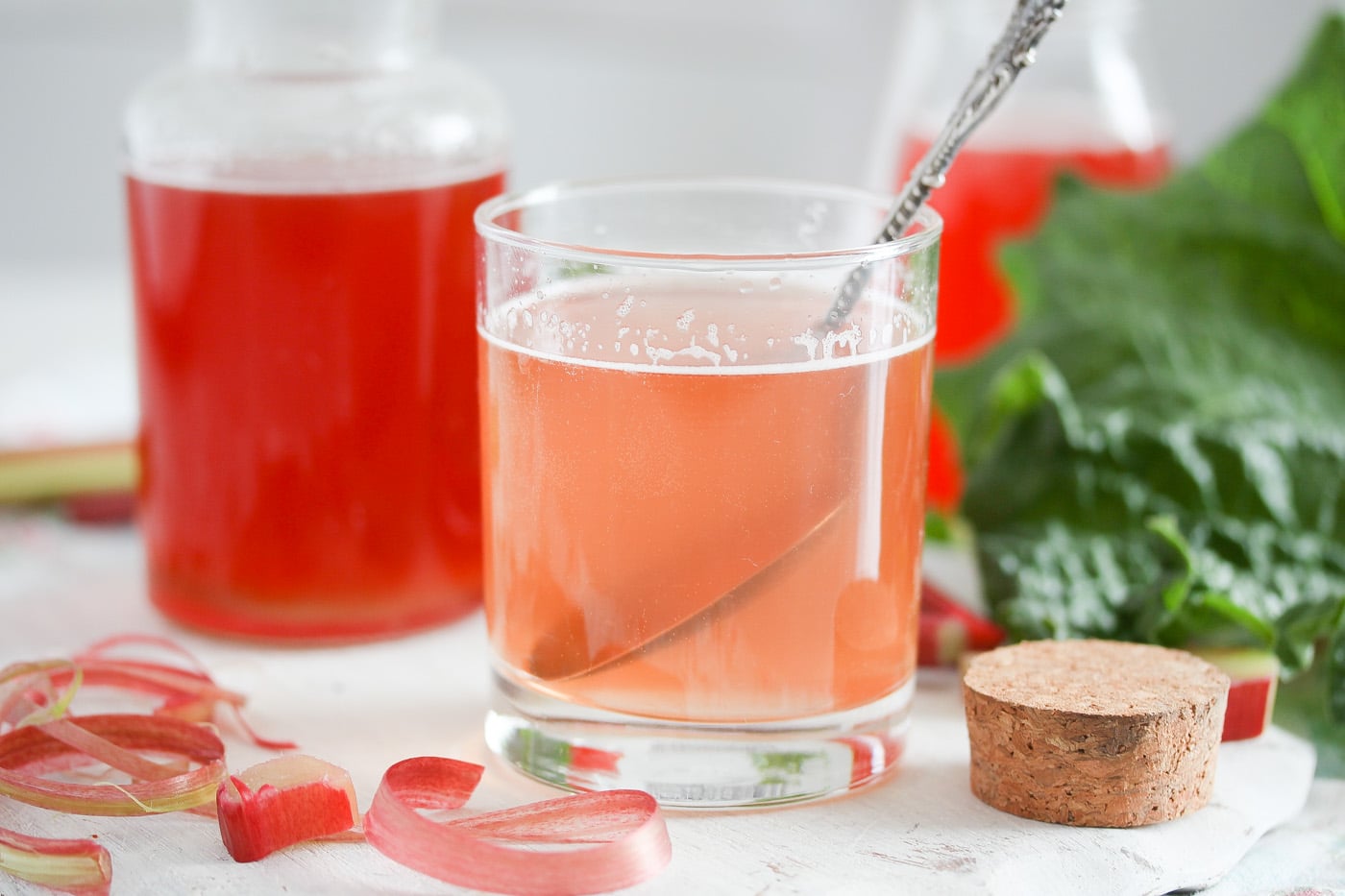 Do you have to peel rhubarb?
Actually, you don't have to peel it.
All recipes, either jams or cakes, turn out perfectly fine if you leave the peel on.
The peel, which might look so stringy at first, softens during the cooking process and you will never notice it in the end.
It is a good thing to leave it on, not only because it will not disturb at all in the finished dish, but also because of its nice color.
So, only peel the rhubarb if a recipe requires that specifically, otherwise, don't bother, leave it on.
But do throw away the leaves, they are poisonous!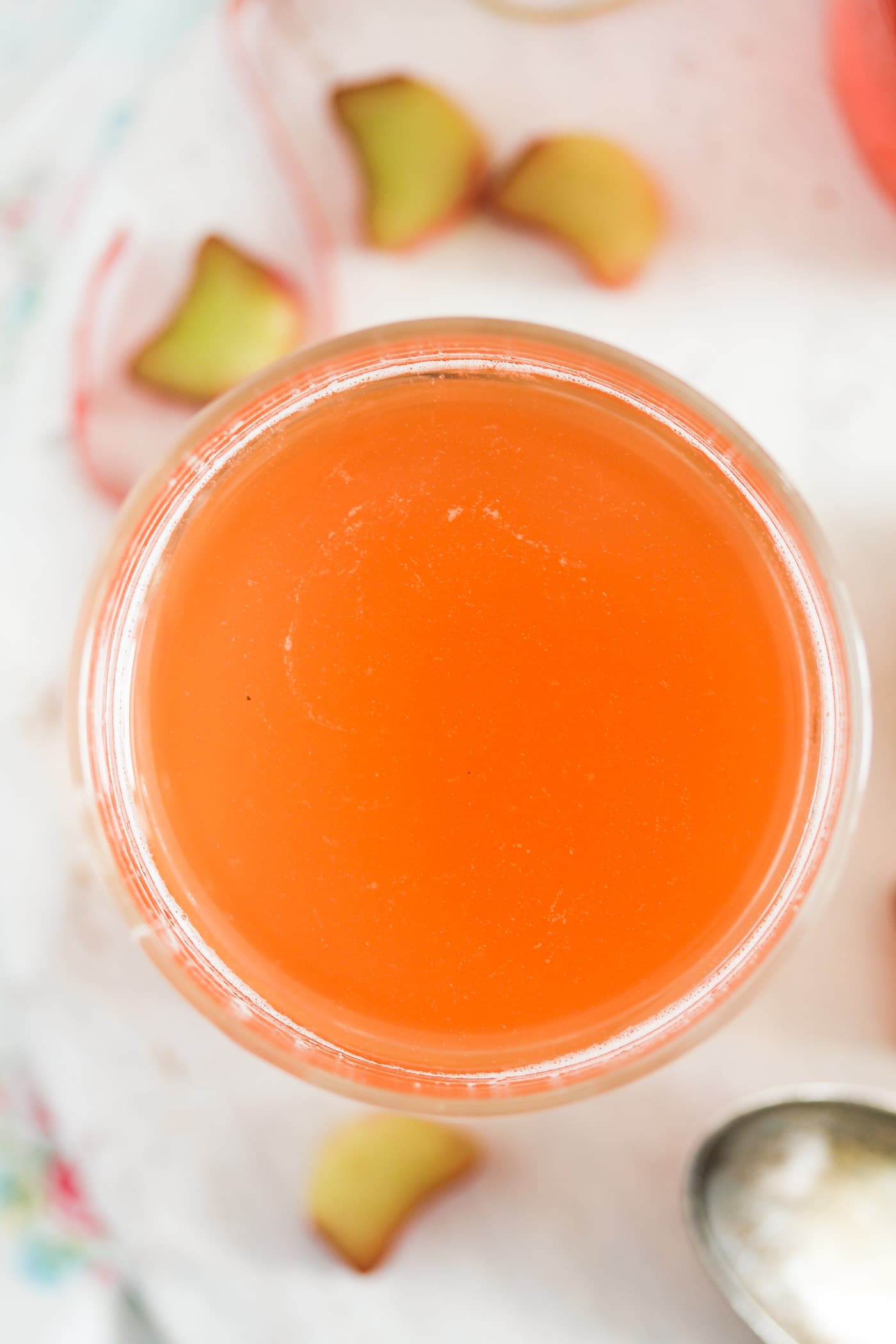 What about the peel for the rhubarb syrup?
Well, you will have to peel a few rhubarb stalks if you want to make this simple syrup.
Take the peel you need and use the peeled rhubarb to make any other recipe you feel like making.
This way, you pay (or pick) rhubarb once, but have two recipes ready. Very economical, isn't it?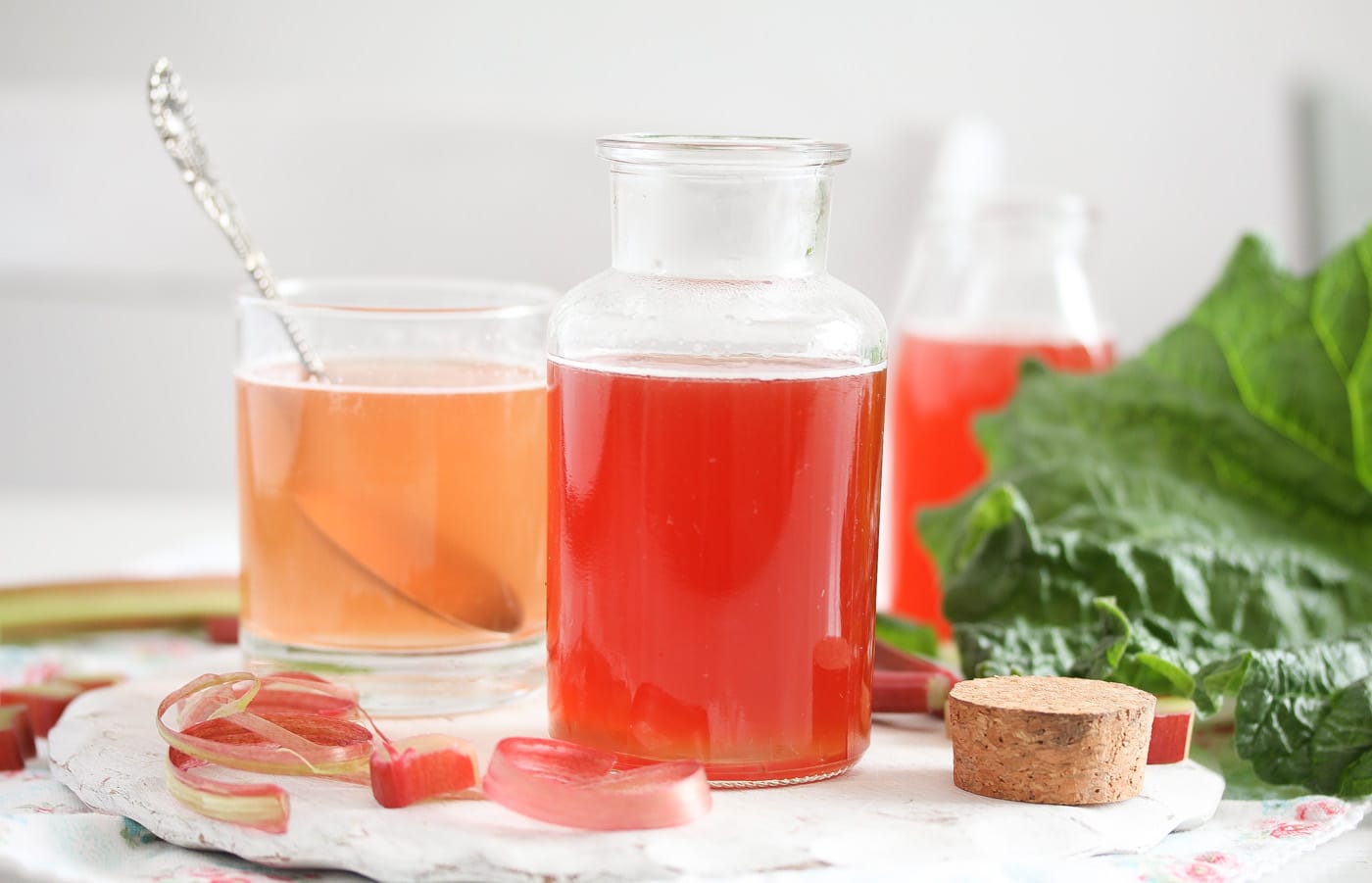 How to make?
Making homemade simple syrup is super easy.
Place the peel in a large pot.
Add sugar, citric acid, and water and bring to a boil.
The citric acid is necessary for preserving the syrup and for a nice lemony taste.
Turn the heat down to low and simmer for about 20-25 minutes, depending on the size of your pot. If the pot is very wide, the syrup will thicken sooner, so check. The liquid should be slightly thicker, but not too much so and not too glossy.
Leave the peel inside the pot, let the syrup cool down, cover and place the pot in a cool place (like a cellar or a pantry).
Let stand for 24 hours.
Strain the syrup and discard the peel.
Return the liquid to the pot, bring to a boil, turn the heat down to low and simmer for 6-8 minutes, until the syrup thickens slightly.
Pour into sterilized bottles and seal.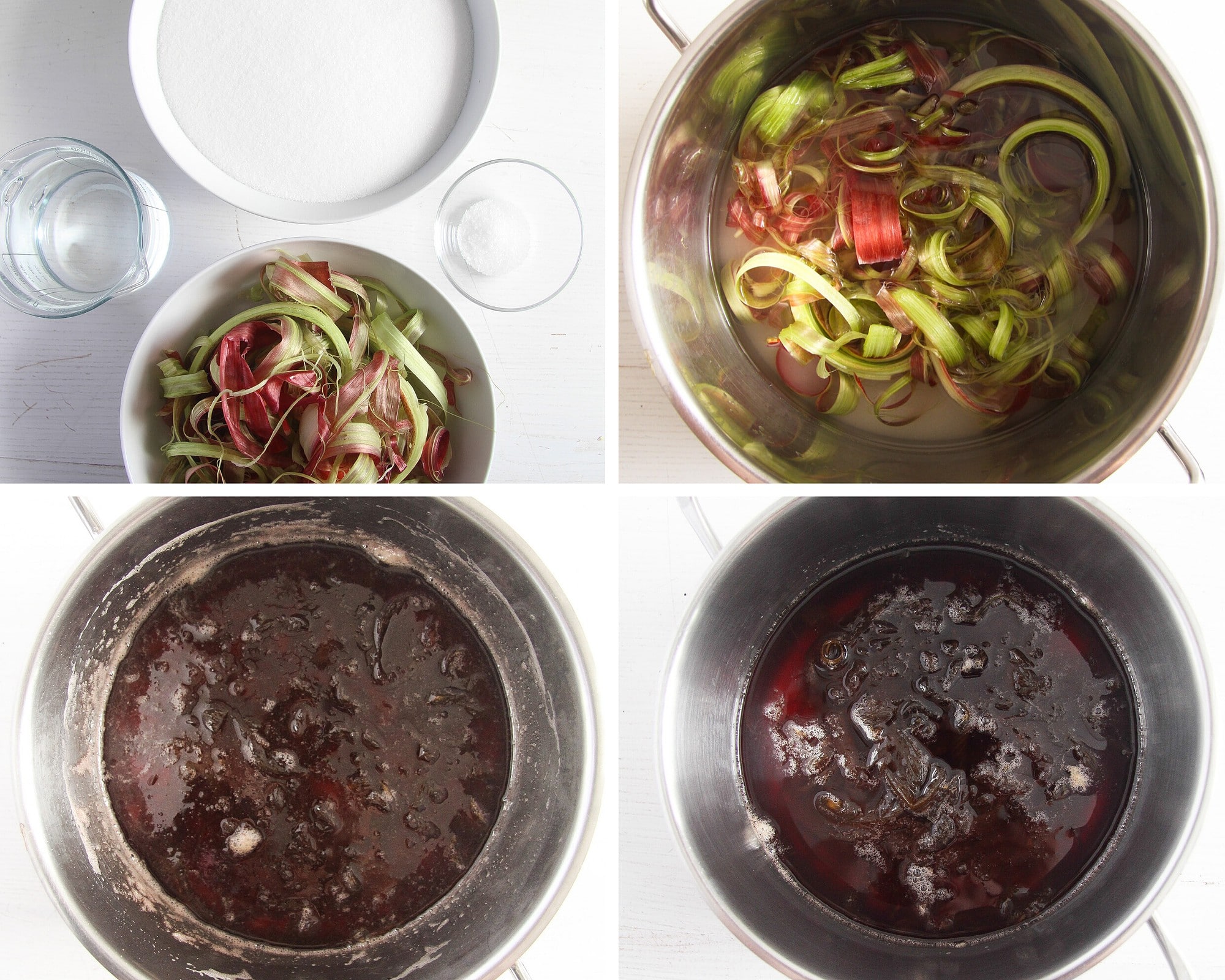 How to keep?
The rhubarb simple syrup keeps well in a dark cool place for about 1 year.
Always check before using, it should not smell or look weird. If so, discard it.
Once you opened a bottle, keep in the fridge, and consume within 1-2 weeks.
This recipe makes enough syrup to fill 2 or 3 small bottles.
How to use the syrup?
Pour some in a glass and fill with sparkling water or sparkling wine. I always add a squeeze of fresh lemon juice.
Pour over ice cream, pancakes, crepes or waffles.
You can use it to sweeten yogurt, müsli or various desserts.
Use to moisten cake bases.
I even used it to make cake batter, because I was missing the necessary Fanta. I just mixed it up with sparkling water and pretended it was Fanta. It worked.
More syrup recipes?
How to Make a Simple Strawberry Syrup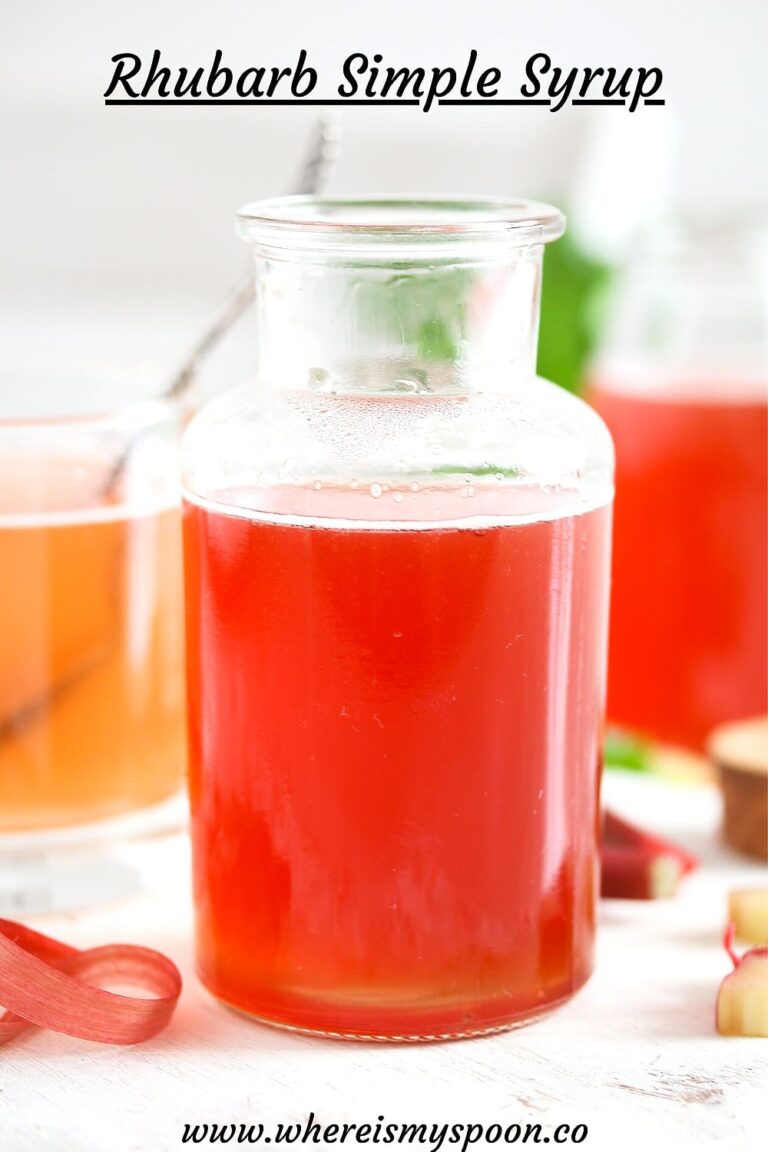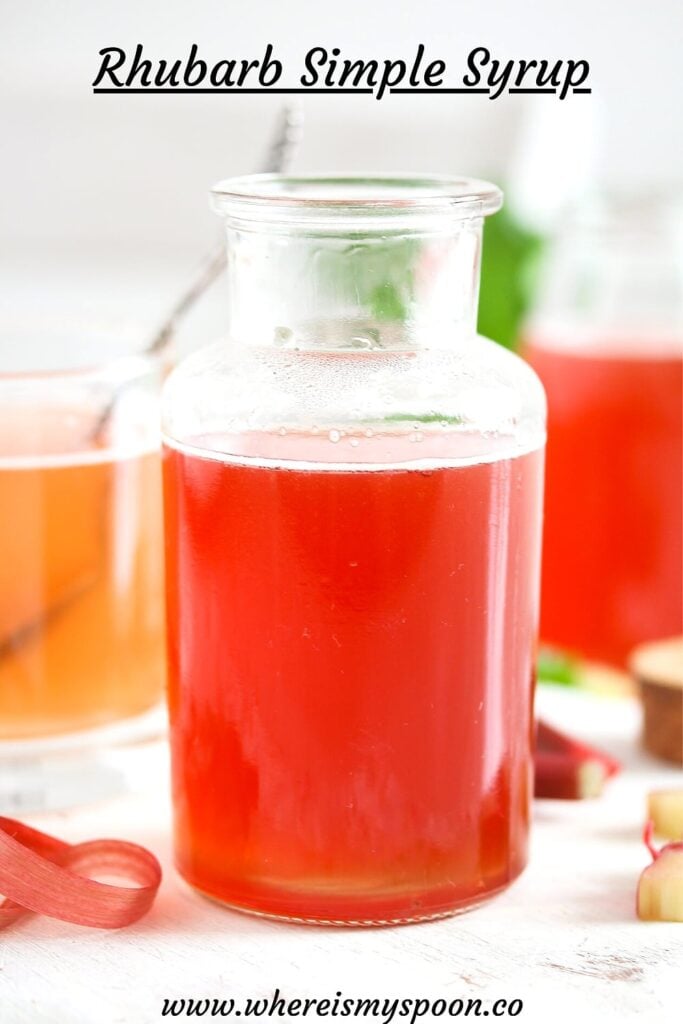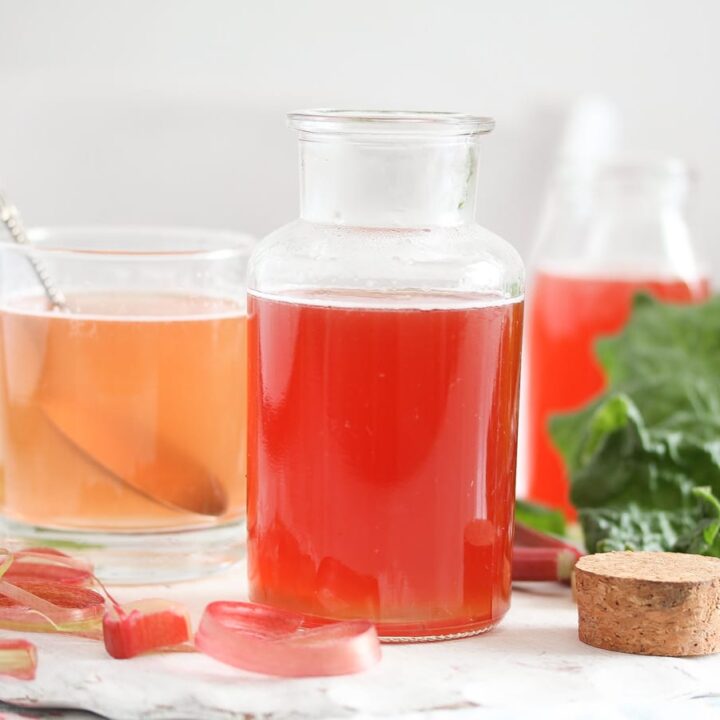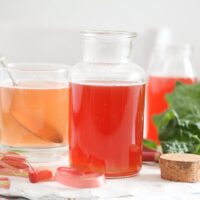 Rhubarb Simple Syrup (with Leftover Peel)
Rhubarb simple syrup made with the leftover peel. A great and easy method of preserving rhubarb and making use of leftovers.
Print
Pin
Share
Grow
Saved!
Rate
Servings:
2
-3 small bottles
Ingredients
8.8

oz

rhubarb peel

5

cups

granulated sugar

2 ¼

teaspoons

citric acid

4 ⅓

cups

water
Instructions
Wash the rhubarb thoroughly before peeling it. Measure the peel and place it in a pan. Add the rest of the ingredients and bring everything to a boil.

Cook: Turn the heat down to low and let the syrup cook, uncovered for 20-25 minutes, depending on the pot you are using. If the pot is very wide, the cooking time is shorter. The liquid should be slightly thickened, but not too thick.

Rest: Take the pot off the heat, let cool down and keep in the fridge or cellar for 24 hours.

Strain the syrup and discard the peel.

Cook again: Pour the syrup back into the clean pot, bring to a boil and simmer, uncovered for 6-8 minutes.

Store: Pour into the sterilized bottles and seal.
Nutrition
Serving:
1
small bottle
|
Calories:
1308
kcal
|
Carbohydrates:
337
g
|
Protein:
1
g
|
Sodium:
20
mg
|
Fiber:
2
g
|
Sugar:
334
g