Spring is finally here and that makes me so happy. Finally being able to spend more time outside the house, to take longer walks in the fields and woods around our village, to plant new flowers and herbs in the garden and in pots all around the house, this fresh green color everywhere, I think it's obvious that spring is my favorite season. 🙂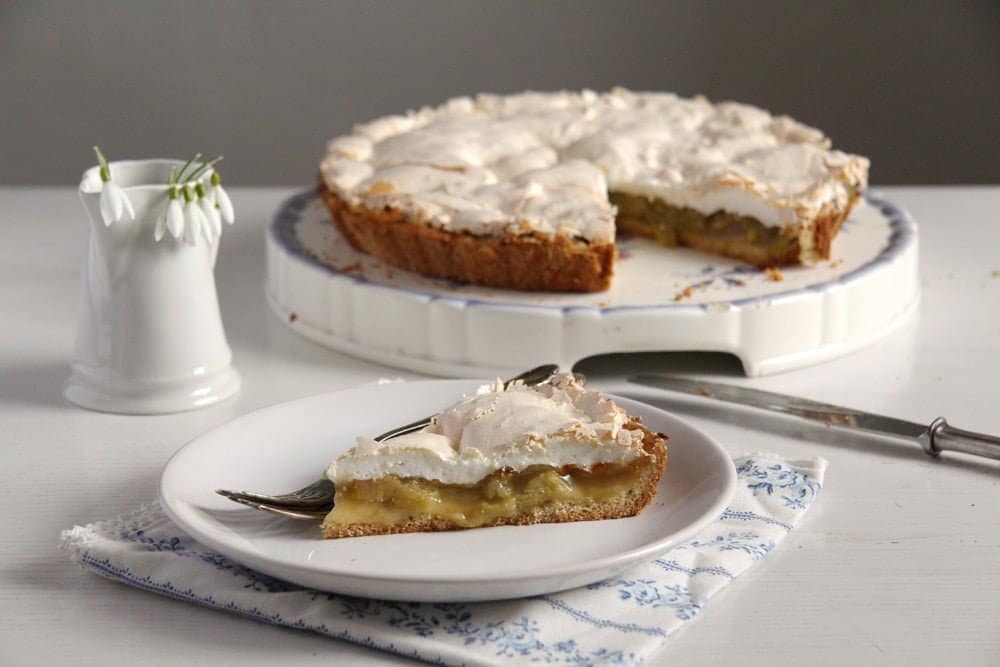 And these are not the only things that make me happy every spring. The fresh produce that comes with the season is another reason. Asparagus, strawberries, elderflower, new potatoes are some of my favorite things, but my absolute highlight is the rhubarb. There is no other seasonal vegetable (yes, rhubarb is a vegetable) that gets so much attention from me in such a short period of time than the rhubarb. I've known it all my life, maybe I haven't eaten it so intensively as a child, but I've always known and loved it. My grandmother, who raised me, was not a keen baker, she never baked much, but her mother – my grand-grandmother did, and I remember her rhubarb meringue cake very vividly. It was always made on a tray, so enough for a lot of people and it was a very soft, tender, sweet cake. The rhubarb was placed on the batter, but it would sink inside it, reducing the sweetness of the cake a little bit. The cake was then topped with a very soft and again very sweet meringue, that would form some kind of pearls or tears after coming out of the oven, making the cake almost wet and very sticky. I was not a big cake or sweets eater as a child, but I loved that cake.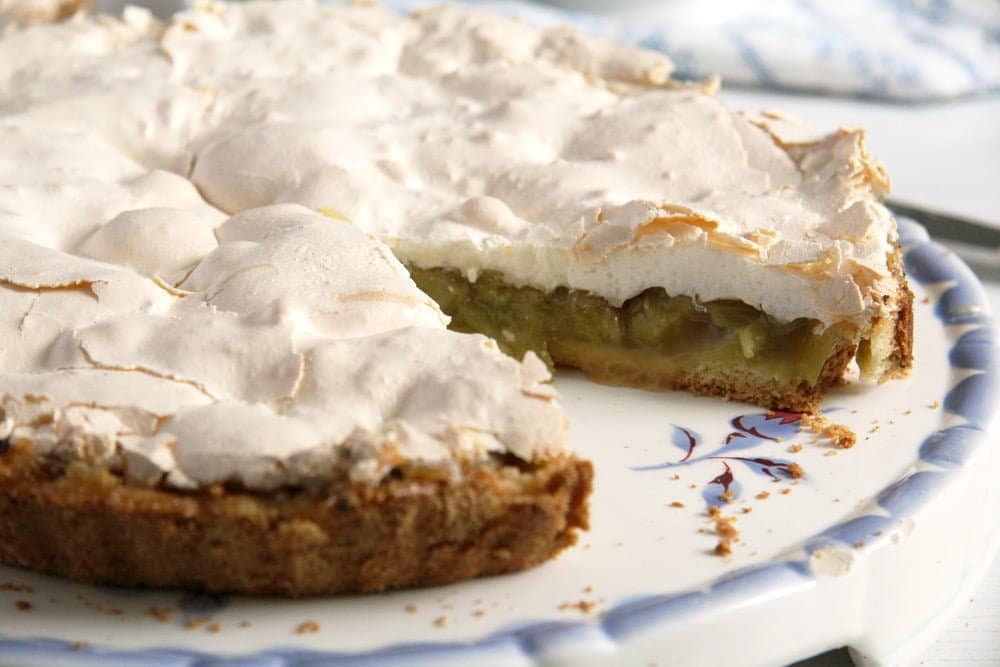 I haven't eaten that cake in almost 30 years now, I think, but I will never forget it (come to it, I should look for a recipe, see if I can find that taste again). But what I eat a lot of now is this rhubarb meringue pie. As much as I liked my grand-grandmother's rhubarb cake, I think this pie to be like a hundred times better. And that is not an overstatement! I genuinely believe there is no better rhubarb cake out there. Just try it and you will see that I am right! There is such a perfect balance of taste and texture in it that makes this cake just unbelievable. A crumbly and not very sweet pastry covered with a tart yet sweet and creamy rhubarb filling and topped with sweet meringue, soft on the inside and crunchy on top. I am telling you, you will love every bite of it.
I discovered this recipe three years ago and I have to say that I rarely made any other rhubarb cake since. It is so good, that every time I want to try something else, I get almost fearful. I am afraid that the new cake would not be as good as this pie and then I would have just wasted an occasion of eating this wonderful pie.
Please give this pie a try, I promise you, you will not be disappointed. Another bonus: it is sooo easy to make!
Note: I am using Dr Oetker vanilla pudding powder. It is a common thing in Germany, but as I am not sure how things are in the US, I think I should mention that this is the kind of powder that has to be cooked with milk to form the pudding. One packet contains 37 g/ 1.3 oz vanilla pudding powder, which is basically starch mixed with vanilla aroma and a little bit of salt. Normally it is mixed with 40 g/ 1.4 oz sugar and a few tablespoons milk out of 500 ml/ 2 cups. It is then stirred into the boiling milk and cooked for 1 minute while stirring continuously. However for this recipe, we use rhubarb juice instead of milk and only half of the otherwise necessary liquid quantity.

Others you might like:
2-Ingredient Cake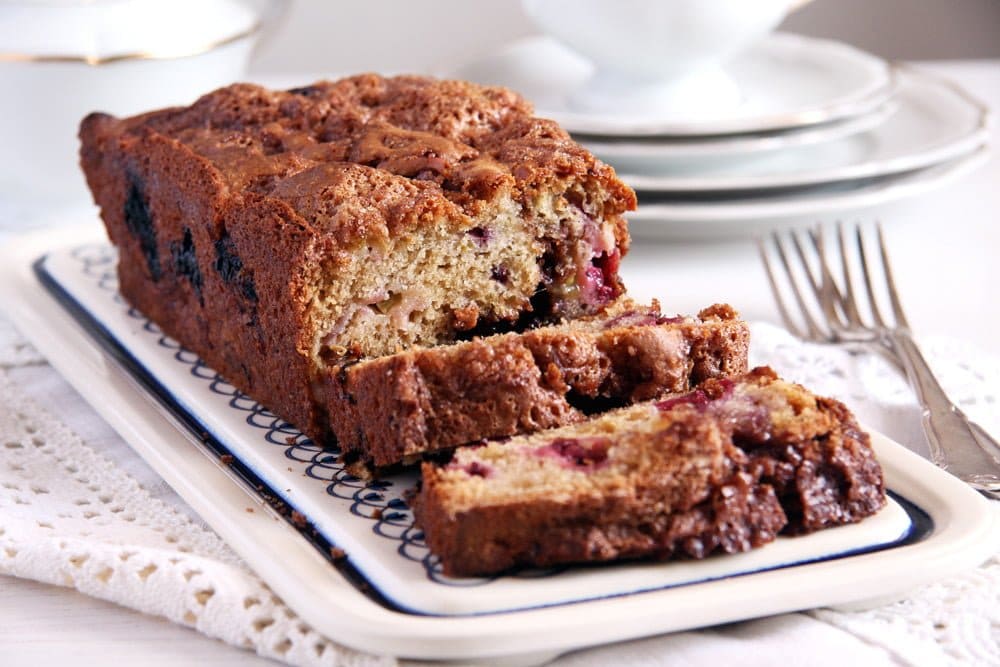 Blackberry Rhubarb Bread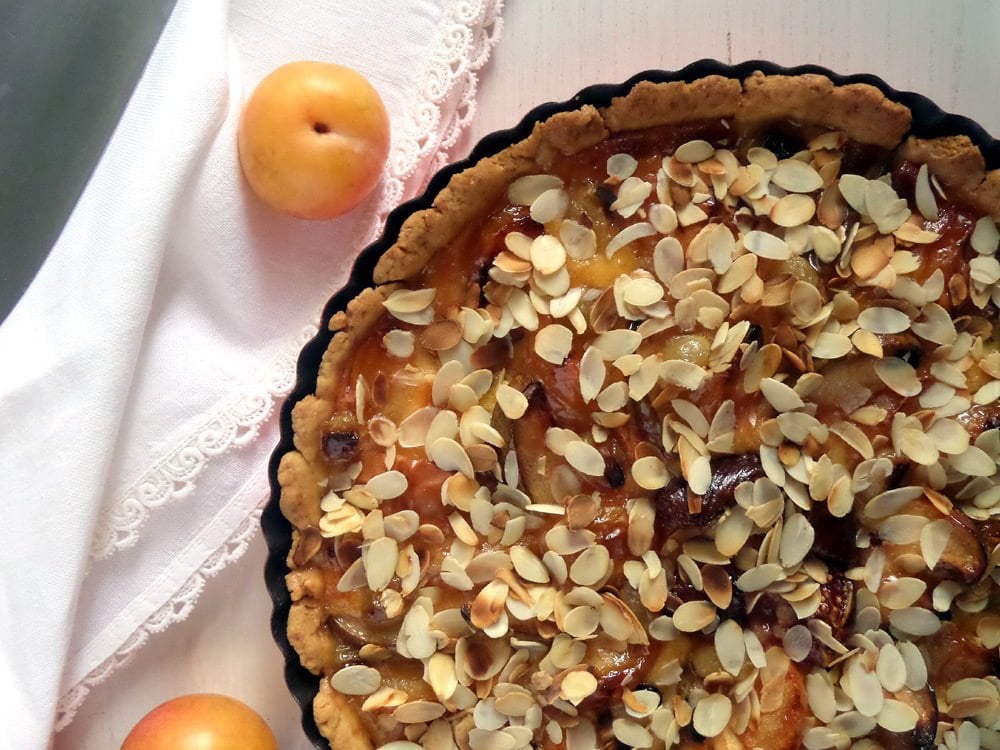 Orchard Pie