Fried zucchini slices, one of the easiest and most delicious ways of enjoying zucchini in summer.
This recipe for fried zucchini slices is probably the most common way of enjoying zucchini in Romania. I could not call this a recipe that it is only typical for the South of the country – Oltenia, which is the focus point for this two weeks' series, but I chose to feature it here because for some reason I always relate those Romanian yellow-greenish zucchini with the South of the country and from what I have noticed lately, while searching for ideas for this series, the people of Oltenia do seem to eat more zucchini than the rest of the country.
This fried zucchini recipe is something my grandmother used to make at least 2 or 3 times every summer. It is quick, it only needs four ingredients and it is a very cheap recipe, if the zucchini are in season this will probably not cost you more than 1 or 2 Euros for the whole batch. And even kids, who would normally not want to have anything to do with zucchini, will enjoy eating these tender slices.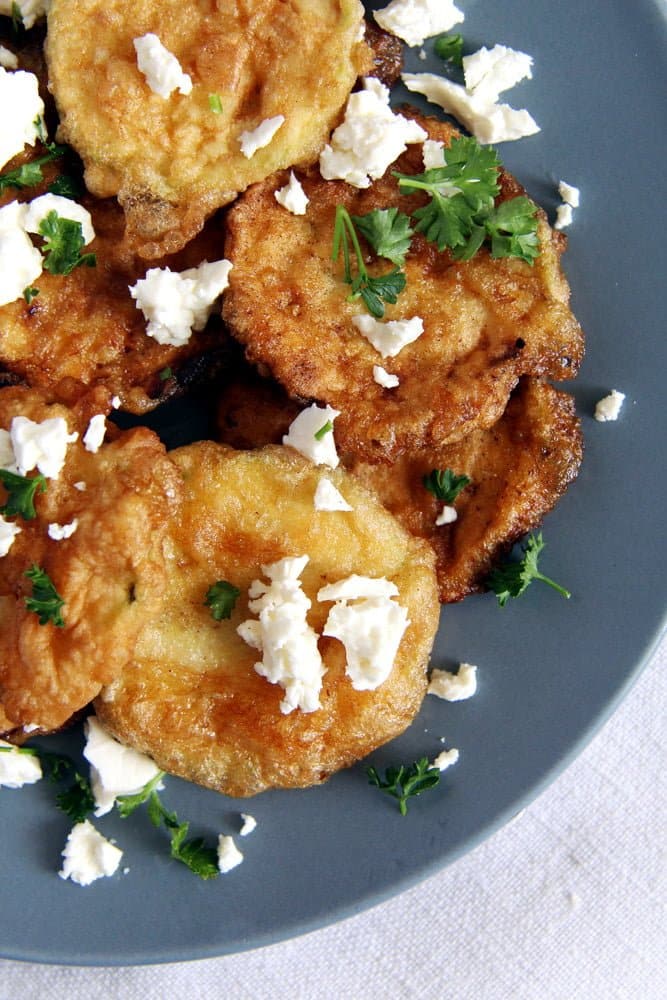 How to make fried zucchini?
The procedure could not be any easier. Slice the zucchini in slices about ½ cm/ 0.2 inches thick, drag them through flour and beaten egg and fry them in a bit of oil. My grandmother used to take lard for frying the zucchini slices, if you like to, please do, lard is starting to regain its reputation again, which is a good thing if you ask me.
I am glad that people are finally starting to realize that what makes us ill is not the natural fat, which we have been consuming for thousands of years, but the processed, unnatural things like shortening and margarine, which have been pushed so high only in order to get a small amount of people a very large amount of money at the cost of millions of people's health and eventually lives. It might sound a bit radical, but I truly believe it!
My grandmother used to thinly peel the zucchini. I am not sure if that was necessary because the typical Romanian zucchini have a tougher skin, however, I never peel them when using the regular green or Italian zucchini I buy in Germany, I find their skin pretty soft and it never bothered me in any kind of dish. So it is up to you, if you peel your zucchini or not.
Some people also like to drag the zucchini slices through some dried breadcrumbs as well. You could do that as well, the zucchini will be a bit crunchier then, but I don't do it because my grandma never did and I like the soft, eggy consistency of the fried zucchini. And only salt the zucchini before serving.
Use a non-stick or cast-iron skillet to fry the zucchini, this way you can reduce the amount of fat needed for the frying. Only add more oil between the batches if necessary and leave the fried zucchini on kitchen towels while you fry the next batch. This way some of the excess oil will be absorbed.
How to serve fried zucchini?
The Romanian fried zucchini can be served as a light summer meal with bread, tomatoes, garlic sauce – mujdei de usturoi – and, if you like, some crumbled feta on top. I like them both hot or cold.
When cold I use them to make sandwiches for my husband's work lunch the next day, for instance. Spread some cream cheese, mayonnaise, hummus or chili sauce on a slice of bread, add the zucchini slices sprinkled with some salt and top with a slice of cheese, either feta again or Gouda or cheddar. Leave it as an open sandwich or place another slice of bread on top. Absolutely delicious!
Easy Fried Zucchini
Print This
Ingredients
2 medium zucchini

2 tablespoons all-purpose flour

2 eggs

vegetable oil or lard for shallow frying

salt

parsley, feta cheese, tomatoes, garlic sauce and bread to serve
Instructions
Slice the zucchini into ½ cm/ 0.2 inch thick slices.
Place the flour onto a large plate. Beat the eggs into a shallow bowl.
Drag the zucchini slices through the flour and pat the slices with your hands to remove the excess flour.
Heat 3-4 tablespoons oil or lard in a non-stick or cast iron pan. The oil should be enough to cover the bottom of the pan in a thin layer.
Drag each zucchini slice through the beaten eggs and fry them for about 2 to 3 minutes on each side until golden brown on both sides. Remove from the pan and fry the next batch adding more fat if necessary.
Place the fried zucchini slices on kitchen paper to help absorb the excess fat.
Only salt the zucchini before serving. Serve warm with garlic sauce, tomatoes, feta cheese and bread. Or cold in sandwiches.
Rate this recipe!
Click on a star to rate it!
Average rating / 5. Vote count:
We are sorry that this post was not useful for you!
Let us improve this post!
Thanks for your feedback!
Rate this recipe!
Click on a star to rate it!
Average rating / 5. Vote count:
We are sorry that this post was not useful for you!
Let us improve this post!
Thanks for your feedback!