Easy fried zucchini with flour: a delicious way of enjoying zucchini in summer. Lightly battered slices shallow-fried in the pan, so good you will not be able to stop eating them.
Fried zucchini recipe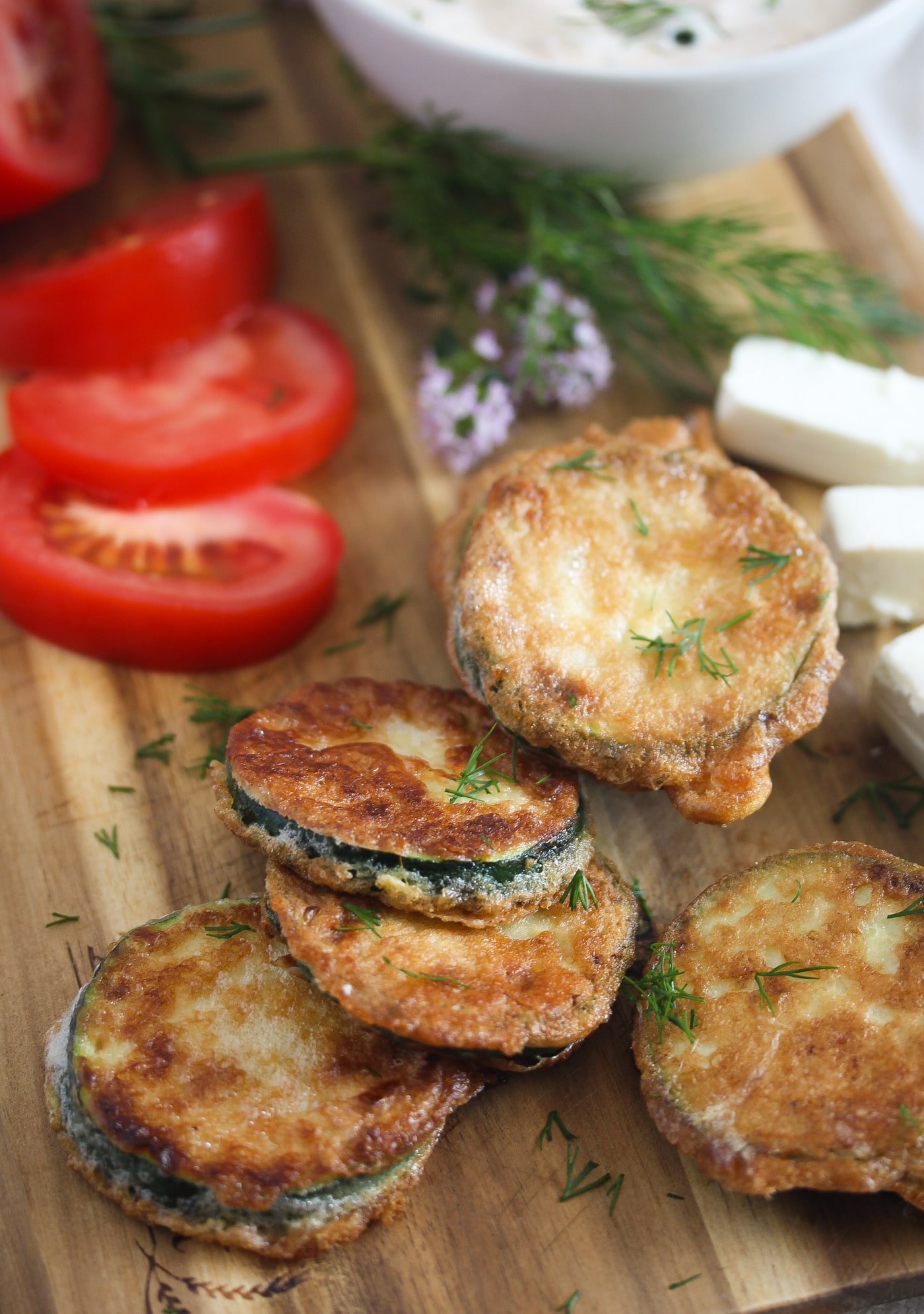 How to fry zucchini in a simple, quick way? Slice, coat lightly with flour and beaten eggs, and fry in the pan. Serve with bread, tomato slices, and a dip.
We do love zucchini; I cook them really often in summer when they seem to be growing like weeds in all the gardens around here. Sauteed with onions, in the form of a hearty slice, pancakes, cake... there are so many options, and each one of them is thoroughly delicious.
Or have a look at this Cooking Zucchini round-up.
This recipe for fried zucchini slices with flour is probably the most common way of enjoying this simple vegetable in Romania, my home country. No breadcrumbs for the coating, just a very small amount of flour and some eggs.
This is a recipe my grandmother used to make at least 4-5 times every summer. It is quick, it only needs four ingredients, and it is very cheap; if the zucchini is in season, this will probably not cost you more than 1 Euro for the whole batch. And even kids, who would normally not want to have anything to do with this veggie, will enjoy eating the tender slices.
Jump to recipe
How to make fried zucchini?
The procedure could not be any easier.
Slice the zucchini about ½ cm/ 0.2 inches thick.
Coat them with flour and shake gently to remove the excess.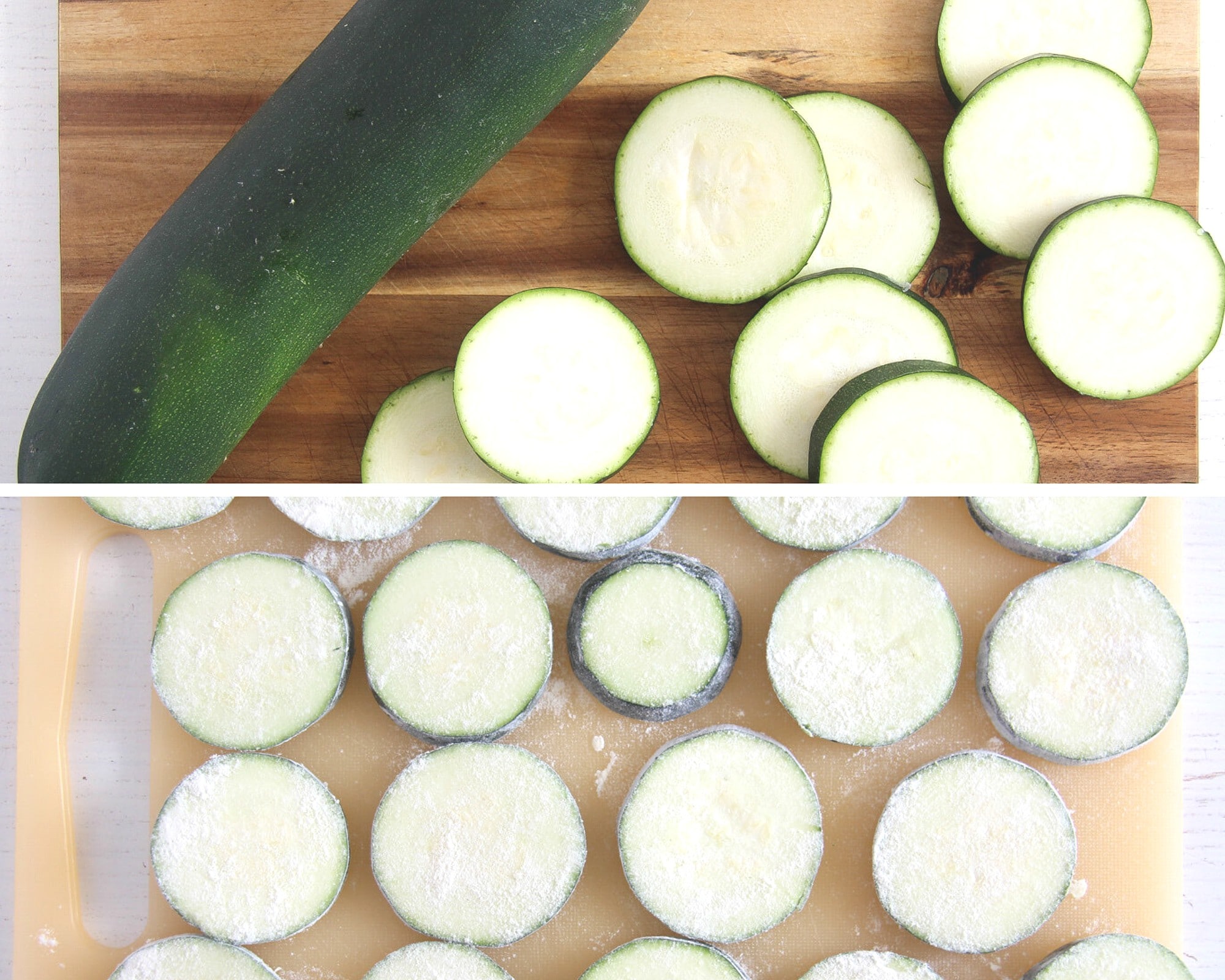 Heat the oil in a non-stick or cast-iron pan, 2-3 tablespoons, depending on its size. The bottom of the pan should be covered with a thin layer of oil.
I really don't feel the need to deep fry these slices; shallow-frying works perfectly, and I don't have to deal with the tons of used oil afterward. And it is healthier this way.
Drag the flour-coated slices through the beaten eggs just before you place them in the hot oil.
Fry on one side on medium-low heat for about 3 minutes.
Check the underside; it should be golden brown. If it turns too dark too quickly, lower the heat a bit more.
Flip the slices with a plastic spatula.
Fry on the other side for another 2-3 minutes until golden brown.
The zucchini should be softer but not mushy.
Remove from the pan and place on kitchen paper, which will absorb the excess fat.
Add about 1 tablespoon extra oil before adding the next batch.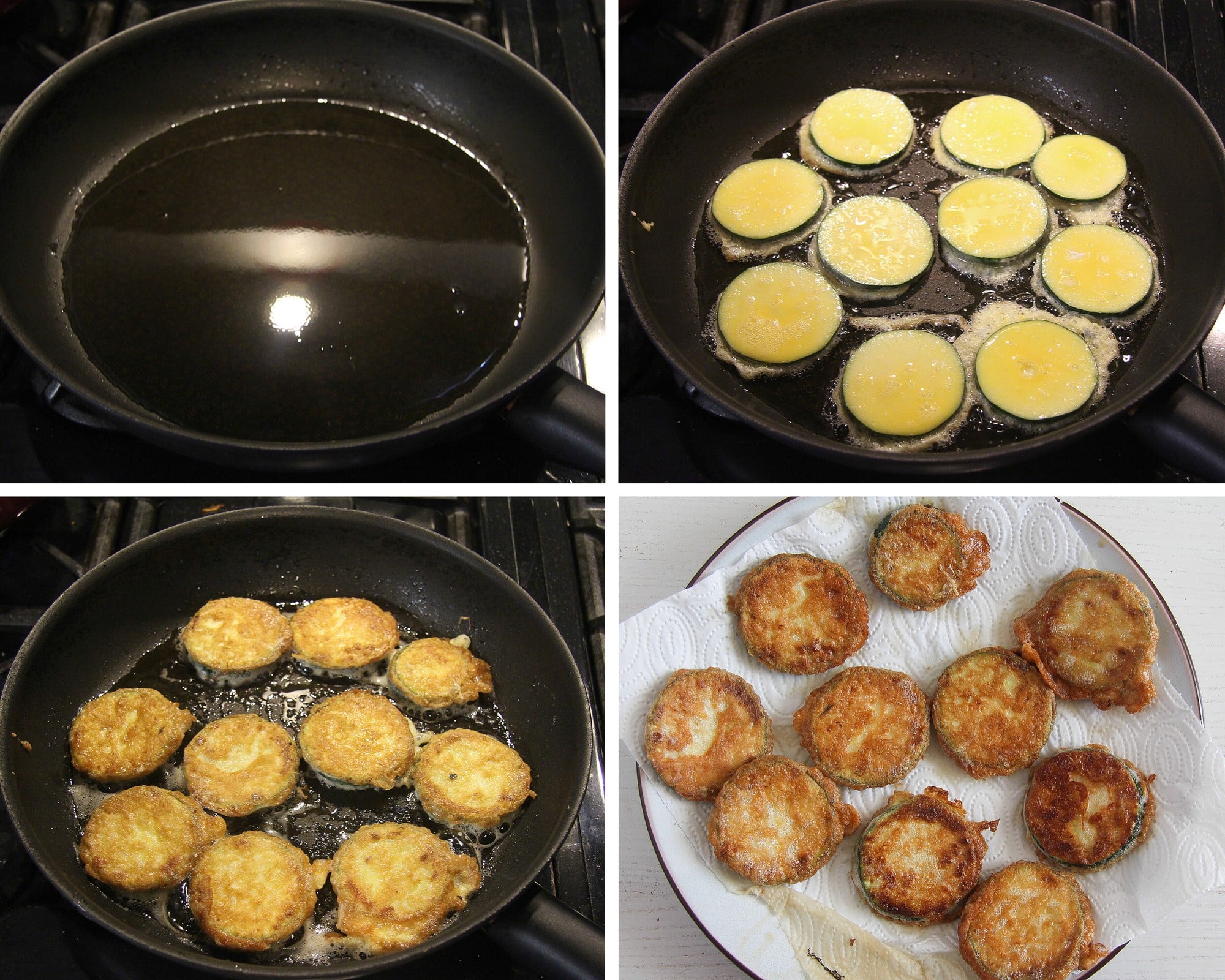 Tips
I had a relatively large zucchini of about 450 g/ 1 lb. You can use slightly smaller ones, but I would not use very large ones; they have too many seeds and tend to be mealy.
If you happen to have a huge piece, better use it to make these sweet and sour zucchini, they are so good!
Only salt the pan-fried zucchini before serving. If you salt the slices before frying, they will become watery.
My grandmother used to fry them in lard; if you like to, please do; lard is starting to gain back its reputation, which is a good thing if you ask me. Lard also adds a bit of extra hearty flavor.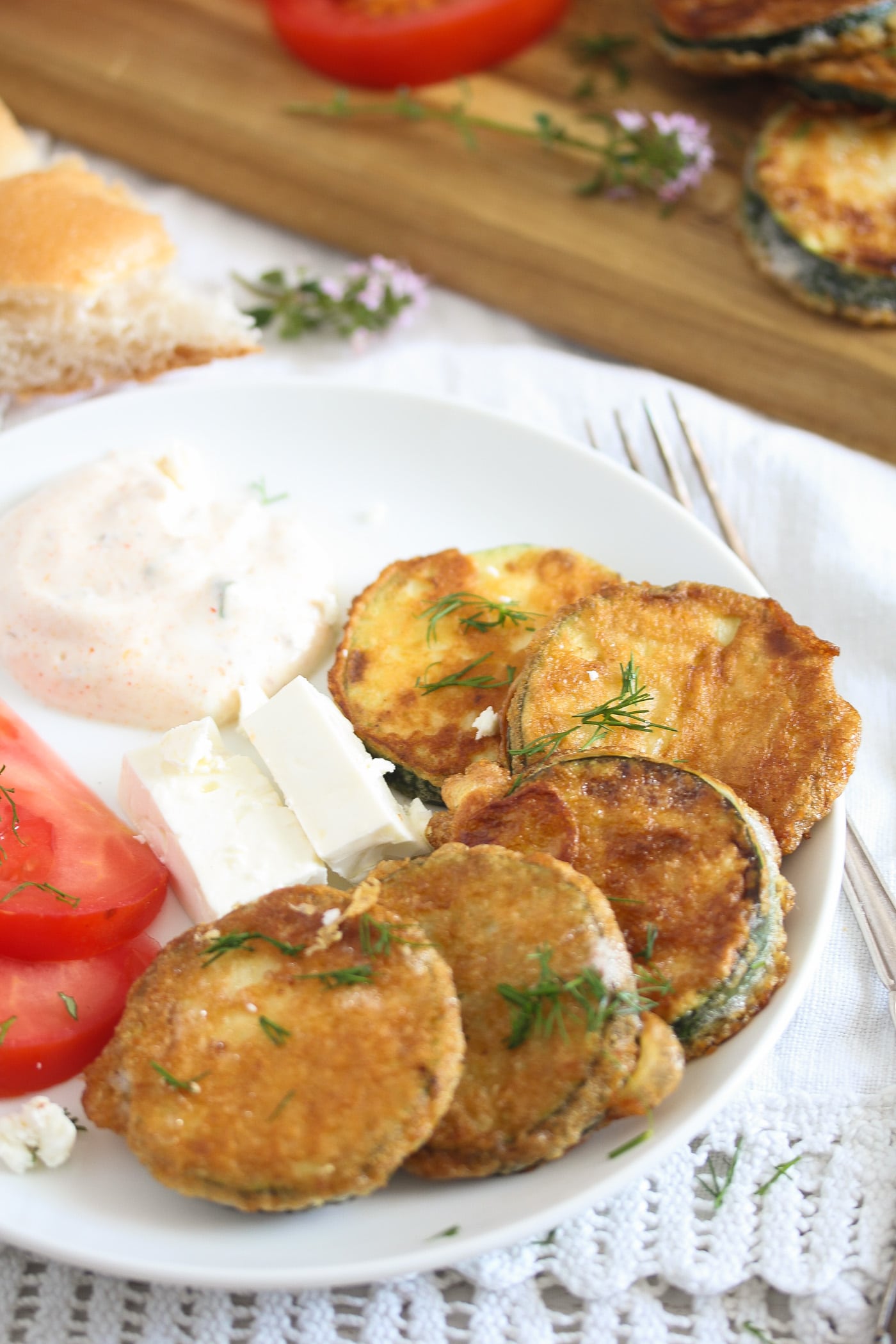 I don't always peel the vegetables for this recipe. I might do it if the zucchini is older, but regular Italian ones don't really need peeling. It is your choice; you can do it or not.
This is a recipe for fried zucchini with flour, but you can coat the slices with breadcrumbs as well, either regular or panko breadcrumbs. The procedure is the same.
Use a non-stick or cast-iron pan to fry the veggie coins; this way, you can reduce the amount of fat needed for the frying.
Only add more oil between the batches if necessary, and leave the fried zucchini on kitchen towels while you fry the next batch. This way, some of the excess oil will be absorbed.
I fried this amount of slices in 3 batches; I had 26 pieces.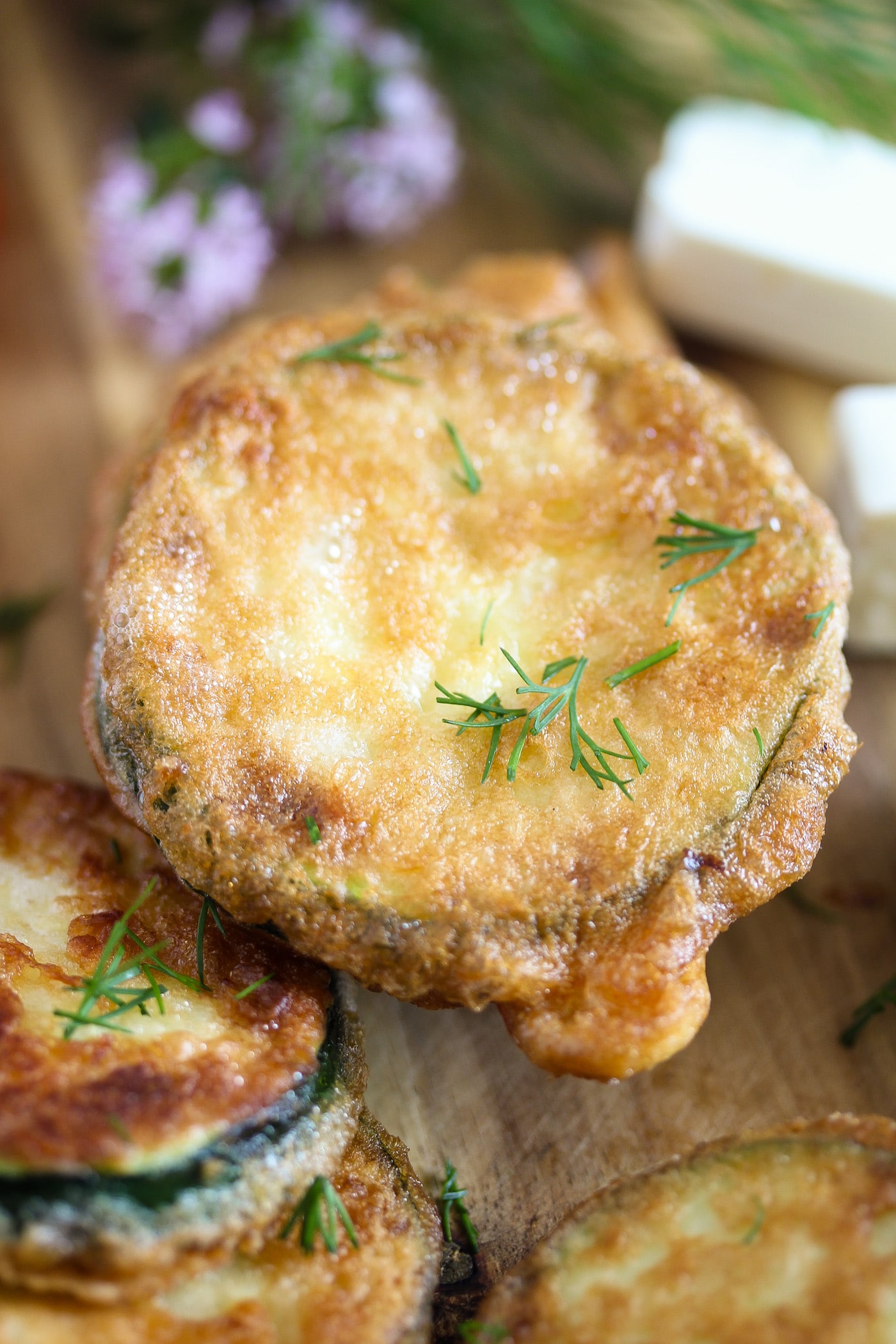 How to serve?
Sprinkle generously with salt before serving.
They can be served hot or cold.
You can also reheat the leftovers in the oven at about 180 degrees Celsius/ 350 degrees Fahrenheit for 6-8 minutes until heated through.
When freshly fried, the crust will be crispier. You will lose that when the zucchini coins are cold, but still, I like them cold just as much as I like them hot.
The fried zucchini can be served as a light summer meal with bread, tomatoes, garlic sauce, and, if you like, some crumbled feta on top.
You could try this Romanian garlic sauce, for instance. Or this sour cream garlic sauce.
When cold, I use them to make sandwiches.
Spread some cream cheese, mayonnaise, hummus, or chili sauce on a slice of bread, add the fried zucchini slices, sprinkle with salt, and top with a slice of cheese, either feta, Gouda, or cheddar.
Leave it as an open sandwich or place another slice of bread on top. Absolutely delicious!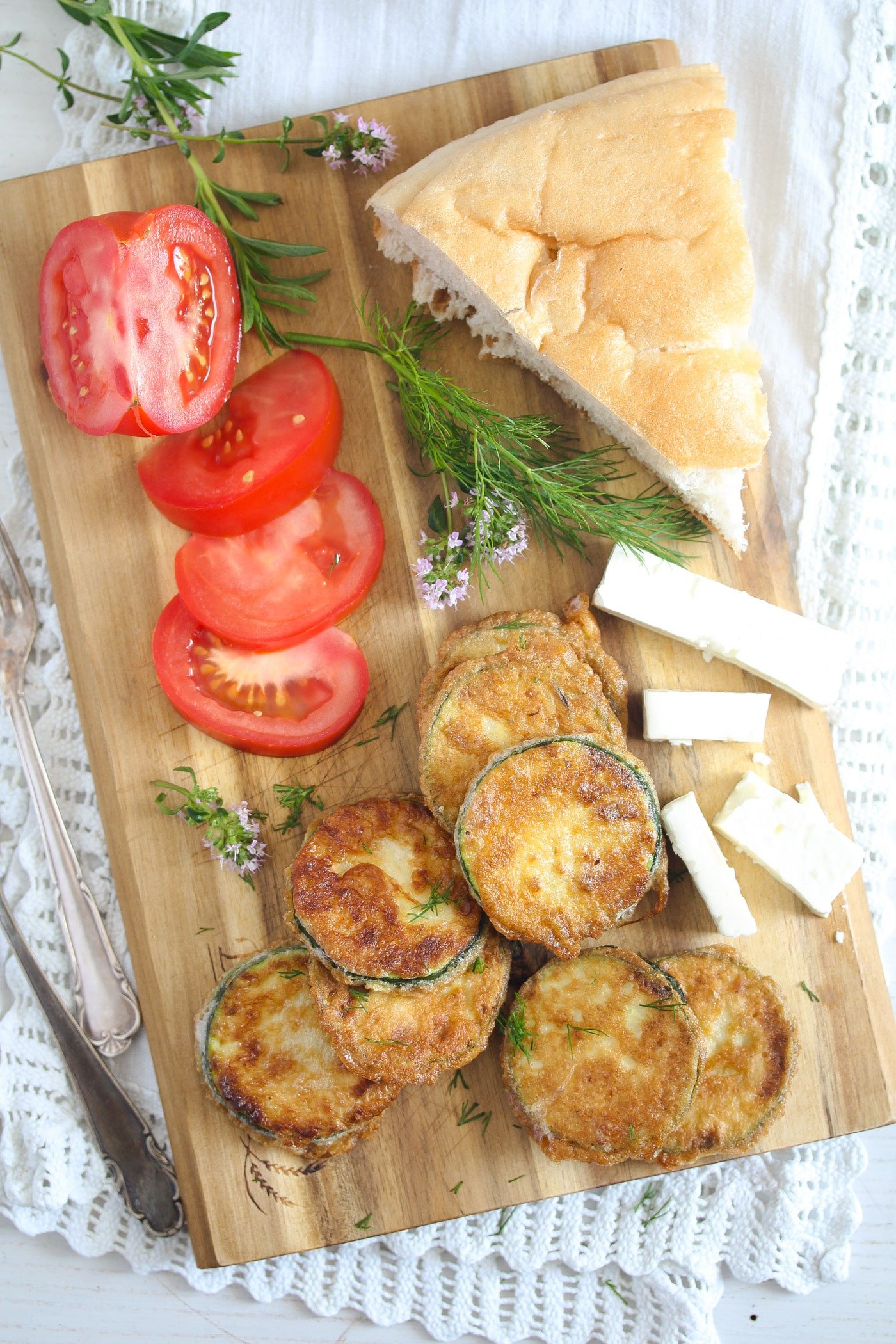 More zucchini recipes?
Do you like this recipe?
Please leave a good rating in the recipe card below. Stay in touch through social media:
Pinterest
,
Facebook
, and Instagram. Don't forget to tag me #whereismyspoon when you try a recipe!
Easy Pan-Fried Zucchini
Easy fried zucchini with flour: a delicious way of enjoying zucchini in summer. Lightly battered zucchini slices shallow-fried in the pan, so good you will not be able to stop eating them.
Print
Pin
Share
Grow
Saved!
Rate
Ingredients
1

zucchini

about 450 g/ 1 lb

2

tablespoons

all-purpose flour

2

eggs

vegetable oil

or lard for shallow frying

coarse sea salt
Instructions
Slice the zucchini into ½ cm/ 0.2 inch thick slices. Place the flour on a plate. Beat the eggs in a shallow bowl. Coat the zucchini slices lightly with flour and pat the pieces with your hands to remove the excess flour.

Heat 2-3 tablespoons oil or lard in a non-stick or cast iron pan. The oil should be enough to cover the bottom of the pan in a thin layer.

Drag each zucchini slice through the beaten eggs just before placing it in the pan.

Fry on medium-low heat for about 3 minutes until golden brown. Flip and fry for another 2-3 minutes until golden brown. If they turn too dark too soon, turn the heat even lower.

Next batch: Remove from the pan and fry the next batch adding more fat if necessary. Place the fried zucchini slices on kitchen paper to help absorb the excess fat.

Serve: Only salt the zucchini before serving. Serve warm with garlic sauce, tomatoes, feta cheese, and bread. Or cold in sandwiches.
Notes
You can also fry the zucchini in vegetable oil.
Nutrition
Serving:
6
-7 zucchini slices
|
Calories:
247
kcal
|
Carbohydrates:
6
g
|
Protein:
5
g
|
Fat:
23
g
|
Saturated Fat:
2
g
|
Polyunsaturated Fat:
20
g
|
Trans Fat:
1
g
|
Cholesterol:
93
mg
|
Sodium:
832
mg
|
Fiber:
1
g
|
Sugar:
2
g