Zucchini boats filled with a cheesy millet filling, so delicious and rich you will not believe how healthy this actually is.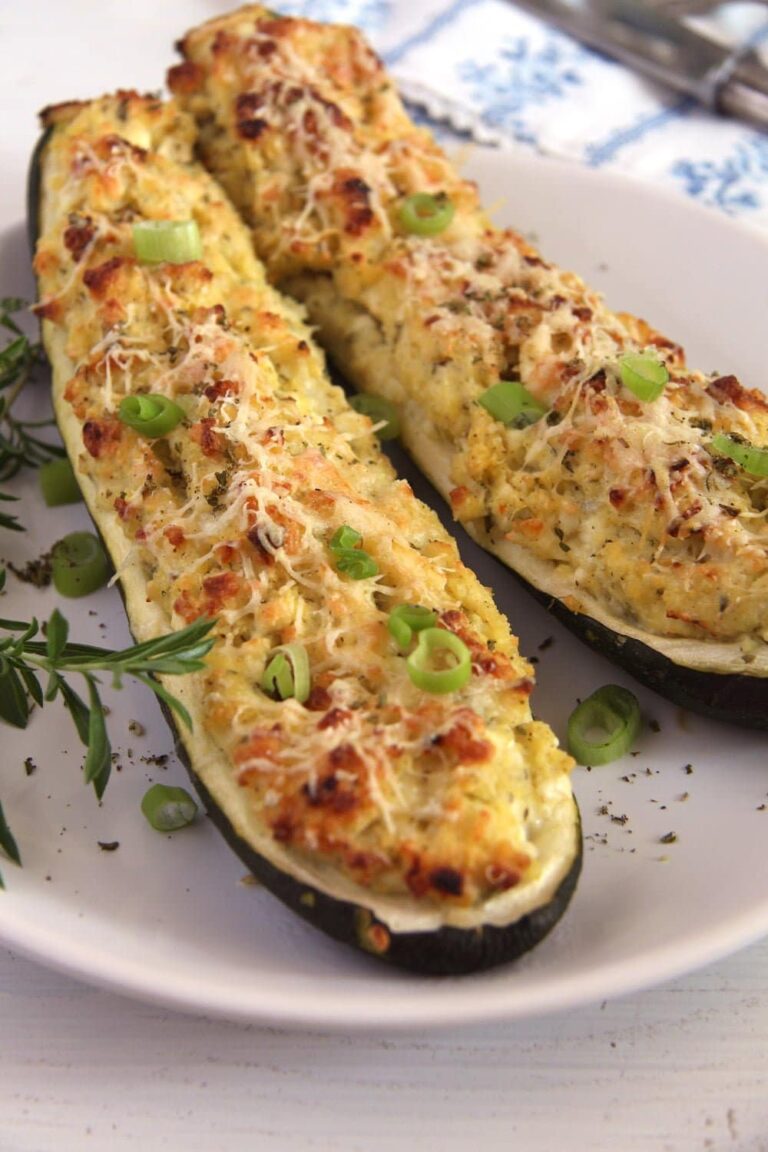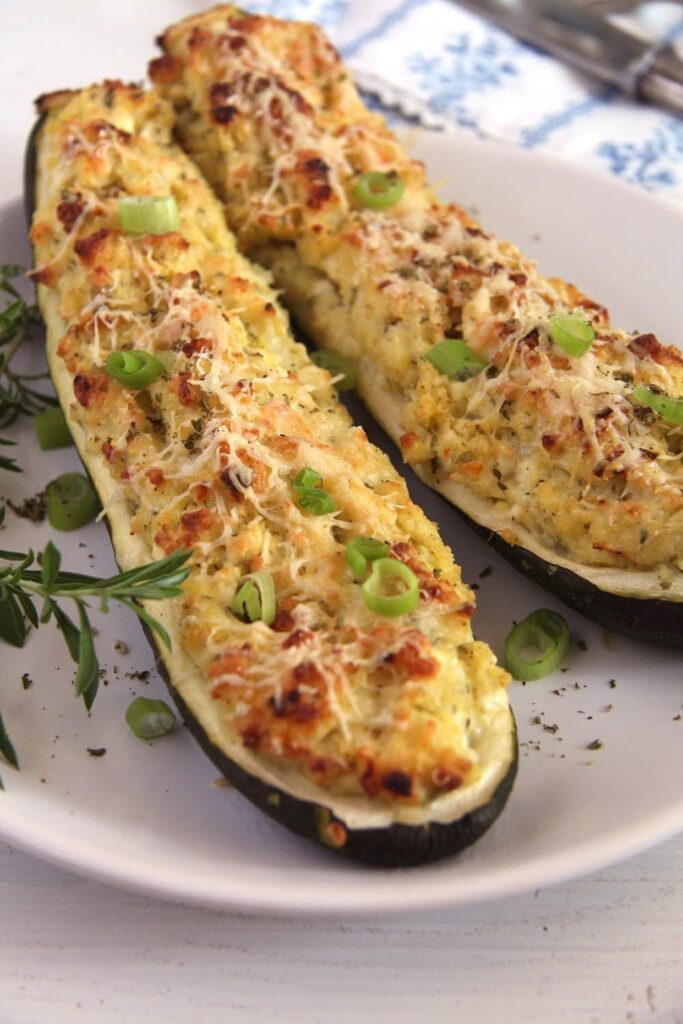 There was a time when I could call this recipe one of my favorites. I don't know about you, but this is the way it is in my case: I sometimes like a recipe or a product so much, I keep using it and using it. After a while something else comes along replacing this particular item on top of my list, but still, it is not that I completely forget what I once loved, I keep cooking that even if it is not quite as often as it used to be anymore.
This is way it is with millet. I discovered it a very long time before, before my first child was even born. I remember eating pack after pack of millet and I used it in so many different ways that I can not even remember now anymore. When we left Germany in 2007 and decided to live in London for a while, I even took some millet packs with me, because I wasn't sure if I would be able to find millet in England… (didn't even know how it was called in English at that time).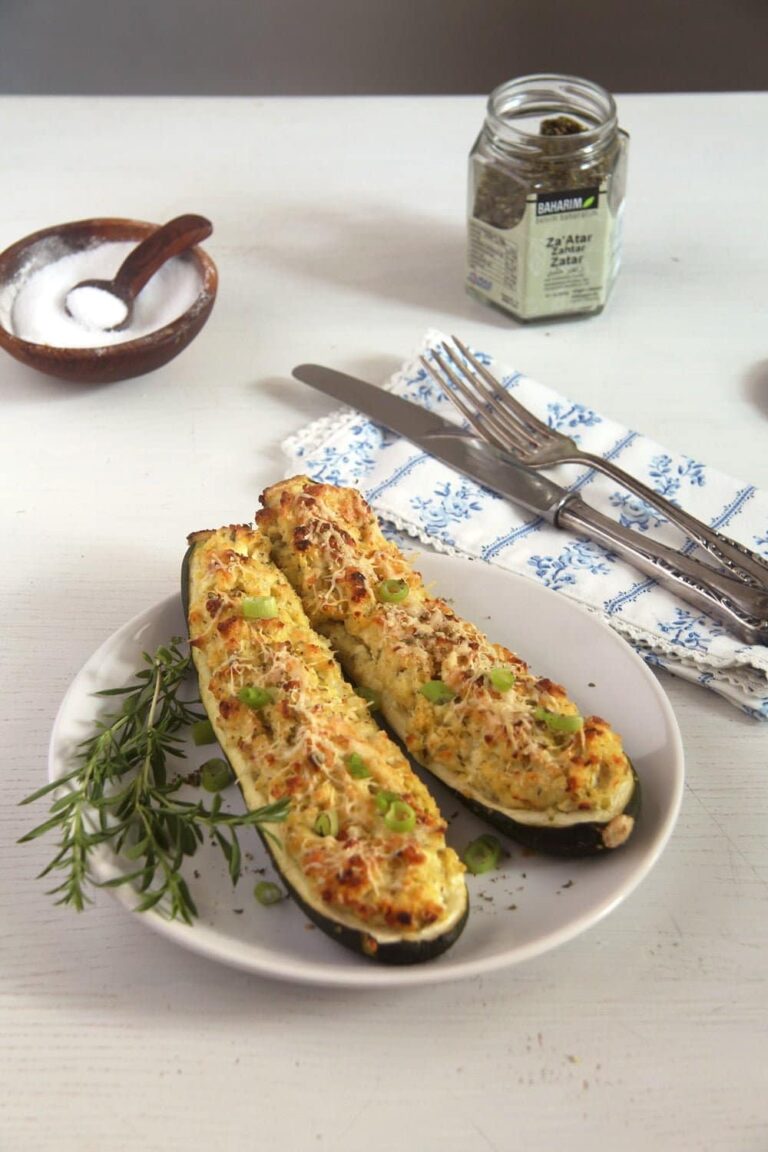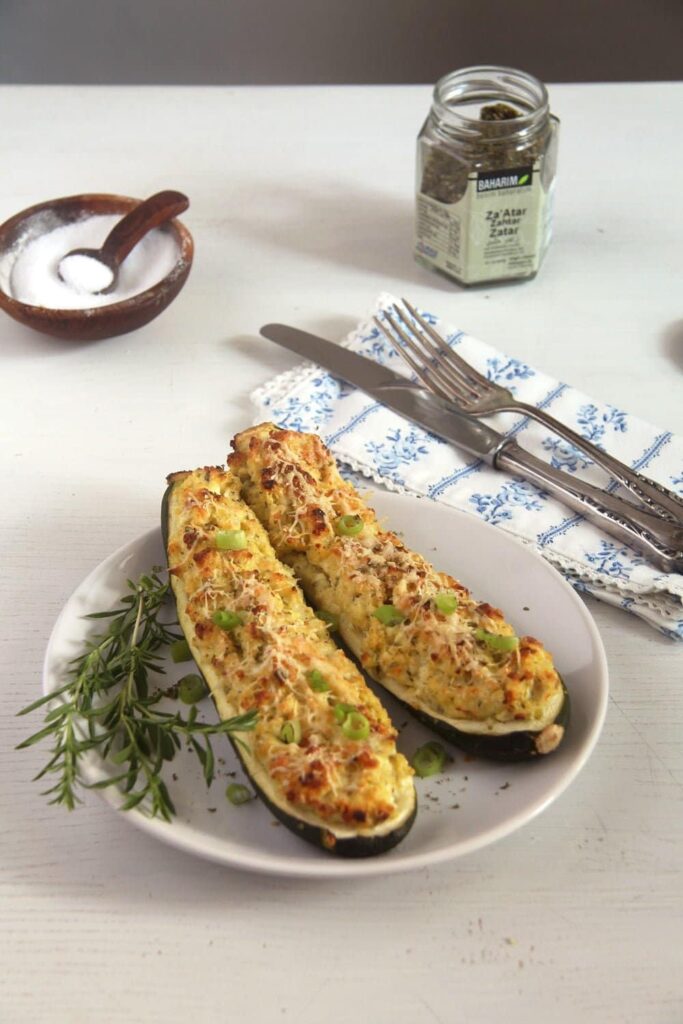 I think millet is at the time not as popular as it should be. When searching the internet you will find loads of recipes with quinoa, buckwheat or whatever, but really not remotely so much including millet. What a shame! I am not a nutrition expert, so I can only tell you that what I have been reading myself about millet, but it's health benefits really match those of other healthy grains. For instance, they are an important source of magnesium and phosphorus, seem to have a beneficial influence on the type 2 diabetes risk (especially when eaten regularly in combination with low-fat dairy products, like in the case of this recipe), the fiber in it seems to offer some protection against the development of breast cancer and the list goes on.
And that on top of millet being soooo delicious! I like quinoa and buckwheat and oats, all kind of grains actually, but when it comes to taste millet is on top of my list. Try it, you will see what I mean! It has a specific slightly nutty, kind of sweet taste, but in comparison to buckwheat for instance, it is quite mild and its capability of absorbing other flavors makes it so versatile and easy to cook with. It is an ancient grain, mostly eaten in Africa nowadays, and I find it such a shame that in our part of the world it is mostly seen as bird food, really, I remember seeing millet being fed to birds not only here in Germany, but in Romania as well.
The price is an advantage of millet in comparison to quinoa as well. In Germany you will have to pay about 4-5 Euros for 500 g of quinoa (depending where you buy it), while 1 kg millet in organic quality would cost a little over 1 Euro… The price probably has something to do with the fact that millet is easier to produce than quinoa as well and, after repeatedly reading what disastrous results the newly found Western love for quinoa has for those who actually have been relying on quinoa as a main nutrient source for hundreds of years, I really feel better about eating more millet and less quinoa.
So, do go and buy one packet of millet, give it a try, I am pretty sure you will love it. In this recipe I mixed the cooked millet with cottage cheese, feta and spices and filled zucchini halves with the mixture. The result is wonderfully delicious. However if you don't feel like filling veggies, you could just leave out the egg in the filling and serve the millet as it is alongside sautéed zucchini or any other other veggies you fancy. That's the way my daughter likes it best, she's still too young to like zucchini (especially when served in such an aggressive way – that is: left almost whole, so green and bold 🙂 ), but she loves the filling and I got to making some extra filling just to make sure there is enough for the kids to eat as it is.
[contact-form-7 404 "Not Found"]
Rating 5.0 from 1 reviews
Prep time:
Cook time:
Total time: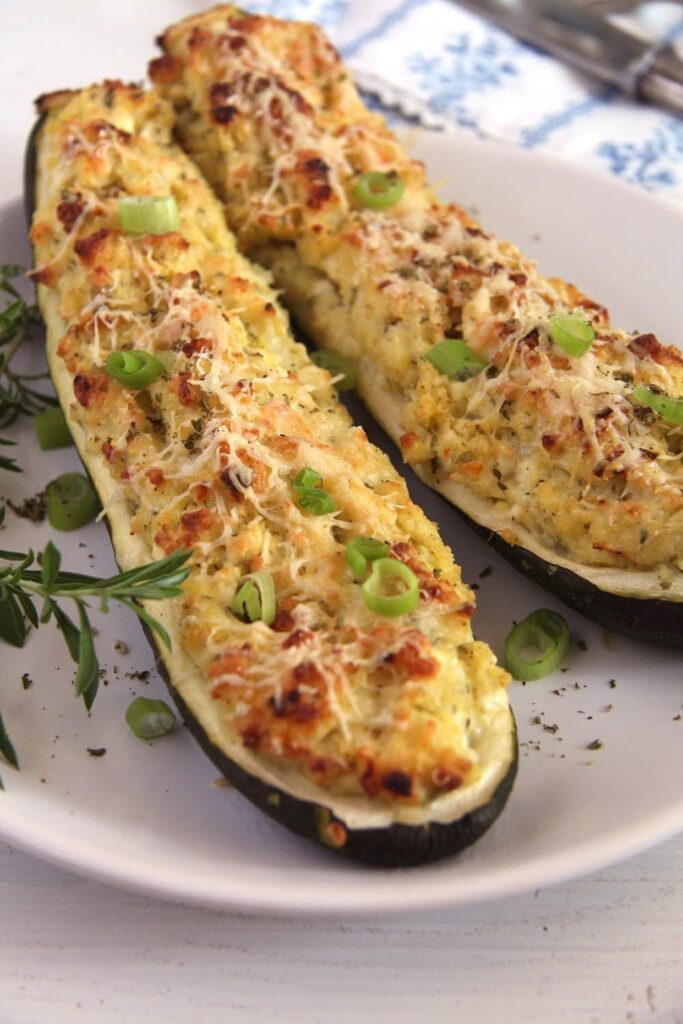 Ingredients
100 g/ 3.5 oz millet
400 ml/ 1 ¾ cup vegetable stock
3 medium zucchini
3 tablespoons cottage cheese
75 g/ 2.6 oz feta cheese (low-fat can be used)
2 large garlic cloves
2 spring onions
3 thyme sprigs or a large pinch of dry thyme
1 teaspoon za'atar (optional, can be replaced with other herbs or spices to taste)
1 egg
50 g/ 1.7 oz freshly grated Parmesan
salt and pepper
Instructions
Wash the millet in a fine mesh sieve. Place it in a small pan, add the vegetable stock and bring to a boil. Turn the heat down to very low and let simmer for about 20 minutes or according to the packet's instructions until all the stock is absorbed. Take off the heat and let cool for a while.
Preheat the oven to 200 degrees Celsius/ 400 degrees Fahrenheit.
Halve the zucchini and remove the seeds and some of the flesh to form some kind of boats. Place the zucchini in lightly oiled baking dish.
Mix the cooled millet with the cottage cheese, crumbled feta cheese, grated garlic cloves, finely chopped spring onions, thyme and za'atar. Add the beaten egg and salt and pepper to taste. You should really taste the mixture (before adding the egg, if you are worried about tasting the raw egg) and add salt and pepper very generously. The mixture should not be bland. Add more thyme and za'atar too, if you find it necessary.
Divide the mixture between the zucchini halves, sprinkle with the freshly grated Parmesan and bake for about 40 minutes or until the zucchini are cooked and the filling is golden.
Serve with tomato salad and baguette.
Others you might like: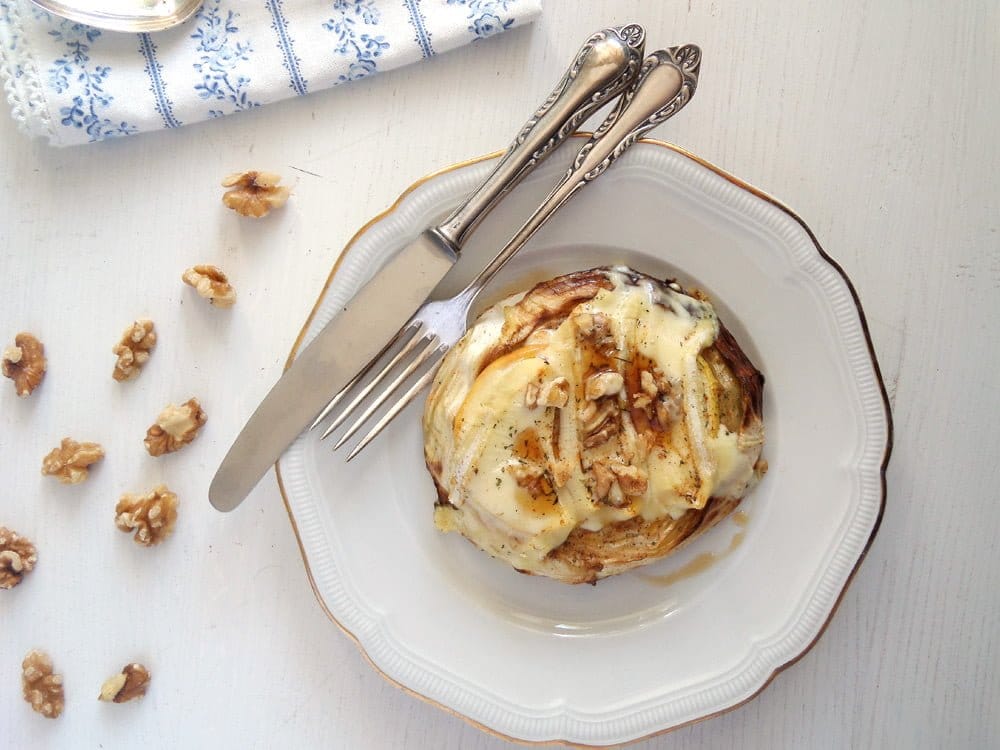 Camembert Cabbage Slices au Gratin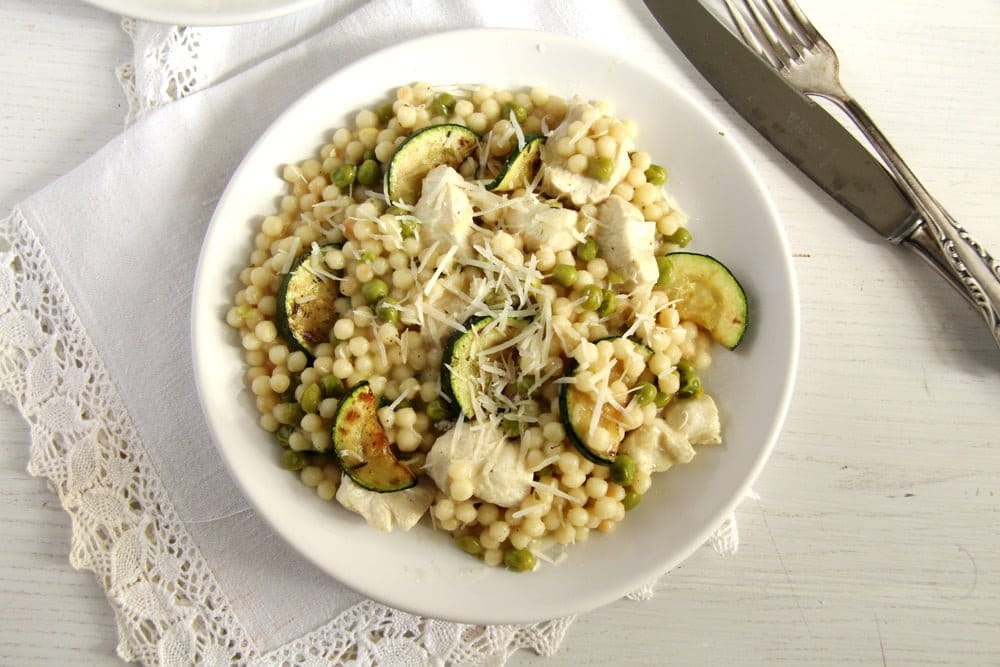 Israeli Couscous with Zucchini and Chicken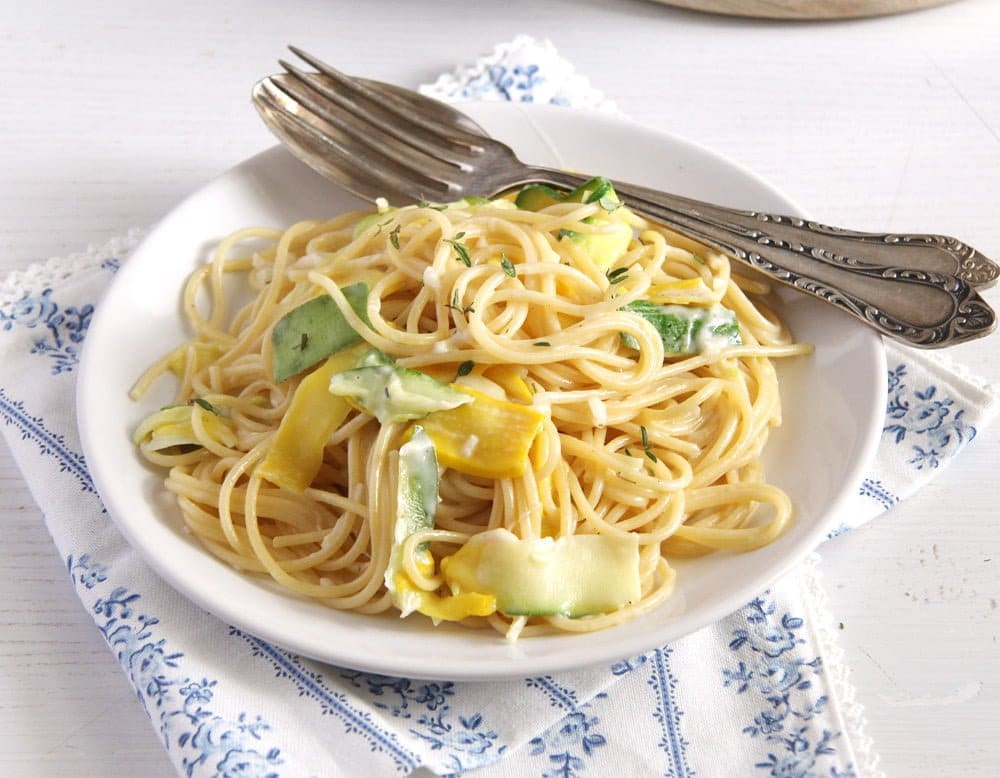 Spaghetti with Zucchini and Goat Cheese