Vegetarian stuffed zucchini filled with millet and cheese, so delicious and rich you will not believe how healthy this actually is.
Vegetarian Zucchini Boats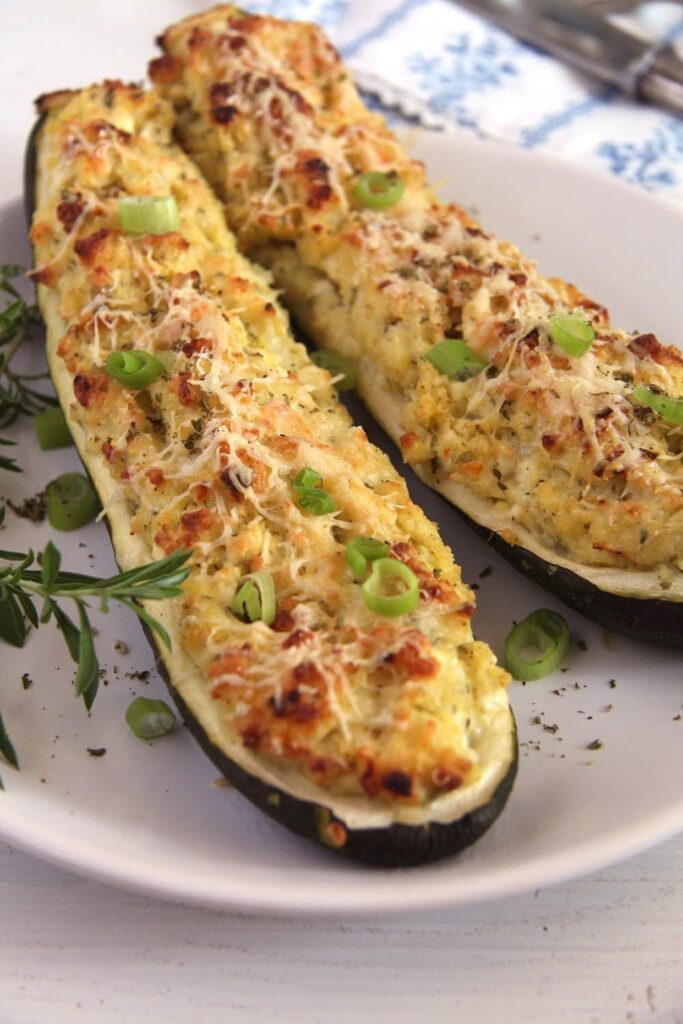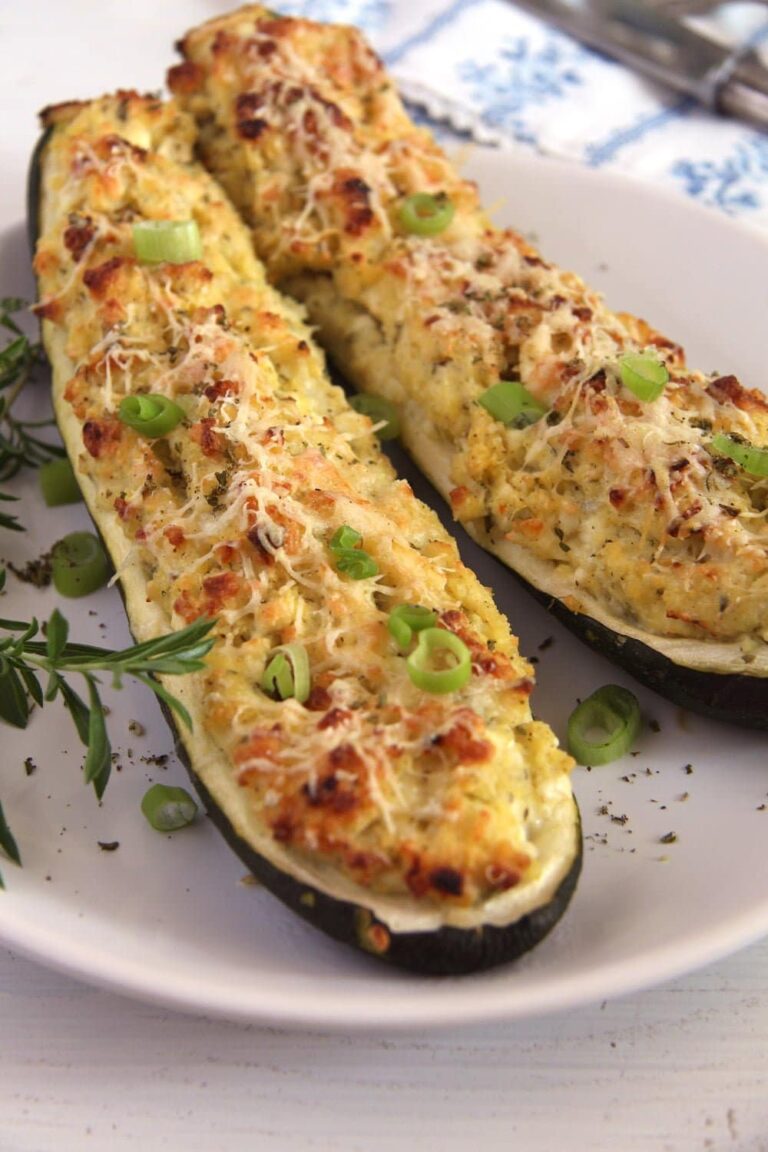 These vegetarian stuffed zucchini make an aromatic, filling, comforting and super delicious meal. Not to forget it is quite a healthy one as well. Meatless zucchini boats, stuffed with millet and three kinds of cheese.
But don't think that the cheese will make the recipe too rich in calories. What you need is cottage cheese (which is always low in fat), feta cheese (low-fat can be used), and hard cheese (a very small amount).
What do you need?
There was a time when I could call this vegetarian stuffed zucchini one of my favorite recipe. I don't know about you, but this is the way it is in my case: I sometimes like a recipe or a product so much, I keep using and using it.
After a while something else comes along replacing that particular item on top of my list, but still, it is not that I completely forget what I once loved, I keep cooking that even if it is not quite as often as it used to be anymore.
Millet:
This is the way with millet. I discovered it a very long time ago. I remember eating pack after pack of millet and I used it in so many different ways that I can not even remember now anymore.
I think millet is at the time not as popular as it should be. When searching the internet you will find loads of recipes with quinoa, buckwheat, and so on, but really not remotely so many including millet. What a shame!
I am not a nutrition expert, so I can only tell you that what I have been reading myself about millet, but it's health benefits really match those of other healthy grains.
For instance, they are an important source of magnesium and phosphorus, seem to have a beneficial influence on the type 2 diabetes risk (especially when eaten regularly in combination with low-fat dairy products, like in this recipe), the fiber in it seems to offer some protection against the development of breast cancer and the list goes on.
And that on top of millet being so delicious! It has a specific slightly nutty, kind of sweet taste, but in comparison to buckwheat, for instance, it is quite mild and its capability of absorbing other flavors makes it so versatile and easy to cook with.
It is an ancient grain, mostly eaten in Africa nowadays, and I find it such a shame that in our part of the world it is mostly seen as bird food. I served this Somali Corn on top of millet, so good!
Alternatives to millet:
You can use other grains you like, something like quinoa (not a grain, I know, but it behaves like one), amaranth, bulgur, couscous and so on.
But regard the cooking instructions written on each pack of grains, the cooking times will differ greatly from one product to another.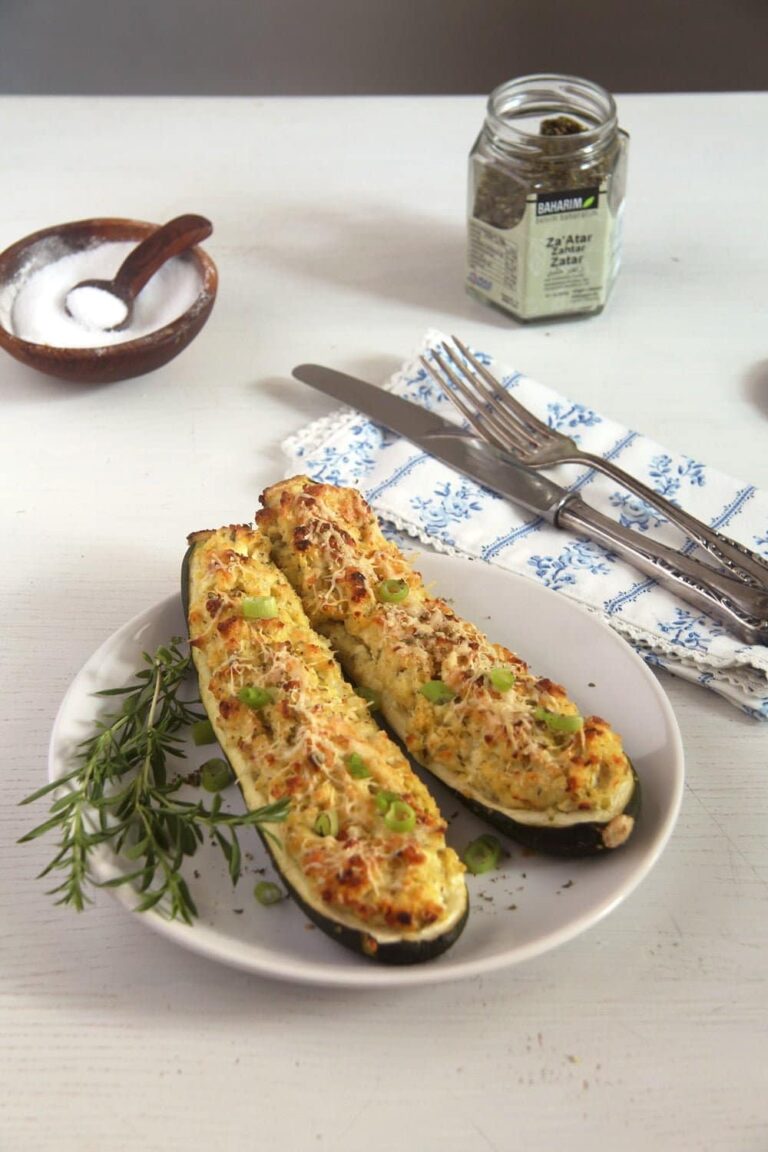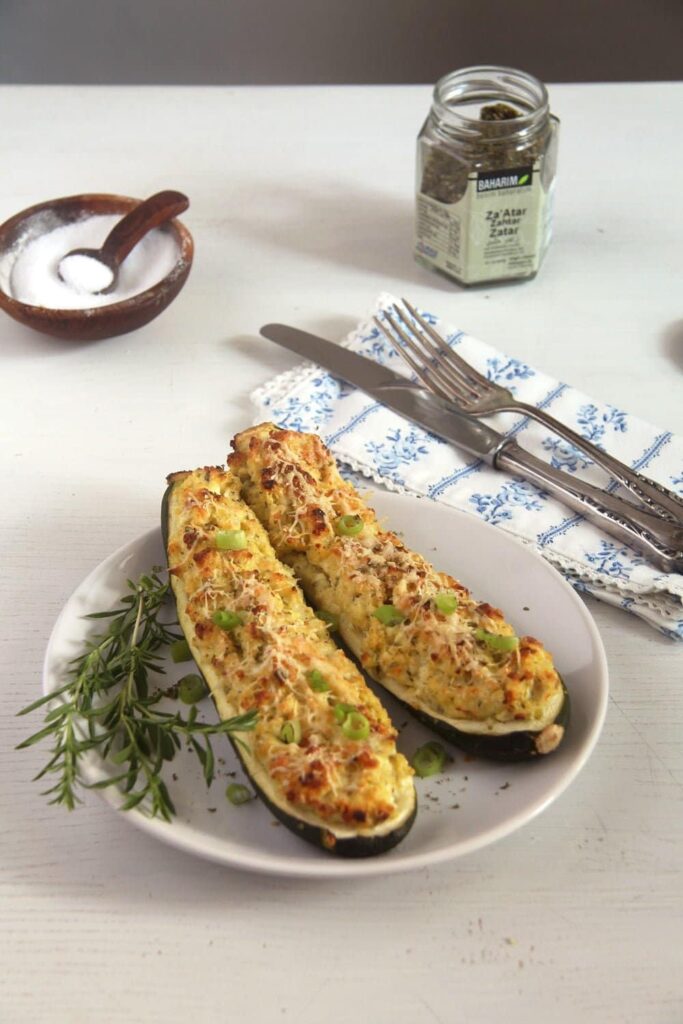 Vegetables:
Zucchini – 3 medium ones.
Garlic
Spring onions
Herbs:
Thyme: fresh or dried.
Za'atar: it is either a herb or a spice mixture.
In this case, a Middle Eastern spice mixture containing dried thyme, marjoram, oregano, sumac, and toasted sesame seeds.
Use it if you have it, it is absolutely great.
You could also make your own mixture, there are lots of recipes online.
Otherwise, you can replace it with dried herbs of your choice, some or all of the above mentioned are great.
Dairy:
Cottage cheese, low-fat.
Feta, low-fat is perfectly fine as well.
Hard cheese. Vegetarian one, if you want to keep the dish vegetarian. Parmesan, if you don't care about that.
More vegetarian stuffed vegetables?
Vegetarian Stuffed Mushrooms - Simple vegetarian stuffed mushrooms with a herb butter filling.
Easy Vegan Stuffed Peppers - An easy and healthy vegan stuffed peppers recipe without rice, just peppers filled with vegetables and simmered in tomato sauce.
Stuffed Vine Leaves with Rice and Ricotta - Delicate stuffed vine or grape leaves with a melt-in-your mouth ricotta and rice filling with lots of dill and parsley.
Cheesy Stuffed Peppers with Feta - Sweet pointed peppers filled with feta cheese and lots of fresh herbs, a Mediterranean dish, light and full of flavor.
Cream Cheese Stuffed Vegetables - Tomatoes, peppers and cucumber slices stuffed with three delicious and easy to make cream cheese fillings.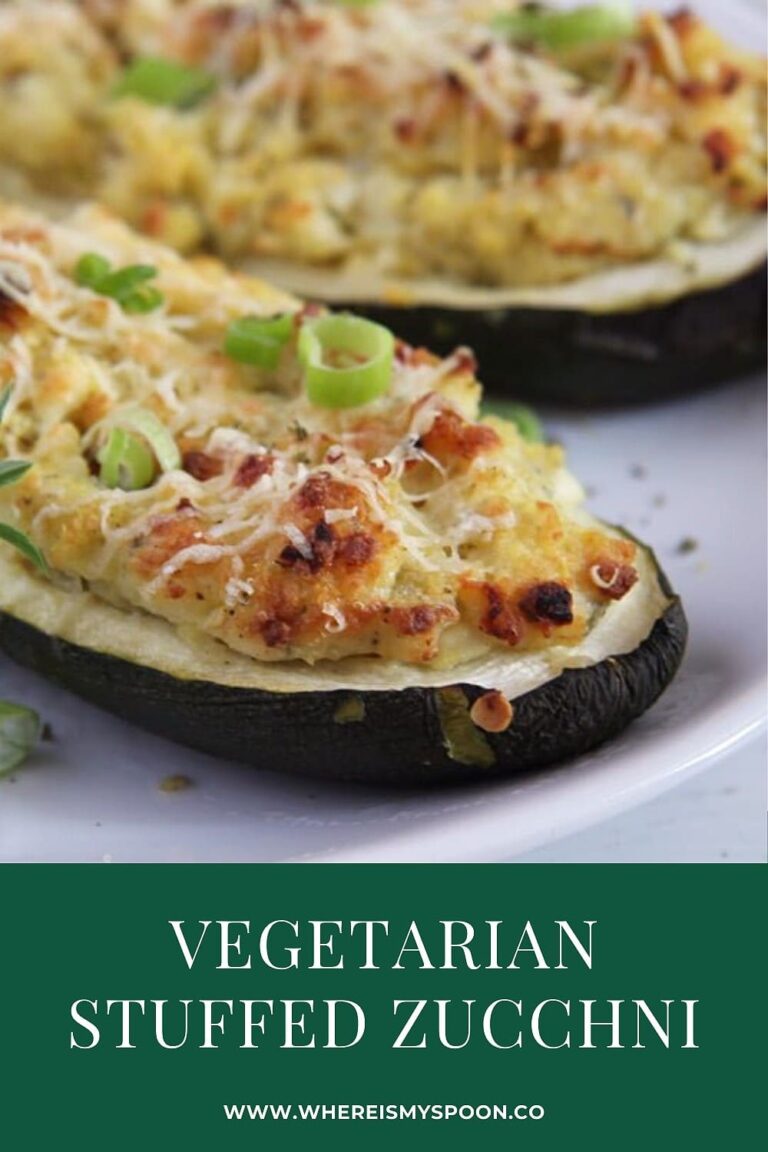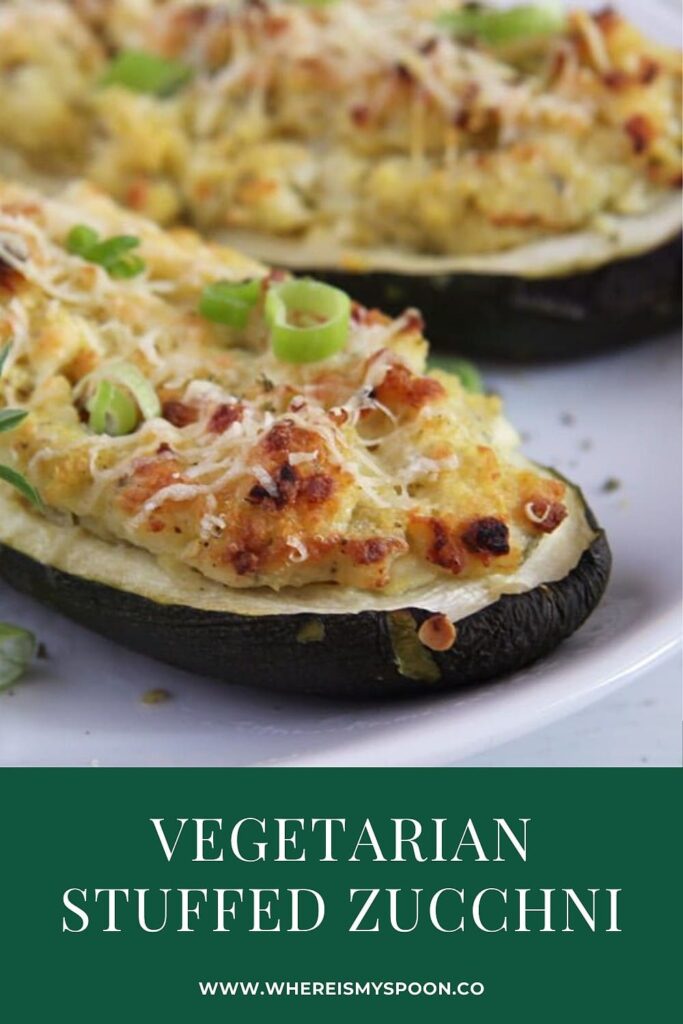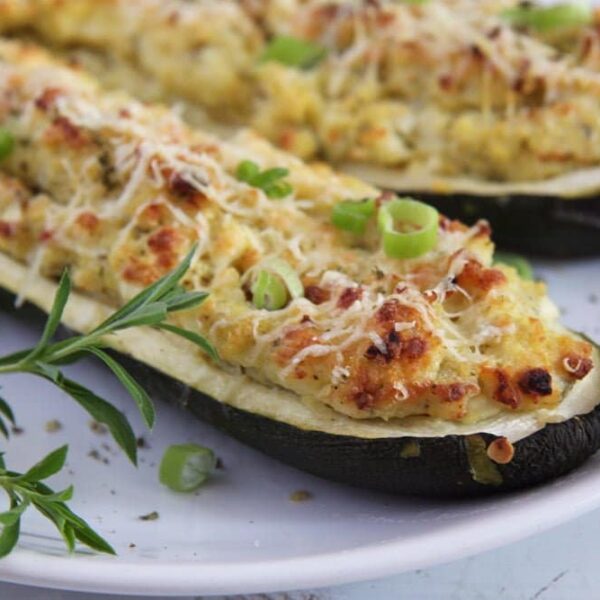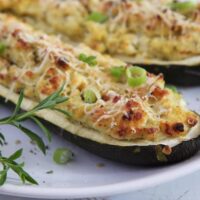 Vegetarian Stuffed Zucchini (with Cheese)
These vegetarian stuffed zucchini boats with millet and cheese are so delicious and rich that you will not believe how healthy they are.
Print
Pin
Share
Grow
Saved!
Rate
Ingredients
3.5

oz

millet

Note 1

1 ¾

cup

vegetable stock

3

medium zucchini

3

tablespoons

cottage cheese

2.5

oz

feta cheese

low-fat can be used

2

large garlic cloves

2

spring onions

3

thyme sprigs or a large pinch of dry thyme

1

teaspoon

za'atar

optional, can be replaced with other herbs or spices to taste

1

egg

½

cup

vegetarian hard cheese, freshly grated

Note 2

fine sea salt and pepper
Instructions
Cook millet: Wash the millet in a fine-mesh sieve. Place it in a small pan, add the vegetable stock, and bring to a boil. Turn the heat down to very low and let simmer for about 20 minutes or according to the packet's instructions until all the stock is absorbed. Take off the heat and let cool for a while.

Preheat the oven to 200 degrees Celsius/ 400 degrees Fahrenheit.

Prepare zucchini: Halve the zucchini and remove the seeds and some of the flesh to form some kind of boat. Use a tablespoon to do that. Place the zucchini in a lightly oiled baking dish.

Filling: Mix the cooled millet with the cottage cheese, crumbled feta cheese, grated garlic cloves, finely chopped spring onions, thyme, and za'atar. Add the beaten egg and salt and pepper to taste. You should really taste the mixture (before adding the egg, if you are worried about tasting the raw egg) and add salt and pepper very generously. The mixture should not be bland. Add more thyme and za'atar too, if you find it necessary.

Bake: Divide the mixture between the zucchini halves, sprinkle with the freshly grated hard cheese and bake for about 40 minutes or until the zucchini boats are cooked and the filling is golden.

Serve with tomato salad and baguette.
Notes
Other grains can be used instead. Cook them according to the packet's instructions and proceed with the recipe.
Use vegetarian hard cheese, if you want to keep the recipe vegetarian. Parmesan is not vegetarian.
Nutrition
Serving:
1
zucchini boat
|
Calories:
118
kcal
|
Carbohydrates:
10
g
|
Protein:
9
g
|
Fat:
5
g
|
Saturated Fat:
3
g
|
Polyunsaturated Fat:
2
g
|
Cholesterol:
45
mg
|
Sodium:
549
mg
|
Fiber:
2
g
|
Sugar:
3
g