Corn on the cob in a bright and aromatic coconut turmeric sauce.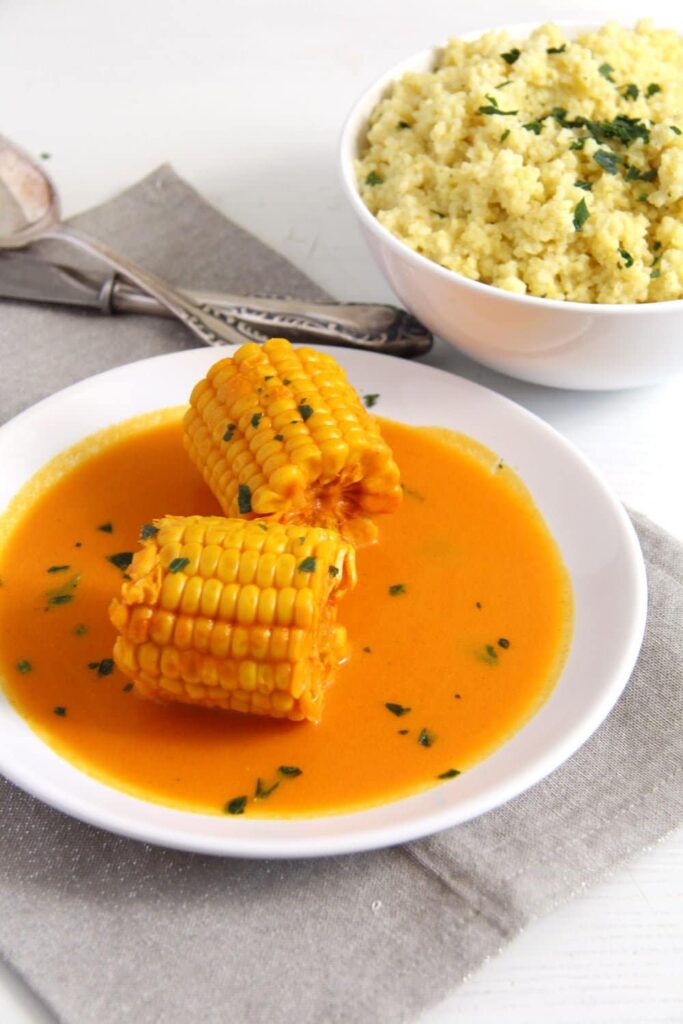 It is Secret Recipe Club time again and after one month being out of the game, I really couldn't wait for the new assignment and the new challenge. This month my assigned blog is Tara's Multicultural Table.
Tara is a young mom living in Northern Virginia with her husband and two little children. She was born in Japan, spent part of her childhood in Germany and her husband is Filipino, so I suppose this constellation led to her love of international cuisine and of her creating a blog dedicated to cooking the world, so to say.
I enjoyed immensely spending time on her blog, I am also very much into cooking food from all over the world. Actually before starting my blog, I also played with the idea of writing a blog where I would cook one country after another. I only gave that up because I know I am not disciplined enough and quite easily distracted and if you really want to cook something from every country of this world you really have to stay focused… 🙂
There was only one disappointment regarding Tara's blog. The first thing I looked for were Romanian recipes, being Romanian I was really curious to see what kind of Romanian dishes people would choose to cook. Well, nothing, apparently… That made me sad… 🙁 So, Tara, if you are reading this, please do cook something Romanian soon, I am sure you will find something you like. 🙂
Otherwise, there are dozens of recipes on Tara's blog that I would love to try. I love all her German recipes, especially the Kräuterspätzle and the Obatzda, and many other as well. I think the Maltese Vermicelli Omelette and the Moroccan Square Flat Breads are definitely something my kids would love. The Mexican Watermelon Water , las empanaditas de chorizo and the panqueques argentinas con dulce de leche are some other recipes I would love to try.
But instead I chose to make this Somali Corn in Coconut Sauce. The main reason for this choice was the use of turmeric, which is my theme for these last two weeks of September. And I am really glad to have found this recipes, it was wonderful. My kids loved it, I think it was the first time they actually had corn on the cob and they found it great to be able to eat them with their hands. We all loved the sauce as well, it was smooth and velvety and so aromatic… I served this with millet and I thought that it was indeed a perfect fit for this dish. What can I say, there was nothing left in the pot…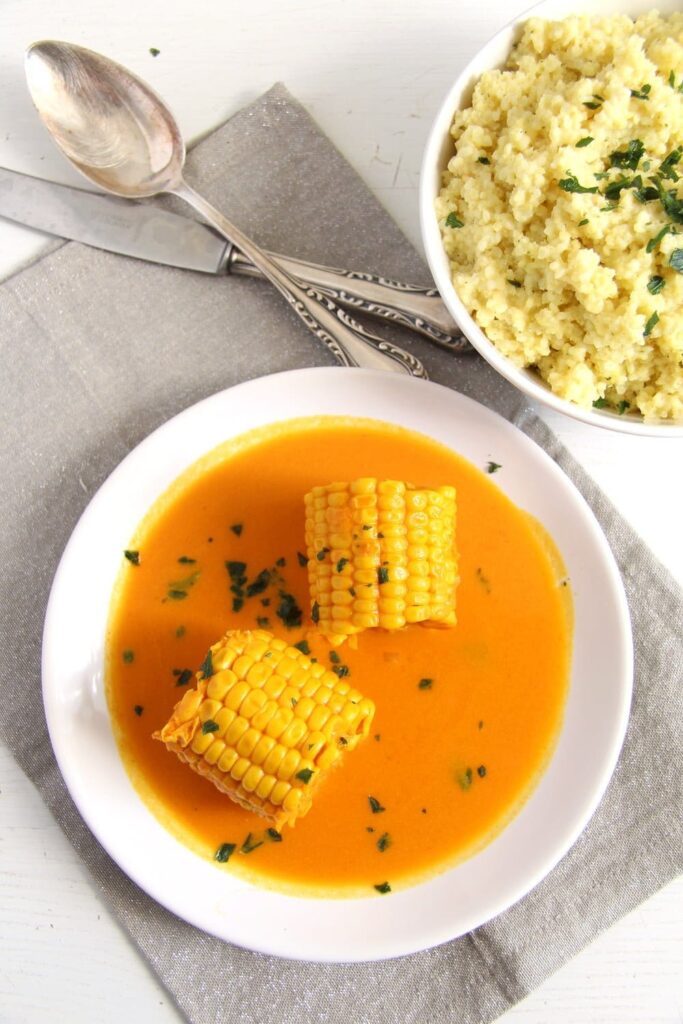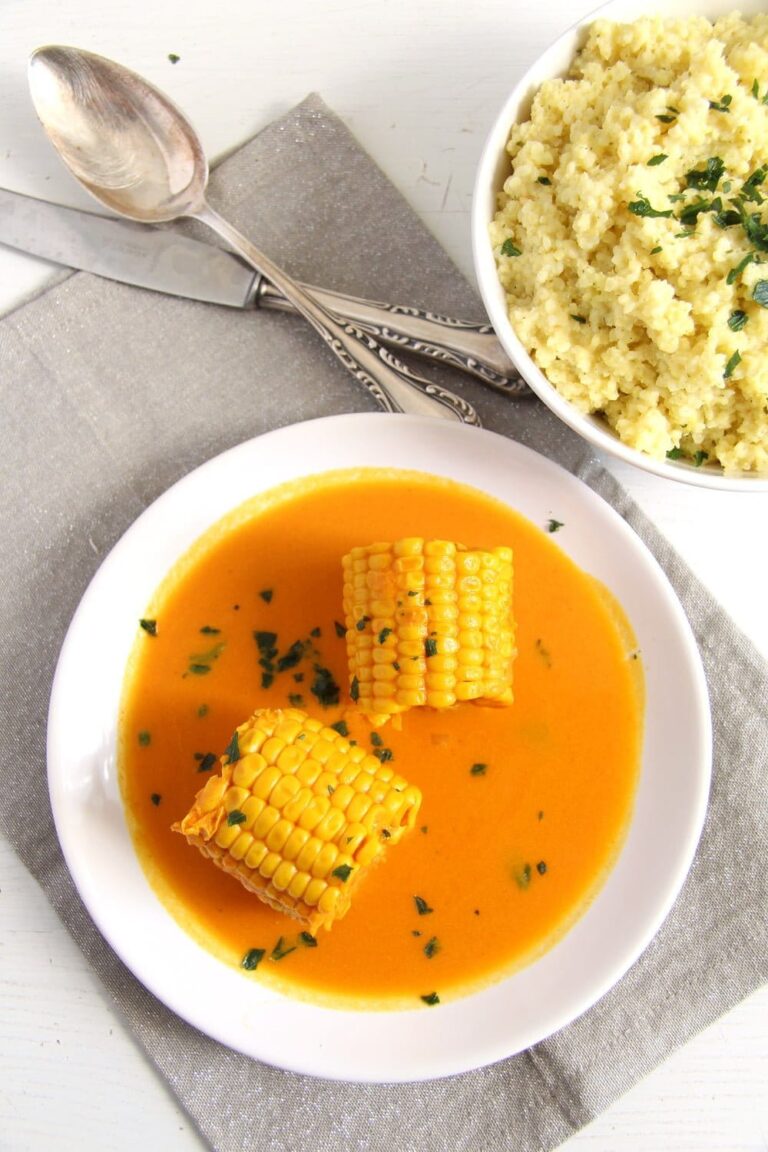 [inlinkz_linkup id=653256 mode=1]
This post contains affiliate links, so if you make a purchase we will receive a commission which helps support our family.
Others you might like: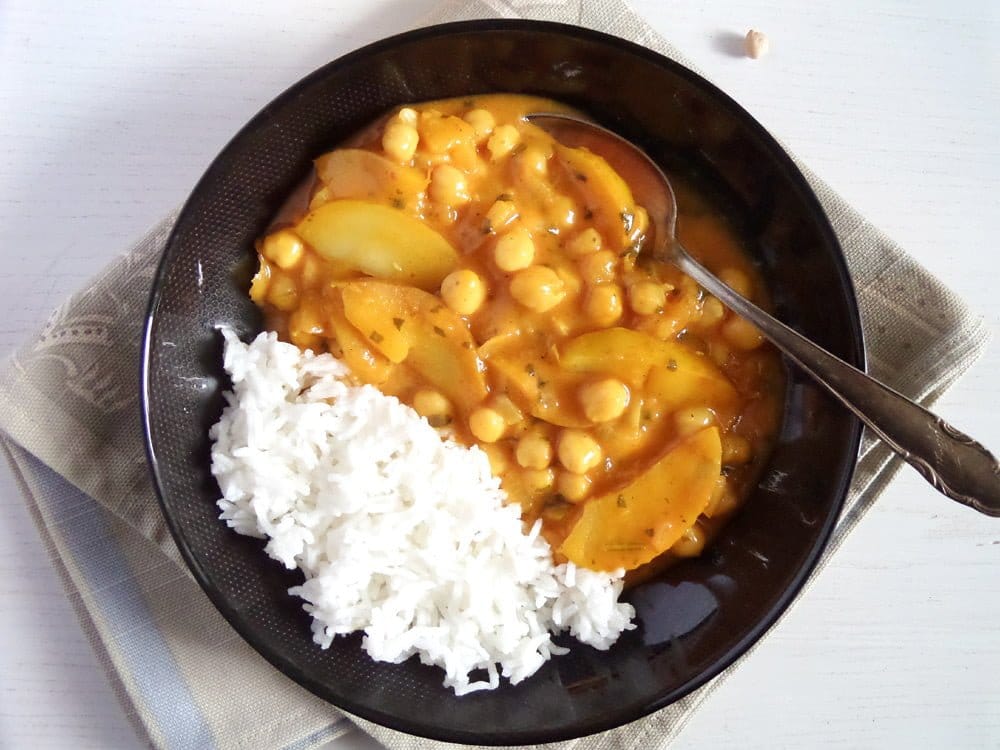 Vegan Apple and Chickpea Curry