Corn on the cob braised in a bright and aromatic coconut turmeric sauce, an easy Somali or African corn in coconut milk recipe.
SOMALI CORN IN COCONUT MILK
Galey iyo Qumbo or Somali corn in a bright coconut milk turmeric sauce. A simple recipe, ready in about 15-20 minutes, full of flavor and so comforting. And it just so happens that this recipe is also vegan and super healthy!
Corn is a staple food in many African countries, including Somalia. You can get it in form of whole grilled cobs, you can get it as cornmeal and make fufu or African polenta – Soor. You can make Somali flatbreads with white cornmeal or you can braise the corn cobs in coconut milk.
Everybody knows and loves grilled corn, fufu is more of a specialty thing that not many people outside Africa dare try cooking at home.
But these corn cobs in coconut milk sauce are so easy to make, require so few and regular ingredients, it would be a shame not to try them. They are delicious!
This is repost from 2016, at the time I was a member of the Secret Recipe Club and that is why I got to cook this beautiful recipe. I found it on Tara's Multicultural Table.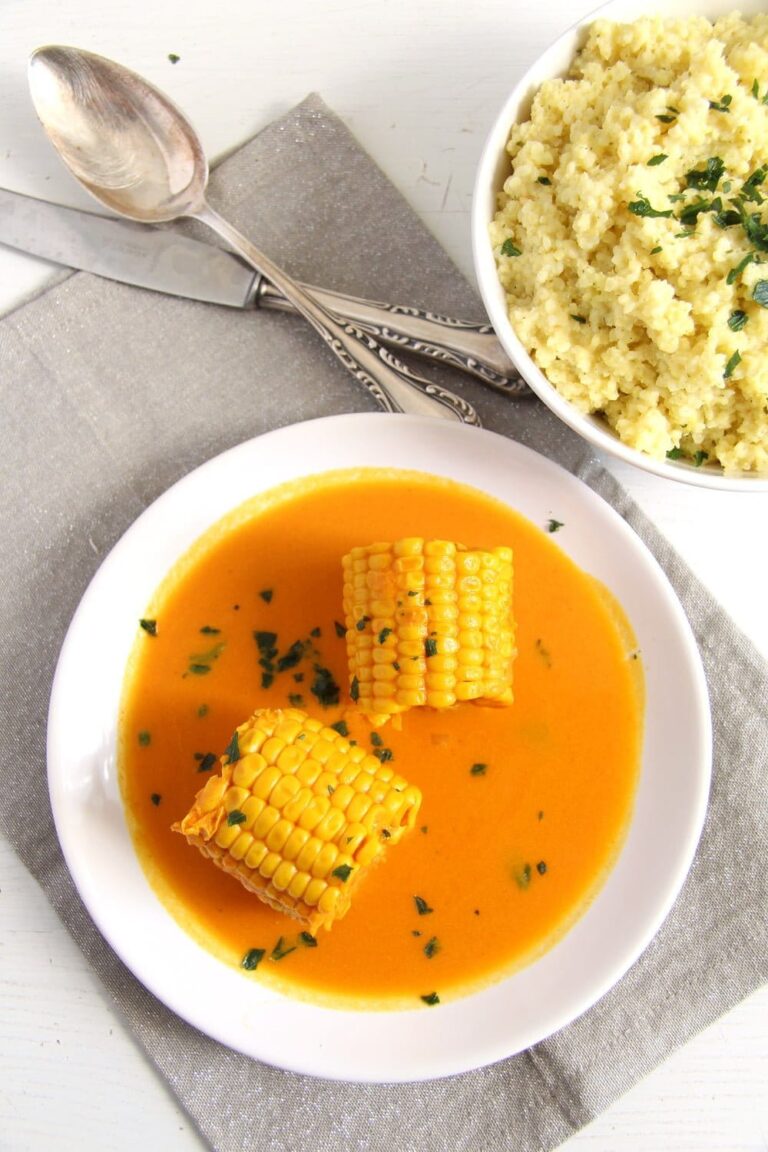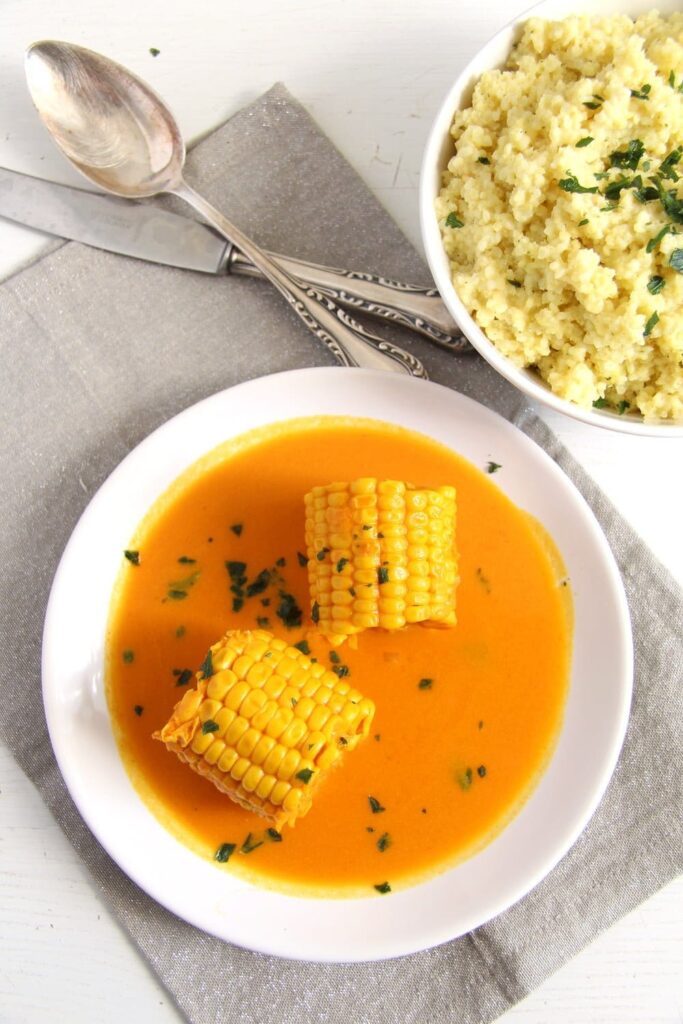 INGREDIENTS FOR SOMALI CORN
Corn:
I used pre-cooked corn that comes vaccuum packed.
That is why the corn is ready in such a short time.
Otherwise, you will need:
Onion
Can of coconut milk
Tomato puree – not tomato paste
Fine sea salt
HOW TO MAKE CORN IN COCONUT MILK?
This is such an easy recipe!
Mix all the ingredients, except the corn and the fresh herbs, in a pot.
Add the corn and cook for 15-20 minutes or until the corn is cooked through.
You can lift the corn off the pan and puree the sauce to make it smoother, but it is not really necessary.
HOW TO SERVE SOMALI CORN?
I served the African corn in coconut milk with millet. Millet is also very popular in some parts of Africa and I thought it would be a good side dish. It was, we all loved the combination.
How to prepare millet?
To prepare the millet, wash the required amount in a fine sieve.
Cook the millet in the double amount of salted water, vegetable broth or chicken stock, so for 1 cup millet you will need 2 cups liquid.
I prefer to use vegetable broth or chicken stock, they add more flavor.
Bring to a boil, cover with a tight fitting lid, reduce the heat to very low and simmer very gently according to the packet's instructions, about 15 minutes on most packets I had until now.
Remove from heat and let stand for another 10 minutes, the millet will absorb all the liquid and flavors now.
Fluff with a fork and serve.
Millet can be served immediately or it can be turned into a delicious salad or grain bowl when completely cool.
Other side dishes for the somali corn could be regular polenta or African polenta, flatbread or rice.
PIN IT FOR LATER!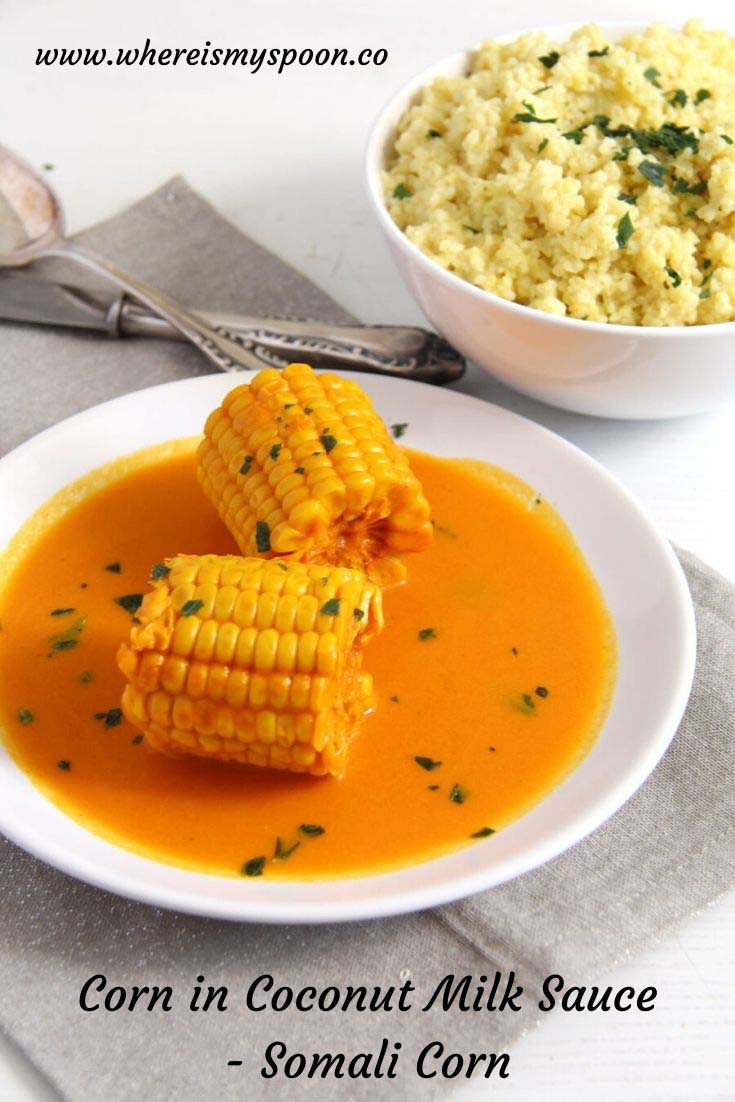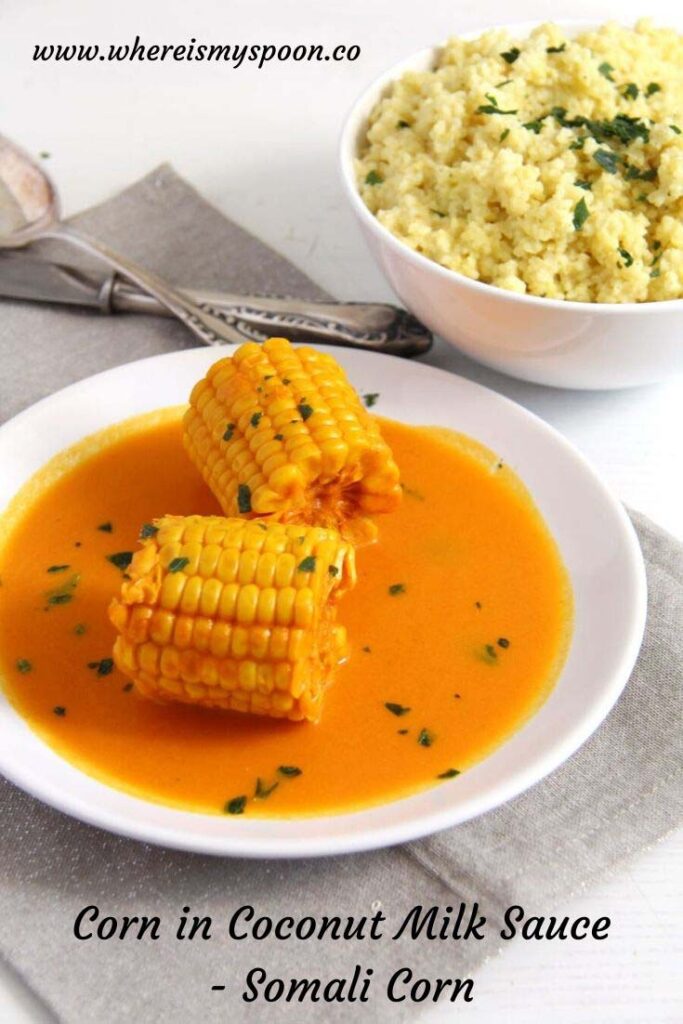 MORE AFRICAN RECIPES?
Nigerian Spicy Jollof Rice – a super spicy and delicious rice dish enjoyed not only in Nigeria but in many other African countries as well.
Yassa Chicken - a Senegalese chicken stew with tender chicken and caramelized onions.
Tunisian Tajine - or Tunisian frittata with chicken, potatoes, peas and lots of spices.
Moroccan Chicken Stew - an incredibly aromatic stew, chicken breast pieces and black olives in a spicy tomato sauce.
Peri Peri Chicken – spicy baked chicken, which can be either Portuguese or South African.
Corn in Coconut Milk – African Corn
Corn on the cob braised in a bright and aromatic coconut turmeric sauce, an easy Somali or African corn in coconut milk recipe.
Print
Pin
Share
Grow
Saved!
Rate
Ingredients
1

onion

1

cup

coconut milk

1

cup

water

½

cup

tomato puree

1

teaspoon

turmeric

fine sea salt

4

small corn on the cob

cilantro or parsley to garnish

cooked millet to serve

optional
Instructions
Chop the onion very finely. Place the onion, coconut milk, water, tomato puree, turmeric, and salt to taste in a pan.

Cook corn: Cut the corn into two or three pieces, place the pieces in the sauce, bring to a boil. Turn the heat to low and simmer, turning the corn around from time to time, until the corn is cooked through, about 15-20 minutes.

Blend sauce: When the corn is cooked, you could take it out of the sauce and puree the sauce and the onions in it. That is optional, but it makes for a more velvety sauce.

Sprinkle with chopped cilantro or parsley. Serve immediately with millet cooked in vegetable broth, for instance.
Nutrition
Serving:
1
/4 of the dish
|
Calories:
274
kcal
|
Carbohydrates:
36
g
|
Protein:
7
g
|
Fat:
14
g
|
Saturated Fat:
11
g
|
Polyunsaturated Fat:
2
g
|
Sodium:
392
mg
|
Fiber:
4
g
|
Sugar:
7
g