Nigerian Jollof Rice – a spicy and vibrant one-pot tomato rice, which will become a family favorite, this is probably the best-known Nigerian food recipe.
Jollof Rice – Nigerian Food
This Nigerian Jollof rice is spicy, fresh, comforting, and satisfying – all in one – the perfect rice dish! I can have it on its own any time of the week, and it makes a wonderful side dish for lots of dishes.
I do have a soft spot for this kind of one-pot rice dishes and tomato-based rice dishes are my favorite. Try this rice with tomato and vegetables or the Romanian vegetable pilaf or Cheesy Corn Rice (with Turmeric).
Actually, the first one mentioned is not so different from this jollof rice, but it tastes completely different as it is differently spiced. The Romanian version is spiced the Romanian style, which means barely spiced actually, just some garlic and thyme, salt and pepper.
The Nigerian jollof rice on the other side is hot and besides thyme (which I seem to add by default to most rice dishes), is also spiced with curry powder as well. So, two similar looking dishes, but two different flavors. Both good, mind you, I could not say which one I like best...
What is Jollof Rice?
Jollof rice is a dish popular not only in Nigeria but in several other West-African countries, such as Senegal or Gambia, Ghana or Sierra Leone. The main idea of the dish is the same in all of these countries but, of course, every country has its own version of it.
According to Wikipedia "the name Jollof derives from the name of the Wolof people, though in Senegal and Gambia the dish is referred to in Wolof as theibou dienne or benachin. In French-speaking areas, it is called riz au gras."
Despite the different names this dish is to be found everywhere in the region and through the many African people living outside Africa, the jollof rice has become one of the best-known African dishes outside the continent. No wonder, it is utterly delicious and so easy to make.
Ingredients
Parboiled rice:
The Nigerian jollof rice is made with parboiled rice. I saw recipes explaining how to parboil rice before even starting to cook this dish. I would have done it, but it was really not necessary, the parboiled sort is very easily available around here, so I preferred to buy it instead.
The Ghanaian Jollof version is made with basmati, which doesn't have to be parboiled. You could try that version if you wish.
Chilies:
I could not find any Scotch bonnet around here and I know that kind of chili to be unbearably spicy anyway, probably too much for the children.
So I chose the "local" kind of chili and I left the seeds inside to make the dish spicier. It was wonderful, hot but not overwhelmingly so and totally aromatic, I loved it!
However, if you can find any Scotch bonnet and like spicy food, you should definitely choose that kind of chili then.
Maggi:
Something that you will also need to cook this spicy Nigerian recipe is a Maggi stock cube.
It was one of the very few times in my life that I have both these particular Maggi stock cubes, I actually only buy them when I cook something African, many African dishes I have cooked until now contain Maggi stock cubes, they are apparently hugely popular there.
Alternatively, use a regular vegetable stock cube.
Oil:
Another original ingredient used for making this Nigerian Jollof rice is palm oil.
I didn't have it though. So, regular vegetable oil for me.
An update on palm oil: a Nigerian reader told me that "palm oil is not an actual ingredient in the making of Jollof".
I quote: "Palm oil is used in a variety of Nigerian dishes like vegetable stew, fried pepper sauce (this is a whatever oil you prefer recipe). The only rice dish that Nigerians use palm oil in when making it is The Native Concoction Rice, a dish similar to jollof but which contains vegetables, a variety of meat and seafood and Palm oil, hence the name concoction rice. I understand that recipes can be modified but it just doesn't seem right to write that Palm oil is an ingredient used in the making of Nigerian Jollof rice. No Nigerian would ever cook Jollof rice with palm oil and call it jollof. Just thought you should know. "
However, another reader told me that palm oil is used when making this dish, so I suppose the choice is yours.
Tips
Sauce:
After you have made the sauce, cook it for a few minutes to thicken it slightly. Add it to the onions and add a generous amount of tomato paste as well, it is necessary to give the rice more tomato flavor, more color and to thicken the sauce a bit more as well.
When you are finished with this step of the recipe, take out about ¼ of this tomato sauce and reserve it for later. You will add it to the finished dish, thus enhancing its flavor and bright color.
Crust:
Many of the recipes I've seen recommend letting the rice burn a little at the bottom of the pan, which would give it a really authentic taste.
I was not so keen on doing that, so I thought I would add some smoked paprika and some smoked ground black pepper to give it a bit of a smoky flavor.
I did and the flavor was wonderful, but without even trying, I did manage to slightly burn it at the bottom of the pan, despite the fact that I used a non-stick pan.
So, I just assume that this slightly letting the rice burn is just the way it is supposed to be when cooking this Nigerian dish. And that crusty layer at the bottom of the pan is absolutely delicious while eating I was wishing there was more of it there.
How to serve?
The Nigerian jollof rice is often served as a side dish for meats or fish. Often, the chicken or other kind of meat is already included in the dish.
It could also be served with fried plantains, with a dish called moi-moi, which is actually a Nigerian steamed bean pudding, with coleslaw or steamed vegetables.
I ignored all these serving suggestions and served this side dish with some delicious Croatian Cevapci or Cevapcici, which are amazing grilled ground meat rolls. Fusion food, if I may say so, but such a great combination!
PIN IT FOR LATER!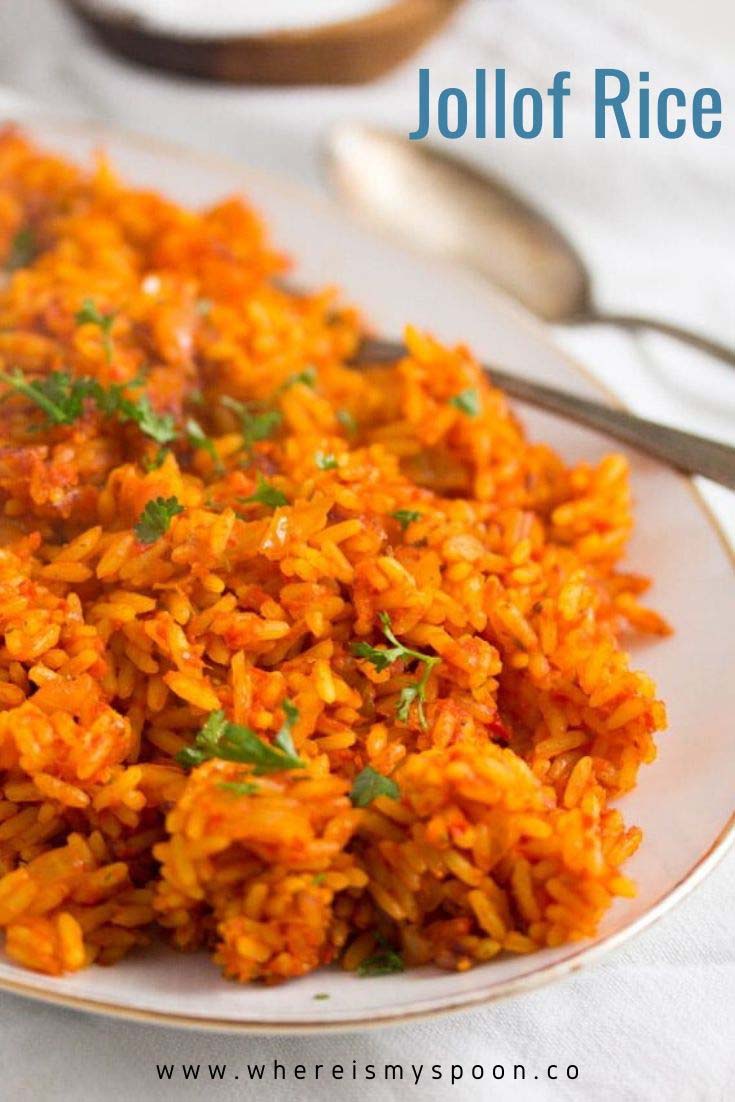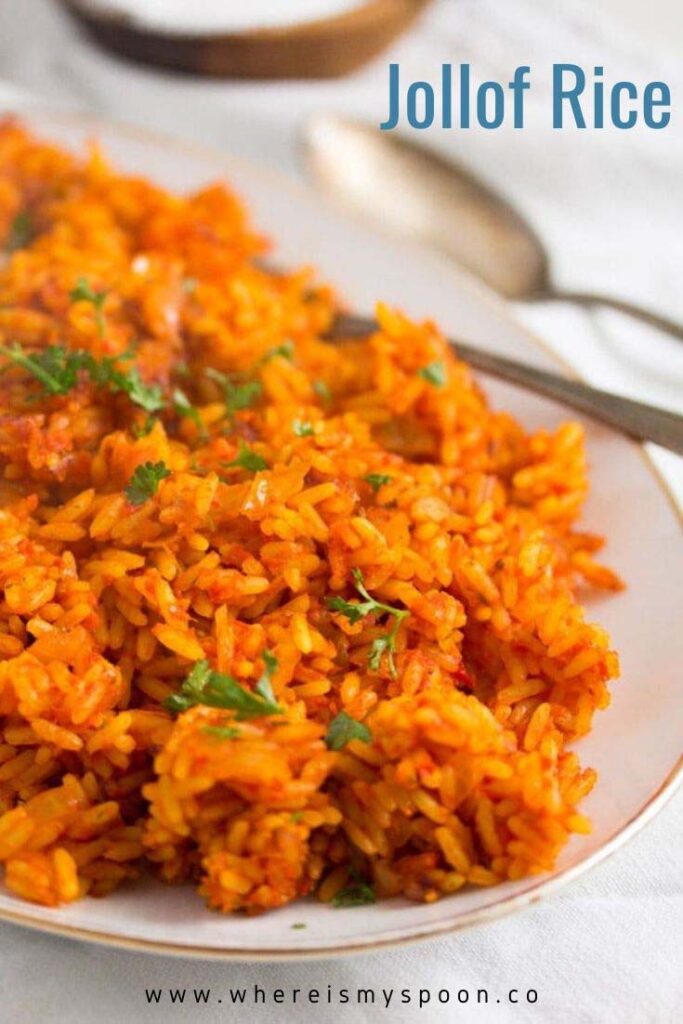 Spicy Nigerian Jollof Rice
Nigerian Jollof Rice – a spicy and vibrant one-pot tomato rice, which will become a family favorite in no time, this is probably the best-known Nigerian food recipe.
Print
Pin
Share
Grow
Saved!
Rate
Ingredients
2 ¾

cups

parboiled rice

See note 1

4

medium tomatoes

romana or plum tomatoes

1

large red bell pepper

1-2

red chilies or ½ -1 Scotch bonnet

See note 2

4

tablespoons

vegetable oil

or palm oil, if available

1

larger onion

5

tablespoons

tomato paste

3

cups

vegetable broth or chicken stock

1

Maggi stock cube

optional

1

teaspoon

dried thyme

2

teaspoons

curry powder

¼

teaspoon

smoked paprika

2

bay leaves

some smoked black ground pepper

optional

salt
Instructions
Blend tomatoes: Roughly chop the tomatoes, red bell pepper, and chili. Place them in the food processor and puree them until smooth. Alternatively, use an immersion blender.

Cook tomatoes: Pour the puree into a saucepan, bring to a boil and cook for about 4-5 minutes or until slightly thickened.

Chop the onion.

Cook sauce: Heat the oil in a heavy-bottomed pan or non-stick pan. Fry onion until a bit softer, about 3 minutes. Add the tomato-pepper puree and simmer, often stirring, for about 10 minutes. Add the tomato paste, stir very well and let simmer for another 4-5 minutes, until the sauce has thickened. Remove about ¼ of the sauce and set it aside.

Cook rice: Pour the vegetable or chicken stock in the pot. Crumble in the Maggi stock cube and stir well to dissolve. Bring to a boil. Add the washed rice, thyme, curry, smoked paprika, bay leaves, and salt to taste when the stock is boiling. Stir well, turn the heat down to medium-low and cover the pot.

Cook until the rice is almost dry and cooked through. Don't worry if the rice catches slightly at the bottom of the pan; that is the desired effect, as long as it doesn't burn completely.

Add the remaining tomato sauce and stir very gently without breaking the crusty rice layer at the bottom of the pot. Add some smoked or regular ground black pepper and salt to adjust the taste.

Serve as suggested above.
Notes
You can buy parboiled rice or parboil regular rice yourself.
Scotch bonnet is the kind of chili customarily used for making Jollof rice. Replace it with regular chilies if you cannot find it. Adjust the chili amount according to your heat tolerance, and keep in mind that Scotch bonnet is really hot.
Nutrition
Serving:
1
/6 of the dish
|
Calories:
208
kcal
|
Carbohydrates:
27
g
|
Protein:
4
g
|
Fat:
10
g
|
Saturated Fat:
1
g
|
Polyunsaturated Fat:
9
g
|
Sodium:
697
mg
|
Fiber:
3
g
|
Sugar:
7
g