Last Updated on 26/03/2020 by Adina
Pilaf cu legume – vegan vegetable pilaf, a quick, delicious and comforting dish for any time of the year.
We used to eat lots of rice in my grandmother's house in Romania, but never ever the way I would mostly eat it now in Germany, which is plain as a side dish for meat, vegetable or Asian dishes. I don't even remember my grandmother ever cooking plain rice, I think it would never have occurred to her that people could actually eat and enjoy plain rice.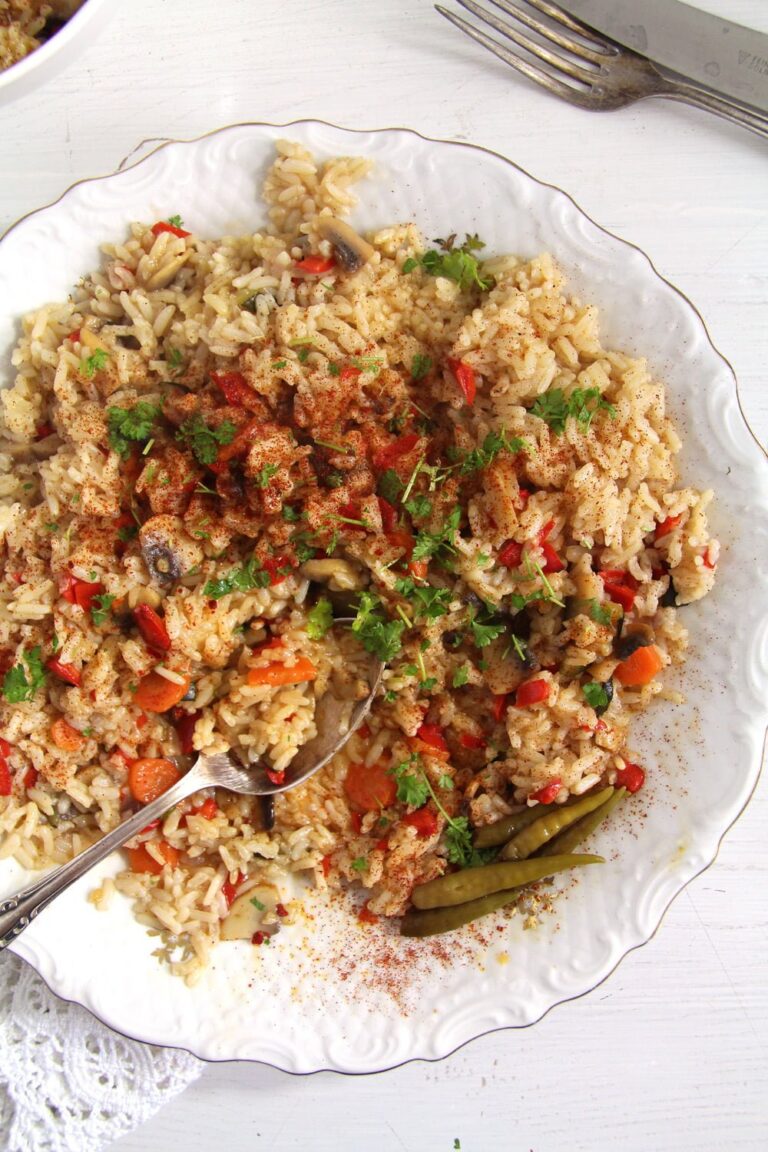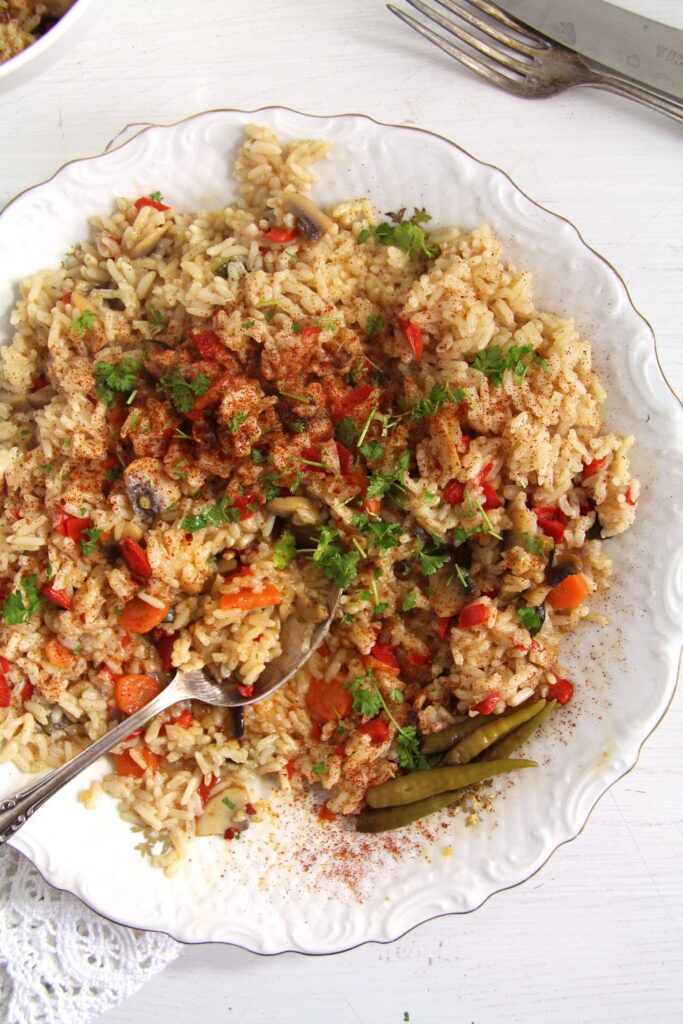 The simplest rice we would get would be rice cooked in chicken stock and that quite rarely, maybe on one of those days when my grandma didn't have so much time for cooking, she did work full-time all her life after all and continued working long after she was actually retired. Otherwise her rice was always cooked rather slowly and contained lots and lots of things. And it was never eaten as a side dish, we always had rice as a main with some pickled vegetables or salad on the side.
She made the best chicken pilaf ever. That was among us, her grandchildren, an undeniable fact. I was the only one who grew up in her house and I cannot really say that, except my sister, her other grandchildren spent much time in her house, but all of them do remember that chicken pilaf. We used to call it "pilaf lipicios" – sticky rice, because it was such a thick, soft yet creamy affair and mostly because of the slurping sounds you would hear when you would take some of it on your fork or spoon. I really cannot describe that sound, it was heavenly… 🙂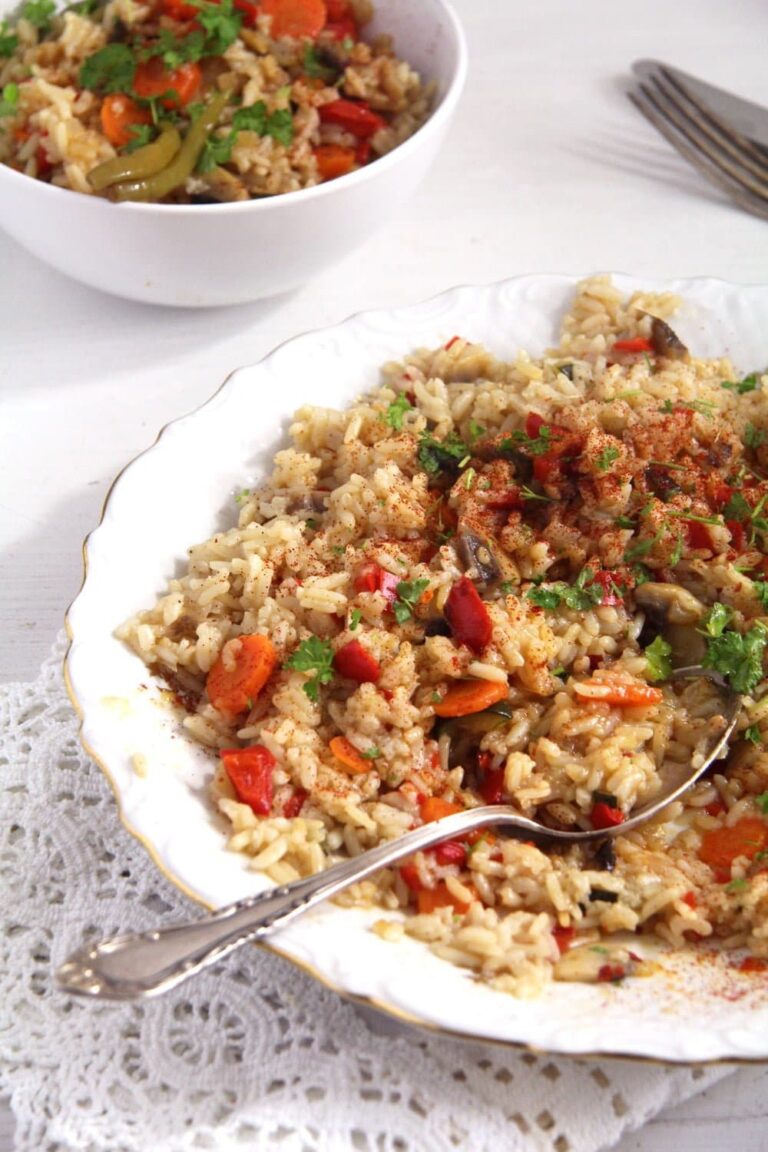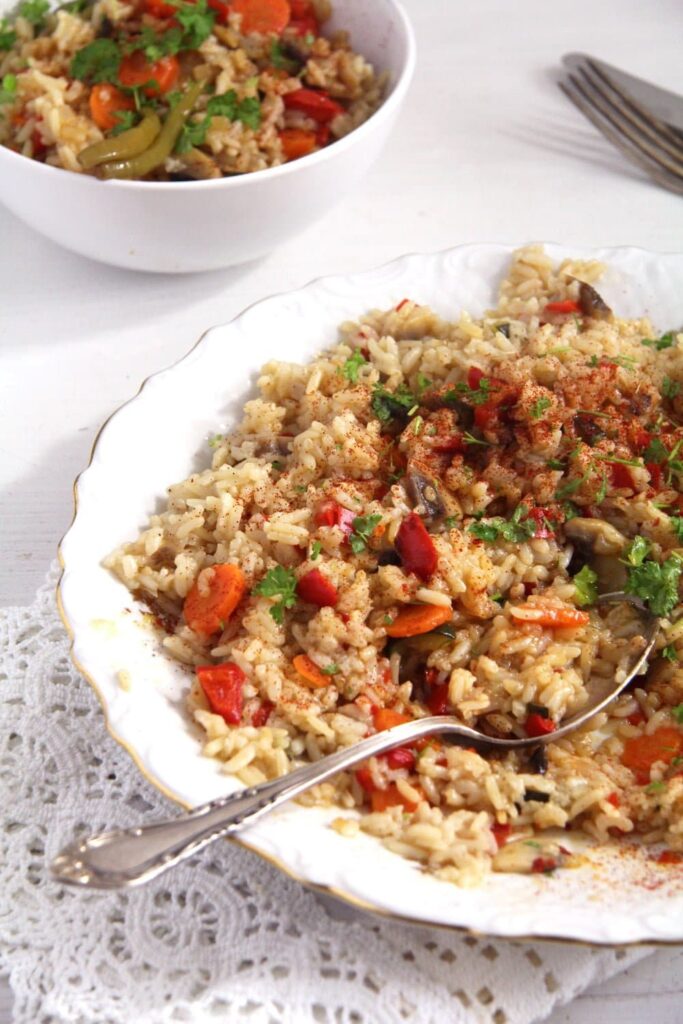 But I am drifting away here, that chicken rice is not our recipe today… Instead I chose this vegan vegetable rice or pilaf, which is its vegetarian/vegan version, something to eat during the fasting time but not only. My grandmother would make this kind of rice all the time, with whatever vegetables she happened to have: with peppers and tomatoes in summer or with lots of onions, carrots and canned mushrooms in winter. You don't have to stick to the veggies I used, take whatever you like and is in season in your part of the world.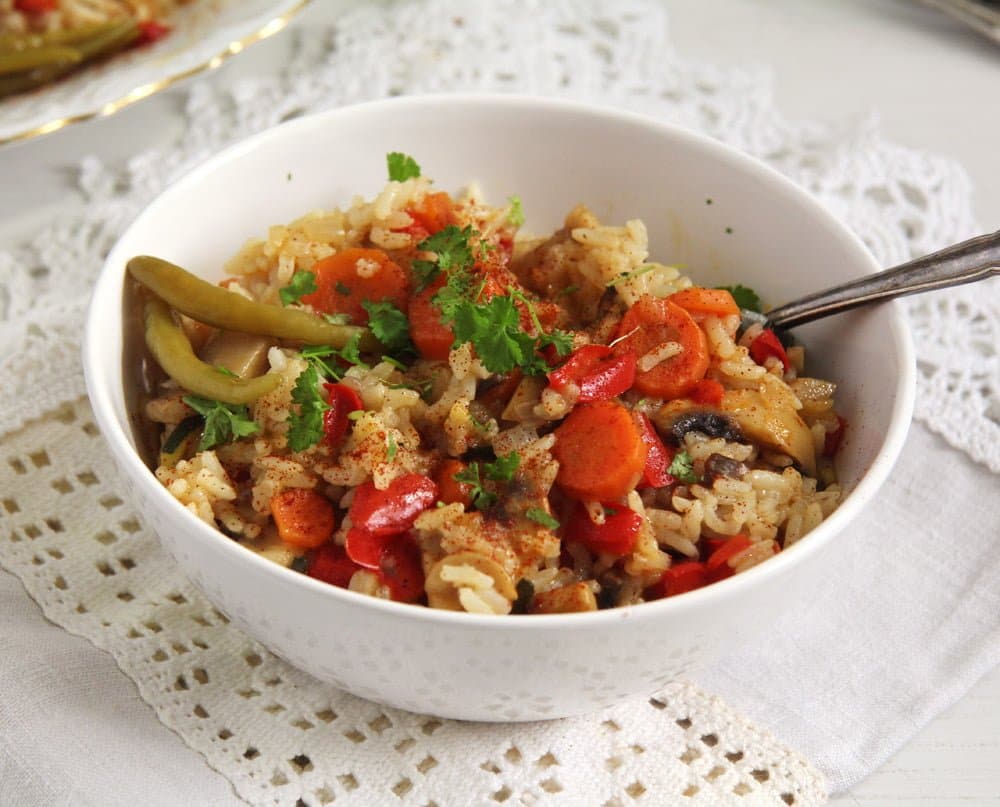 One word of caution: like in the case of any pilaf/rice congee I have ever eaten, either Romanian style, Asian or Middle Eastern style, the rice will be overcooked, it will be soft and you will even be able to break it with your spoon if you try. No need to do that, I am just saying it, so you will get the picture better. So, don't think that there is something wrong with the recipe, there isn't, the rice is supposed to be like this and it is really really delicious.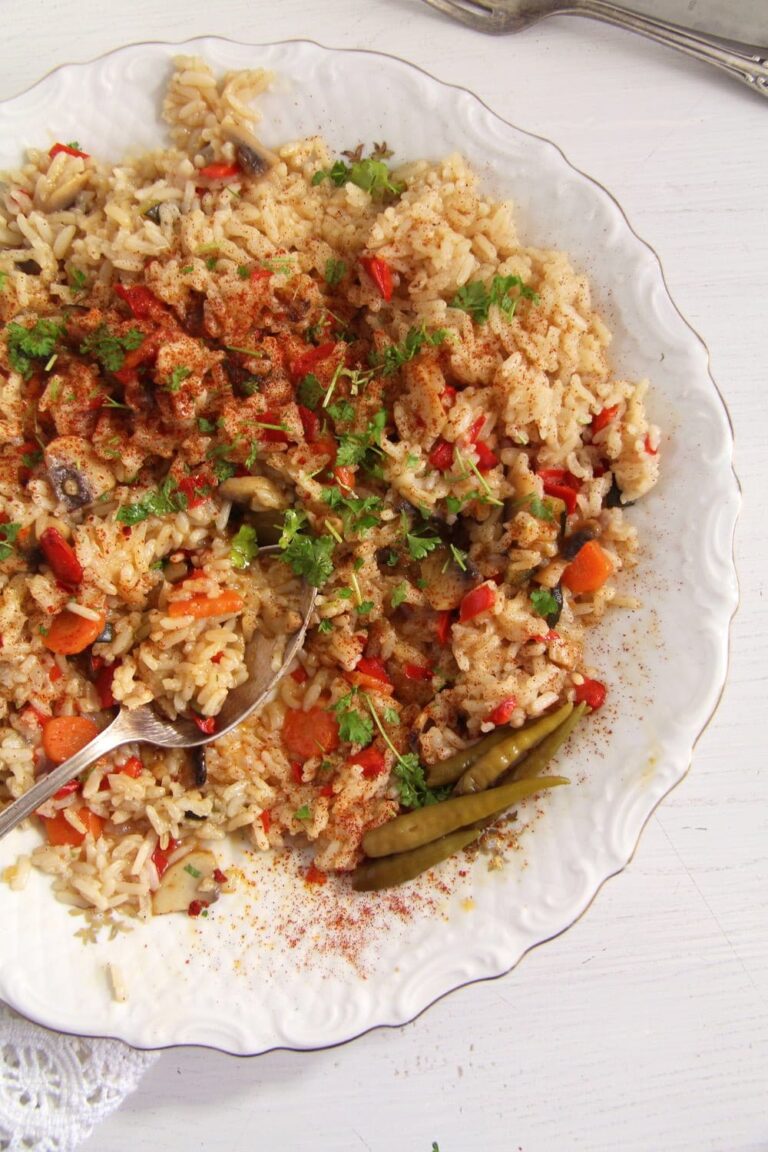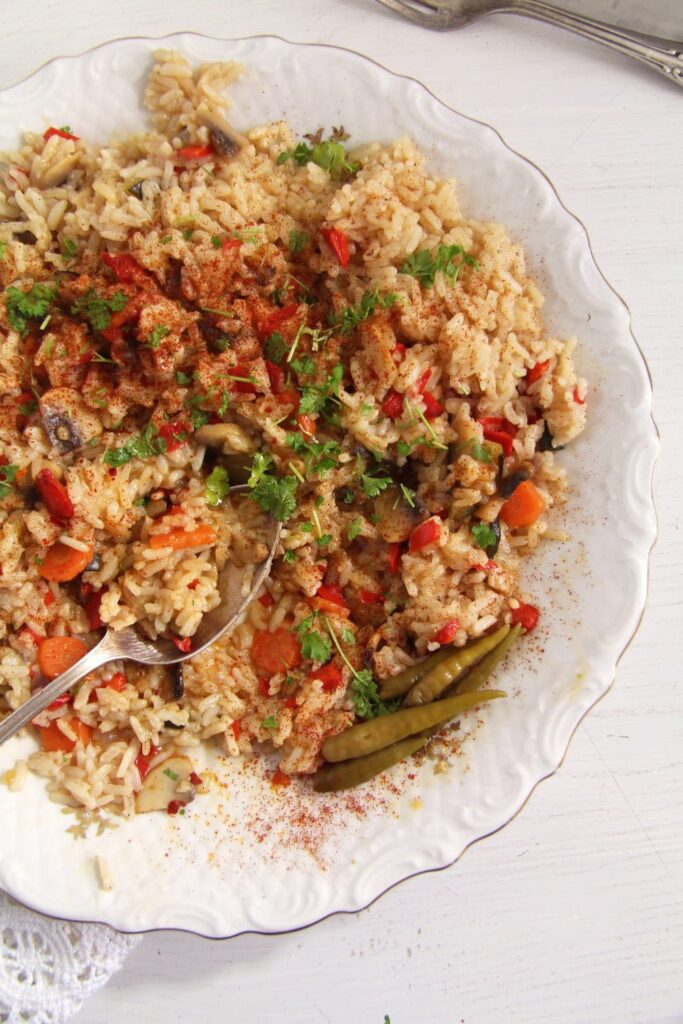 Ingredients
1 medium onion

1 medium red onion

1 carrot, about 100 g/ 3.5 oz

2 bell peppers, about 200 g/ 7 oz (one red, the second one can have a different color)

250 g/ 8.8 oz mushrooms

100 g/ 3.5 oz zucchini

250 g/ 8.8 oz rice

750 ml/ 25.3 fl.oz/ 3 cups good quality organic vegetable broth

2 tablespoons oil

paprika powder

salt and pepper

parsley
Instructions
Prepare the vegetables: finely chop the onions and set aside.
Peel and slice the carrot, clean and chop the peppers into small stripes. Wipe the mushrooms clean and slice them. Cut the zucchini into stripes or cubes as well. Place the rice into a fine mesh sieve, wash it and let it drain well.
Preheat the oven to 180 degrees Celsius/ 360 degrees Fahrenheit.
Heat the oil in a oven-proof pot. Add the onions and cook them for a couple of minutes until translucent. Add the rest of the vegetables, stir well and cook gently for about 5 minutes. Add the rice and the paprika powder, stir well and cook for another minute or so. Add the broth and cook the rice on the stove for 5 minutes.
Add salt and pepper to taste. Stir well and place the pot in the preheated oven. Cook in the oven for about 20-30 minutes, without stirring. The rice is done when all the liquid has been absorbed and the rice is soft (check). The vegetables will all be at the top of the rice at the end of the cooking time. Either serve it like that or give the rice a gentle stir before serving.
Sprinkle with lots of parsley and serve with pickled vegetables, green salad or cabbage salad.
This post contains affiliate links. The price you pay as a consumer does not change, but if you make a purchase we will receive a commission which helps support the blog.
Others you might like: