Last Updated on 26/03/2020 by Adina
Sticky, soft and delicious Romanian pilaf or rice with chicken and vegetables.
My family loves rice and I cook it often for it. Either as a plain side for other dishes like the Hungarian Pepper and Tomato Stew, the Quick Fricassee with Leftover Turkey and Mushrooms or the Pumpkin Turkey Curry with Coconut Milk and Turmeric or in the form of a pilaf – the way my grandmother cooked her rice.
We seldom had plain rice in my grandmother's house in Romania, she didn't eat anything white, so plain rice would have been a no-go for her. So even when she only cooked rice with nothing else in it, she cooked that rice in vegetable stock (vegeta) to make it yellow, so she could eat it as well. So, I've actually never even had plain white rice until I moved to Germany and started cooking myself.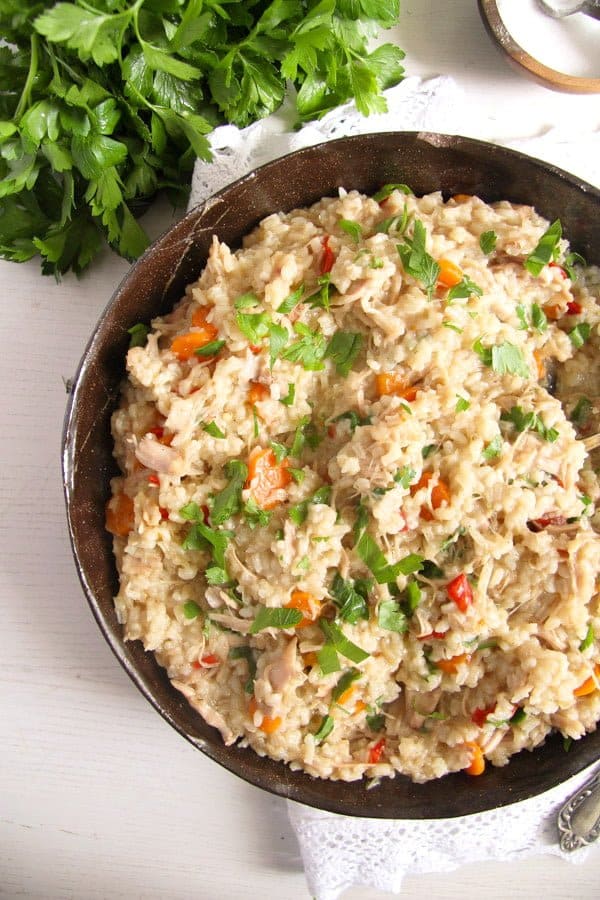 And from all the rice dishes she ever cooked, my grandmother's specialty was this particular Simple Chicken and Vegetable Pilaf. She made the best ever and that was a well-known fact in our family. Even my sister, who could not get along with my grandma for even five minutes or my cousins, who saw my grandmother maybe 5 times a year and only ever got to eat her pilaf every 2 years or so, all felt certain about this matter: mama Silvia made the best chicken pilaf.
It was so good, so comforting and although my pilaf comes pretty close to that, I am sure I will never achieve that exact taste and consistency. It was really sticky and soft, making funny, "squishy" noises when stirred, it was just perfect. But my version is good as well, so no worries there! 🙂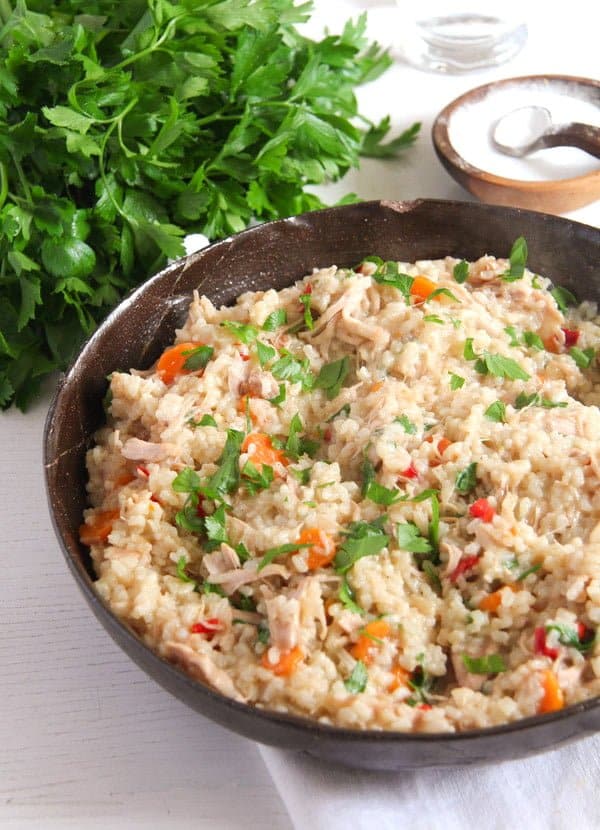 Notes on the Simple Chicken and Vegetable Pilaf – Romanian Recipe
Firstly, regarding the ingredients, you definitely have to use short-grain rice. I have tried this pilaf with long-grain rice and with brown rice, it is good, but it is not the Romanian pilaf, it has to be the short-grain rice. Short-grain rice is something like risotto or milk rice ( I actually use the cheap and perfect for this dish Milchreis in Germany), it makes the dish creamier, stickier, it is softer and squishier than other sorts of rice. So, make sure you get the short-grain rice.
There are two ways you could make the Simple Chicken and Vegetable Pilaf – Romanian Recipe. You could either start with 2 whole chicken legs or 2 chicken breast cooked in water and use the broth and the meat to cook the pilaf. For this version I recommend using some organic chicken stock cube as well, that will increase the flavor. When using a stock cooked from a whole chicken or from a chicken carcass, which was cooked for a longer time, the stock cube will not be necessary, the stock will have enough flavor as it is.
Or you could use already cooked chicken meat and bought (or made in advance) chicken stock. This version has the advantage of being quicker, but not so authentic.
Secondly, keep in mind this is a pilaf and that means that the rice will be cooked way longer than the instructions on the packet state, much longer than you will cook rice as a side dish or for other kind of rice dishes.
And I am stressing this point now, because I had some very rude remarks made on Facebook regarding one of my other pilaf recipes – the Romanian Vegan Vegetable Rice or Pilaf. The person who took this liberty was upset because the rice was not cooked the way he usually cooks his rice: for a short time and according to the packet's instructions and separately from the vegetables. Plus the recipe had too many ingredients for his taste!!! (only eight if you don't count the oil, the salt and the pepper). The fact that I proposed a different approach that did not meet his taste and notion of what a rice dish should be, offended him so profoundly, he could not help himself but being rude on social media. His conclusion: my blog and all Romanian food are bad! 🙂
Well, like thoroughly explained in that other pilaf post as well, this is a pilaf recipe, not a regular rice dish. The Romanian way of making pilaf always involves a long cooking time and the rice is always overcooked, it is soft and definitely has less structure than regularly cooked rice. But that is exactly the beauty and the comfort of it and the people who had any kind of Middle Eastern, Turkish, Eastern European or Asian pilaf/ pilau/plov/palau/plaw/pilaw/rice porridge/congee etc know what I am talking about.
Of course, there are thousand ways to make the pilaf and they all differ from country to country, from region to region, this is the Romania version of a pilaf and I hope you will enjoy it.
Other rice recipes you might like: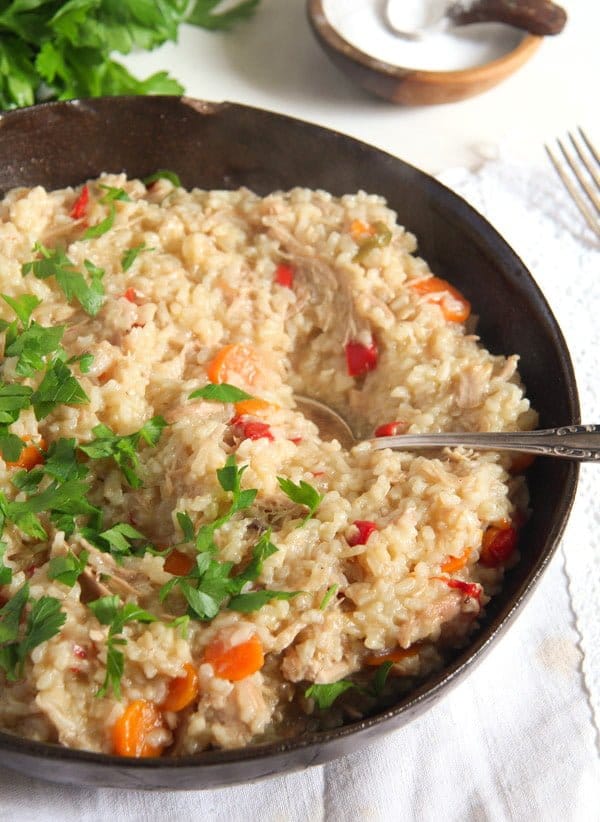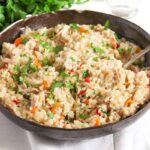 Ingredients
For the chicken broth:

2 pieces chicken breast or 2 whole chicken legs (See note 1)

1 small onion

1 carrot

1 small piece of celeriac or 2 celery sticks

2 bay leaves

5 all-spice corns

1 organic chicken stock cube, optional (See note 2)

salt and pepper

For the pilaf:

2 tablespoons vegetable oil

2 onions

3 medium carrots

1 small red bell pepper

300 g/ 10.6 oz/ 1 ½ cups short-grain rice

ca 1,7 liter/ 57.5 fl.oz/ about 7 cups chicken stock or broth

about 300 g/ 10.6 oz cooked chicken meat

salt and pepper

parsley
Instructions
You could make the pilaf using already cooked chicken and bought chicken stock, it is faster, but not so authentic. You will need about 300 g/ 10.6 oz chicken meat for the pilaf.
If only cooking chicken breasts/legs in water for a short time, I would recommend using some organic chicken stock cube as well, that will increase the flavor. When using chicken stock made from a whole chicken or chicken bones cooked for a longer time, the stock cube will not be necessary, the stock will have enough flavor as it is.
Give the chicken legs/ chicken breasts to a large soup pot. Add the onion, carrot, celeriac or celery sticks, bay leaves, all-spice corns and 2 liter/ 8 ½ cups water. Bring to a slow simmer.
Cook the chicken parts for about 30 minutes for the breasts and 40-50 minutes for the legs (check to see if they are cooked through). You could give one or two cubes (to taste) organic chicken stock to the broth, it will increase the flavor.
When the meat is cooked, remove it from the pot and set it aside. Discard the vegetables and the spices, you can keep the carrot, slice it and give it to the pilaf together with the meat. When cool enough too handle, remove the skin and the bones and shred the meat into smaller pieces. Set aside.
In the meantime, start cooking the pilaf. Keep the chicken stock warm all the time, you can leave the pot on a low heat source for the entire cooking process.
Chop the onions finely. Slice the carrots and chop the red bell pepper into fine strips.
Heat the oil into a medium heavy bottomed pot. Add the onions and cook them gently until translucent. Add 120 ml/ ½ cup chicken stock and stir. Turn the heat to low and cook the onions, uncovered, for about 5 minutes.
Add the carrots and the peppers and cook gently for another 5 minutes, stirring a few times in between. Add another 120 ml/ ½ cup chicken stock and let it bubble away during further 5 minutes or so.
Add the unwashed short-grain rice and stir well for about 2-3 minutes. Add 500 ml/ 2 cups of the chicken stock and stir well. Cook gently for another 5 minutes and add some salt.
Now, it will be a bit like making a risotto, without the continuous stirring.
Start adding the remaining stock (about 1 liter/ 4 cups left) little by little, stirring well after each addition. Cover the pot, leaving a crack open and cook the rice for about 50 minutes, making sure that you add some stock and stir regularly every 5 minutes or so. After 30 minutes, add the chicken (and the leftover cooked carrot, if you wish), stir well and continue adding the stock and stirring for further 20 minutes or until the rice is soft and sticky.
If the dish gets too dry, you can add more chicken stock from the pot or more water if you are out of chicken stock.
Adjust the taste with salt and pepper and sprinkle with chopped parsley before serving. It is best served immediately, but it can easily be reheated on low heat with the addition of some more chicken stock.
This post contains affiliate links. The price you pay as a consumer does not change, but if you make a purchase we will receive a commission which helps support the blog.