An easy to make, healthy curry recipe with Hokkaido pumpkin or butternut squash, turkey and a creamy and spicy coconut milk sauce.
This is one of my favorite pumpkin recipes! I've made this for the first time and even posted this recipe a couple of years ago and we all like it so much that I kept making it ever since. I cannot even start to describe to you how tender those turkey bits are or how soft and sweet those pumpkin cubes. All surrounded by a creamy coconut sauce made with more grated pumpkin that makes everything complete and utterly delicious.
That is the reason why I chose to post this recipe again. I feel it didn't receive the attention it actually deserves two years ago when my blog was sooooo new, and this is a recipe that every pumpkin lover should have in their repertoire, I think.
Another reason to publish it again are the photographs. Well, I really am not an expert in photography, I am still just an amateur, but I feel I have come a long way in this area since starting taking pictures of food in 2014. So, lately, every time I've cooked a recipe that I have posted before, I tried my best to take new photos to replace the old ones. I don't want to hide my beginnings, but I think it would be nicer for the readers to find as many yummy looking photographs here, so when it's possible, why not replace the old, dark and blurry pictures?
Dark pictures! I don't know about you, but for me that is the biggest struggle when taking pictures of my food. When the light is right, I get the right pictures without even needing too much props or anything, everything looks great in the right light. But…. I live in Germany, in an area where there are more rainy and cloudy days than sunny ones, so getting the right light is not always easy. And winter is coming! Or is it already there? I suppose it is, it has been snowing the past couple of days. The snow won't stay put for long, but it keeps coming…
And because I was speaking about "before and after" photographs, here are two old post featuring new photographs: Pumpkin Chicken Curry Lasagna and the Amazing Autumn Salad, two recipes I make all the time during the autumn season, two recipes I really really had to renew, they are really worth it!
Rating 5.0 from 3 reviews
Prep time:
Cook time:
Total time:
Ingredients
1 Hokkaido pumpkin, not too big
2 tablespoons oil
700 g/ 24.7 turkey breast
2 garlic cloves
1 dried chili
1 piece of ginger, about the size of a walnut
1 teaspoon turmeric
2 red bell peppers
250 ml/ 1 cup chicken stock
1 can coconut milk (400 g/ ca 1 ¾ cups)
1 bunch of scallions
coriander
salt and pepper
Instructions
Cut the pumpkin into cubes. Put about 200 g/7 oz of them in your food processor and process them finely. Cut the turkey breast into cubes. Both pumpkin and turkey cubes should be of similar size. Mince the garlic cloves, the chili and the ginger, cut the red bell peppers into small cubes and chop the scallions.
Heat the oil in a big pan. Fry the turkey breast cubes in several batches. Don't crowd the pan too much, otherwise the meat will cook instead of being fried.
Put all the meat back in the pan, add salt, garlic, ginger, chili and turmeric and let cook for about 2 minutes until fragrant. Add the bell peppers, ground pumpkin, chicken stock and coconut milk, bring to a boil and let cook for about 15 minutes or until the pumpkin cubes and the meat are tender.
Add the chopped scallions and let cook for another 2 minutes. Adjust the taste with salt and pepper and scatter the coriander over the dish.
Serve hot with rice
Other you might like: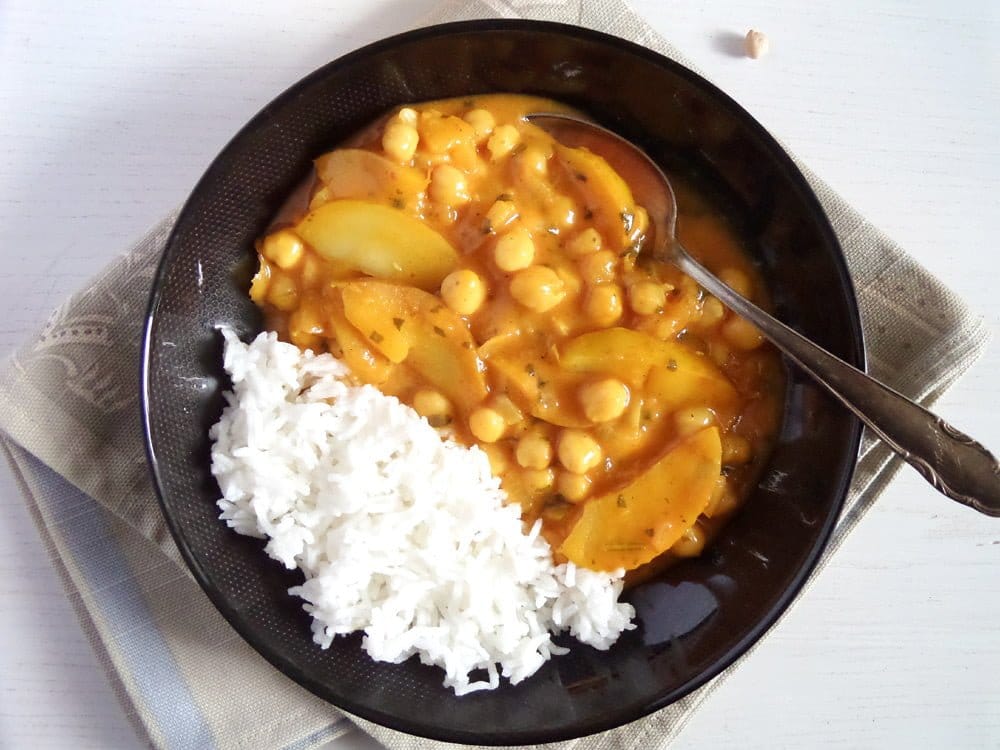 Vegan Apple and Chickpea Curry
Balti Chicken Curry
Asparagus Coconut Curry