Wonderfully soft Afghan Naan Bread, the perfect accompaniment for any kind of stews or curries.
This is an updated post from October 2014, it was one of the first recipes on Where Is My Spoon. The pictures are new and the instructions are more detailed, but the post text remains more or less the same.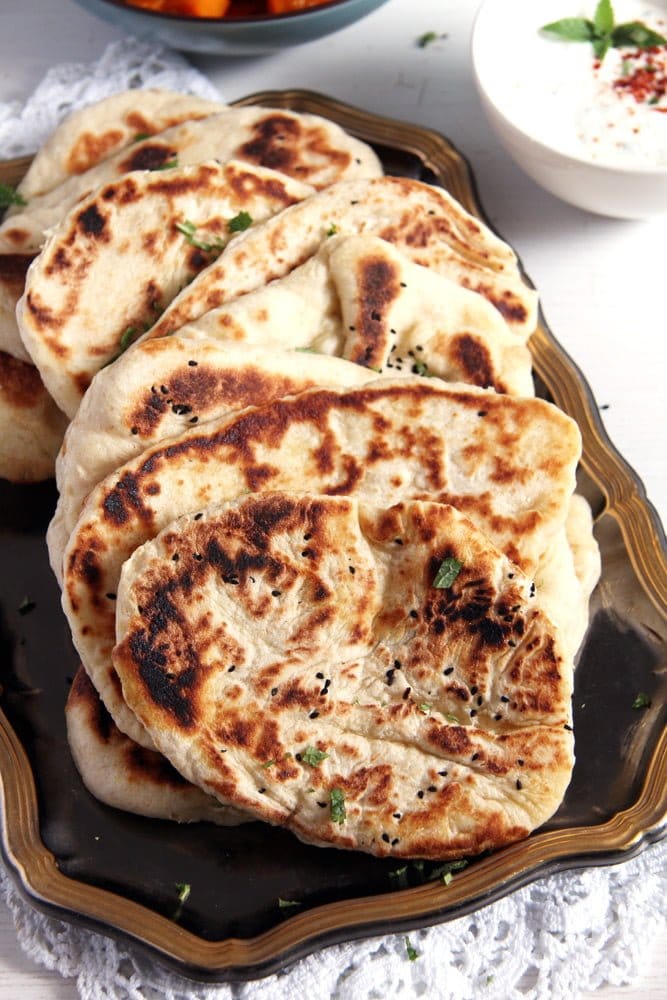 I love Naan bread and I have baked some many times. I have tried several recipes, some good, some not so great. This recipe for Soft Afghan Naan Bread with Yogurt and Nigella Seeds is definitely our favorite, the only one I bake over and over again. Actually as I repost this recipe today, I realize this is probably the only naan bread I have been baking during the last 3 years or so. If I did try another recipe during this time, I don't even remember it right now.
This Afghan Naan Bread is very easy to make and I always think it tastes a bit like pancakes, like really 'bready' pancakes. The original recipe calls for the flat breads to be sprinkled with cumin seeds, I have done that but didn't like it, so I scraped them all off again at the table. You could try it though, might be you like that more than I did. For my second try I sprinkled the Afghan Naan Breads with Nigella seeds and I liked that a lot, so I keep doing it now all the time, I can totally recommend it.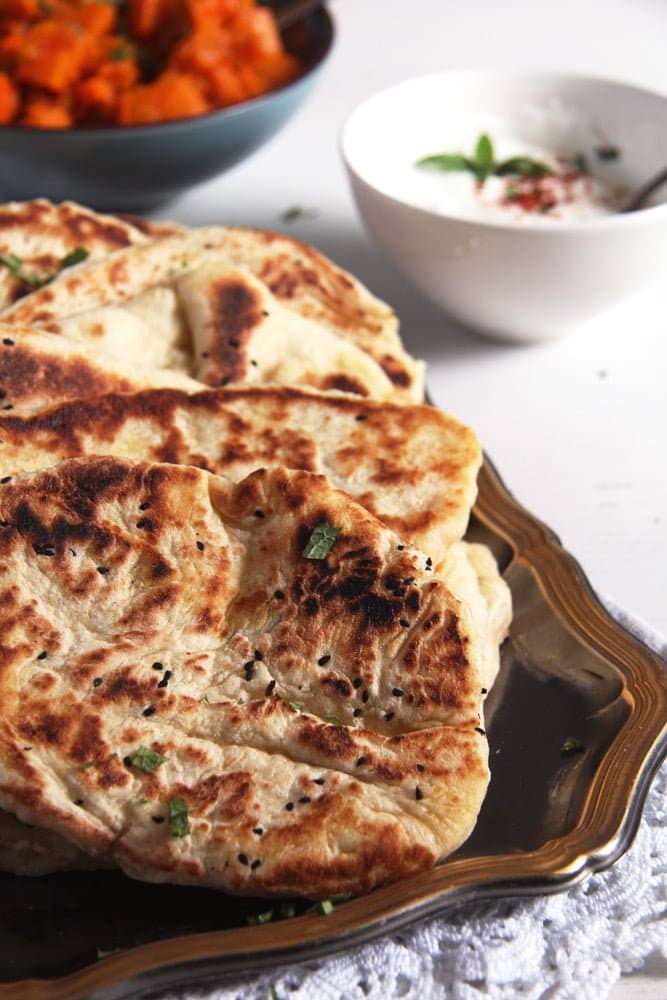 I found the recipe somewhere on the web, some blog, unfortunately I forgot to write it down where and now I cannot remember it anymore. If I ever find it again, I will write it down.
I love cooking dishes from different countries and sometimes I just pick a country and look for recipes. In the next days I will post (repost) the recipe for Afghan braised pumpkin, which will be served along side this naan bread.
Other dishes you could enjoy with the Afghan Naan Bread: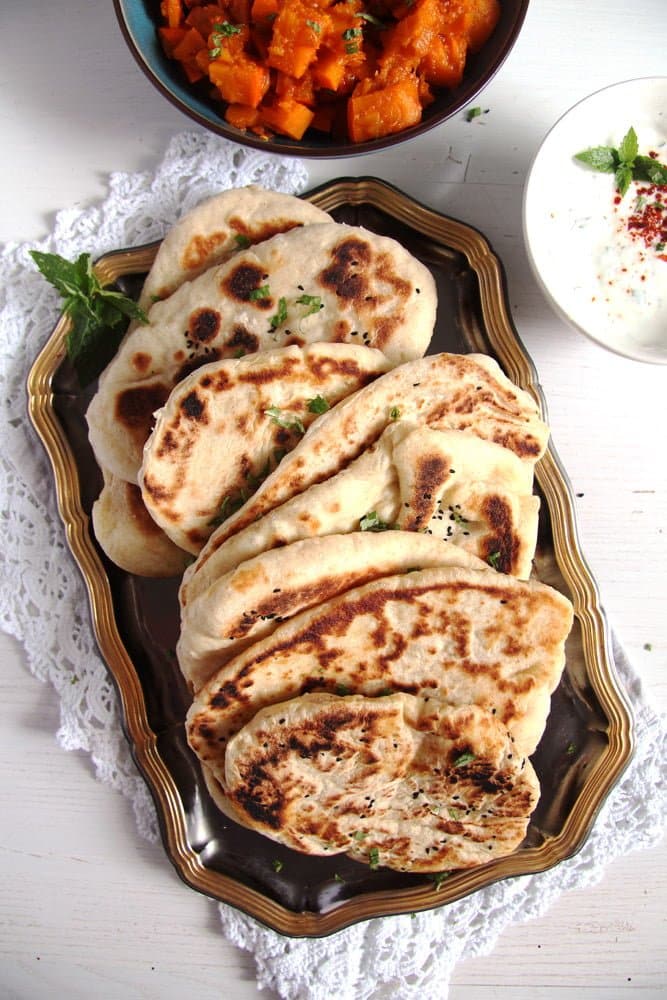 Ingredients
400 g/ 3 cups all-purpose flour

30 g/1/4 cups whole wheat flour

2 ¼ teaspoons dry yeast

2 teaspoons sugar

1 ½ teaspoon salt

230 g/1 cup water

60 g/¼ cup yogurt

1 tablespoons oil

nigella seeds (or cumin seeds, if you like them)

3-4 tablespoons ghee or butter
Instructions
Mix the flours, yeast, sugar, salt, water, yogurt and oil in a food processor, which is able to knead and knead for about 5 minutes or until the dough comes away from the sides of the bowl. If you do that by hand, you will have to knead a bit longer. The dough should be soft but not too sticky, if it is too sticky just add a bit more flour. Do not add too much flour though, 1-2 tablespoons should be enough. The dough will be rather soft and a bit sticky.
Form a ball, place in an oiled bowl, cover with a kitchen towel and let rise in a warm place. I usually put the bowl in the oven and turn on the oven light. Leave it for about 1 hour until double in size.
Divide the dough into 10 portions, form small balls, place them on a baking tray lined with baking paper, cover them and let stand for another 15 minutes.
Give one ball on a lightly floured surface roll into a disc using a small and also lightly floured rolling pin and give the dough the typical naan bread form. Again: the dough is quite soft and a bit sticky, but do not worry, flouring the working surface, the rolling pin and your hands just lightly will suffice, don't be tempted to add extra flour or the naan bread will not be as fluffy and soft anymore.
Melt a little bit of the butter or ghee in a non-stick skillet, add 2 or 3 of the formed dough pieces and fry for 1 minute. Flip and cook the second side for about 3-4 minutes or until the underside has brownish spots. Melt another small piece of butter and repeat with the rest of the dough.
Place the flatbreads on a cloth and brush with a little more butter or ghee. Keep covered in cloth until serving. The naan bread is best served fresh.