Zucchini curry with chickpeas and coconut milk, topped with crunchy, roasted cashews.
Another zucchini recipe, a vegan courgette or zucchini curry recipe with coconut milk. A good curry is one of my favorite ways of enjoying vegetables and vegan dishes.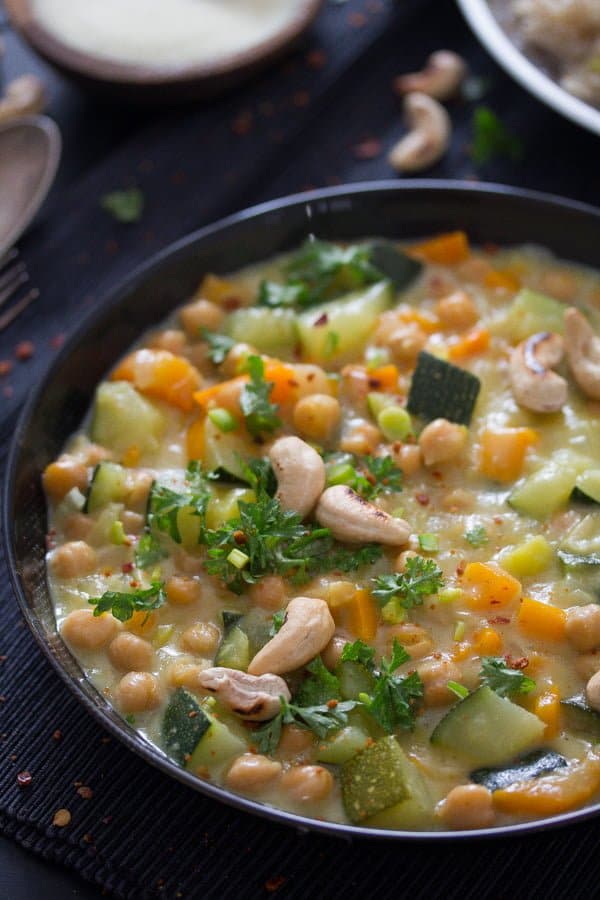 I am not vegan, not even vegetarian, but still, I try to keep our intake of meat to an acceptable minimum, so most of my cooking revolves around vegetables, and at least once or twice a week I try to serve my family a vegan main dish.
And nothing is easier to keep vegan than curry or soup. I take whatever veggies happen to be in season and in my fridge, throw in some curry paste or curry powder, something to give the dish some texture like chickpeas or beans or sometimes potatoes/ sweet potatoes or tofu. One can of coconut milk, which I always have in my pantry, and I'm done.
I did the same when cooking this delicious curry with zucchini, peppers and cashew nuts.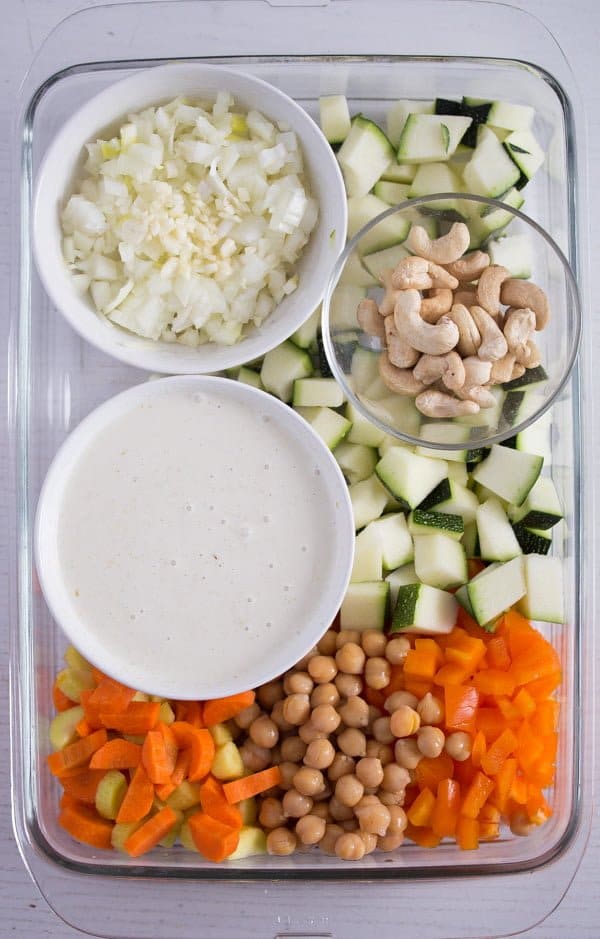 Ingredients
Curry paste:
I used green curry paste. It is milder than other sorts, so the children can eat it as well. But if you would like a hotter curry, feel free to use red curry paste for instance. But provided you use red curry or another hot curry, please reduce the amount!!!!
You could use some of the leftover curry paste from making this vegan chickpea curry, to make the Curried Couscous Salad with Chickpeas or the Vegan Potato Curry with Tofu, Tomatoes and Peas.
Cashew nuts:
I absolutely love the nut taste and consistency, their crunch is perfect in combination with the creaminess and softness of the rest of the dish
Chickpeas:
I used a regular can of chickpeas, but if you happen to have some chickpeas that you have cooked yourself, use about 200 g/ 7 oz. This doesn't have to be so exact, a bit more or less is fine.
Vegetables:
Zucchini, red bell peppers, and carrots.
But this recipe is so versatile and simple, you could adjust it very easily to fit your taste and the veggies you happen to have in the house.
I have made similar dishes over the years using many other vegetables like eggplants, cauliflower, broccoli, asparagus, mushrooms and so on...
The sky is the limit! Add some roasted cashews, almonds, sunflower seeds etc on top and, in no time, you will have a delicious, healthy meal, that everybody will enjoy.
How to make it?
Start by whisking the coconut milk, green curry paste, and salt together in a pot large enough to hold all the ingredients. Bring it to a simmer.
While the coconut milk curry mixture is coming to a simmer, chop all the vegetables.
Cook the vegetables without covering the pot.
Roast the cashews in a non-stick pan shaking the pan very often. Transfer to a plate as soon as they are golden and fragrant.
The sauce for the vegan chickpea curry should reduce a little while cooking, but it is usually not creamy enough for me at the end of the cooking time. The veggies don't need a long time to be ready, so the sauce doesn't really have the time to thicken properly.
And because I like a creamy curry, I tend to thicken the sauce with some cornstarch most of the time. In order to do that I stir together about 1 tablespoon cornstarch with about 2 tablespoons water in a small bowl. You should have a thick yet runny paste.
Make a little room in the middle of the pot by pushing some of the vegetables to the sides of the pot. Slowly pour the cornstarch paste into the sauce while whisking all the time. Whisk carefully, so that you will not squash any of the vegetables in the pot.
Only add the cashew nuts just before serving, so that they remain crunchy. I actually prefer to leave the cashew nuts on a plate and let everybody top their own plate of vegan chickpea curry with some of the nuts.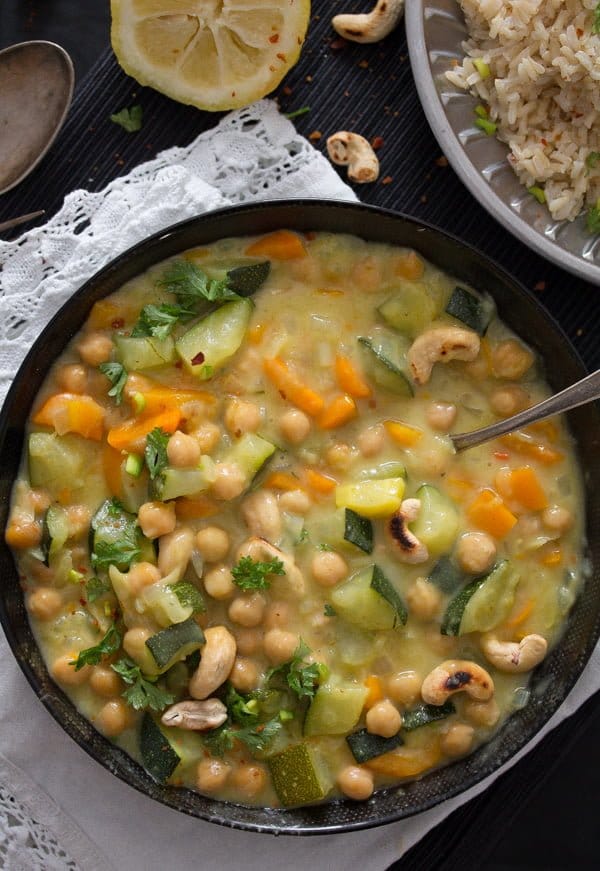 How to serve?
I always serve this zucchini curry with rice. Basmati or Jasmin rice is super, but for some reason, when it comes to this particular zucchini curry recipe, I always cook some brown rice, I feel that its robuster taste and consistency fit this dish better.
For a change, you could serve it over millet or buckwheat.
We often have it with a green salad with a yogurt dressing or fresh cucumber raita.
The courgette curry can be easily reheated. Keep the cashew nuts separately and only add them to the curry just before serving.
If you have leftover rice as well, keep it refrigerated until ready to use it again. I reheat it by adding it directly to the curry pot, mixing well, and heating the two together in one pot.
This is a repost from July 2016.
More curries?
Moong Dal Tadka - Indian Lentil Dal
How to Make Rajma - Indian Kidney Bean Curry
Easy Zucchini Curry
Zucchini curry with chickpeas and coconut milk, topped with crunchy, roasted cashews. Ready in 20 minutes.
Print
Pin
Share
Grow
Saved!
Rate
Ingredients
1

can coconut milk

400g/ 14 oz

1

tablespoon

green curry paste

See notes 1 and 2

¼

teaspoon

fine sea salt or more to taste

250

ml/ 8.5 fl.oz/1 cup vegetable broth

1

onion

2-3

garlic cloves

1

medium zucchini

about 300 g/ 10.6 oz

1

large carrot

about 100 g/ 3.5 oz

1

red bell pepper

1

can chickpeas or about 200 g/ 7 oz cooked chickpeas

1

tablespoon

corn starch

2

tablespoons

cold water

1

tablespoon

fresh lemon juice

1

handful cashew nuts
Instructions
Pour the coconut milk into a pan large enough to hold all the vegetables, add the curry paste and whisk to combine. Bring everything to a simmer.

In the meantime, chop the onion and the garlic finely. Add them to the pot together with the vegetable broth. Cook uncovered for a few minutes. Halve the zucchini and the carrot lengthwise, then chop the halves into slices. Chop the pepper into slices as well. Drain and rinse the chickpeas. Add everything to the sauce and cook, uncovered, for about 8-10 minutes until the vegetables are done to your liking and the sauce reduces a little bit. Adjust the taste with more salt if necessary.

To thicken the curry whisk together the corn starch and the water. You should have a thick yet runny paste. Make a little room in the middle of the pot with the simmering curry by pushing some of the vegetables to the sides of the pot. Slowly I pour the corn starch paste into the sauce while whisking all the time. Let bubble once or twice and thicken nicely. Remove from the heat. Adjust the taste with more salt and a little lemon juice, if necessary.

While the curry is cooking heat a large pan without adding any fat. Roast the cashews, shaking the pan often to avoid them burning. As soon as they are golden, transfer them to a plate. Scatter them over the curry just before serving.
Notes
Depending on the brand of green curry paste I use, I might take one or two tablespoons curry paste, some brands are hotter than others.
You can use other kinds of curry paste, for instance, yellow or red curry paste. Please adjust the quantity according to the heat of the curry paste and definitely take less if you use red curry paste. In this case, I would start with ¼ teaspoon and add more if required.
Nutrition
Serving:
1
/4 of the dish
|
Calories:
503
kcal
|
Carbohydrates:
48
g
|
Protein:
15
g
|
Fat:
31
g
|
Saturated Fat:
20
g
|
Polyunsaturated Fat:
8
g
|
Sodium:
707
mg
|
Fiber:
11
g
|
Sugar:
11
g