Last Updated on 18/03/2020 by Adina
An easy and quick vegan recipe for potato curry with tofu and peas. Simple ingredients simmered in a flavorful sauce – this vegan curry with potatoes and tofu makes a really satisfying and healthy lunch or dinner.
POTATO CURRY RECIPE
Not much time to cook, but still feeling like eating something healthy and tasty tonight? Well, this quick and spicy vegan curry with potatoes, peas and tofu might be something for you.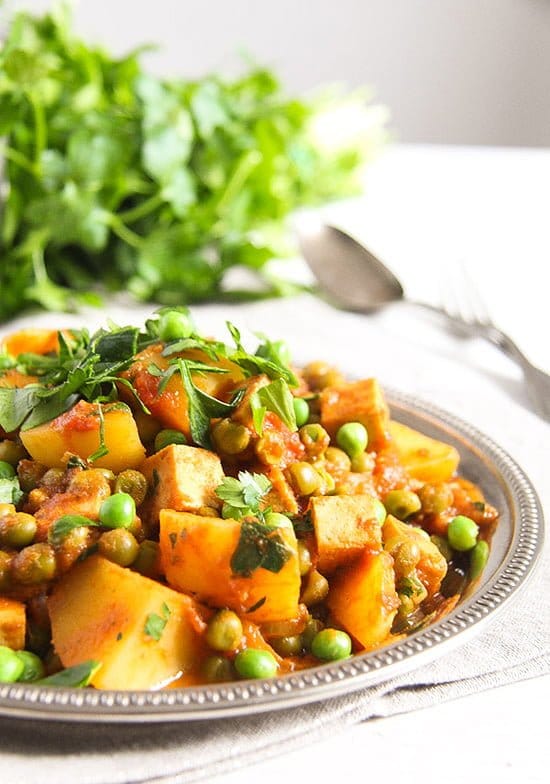 A recipe for potato curry born out of lack of time to go shopping and not much time to spend with cooking either. A Monday recipe for us, my fridge is always quite empty on Mondays and Monday is also the one day in the week where I seem to spend all my time driving the kids around to their different appointments (sports).
I was hungry, but didn't feel at all like eating just a slice of bread with cheese for lunch, so I searched the fridge for something I could cook. I couldn't find much, just half a pack of tofu.
There are always some potatoes in the cellar, some peas in the freezer and an open jar of some kind of curry paste or similar stuff in the fridge, so curry it was! And I loved it! So much that I instantly decided to take some pictures, which was not something I had planned for that particular lunch.
I've made this tofu potato curry for the first time only about 6 or 8 weeks ago, but we enjoyed it so much, even the children, that I have made it a few times more in between.
I've used a different curry paste every time, but I liked the yellow curry paste version best, it was milder, so more suitable for the kids and somehow fitted the potatoes better than the other curry colors.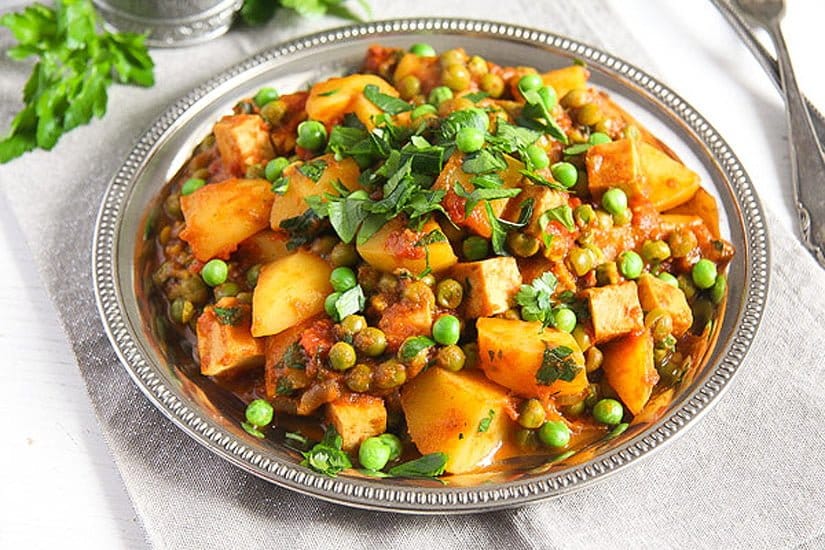 TOFU POTATO CURRY WITH PEAS
Indian food is the best, if you ask me. I love all traditional foods out there, at least all of those that I have tried more extensively. Romanian and German cooking certainly, but also English, Italian, Polish, Chinese and so on, I am a "food person", I like trying new recipes and different regional/traditional food all the time.
But Indian food has a special place in my heart. I first ate Indian food about 10 years ago when my husband and I were living and working in London and it was really love at first bite.
We have eaten almost nothing else when we went out during the one year we spent there. Maybe Chinese and some typical English pub food a couple of times, but otherwise it was always Indian.
We have tried so many different restaurants, from large fancy ones to really small ones (in Soho) where there were only 2 or 3 tiny tables downstairs and another 2 or 3 upstairs. Even when we had take-away, except from having a pizza for once in a while, we always chose some Indian take-aways, the flavors were all so new and amazing!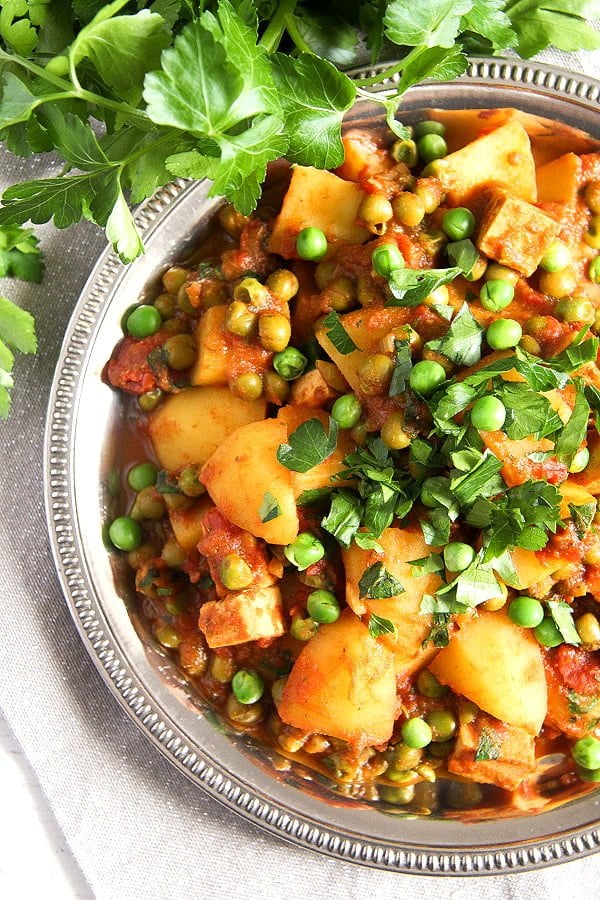 I knew there was no way I could get that kind of food once we got back to Germany, I didn't know one Indian restaurant in our region at that time. Nowadays, there are a couple, but we still have to drive quite a long time to reach them.
So, I bought Indian cookbooks, so many of them, used or new, written by famous cooks like Madhur Jaffrey An Invitation to Indian Cooking
or just standard, no name cookbooks.
And I cooked a lot of Indian food over the years.
It is almost a standard thing for me to cook some different curries and dhals when we have guests, they are always a success and it so much easier and more relaxed for me to be able to cook some nice curries ahead and then just heat them up when the guests come.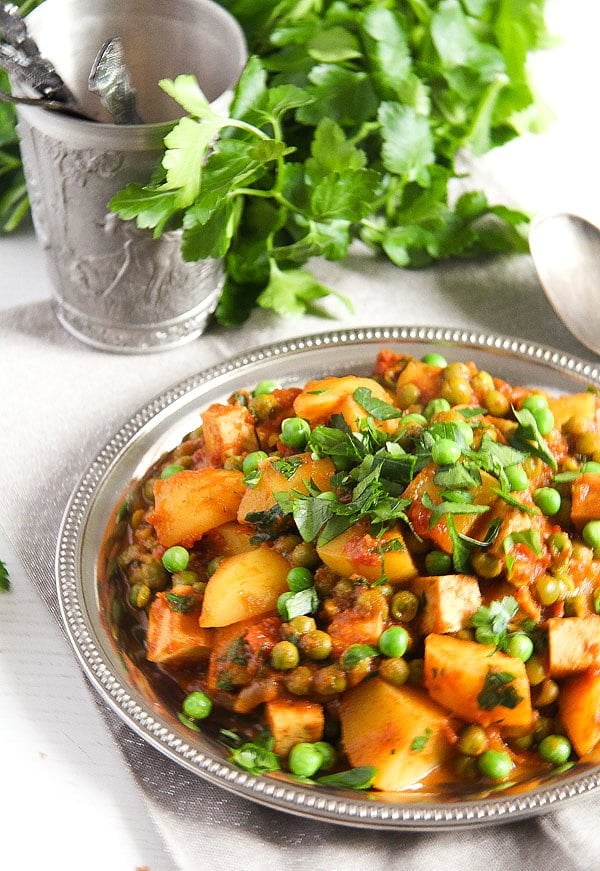 HOW TO COOK CURRY WITHOUT A RECIPE?
When I first started to cook Indian food, I've always followed the recipes to the letter, I was unfamiliar with the spices and the combinations and I wanted to have everything perfect. I still do follow the recipes when I want to make something really special, but otherwise, for every day quick cooking, I like to keep things simpler.
Over the years I developed an almost personal way of building a curry, either vegetarian/ vegan or meat curry.
Vegetarian/vegan or not?
First of all, I think if I want this to be vegetarian/vegan or not.
With or without coconut milk?
Then the big question: should I use coconut milk or not? I adore curries made with coconut milk, but I like change as well, so I try to alternate.
In the case of this recipe for potato curry with tofu I decided to let the coconut milk be, but I am sure the dish would be delicious as well, if you decided to use a can of coconut milk instead of the vegetable broth.
And I can assure that the combination of tomatoes and coconut milk is wonderful. Do let me know, if you tried it!
Vegetables for curry:
When it comes to the vegetables I use, it is quite easy, I take whatever I happen to find in the fridge or in the freezer. This time it was peas, but I have made similar curries with carrots or cauliflower, eggplants, zucchini or bell peppers. Whatever you like, really.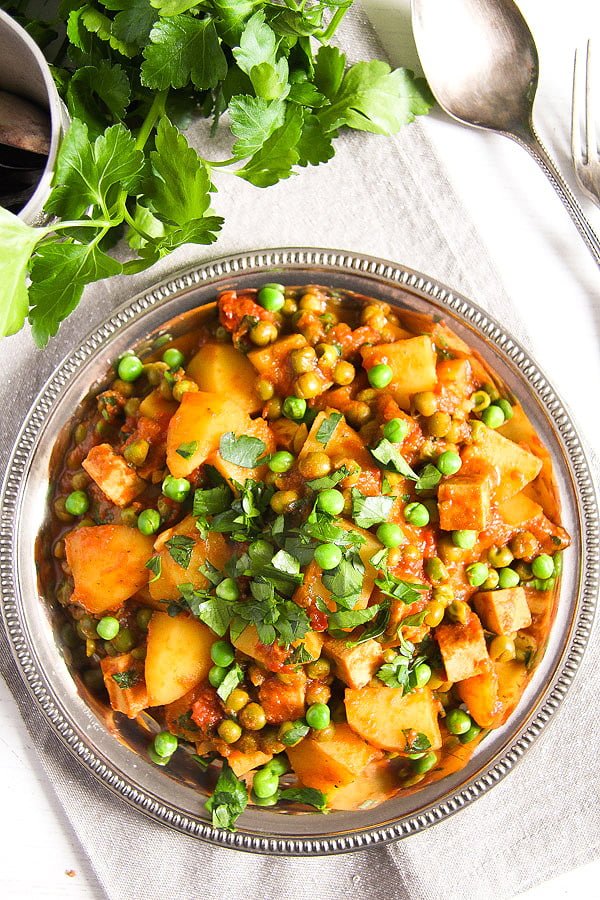 Curry paste or powder:
When it comes to the curry paste or powder you use, fresh is always better.
I like making my own curry mixtures, I do it often enough, but sometimes I just don't have the time for it, so I used some bought mixture.
I always buy the dry curry mixtures at a special spice shop, they have the best I was ever able to buy and I like trying new combinations all the time.
But when it comes to a good curry paste, things are a bit more difficult. I have tried many brands and I was often disappointed.
But over the years I managed to find a couple that I really like and I use those most of the times.
I am not a huge fan of red curry paste, I do like it from time to time, but I find it too hot for regular cooking, if I use it than I have to cook something different for the children.
But I love yellow or green curry paste, they are milder and I have learned to take just the right amount, which makes the dish spicy, yet mild enough for the kids as well.
So, when it comes to the amount of curry paste you use, follow your taste, feel free to use more if you like things spicier.
Side dish for curry:
The side dish for curries mostly rice, but if I feel like having some naan bread with the curry, then it's almost sure I will put some potatoes or sweet potatoes in the curry, I just love to eat potato stews/curries with bread, reminiscences from my childhood and my grandmother's Romanian cooking where we would eat white bread with anything, potatoes included.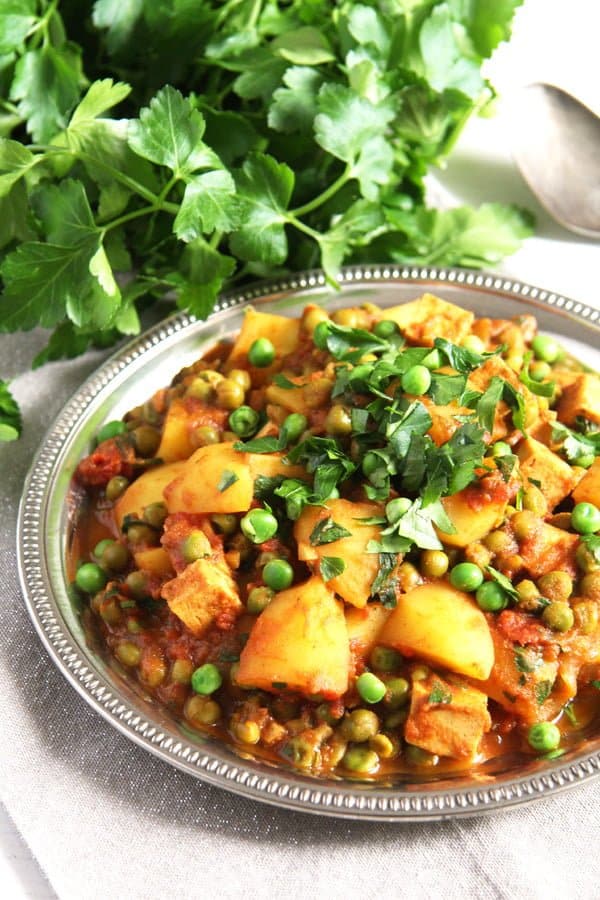 HOW TO COOK A SIMPLE CURRY?
Lightly fry your tofu (or chicken) cubes. Remove them from the pan.
Fry the spices, including onion, garlic, curry paste or powder or a spice mixture of your choice.
Add the vegetables that need a longer cooking time and the cooking liquid. Simmer until almost done.
Add the vegetables that need a shorter cooking time and the fried tofu (or chicken, beef would need a longer cooking time, so that would be another recipe). If you make a chickpea curry using canned chickpeas, now is the time to add them as well.
Adjust the taste and add some fresh herbs.
Serve immediately with rice or naan bread or reheat later.
Other curry recipes I love:
PIN IT FOR LATER!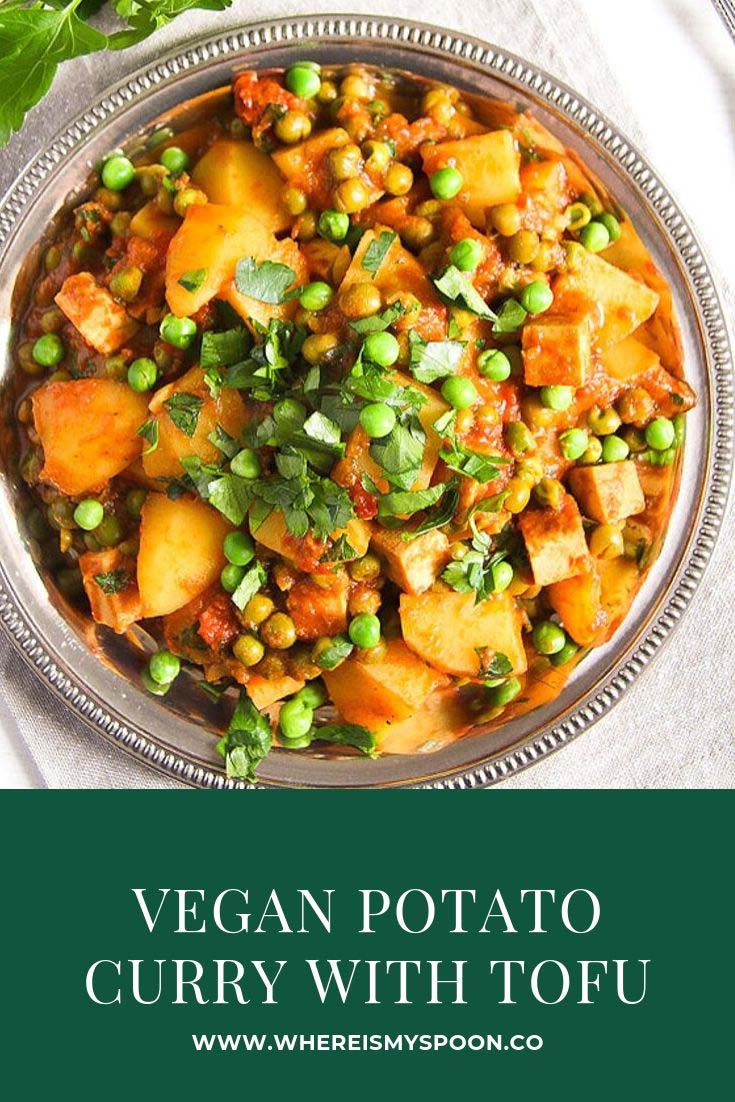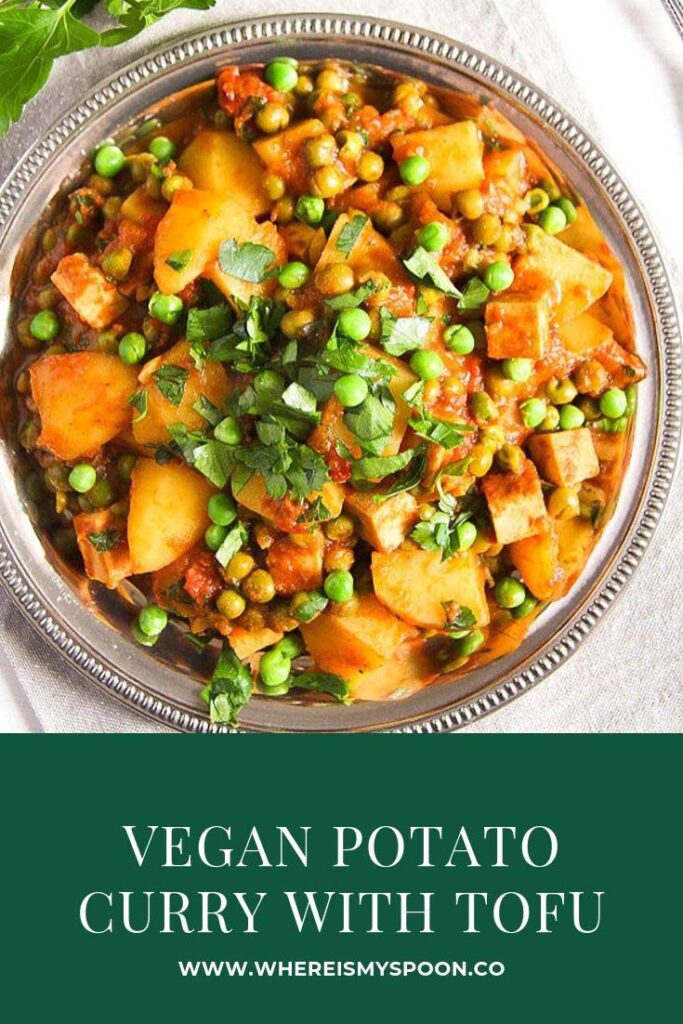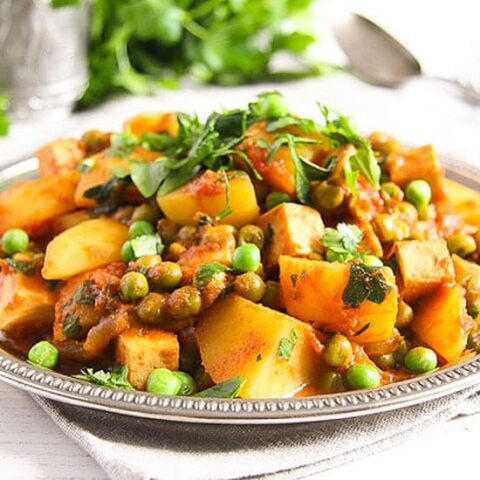 Vegan Potato Curry with Tofu
An easy and quick vegan recipe for potato curry with tofu and peas. Simple ingredients simmered in a flavorful sauce – this vegan curry with potatoes and tofu makes a really satisfying and healthy lunch or dinner.
Ingredients
2 tablespoons oil, divided
250 g/ 8.8 oz tofu
1 onion
4 garlic cloves
2-3 tablespoons yellow curry paste, to taste (See note)
450 g/ 1 lb potatoes
1 can chopped tomatoes (400 g/ 14 oz)
250 ml/ 8.5 fl.oz/ 1 cup vegetable broth
300 g/ 10.6 oz/ 2 cups frozen peas
a small bunch of fresh parsley
fine sea salt and pepper
Instructions
Pat the tofu dry with some kitchen paper and cut it into cubes. Peel the potatoes and chop them into bite-sized cubes.
Heat 1 tablespoon of the oil in a heavy bottom pan. Fry the tofu on medium high heat until golden on all sides. Remove from the pan.
Halve the onion and slice it thinly.
Add the second tablespoon oil to the pan and cook the onion on medium heat for 4 or 5 minutes, stirring often, until softer and beginning to brown.
Add the finely chopped garlic cloves and the yellow curry paste. Cook for about 2 minutes, stirring very often.
Add the potatoes, canned tomatoes, vegetable broth and stir well. Turn the heat to low, cover the pot and simmer for about 15 minutes or until the potatoes are almost cooked through.
Add the peas, bring to a boil again and simmer for 5 minutes. Add the tofu and heat through.
Adjust the taste with salt and pepper and add the chopped parsley shortly before serving.
Serve with naan bread.
Notes
Different brands of curry paste can taste differently and can be hotter or milder. Use according to your taste.
Nutrition Information:
Yield:

4
Serving Size:

1
Amount Per Serving:
Calories:

317
Total Fat:

11g
Saturated Fat:

1g
Trans Fat:

0g
Unsaturated Fat:

9g
Cholesterol:

0mg
Sodium:

1071mg
Carbohydrates:

44g
Fiber:

8g
Sugar:

9g
Protein:

14g
Nutrition information isn't always accurate.