Tender turkey meatballs in a flavor loaded sauce with turmeric, garlic, cumin and coriander.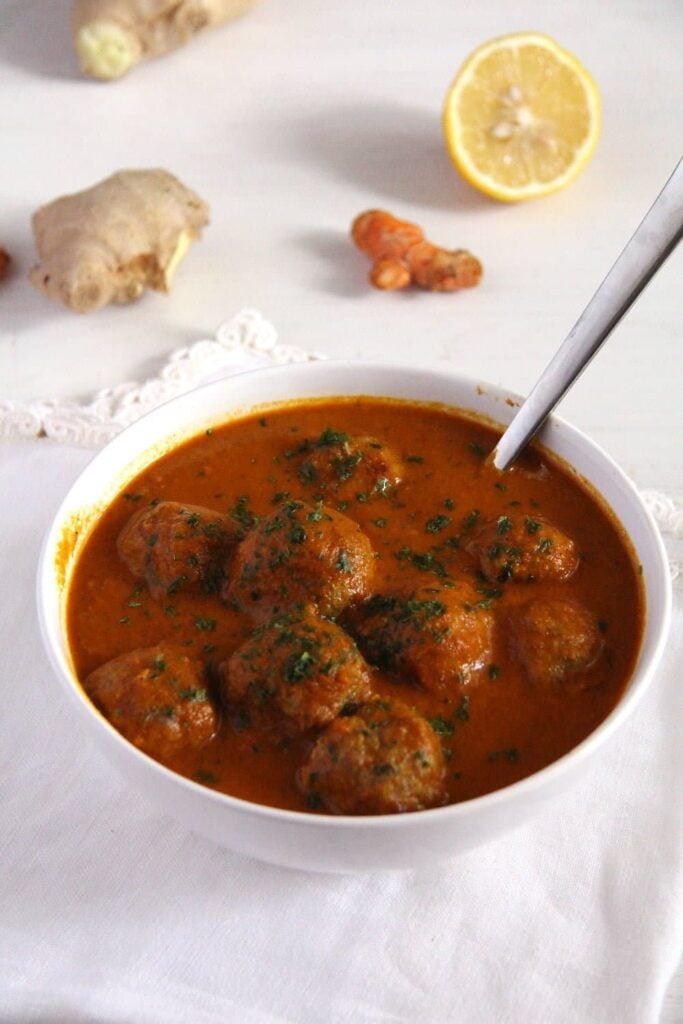 This must be one of the spiciest dishes I have ever cooked myself. And I don't mean necessarily hot, the sauce is kind of hot but not extremely so, but really spicy. I literally plundered my spice cabinet when cooking these delicious meatballs and their sauce. And not to forget the garlic, there is lots of it in there.
I made this only recently for the first time, but such a big pot full of it, that we were able to eat it two days in a row. My husband even got to take the last three or four meatballs for his work lunch as well and let me tell you, he didn't complain one bit about it. He usually eats what I cook without complaining (except when it comes to eggplants and a few other choice veggies), but he is not very generous with his praise. He would say it tastes good once and maybe elaborate a bit if I insist, but he usually won't go over the edge. So when, during a meal, he tells me about 3 or 4 that it tastes really good without me even asking, and when the next day after eating the same meal, he tells me it tastes even better than the day before and then he takes the last rests of the leftovers to work the third day, then I know I am on to something. 🙂
So this a recipe to keep for us: easy, delicious, healthy and so full of flavor. And if you like this kind of recipe have a look at this Chicken with Rhubarb Sauce, it is one of my favorites as well.
The turmeric doesn't play the main role, like in most of the other recipes in this series, but it is definitely an important part of the combination. I used fresh turmeric, because I had it in the house but feel free to replace it with ground turmeric. Otherwise make sure your spice jars are not too empty before you start cooking and that you have enough garlic. 🙂 The list of ingredients might seem long at first sight, but don't worry, there is nothing special on it, just the spices that most people already have in their cupboards.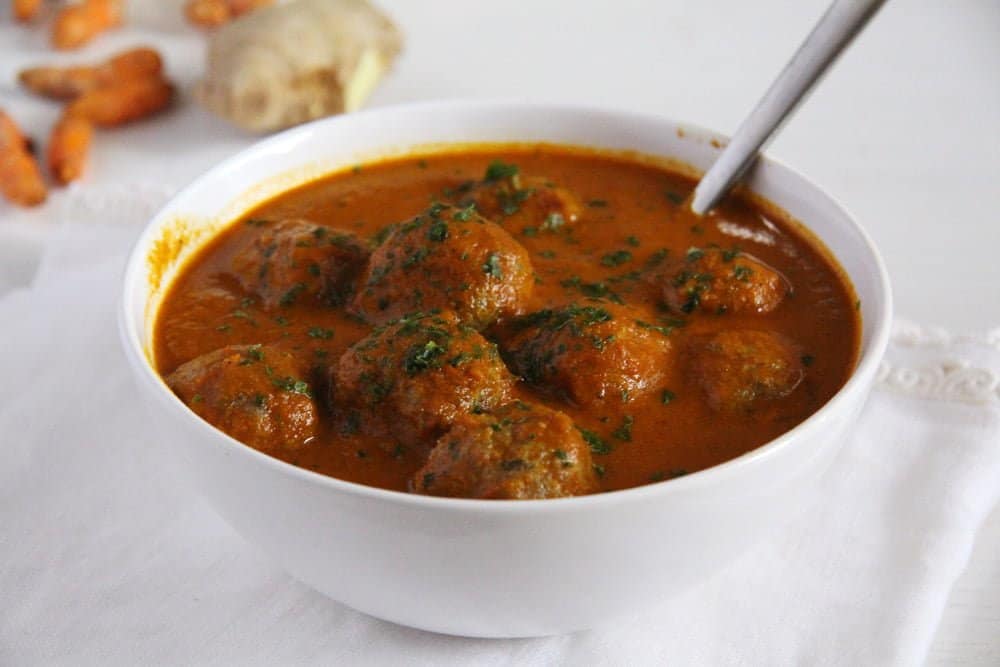 The source for this recipe is Bon Apetit, I used turkey mince instead of beef to make it lighter (and because I like turkey mince), but you can use beef, of course. I also reduced the requested oil quantity and I left out the chilies, I had to keep the kids in mind and it turns out it was hot enough as it was without any jalapenos or chiles de arbol in it. I couldn't have used those anyway, there's no way I can buy them around here. You will need to puree the sauce but, if using a white hand blender, be aware that it will not be white anymore after making this sauce. Turmeric will make it yellow, so if you want to avoid that use a food processor, a dark colored blender or one made of another material than plastic.
I hope you enjoyed this Turmeric Series, I am actually quite sorry it already ends today, I still have a few recipes I would have liked to post, but October is coming and with it a new series dedicated to apples. And not just apples, but apple cakes! And I am definitely looking forward to that too. 🙂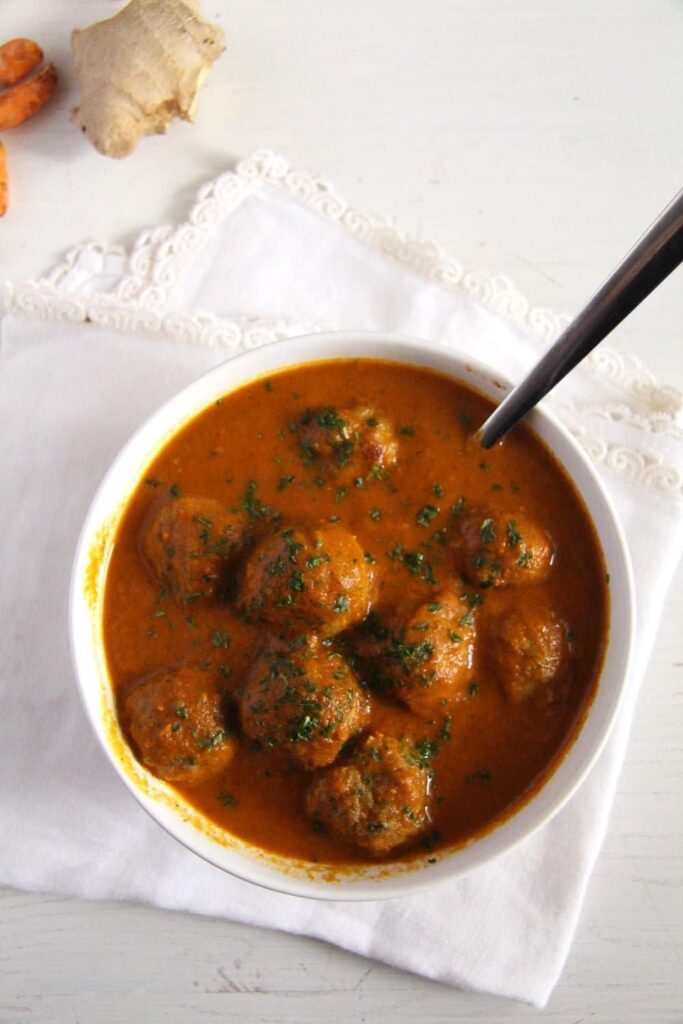 This post contains affiliate links. The price you pay as a consumer does not change, but if you make a purchase we will receive a commission which helps support the blog.
Others you might like:
Broccoli Cauliflower Meatballs
Soft Chicken Meatballs in Cream Sauce