Spanish meatballs, albondigas, or tapas; these are the best meatballs in tomato sauce I've ever had, Spanish food at its best.
Spanish albondigas recipe
Easy to make, incredibly comforting and aromatic Spanish meatballs or albondigas in tomato sauce. Serve as tapas or as a main course with rice or noodles. So, finally, I get to post this recipe for Spanish meatballs in tomato sauce. Somehow I managed to lose the first set of pictures. But now I have everything again and, let me tell you, this amazing albondigas recipe is so worth it!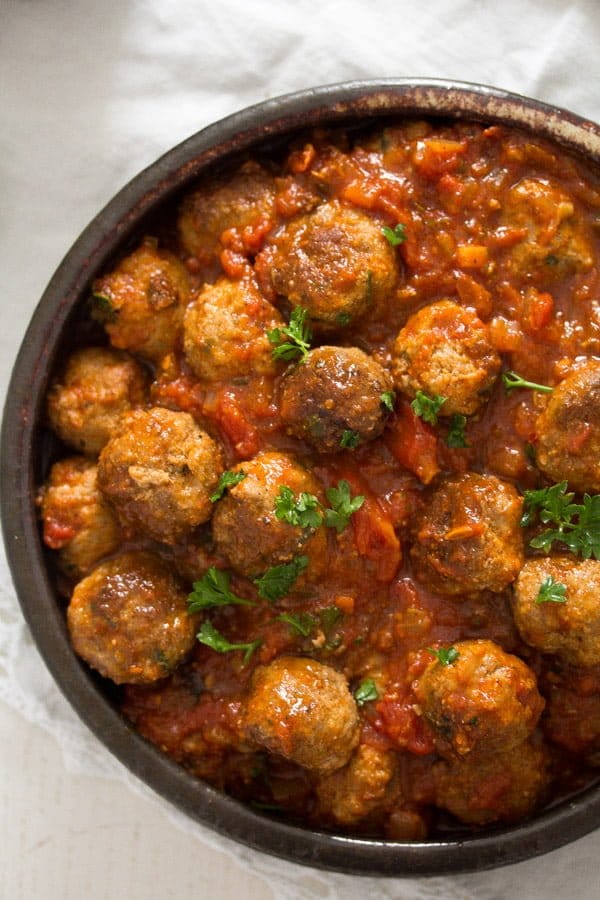 I have made this kind of dish dozens and dozens of times over the years, my husband and my daughter are big fans and wish for spaghetti or rice with meatballs and tomato sauce all the time. But still, I find this particular recipe to be even better than the usual one.
The usual one is not really a written and exact recipe; I have been making meatballs in tomato sauce so often that I didn't use a particular recipe for years.
Mostly I cook the meatballs in tomato sauce the way my grandmother did; sometimes, I cook them like my mother-in-law; sometimes, I dump some leftover meatballs in some homemade canned tomato and vegetable sauce. But, the fact is meatballs in tomato sauce are always good, no matter what…
Why are these albondigas special?
So why do I like this Spanish meatball recipe more than the others?
Well, I think it is the use of fennel seeds in the tomato sauce. I did use fennel seeds in other recipes (for instance, my favorite zucchini soup), but it is only recently that I have started to use them often. I absolutely love their flavor.
You will not need many fennel seeds, but the small amount imparts the sauce an extra flavor that brings the dish to a whole new level. You should definitely try it!
Of course, if you don't like fennel seeds or cannot find them, you can leave them out, but if you do happen to have them, you should use them.
What are tapas?
Albondigas, or Spanish meatballs in tomato sauce, are often seen as tapas in Spain.
Tapas are small portions of food typical for Spanish cuisine. They are usually served with drinks, sometimes free of charge, if you are in Spain. Tapas should not be considered an appetizer; usually, if you start eating tapas, then you end your meal eating tapas.
In Spain, you can go out for tapas, so to speak. That means you would be going from bar to bar (tapas bar), having a drink, eating one type of tapa, and then moving on to the next bar. The Spanish word "tapear" actually means "to go out for tapas"—definitely, something I would love to do.
Types of tapas
A tapa is not a particular kind of food; it can be almost anything (even paella) as long as the portion is small.
Some of the best-known tapas are the Spanish tortilla - omelet with potatoes. And, of course, the most simple tapas: ham, cheese, or chorizo on thinly sliced bread.
Then you could also have potatoes in a spicy sauce – patatas bravas, potatoes with aioli, or "wrinkled" potatoes. Ham croquettes, pickles on toothpicks, olives, salted cod, fried calamari, dough pockets stuffed with meat or vegetables, and prawns.
You could also have cheese with anchovies on top (definitely something for me), octopus, fried green peppers (I've made them quite often myself), deviled eggs, and so on.
All of them are very easy to make for the home cook, provided you find the right ingredients. It might get tough around here to find octopus, but otherwise, I cannot see why I could not make each of these tapas.
What do you need to make Spanish-style meatballs?
Meatball ingredients
Ground meat: I use a mixture of ground beef and pork. You can use only one type or another, but I like to mix them; pork is a bit fattier and makes these delicious Spanish meatballs heartier.
Spices: Three sorts of Spanish paprika: sweet, hot, and smoky paprika. The smoked paprika I use is sweet; if using hot, don't overdo it; these meatballs are not supposed to be hot.
You will also need fine sea salt (or Kosher), black pepper, and lots of chopped parsley. The parsley can be either fresh or frozen, but never dried; dried parsley would kind of ruin this dish, and I find it terrible.
Other ingredients: egg, bread crumbs, and olive oil for frying the balls.
Sauce ingredients
Vegetables: Two cans of chopped tomatoes, one onion, and three cloves of garlic. You could use the same amount of fresh tomatoes, but only if those you have are exceptionally good quality: ripe, sweet, and juicy. Otherwise, canned ones are much better.
Spices: fennel seeds, oregano, bay leaves, cayenne pepper, parsley, salt, and pepper.
How to cook Spanish meatballs?
Meatball mixture:
Mix all the ingredients with your hand in a large mixing bowl.
Roll between 30 and 35 small meatballs out of the meat mixture, about the size of a walnut. Wet your hands from time to time; it will be easier to form the balls, as they will not stick to your hands.
Fry them in a large skillet or large frying pan on medium-high heat until brown on all sides, about 5 minutes, turning them often with a plastic spatula or a flat wooden spoon.
Don't overcrowd the pan; it is better to fry the balls in two batches than too many at once. If the pan is overcrowded, the balls will not brown very well.
They will not be completely cooked through at this stage; you will continue cooking them in the sauce later.
Sauce:
Transfer meatballs to a bowl using a slotted spoon and use the same pan (without washing it) to make the delicious tomato sauce.
Add some oil and fry the cook onion until translucent. Add the garlic and stir it shortly.
Add the remaining ingredients (don't forget the fennel – as mentioned above, it makes the sauce perfect). You might add 1 teaspoon of sugar to counterbalance the acidity of the tomatoes.
Simmer on medium-low heat for about 20 minutes. The sauce should be slightly thickened.
Add the meatballs and cook them in the sauce for about 5 minutes or until cooked through.
Adjust the taste with salt and pepper.
Store/make ahead/freeze
The meatballs in tomato sauce keep well in the fridge for about 2-3 days.
Reheat them properly before serving.
You can even freeze the leftovers. Keep in airtight containers; they will be fine for at least 1-2 months in the freezer.
Defrost overnight in the refrigerator and reheat very well.
How to serve Spanish albondigas?
You can serve them as tapa meatballs in a small dish with some crusty fresh bread on the side. In this case, the recipe would serve 8 to 10 people.
Or you can have them as a main dish over rice or noodles. Mashed potatoes would be great as well. As a main dish, the albondigas with sauce would be enough for 4 people.
What to serve at a tapas dinner?
You can create your own tapas table by adding a few dishes and serving them with these flavorful balls. Remember that anything served in small portions can qualify as a tapa.
Try the Calamari in Tomato Sauce; it is one of the best seafood dishes I've ever had, much better than anything similar that I've ever had in a restaurant. Then, add some Potatoes in Tomato Sauce, a traditional Spanish frittata with potatoes, or something a bit different like a Pea and Leek Frittata or a delicious Pumpkin Frittata in fall.
If you want to add more meat, try some skewers, like these Pork Kebabs with Vegetables or these Turkey Skewers.
Serve other Spanish recipes in small portions, for instance, Chicken and Chorizo Stew, Pork Stew, or Chorizo Chicken Paella.
Don't forget to place a small bowl of olives on the table, some roasted almonds, and some crusty bread. A good bottle of white or red wine is almost mandatory.
More meatballs?
Spanish Meatballs in Tomato Sauce – Albondigas Recipe
Spanish meatballs or tapas – albondigas, these are the best meatballs in tomato sauce, Spanish food at its best.
Print
Pin
Share
Grow
Saved!
Rate
Ingredients
Meatballs:
1

lb

ground meat

a mixture of beef and pork

2

garlic cloves

1

egg

2 ½

tablespoons

dried breadcrumbs

2

tablespoons

chopped parsley

¾

teaspoon

sweet paprika

¼

teaspoon

smoked paprika

¼

teaspoon

hot paprika

1

teaspoon

salt

¼

teaspoon

black pepper

1

tablespoon

olive oil
Tomato sauce:
1

medium onion

2

tablespoons

olive oil

3

garlic cloves

2

cans chopped tomatoes

each weighing 400 g/ 14 oz

½

teaspoon

fennel seeds

1

teaspoon

dried oregano

2

bay leaves

¼

teaspoon

cayenne pepper

2

tablespoons

chopped parsley

salt and pepper
Instructions
Meatballs:
Make meatballs: Place the ground meat, grated garlic cloves, lightly beaten egg, dried breadcrumbs, parsley, sweet, smoked, hot paprika, salt, and pepper in a bowl. Mix well with your hand. Form between 30 and 35 small meatballs, about the size of a walnut.

Fry meatballs: Heat the oil in a large skillet. Fry the meatballs (in two batches if necessary) until brown on all sides. This will take about 5 minutes. Take the meatballs out of the pan and set them aside.
Tomato sauce:
Chop the onion very finely.

Saute: Heat the 2 tablespoons olive oil in the same skillet. Add the onion and cook it until translucent. Add the finely chopped garlic cloves and stir for another minute.

Simmer: Add the tomatoes from the can, fennel seeds, oregano, bay leaves, cayenne pepper, and chopped parsley. Add some salt and pepper as well. Stir well and bring to a boil. Simmer on medium-low heat for 20 minutes or until slightly thickened.

Add the meatballs to the pan and heat them in the sauce for about 5 minutes or cooked through.

Serve as suggested above.
Notes
The recipe serves 4 as a main dish and 8-10 as tapas. The nutrition is calculated for 4 servings.
Nutrition
Serving:
1
/4 of the dish
|
Calories:
565
kcal
|
Carbohydrates:
12
g
|
Protein:
43
g
|
Fat:
38
g
|
Saturated Fat:
12
g
|
Polyunsaturated Fat:
22
g
|
Trans Fat:
1
g
|
Cholesterol:
176
mg
|
Sodium:
788
mg
|
Fiber:
3
g
|
Sugar:
4
g