Flavorful pea frittata with leeks, Parmesan, and lots of fresh herbs, a light egg dish perfect in spring and summer.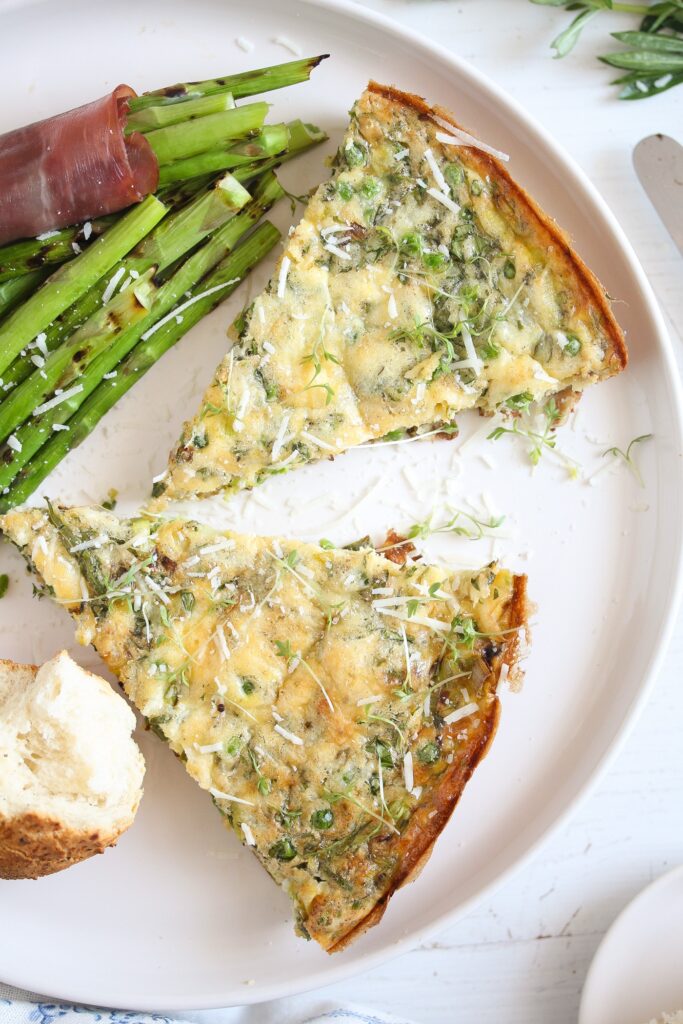 This leek and pea frittata is one of our favorite spring dishes. We do love a posh asparagus frittata as well, but this simpler and cheaper egg dish is definitely just as delicious!
Making a frittata is always an easy decision. Either a vegetable frittata like this one with peas and leeks or one including ham or bacon or even leftover chicken, a frittata is always easy, filling, and delicious! It is quick to make, you will not need lots of ingredients and it`s really the kind of dish that pleases anyone.
You could also try this Tunisian Tajine with potatoes and chicken, a delicious frittata baked in the oven. Or this Pumpkin Frittata, perfect in autumn or in winter.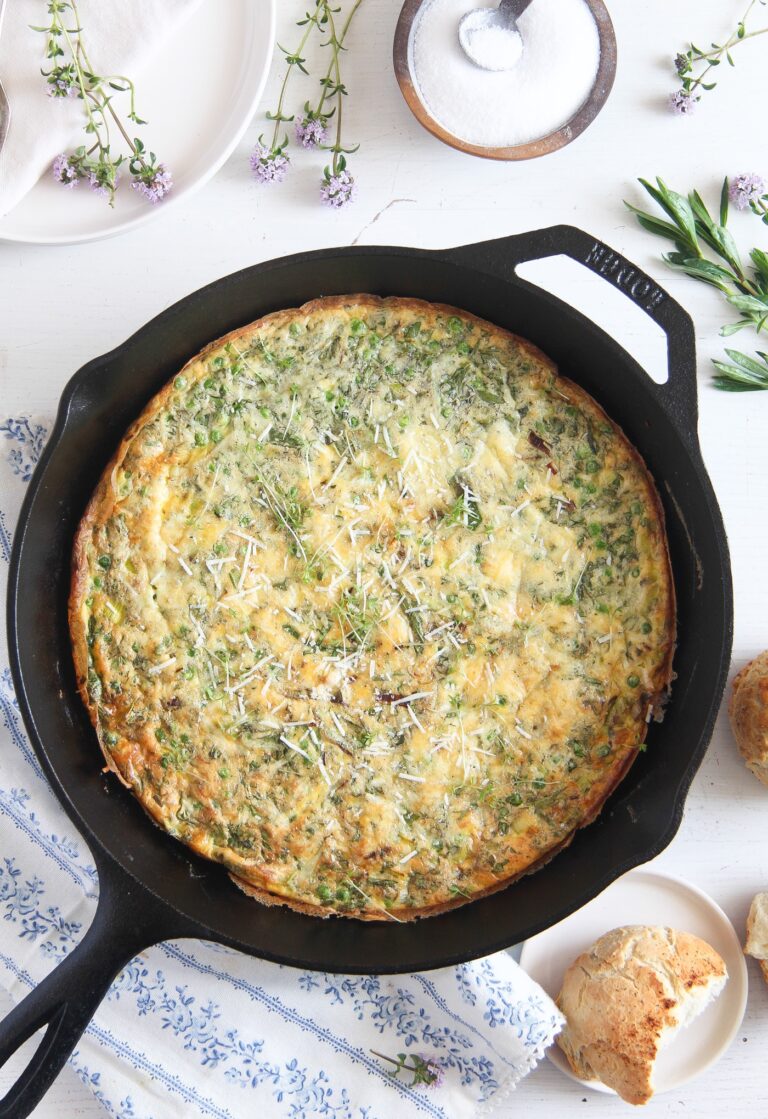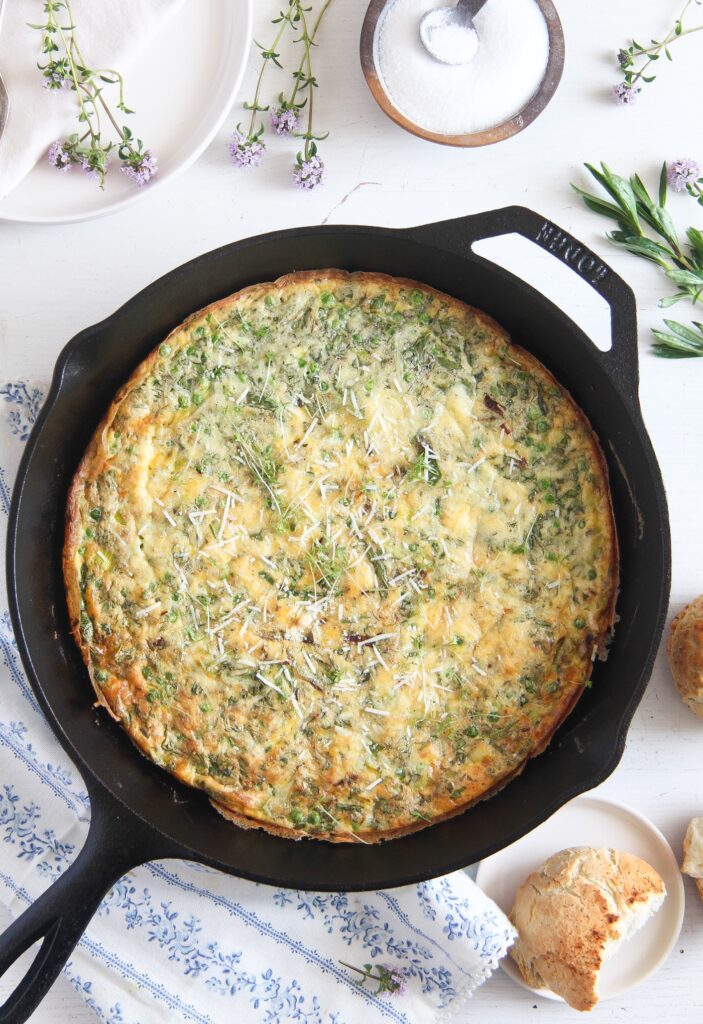 What do you need?
Leeks:
A rather thin one, about 200 g/ 7 oz/ about 1 ¼ cup chopped leeks.
As leeks in Germany mostly come "in huge", I clean a large one and use a piece of the white part and a piece of the green part.
I use the rest mostly for making soups, or I freeze it and use it later for making homemade stock.
Herbs:
A small bunch of each of the different sorts. I had parsley, chives, and oregano. To make this complete I chopped a few more sprigs of sage, basil, and thyme.
Definitely use dill, if you have it, it is great when mixed with eggs.
You can use just one or two sorts of these herbs or completely other herbs, whatever you have and like. Just use plenty of them.
I can imagine this working well with spinach instead of herbs too. Maybe not quite so aromatic but surely very tasty.
Parmesan:
Use freshly grated Parmesan from a wedge of cheese, it tastes so much better than the already grated stuff.
Make this dish vegetarian by using vegetarian hard cheese.
Otherwise, you will need eggs, frozen peas, some butter, and some spices.
Alternative vegetables:
As already mentioned, spinach or asparagus would be great.
Otherwise, you could try spring onions instead of leeks, for instance.
You could replace the veggies or add some finely chopped carrots, peppers, broccoli, green beans.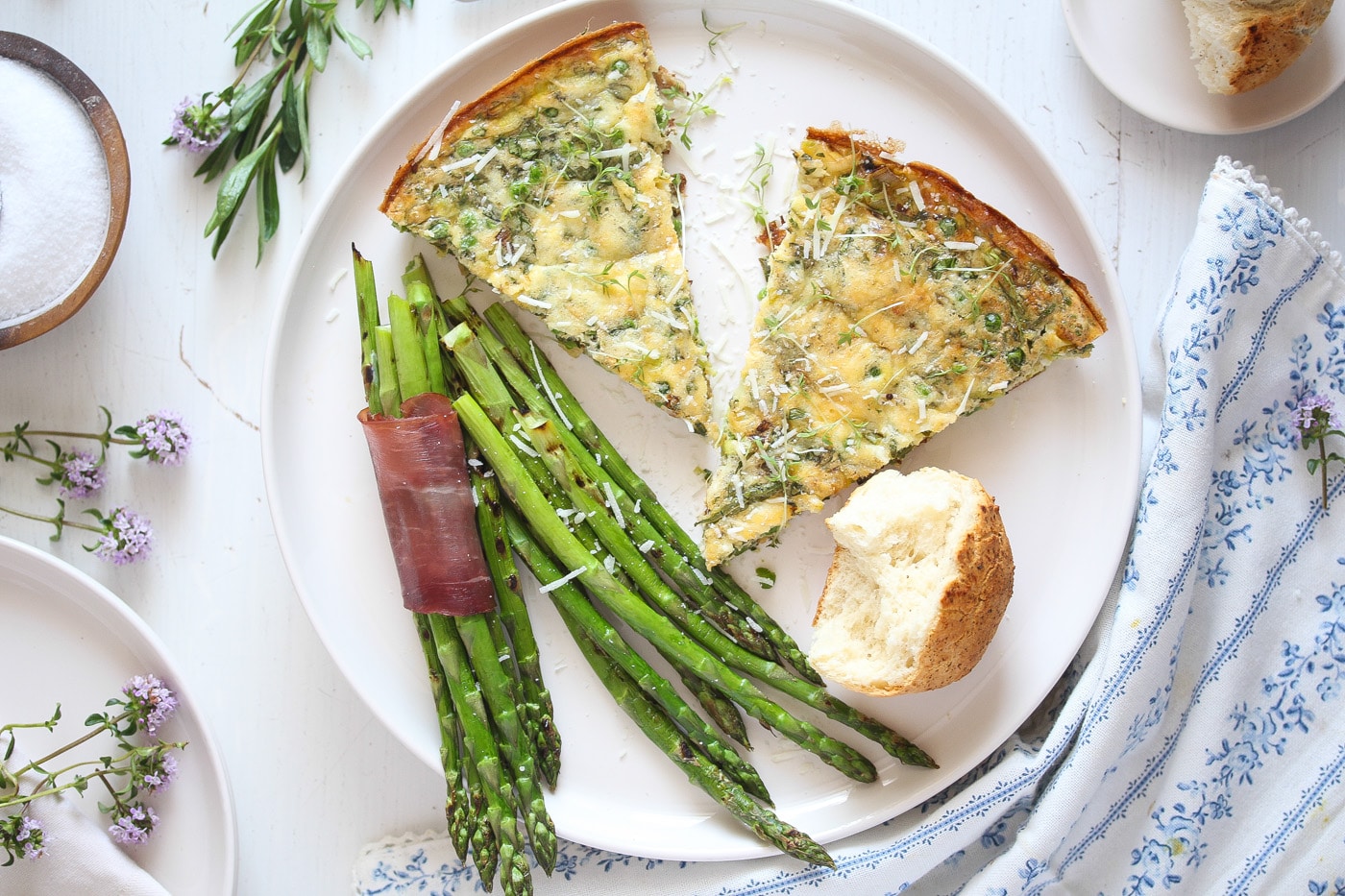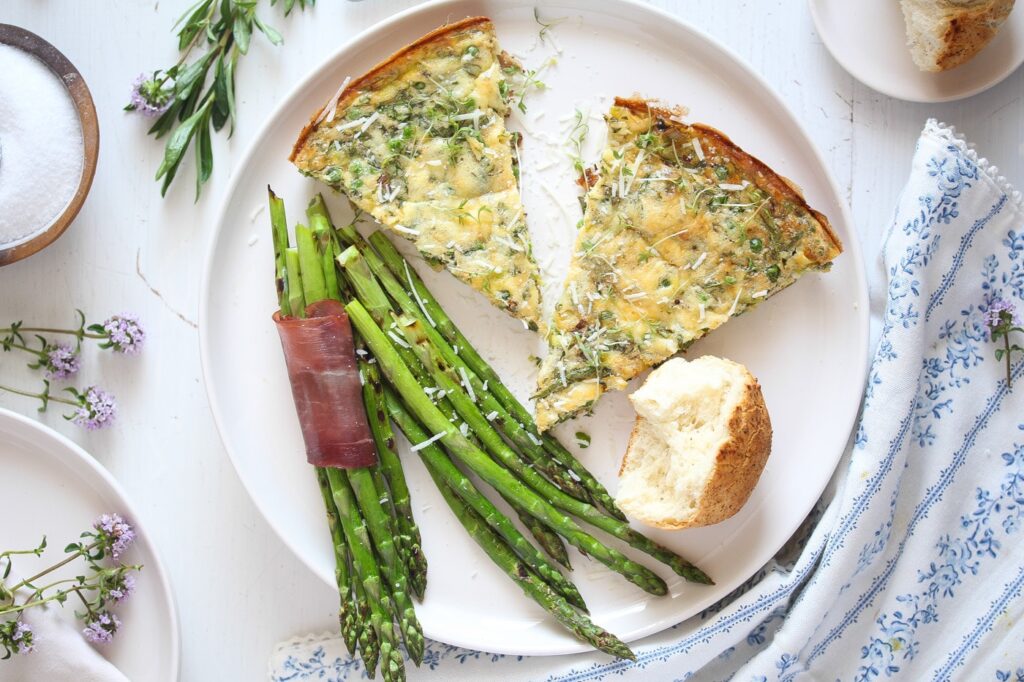 What pan to use?
I use a cast-iron skillet, it is perfect for making this pea frittata. Why? (Amazon affiliate link)
Because you will have to cook the eggs on the stove first but place them in the oven to finish cooking them.
A cast-iron pan is oven-proof, unlike many other pans.
If using another pan, just make sure it is oven-proof. It should not be non-stick and the handle should not be made of plastic.
Usually, stainless steel skillets are oven-safe, but I definitely prefer a cast-iron pan.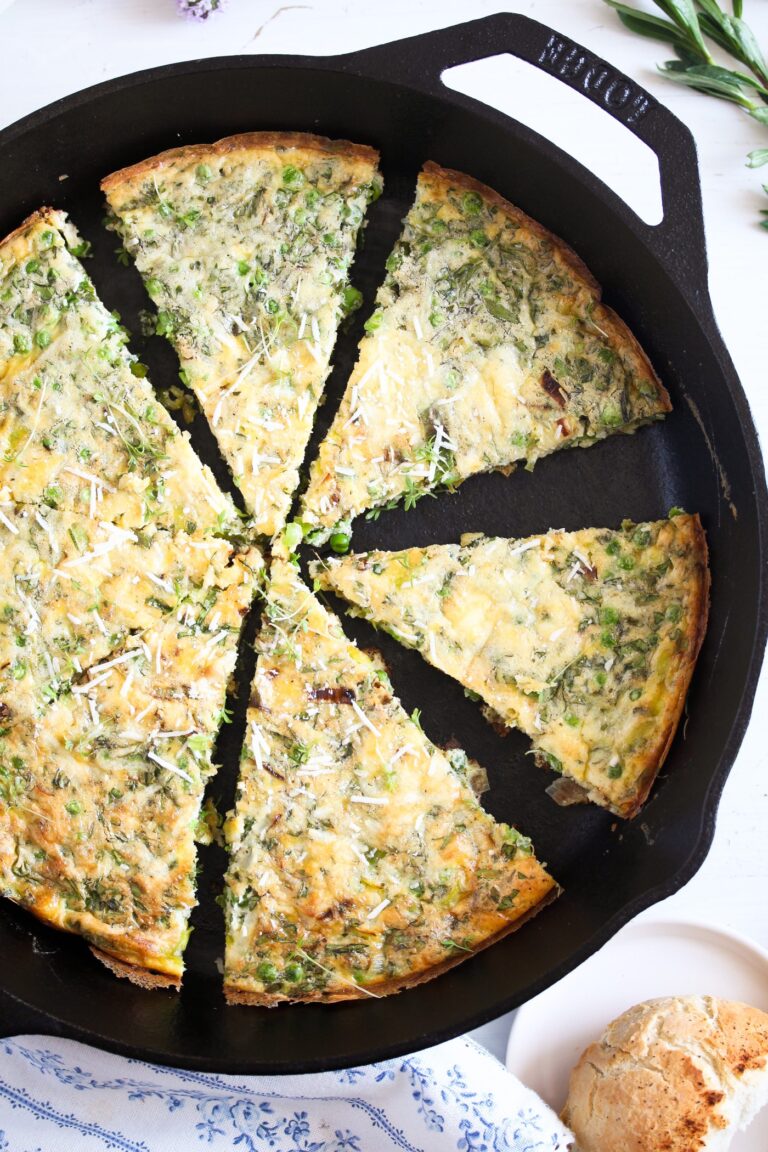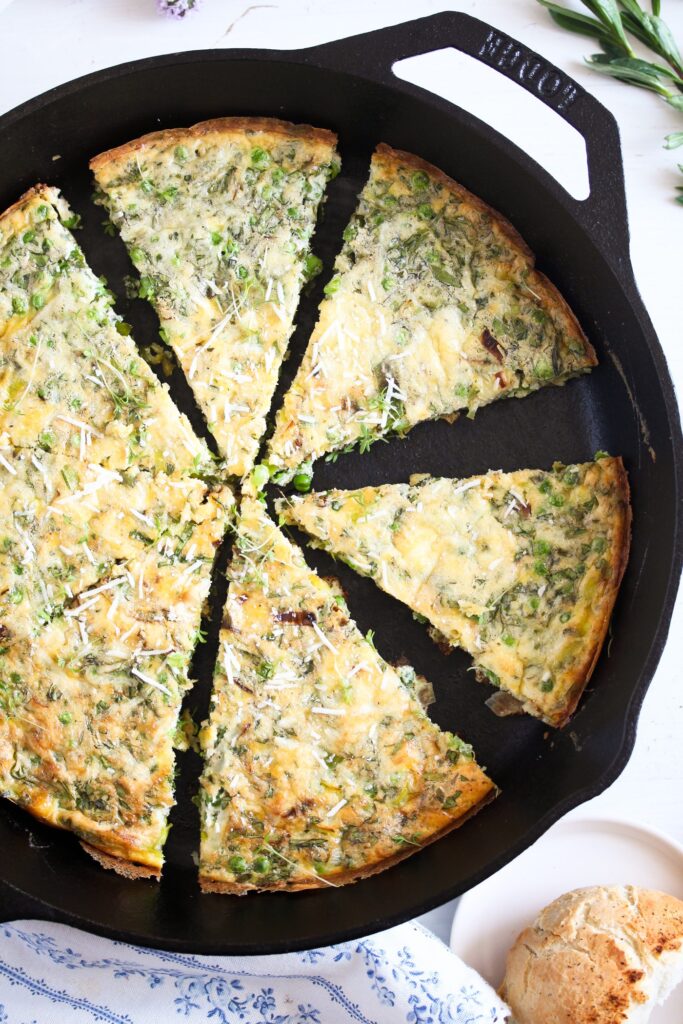 How to make pea frittata?
The peas should be at least partially defrosted, 15-20 minutes at room temperature should do it.
Preheat the oven while you start preparing the Parmesan frittata.
Chop the leek and the herbs, but keep them separated. Grate the cheese. Set aside.
Whisk the eggs and the milk very well in a large bowl. Add some of the cheese, nutmeg, and generously salt and freshly ground black pepper. Fold in the chopped herbs and the peas.
Melt the butter in the cast-iron pan and cook the chopped leeks for a few minutes. Some bits of it should get golden.
Add the eggs and stir gently with a wooden spoon just to make sure that the vegetables and the herbs are distributed evenly all over the pan.
Turn the heat down to low and cook until the underside of the eggs sets but the top is still runny. You can lift it gently with a spatula and check, the bottom should be golden.
Sprinkle with the remaining grated cheese.
Place the pan in the hot oven and bake for about 10-13 minutes or until the eggs are set on top and golden brown.
Alternatively, you can finish cooking the eggs under the grill, it will only take about 5 minutes, but you will have to keep an eye on the pan, you don't want the eggs to burn.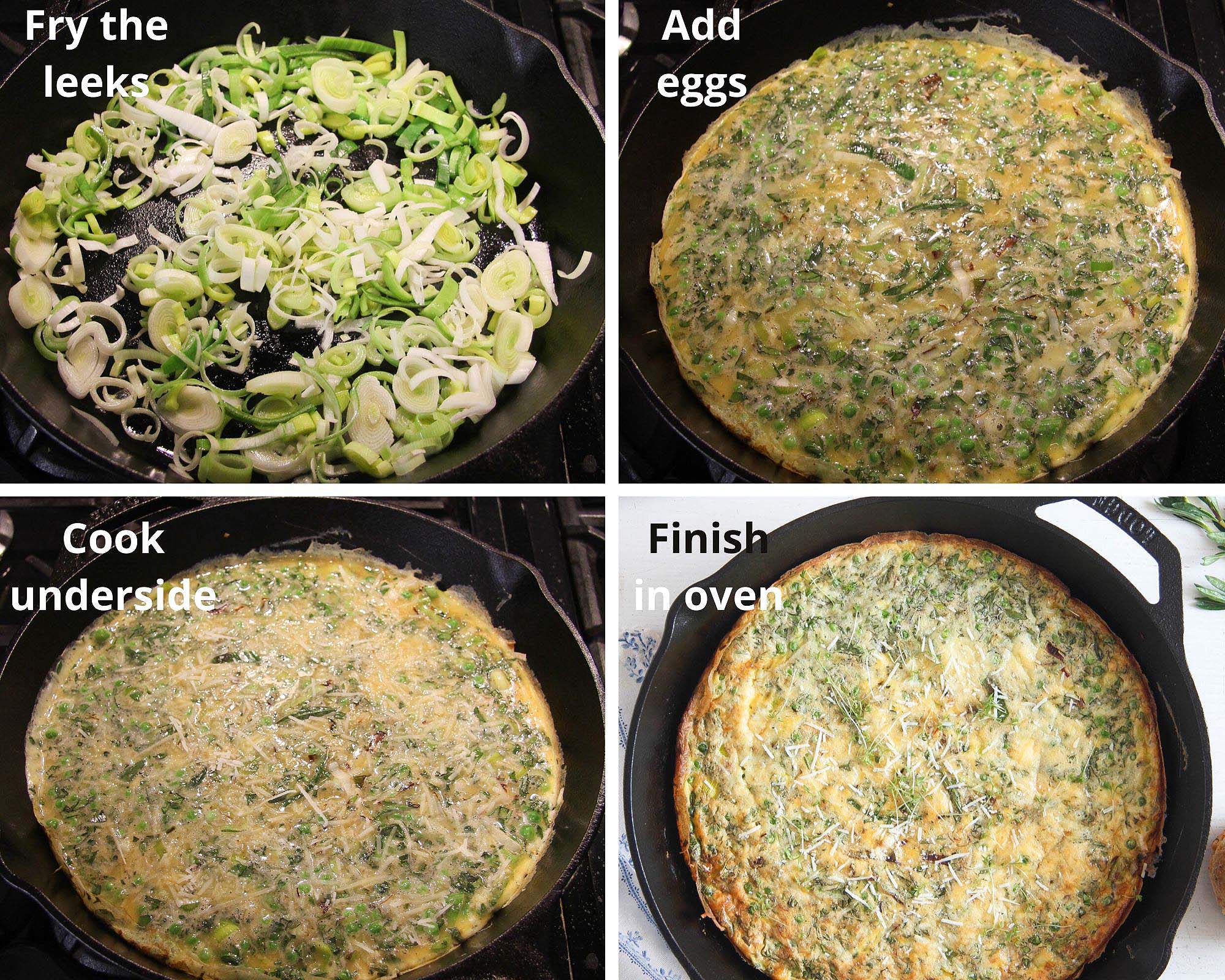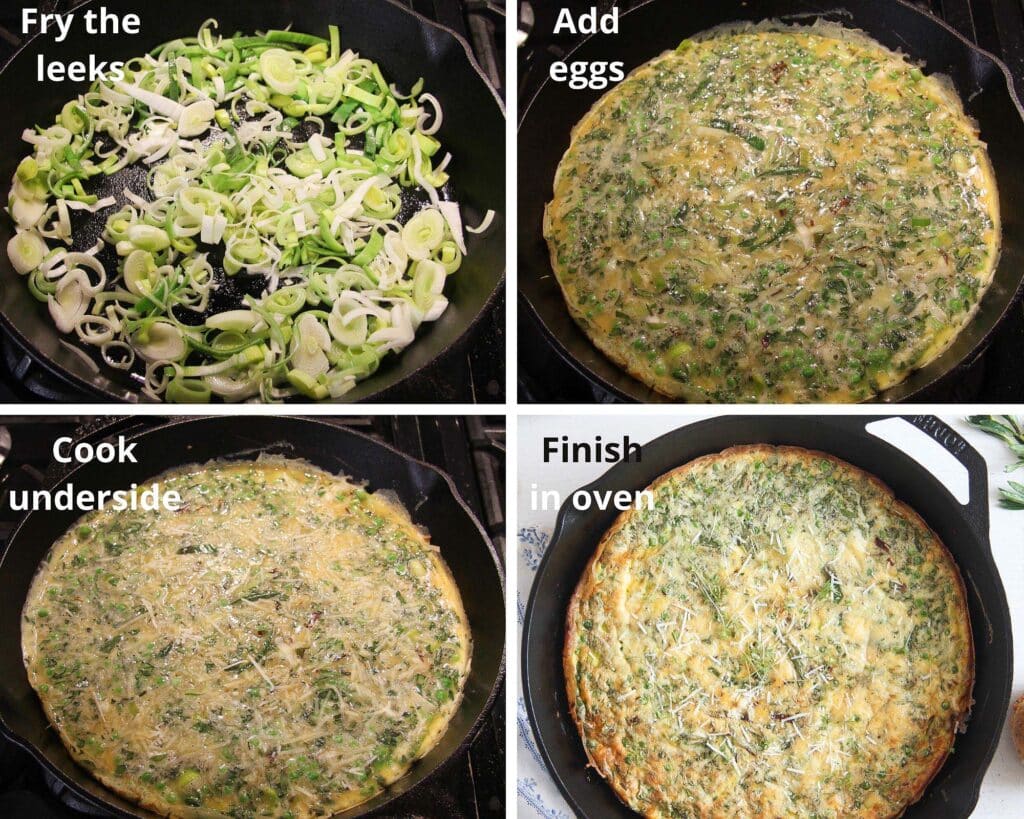 How to serve?
We love it with a green salad with a yogurt dressing or a cucumber salad with vinaigrette.
But any kind of salad you like would be great as well.
Last time we had it with asparagus bundles and ham.
You can also let the pea frittata cool and serve as tapas, appetizers, take to a picnic or pack into your lunch box.
The frittata is not suitable for freezing.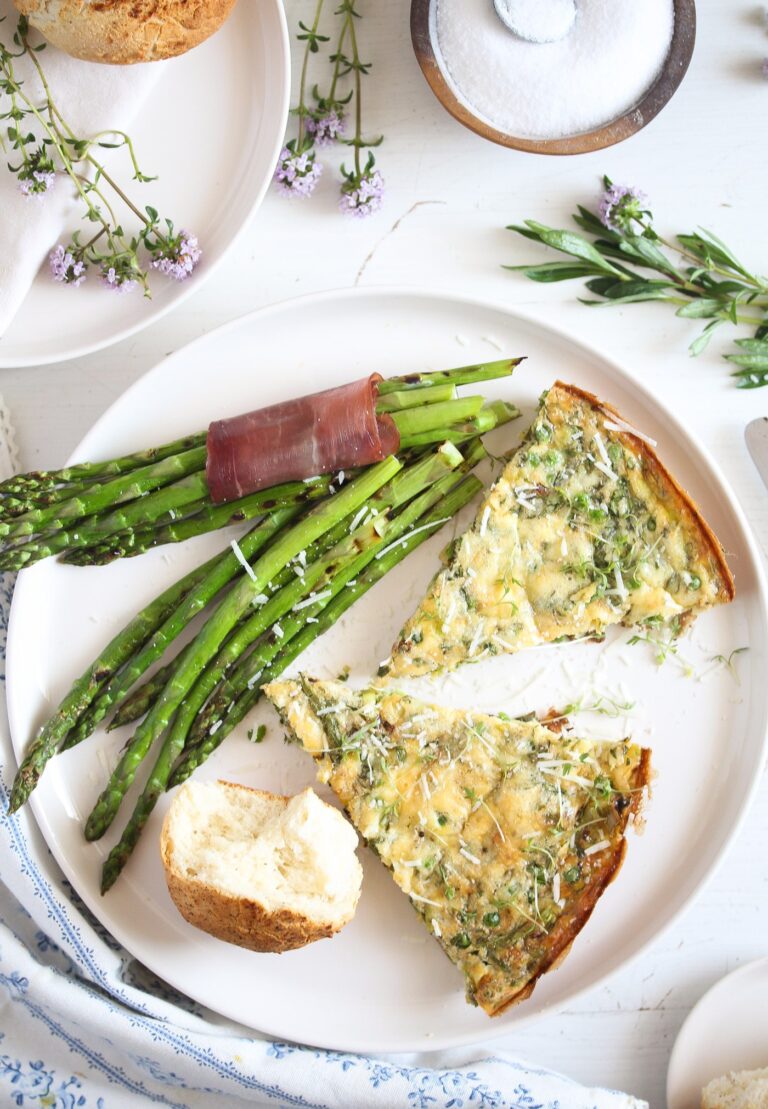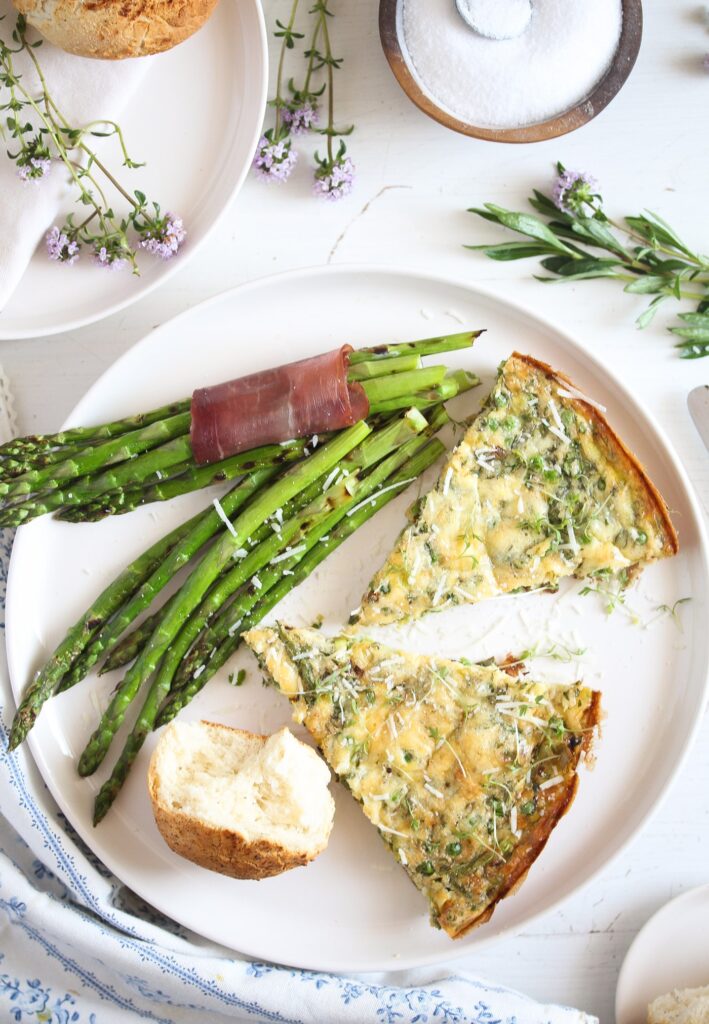 More egg recipes: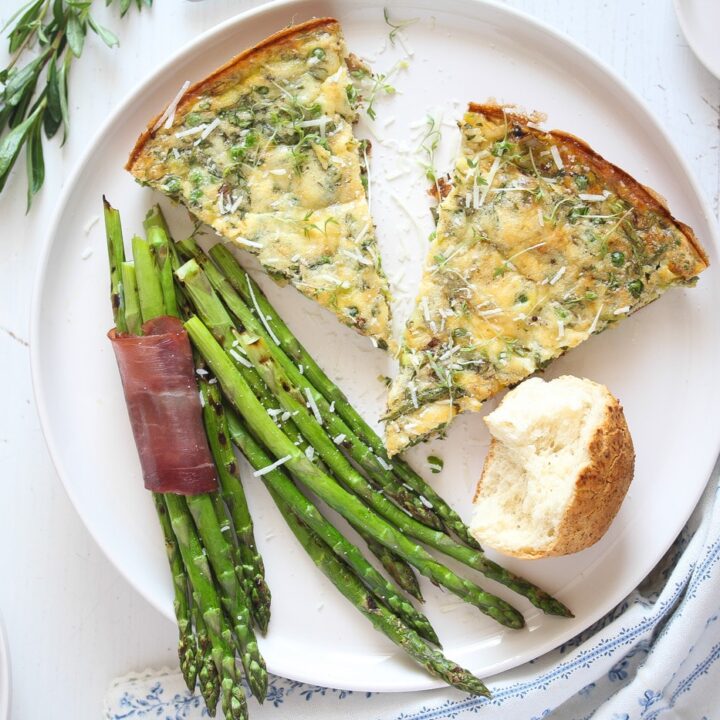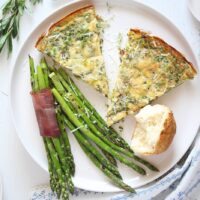 Pea Frittata with Leeks and Parmesan
Flavorful pea frittata with leeks, Parmesan, and lots of fresh herbs, a light egg dish perfect in spring and summer.
Print
Pin
Share
Grow
Saved!
Rate
Ingredients
1

thin leek

about 200 g/ 7 oz/ 2 ¼ cups chopped leeks

1

cup

frozen peas

defrosted

1

small bunch of each parsley

chives and oregano

a few sprigs of each thyme

basil and sage

8

eggs

½

cup

milk

4

tablespoons

freshly grated Parmesan

divided

a dash of nutmeg

¼

teaspoon

fine sea salt

or Kosher, more to taste

⅛

teaspoon

black pepper

1

tablespoon

butter
Instructions
Prepare: Make sure you use a cast-iron pan or another oven-safe pan. Remove the peas from the freezer and let thaw on a large plate at least partially until you prepare the rest; about 15 minutes should be fine. Preheat the oven to 180 degrees Celsius/ 350 degrees Fahrenheit.

Chop: Clean the leek and chop it. Set aside. Chop all the herbs finely. Set aside separately from the leeks. Grate the Parmesan and set aside as well.

Beat the eggs in a large bowl, add the milk, 3 tablespoons of the grated Parmesan, and nutmeg. Adjust the taste generously with salt and pepper. Fold in the peas and the herbs.

Cook: Heat the cast-iron skillet and melt the butter in it. Cook the leeks for a few minutes until bits of it are golden brown. Add the egg mixture, turn the heat to low, and stir very gently and superficially just to make sure that the vegetables and the herbs are evenly distributed all over the pan.

Let the frittata cook until the bottom side sets, but the top is still uncooked, about 3-4 minutes. Check the underside by lifting it very carefully with a spatula; it should be golden. Sprinkle with the remaining Parmesan on top.

Bake: Place the pan in the hot oven. Finish cooking the eggs for about 10-13 minutes or until set on top and golden brown.

Or grill: You can also place the eggs under the hot grill and leave them for about 5-6 minutes or until golden brown and set on top. If cooking under the grill, don't leave the pan unattended; depending on the grill, the browning can get very quickly depending on the grill.
Nutrition
Serving:
2
wedges
|
Calories:
255
kcal
|
Carbohydrates:
13
g
|
Protein:
18
g
|
Fat:
15
g
|
Saturated Fat:
6
g
|
Polyunsaturated Fat:
7
g
|
Cholesterol:
387
mg
|
Sodium:
434
mg
|
Fiber:
3
g
|
Sugar:
4
g