Zucchini slice or crustless zucchini pie - incredibly delicious, and perfect for brunch, lunch or a light dinner.
Crustless Zucchini Pie or Slice
I was not very sure how to call this recipe... Zucchini slice or crustless zucchini pie or even savory zucchini cake. It is some kind of a pie because it is made with flour and oil, but also some kind of quiche because it is made with eggs. Or a savory cake, but savory cake sounds so forced...
But either zucchini slice, quiche or pie, it is for sure crustless, so you will not have to bother with making a crust. No need at all, it is so delicious just as it is, I was never tempted to change the recipe in any way.
And, trust me, I have been baking this recipe for years now. This is actually an updated post from my first year of blogging, nobody really noticed the recipe at the time, I just hope more of you will notice it now, this is really worth it!
Once you've baked it, you will keep coming back to it, I have yet to meet somebody who didn't like it, including children who are known zucchini deniers.
What to do with a glut of zucchini?
If you happen to live in a more rural area or at least in an area where people have gardens, you might have the same "problem" I have every summer. A glut of zucchini! I am not a vegetable grower myself, yet I find myself having to deal with tons of them every summer.
Everybody I know, who grows zucchini keeps bringing me some, they are very generous plants, and most of the time, one or two plants produce more than one family can manage to eat in one summer.
So, be sure you will find really A LOT of zucchini recipes. I've just had a look at my categories, there are 32 recipes you can choose from.
From easy sauteed or pan-fried zucchini to zucchini curries, zucchini pancakes or zucchini chocolate brownies, there is definitely something for everybody.
What do you need?
So, let's go back to one of my favorite summer recipes, this super easy to make, quick, tender and delicious crustless zucchini pie.
When posting this recipe for the first time, I baked it in a large baking tray of 30x40 cm/ 12x16 inches. That makes a lot of food and it is perfect when you are cooking for a brunch or a party where you invited more people than you usually have to feed.
To make the recipe on a large baking tray, you will need:
500 g/ 1.1. lbs zucchini
2 onions
2 garlic cloves
125 g/ 4.4. oz cubed bacon
200 g/ 7 oz/ 1 ¾ cups grated cheese
5 eggs
140 g/ 5 oz/ 1 cup + 1 tablespoon all-purpose flour
2 teaspoons baking powder
115 ml/ 3.9 fl.oz/ ½ cup vegetable oil
3-4 tablespoons chopped chives
scant 1 teaspoon fine sea salt
½ teaspoon black pepper
Combine all the ingredients as instructed in the recipe, pour the batter on a baking tray lined with baking paper (or oiled), and bake for about 30 minutes or until the pie is set and golden brown. Cut into squares.
Bake in a quiche dish:
To make a smaller amount of zucchini slice I scaled the ingredients to fit 3 eggs and baked the pie in a ceramic quiche dish of about 28 cm/ 11 inches. The baking time is slightly longer, although the pie is smaller because a ceramic dish needs a little more time than a baking tray to heat in the oven.
Experience has thought me that all dishes baked in a ceramic dish need a bit longer than when baked in a springform or cake dish.
Zucchini:
You will need about 300 g/ 10.6 oz zucchini, that would be about 1 ½ medium one in my case, but do weigh them to make sure.
If using regular sized vegetables, grate them as they are. If using overgrown zucchini ( I have them often in summer), make sure that you thoroughly remove all the seeds using a spoon. The seeds are not nice to eat, they are mealy and tasteless and they will make the zucchini pie soggy.
Many similar recipes recommend squeezing the zucchini thoroughly after grating them, to remove the extra moisture, which might make the zucchini pie too wet. Well, I've never bothered in this case and I've never thought that the zucchini pie was soggy or anything. For me, it has just the right amount of moisture as it is, it is soft and tender and not dry at all.
Bacon:
I use very lean, already cubed bacon, not smoked. However, you can use any kind of bacon you like or have in the fridge. If it is not cubed already, chop it finely and if it is too fatty, try to remove some of the fat.
Cheese:
As most of the time, I use Gouda cheese, which I grate myself.
Cheddar would make a good substitute, but you can also use another kind of cheese, some cheese you like and already know it works well for pies and casseroles.
Herbs:
I often use chives, but not always. Fresh parsley and thyme, dill, basil or oregano are all good.
And if you don't happen to have fresh herbs in the house, you can use frozen herbs or dried thyme or oregano, for instance.
No dried parsley or chives though, they are not good.
How to make?
Preheat the oven and lightly oil a ceramic quiche dish of about 28 cm/ 11 inches.
Grate the zucchini, garlic, and cheese, finely chop the onion.
Beat the eggs in a large bowl. Add all the left ingredients and stir well. The batter will be thick.
Pour the mixture into the prepared baking dish.
Bake for about 30-35 minutes until the eggs are set and the cake is golden brown.
How to serve?
You can serve the dish immediately with a green salad with yogurt dressing, for instance.
Or with a cucumber salad with vinaigrette.
Or you can serve it at room temperature.
You can take the zucchini slice to a picnic or pack it into your lunch box. Slice a few tomatoes and cucumbers and you will have another wonderful and light meal.
The leftovers can also be reheated in the oven, at about 120 degrees Celsius/ 250 degrees Fahrenheit for about 10 minutes or until hot.
More quiche or savory pies?
Green Onion Quiche - a beautiful and aromatic quiche, this time with a crust.
Swiss Sweet Cherry Pie- this is a typical Swiss kind of pie called Wähe.
Leek and Pea Frittata - another kind of crustless pie, an aromatic frittata with lots of herbs.
Chicken and Ham Pie - a classic English pie with puff pastry and white sauce.
PIN IT FOR LATER!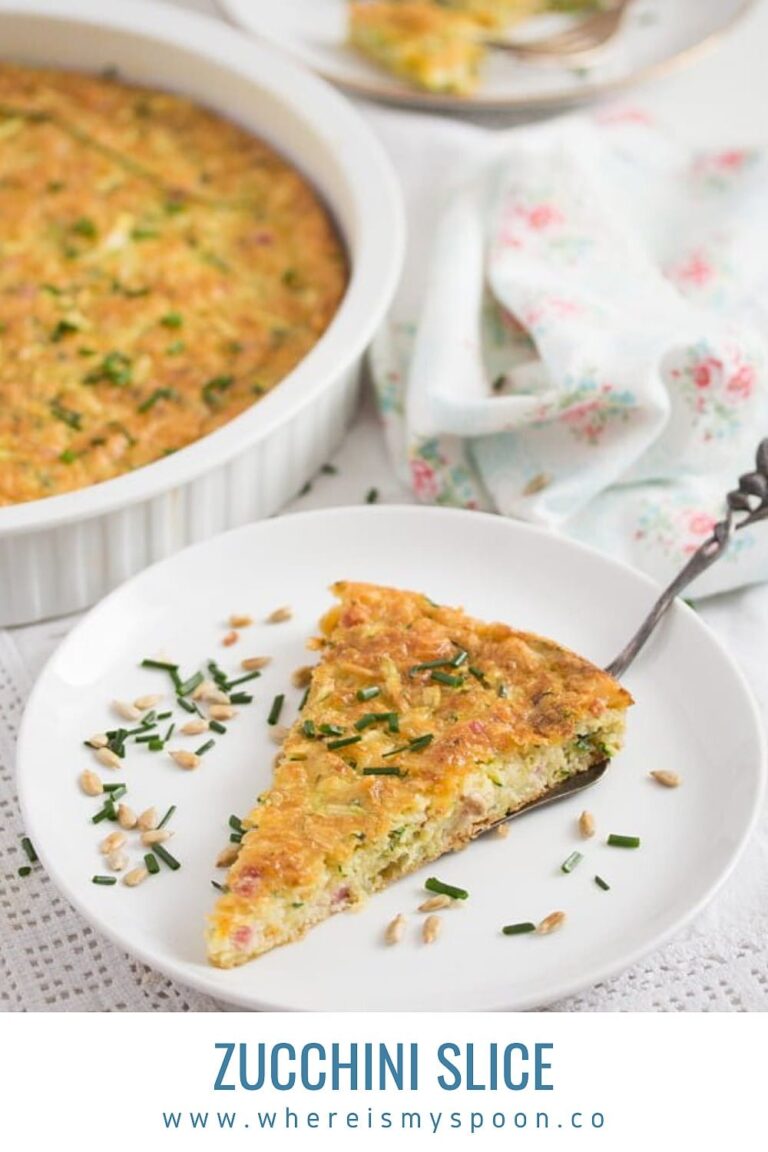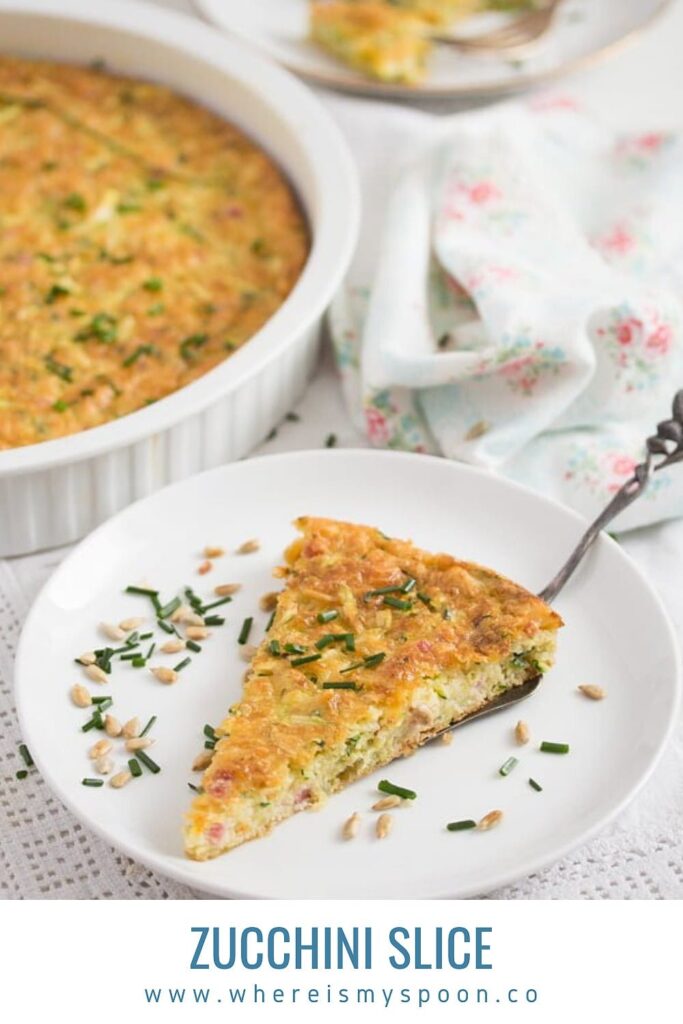 Zucchini Slice
Unique zucchini slice or crustless zucchini pie, perfect for brunch, lunch, or a light dinner.
Print
Pin
Share
Grow
Saved!
Rate
Ingredients
10.5

oz

zucchini

1

medium onion

1

garlic clove

2.5

oz

lean bacon

fine cubes

1

cup

grated cheese

Gouda, Cheddar

3

eggs

¾

cup

all-purpose flour

1 ½

teaspoons

baking powder

⅓

cup

vegetable oil

2

tablespoons

chopped chives

½

teaspoon

fine sea salt

¼

teaspoon

freshly ground black pepper
Instructions
Preheat the oven to 180 degrees Celsius/ 360 degrees Fahrenheit. Grease a ceramic quiche dish of about 28 cm/ 11 inches with a bit of oil.

Grate the zucchini. Finely chop the onion and grate the garlic. Grate the cheese.

Combine: Beat the eggs in a large bowl. Add the grated zucchini, onion, garlic, bacon, cheese, flour, baking powder, oil, chives, salt, and pepper. Stir well. The batter will be thick.

Bake: Pour the mixture into the prepared dish. Bake for about 30-35 minutes until the eggs are set, and the pie is golden brown.
Nutrition
Serving:
1
/4 of the pie
|
Calories:
495
kcal
|
Carbohydrates:
23
g
|
Protein:
22
g
|
Fat:
35
g
|
Saturated Fat:
10
g
|
Polyunsaturated Fat:
23
g
|
Cholesterol:
192
mg
|
Sodium:
1065
mg
|
Fiber:
2
g
|
Sugar:
3
g