Soft, savory zucchini pancakes with feta cheese and herbs.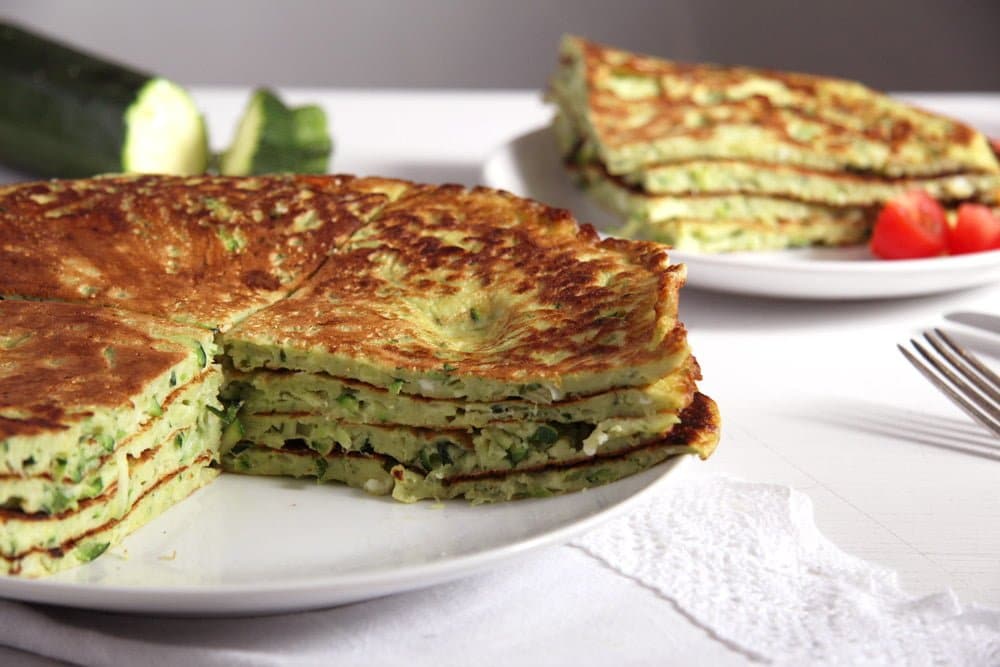 A new month has begun and with it a new series at Where Is My Spoon. Yes! Yes! Zucchini! Incredibly versatile, cheap and healthy, the one vegetable which could overwhelm you with its availability in summer. Everyone with a garden knows that: if there is one vegetable that tends to grow out of your ears, than it's the zucchini. You don't even have to grow vegetables to know that. I don't have veggies in my garden, but still have more zucchini thrown into my direction in summer than we can possibly consume … I remember the first year my best friend, who loves gardening, started growing vegetables in her garden. She actually planted nine zucchini plants and had enough zucchini to feed the whole village. 🙂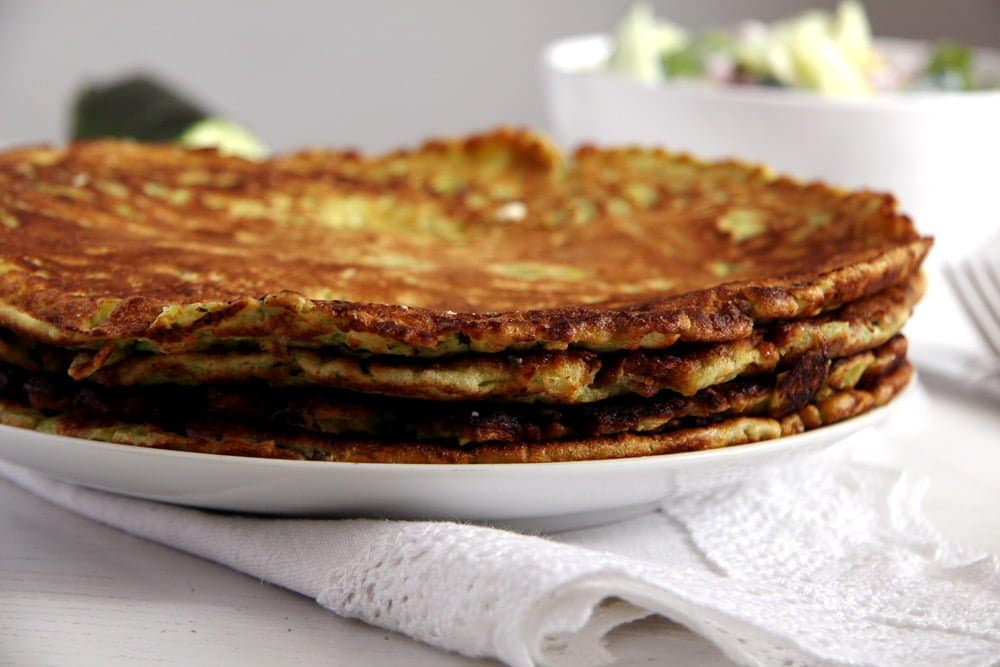 She sticks to only planting one or two plants nowadays, but she's still harvesting enough zucchini to feed her and my family all through the summer. So with so many zucchini, one has to find enough ways of using them, eating them in only 2 or 3 ways would become boring very fast. And I have to make a confession at this point: zucchini is actually not one of my favorite vegetables. I don't necessarily like everything I make with zucchini, the way I like everything I make with aubergines or peppers or cabbage. So I can tell you, that I've tried loads and loads of recipes featuring this particular veggie, in order to find those ones that I really really like, those that I could post here without any hesitation.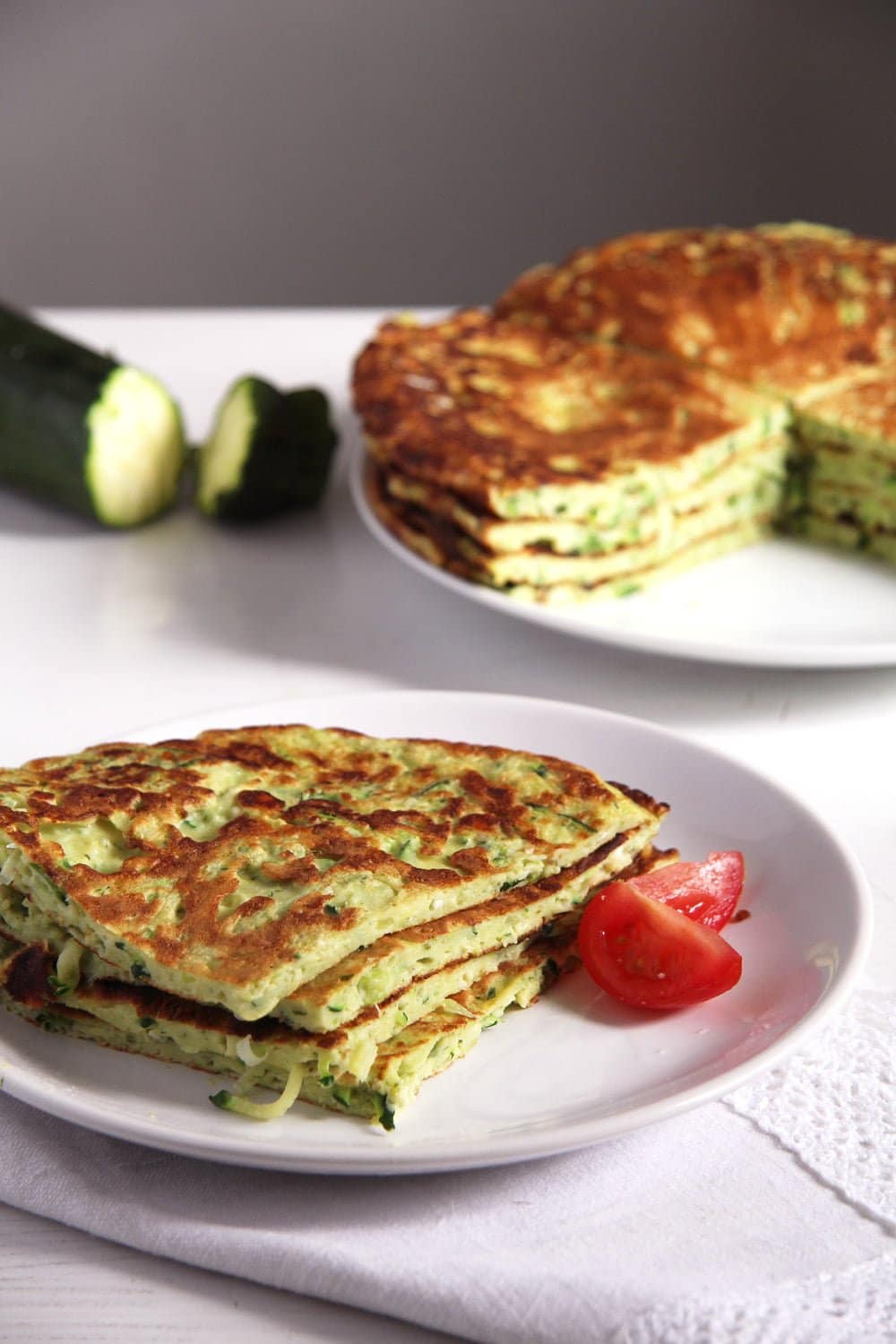 This is already the 11th series on WIMS, but for none of the previous series have I tried so many different recipes. From those chosen in the first place, only one made it to the end, all the other have been dropped and replaced with other recipes, because even if I thought that most of them were OK, I didn't want to offer you some recipes which were only OK, I really wanted to find some really good ones. And I think I did: I am starting with this amazing pancakes, which I have been making several times already during the past two months, almost always at my daughter's request. So this is a great way of feeding your kids some zucchini, when finely grated and inside a pancake, they don't mind them the way they would if they would just see them chopped on their plate. 🙂
I used my Herb Garlic Paste to spice up the pancakes, I really recommend you making it, but if you don't, you can replace it with some grated garlic and some finely chopped herbs: parsley, dill, chives would all be great. Or maybe you could try replacing the paste with some pesto, I haven't tried that but I think it would fit as well. If you use my paste, you will not need that much salt, the paste is pretty salty. If you use just garlic and herbs, make sure to add enough salt, taste the batter, you don't want it to be too dull.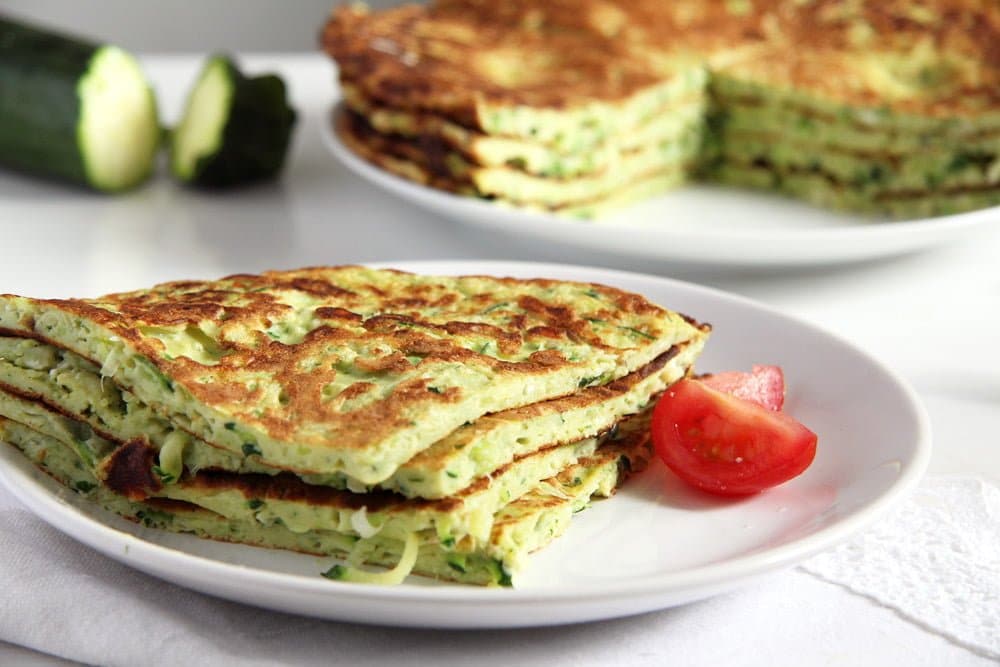 The pancakes are best served hot, but I even enjoyed the leftovers cold in the evening. My daughter too, she kept coming back for yet another piece of the cold pancakes until they were all gone. The recipe is supposed to serve 4, but the pancakes are quite large, so you might be able to feed 6 with them, we had leftovers every time. We normally serve them with green salad or tomato salad, but a simple tomato sauce would be great as well.
Prep time:
Cook time:
Total time:
Ingredients
170 g/ 6 oz all-purpose flour
8 eggs
240 ml/ 1 cup milk
400 g/ 14 oz zucchini
120 g/ 4.2 oz feta cheese
3 teaspoons herb garlic paste (see note)
salt to taste
black pepper
some nutmeg
4 tablespoons oil
Instructions
Place the flour in a large bowl. Add the eggs, one or two at a time and whisk well. Add the milk and whisk until smooth. Cover the bowl and leave to rest for about 15 minutes.
In the meantime, grate the zucchini finely. Squeeze them by the handful to release the extra liquid. Give the zucchini to the pancake batter, add the crumbled feta cheese, the parsley garlic paste (or the grated garlic and chopped herbs or the pesto) and adjust the taste with salt, pepper and some nutmeg. Taste the batter to make sure you have enough salt.
Heat 1 tablespoon oil in a large pan (mine has a diameter of 28 cm/ 11 inches) and pour in ¼ of the batter. Turn the heat down to medium-low and cook the pancake for about 3-4 minutes or until lightly browned on the underside. Flip gently using a large spatula or with the help of a large plate. Place the plate on top of the pancake, hold it with one had, and flip the pan with the other hand, so that the pancake will get on the plate. Gently let the pancake slide from the plate back into the pan and cook it on the other side for another 2-3 minutes or until lightly browned and cooked through.
Keep warm while you cook the other three pancakes.
Serve immediately with a green or tomato-onion salad.
Notes
You can replace the parsley garlic paste with 2-3 grated garlic cloves and a small bunch of very finely chopped herbs like parsley, dill or chives. If you don't use the paste, you will need more salt in the batter.
Others you might like:
Savory Zucchini Cake
Wild Garlic Crepes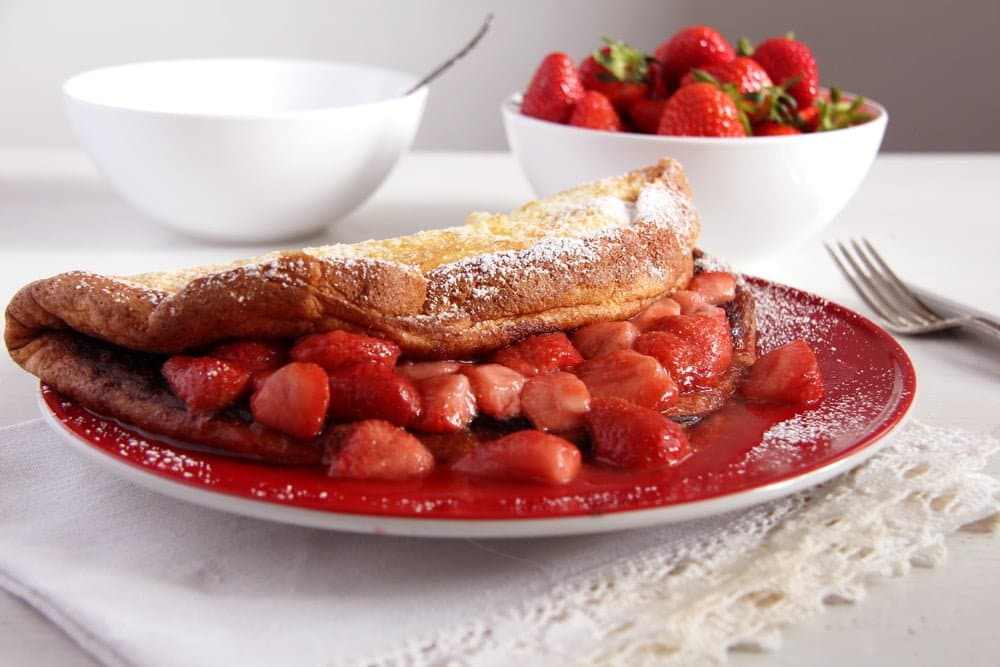 Oven Pancakes with Strawberries