A very simple and healthy tomato and avocado salad from Panama.
A super healthy salad for you today: tomato and avocado salad sprinkled with a simple dressing of lime juice and olive oil. You will need less than 10 minutes to make this salad.
TOMATO AND AVOCADO SALAD
Actually, the only difficulty this salad might pose is choosing the right avocado. I don't know about you, but it took me years to get to know the right avocados. And by the right avocado I don't mean the right sort of avocado, but a ripe, ready to eat avocado.
My main problem was to determine when an avocado was good to eat. Several years ago, I would only be able to buy unripe avocados in the supermarket. So, whenever I wanted to have some, I had to buy it, place it in the kitchen and wait…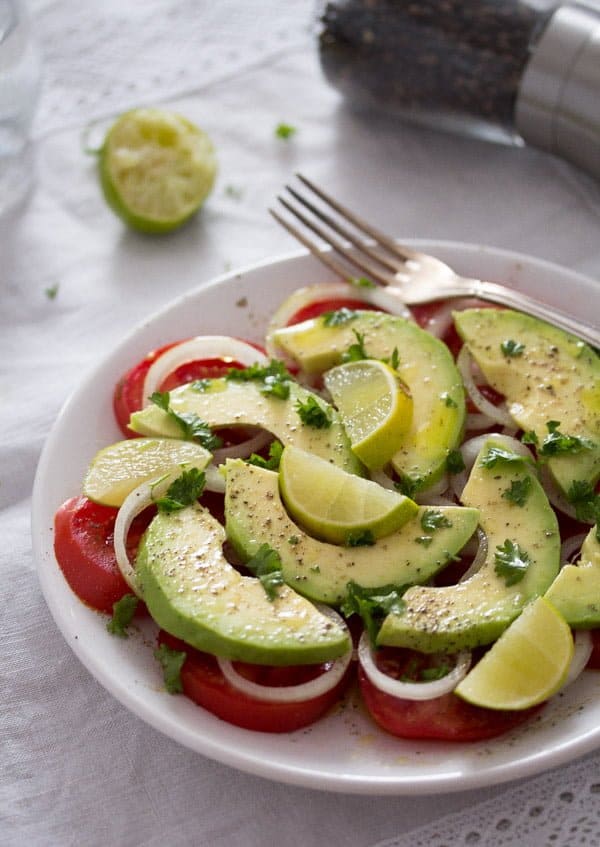 That was OK, with a bit of organization we would be able to enjoy a nice avocado on toast or an avocado salsa or avocado dip. But it was pretty annoying if I had more immediate plans with the avocado.
Things changed nowadays, most supermarkets selling ready to eat avocados. But just because they are advertised as ready to eat, it doesn't mean that they are always so, many times they are beyond ready to eat, meaning you cut them open only to be appalled by their brown flesh and their disgusting smell.
HOW TO CHOOSE A RIPE AVOCADO?
Take a look. Avocados come in different colors from bright green to brown, depending on the sort, so choosing by color is not always a good idea. Mostly you should choose an avocado with a smooth skin, free from blemishes or indentations.
Feel it. For me this is the main criteria. I take the avocado in my hand and feel it gently without pressing it too much. A ripe avocado should feel soft but not too soft or mushy. By avocados that have already turned bad, I noticed that the skin becomes rather leathery and doesn't touch the flesh of the avocado anymore. Keep away of those avocados, you can be sure that they are bad in this case.
Look at the avocados' stems. If you touch it and the stem comes off immediately, chances are that the avocado is overripe, so leave it. Have a look at the area underneath the stem, if it's green the avocado is good, if its brown the avocado is probably bad.
Looking at the stem is the best test you can do with avocados that you have at home. If you bought unripe avocados and are waiting for them to get ripe, check the stem every day. I try not to get it off the avocado until I am pretty sure that the avocado is good to eat. But I try to move it gently with my finger every day. When I notice that it's about to give, than I know that the avocado is good.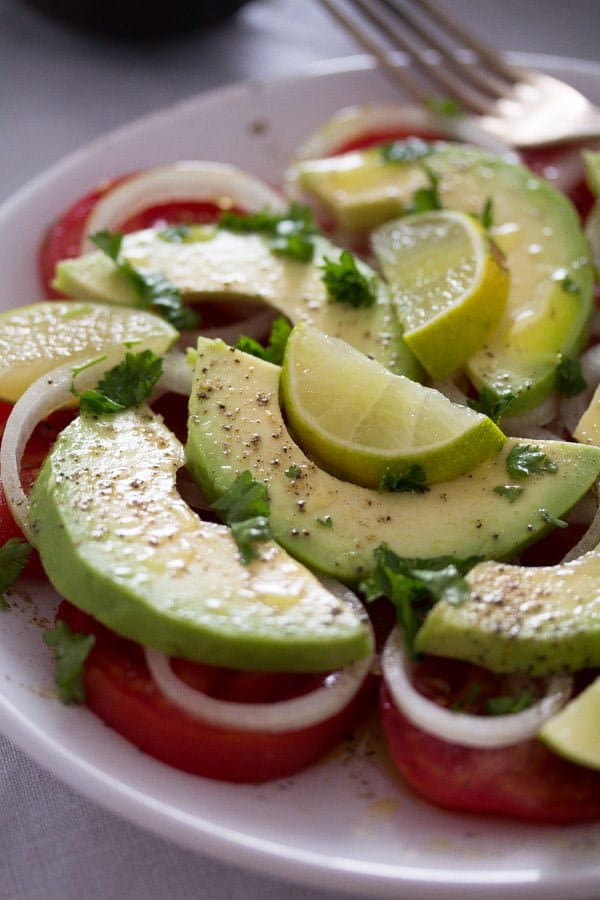 HOW TO RIPEN AVOCADOS AT HOME
Most of the times, I place them on the counter and let them be, checking every day as indicated above. The ripening will take at least 3 days in my experience, but it greatly depends on the state the avocado was in when you bought it.
However, if you want to accelerate the process a little bit, place the avocados in a brown paper bag together with an apple or a kiwi. The apples and kiwis contain a hormone that accelerates the ripening process.
Once the avocado is ripe, you can place it in the fridge. This will help it keep healthy for 2 more days. Here you can find more detailed information on how to ripen avocados at home.
This recipe for tomato and avocado salad is a salad recipe from Panama. From all the countries participating in this year Soccer/Football World Cup, Panama was the country posing the most difficulties when it came to choosing a recipe.
Like in the case of Peru, the main difficulty consisted in being able to find a recipe which didn't include produce typical for those regions, vegetables that I am not able to buy in Germany. I was considering of making a typical Panamanian chicken and rice dish, but then I remember that I already have a arroz con pollo recipe on my blog, Puerto Rico style.
So, this simple avocado and tomato salad with lime it was. An easy recipe, using very few and very common ingredients, but something I know anybody would love.
HOW TO SERVE THE TOMATO AND AVOCADO SALAD
You can have this avocado and tomato salad as a very light and healthy lunch or dinner, on its own with just a little bread on the side.
The salad also make a wonderful side dish, we had it with skillet chicken breast and oven roasted potatoes. You can also have it with fish or with some eggs (poached or fried) on top.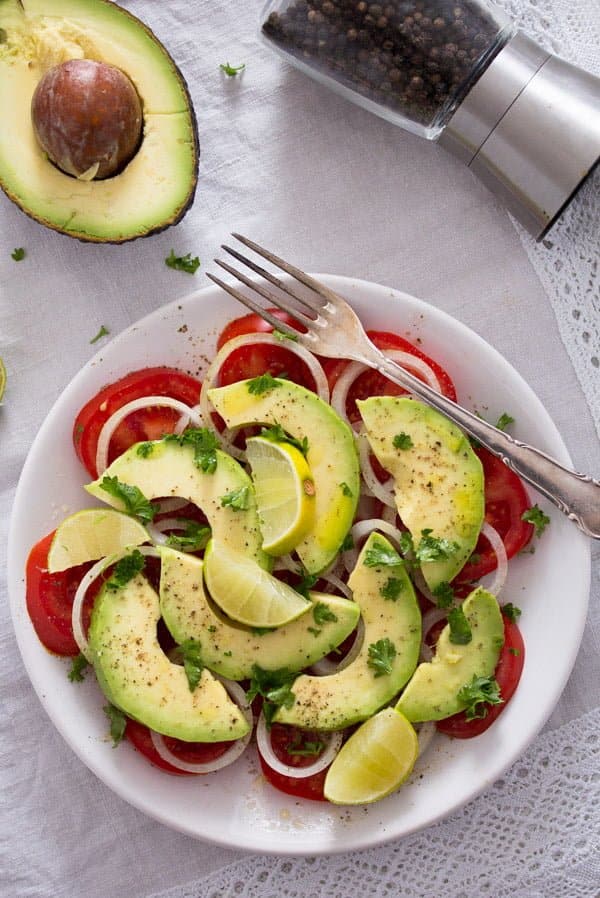 Tomato and Avocado Salad – Panamanian Food
A very simple and healthy tomato and avocado salad from Panama.
Print
Pin
Share
Grow
Saved!
Rate
Ingredients
1

avocado

2

medium tomatoes

1

medium red onion

1

lime

2

tablespoon

olive oil

fine sea salt and freshly ground black pepper

chopped parsley or coriander
Instructions
Halve the avocado, remove the pit and peel the avocado. Cut into slices. Place the slices into a bowl and toss them very gently with the juice of half the lime.

Slice the tomatoes and cut the red onion into thin slices as well.

Arrange the salad on two plates. First, the tomato slices, followed by the onion rings, and then the avocado slices.

Drizzle the salad with olive oil, more lime juice to taste, and add some salt and freshly ground black pepper. Sprinkle the salad with chopped parsley or coriander.

Serve immediately as suggested above.
Nutrition
Serving:
1
/2 salad
|
Calories:
334
kcal
|
Carbohydrates:
22
g
|
Protein:
4
g
|
Fat:
29
g
|
Saturated Fat:
4
g
|
Polyunsaturated Fat:
23
g
|
Sodium:
545
mg
|
Fiber:
10
g
|
Sugar:
7
g