Refreshing watermelon balsamic salad with feta, basil, and mint, this is the perfect summer salad. An aromatic side dish for any kind of bbq meats or a light and delicious light meal on its own.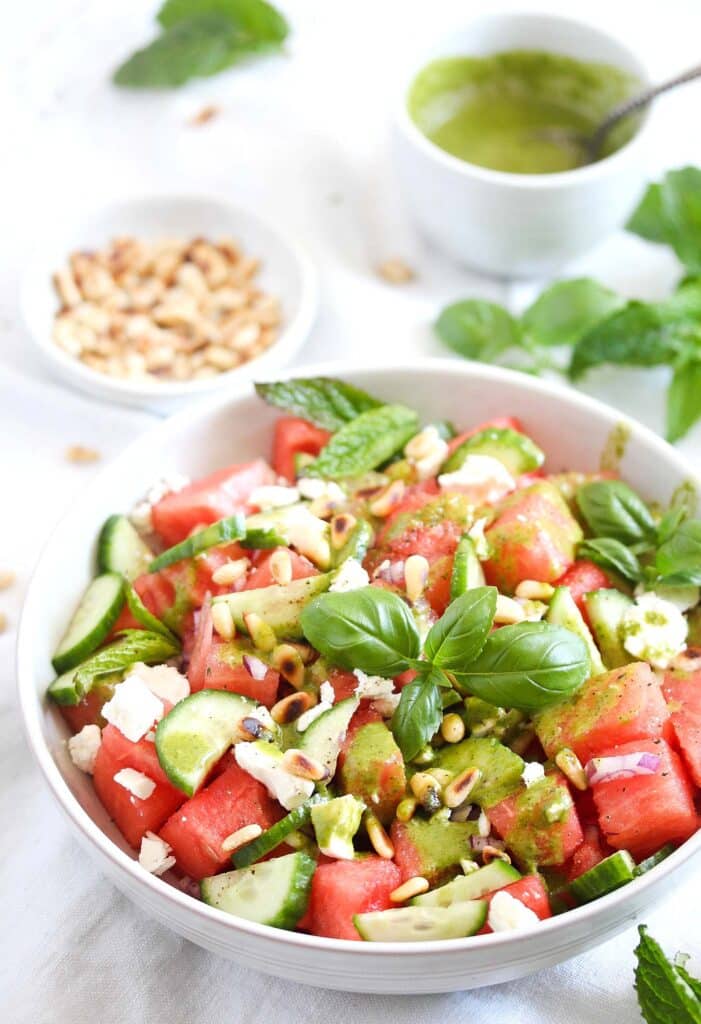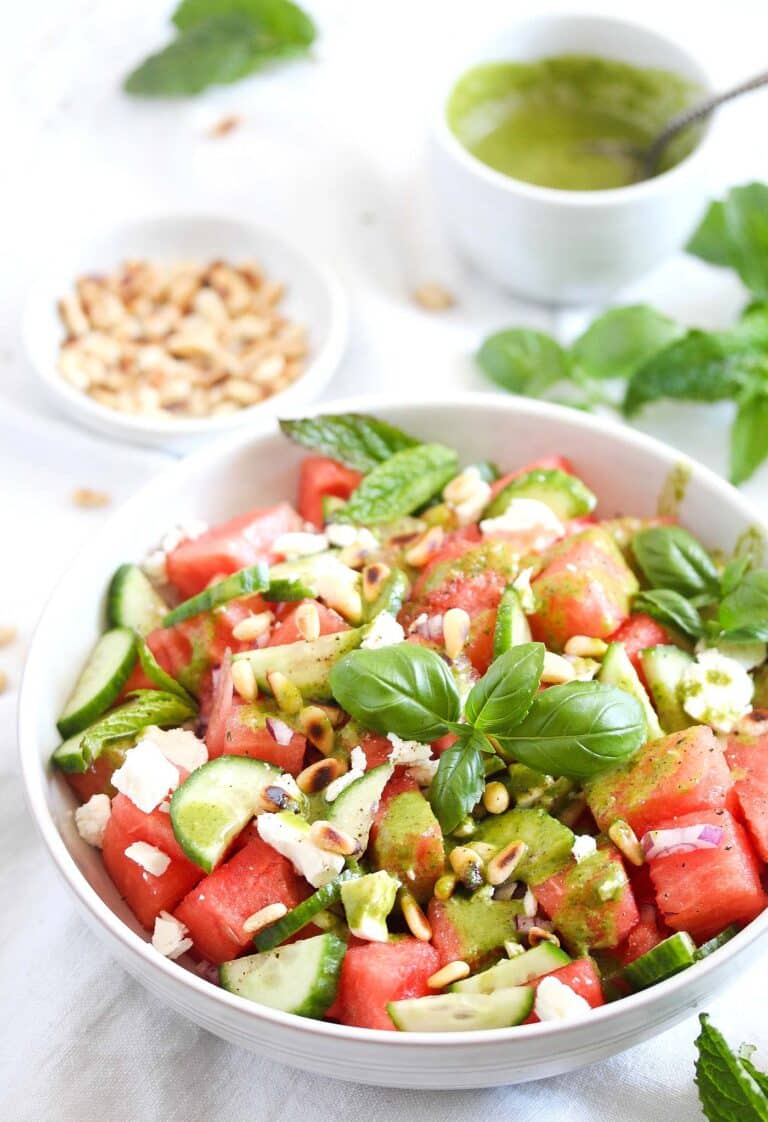 This watermelon balsamic salad is the right salad for hot summer days. What can be more refreshing than watermelon, I can't think of any other fruit I would crave more when the sun is burning hot.
Combine watermelon with feta, a balsamic, basil and mint dressing and some crunchy cucumber and you will really have the perfect hot weather dish.
And if you happened to buy a huge piece, like I do most of the time (it sometimes doesn't even fit in my fridge, so we have to start eating as soon as I bring it home), try some watermelon Greek yogurt popsicles or some watermelon jam. And don't throw away all the rind, this watermelon rind jam is out of this world!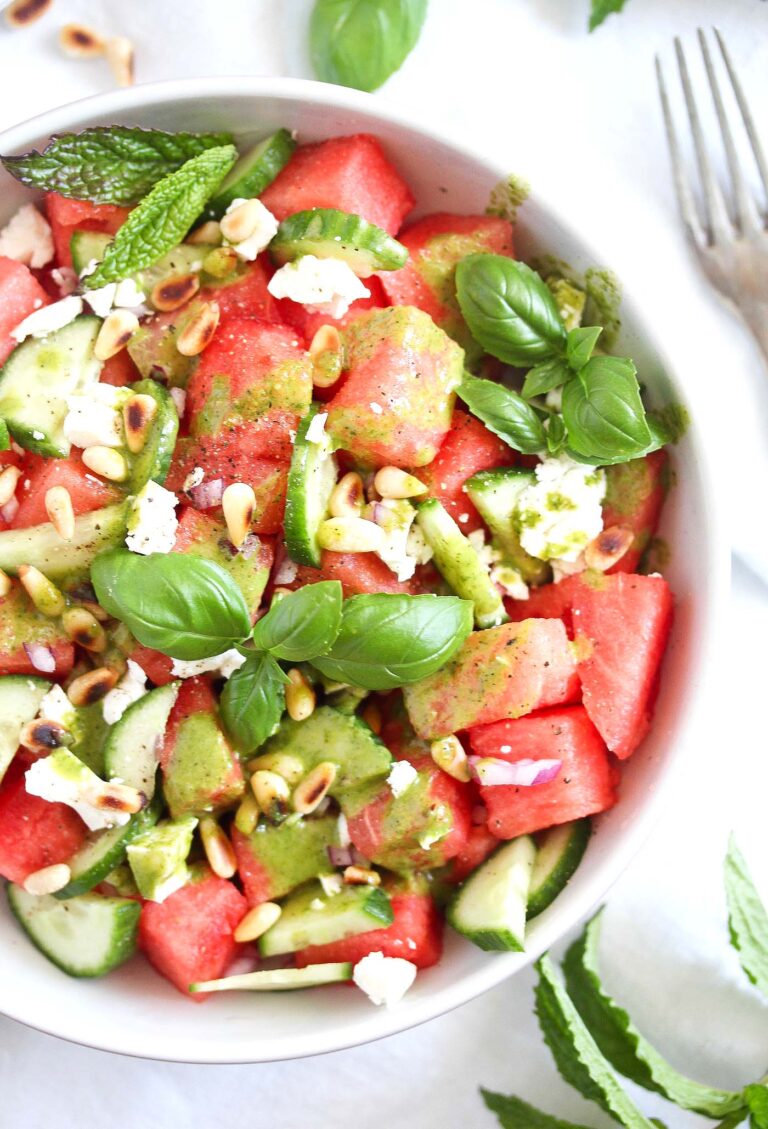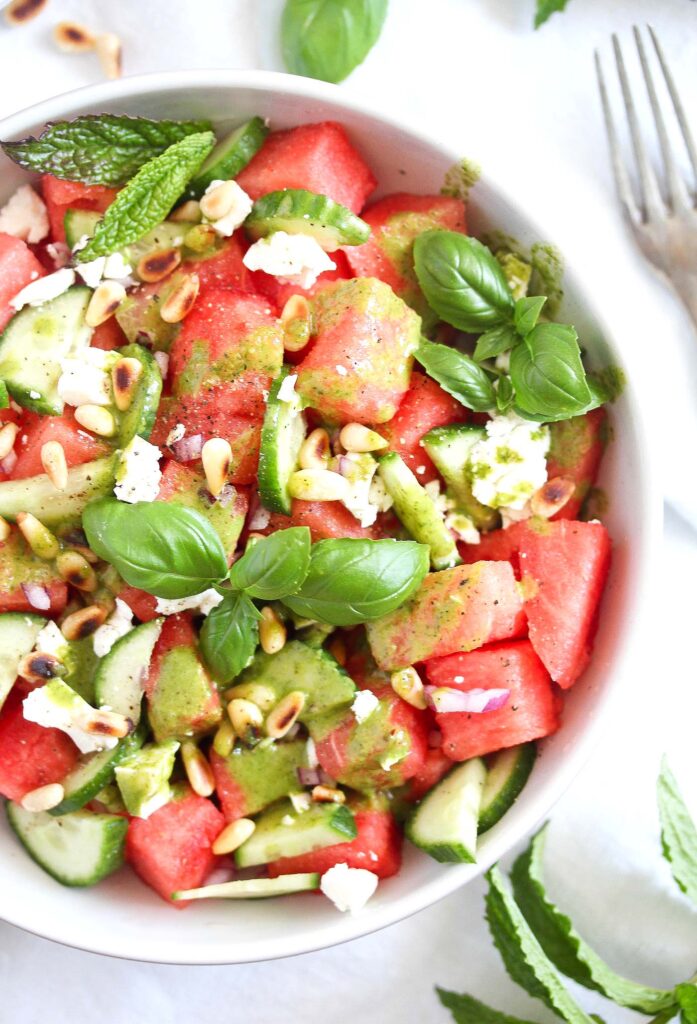 Tips
You can make a double amount of the balsamic dressing. It keeps well for a couple of days and you can use it to dress most salads. Try it on this Grilled Peach Salad, for instance, another amazing summer dish.
Make sure you taste the dressing and adjust the taste to your liking. Depending on the brand of balsamic vinegar you are using, you might need a bit more or less of it. And some people like the dressing sweeter than others, so you can adjust the honey amount as well.
Be cautious when toasting the pine nuts, they will burn very easily if unattended. Shake the pan very often and remove them as soon as they are golden and fragrant. If you leave them in the pan, they will continue cooking and get really dark.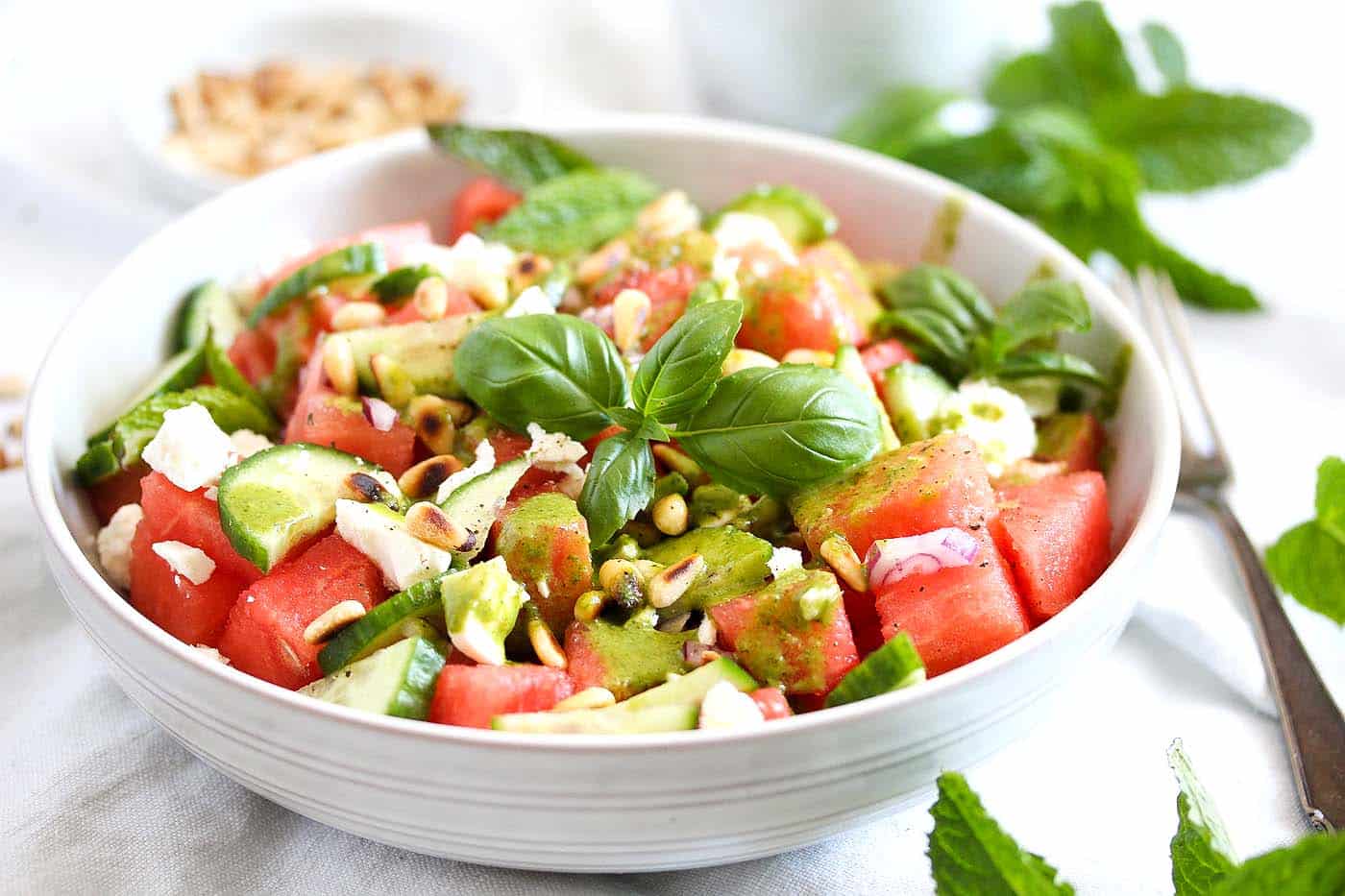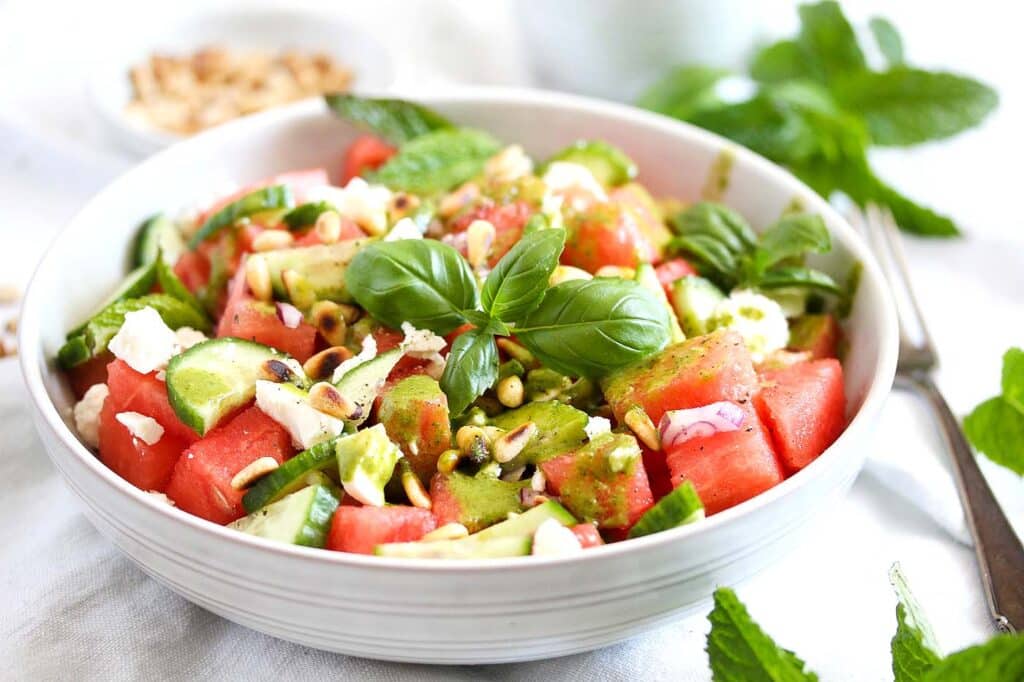 I recommend using Persian cucumbers, which look just like regular ones, but very small, about as long as ⅔ of your hand or even smaller. They are not the kind of cucumbers you can pickle though, those taste very differently.
Persian cucumbers taste like the regular ones, but better, more intensive, they are crunchier, have fewer seeds, and are just better to eat as they are or to use in salads.
You can replace them with regular cucumbers though if you cannot find them.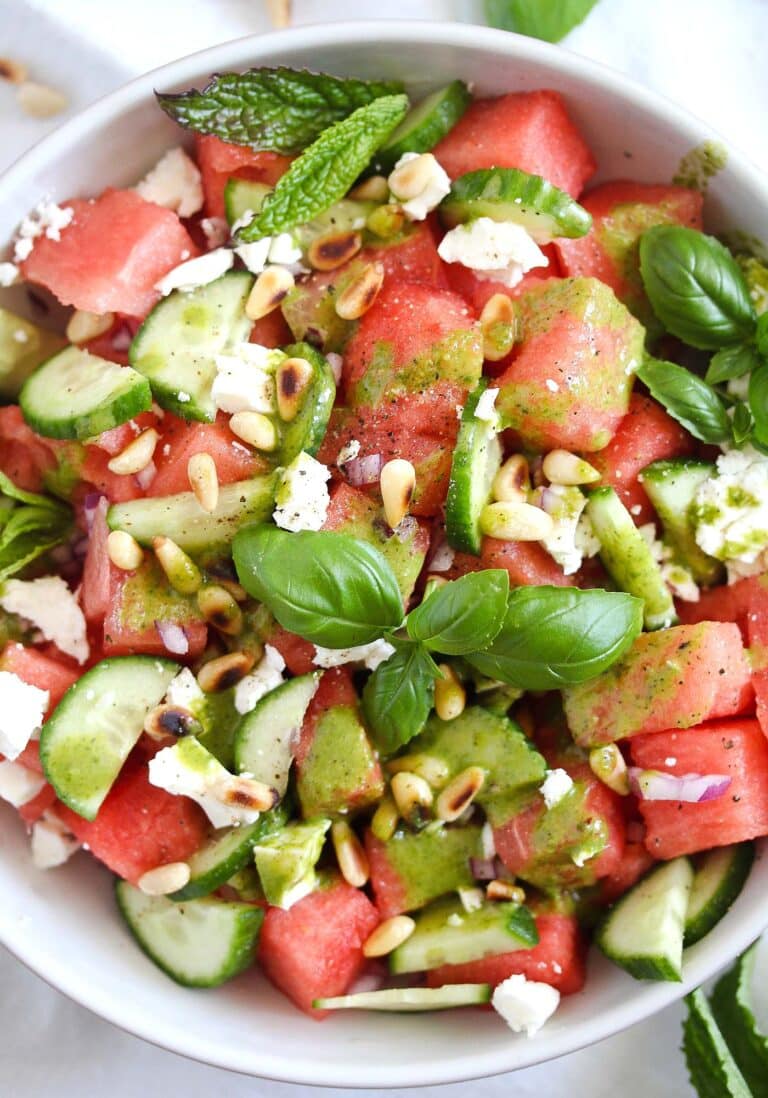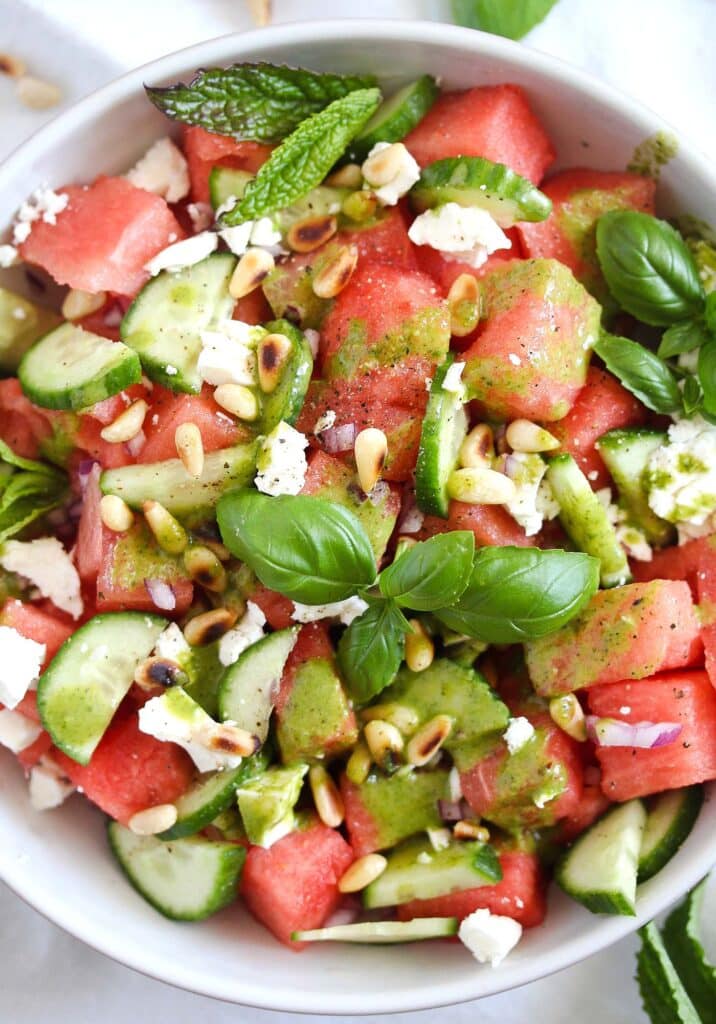 How to serve?
The watermelon balsamic salad with feta should be served immediately.
I had leftovers and they are not that nice, the watermelon pieces will release too much water, they will become soggy and the pine nuts will get soft.
So make sure you only make as much watermelon basil salad as you can eat at one time and don't leave it waiting for too long.
The recipe serves two as a main dish or four as a side dish.
Serve as a light main dish with crusty white bread or French baguette.
Or serve as a side dish for grilled meats or fish, for cast-iron chicken breast, baked bbq chicken or any other simple chicken dish you like.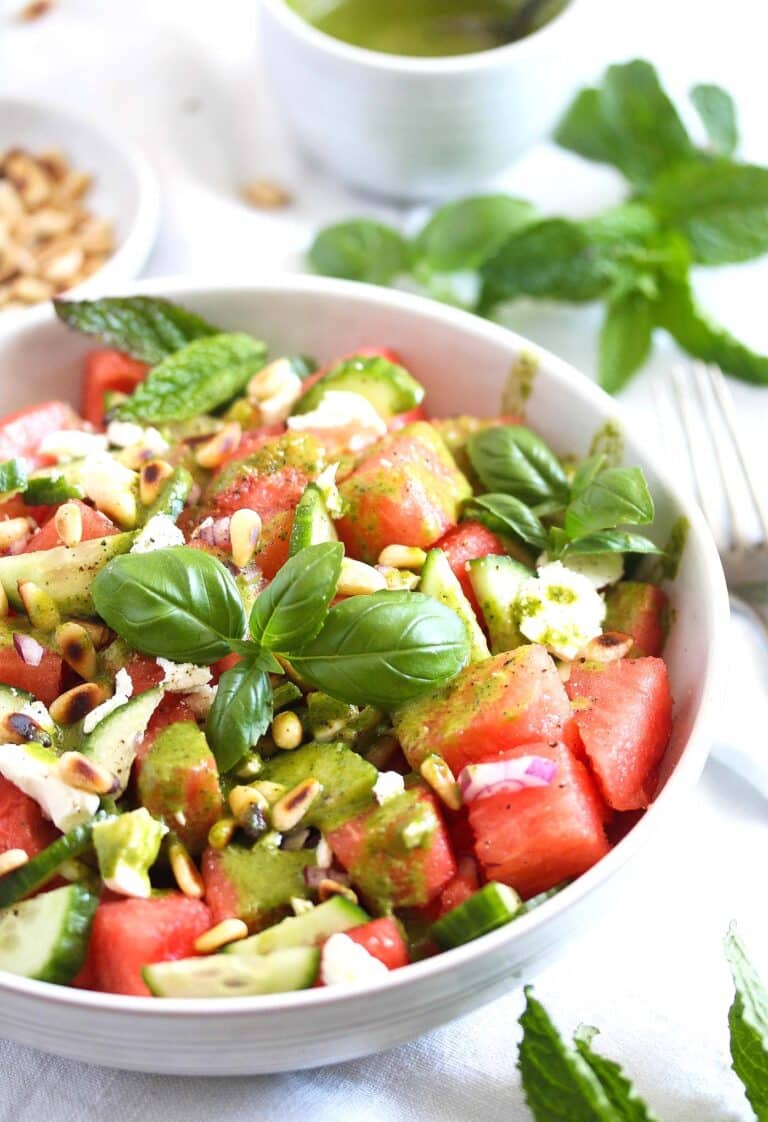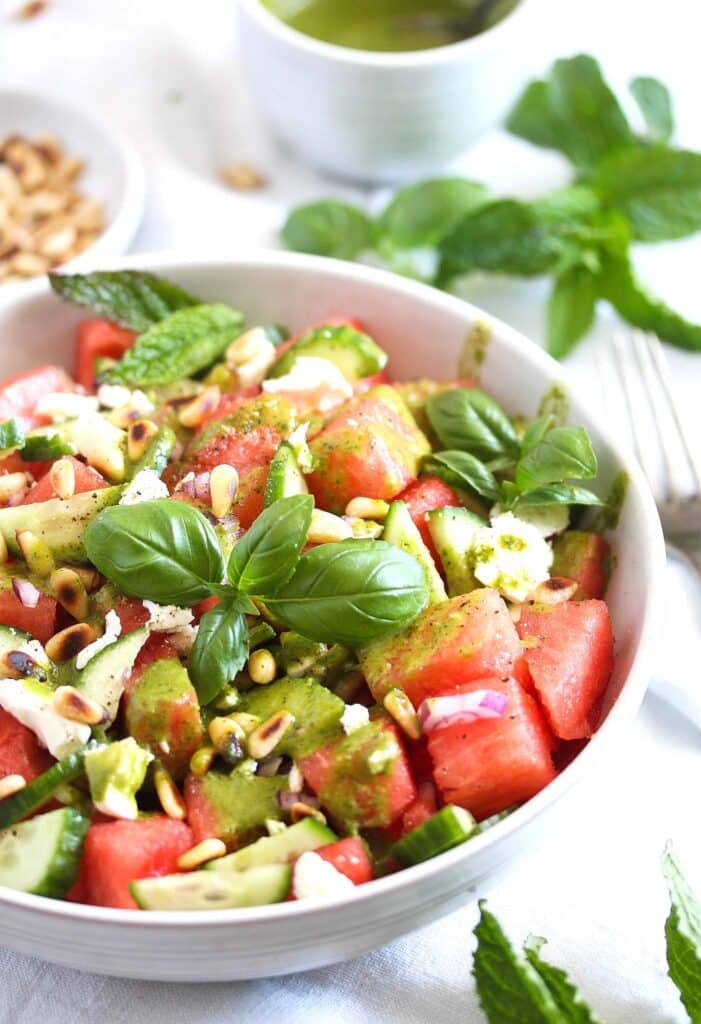 More summer salads:
Salad with Raspberry Vinaigrette
Strawberry Salad with Poppy Seed Dressing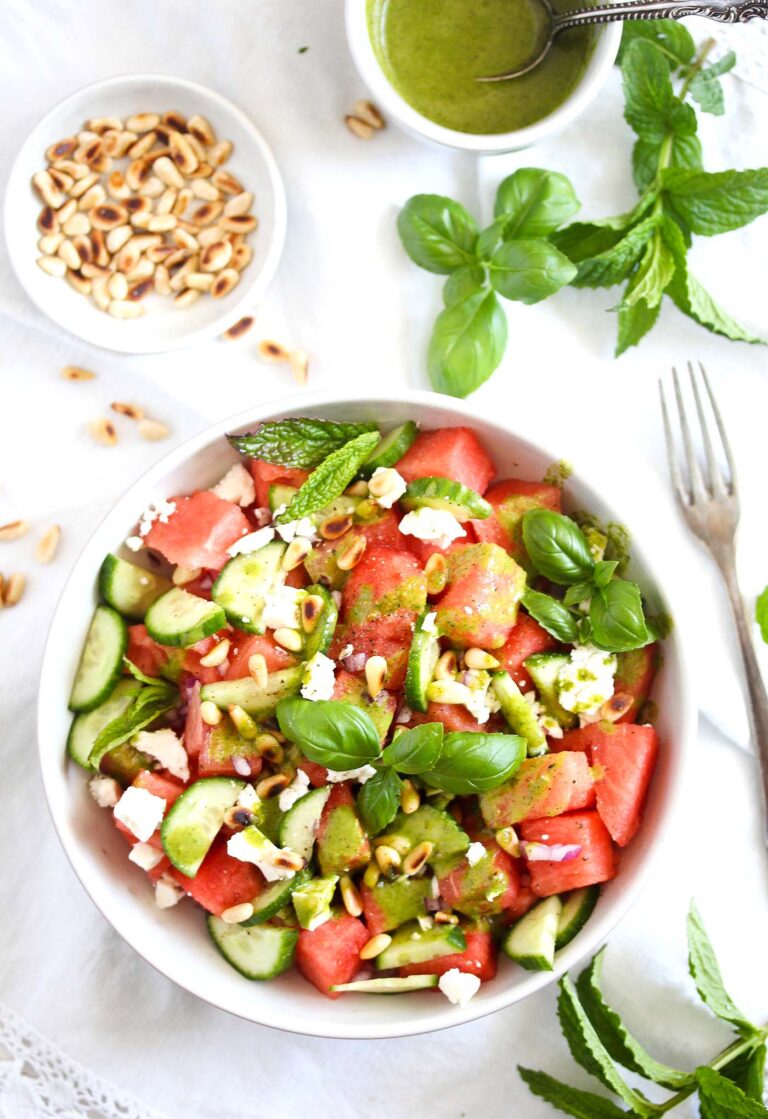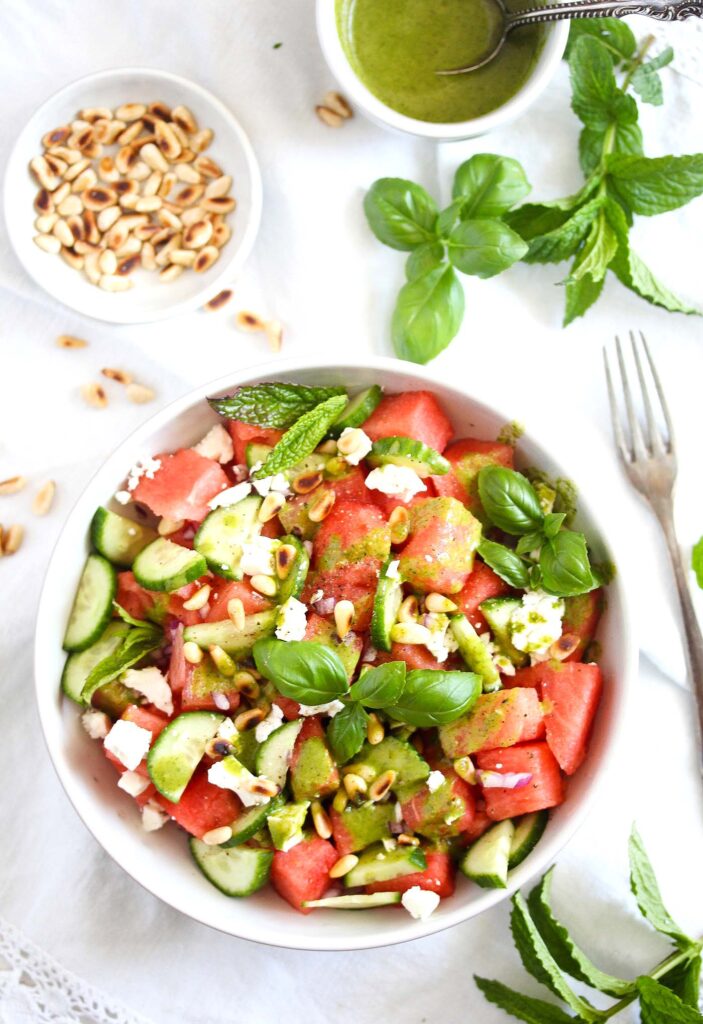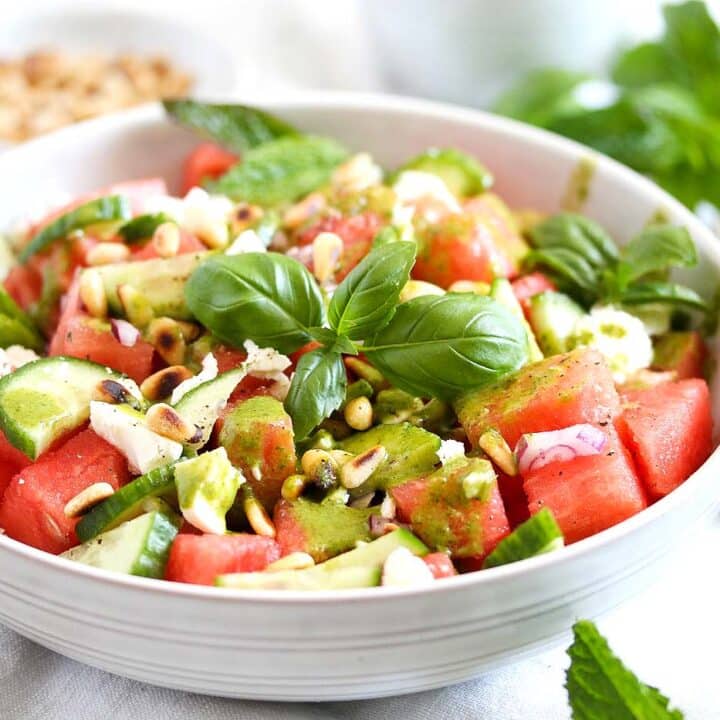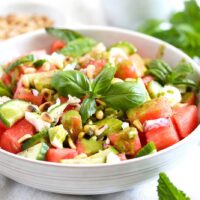 Watermelon Feta Balsamic Salad
Watermelon balsamic salad with feta, basil, and mint is the perfect summer salad. An aromatic side dish for any bbq meats or a delicious light meal on its own.
Print
Pin
Share
Grow
Saved!
Rate
Ingredients
Dressing:

small handful basil

4-5

large mint leaves

1

tablespoon

balsamic vinegar

1

teaspoon

honey

2

tablespoons

olive oil

fine sea salt and freshly ground black pepper

Salad:

2

tablespoons

pine nuts

1

lb

watermelon

weighed after removing the rind

1

small Persian cucumber

or ⅓ of a regular cucumber

½

cup

feta

½

very small red onion

more basil and mint leaves to garnish
Instructions
Dressing:
Torn the basil and mint leaves if very large. Place them in a small food processor. Add the balsamic vinegar, honey, olive oil, some salt, and pepper. Blend until smooth and slightly emulsified. Taste and adjust the taste with more vinegar or honey, salt, and pepper.
Salad:
Toast the pine nuts in a small pan without adding any fat. Keep an eye on them and shake the pan very often. As soon as they are golden and fragrant, remove them from the pan and let them cool on a plate.

Cube the watermelon and arrange the pieces on a platter or in a bowl. Halve the cucumber lengthwise and slice the halves. Add to the bowl. Finely chop the red onion and add it to the bowl as well. Add about ½ of the balsamic dressing. Combine everything very gently.

Crumble the feta cheese on top and pour the remaining dressing on top. Scatter the pine nuts on the salad and serve immediately.
Nutrition
Serving:
1
/2 of the salad
|
Calories:
393
kcal
|
Carbohydrates:
31
g
|
Protein:
10
g
|
Fat:
28
g
|
Saturated Fat:
8
g
|
Polyunsaturated Fat:
18
g
|
Cholesterol:
33
mg
|
Sodium:
654
mg
|
Fiber:
4
g
|
Sugar:
22
g