Super healthy tuna and feta salad loaded with avocado, peas, and onions; this is a creamy and utterly delicious tuna salad.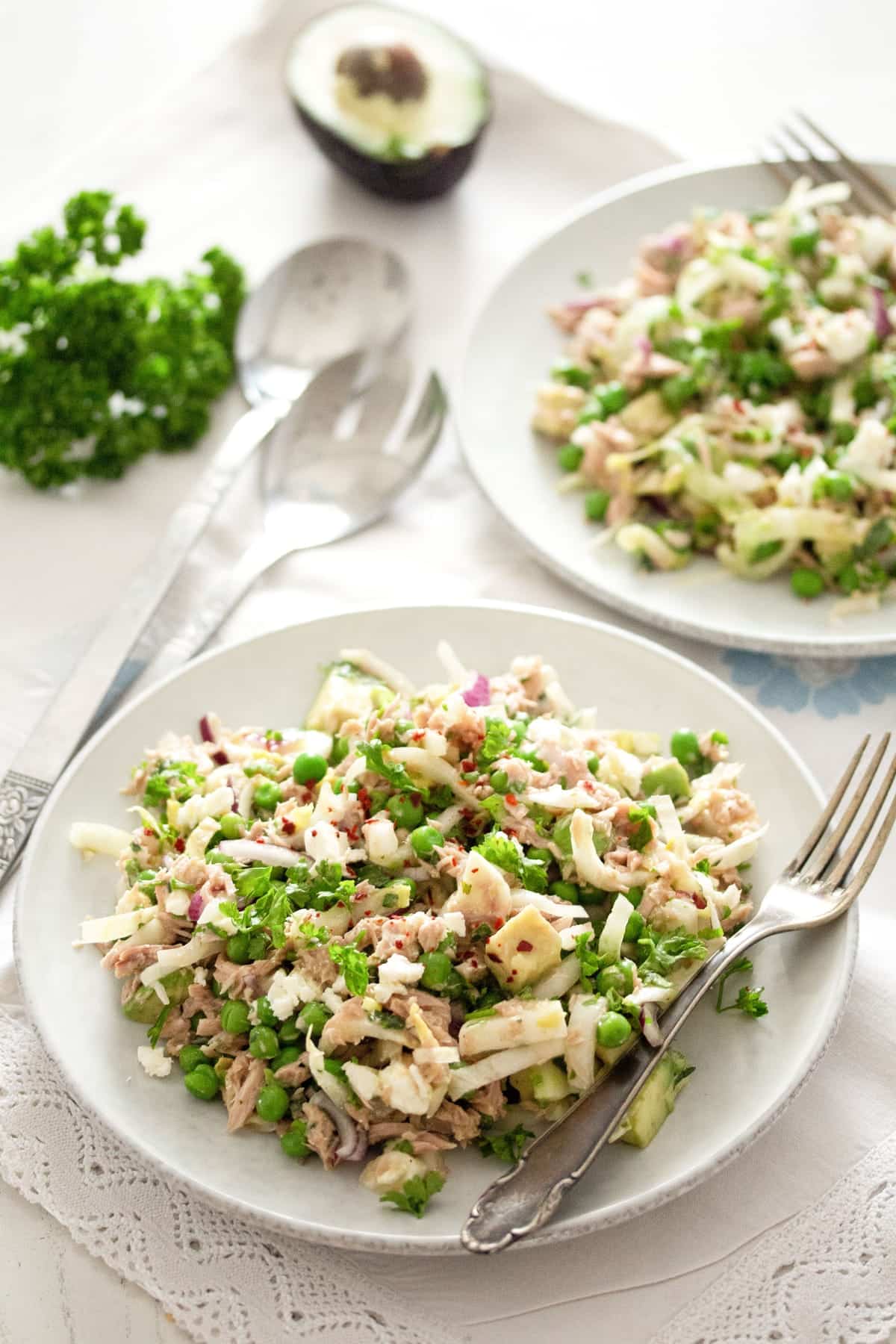 I love canned tuna, many times I just eat it as it is, with a squeeze of lemon juice and some crackers. A simple and delicious lunch or mostly dinner on days when I don't have the time or the desire to cook. But a simple tuna and feta salad is really not much more work either. A bit of chopping and a bit of mixing and there you have it: a beautiful salad, creamy and crunchy, full of healthy ingredients.
What makes a difference are the feta and avocado. I have had plenty of tuna salads over the years and I liked them all, but the cheese and the avocado are really what takes this simple dish up a notch, makes it irresistible, better than a regular tuna salad.
I feel healthier just by thinking about the ingredient list... Well, anything made with avocado sounds super healthy, isn't it? For instance, this Tomato Avocado Mozzarella Salad or this Mexican Chicken Soup with Avocado.
Table of contents
Recipe ingredients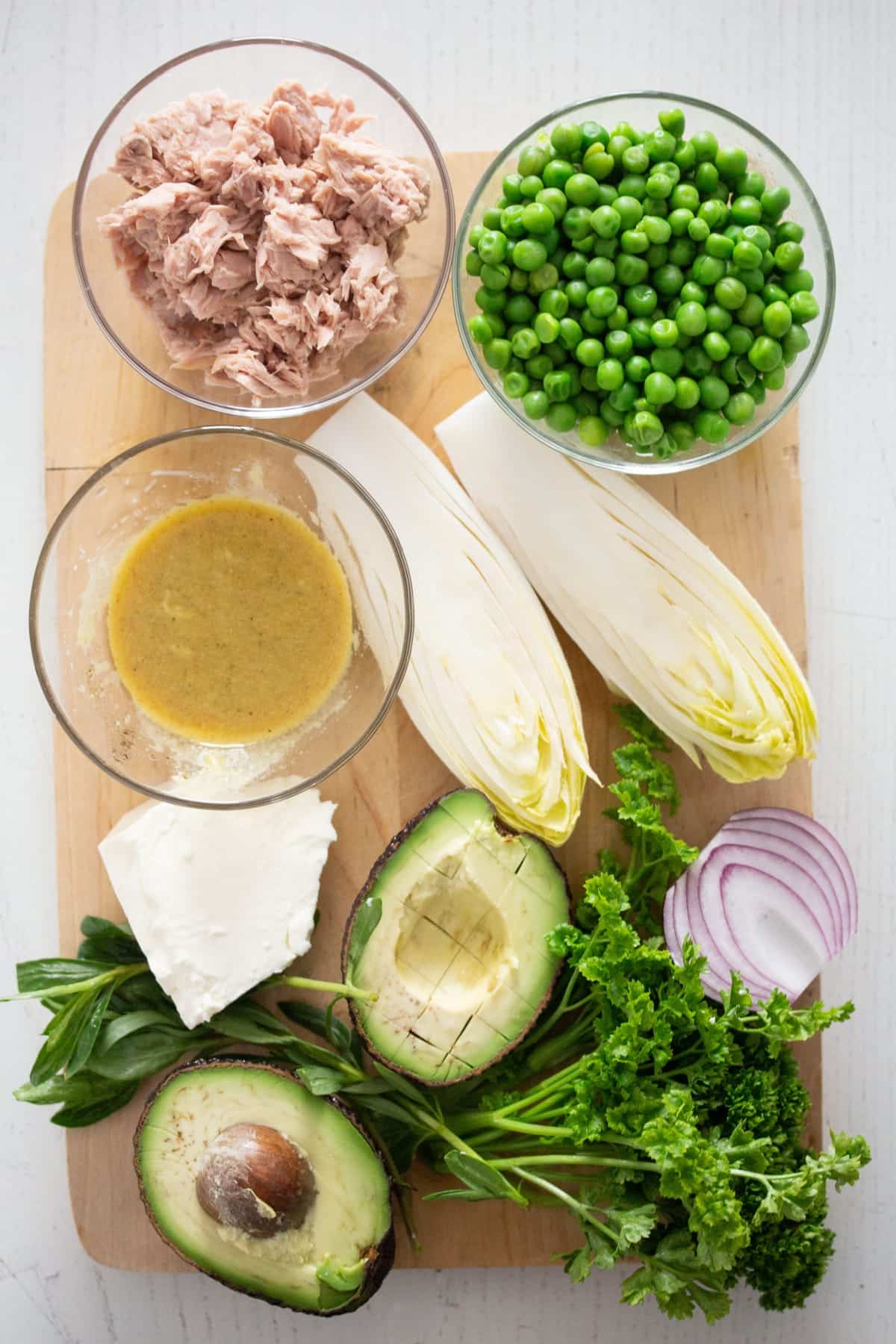 Tuna:
In brine or in oil, it is up to you. See Recipe FAQ for more on that.
Feta:
Use a good, creamy sort of feta, the one that comes in a block and in brine and not pre-crumbled.
Avocado:
Buy a ripe, creamy, soft one. It replaces the mayonnaise in this tuna salad and if it is not ripe enough, it will not be able to fulfill its purpose, which is to coat the salad in a delicate layer of creaminess.
Here is a nice article on how to buy a good avocado.
Peas:
I used frozen peas, which I cooked in a little water before using. Let them drain thoroughly and cool before adding them to the dish.
The peas can be replaced with some finely chopped peppers, drained corn from a can or some cooked cannellini beans.
Salad leaves:
I happened to have a small chicory when I took the pictures for this tuna feta salad. It was perfect, very crunchy, fresh and with a very slight touch of bitterness.
If you don't have chicory or don't like it, don't worry about it! Regular lettuce leaves will work just fine, maybe something a bit crunchier.
And if you don't have any salad leaves at all, well, just leave it out, the salad will still be super delicious!
Fresh herbs:
I recommend using at least one sort of fresh herbs, parsley being the one that is most available most of the times. I also had a small bunch of fresh oregano, which is not as intensive as the dry one and works very well in a salad.
Otherwise, you could use fresh coriander (as much as you like as its taste is pretty intensive) or chives.
Step-by-step instructions
Cook the frozen peas in a little water and let drain well. Let cool.
Slice the chicory or lettuce. Place into a large bowl.
Chop: Drain the canned fish well. Chop the avocado. Slice the red onion. Chop the fresh herbs.
Dressing: Whisk olive oil, only half of the red wine vinegar, lemon juice, Dijon mustard, grated garlic cloves, red chili flakes, fine sea salt and black pepper.
Combine: Add all ingredients and the dressing to the bowl and stir gently.
Adjust the taste of the tuna feta salad with fine sea salt, pepper and the remaining red wine vinegar, if necessary.
Cover the salad and keep refrigerated until ready to serve.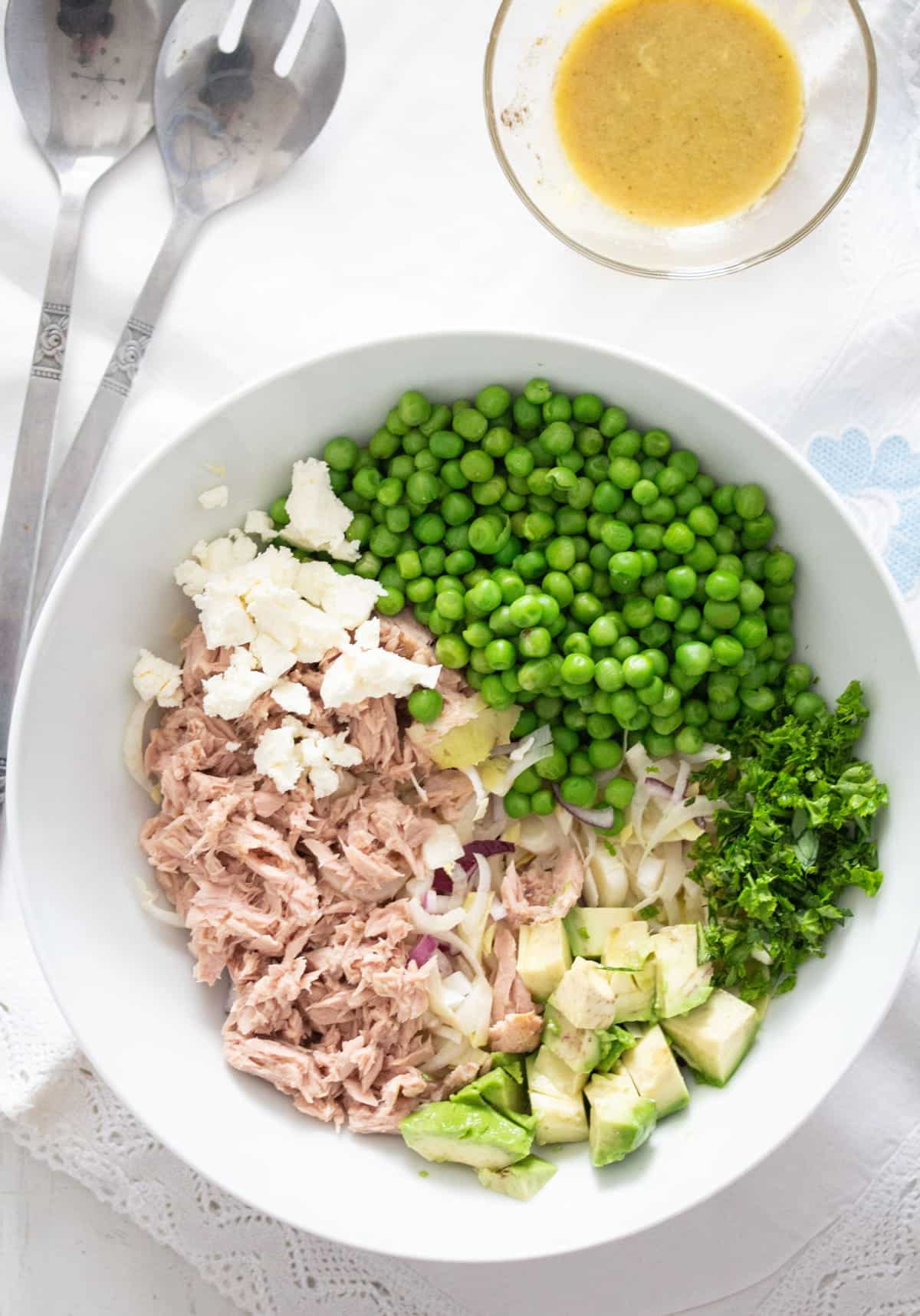 Expert tip
Don't worry if the avocado pieces break slightly, that's what you should aim for, this way the rest of the ingredients will be coated with a creamy film of avocado and dressing.
Recipe FAQ
What kind of tuna to use for a salad?
There are two kinds of canned tuna: in water or brine and in oil. Personally, I do prefer tuna in oil, it is tastier, less dry, and really doesn't need anything else if you just feel like eating some tuna.
However, I use fish canned in water or brine more often than the one in oil...
So, the choice is yours, whatever you prefer. Either way, drain the can well in a sieve and if using tuna with oil and want to cut on some calories, gently pat the fish dry with kitchen towels. That's not mandatory though, only if you are worried about the calories.
How to ripen avocado at home?
Place them on the counter and let them be, checking every day. The ripening will take at least 3 days in my experience, but it greatly depends on the state the avocado was in when you bought it.
However, if you want to accelerate the process a little, place the avocados in a brown paper bag together with an apple or a kiwi. The apples and kiwis contain a hormone that accelerates the ripening process.
Once the avocado is ripe, you can place it in the fridge. This will help it keep healthy for 2 more days.
How to store?
Leftover tuna salad with feta cheese keeps in the fridge for a day or so; cover it so that the avocado doesn't get too brown.
How to serve?
You can serve the tuna and feta salad immediately or you can leave it to develop its flavors for several hours in the fridge.
This nutritious salad is perfect for lunch or dinner, to take to work, or a picnic.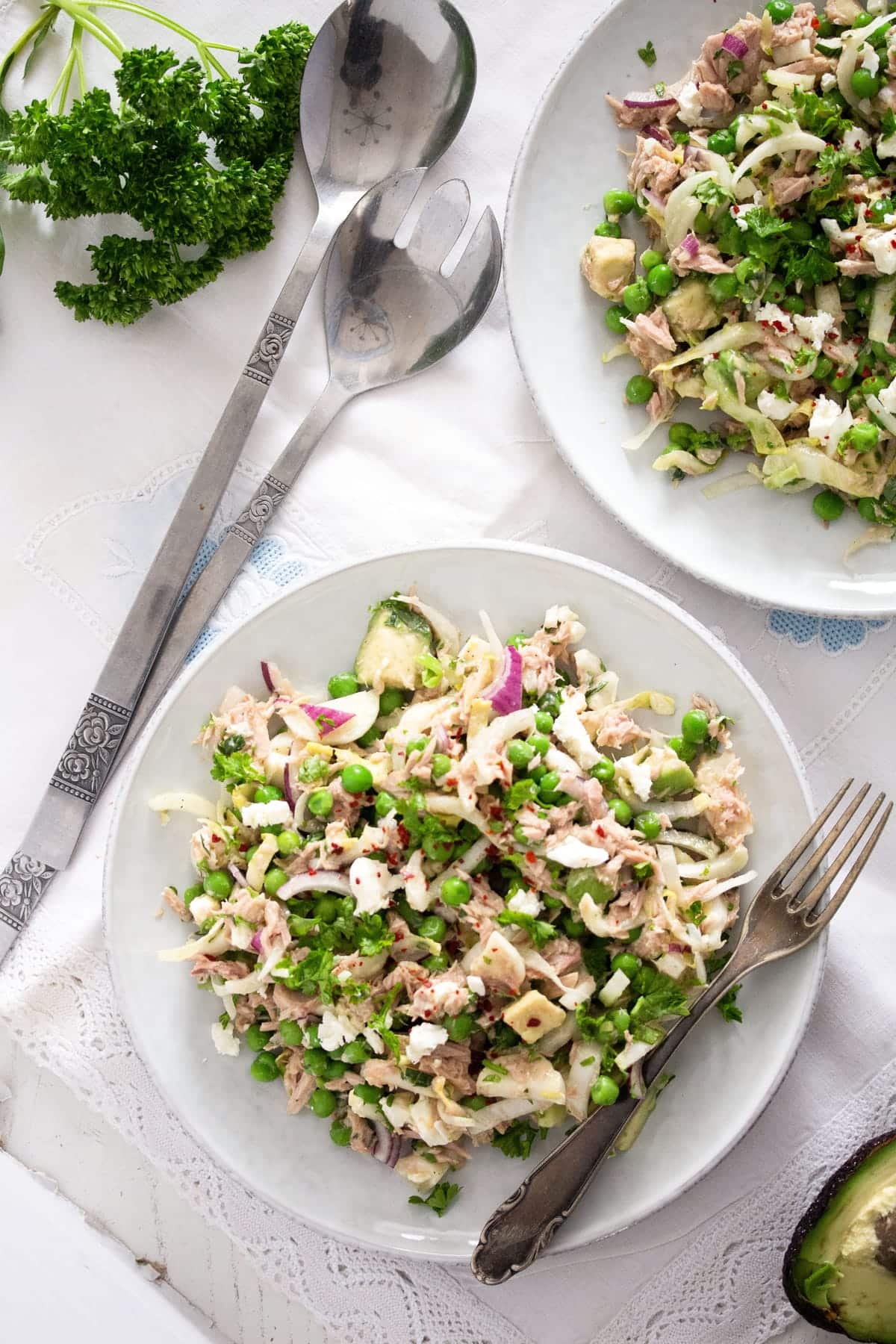 More delicious salads with feta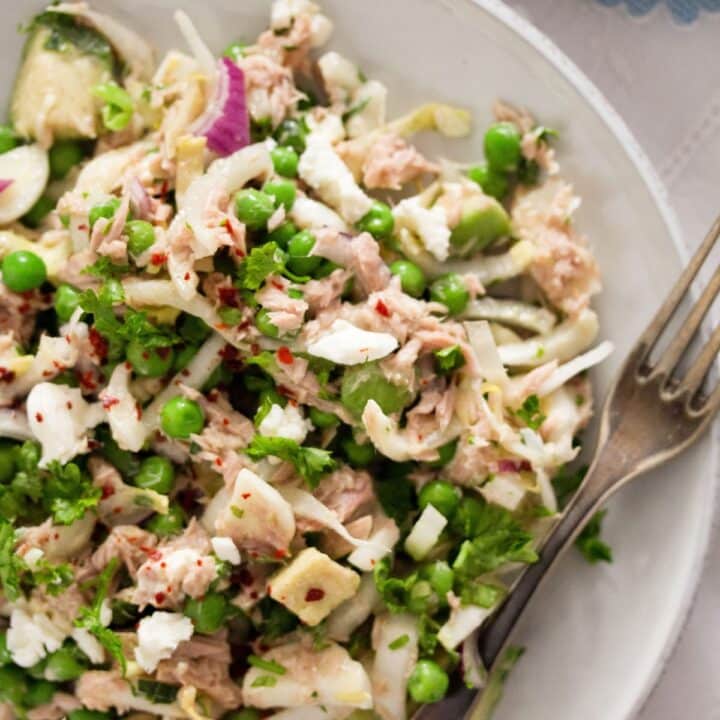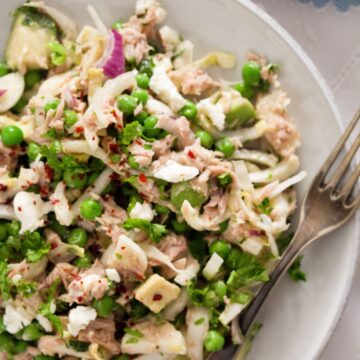 Loaded Tuna and Feta Salad
Super healthy tuna and feta salad loaded with avocado, peas, and onions; this is a creamy and utterly delicious tuna salad.
Print
Pin
Share
Grow
Saved!
Rate
Ingredients
Tuna Avocado Salad:

1 ½

cups

frozen peas

225 g/ 8 oz, Note 1

1-2

cans

tuna

Note 2

1

small chicory or lettuce

1

ripe avocado

1

small red onion

a handful of parsley

4-5

fresh oregano sprigs

See note 3

½

cup

feta

60 g/ 2 oz

Dressing:

2

tablespoons

extra virgin olive oil

Note 4

1-2

tablespoons

red wine vinegar

to taste

1

tablespoon

lemon juice

2

teaspoons

Dijon mustard

2

small garlic cloves

pinch

of red chili flakes

to taste

fine sea salt and black pepper
Instructions
Prepare peas: Place the frozen peas in a small saucepan, cover them with a little water, bring to a boil and cook for two minutes. Drain well and let cool.

Combine salad: Drain the tuna well. Chop or slice the salad leaves. Chop the avocado, halve the onion and slice it thinly. Chop the herbs. Place everything in a bowl, add the drained and cooled peas. Crumble the feta on the tuna avocado salad.

Dressing: Whisk together the olive oil, 1 tablespoon red wine vinegar, lemon juice, mustard, grated garlic cloves, red chili flakes to taste, sea salt, and freshly ground black pepper.

Add the dressing and mix gently to combine. Adjust the taste with more vinegar, salt, and pepper, if desired.
Notes
The peas can be replaced with 1 finely chopped bell pepper, drained corn from a can, or some cooked cannellini beans.
Tuna cans come in very different sizes and these sizes seem to vary a lot from one country to another. Don't stress about it, use the cans available in your country, a rough amount of 200 g – 250 g/ 7 – 8.8 oz drained tuna. You can use either tuna in water or tuna in oil.
You can also use fresh coriander or chives, for instance.
Only 1 tablespoon olive oil, if using canned tuna in oil.
Nutrition
Serving:
1
/2 of the salad
|
Calories:
541
kcal
|
Carbohydrates:
32
g
|
Protein:
37
g
|
Fat:
30
g
|
Saturated Fat:
7
g
|
Polyunsaturated Fat:
21
g
|
Cholesterol:
62
mg
|
Sodium:
1218
mg
|
Fiber:
13
g
|
Sugar:
10
g