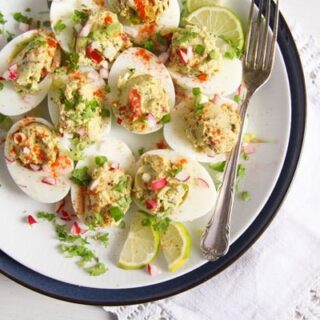 A very easy recipe for deviled eggs filled with Mexican guacamole, a real treat for the Easter brunch.
Eggs, eggs, eggs! All those Easter leftover hard boiled eggs! I still have a few recipes coming, all featuring those leftover hard boiled eggs I seem to have tons of every Easter.
What are deviled eggs?
Deviled eggs or stuffed eggs are hard boiled eggs, halved and traditionally filled with a mixture of mashed egg yolks, mayonnaise and mustard. That is the traditional filling, but nowadays, we stuff eggs with all possible mixtures. The base is always the mashed egg yolks with either mayonnaise, cream cheese, actually something creamy to bind the mixture.
In addition there are countless things we could add: chicken, tuna, salmon, anchovies, ham, bacon, onions, tomatoes, olives, herbs, garlic, horseradish, different spices, cooked or raw vegetables, chutneys, chili sauces, cheese, pretty much anything you can think of.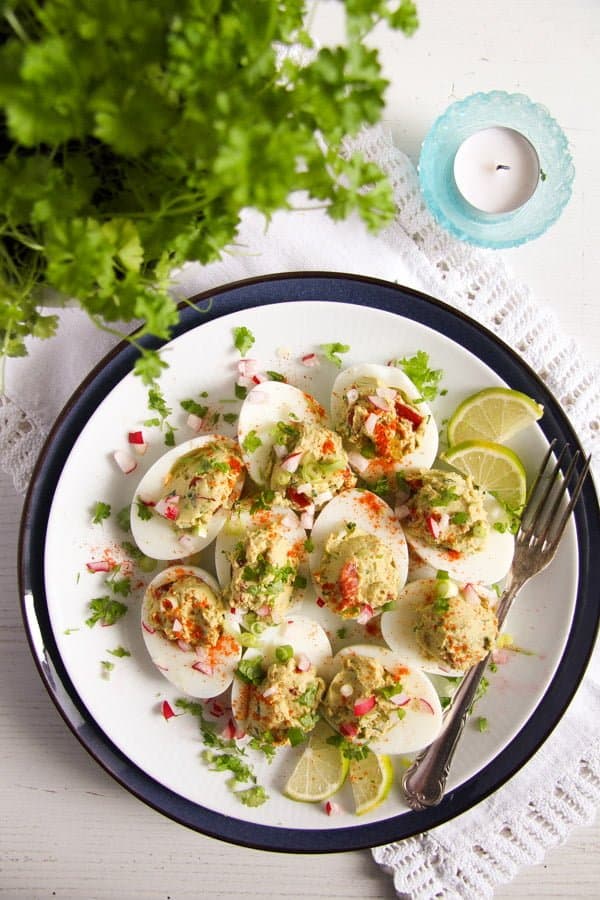 Deviled eggs around the world
According to Wikipedia "the dish's origin can be seen in recipes for boiled, seasoned eggs as far back as ancient Rome, where they were traditionally served as a first course". Funnily enough, it was just yesterday that I remembered Petronius' Satyricon, I was writing a comment on another blog where I mentioned Petronius.
Now I find that it is in his Satyricon (written around 61 A.D.) that some kind of deviled eggs are mentioned: "the wealthy freedman Trimalchio invited guests to a banquet in which the menu included fig-peckers (small songbirds) marinated in peppered egg yolk and stuffed into peahen eggs." (The Ancient History of Deviled Eggs). Well, I don't really remember reading that, but I have the book in the house, I could check it again. 🙂
Deviled eggs are very popular all over Europe and North America and are a well-known dish in the traditional cuisines of many countries.
In Romania we call them "oua umplute" and they are something I have eaten a lot as a child. Basically, the classic Romanian deviled eggs are stuffed with the exact above-mentioned mixture of mashed egg yolks, homemade mayonnaise and some mustard.
From there the possibilities are again endless, I remember eating them stuffed with liver pate mixed with egg yolk and mayonnaise (my grandma's favorite way to stuff them), or stuffed with tiny bits of chicken, with lots of ground paprika, with horseradish and with cooked peas.
I also eat them very often in Germany, they are a popular thing to bring to a party for instance. It is common around here to bring food when going to a large and a bit casual party. Things like huge bowls of salad, cakes or different kind of nibbles. Deviled or stuffed eggs are almost always a part of the buffet. Many times stuffed with the simple egg yolk-mayonnaise filling, but often enough stuffed with ham, sour cream or cheese.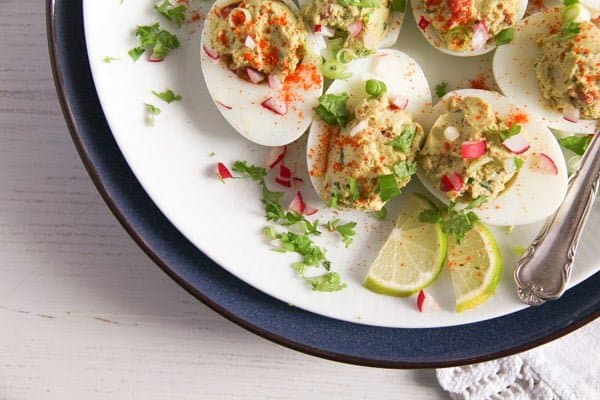 How to peel eggs easily?
A very important thing when making deviled eggs is to be able to peel the hard boiled eggs easily, leaving the white of the egg whole. That is not always as easy as it might seem.
I grumbled for years: Why are my hard boiled eggs so easy to peel at times and why so difficult to peel at other times. And then I finally realized that google might know the reason. And of course, it did. Ever since I have no problems with peeling eggs anymore.
There are only three steps you have to follow:
Step 1: Make sure that your eggs are not that fresh, they should be at least 10 days old when you boil them. Fresh eggs are a nightmare to peel, I know that because we often buy our eggs fresh in the village and if for some reason I get the idea to boil them shortly after buying them, I end up with half of the whites sticking to the shell of the egg.
So check the date on the package of the eggs and buy those that are at least 10 days old.
Step 2: Cover with water, bring to a boil. Turn off the heat and let the eggs stand in the hot water, covered, for 12 or 13 minutes, depending on the size of the eggs.
Step 3: Drain and give the eggs to a bowl of iced water. Let stand for a few minutes, then you can peel them. To tell you the truth, I kind of skip this step and just rinse the eggs under very cold water. Mostly it works, but I still have one or two eggs that are not that perfect in the end, so the iced water method is actually better.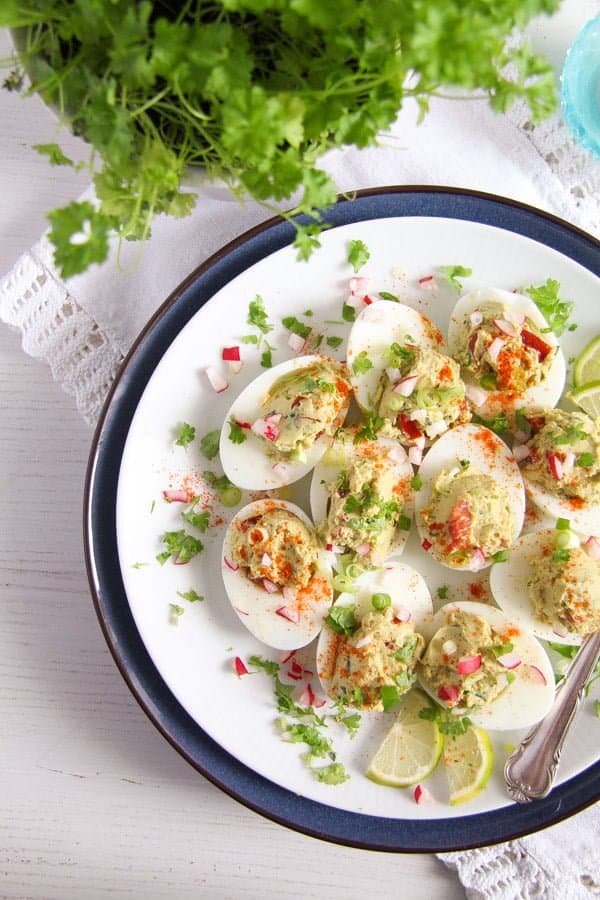 How long do deviled eggs keep in the refrigerator?
If the deviled eggs are made with homemade mayonnaise I would not keep them for more than one day. If you use bought mayonnaise or other fillings you can keep the eggs, airtight, in the refrigerator for up to three days.
The Deviled Eggs with Mexican Avocado/ Guacamole Filling should be eaten as fresh as possible as well. It is a well-known fact that avocado turns rather brown if kept for a longer time after removing the stone. Although I use lime in the recipe, which helps avocado retain its nice color for longer, the eggs still look better when freshly made.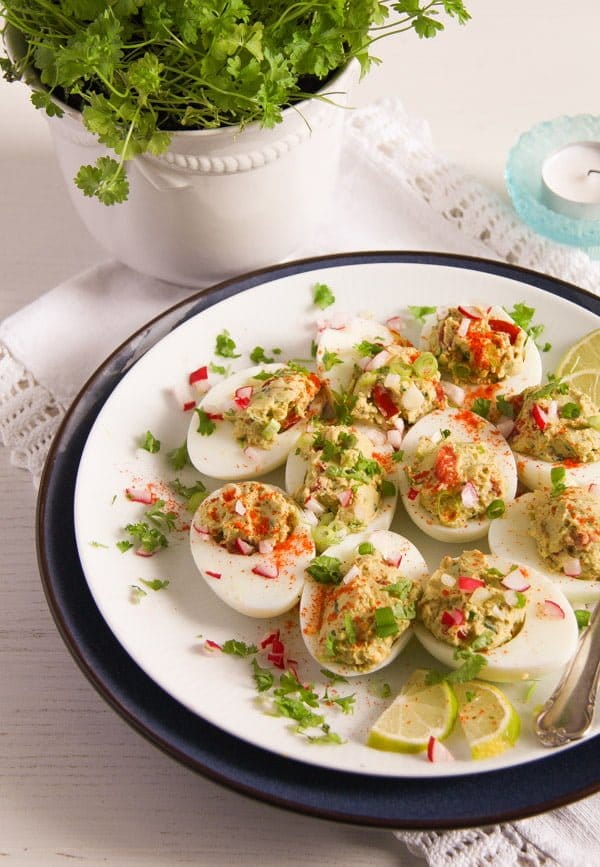 Deviled Eggs with Mexican Avocado/ Guacamole Filling
I've made lots of deviled eggs over the years, I have even posted a couple of recipes, for instance these Deviled Eggs with Tuna or Mayonnaise or these typical Romanian Deviled Eggs with Homemade Liver and Creme Fraiche Pate.
And although those liver pate ones are those I make most of the times, I do like to change the tune from time to time.
These Deviled Eggs with Mexican Avocado/ Guacamole Filling were born when trying to make an appetizer for a Mexican inspired dinner. I haven't eaten or cooked much Mexican food in my life and after deciding to make enchiladas filled with carnitas as a main, I was wondering what to make for starters.
Guacamole was the first thing that came to mind, probably because it is the one and only Mexican dish I make regularly, but I wanted to serve it in a different manner than just a dip. I have made refried beans and corn dip as well and I wanted something a bit different. So I decided to stuff some eggs with the guacamole and so have a completely different dish to go with the rest.
I used a blender to puree the egg yolks and the avocado together, but mashing them with a fork should do the job as well, the mixture doesn't necessarily have to be perfectly smooth. For blog purposes, I was a bit of an overachiever in this case, but blending the egg yolks and the avocado is really more show than necessity. 🙂
We all adored these Deviled Eggs with Mexican Avocado/ Guacamole Filling, so I can only recommend you giving them a try this Easter.
Other things I like to stuff: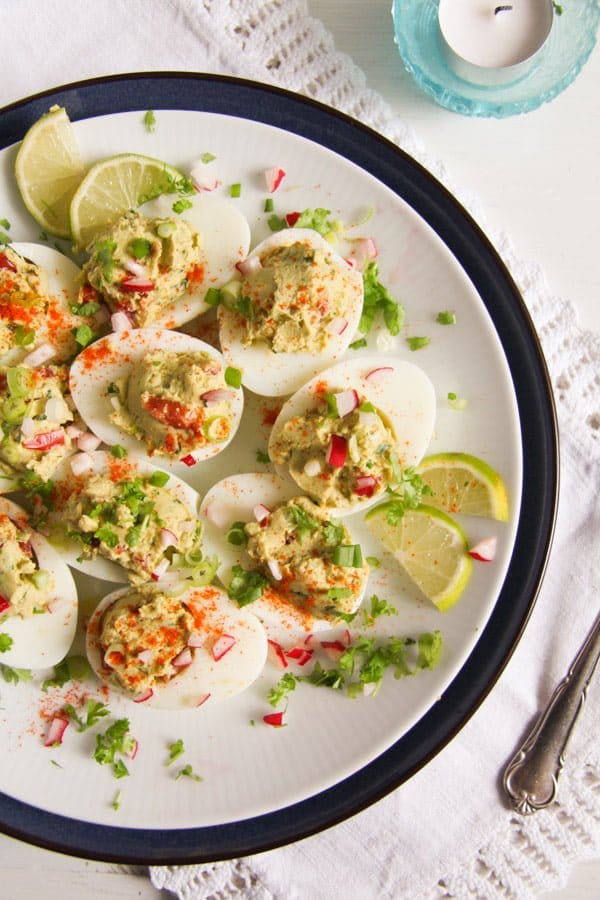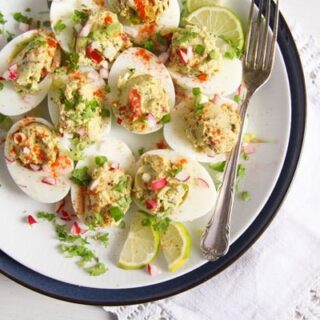 Deviled Eggs with Mexican Avocado/ Guacamole Filling
A very easy recipe for deviled eggs filled with Mexican guacamole, a real treat for the Easter brunch.
Ingredients
5 large eggs
1 small ripe avocado
1 small tomato
2 small spring onions
1 garlic clove
1 organic lime
pure chili powder or cayenne pepper
1 pinch of ground coriander
1 pinch of ground cumin
some fresh coriander or parsley
salt and pepper
2-3 radishes for garnish, optional
Instructions
Give the eggs to a saucepan, cover well with water and bring to a boil. Remove from the heat and let stand, covered, for 13 minutes. Drain and give to a bowl of iced water. Let stand for about 5 minutes. Peel the eggs.
Halve the eggs and carefully remove the egg yolks. Give the egg yolks to a bowl and mash them with a fork. Add the avocado and mash with a fork again, mixing well. You can use a blender for a smoother consistency.
Halve the tomato and remove its seeds. Chop the tomato very finely. Chop the spring onions very finely as well. Keep about 1 tablespoons of the chopped greens of the spring onions for sprinkling over the eggs when ready to serve. Grate the garlic clove.
Give the tomatoes, spring onions and garlic to the bowl together with a pinch of lime zest, the juice of half a lime, pure chili powder or cayenne pepper to taste, ground coriander, ground cumin, salt and pepper to taste as well. Add more lime juice if necessary.
Finely chop the fresh coriander or parsley. Fold about 2/3 of the herbs into the mixture.
Stuff the egg white halves with the guacamole. Place the deviled eggs on a serving platter and sprinkle them with the remaining herbs, some chili powder or cayenne pepper, finely chopped greens from the spring onions and finely chopped radishes, if desired.
Keep refrigerated until ready to serve. They are best served shortly after being prepared.
Nutrition Information:
Yield:

5
Serving Size:

2 halves
Amount Per Serving:
Calories:

129
Total Fat:

9g
Saturated Fat:

2g
Trans Fat:

0g
Unsaturated Fat:

6g
Cholesterol:

186mg
Sodium:

288mg
Carbohydrates:

6g
Fiber:

3g
Sugar:

1g
Protein:

7g
Nutritional information is not always accurate.